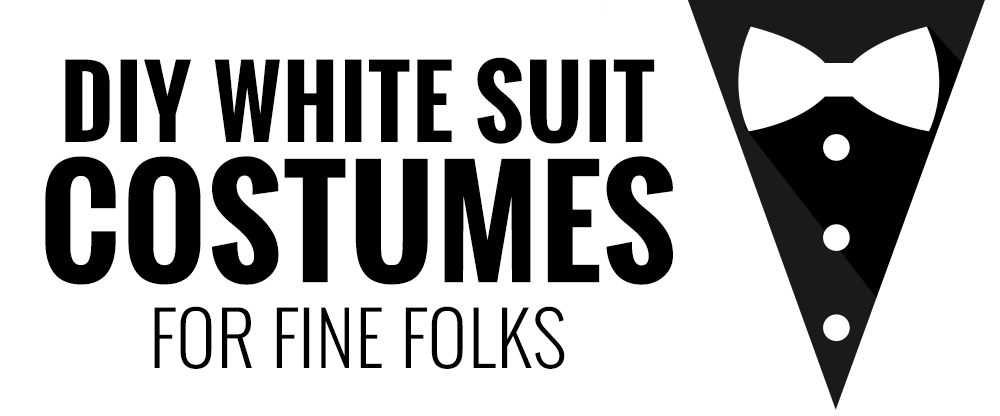 There is something iconic and snazzy about a tux, we can all agree. But when they flip the script from black to white, things can take on an even more dramatic turn! From grooms to gangsters, superheroes and mega villains, and even the regular Joe Shmoe who wants to saunter down the street with some serious swagger, a white suit does wonders! So naturally, we all want one. The real question is how you can use the prestige of a white suit to transform into one of your favorite characters from film, TV, or video game fame. Well, it turns out that if you accessorize in just the right way, you can evolve your stunning style into an immediately recognized character costume! Don't believe us? Well, let's give you a tour of some of our favorite characters who have mastered their sartorial splendor and show you how you can suit up for Halloween!
DIY Forrest Gump

Forrest Gump is the everyman who everyone loves. From offering up delightful chocolate treats to running an unexpected marathon across the country, he's done everything! And the guy looks great in a suit, too! Augment your white suit with some of our military awards and a pair of running shoes and you won't even need the park bench, the shrimp boat, or the candid photo with the President.... Though a box of chocolates is great for any occasion!
DIY Casablanca Costume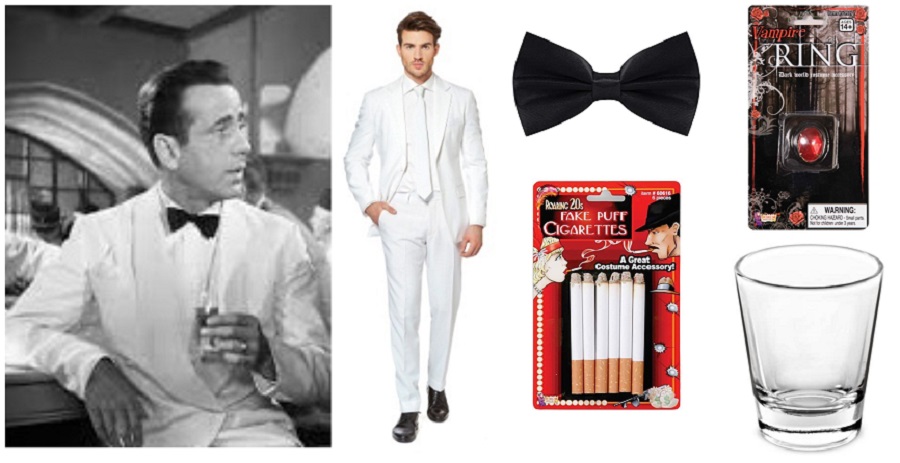 "Of all the gin joints in all the towns in all the world," folks will all want to walk into yours when you're channeling the suave style of Rick Blaine from Casablanca. Of course, it takes a bit more than just a classy white suit to bring out your inner Humphrey Bogart. When you add a few details appropriate to Rick's Café Américain, you'll always have Paris...not to mention a killer costume. Don't forget the exaggerated ring or your favorite Casablanca quotes!
DIY Great Gatsby Costume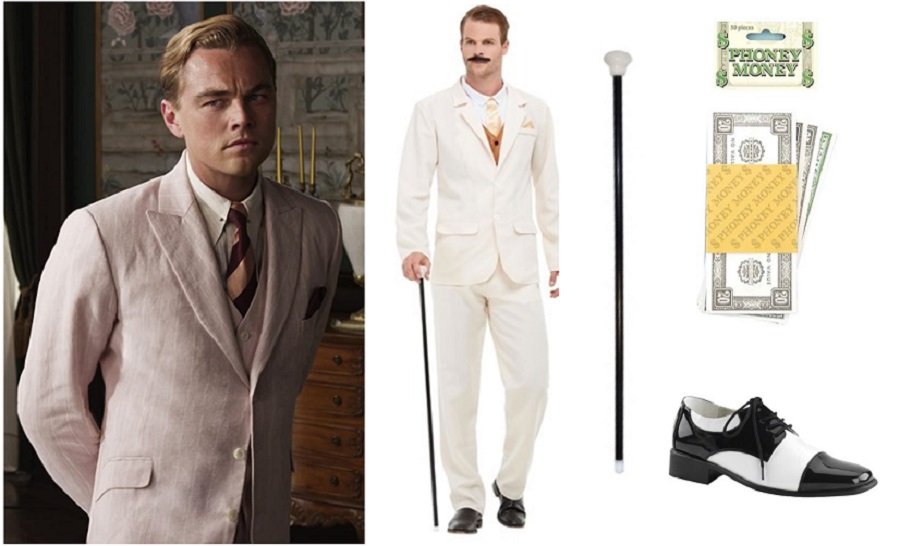 It is a time for opulence and wealth, for grand parties and even more grandiose style. Okay, maybe it isn't always like that...but wouldn't it be great to bring the glitz and glamour of the Roaring 20s to life, even for just a night? Well, you can live out your Great Gatsby dreams without breaking the bank when you combine a white suit with some key accessories. Shine those shoes, tap your cane, and maybe keep some fake cash to burn, too. Cheers!
DIY Elvis Presley Costume

If you don't have a closet filled with gold, shining rhinestones, and the ultimate in rock 'n' roll talent, there's no hope to ever look like Elvis Presley, right? Well, that's going a little too far. Most of us have wanted to step into the role of the King at least once! Well, when you combine the looks of our white suits with a few pinned rhinestones, a wig that's larger-than-life, and a matching cape to flourish, you're ready to strum your guitar for the masses!
DIY Elton John Costume

Elton John has a style that is immediately recognized anywhere. Combine the groovy looks of disco with Elton's unique sartorial taste and you're a legend in the making! So if you want to replicate one of his ultimate looks, modify a pair of feathered wings and pin them to the shoulder pads of your white suit and smile boldly at your Instagram while wearing a pair of glasses that are just as huge as your pair of 70s platforms! It's time to dance, Sir (Elton)!
DIY Saturday Night Fever Costume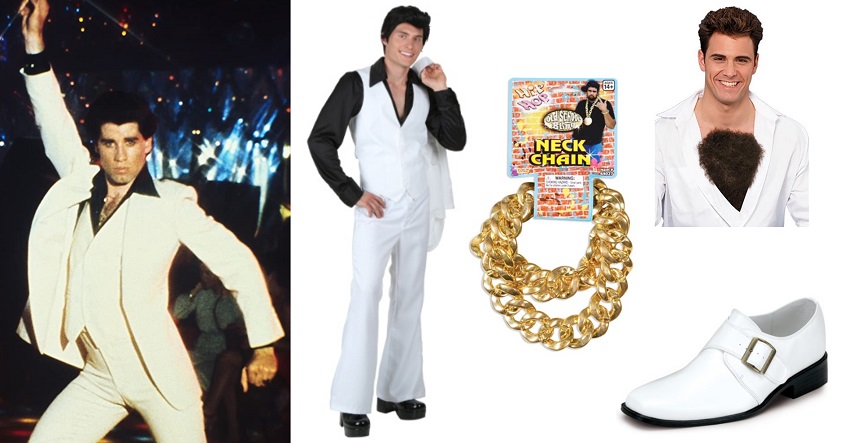 The world can be a pretty complicated place. But one place that's all smooth moves and shining lights is on the disco stage. Whether you've got the moves to win the dance contest or just want to bring the groovy style of Saturday Night Fever to life, all it takes are the right pair of dancing loafers, a shiny golden chain, and white suit style! Of course, if you really want to pull off an authentic Tony Manero, a low-cut shirt and bursting chest hair can't hurt!
DIY Morgan Freeman God Costume

It looks like a lot of work, becoming a deity like Bruce Almighty. Instead, go right for the look of the real power: become Morgan Freeman! Trim down our Moses wig to give yourself that perfect salt-and-pepper style and keep a halo nearby in case you need to show people your almighty might! Of course, pulling off the Morgan Freeman voice is beyond the ken of mortal men, so we've got a voice changer to help you get those deep and magical tones!
DIY Italian Job Costume

We can't stress enough that robbing a bank is a bad idea. Sure, there is a bit of adventure about it, but you don't need to go that far to look snazzy! We can help you attain true gangster style without breaking the bank (or into one). Channel the debonaire grace of Michael Caine's portrayal of Charlie Croker from The Italian Job or dazzle the masses as a mobster when you sport your suit up with spats and a fedora. (And you can still tote a bag of money, too!)
DIY James Bond Costume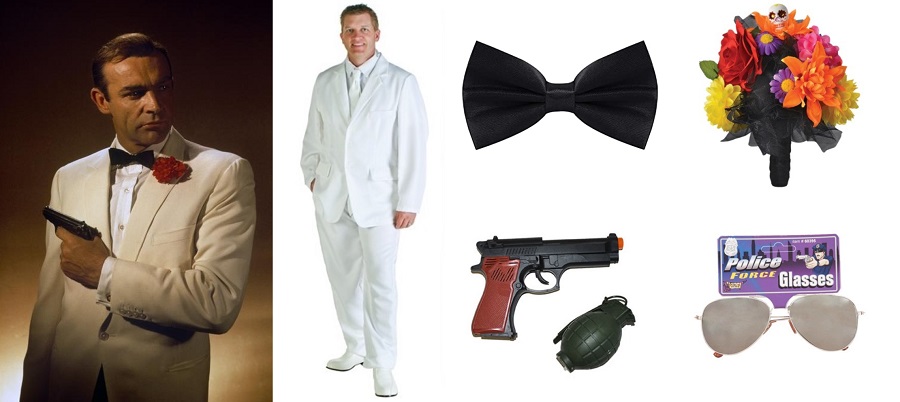 Who is your favorite Bond? Everyone has an answer but we think the best Bond is you...especially when you're geared up in a white suit! Becoming the epic 007 can be a challenge, but we're happy to be your personal Q to help get you geared up. Deck yourself out in a white suit costume and arm yourself with a faux gun and grenade set. Pick out your favorite color from a flower bouquet to give yourself a dashing edge, then adjust your bow tie and strike a pose!
DIY Mark Twain Costume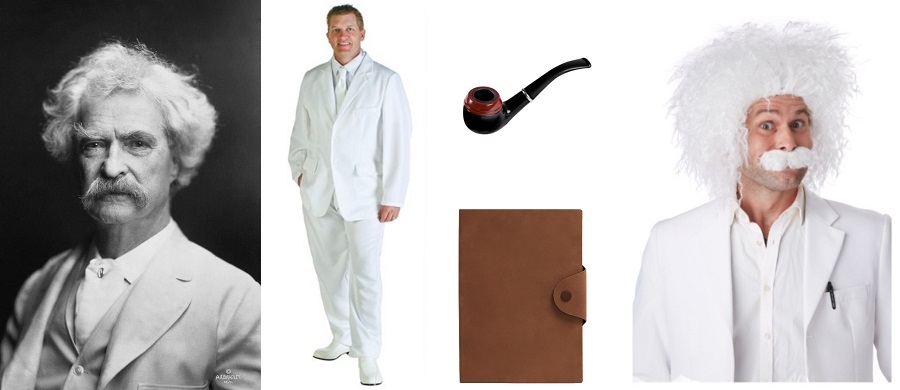 Samuel Clemons is better known as Mark Twain, the writer of some of the best early American stories. He's also got a style that's really recognizable. Keep a journal at your side for all of your creative ideas, like the modifications to our Einstein wig so you can pull off the professional look Twain is known for. (You'll even have extra hair to give yourself some bushy brows while you're at it!) All that's left is a stern expression while holding your favorite pipe!
DIY Colonel Sanders Costume

Some costumes are just too good to ignore...just like certain delicious dinners. When you combine a crisp white suit, a walking cane, a pair of glasses, and an iconic beard, you're creating a look that the whole world would recognize. (Add a rubber chicken to the look and you're securing a finger-licking look in a snap!) That's right: it's time for Colonel Sanders to show everyone how a white suit should be worn! It's a fun and easy costume for adults and kids alike.
DIY Ghostly Groom Costume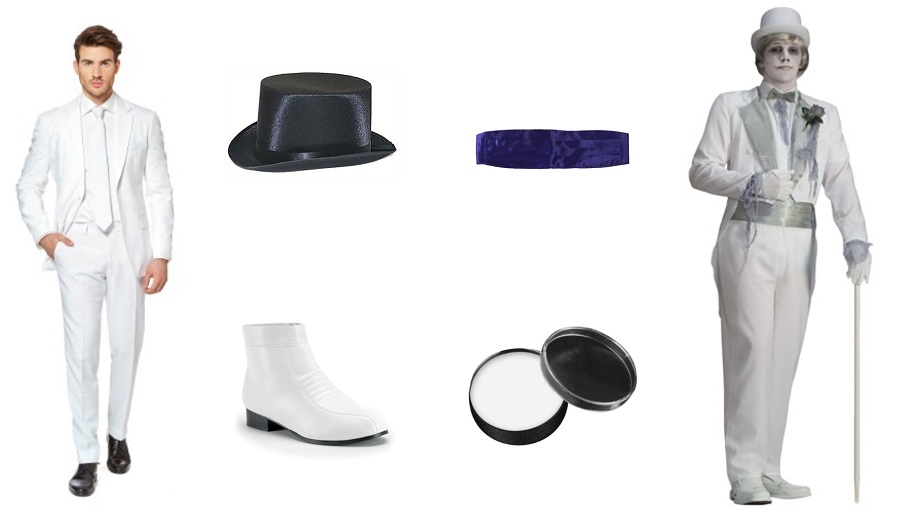 When you think of a white tuxedo costume, naturally a gallant groom comes to mind. Pick your favorite color for a cummerbund and accent your white suit with a top hat and matching shoes and you're ready for a fun night! But, there are great twists you can take for a perfect Halloween costume. Add white greasepaint to your face and faux flowers and you'll suddenly be haunting the wedding as a ghastly groom, instead! Just say, "I do-Ooo-Oooh!"
DIY Summer Stud Costume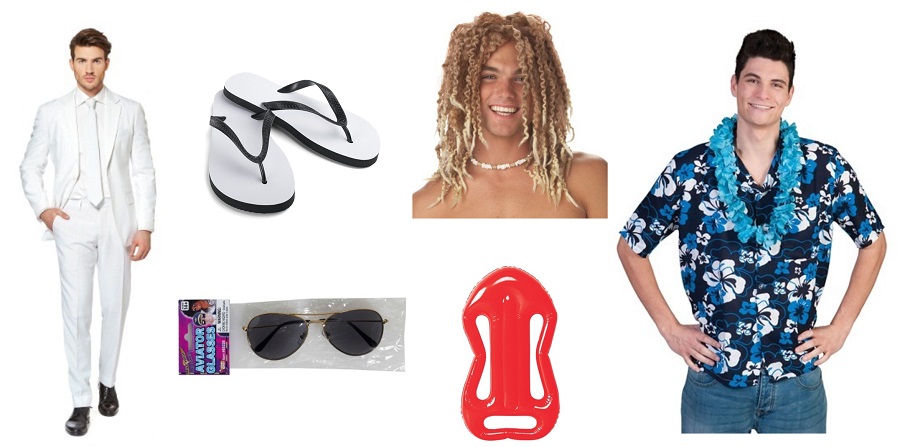 Obviously the white jacket is known for formal and professional affairs. But if you're ready to add some flair to your look, you can make that white suit a gleaming sight at the beach, too! Transform into a Summer Stud when you accent your white suitcoat with a Hawaiian shirt. Go the extra length with a pair of sandals, a wild wig, and a pair of stellar sunglasses. Are you styling up the lifeguard team or are you just showing how cool you look in your swag?!
There are a hundred uses for a good suit...and a white suit can really draw some attention. When you accessorize in just the right way, you'll transform a stellar suit into a creative character. Try out our DIY White Tuxedo Costumes this Halloween and then switch up the accessories to transform in a snap. You could also check out our DIY Black Suit ideas or even a Miami Vice DIY. If you really want to turn heads, keep a bunch of these ideas in your back pocket (maybe not literally) and you can switch it up every time you enter the room!