Do you ever find yourself shopping for costumes and everything is in "standard" sizes? Or there are only "one size fits all" plus sizes? Like absolutely nothing fits? Don't worry, because we've got your back! There are plenty of plus-size Halloween costumes from 1x up to 8x—you just need to know where to look! Trust me, from one plus-sized person to another, there's a plus size costume for everyone and they're super easy to order online. So let's get out there and have fun at your next Halloween party or costume event!
Plus-Size Halloween Costumes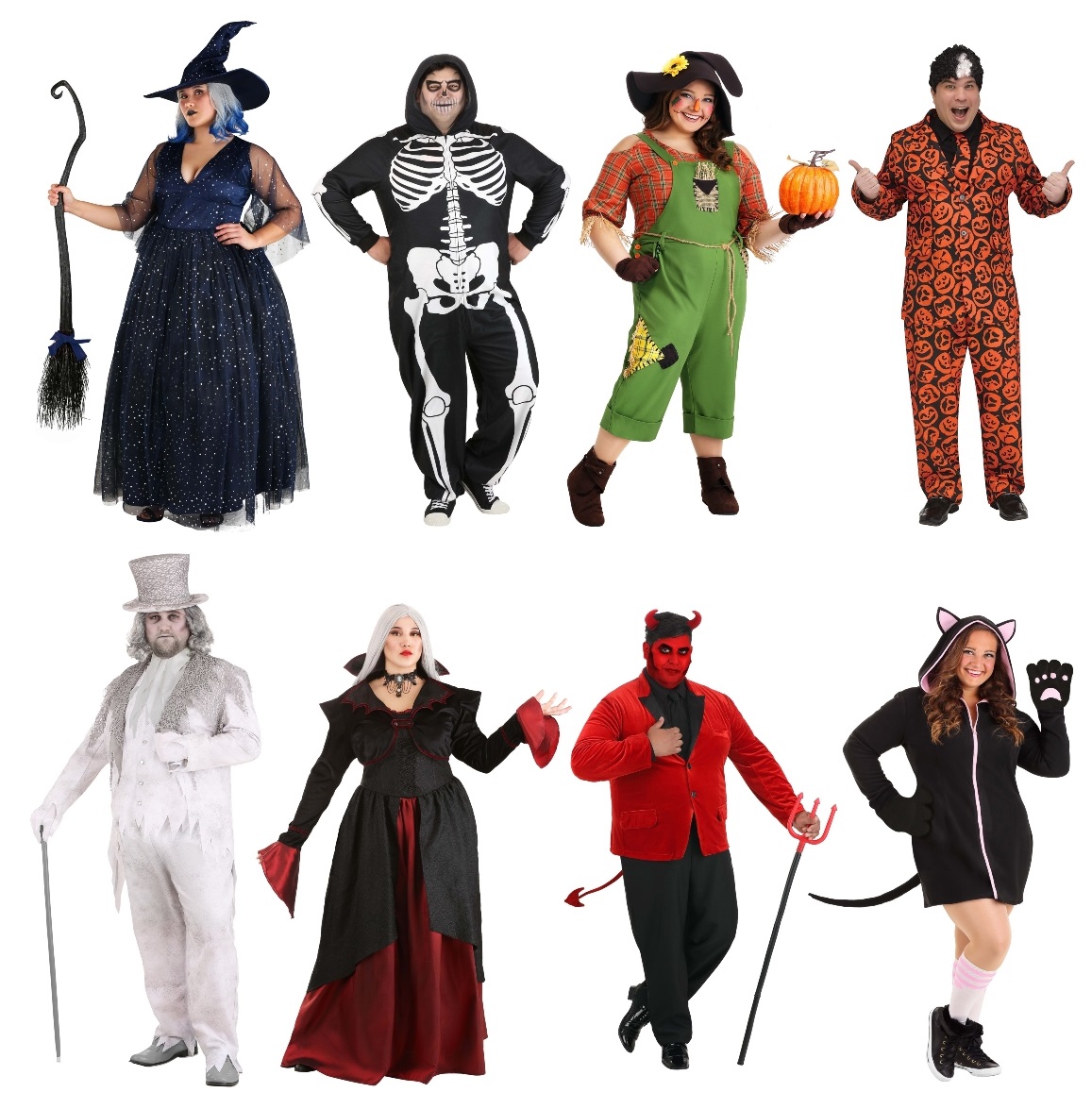 It's hard to beat a classic. We'll start by looking at the variety of men's and women's plus size Halloween costumes online! Thankfully, the days of finding 1 boring plus-size costume for every 99 exciting standard-size costumes are gone...at least with us. So if you've got your eye on the perfect ensemble, chances are there's a plus-sized version of that same outfit! Look enchanting in the perfect witch costume, or find a scarecrow that's just your size. Or, if you're simply big-boned, maybe a skeleton suit is perfect for you!
Plus-Size Sexy Costumes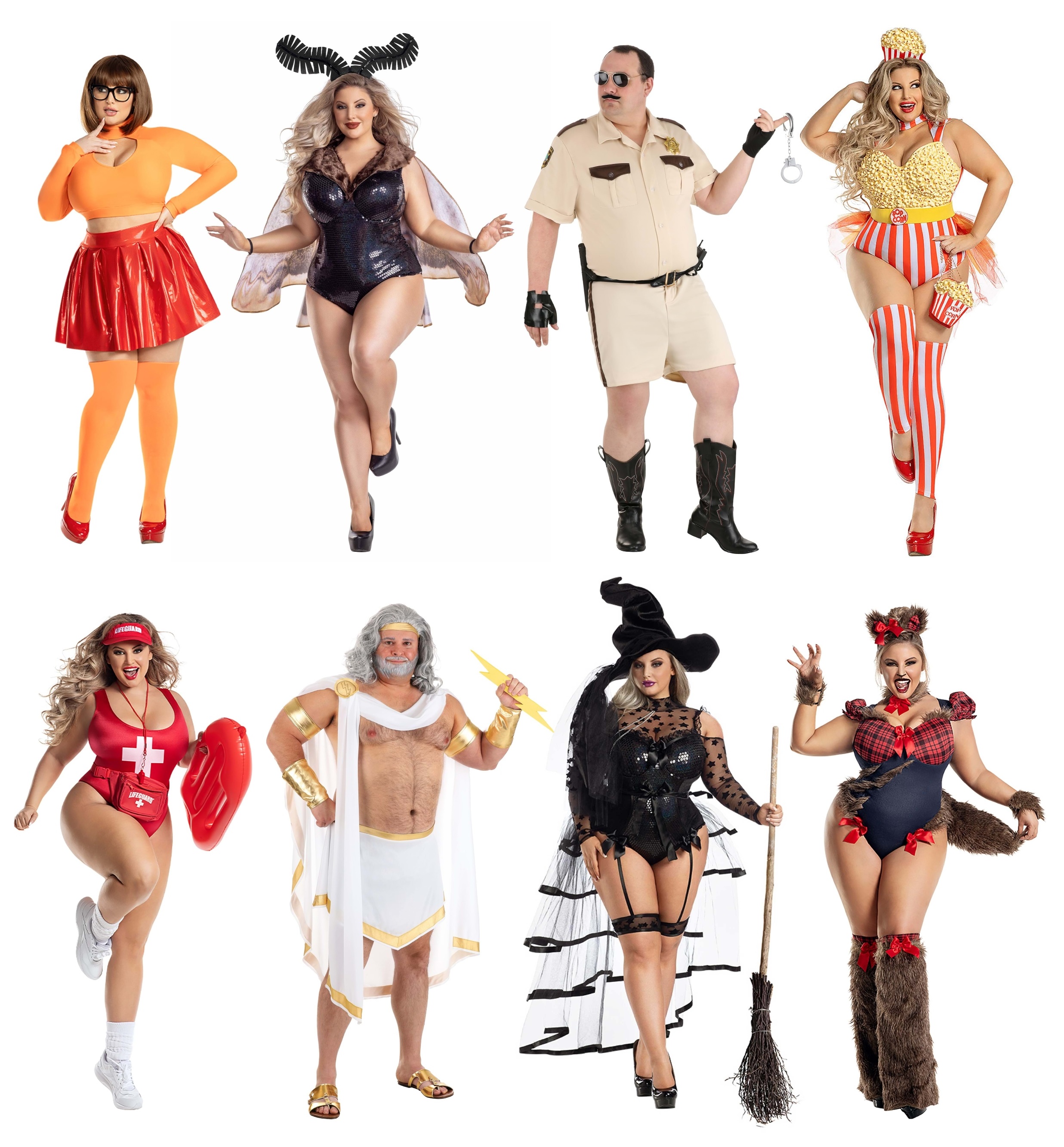 If full-coverage costumes aren't your style, consider one of the many sexy plus-size costumes at HalloweenCostumes.com! You can cast a spell as a sexy witch, or be a sexy nurse with a teeny tiny hat. (Seriously, what's up with the little hats?) If tiny hats aren't your thing, you can also shop for larger hats with us. We carry all the sizes of many things, including hats. If you're searching for the absolute best plus size sexy costume for men, then you need this Nacho Libre costume. Like, don't even bother looking at anything else. It's literally all you need. Okay sure, maybe then you can check out some other sexy plus-size men's Halloween costumes. You do you, my dude.
Plus-Size Superhero Costumes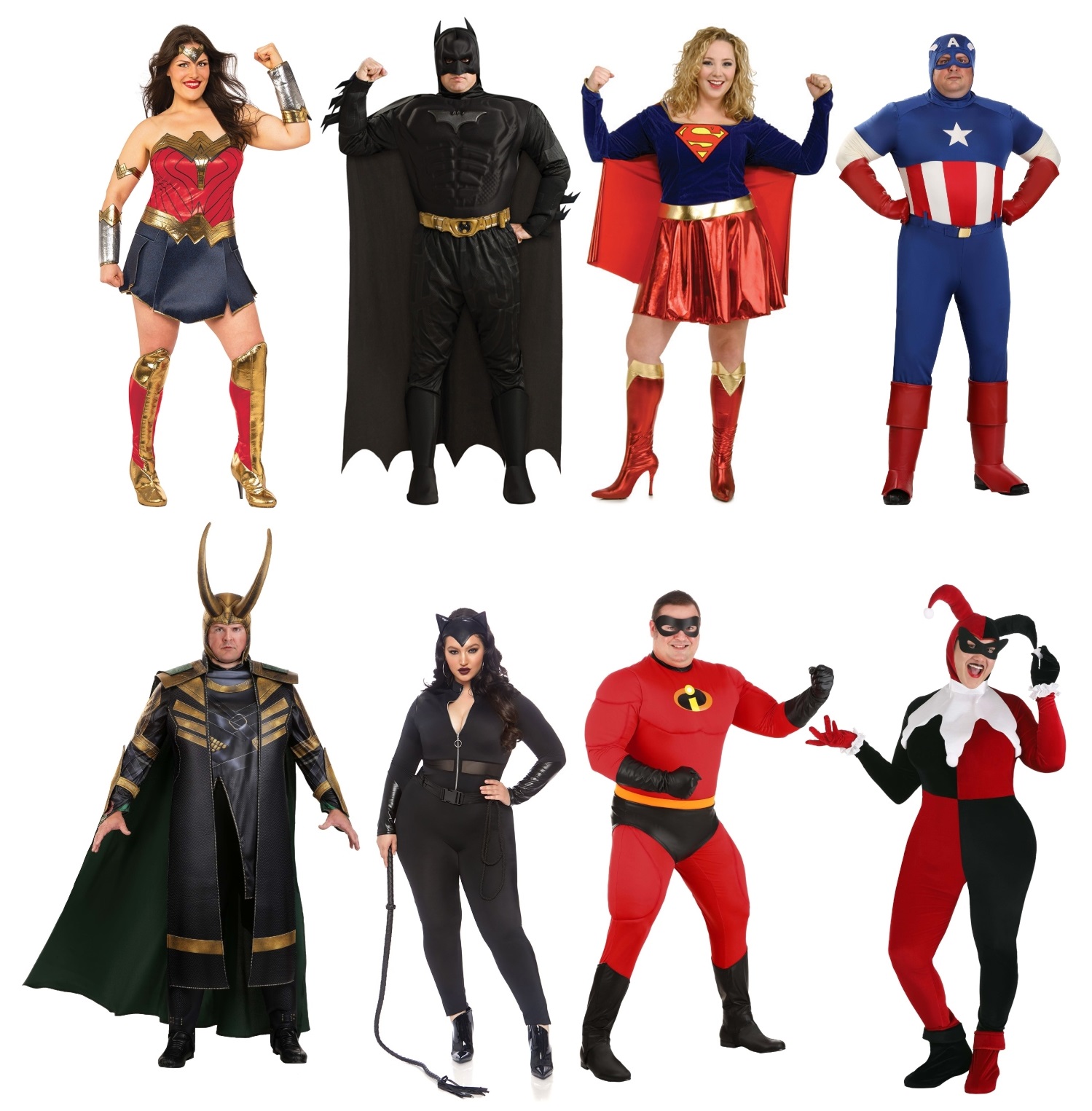 Superheroes are finally getting the spotlight that they deserve, and we couldn't be happier! They're not just for geeky comic book buffs and graphic novel aficionados. Sure, maybe you were part of that crowd, but it's great to see so many people interested in the latest superhero movie or TV series. And because of that, there's a much higher demand for superhero costumes, including extended sizes. Maybe you want to show up to your local comics convention in a plus-size cosplay costume. Perhaps your kid wants to be Supergirl and she could use a Superman when trick-or-treating. Be the hero you were meant to be with these superhero plus-size costumes!
Plus-Size Disney Costumes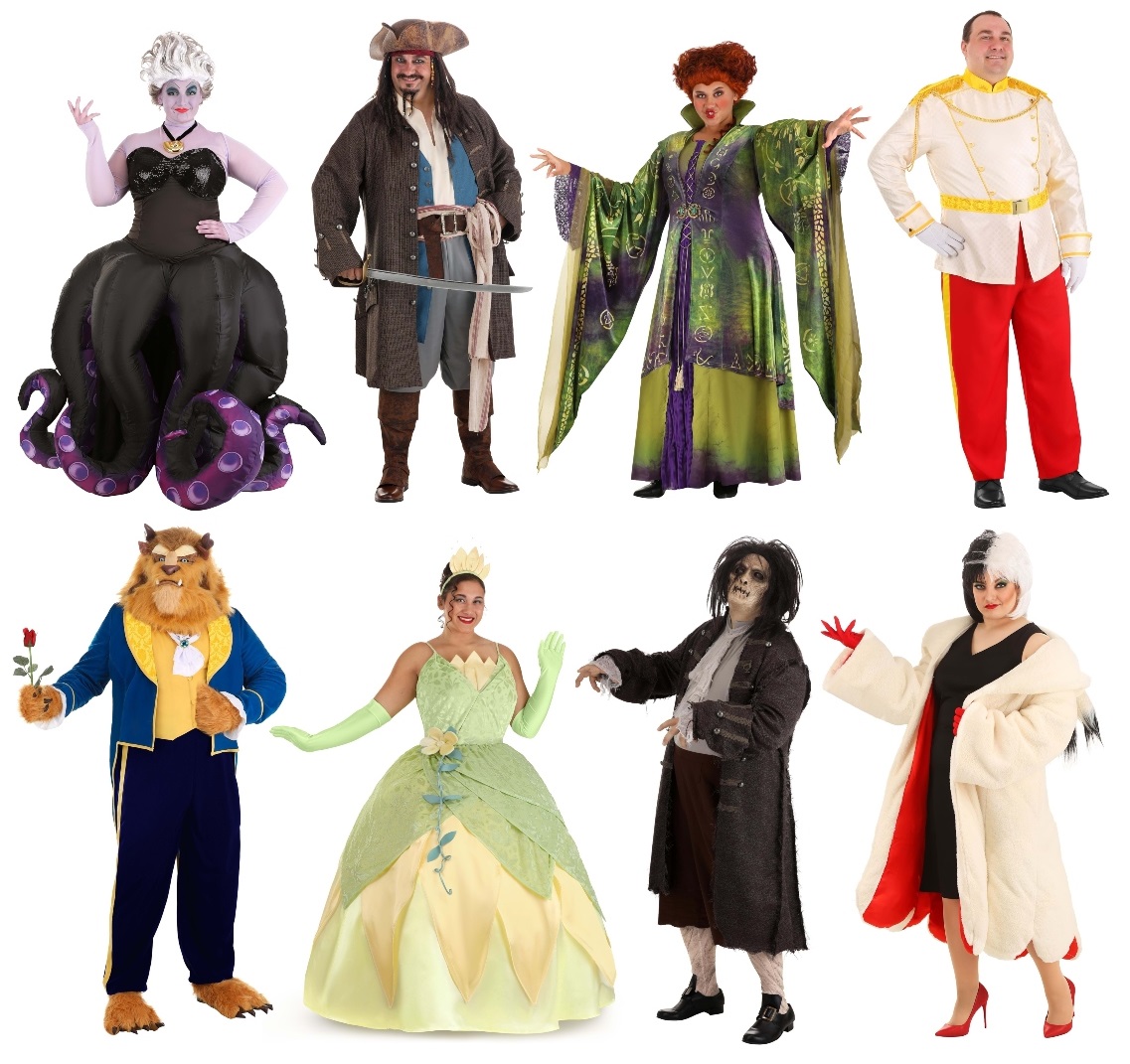 Plenty of people love Disney movies, whether they got into them because of their kids or when they were kids. You may feel the most comfortable dressing as voluptuous Ursula, but don't let anyone tell you that you can't be a plus-size Disney princess. Or how about a wonderfully boisterous Captain Jack Sparrow? These Disney plus-size costumes were made to be worn to your next Disney party or Halloween event!
Plus-Size Pirate Costumes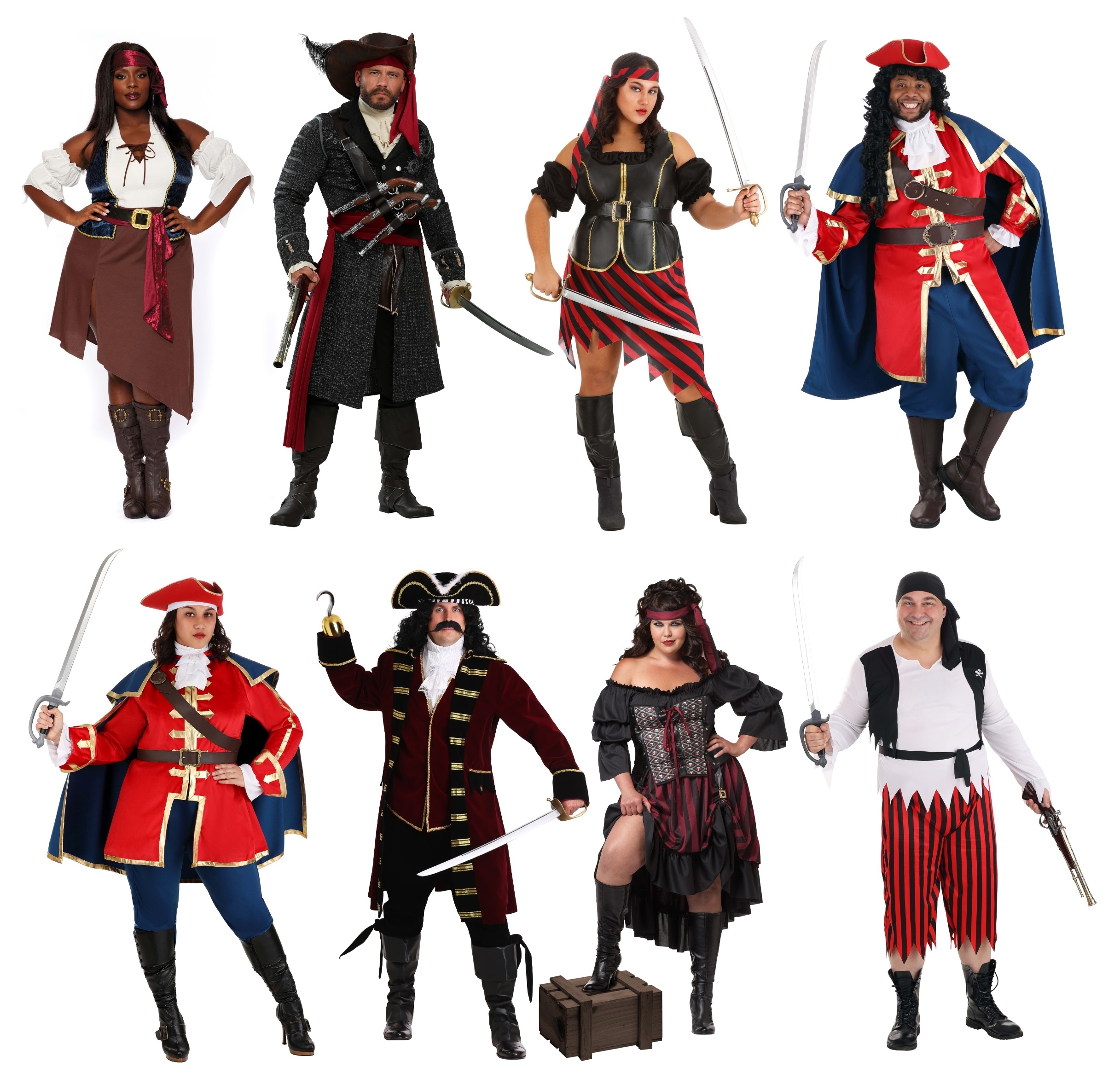 Another Halloween classic, you can find plenty of adult pirate costumes in extended sizes to outfit your crew. While pirate outfits are popular for Halloween, they're also a staple at Renaissance Fairs and other fun events! (Gasparilla Pirate Festival, anyone?) You can even be a well-known pirate like Captain Hook or Blackbeard. Just make sure to brush up on your pirate lingo and you'll have the best plus size adult Halloween costume at the party.
Funny Plus-Size Costumes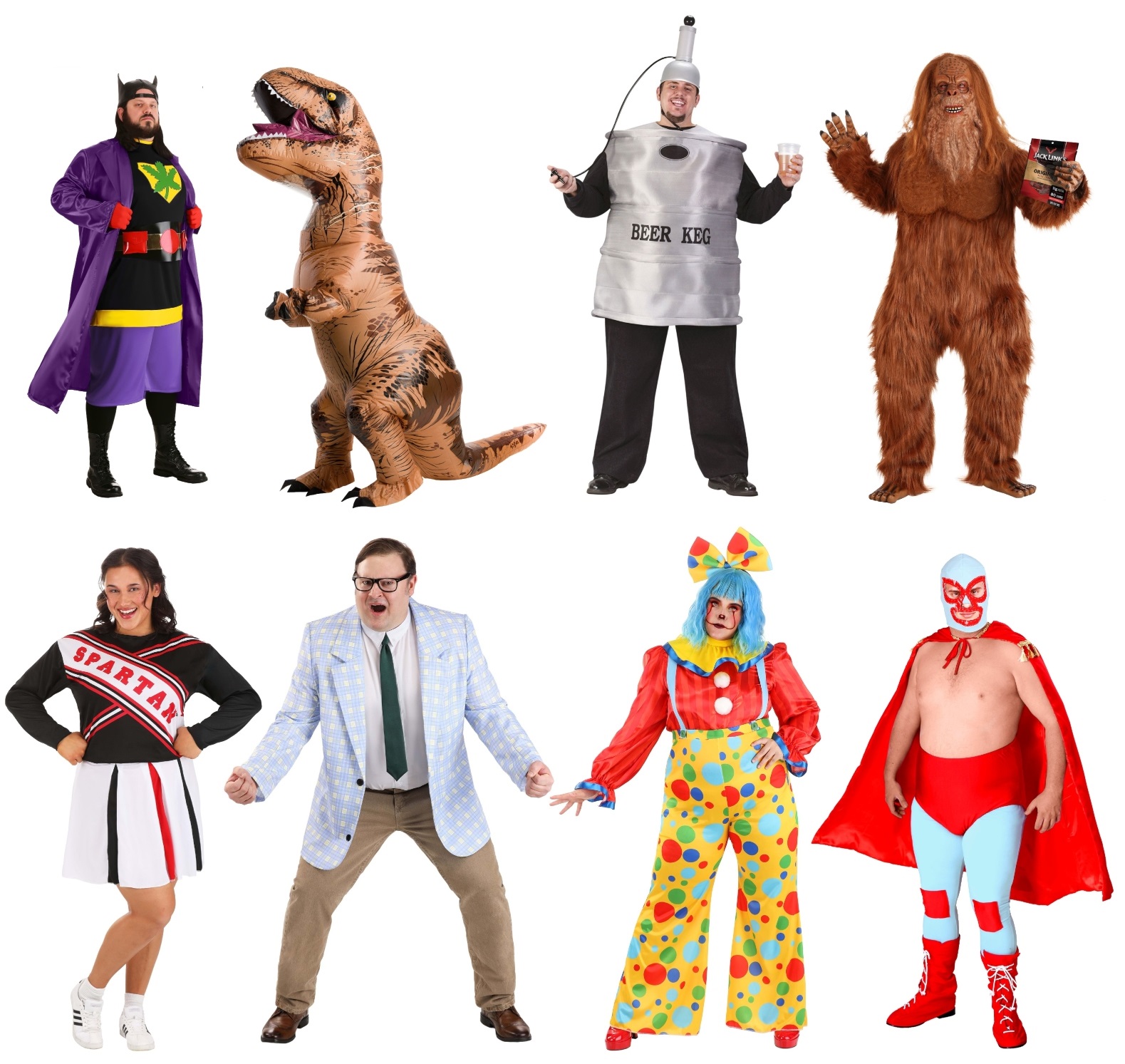 If you're a big man on campus wherever you are—no judging, I am as well—then you might be looking for men's plus size Halloween costumes. Just like with women's costumes, if you can imagine your favorite costume, there's probably a plus-sized costume for fat guys. (Again, no judging.) Whether you're looking for something funny for your next frat party or you're the goofball at friends and family Halloween events, here are some funny plus-size costumes that don't make being large the punchline.
Plus-Size TV and Movie Costumes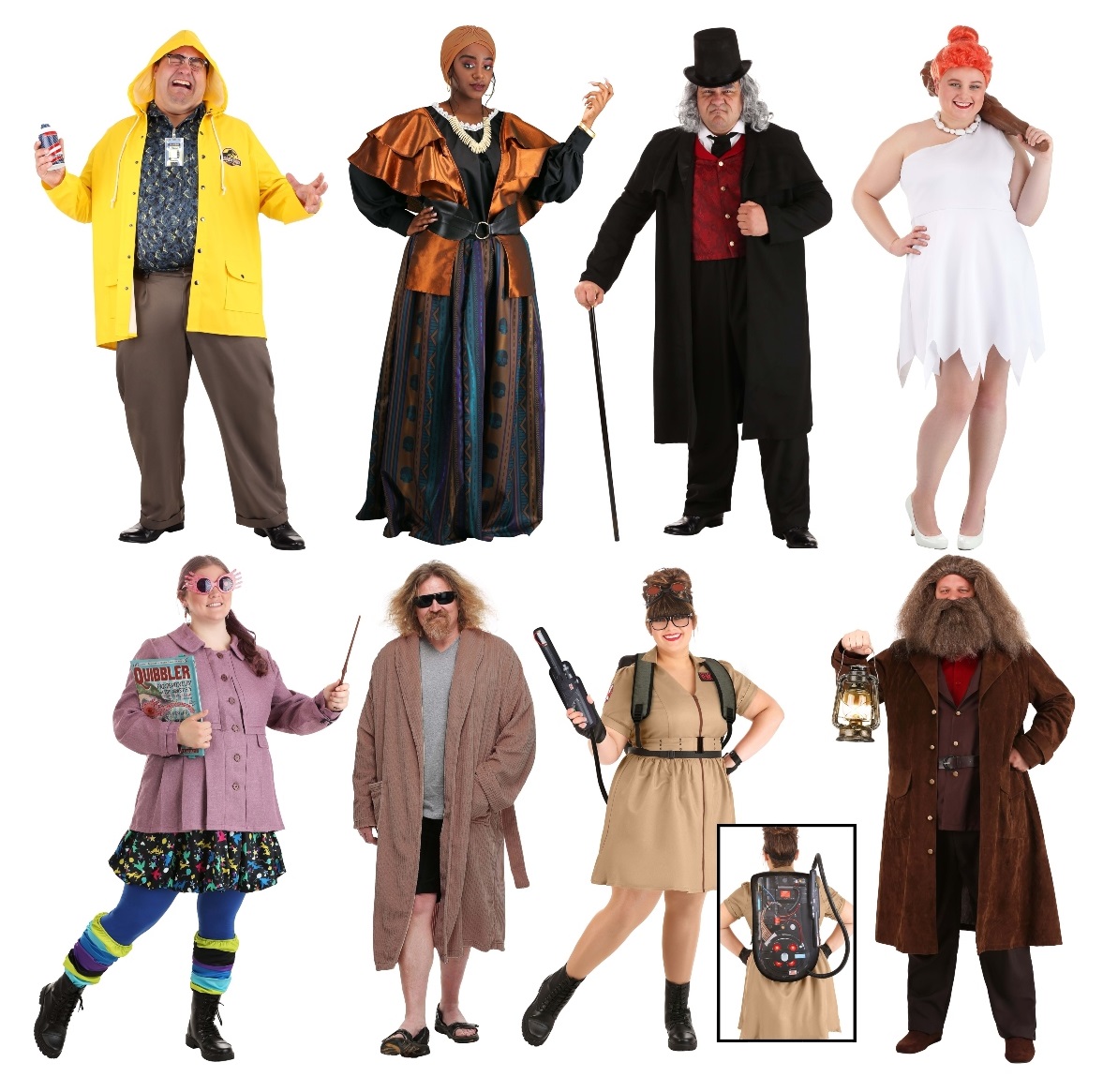 Do you consider yourself to be a movie buff? Maybe you're a couch potato catching up on all the latest TV series. You might be surprised to learn that there are tons of amazing TV and movie plus-size costumes for Halloween! (Or pop culture conventions. We know you want those autographs!) Characters like Hagrid and Dennis Nedry are a boon for your large frame, but don't let that stop you from being a Ghostbuster or a Hogwarts student. Plus-size women and men can feel great about their Halloween costumes with all of your favorite characters!
Plus-Size Animal Costumes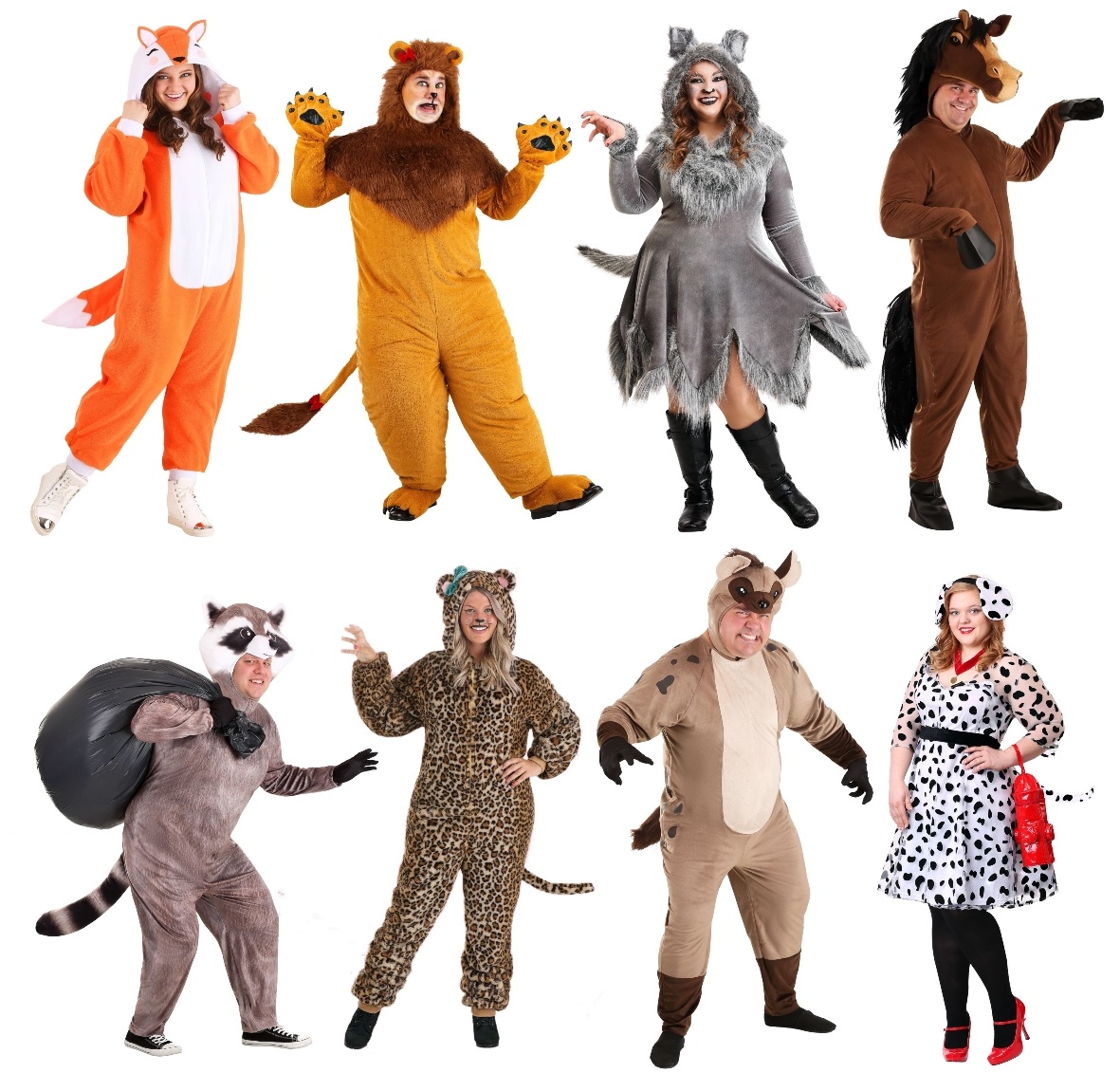 Are you looking for a cozy plus-size costume to wear to the office or out trick-or-treating with your kids? Look no further than these adult animal costumes! We pride ourselves on having a wide selection of styles, so skip the cat and dog costumes if you're looking for something more original. What about a horse instead? Maybe a rascally raccoon? Many of these men's and women's plus-size costumes are also unisex costumes, so you can be pretty much whatever you want!
Plus-Size Storybook Costumes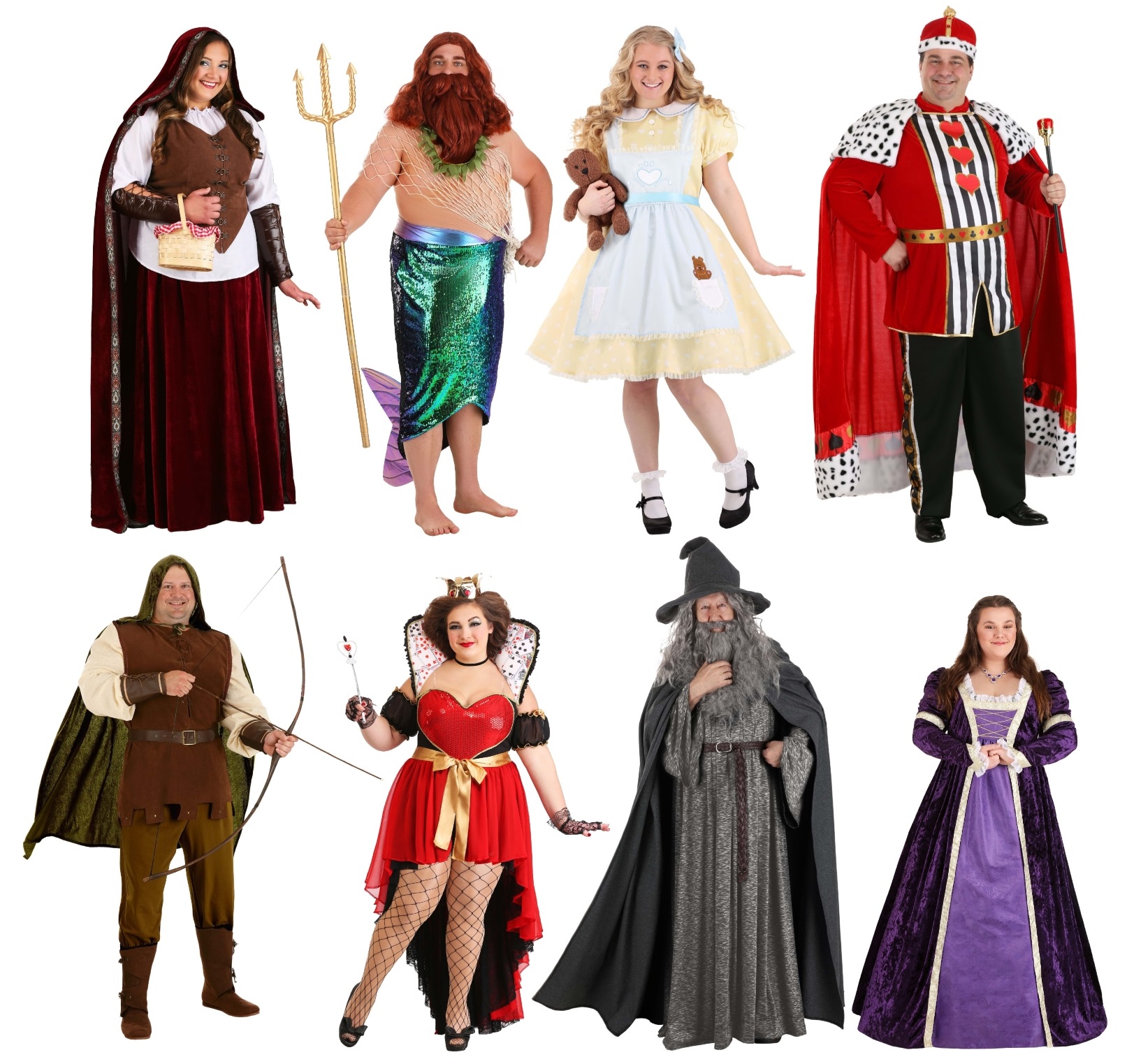 Do you ever wish you could live in a fantasy world and be someone else for a while? What would it be like to live as a mermaid? What about a wizard? Well, live out some of your storybook dreams with these plus-size fantasy costumes for adults. You can even step into your favorite stories as Red Riding Hood, Robin Hood, or the Queen of Hearts! (Clearly, we have a dramatic flair for capes and hoods.)
Plus-Size Video Game Costumes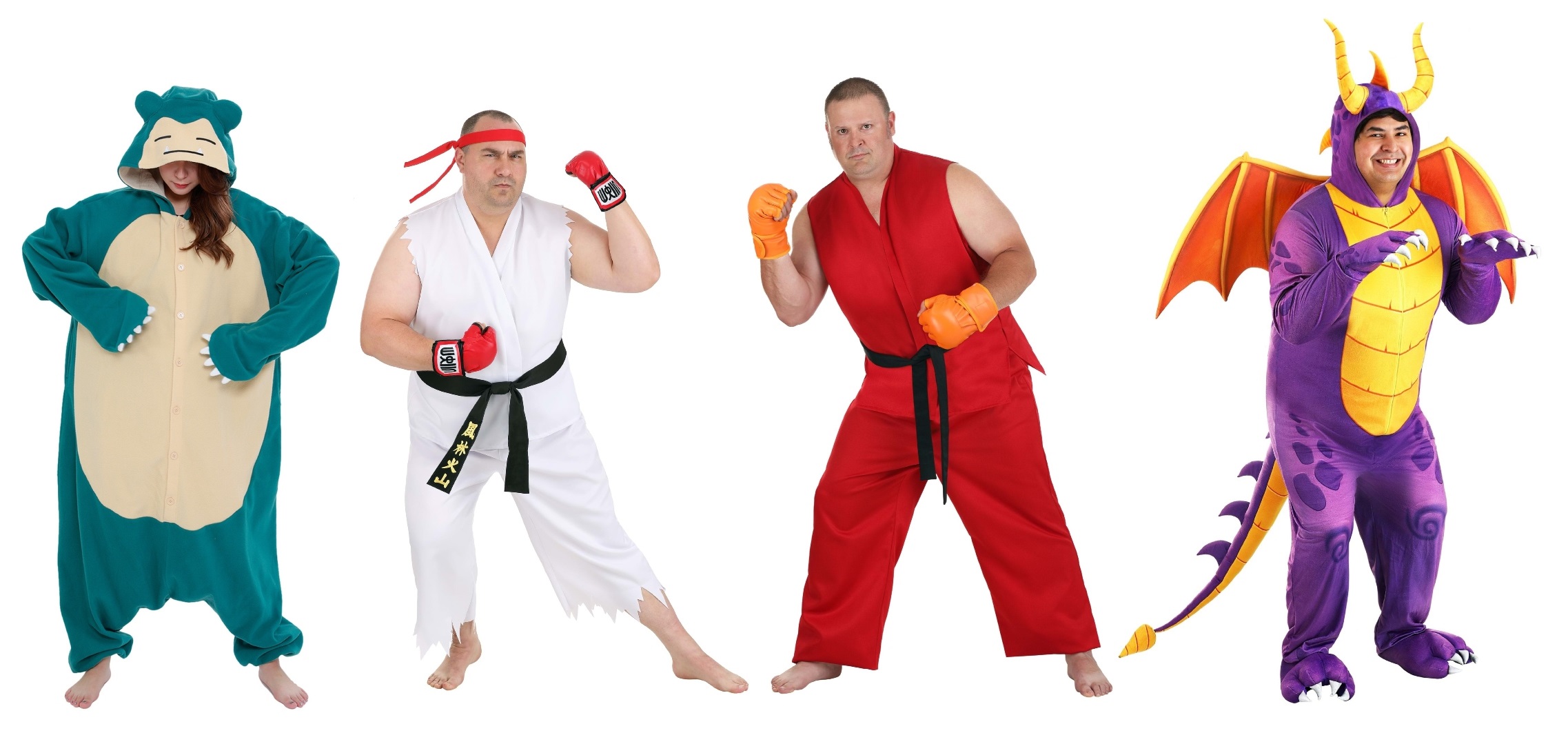 Chill out on the couch playing your favorite video games in a plus-size kigurumi! Or feel like Bowser, one of your favorite larger-than-life villains. (No one pushes him around in Mario Kart!) Whether you want to dress up while streaming at home or visit a video game convention in style, you can find plus-size video game costumes of some of your favorite characters. Yahoo!
Plus-Size Decade Costumes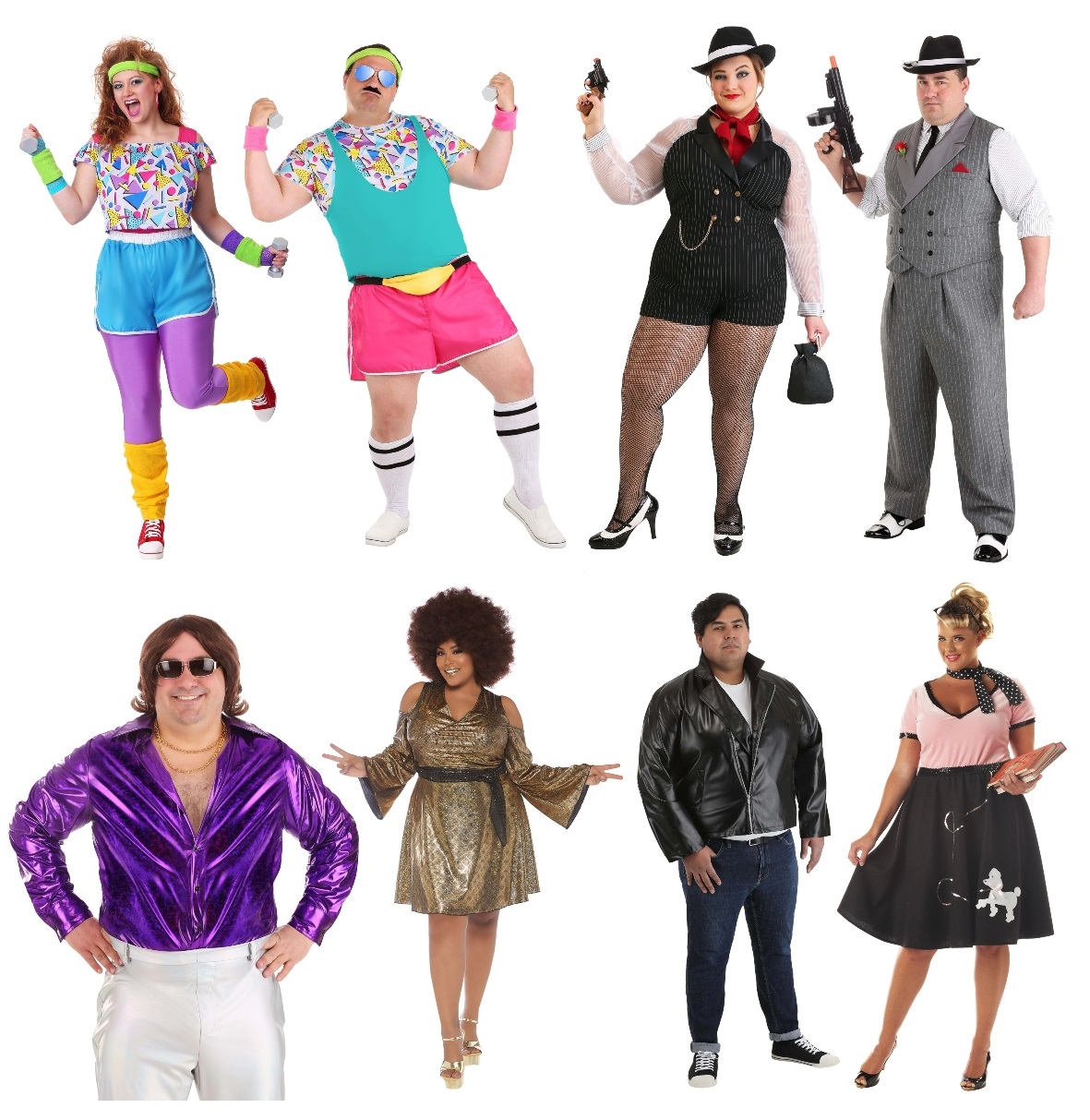 It doesn't have to be Halloween for you to have a fun costume party! Decade parties can be tons of fun, but you've gotta dress up to really feel like you're back in the 80s again. Or tearing it up on the disco floor. Feel ready for your next sock hop in 50s plus-size costumes, or shake your groove thing in 70s costumes with extended sizes. You'll feel like the life of the party in these decade costumes for large people!
Plus-Size Uniform Costumes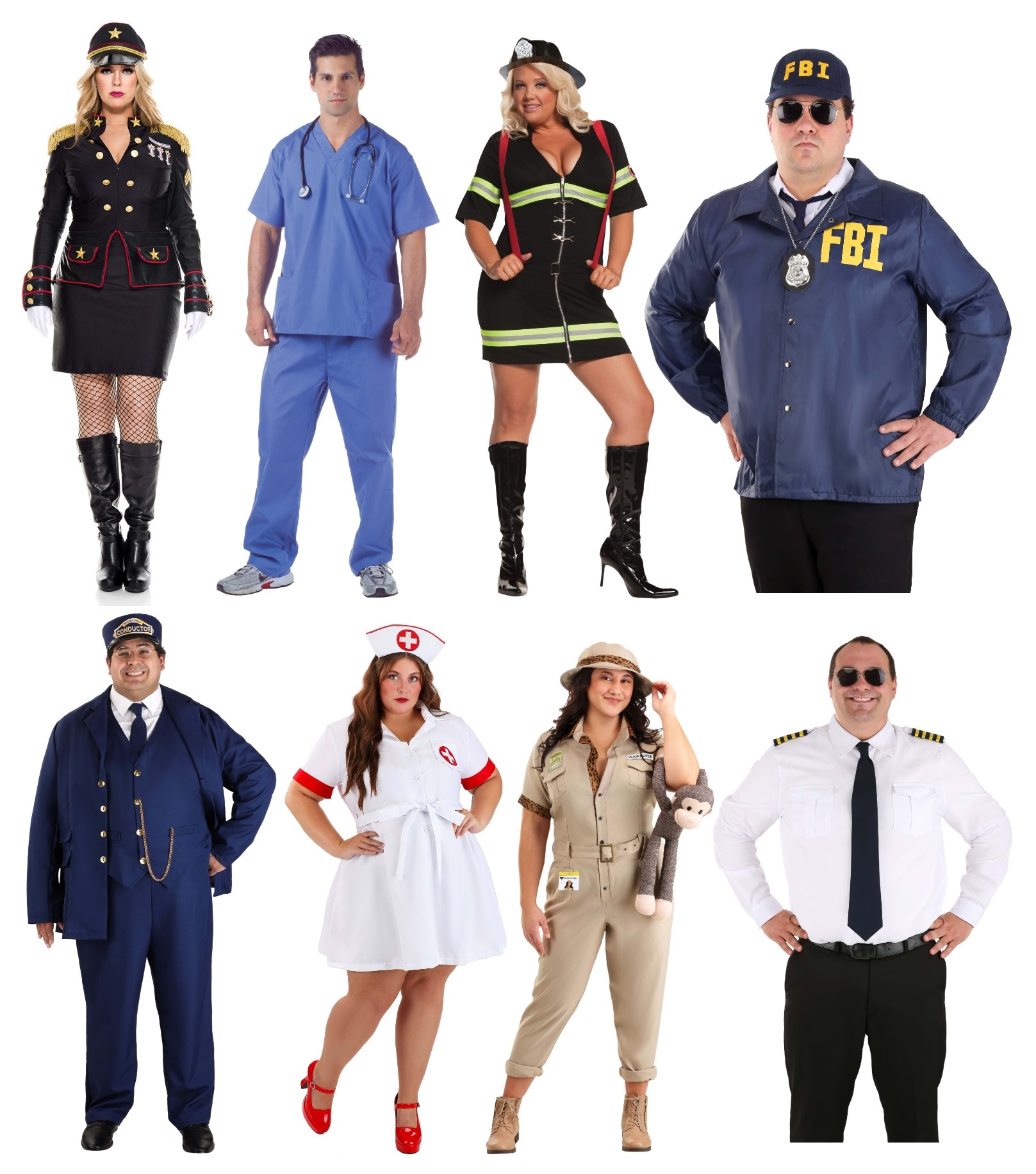 Ditch your boring desk job for something more exciting with one of these plus-size occupation costumes. (Or if you have a more exciting career, step into something a little different for a change!) Have you ever dreamed of being a firefighter? Maybe your love for true crime gives you the itch to try detective work. These plus size uniform costumes are ready to work for you!
Plus-Size Circus Costumes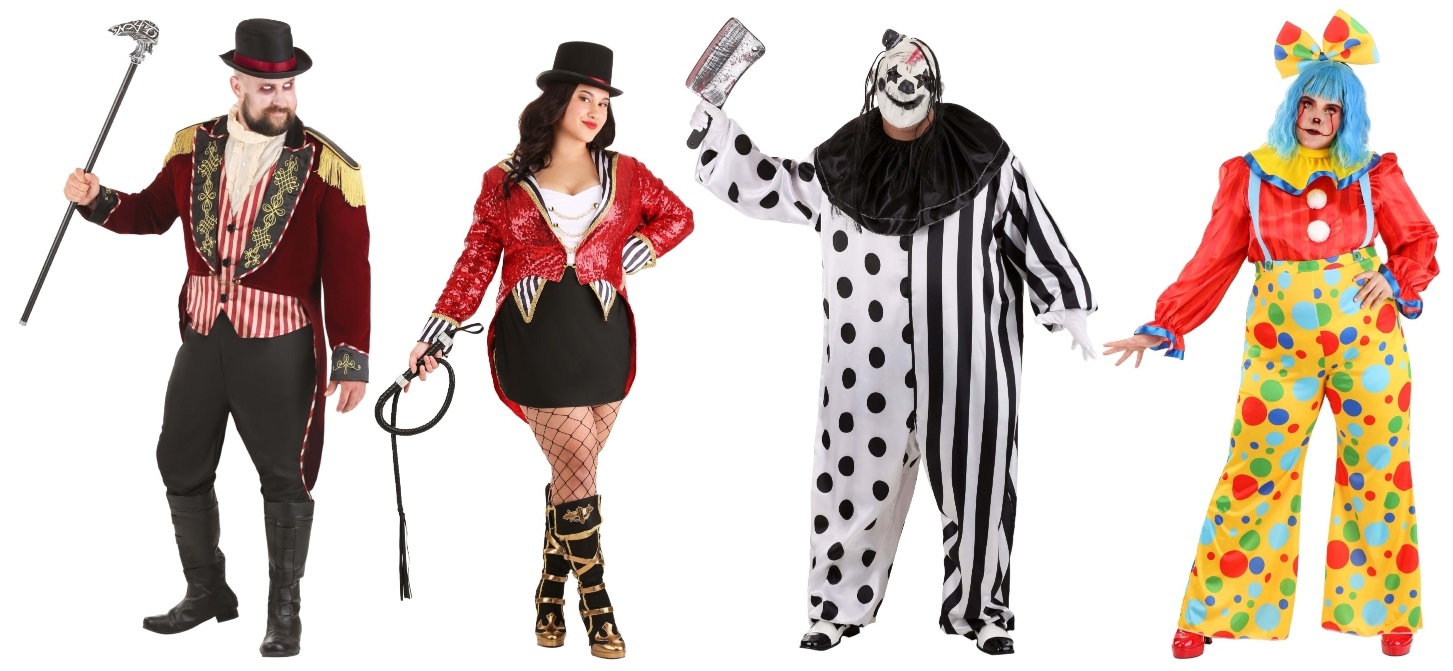 Speaking of ditching your hum-drum life, you won't have to run away to join the circus when you buy these plus size circus costumes. Keep it traditional with friendly clowns, or give off dark circus vibes with a creepy ringmaster costume. A circus costume theme is also great as a group, so grab a few friends and bring the circus to town! You'll have the greatest group costume on Earth.
Plus-Size Historical Costumes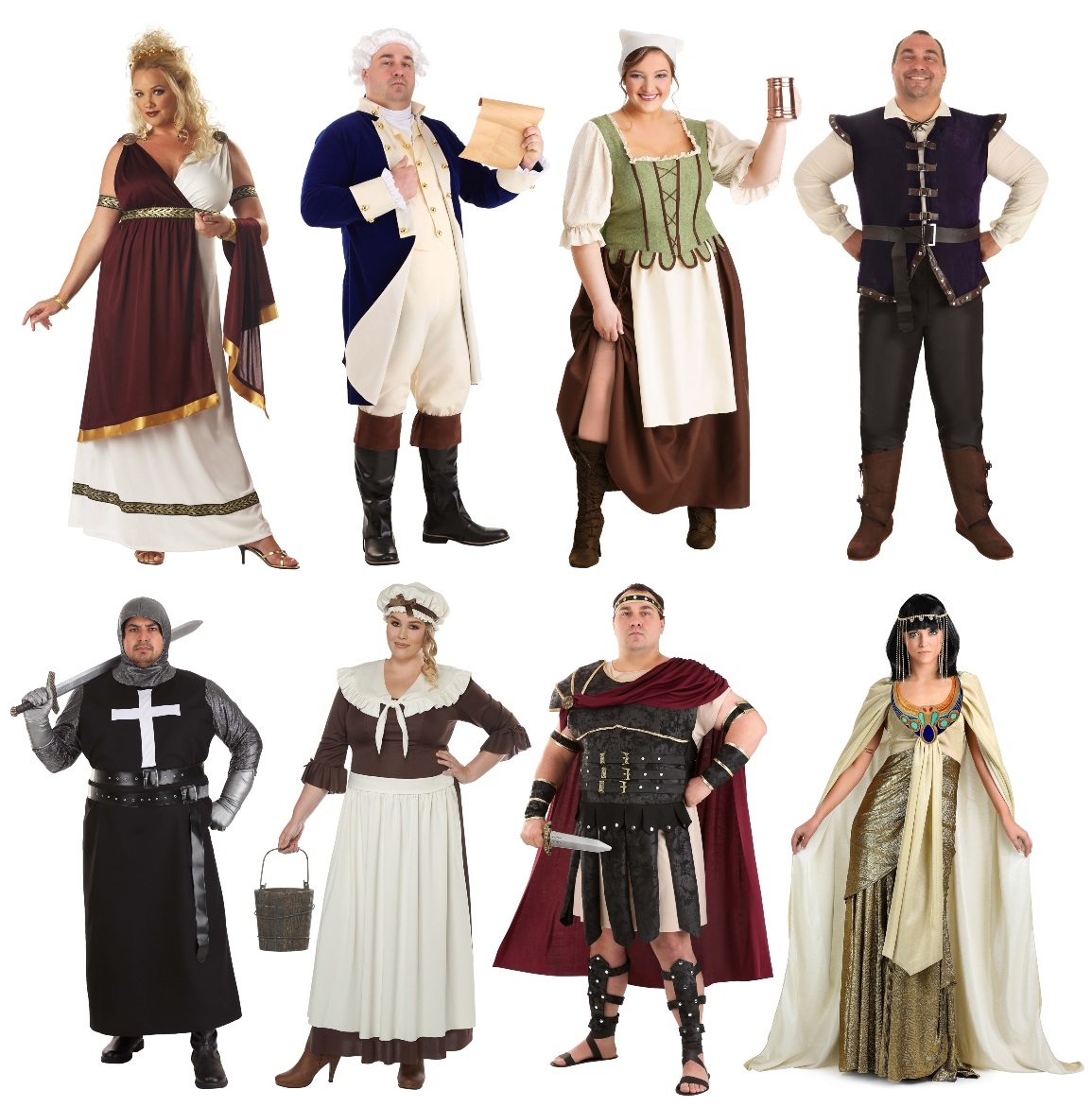 Are you a plus-sized person with a passion for history? Well, you'll be happy to know that HalloweenCostumes.com has a variety of plus size historical costumes ready to wear. Go to your local Renaissance Fair in costume with the knowledge that you can correctly identify the Renaissance time period, or go back to the founding of America as Alexander Hamilton. (Or Broadway. Don't miss your shot!) There's no time like the present to dress like you stepped out of a time machine.
Plus-Size Costume Accessories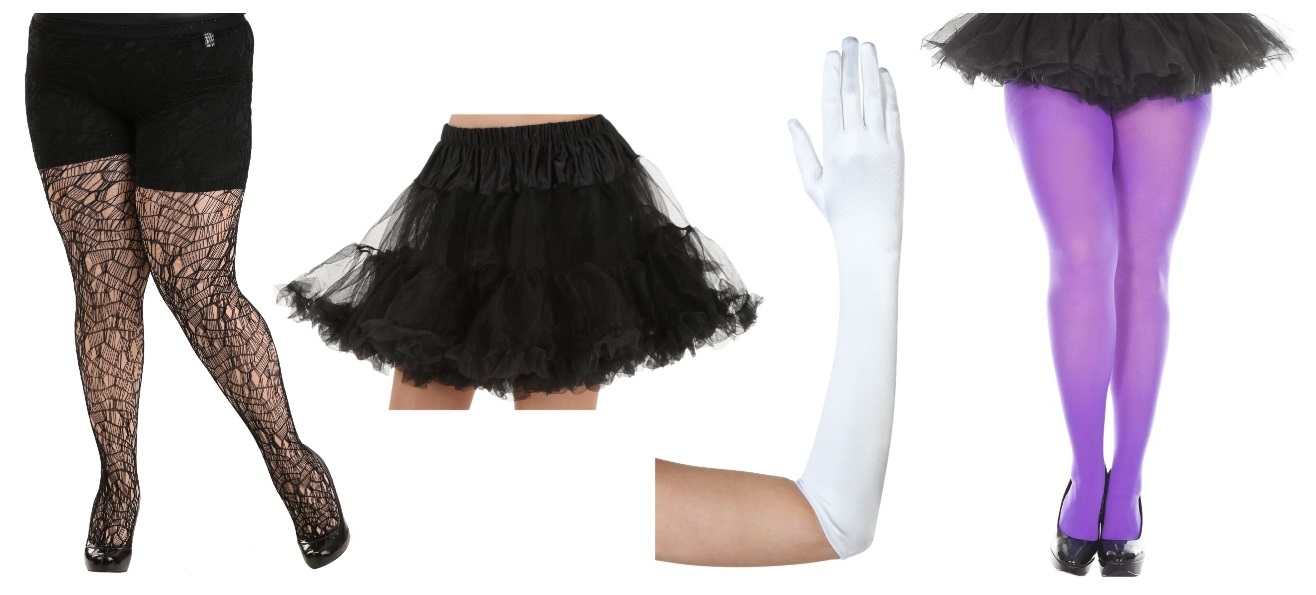 When shopping for plus size Halloween costumes, there are times when you may also need some appropriately-fitting accessories. The good news is that you can find plus-size tights and leggings, and even large gloves for guys with bear paws for hands! Appropriately-sized petticoats and hoop skirts are also available to give your dress costume the volume you're seeking. After all, we want all of our plus-size costumes to fit as they should, right down to the last detail!
Did you find the plus size costume that you're looking for? We hope you did! Let us know about your Halloween, party, or cosplay plans in the comments below. For added inspiration, check out this video about expressing yourself that we made about our plus-size costumes! And if you still haven't found the perfect fit, then take a look through our guide to costumes for tall people!