Girls' Costumes
So, is she ready for Halloween? Or are you both still shopping furiously searching Halloween costume ideas for girls trying to find just the right look for this year? If you're busy searching for cute Halloween costumes for girls, we're sure you've found out by now that they run the gamut. Superheroes, uniforms, historical costumes, scary… the options are endless! If the range of choices for girls' Halloween costumes seem overwhelming, we are more than happy to lend our expertise to help you out. And that's why we created this HalloweenCostumes.com how-to! Chock full of costume ideas for girls, we've picked out some of our favorites and top sellers so you have a quick reference to see just what's in. We have all age groups covered (toddler, child, and tween) as well as costumes that work great for play time and Halloween. Whatever kind of children's Halloween costume you both can agree on, we've got the choices and selection to help make sure this costume experience is going to be the best ever!
Girls' Dress Up Costumes
First, let's start in the land of make believe. After all, having a great imagination is definitely the precursor to any great Halloween adventure. Whether you're perusing creative play costumes for an extra special dress up day, or if she's just getting ready for the trick-or-treat adventure of a lifetime, we have girls' dress up costumes in all of the most popular themes! Check out these top selling looks for the most popular choices in girls' costumes for Halloween or dress up!
Sofia the First Dress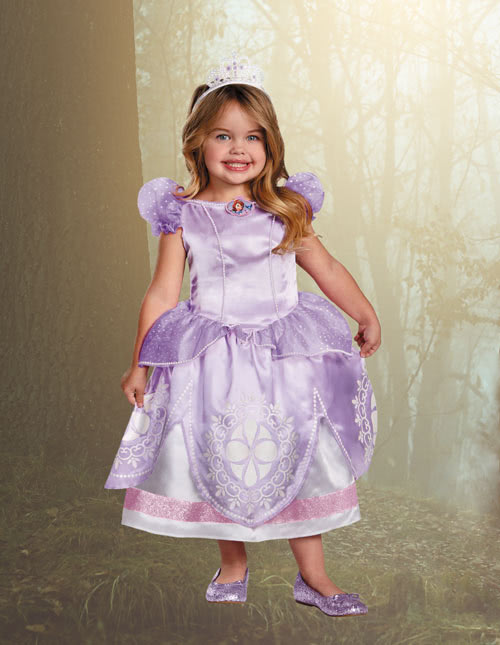 First step: Officially licensed Sofia the First dress up costume. Next step: Official trip to the land of Enchancia! Okay, so she won't get to become royalty, but there's no reason she can't pretend to be when she teams up with her friends for an afternoon of fun! With glitter embellishment and intricate details, any little lady is going to feel super princess-ey in this costume. And if the threads don't do the trick, the included character brooch sure will!
Supergirl Dress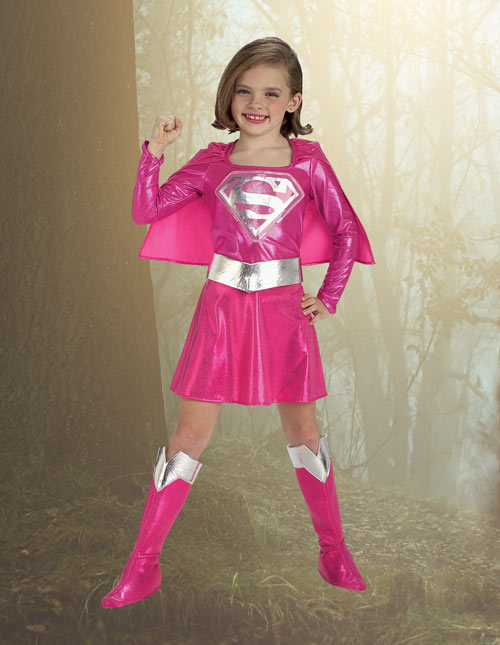 Pink is in. And it's in in a big way. (Has pink ever not been cool?) When she dons these pink threads, not only is she going to be decked out in her favorite color, she'll also have the power of the S shield from Krypton backing her up! She can stand tall and get ready to bruise bad guys as Kara Zor-El, aka Supergirl , with this Supergirl dress costume . It's ready for action, or for play time fun!
Fairy Dress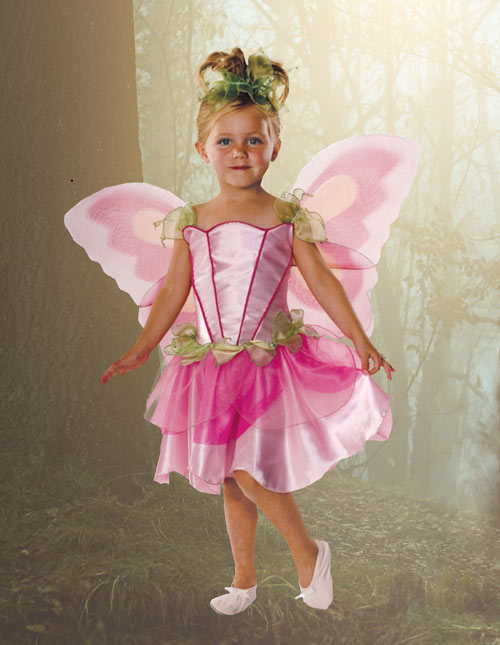 Playtime as a child is supposed to be magical, so why not choose one of the most magical kids' Halloween costumes for play time? This Fairy costume is a tried and trusted riff on a classic theme, and its gorgeous accents are going to make you glad you have a new pixie in your home! She can team up with her friends for a playdate of imaginative fun in the woods, or you can let her create her own fairy den in her playroom.
Minnie Mouse Costume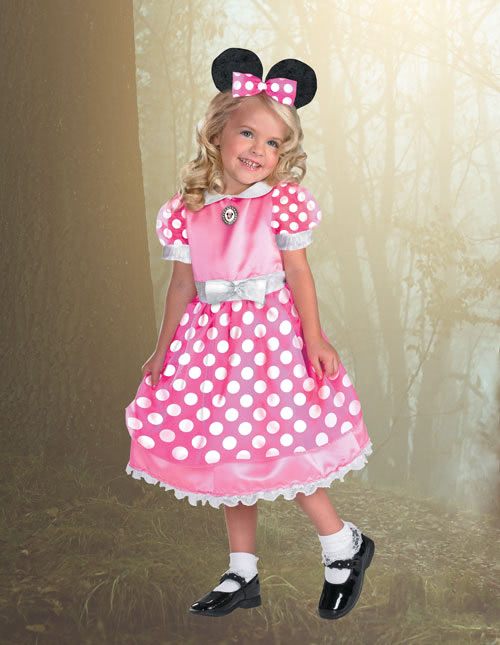 Dress up time can, and almost always should, involve a trip to the Magic Kingdom, so let her dress up as Minnie Mouse with this classic dress costume . Pink polka dots and the signature mouse ears will have her loving play time. She can team up with her favorite friends as Disney characters or princesses , and together they'll be able to create a magic adventure!
Baby Girl Halloween Costumes
So her first Halloween is approaching and you want to be sure to set her costume career out right. After all, those photos from her first trick-or-treating adventure are sure to be treasured in a photo album forever! There are lots of great options for her first look, so take a gander at these selections for some of our most favorite Halloween outfits for girls. She can be cute, scary, or even one of her favorite characters! Sure, she doesn't have a favorite yet, but when she grows up and sees pictures from her first Halloween, she's sure to be a lifelong fan!
Tinkerbell Costume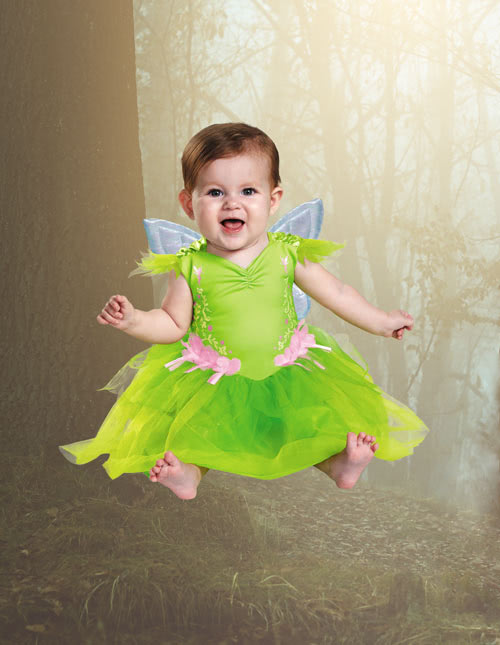 The beloved character Tinkerbell from Disney's Peter Pan would be a great choice for a Neverland adventure! She can spread a little magic in this adorable deluxe Tinkerbell costume, but you're probably going to want to hang onto the pixie dust until she's a little older—we don't want to give her the achoos!
Monster Costume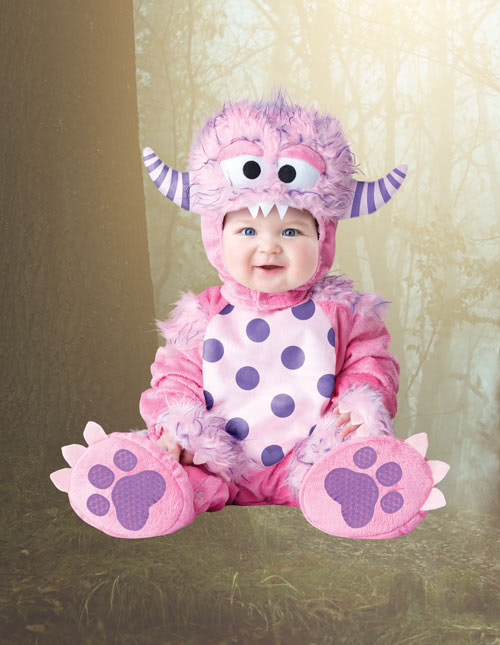 Is she ready to be terrifying? Of course she isn't, she's only a baby! But we think this monster costume will let her get "tiny and cute" just right instead of "big and scary!" Pink plush fur, horns, and your little one's smiling face are going to make for some great Halloween moments when she transforms into this cuddly pink monster!
First Halloween Outfit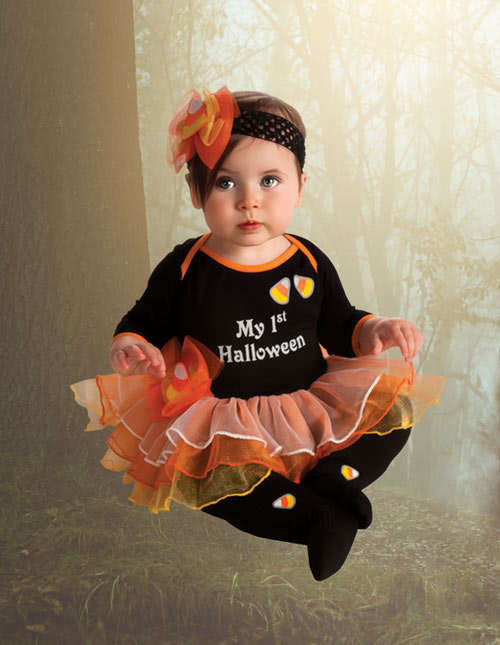 She's an infant, so she might be just a little too young to get spooky. But when searching for Halloween costumes for little girls, we still want to make sure she has a great costume for her first experience. This celebratory my first Halloween costume lets everyone at the party know that she's new to the costume game. Get her this girl's onesie for an adorable and memorable look.
Little Red Riding Hood Costume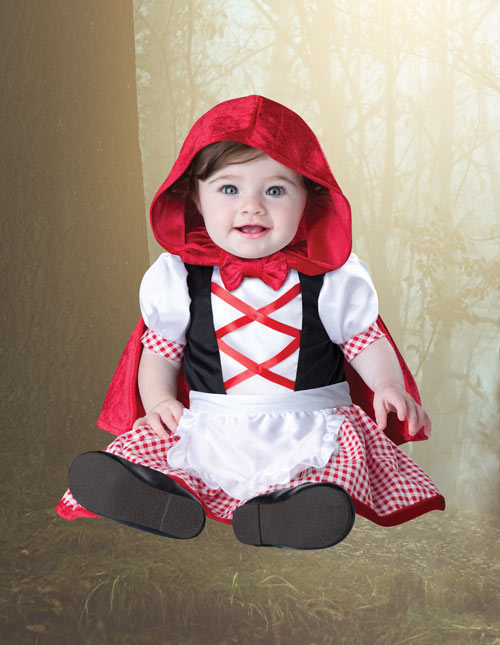 There's no chance of Big Bad Wolves showing up when your girl goes in this Little Red Riding Hood costume . Because she's going to be too adorable! You can still take her to grandma's house, or just make the trick or treating rounds with her in a stroller. Of course, you could always dress up her old man as a Big Bad Wolf for a great parent and daughter costume combination!
Toddler Girl Halloween Costumes
But she still has a lot to learn about doing Halloween just right! It's also time to get her some more elaborate costumes, and you can start by choosing your favorite characters to dress her up as. Pretty soon she'll be all grown up and choosing her own costumes, but there's still plenty of time to teach her some great Halloween costume lessons, and to make some great memories, too! We've gather some of the cutest little girl Halloween costumes below just for her.
Butterfly Costume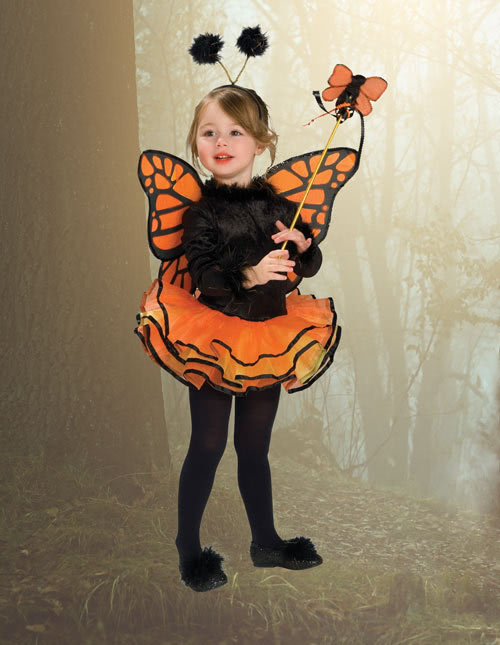 Just like your girl is learning a lot about the world, butterflies get to experience the world anew when they emerge from their cocoons. With their beautiful wings, Monarch butterflies are probably the most famous of them all. And we think they have a pretty sweet look to emulate! Your toddler will love the orange tutu and wings on this girl's butterfly costume .
Angel Costume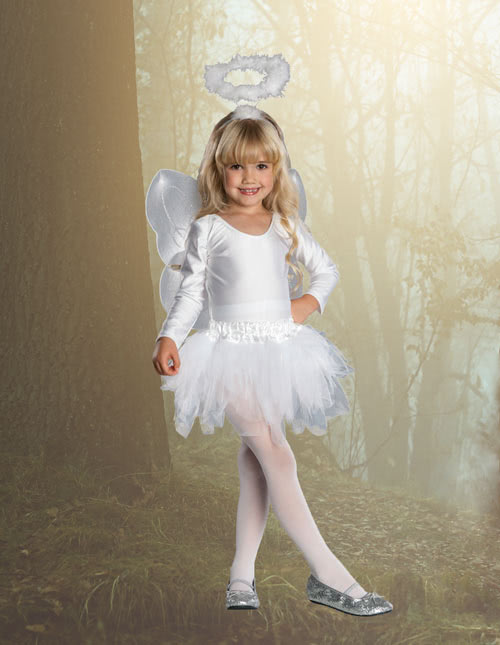 Of course everyone already knows that she's an angel, but let's solidify the deal by having her go as an actual Angel this Halloween! This leotard Angel costume will let your toddler feel angelic, and if the tutu doesn't do the trick, the wings and halo sure will! Of all the memorable cute costumes for girls, this is the only one that's downright heavenly!
Alice Costume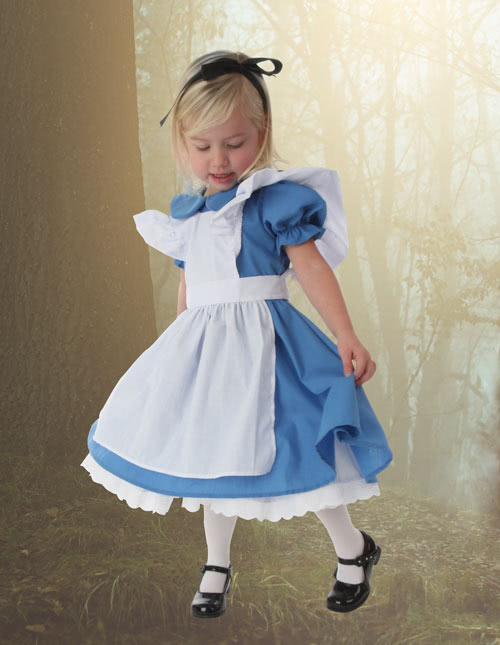 Of course Alice should be at the top of your toddler costume list, because it can't be too soon to get her into the world of books and especially into the world of Wonderland ! This Alice costume has the classic look that we all know and love: with the blue dress, white apron, and bowtie in her hair, she'll be instantly recognizable.
Dottie Costume
"Batter up! Hear that call?" You're probably all about A League of their Own , but it's definitely time to bestow knowledge of top lady slugger Dottie Hinson on your toddler with this Dottie costume ! A classic flick beloved by fans worldwide, we think it would be well and appropriate for your little one to start a league of her own, right in your own home!
Girls' Halloween Costume Ideas
So she's finally old enough to trick-or-treat properly, and she's probably ready to start having a say in what she gets to be for Halloween, too! Luckily, you still control the credit card, so you can make sure she has an exceptional costume by gently directing her towards some of these classic costumes for girls. She can be an iconic cartoon mouse, a historical figure, or even pick out a costume for a possible future career!
Cowgirl Outfit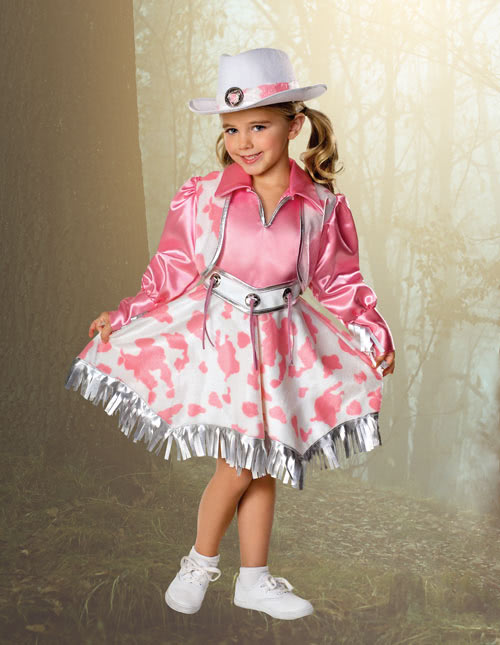 She'll be ready to be a cowpoke at the western ranch with this signature cowgirl costume! This costume ensemble comes with everything she needs to become a ranch hand except for the hat, so she'll have no trouble finding work as a cowgirl. She might need to learn some tricks with the lasso, but you can always spend some time on YouTube learning that!
Cop Costume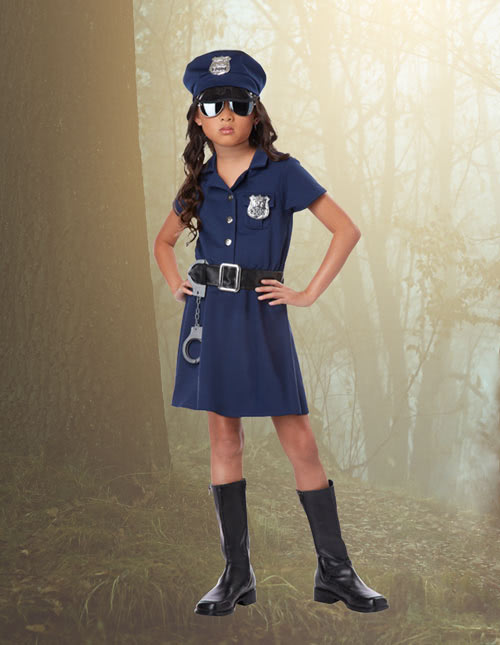 She's graduated Police Academy and she's ready to become a top cop. So we better get her the right suit for her mission! This tactical cop costume set comes with the gear she needs to be a part of the team, and if anyone doubts that she's real deal law enforcement, all they'll need to do is take a look at the script on the cap. Yup, she's a cop!
Harriet Tubman Costume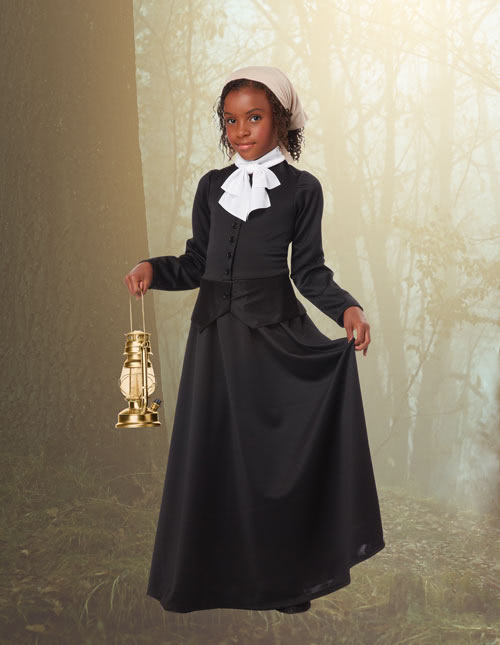 To really learn about history, giving her the opportunity to portray a heroic historical figure would be a really great way to let her connect with history. This Harriet Tubman ensemble is inspired by 19th century garments, and will let your girl become one of the leaders of the Underground Railroad. She can portray Harriet in a school play, or dress as this important figure at any costume event.
Halloween Costumes for Tweens
She might be getting a little old for trick-or-treating, but when she hits her tweens, she'll be ready for a whole new kind of Halloween fun. Adventure! She can become a heroic figure, a swashbuckler, or even a super scary ghost. The choice is up to her! Whether she's going to her first Halloween party at school or she's planning a great group theme with her preteen friends, she's going to love these cool Halloween costumes for girls. Check out these top selling selections to see if any of them catch her eye!
Robin Hood Costume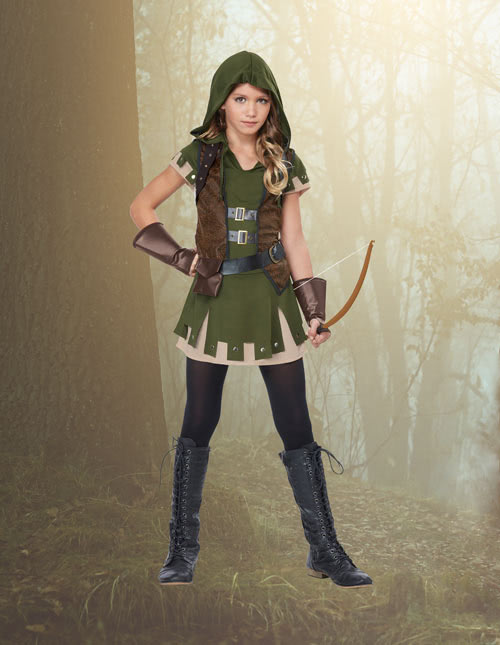 Robin Hood is as classic of a Halloween costume choice as there is. And with great new stories coming out of Sherwood Forest, we're sure this oldie-but-goodie costume choice will be perfect for your girl. This cool girl's Miss Robin Hood costume is the perfect action hero costume for any adventurous girl. She can wear the hood up (so she doesn't need the dorky hat!) and with the slick style of this dress, she'll be ready for the classic role!
Spooky Angel Costume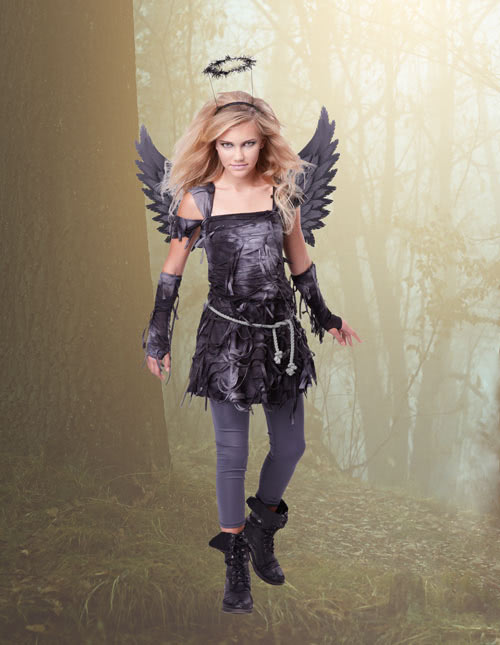 Is she ready for a haunt? Pop culture trends are always in fashion come October 31st, but sometimes a little tried and true terror is just the right recipe for costume fun. She'll find plenty of reasons to get spooky when she picks out this teen spooky angel costume. This costume pairs great with a variety of Halloween costumes for kids so you can create a classic scary Halloween group!
Steampunk Costume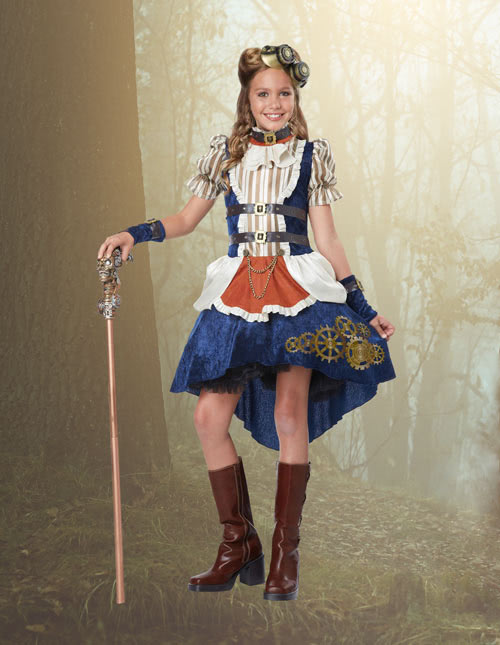 What's futuristic yet a real blast from the past at the same time? Steampunk ! This fun genre combines Victorian style with gears and gadgetry, so it would be a fun way for her to show off that she's crafty. The DIY look of this girl's Steampunk costume has plenty of style to turn her into a real adventurer, and is sure to inspire her creative and inventive instincts!
Pirate Costume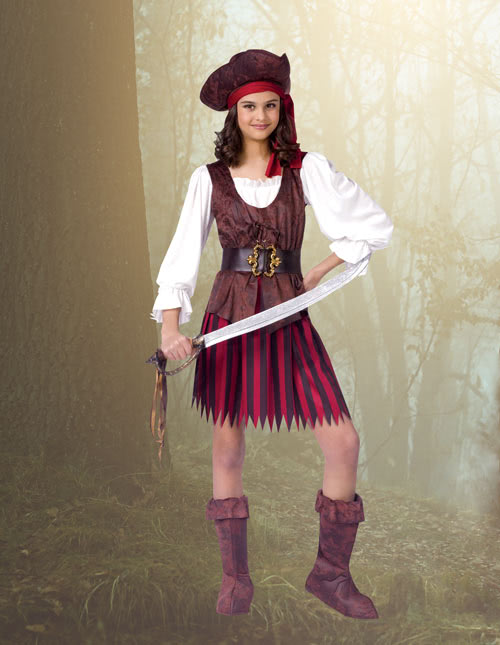 Yawr! Is it the pirate's life for her? Then she should set sail on the high seas with this girl's pirate costume ! Even if she's content to just plunder the trick-or-treat booty from her brothers, she'll feel like a true buccaneer in this classic costume. Tie the headband around her head and arm her and add a toy cutlass, and she'll be ready for a Halloween adventure!