Steampunk Costume Ideas
In a sea full of common movie character costumes and silly costumes, the unique costume has become the Holy Grail of those heading to a costume party. Enter the world of steampunk. You may have seen those weird costumes that look like a young H.G. Wells stole parts from a steam locomotive to make an outfit. That's steampunk, and it's a unique look that can make you stand out in the crowd. First, let's take a slightly deeper look into the world of steampunk.
What, exactly, is steampunk? Steampunk explores a fantasy depiction of Victorian culture, where technology advanced upon steam technology. It's sort of an alternate reality, where you have top hats and monocles, but you also get crazy technology like steam-powered guns and airships. The fashion includes classic Victorian style with plenty of gears and heavy mechanical-looking accessories thrown into the mix. It's an age where invention and ingenuity are highly treasured, and where Nikola Tesla's vision is king. If all that sounds like an interesting proposition to you, then perhaps you're ready to step your foot into the world of steampunk. If you're going to do that, you'll need one of our steampunk costumes to start you off! This guide is intended to help you craft your first steampunk costume.
Steampunk Costumes for Men
Being a man in the age of steampunk means a lot of different things. To some, it means expressing their own mechanical ingenuity. To others it means dressing up in a topcoat and a fancy hat. To others still, it means having an awesome handlebar mustache (or other form of out of the ordinary facial hair). Yet, to others it is something that their significant other is begging them to wear as part of a steampunk couples costume. Whichever category you might fall under, wearing a steampunk Halloween costume does have a way of fulfilling all of those ideas. The great thing about a steampunk costume is that, since it plays off history and fantasy, you can infuse your own mad-scientist sense of style into historical costumes. Of course, the best way to begin your own steampunk fashion is to start with one of our steampunk costumes, then add your own accessories to customize your look. These costumes are some of our top picks to begin your foray into steampunk- but first, you've got to choose your role in a steampunk world!
Steampunk Adventurer Costume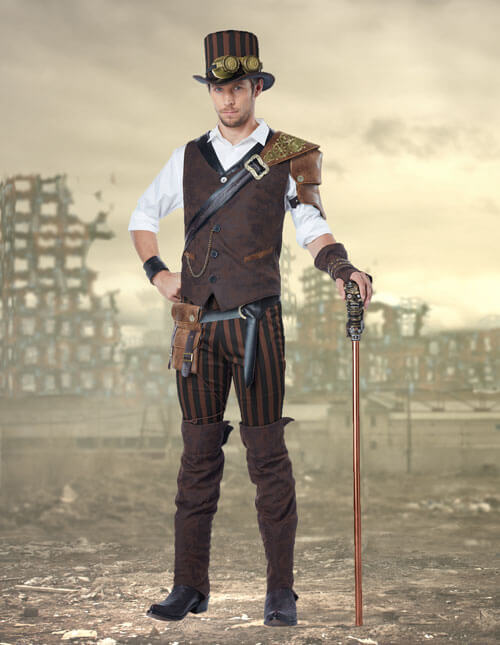 Ahh, can you smell that in the air? That's adventure, friend. The first type of steampunk character you can be is an adventurer. Just as fun as it sounds, the adventurer uses his wits to explore areas unbeknownst to the world. Also, he's really into traveling with a stylized cane and top hat! Where he goes next, no one truly knows, but he will definitely be using his steam-powered airship as his primary mode of transportation. All you need to begin this kind of men's Steampunk costume is this handy adventurer costume, which comes with a whole plethora of great Steampunk accessories to jumpstart your look.
Steampunk Jack Costume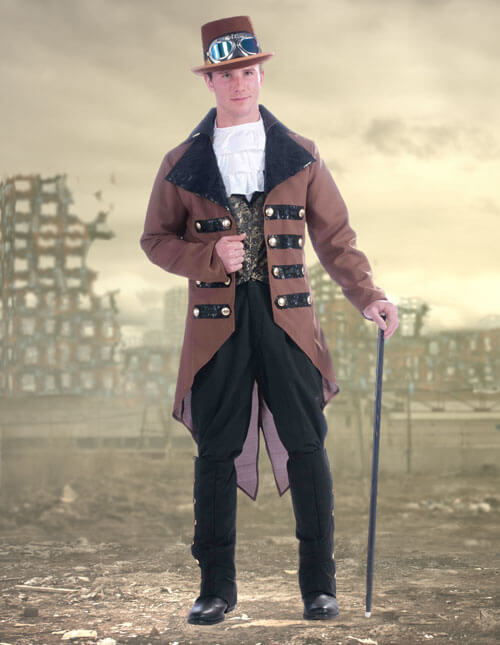 Perhaps you're not as much of a traveler as you are a gentleman. You may not be quite as intersted in globetrotting as you are in hob-knobbing with high society- or in using your innate charm to enamor ladies and conquer the gambling hall. Then, you're more of a gentleman Jack! The Steampunk Jack costume is for men who identify as a jack of all trades, but master of none. They use their unchallenged charisma to get the things they want and solidify their role as the leading man. The steampunk costume comes with a great base, along with a tailcoat jacket and a jabot to accentuate your cunning yet gentlemanly nature. It's definitely the kind of look that will get you plenty of approving nods at your next party.
Steampunk General Costume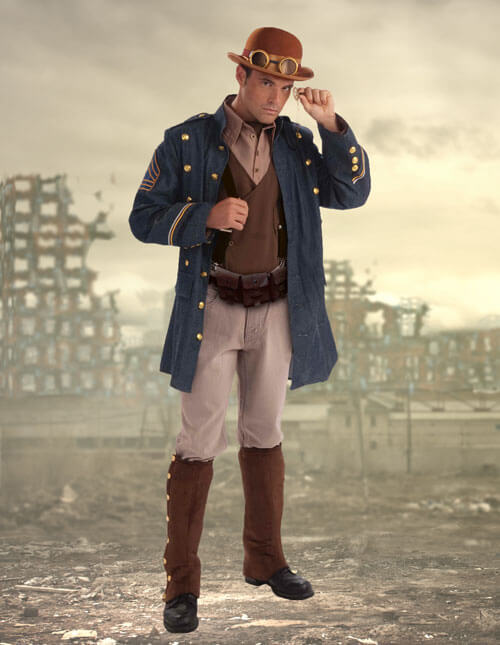 War is commonplace in steampunk universes. Steam-powered robots, crazy Nikola Tesla-inspired contraptions and weapons made from complicated gear-systems are all highly prevalent on the battlefield. Of course, the one leading the charge in battle is the General. Yes, you might find the General shouting orders on the deck of his airship, or you may see him riding into battle on his mechanically altered cyborg horse, but there's no question about it. He's the man in charge. This men's Steampunk General costume gives you an appearance that commands respect from any other gentlemen you might meet on your journey. It comes complete with markings on the coat that are fit for a military outfit and decorative buttons to exhibit your commanding presence. Feel ready for anything when you wear this men's steampunk costume!
Adult Mad Scientist Costume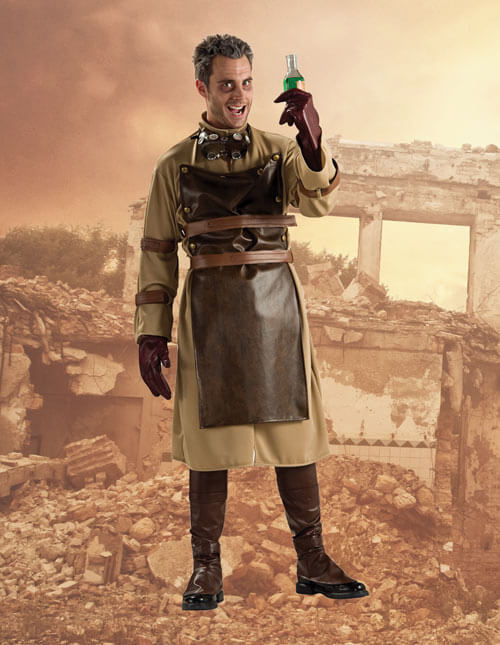 Last up on our list of potential choices for roles is that of the mad scientist! You might find the mad scientist creating new technological advances in steam power. You might find him concocting a villainous scheme deep inside of his laboratory. Or, you might find him trying to create a time machine out of spare locomotive parts. No matter where you might find him, you can bet that he's cooking up something crazy once again! If that's the type of character you're planning to play, then you'll want to dress yourself up in this mad scientist costume. The outfit gives you the kind of wild card look that will have any steampunk resident unsure of whether you're the "good" kind of mad scientist, or the "world domination" kind of mad scientist.
Steampunk Costumes for Women
Don't start thinking that steampunk is some kind of boys' club. There's plenty of room for women in the fantasy world, too! Crafting a steampunk costume that's right for you can be one hefty order and it begins with a few important questions that you must ask yourself. Are you the kind of girl who builds inventions so she can go exploring? Are you the kind of girl who enjoys heading to high society events in full Victorian steampunk clothing? Are you the kind of girl who likes to command an airship? Or, are you the kind of girl who wants to turn heads no matter where you go? Well, each of these women's steampunk dresses and costumes helps you craft a customized look. Let's take a peek at a few different ways to start your steampunk style. We also have a variety of plus-size steampunk costumes so everyone can find something they love!
Women's Steampunk Costume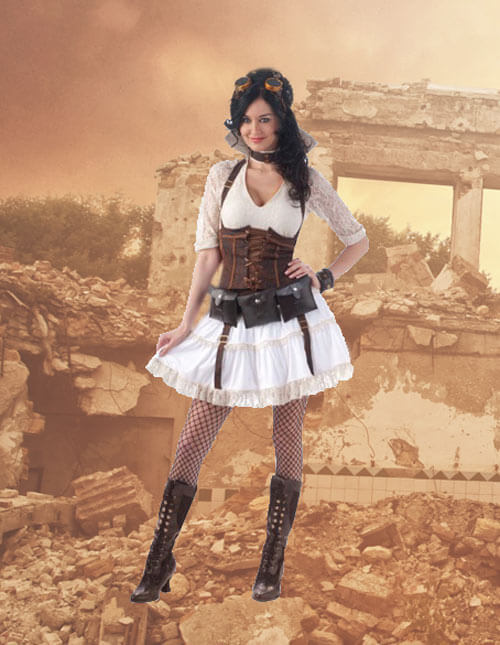 Sometimes, it's good to go with something simple. This sexy steampunk costume harnesses the spirit of steampunk without adding too many bells and whistle. That means you get a steampunk dress that's ripe for taking in any direction that you like. Add your own womens steampunk costume accessories to get a seasoned inventor look. Or, you can always add Victorian accessories to give yourself a more refined style. There are just so many different options with this women's steampunk outfit!
Victorian Steampunk Costume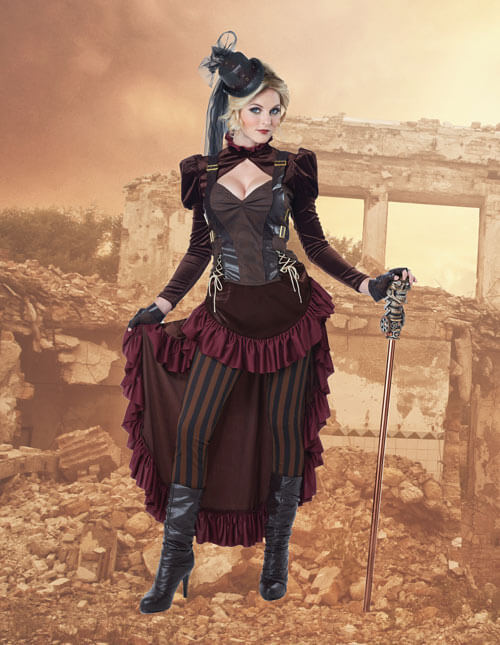 Looking for something with a little bit more class? Well, then you may want something that has a Victorian spin on it! With plenty of faux suede, this Victorian steampunk costume successfully mixes a vintage look that captures the fantasy of the steampunk era. It comes with plenty of accessories, so it's ready to go without adding any extra flair, but feel free to customize your costume dress as you see fit. We're sure you'll look ready for the next big party in one of our Victorian steampunk costumes.
Fantasy Steampunk Costume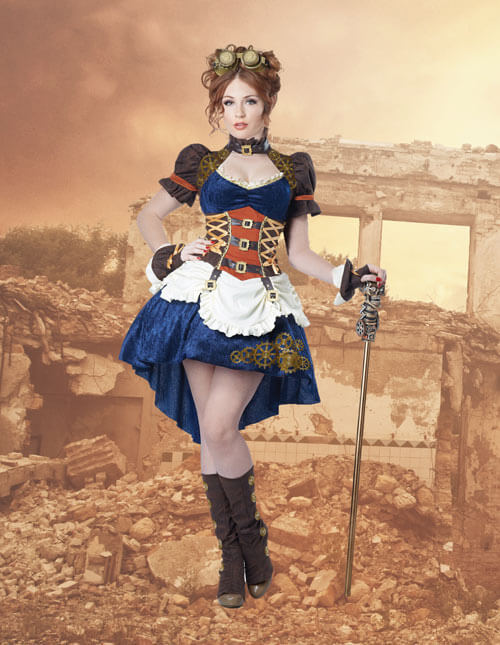 Indulging in a bit of fantasy is never a bad thing, especially when it includes gears and steam-power! This steampunk fantasy costume combines elements of Victorian style mixed with a modern sensibility and some printed gears for good measure. All of those characteristics combine for a look that brings fantasy into reality. The costume is quite inclusive, as it comes with a pair of goggles, a choker, as well as a pair of fingerless gloves and a pair of boot tops.
Steampunk Lady Costume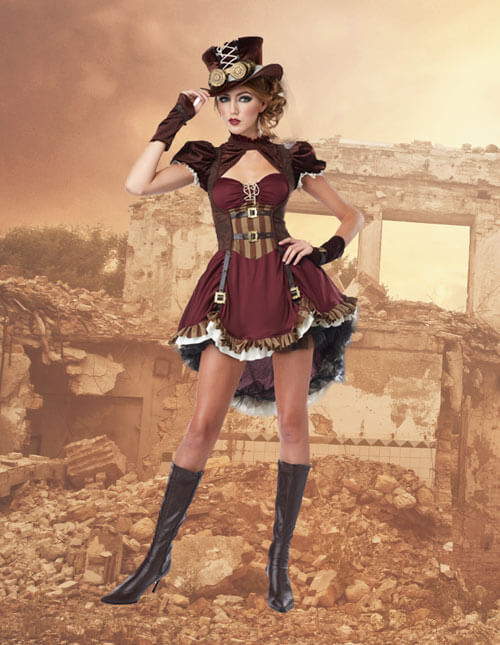 Just because the style of steampunk might be stuck in the Victorian era, that doesn't mean you can't add a little spiciness to the equation. This adult Steampunk lady costume adds a sexy spin on the classic steampunk Victorian dresses that's tough to resist. The costume even comes with a top hat and goggles, so you can get that sexy-inventor-genius vibe that you've been craving! Just make sure to check out our section of women's boots to craft the perfect look for your next airship excursion.
Steampunk Costumes for Kids
You might be ready to jump into a world of fantasy and adventure, but is your child? Of course they are! Children are more ready for a pretend quest than any adult can even fathom. That being the case, you can be sure that your child will want to dress up in a steampunk costume for kids so they can be just like mom or dad! We carry plenty of great Halloween costume options for kids, especially young girls look looking to break into the world of fantasy.
Tween Steampunk Costume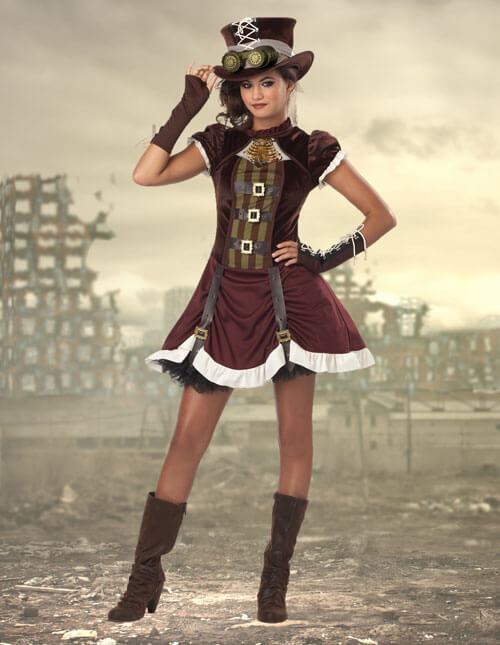 When it's time for your teen to choose an outfit, so she's going to want something that shows off her impeccable style sense, while also exuding an aura of ingenuity. That's exactly what this tween steampunk costume does! With plenty of faux leather, an included top hat, and even a set of goggles, it helps your girl take her first steps into a new adventure. Of course, to complete her steampunk costume, make sure to add one of our petticoats for extra skirt volume.
Girls Steampunk Costume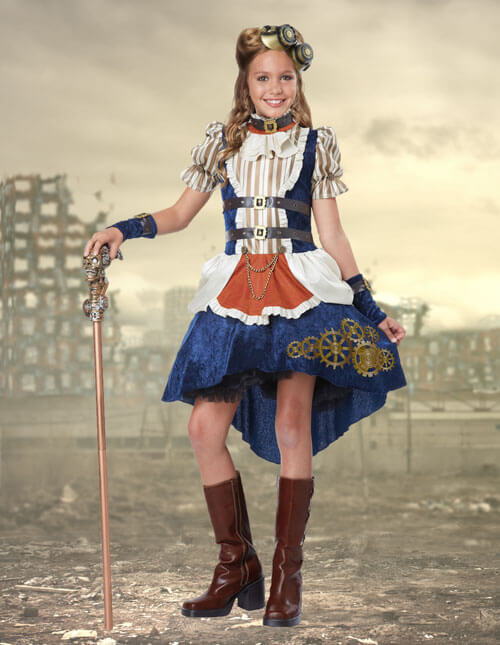 This steampunk costume for girls is based on the adult version, so your girl can get a look that will be just like mom's outfit! The costume has blue velour and gold accents as well as printed gears, making it both luxurious and mechanical in style. This steampunk costume also comes with plenty of accessories, so your girl can suit up and be ready for a trip on locomotive or a H.G. Wells style time machine.