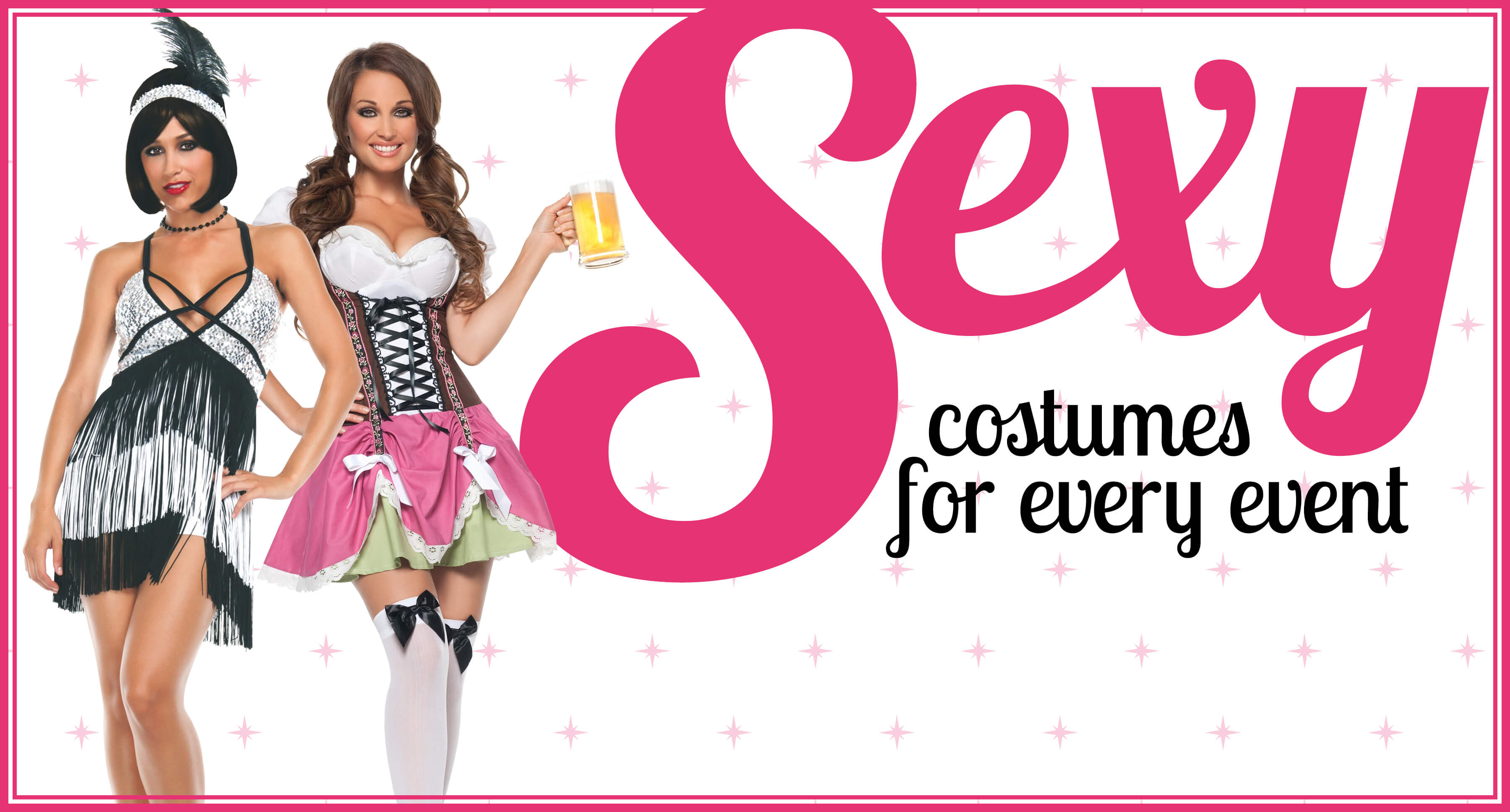 It's no secret that us ladies like to dress a little scandalously from time to time. It's exciting when an occasion calls for us to pull out our flashy fishnet stockings and sky-high stiletto heels. Sure, we love wearing our sweatpants, too, but there's nothing like getting dressed to the nines and venturing out for a lavish evening with friends. Make a sexy costume your go-to wardrobe staple the next time an appropriate event arises. If your friend is throwing a murder mystery party, wear a flirtatious flapper costume. What about a masquerade ball? Pull out your most seductive mask! Attending Oktoberfest? Well, you better start hunting for your most provocative pair of lederhosen! Heading to a convention, wear the hottest cosplay costumes there! The theme of the party makes no difference because you'll find the perfect racy ensemble for any event. Just peruse our sexy costumes for women to find one that's right for you!
Sexy Costumes for Great Gatsby Parties
Have you been cordially invited to a party at Jay Gatsby's mansion? It's safe to say that you need to look like the cat's pajamas to capture Gatsby's attention, so you better pull out all the stops. Now is the time to grab your most spectacular sparkly dress and your glittered accessories because we're going to make sure that you're the jazziest jezebel at the gala. Our sexy Halloween costumes for women who desire a flirty flapper look will be bowled over by our large selection of tantalizing outfits. All of our sexy flapper costumes feature short hemlines, low-cut tops or dresses, and fun fringe accents. You'll be the most daring dame at the party in your favorite flapper dress. Your fluffy boa and feathered headpiece will transform you into a showstopping stunner. You'll want to take lots of pictures when you're all dolled up as a hotsy-totsy flapper from the 1920s!
Sexy Costumes for Masquerade Balls
Looking seductive at a masquerade is difficult but not impossible, especially if you have our help. You only have to conceal your identity, not your sex appeal, so keep that in mind when picking out a costume for the ball. Our selection of fabulous Mardi Gras masks will keep your face hidden while masking it lavishly with sequins, jewels, and feathers. Stand out in the crowd while wearing our red and black lace Venetian mask. Those who want to be glitzy in gold will be blown away by our white and gold Mardi Gras mask decorated with glitter and gold trim. Be mysterious and alluring with a charming and gothic-inspired ball gown. This vampire costume will make you look like a sexy 19th-century gothic goddess. You can even turn the spook factor up a notch by sporting a sexy skeleton masquerade costume. It's a ravishing combination that will flatter your figure while simultaneously freaking everyone out!
Sexy Costumes for Halloween Parties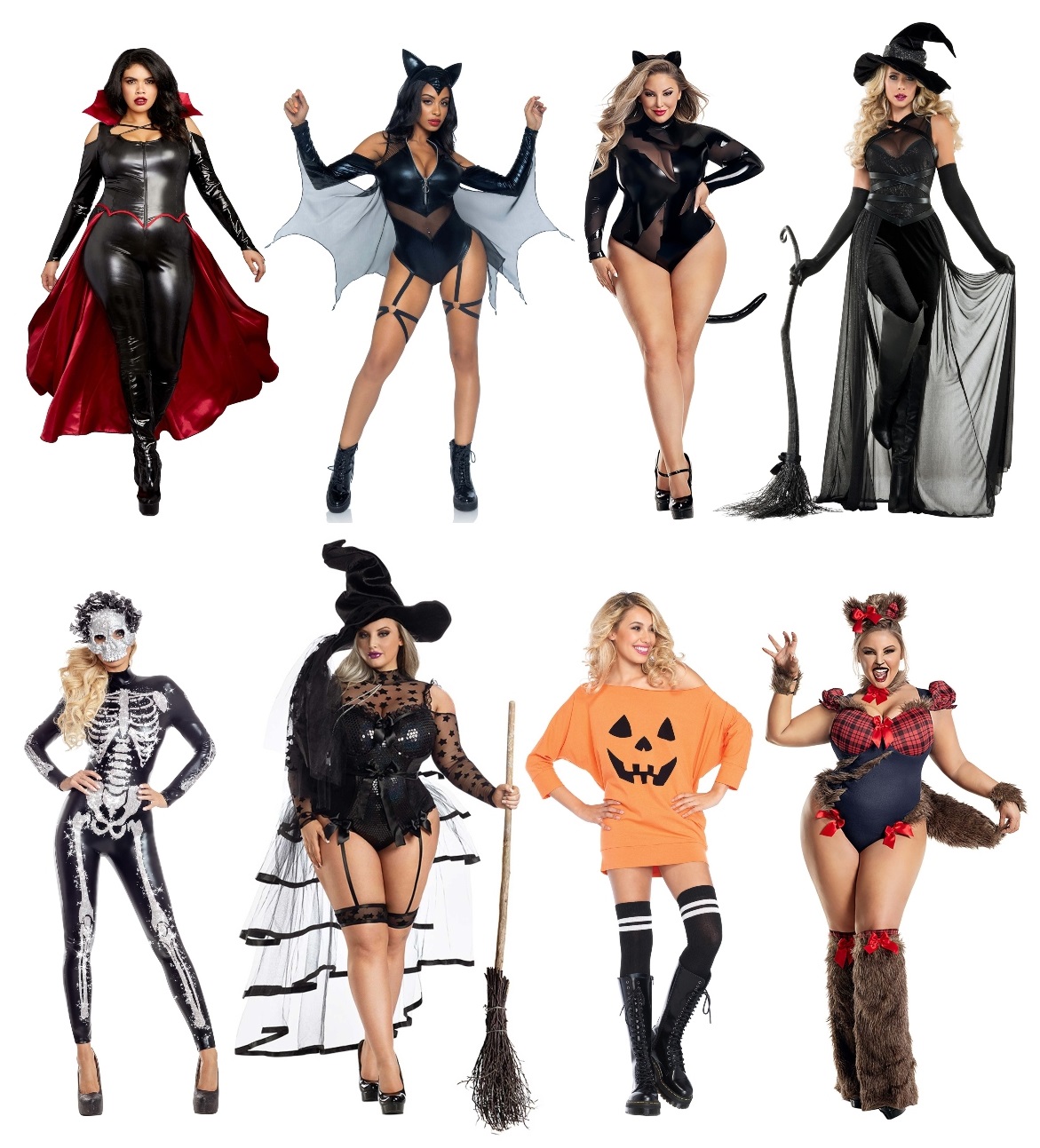 Lest we forget, one of THE places to wear sexy costumes is, of course, a Halloween party. You can find and wear just about any sexy Halloween costume—from staples like sexy red riding hood and sexy Alice costumes to oddballs like sexy goldfish costumes. (Honestly, we're not here to judge. Wear it whether you want to look cute or ridiculous, or both!) You can find all types of coverage too, whether you want that sexy bodysuit costume or short-shorts rompers and skirts. Finally, top off your sexy Halloween costume with a variety of sexy costume accessories. Fluffy petticoats, fishnet tights, miniature hats, gloves and more are great ways to make your sexy costume for Halloween pop!
Sexy Costumes for Flashback Parties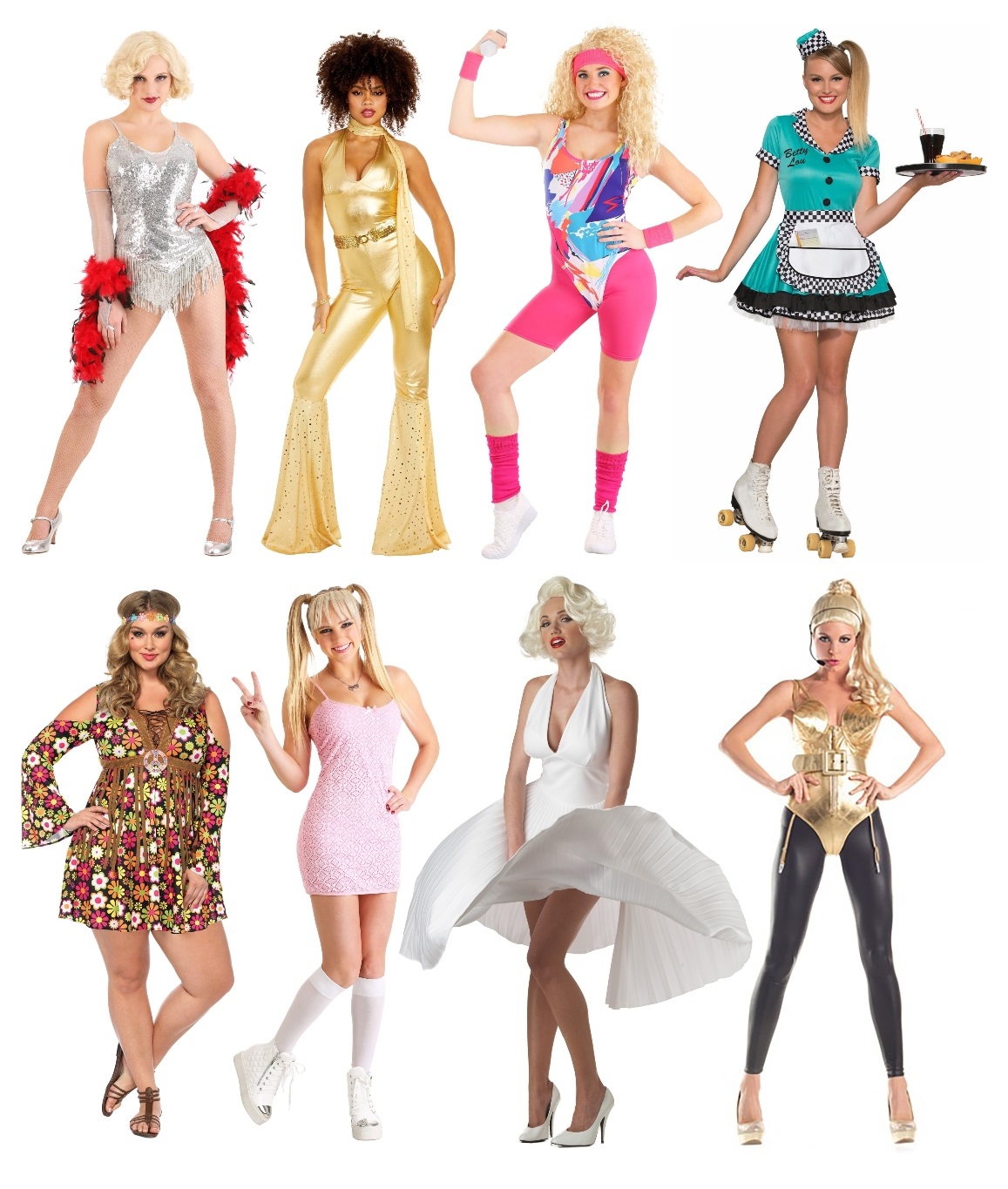 No need to travel back in time to achieve a sexy look from decades ago! We have tons of sexy costume ideas for women, so looking like a beautiful blast from the past will be a piece of cake. Our selection of sexy costumes from the 80's, 70's, 60's, and 50's feature scandalous necklines and funky frills. Steal the show by attending your friend's 80's themed party in any one of our 80s celebrity costumes. You'll look hot while busting a move to Billie Jean on the dance floor! You'll receive tons of compliments and maybe even a few requests for your autograph! If you prefer traveling waaay back in time, you'll love wearing the iconic army pin-up girl costume. Nothing screams, "I'm a blonde bombshell," quite like a vintage pin-up outfit! Connect with your inner hippie by sporting psychedelic colors and fabulous fringe. You'll be putting your free-spirit on display for all party-goers to see, and what's sexier than that?

Sexy Costumes for Oktoberfest Celebrations
So you're gearing up for a fierce game of Hammerschlagen? Hit the nail on the head in the game and with your ensemble by attending Oktoberfest wearing a sexy costume or dirndl. You'll love wielding a hammer while sipping beer from a stein and nibbling on a pretzel, not to mention the hot pair of embroidered lederhosen you'll be rocking. It will make you want to yodel your little heart out! All of our sexy German costumes feature frilly accents, alluring aprons, and short hemlines, so we hope you're ready to show off a lot of leg. Ladies who are looking for an authentically risque outfit will love our Edelweiss Lederhosen costume because of the flirty off-the-shoulder top paired with flattering knee-high pantyhose. Don't be discouraged if sassy suspenders just aren't your thing! You'll feel confident enough to yodel on top of the Swiss Alps when dressing in our fancy beer girl costume. The flouncy petticoat has the power to transform you into the Bavarian beer maiden that everyone wants to clank glasses with! Zicke zacke, zicke zacke, hoi hoi hoi!
Sexy Costumes for Christmas Parties
Break out the boozy eggnog and Christmas comedy movies you couldn't watch while the kids were awake. (Thankfully, they'll be sleeping soundly after trying to stay up all night looking for Santa Claus!) If you plan on attending an adult Chrismas party and you're looking for something hotter than the granny Mrs. Claus costume you wore last year, these sexy Christmas costumes should fit the bill! Don't forget to take some fun pictures underneath the mistletoe.
Sexy Costumes for Renaissance Festivals
What do you get when you mix sex appeal with history? You get sexy Renaissance costumes, of course! Ladies who want to look sensational while dressing in medieval garb will love feeling fierce in a warrior or knight costume. Prove to everyone that armor can look sexy, especially while it's draped on your body! With plunging necklines, hi-low skirts, and elegant bell sleeves, Renaissance-inspired costumes are perfect to wear to a festival or a themed party. Ladies who love looking feminine while still maintaining an overall sexy appearance will enjoy slipping into our women's sexy pirate costume. You'll look whimsically ravishing in a layered skirt, laced ribbon accents, and matching pirate accessories. Those who fancy themselves to be more of a vigilante will love going on an adventure in our darling Robin Hood costume. All of the Merry Men at the party will be attracted to your coy feather hat and frisky fishnet tights because they have never seen a hero look so hot!
Sexy Costumes for Toga Parties
Are you attending a toga party hosted by one of the most popular fraternities on campus? Girl, put down the old bed sheet! We'll help you come up with a sexy costume so you can confidently walk into the party looking like an alluring Grecian goddess. All of our toga costumes feature decorative gold trim that will captivate fellow party-goers while also making you stand out in a sea of white. Slip into our Spartan queen costume and you'll instantly feel regal and enticing in a plunging halter and a classy floor-length skirt. This chic dress is backless so you'll be showing off lots of skin while sashaying to and from the punch bowl. If you'd like to appear as if you've just got done hanging out on Mount Olympus, you may want to try our sexy Olympian warrior costume on for size. The gold trim on the dress combined with the asymmetrical sleeves will make people believe that you're a divine deity who deserves to be worshiped!
Sexy Costumes for St. Patrick's Day Parties
Green beer only happens once a year, and you're more than ready to partake in the festivities. Most people simply pull out their St. Patrick's Day shirt and hit the bar, but not you—you'd rather go out in a full Leprechaun costume, or perhaps a bold gold jumpsuit! Holidays are for dressing up, after all, and it's much more fun to be wearing a costume for St. Patrick's Day. Break out the thigh-high stockings, cute black or green shoes and maybe even grab a pot of gold purse. If you're being extra, you might as well go big or go home.
Sexy Costumes for Comic-Con
Growing up as a nerdy girl, you were well aware of the typical nerd-girl stereotypes. Nerdy girls wear thick glasses, are unattractive and have poor fashion sense, although they make up for it with their knowledge of comic books and movies. Well, you aim to blow that stereotype out of the water when you cruise the convention floor in a sexy superhero costume. (Or video games or movies or tv shows or that very niche web-series—you get the point!) There are tons of sexy characters in comics, video games and the movies to choose from, so you're well-equipped to tackle any one of your favorite characters. Be ready to pose for lots of pictures!
So did the sexy costume you wore to the Renaissance festival win the attention of the royal king? Were you the most dazzling dame at the speakeasy? Did your outfit "slay" at the most recent murder mystery party? Tell us the story of how you stole the spotlight in your sexy costume at the latest party you attended in the comment section below. Also, be sure to check out all of our sexy costumes so you'll have another showstopping ensemble lined up for your next special occasion!