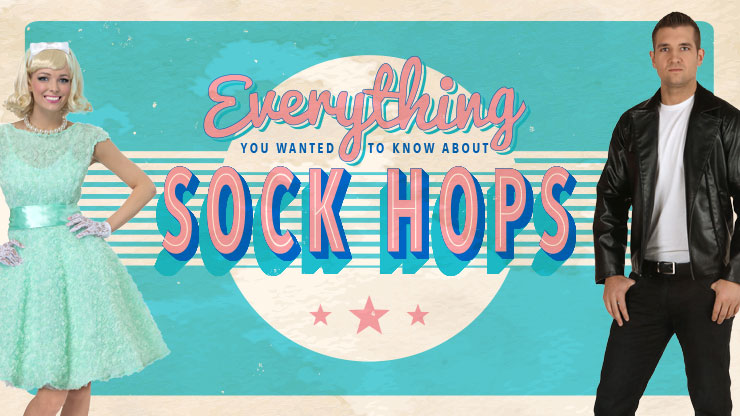 You have probably heard of a sock hop, but if you're looking to attend one or perhaps host your own sock hop party, you're going to need to know a few things. We love parties with a focus on dressing up, so keep reading for tips on what to wear to a sock hop, what kind of music to play and party games for a sock hop. It's good to be well-informed so you can rock around the clock like a pro!
What Was a Sock Hop?
Before we get into the nitty-gritty about what to do when you attend a sock hop or how to host one, you're going to want to know a thing or two about the history of the sock hop. Sock hops originated as informal school dances during the mid-1900s. (Think prom but a lot less formal!) The dances may have actually started as early as the 1940s, but they're still heavily associated with the 1950s. The term "sock hop" came about because participants were encouraged to remove their shoes and dance in their socks so that their shoes didn't harm the gym floor. Sock hops have also been known as a sox hop, record hop or just a hop. (If you get invitations for any of these, it's still a sock hop!)
What is a Sock Hop Party?
A sock hop party is a themed dance party with a focus on the 1950s that is loosely based on the original sock hops of yesteryear. There are often other activities and games to do so that it's more than just a dance. Popular picks include hula hooping competitions, the limbo, hopscotch, jumping rope, costume contests and pin the tail on the poodle. You can also make up other games and activities with a vintage vibe, or you can find a way to include roller-skating. (Major props to you if you host your sock hop party at a roller rink!) Many sock hops are still hosted as school or church events, but individuals that like themed birthday parties can also have a sock hop party for family and friends.
What do You Wear to a Sock Hop?
Due to the fact that sock hops are 50s themed parties, attendees are typically expected to wear 50s costumes. If you're wondering how you should dress for a sock hop, girls usually wear poodle skirts and blouses with chiffon neck scarves, bobby socks, saddle shoes and cat eye glasses, but Grease costumes and 50s prom outfits can be worn as well! Girls are easy to outfit, but you might be asking yourself, "what do guys wear to a sock hop"? Sock hop outfits for guys often include Grease costumes, but not everyone wants the white t-shirt and leather jacket bad boy look. You can also don a bowling shirt with some slacks and saddle shoes or loafers for a preppier ensemble.
How Should I Style my Sock Hop Hair and Makeup?
There are quite a few 50s hairstyles for women that would work for a variety of hair lengths, but one of the simplest and most effective is the ponytail. The ponytail was actually a very prominent hairstyle for youths in the 50s, and if you expect to be dancing the night away, it's a great way to keep your hair in check. (Try doing that with a bouffant or a poodle cut!) There are also several 1950s hairstyles for men, the most prominent of which is probably the greaser pompadour. Other styles typically involved greasing the hair down with hair gel and combing it over to one side or to the back. As far as 1950s makeup is concerned, it concentrated on making the face fairly matte with minimal color. The one big pop of color was usually on the lips as red lipstick was very popular, but some other favorite lip colors were a little more conservative such as pink and coral. You may want to check out this video by Zabrena about how to do your own historically accurate 50s makeup.
What Kind of Sock Hop Music Should I Play?
You're definitely going to want to use 1950s music in your playlist—kind of a no-brainer by now—but there were several prevalent music styles in the 50s and not all of them were appropriate sock hop material. You're probably going to want to pick rock and roll jukebox favorites like Jailhouse Rock or Rock Around the Clock. Thankfully, there are plenty of 50s music collections in places like YouTube and Spotify so that you don't have to hand-pick your sock hop tunes. (It makes you wonder how we managed to have sock hops in the decades before the internet!)
What are Some Good Sock Hop Dances?
If you really enjoy dancing and you want to take some sweet moves along with you or teach your guests how to boogie like the best of them, there are a few 50s dances that you should check out. (You certainly don't want to look like those people that dance by hopping up and down!) Many of the dance moves were related to swing dancing, but they evolved to dance to rock and roll music. Common 50s dance styles included the boogie-woogie, bop, bunny hop and the chalypso (a mixture of cha-cha-cha and calypso). After a few of these dances, you're sure to be burning some real calories! (Keep that Fitbit handy.)
What are Some Good Sock Hop Decorations?
Now that you're almost ready to party, you're going to want to make your venue have that 50s vibe. (If you can get your hands on a real jukebox, you're a step ahead of the rest of us!) Jukebox decorations are still a good idea whether or not you have a real one. Otherwise, decorations featuring black vinyl records, 50s diner decor, roller skates, poodles and milkshakes will certainly bring out the appropriate atmosphere. Color schemes for sock hop parties usually include pink and blue or turquoise with white and black accents. (White and black checkered anything is also a good idea if you can rock it!)
50s Party Decoration Ideas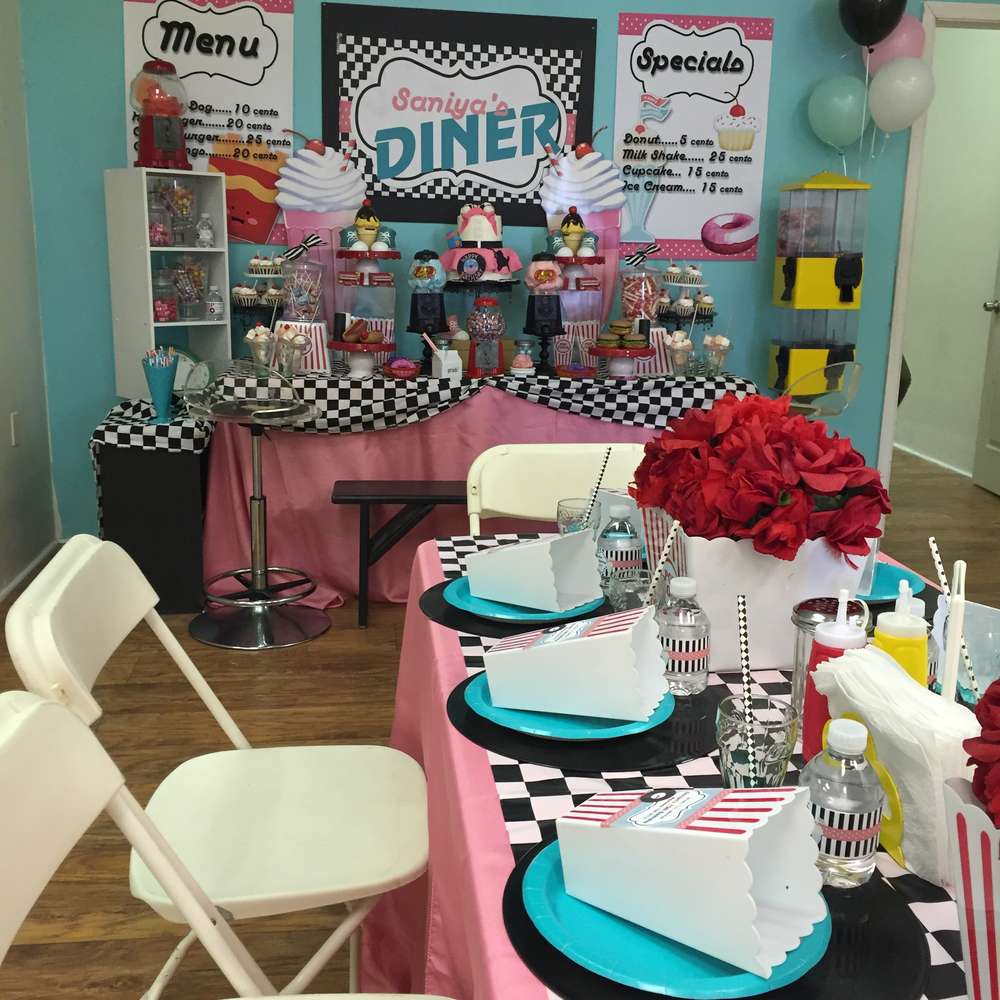 [Source: Catchmyparty.com]
As we mentioned earlier, the predominant colors for sock hop parties are bubblegum pink, baby blue or teal, and white-and-black accents. Some simple ways to decorate your tables can include pink and blue tablecloths with black-and-white checkered table runners, colored plates, vinyl record placemats and milkshake table decorations. You might want to get placemats that simply look like records so you don't accidentally ruin any real records. (That record-throwing scene in Shawn of the Dead immediately comes to mind. Don't use your copy of Purple Rain!) If you have the space for some larger props or a wall you're looking to decorate, you can buy or make cardboard jukebox decorations, classic cars and soda shop menu boards.

50s Costume Ideas to Wear to a Sock Hop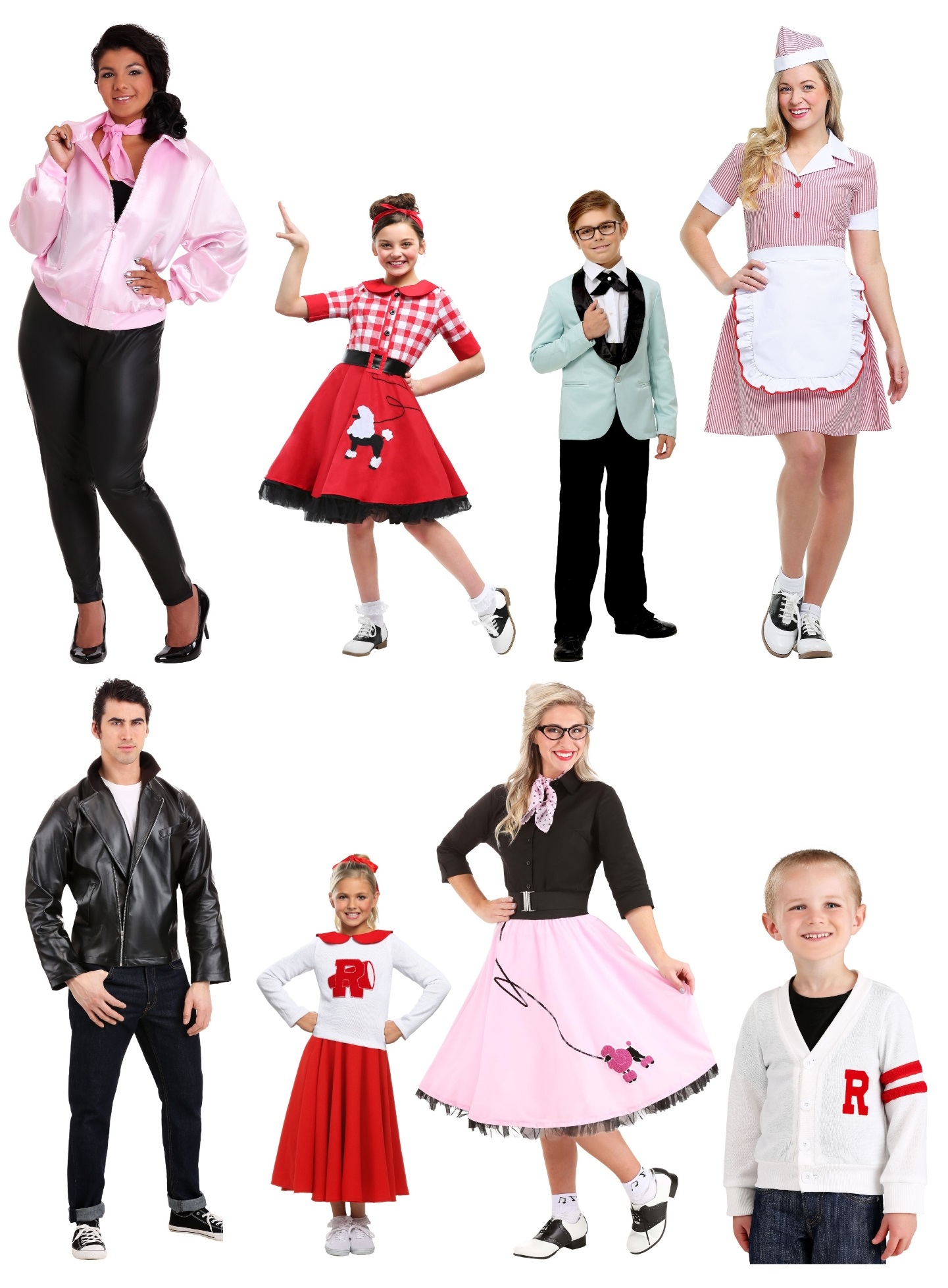 If you're looking to get outfitted for a sock hop, these 50s costumes are a great place to start. There are several poodle skirt costumes, 50s prom dresses and Grease costumes for girls to wear. Many of them include accessories, but you can always add a pair of cat-eye glasses, saddle shoes or bobby socks to your ensemble for more of a complete look. Most 50s costumes for guys are all about the shirt, jacket or sweater vest, which you can wear along with a pair of blue jeans or dress pants. (Make sure to roll those pants cuffs!)
We hope you're looking forward to your next sock hop! Have you ever attended a sock hop? What is your favorite part of a sock hop? Feel free to share your experiences with us in the comments below! It's cool to see how we're still remembering history with themed parties. (It also saves plenty of time and money trying to build that time machine!)