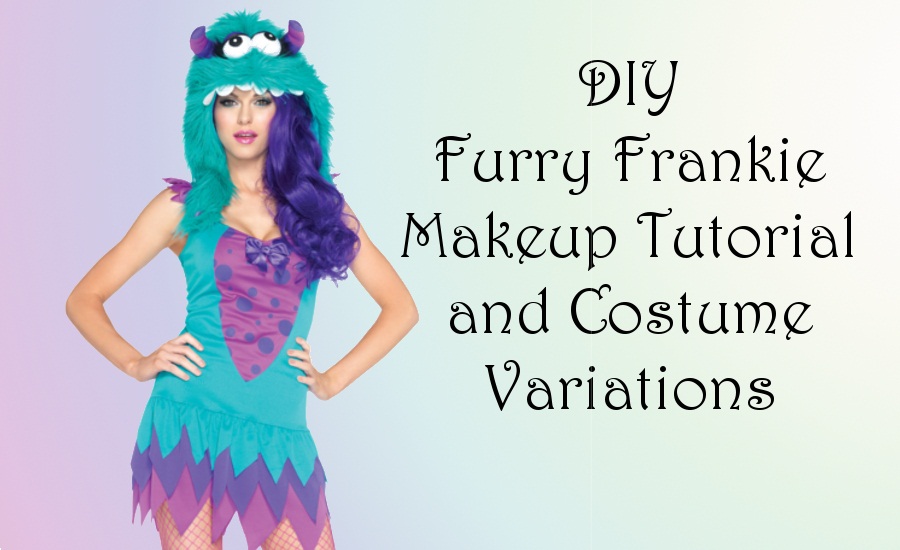 Okay, so you have a dilema: You have been invited to multiple Halloween parties - look at you Ms. Popularity! Besides that you have to take the kiddos trick-or-treating and make an appearance at your Maw-Maw and Pop-Pop's soire. What's a girl to do?! You could get tons of costumes and fill your already overflowing "seasonal" closet, wear the same boring costume to each event, OR take our advice and settle for neither of these unsatisfying options...
Any of our Sexy Monster Costumes can be altered with simple accessories for a whole new, grrrrr-reat look! By the time we're through with you, you'll be able to pull off more wardrobe changes than Lady Gaga! Let's stack 'em up and count how many time can we change up our beloved Furry Frankie.
**note: If you WANT to buy a ton of custumes instead, be our guest! In fact, email us and we'll help you shop.
MAKEUP TUTORIAL
To start things off you will need the perfect canvas a.k.a. your face! Grab a seat (and maybe some popcorn) and watch our Furry Frankie Costume Makeup Tutorial for an easy and cute makeup look to match any of the upcoming variations.
Alright, PYT (pretty young thing!), now that you look mahhhvelous let's check out the options - you might want to keep track on your fingers! Just kidding, we'll number 'em.
1. THE CLASSIC FURRY FRANKIE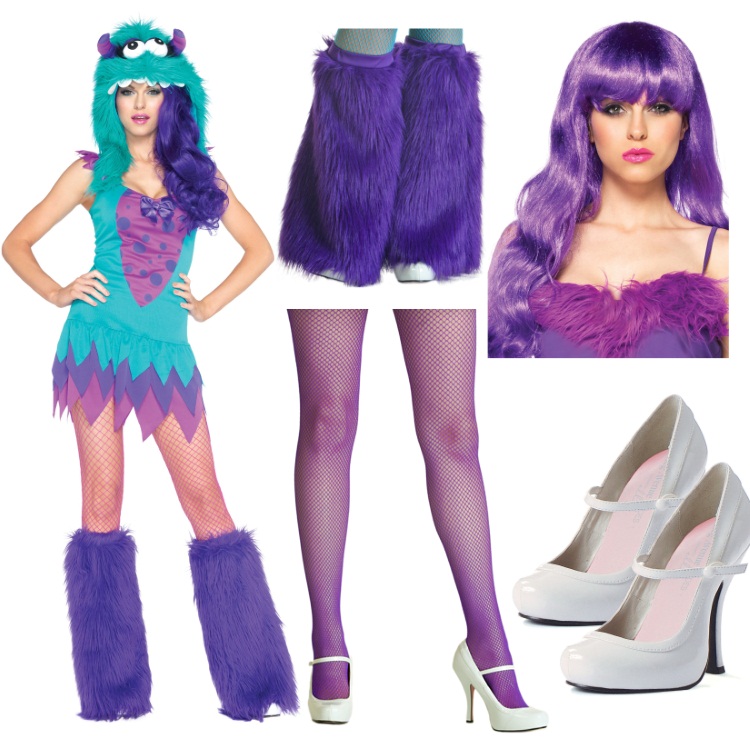 This look is simple and sexy. Use the products pictured to create a fuss-free Frankie look, perfect for when you need to dress quickly. So, if you have (gasp!) just been invited out last minute, this look will have everyone thinking "How is she so put together with this short of notice?" [It will be our little secret - pinkie promise!]
2. THE PURPLE FURRY FRANKIE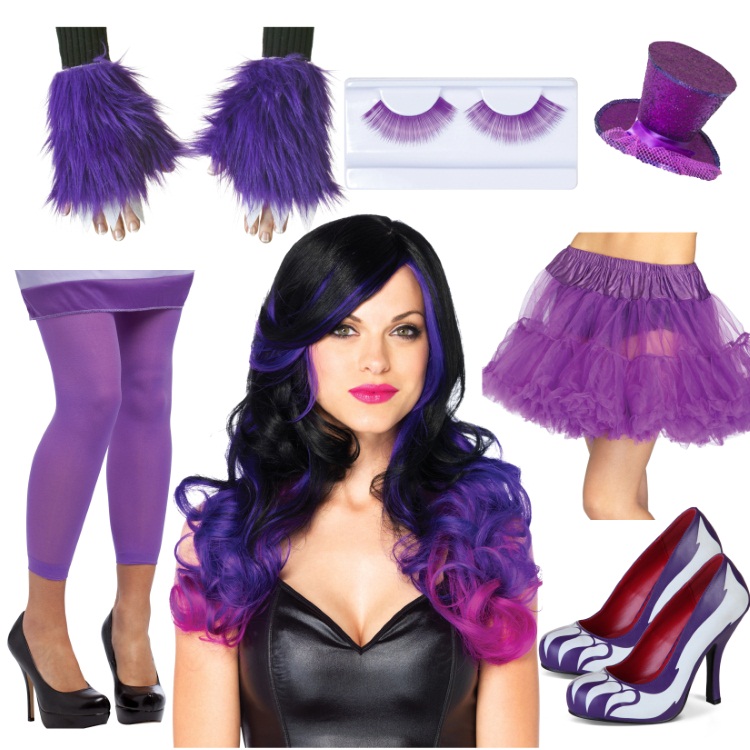 Something about this purple wig and these amazing clawed heels just screams ferocious! The more purple accessories you use, the darker your Frankie will be. Maybe you have a Haunted House themed party to attend (strobe lights and all)? This is a great way to get more use of Frankie and look a little more eerie. Just imagine how awesome those white claws would look under a black light!
3. THE BLUE FURRY FRANKIE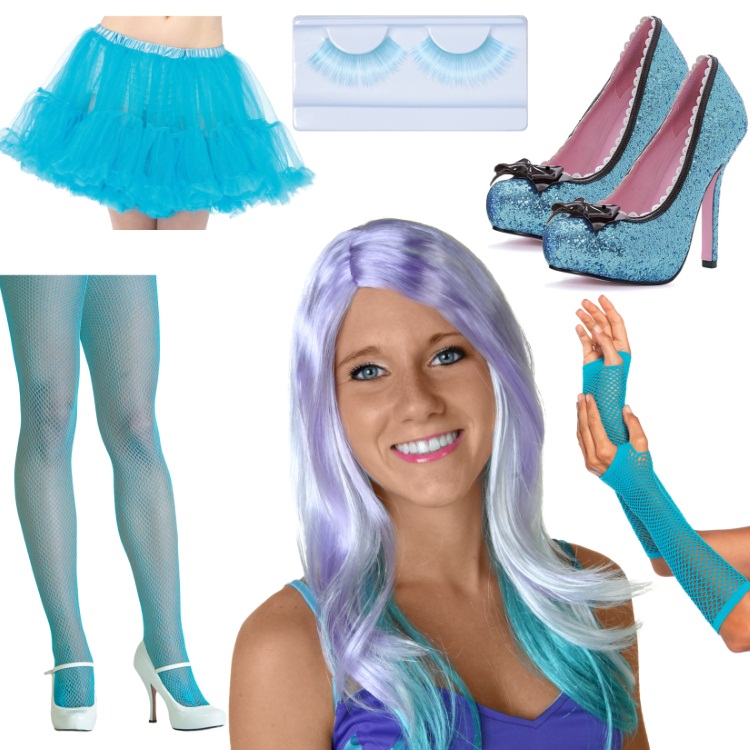 Blue Frankie is a little more innocent - great for taking the little ones trick-or-treating and not having to worry about scaring any wee ones. If you live in regions that are a bit more chilly on Halloween, consider throwing on our fuzzy blue
Snow Bunny Cloak
to keep your arms cozy!
4. TUTUS? YES, YES!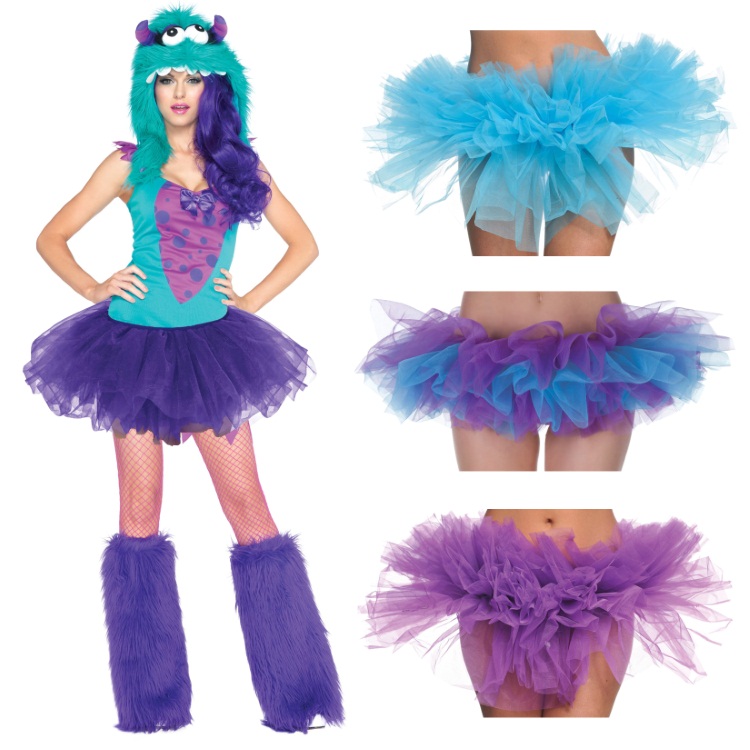 For family functions, tutus can be a great addition to any of your Furry Frankie looks. They add a little additional coverage and make you feel like twirling! Go ahead, twirl!
5. FRANKIE MEETS MONSTERS INC.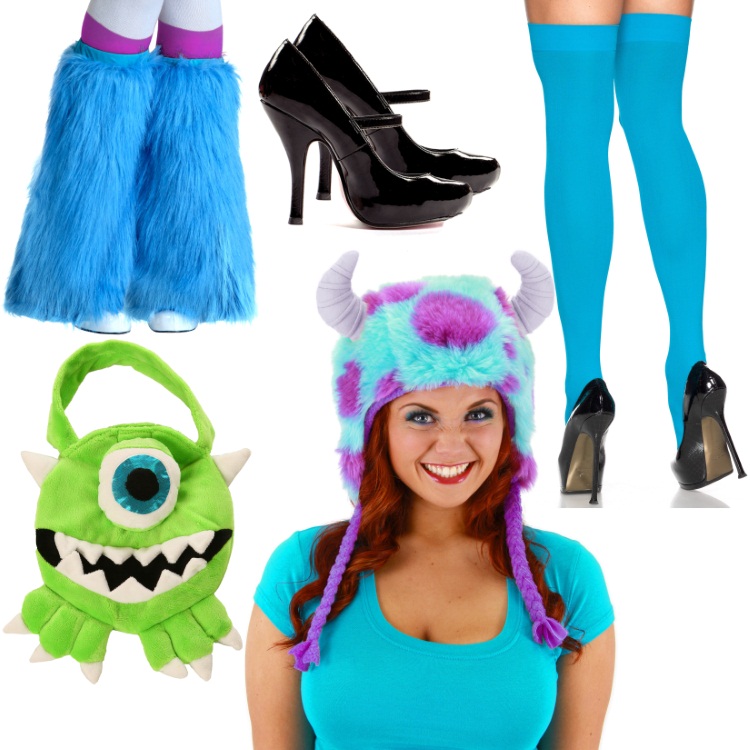 Blue Boot Covers shop Sexy Black Heels shop
Blue Thigh-high Stockings shop Mikey Purse shop Sulley Hoodie shop
Last but certainly not least: Sultry Sulley. How much fun would it be to go as a group of the Greek Life Monsters University characters? Sulley is conveniently teal and purple, just like Frankie. Grab a Sulley hoodie hat and a Mikey purse (becuase no Sulley is complete without his little buddy) for a unique and creative take on one of our favorite monster costumes!
There you have it. We're sure you can come up with even more variations, and if you do: please share in the comments section!