Anja Keister is the founder of the NYC-based nerdy burlesque troupe D20 Burlesque. While they keep many of the same of the same nuances as traditional comedic burlesque shows, D20 adds their own geeky spin to their routines. Even their name (D20 Burlesque) and tagline "Our charisma is only matched by our dexterity" are Dungeons and Dragons inspired. Anja was kind enough to sit down with us and answer 20questions. That only seems fitting, right?
1. What exactly is burlesque?
Burlesque has a long history where it was everything from satirical theater and dance to vaudeville shows. The burlesque that is most commonly referred to now is the striptease variety. What this entails is a performer will come on stage and during their act, remove their clothing in a classic, sexy, narrative and/or comedic way. The burlesque and neoburlesque is going strong right now with new scenes popping up all over as more people begin to understand the artistic and entertaining merit behind it.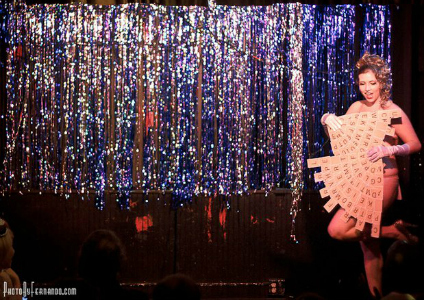 (Anja teases the audience with a Scrabble board at the Boards and Broads show. More traditional acts often used large feathers or fans for a similar effect. Photo by Fernando Pacheco)
2. How is D20 Burlesque or nerdy burlesque different from traditional forms of burlesque?
During the heyday of Burlesque (1930s-1960s) most burlesque was classic, meaning it typically was a woman in beautiful dresses and clothing disrobing on stage while dancing. The neoburlesque scene that came about in the early 1990s tended to rely more on theater and narratives during their acts to explain or give a story as to why the strip was occurring. The neoburlesque scene is also much more intense with acts ranging from hilarious to scary to just plain weird. Nerdy burlesque, sometimes called nerdlesque or geeklesque, is a sort of hybrid of these two. While earlier forms or burlesque tended to rely more on connecting with the general audience, nerdy burlesque is all about taking a theme or story or character one loves and bringing them to the stage in tribute, sometimes the more obscure the better.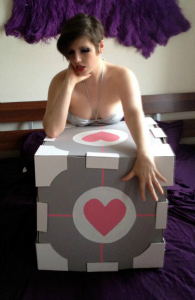 (Anja in a promotional photoshoot based on "Portal" the video game, photo by Iris Explosion)
3. Why did you decide to put this show together, how did D20 Burlesque get its start?
It was early in 2011 when I started forming the idea of D20 Burlesque. I had a few acts I really wanted to perform (such as a large twenty sided die, Cthulhu and a Portal video game act) that I felt wouldn't be fully understood or appreciated at the typical burlesque show. I decided to start my own show, focusing on gaming and gamer culture, so that I could bring together an audience who would really get as big a kick out of this sort of burlesque as I did. I asked my partner, Z.P. Keister, to help me out with it, and in March of 2011 we had our first show, RPG-themed, and have been going strong since then!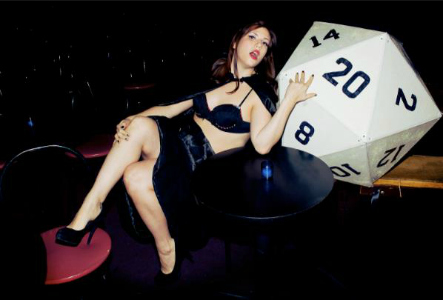 (Anja backstage with her Dungeons and Dragons d20, photo by Ben Trivett)
4. What do you do when you're not performing, working on your acts or promoting D20 Burlesque?
With that 1% of the rest of my life? Ha, I kid, but honestly running D20 Burlesque is so much of my life now. When I get away from it, I really enjoy going to the movies with my girlfriend or just joining up with some friends for games at a bar.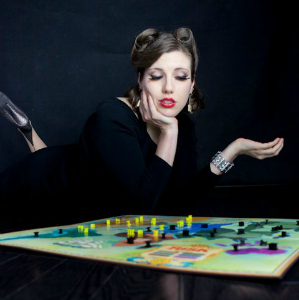 (No, she's not just relaxing and playing board games in her free time. This is actually Anja in a promotional shoot for the D20 Burlesque show Boards and Broads, photo by Wayne Herrschaft)
5. How do you find performers, or how can new performers get involved?
D20 Burlesque is not a closed troupe, but we do have some regulars who we tend to book a lot. These were performers who were also my friends, who I gamed with or who I performed with and admired. Other than that core group, I try to scour the burlesque scene for performers who have acts that match the themes or whom I know are passionate about the themes chosen. We are always open to having new performers involved in the shows somehow. Typically, people should just shoot us an email to D20 Burlesque headquarters at d20burlesque(at)gmail(dot)com to find out how they can be involved.
6. Do you have any advice for anyone looking to get into burlesque or nerdy burlesque in particular?
Go to as many shows as you can afford, take dance or costuming classes and do your research. The burlesque community is a friendly community as a whole, and we love to have more people join the party, but it is all about coming in humble and learning from those before you. If you really want to get into it, connect with a performer who you've seen before and admire. Ask them for advice and make connections in the scene.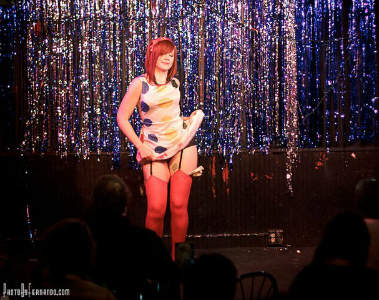 (Lula Rouge D'Amore performing her Twister act at Boards and Broads, photo by Fernando Pacheco)
7. What are some reoccurring themes?
Every year we try to mix some of our more popular themes with some new stuff. Our reoccurring shows are RPGS, Lovecraft, zombies and old school video games. Starting this year, we are going to have fans vote on what kind of shows they would like to see again and get ideas for next year's shows. We love our fans and want them to be part of what we do. Personally, I really want to do another burlesque tribute to Joss Whedon again!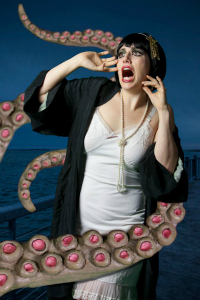 (Anja in an HP Lovecraft-inspired photoshoot, photo by Wayne Herrschaft)
8. How are acts or themes selected?
Z.P. and I select our themes by what is going on in the gaming world and what are fans have asked for. Specific acts are up to the performers and how they interpret the themes of our shows.
9. Is there any sort of approval process to decide if something is too risqué, too obscure, or not nerdy enough?
We don't really have an approval process except that depending on the venue there might be rules as to how naked performers can get. Other than that, we just want to make sure the acts fit the theme and are something that hasn't been done at a previous show. We have fans that come to every show and I want to try to give them a new experience as much as I can.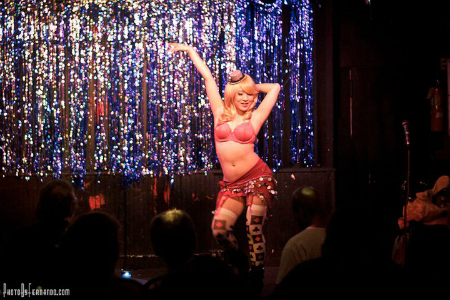 (Stella Chu dances at the Boards and Broads show, photo by Fernando Pacheco)
10. Do you perform different acts depending on the venue?
Sometimes we get booked for specific cons or events where we do create acts that are specific for that show. For the most part, I try to keep track of all the acts that have gone on at D20 shows and when a company or event comes calling, I try to curate a show that fits their needs.
11. Do you only perform in New York, or do you have any plans to tour?
We have performed in New York, New Jersey, Pennsylvania, Baltimore, D.C., Indiana and will be performing in North Carolina soon. We love to tour, but unfortunately it is often budget restraints that make it hard to get out of state.
12. What are some of the favorite acts you've performed so far?
Every show I fall in love with a new act I created! Some of my personal favorites are my Cthulhu act, my d20 act, Duck hunt, Risk, Settlers of Catan, Lazytown and my Penny/Dr. Horrible act.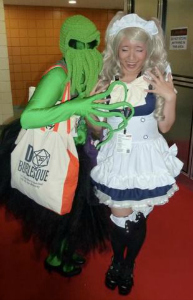 (Anja frightens another performer dressed as a maid in her Cthulhu costume at WTF Japan)
13. Do you consider yourself more of a modern gamer or a retro gamer? What are some of your favorite video games?
One of the cool things about our show is the various levels of gamers we have. Within our group of D20 Burlesque regulars, we have retro gamers, people who are hardcore RPGs and people who like more recent sorts of games. This really helps to round out the sort of shows we do. Me personally, I am a hardcore board gamer. I love the classics, but am also really into a lot of the new stuff that is hitting the scene every year. I'm also a fan of tabletop role-playing games. My main experience is with older videogames. I don't play as many newer videogames as I'd like, but I love Portal (1 more than 2), and I've just started Psychonauts, which is hilarious.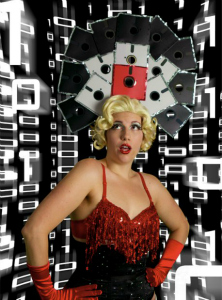 (Anja surrounded by floppy-discs for a computer game themed video photoshoot by Wayne Herrschaft)
14. Where do you get some of your costume ideas and how do you incorporate costume into your performance?
Because I am often working off pre-created characters, I try to match the costumes to fit those characters. It can be really fun though when I am doing something more abstract. Like a dragon or a druid, and I can really play around with how I want to convey that character. If nothing else, the most important part of figuring out both fun and functional ways to get out of these costumes quickly!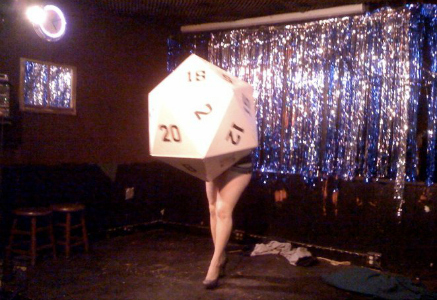 (Anja and her d20 act at an RPG-themed show)
15. Do you make your own costumes or have them commissioned?
I tend to make most of my own stuff either by sewing it or embellishing bases, such as a decorating a plain bra or cutting up a t-shirt and covering it in fake blood. That being said I have definitely commissioned or purchased essential parts of some costumes.
16. What is one of your favorite costumes you've made or worn so far?
I would say my large d20. It was the first D20 Burlesque act I created and having a human-sized d20 around my apartment that people play with makes for really fun parties.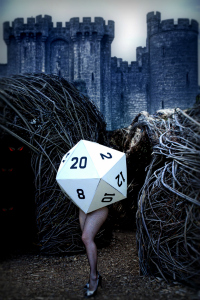 (Anja in her d20 costume for a promotional shoot by Wayne Herrschaft)
17. Who are some other nerdy burlesque troopes and do you feel solidarity with these other groups of performers?
There are great nerdy burlesque shows all over and people should definitely check them out! Critical Hit Burlesque out of Portland is hilarious and I've had great conversations with some of the people in it, Jo Jo Stiletto events out of Seattle are also great and Jo Jo herself even came to our Joss Whedon show this past year and then gave us constructive criticism and praise after the show. We want to help each other out and make sure the scene is strong. Personally, Epic Win Burlesque out of NYC was the troupe that inspired me to start D20 Burlesque. At the time, they were a closed troupe and since I couldn't join them, I decided to start something that was similar, but would focus on gaming nerds instead of general nerdy pop culture so that there wouldn't be overlap in shows. I have since been able to perform with them and we share a lot of performers, so now we try to make sure we are bringing different themes and a variety to the nerdy burlesque scene in NYC.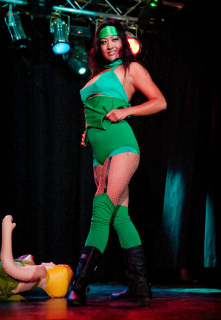 (Satira Sin performing at 8-Bit Beauties, photo by Casey Campbell)
18. How do you explain the success or the rise of nerdy burlesque?
Nerds love their source material. That is part of being a nerd, not being shamed to totally obsess and fall in love with a story, world or character. To bring that love to a stage and perform it for people who also share that love, it is an amazing experience for all involved. Also, we have great fans who have come to almost all our shows, and they bring their friends and then they become part of our little nerdlesque cult...er, I mean "scene".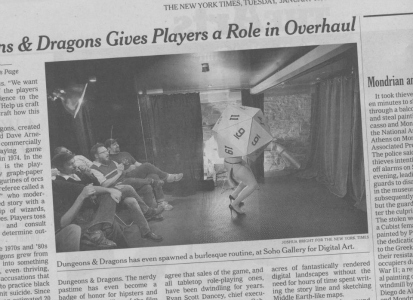 (D20 Burlesque has been featured in the New York Times, Time Out New York, CollegeHumor.com, and in a variety of other publications and websites)
19. Do you feel that you get a mostly positive response, or is burlesque still seen as sort of taboo?
It is becoming much more accepted in the world, but there are still some people who don't really understand it. We do run into problems doing conventions where we need to tone things down or have to be secluded due to the all-ages parts of the events. It's unfortunate that people judge before seeing, so if anything I urge you all that are skeptical to give it a try. Go out with friends, see a comedy burlesque show, I think you'll be surprised at how much fun you'll have!
20. Do you think that D20 Burlesque and other nerdy burlesque troupes are successful at breaking down stereotypes about nerds being introverts or about female geeks and gamers?
I hope so, though I think the nerds themselves are doing a great job of breaking down those stereotypes. Being a nerd is way more acceptable than it used to be, and I am thankful for that. I love that I can go to board game nights at trendy bars and coffee shops in NYC and the places are packed. I love that cons are popping up all over (with very specific themes!) and are thriving. I think people are finding their own communities of people that understand them and when there are so many of us, it is hard for general society to constrain us to a specific stereotype. Sure, some of us are computer scientists and engineers but some are business people, or parents, or athletes, and some of us are striptease artists. We can all be nerds!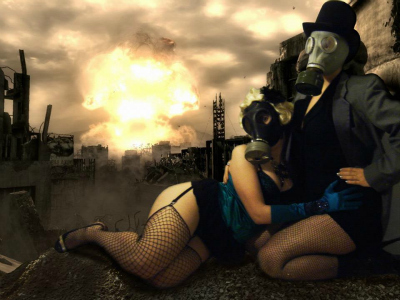 (Post-apocalyptic photoshoot by Zee Perry)