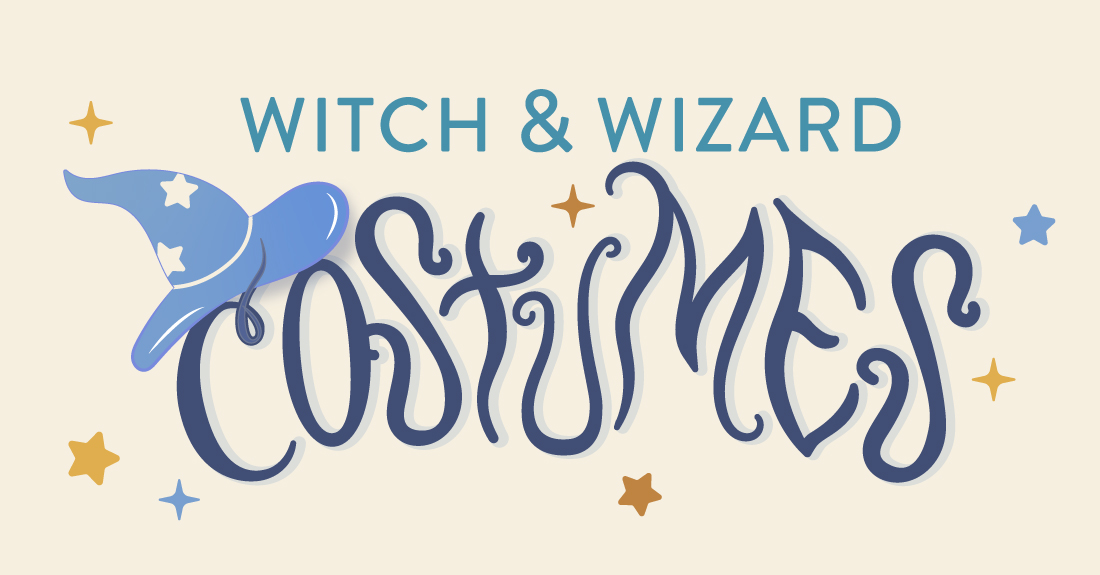 Welcome to another HalloweenCostumes.com costume guide! This time, we'll be looking at witch costumes and wizard costumes and everything related: hags and crones and warlocks and sorcerers. (Oh my!) But don't worry, there's no dark magic here, only quality costumes with some chilling or campy magical themes! Of course, we'll also look at some of our favorite witch and wizard accessories, from crystal balls to wizard staffs to Halloween masks. So hop on that magical broom and let's go!
Witch Costumes
Witch costumes are one of our most popular categories, because witches are big right now but also because there are so many styles of witch costume. You've got classic pointy-hat witch costumes to characters from television and movies, and even scary witch costumes based on fairytales. So hold on to that broom and we'll help you find the best witch costume for you!
Classic Witch Costumes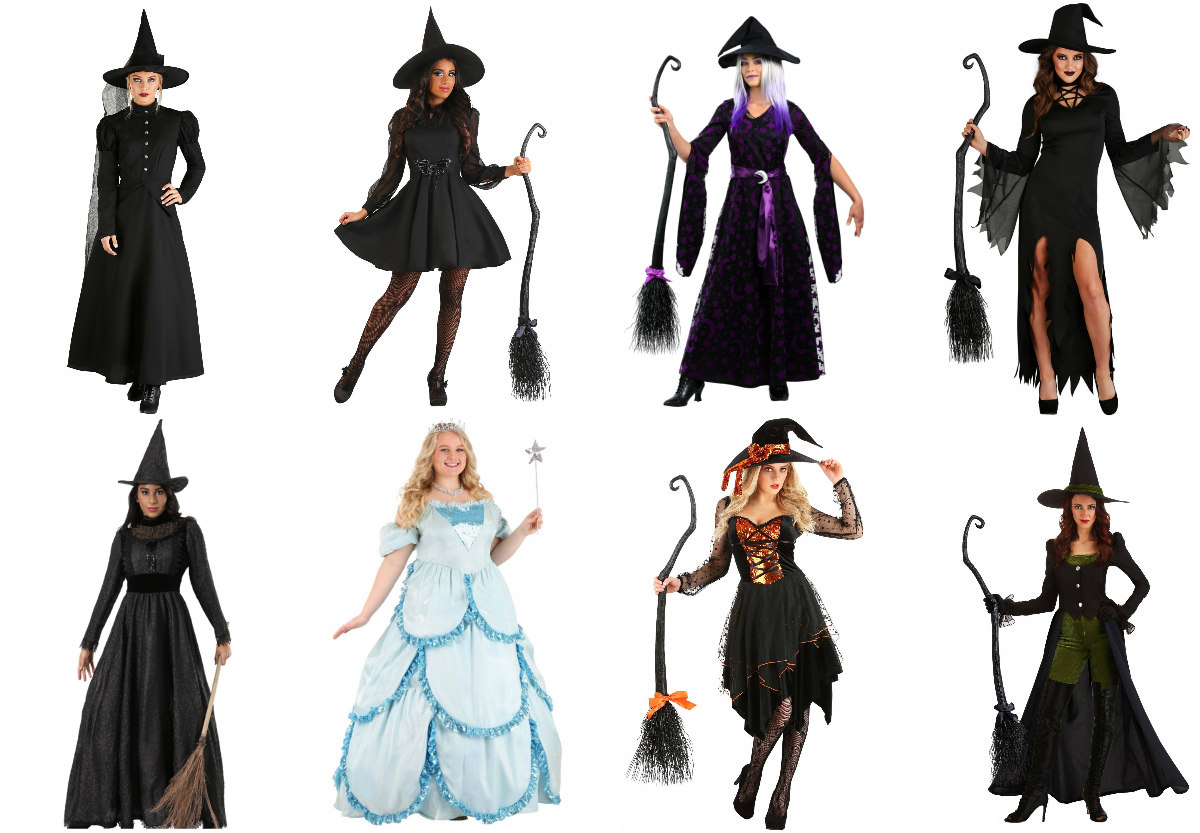 Let's start by looking at some classic witch costumes for adults. Of course, most of these were inspired in some way by the Wicked Witch of the West or Glinda from the original The Wizard of Oz. You've got black dresses, pointy hats, and maybe some color for contrast—like on our purple witch costumes. Of course, there are variations like the sexy witch costumes but also plenty of full-coverage options.
TV and Movie Witch Costumes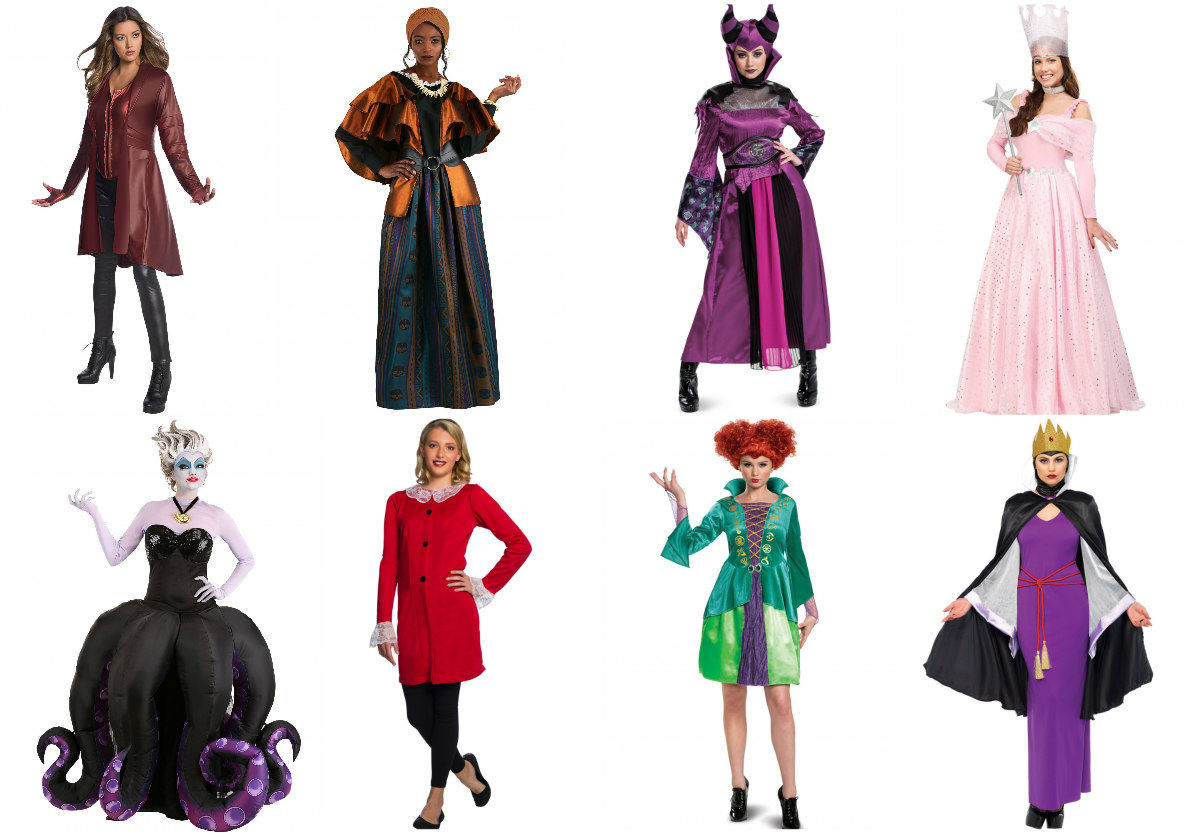 Some of our favorite witches come from television and movies. We'll start with more Wizard of Oz costumes, like Glinda the Good Witch. But there are costumes from plenty of other classic stories, like the Evil Queen costume from Snow White or fun takes on Maleficent and Ursula the sea witch. We've also got modern witch styles, from Hocus Pocus to Scarlet Witch, or the American Horror Story: Coven dress! Our favorite fashionable crossover costume is the red dress from The Chilling Adventures of Sabrina.
Witch Costumes for Kids and Teens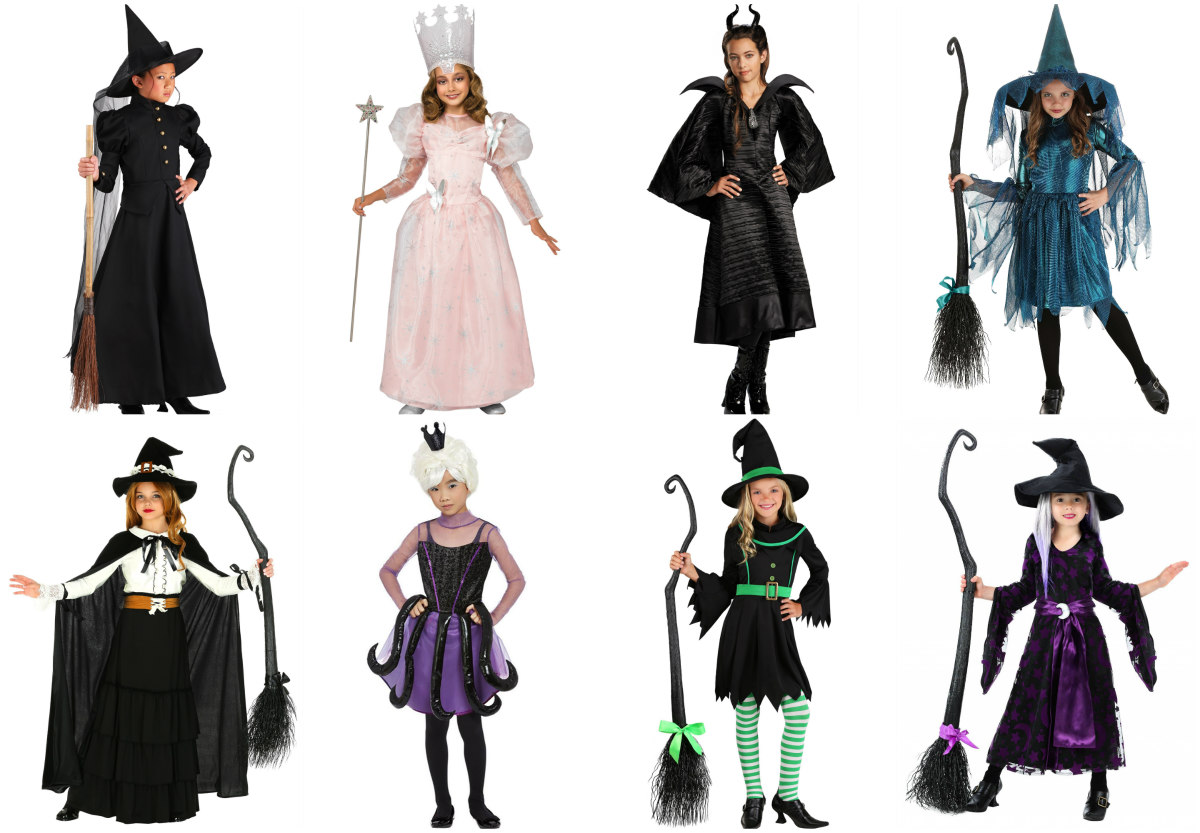 There are plenty of children's witch costumes, too! There's the Wicked Witch and Glinda, of course, and a fun take on Ursula from The Little Mermaid. But you can pick from plenty of colorful classic witch costumes for kids. Older kids might prefer the teenage witch costumes, like this all-black Malificent design or even the Sabrina costume we mentioned in the previous section!
Witch Accessories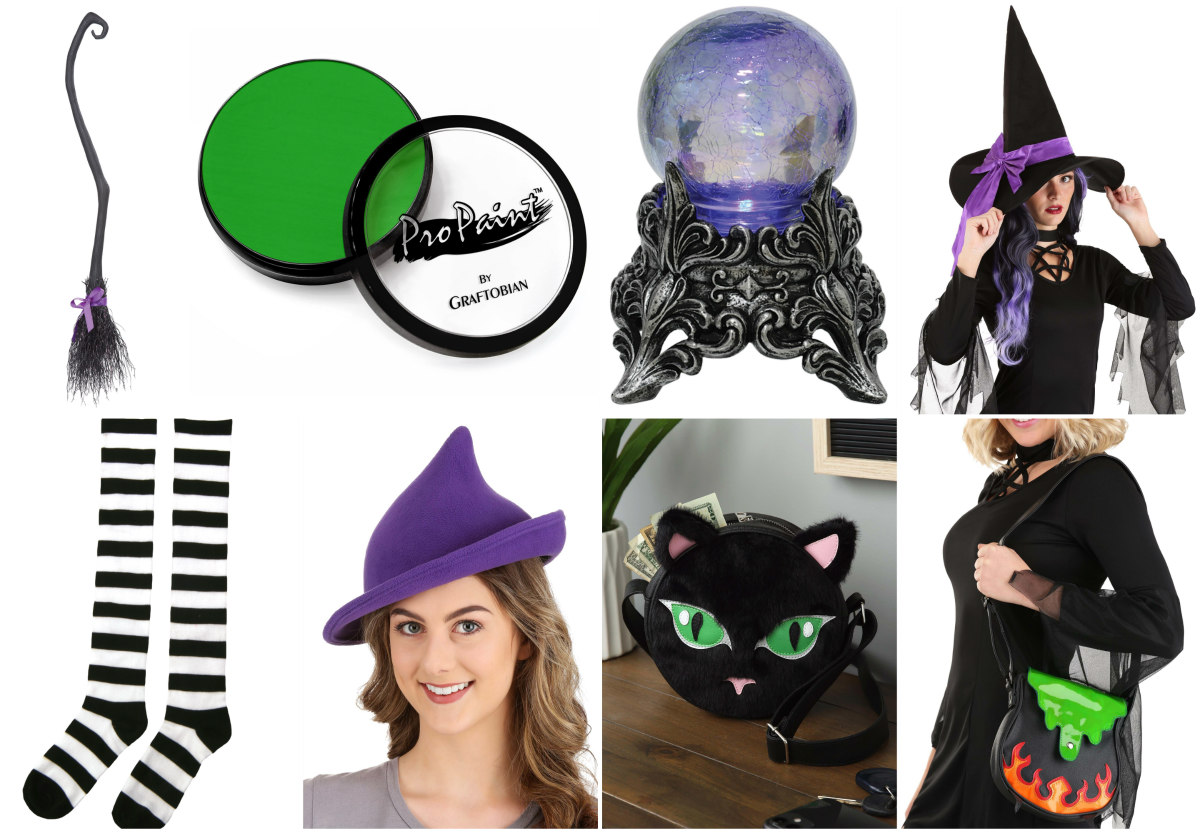 Once you're got your witch costume picked out, you'll need to round it out with some matching accessories. A witch's broom and crystal ball are a given because they fit into most witch themes. We also designed a pointy witch's hat with ribbons of different colors so you can tailor it to your specific witchy idea. If you're going after a Wizard of Oz witch costume, consider some green makeup or even just some striped witch socks. For a casual witch outing, you can even pick up a costume purse that's cauldron or cat-themed.
Scary Witches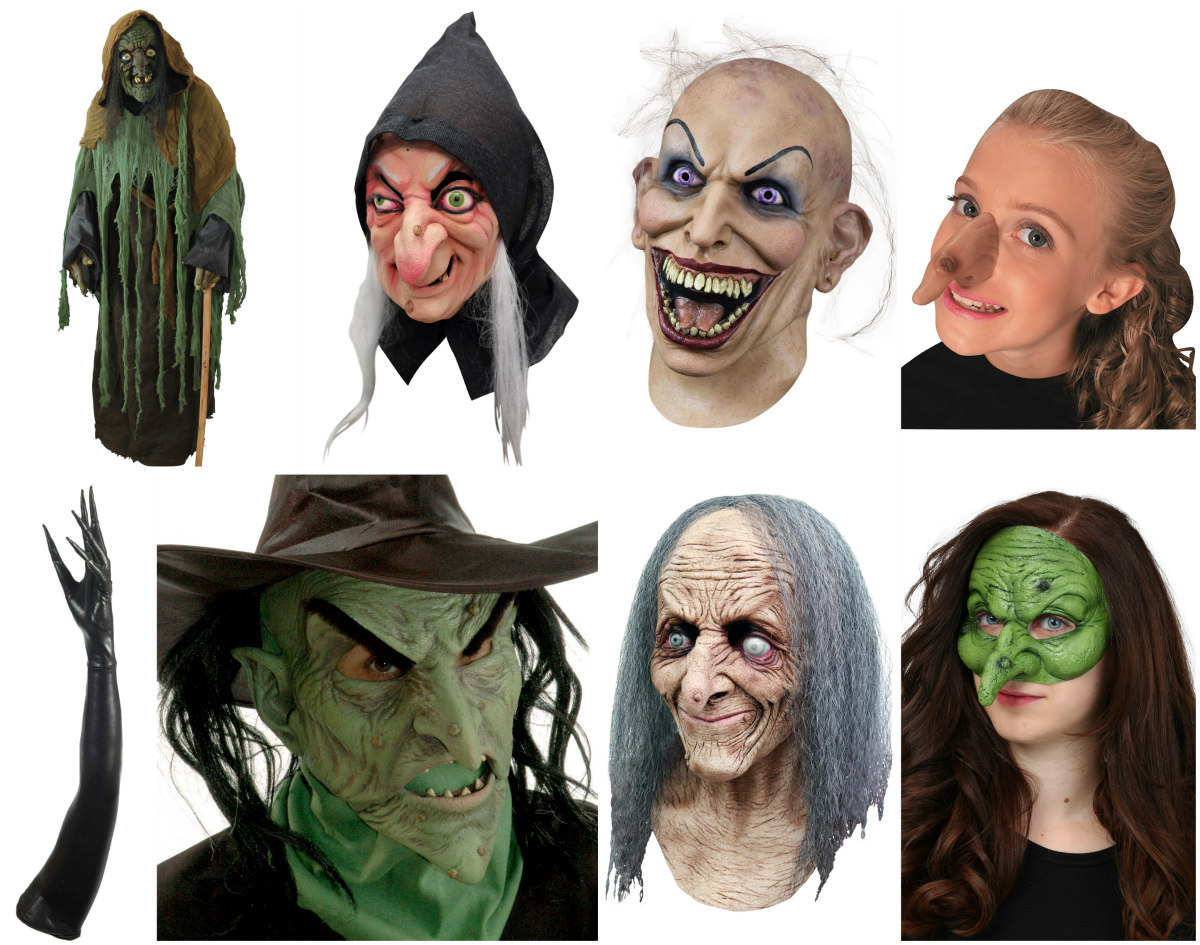 So far, we've looked at the more...friendly-looking witches, but now it's time to look at the real classics! We're talking about scary witch costumes, like crones and hags! Our favorite is this realistic hag costume that includes a raggedy robe and mask. But we also have masks or gloves and a nose so you can mix and match with your favorite costumes.
Wizard Costumes
Like witch costumes, there are all sorts of wizard costumes. We've got costumes based on Gandalf to Harry Potter but also plenty of glittery purple costumes. Sorcerer and warlock costumes also get lumped in with the wizard theme, so we'll make sure to cover those designs as well.
Wizard Costumes for Adults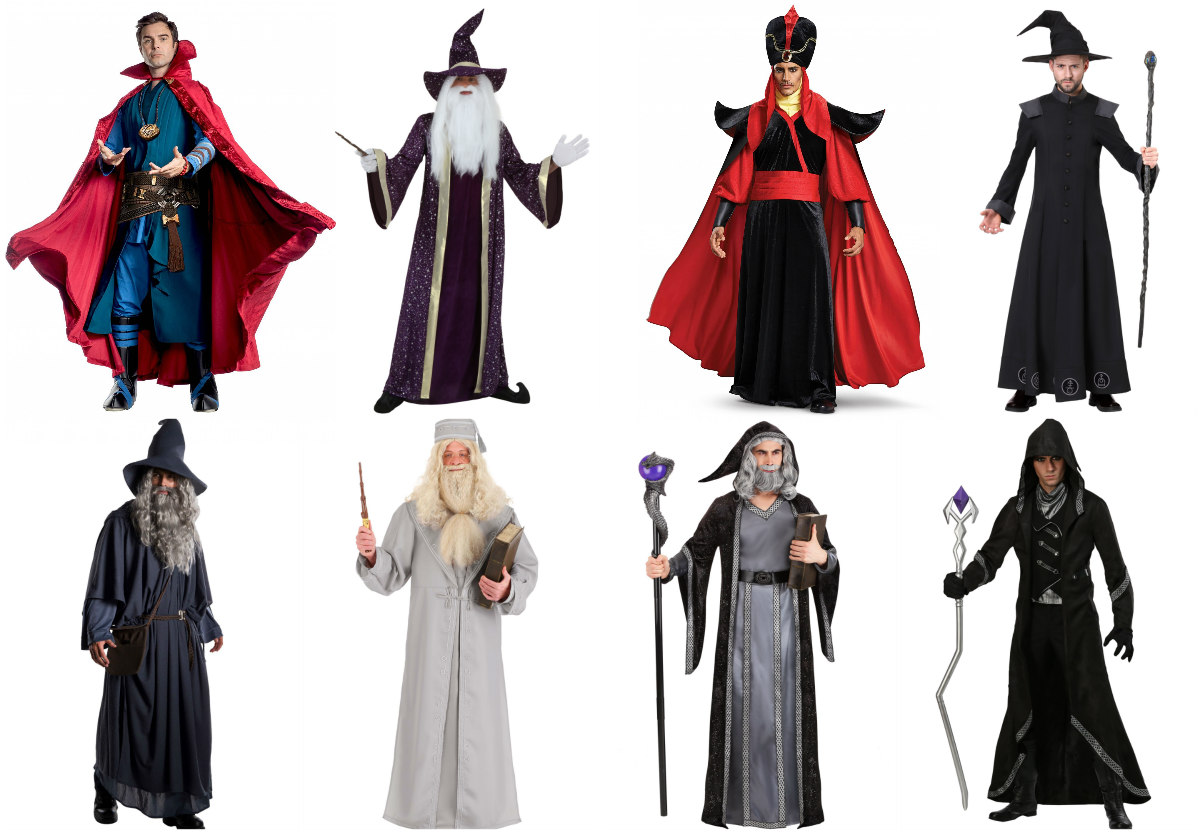 Men's wizard costumes cover a great deal of territory. You've got the classic purple robes with stars and a pointy hat, or dark robes with ornate trim. These are the iconic "old wizard" costume designs, like a classic Merlin costume. We recommend getting a wig and beard to complete the look, but we'll get to that in a bit. If you're looking for a costume like this that everyone will recognize, you can't go wrong with a Dumbledore or Gandalf costume. If you'd like something a bit different, consider a Doctor Strange costume or maybe even the evil Jafar. Both have some facial hair, but it's neat and trimmed. If you'd rather avoid the beard entirely, then we suggest a sorcerer or warlock look. Either one looks fine if you're clean-shaven.
Kid Wizard Costumes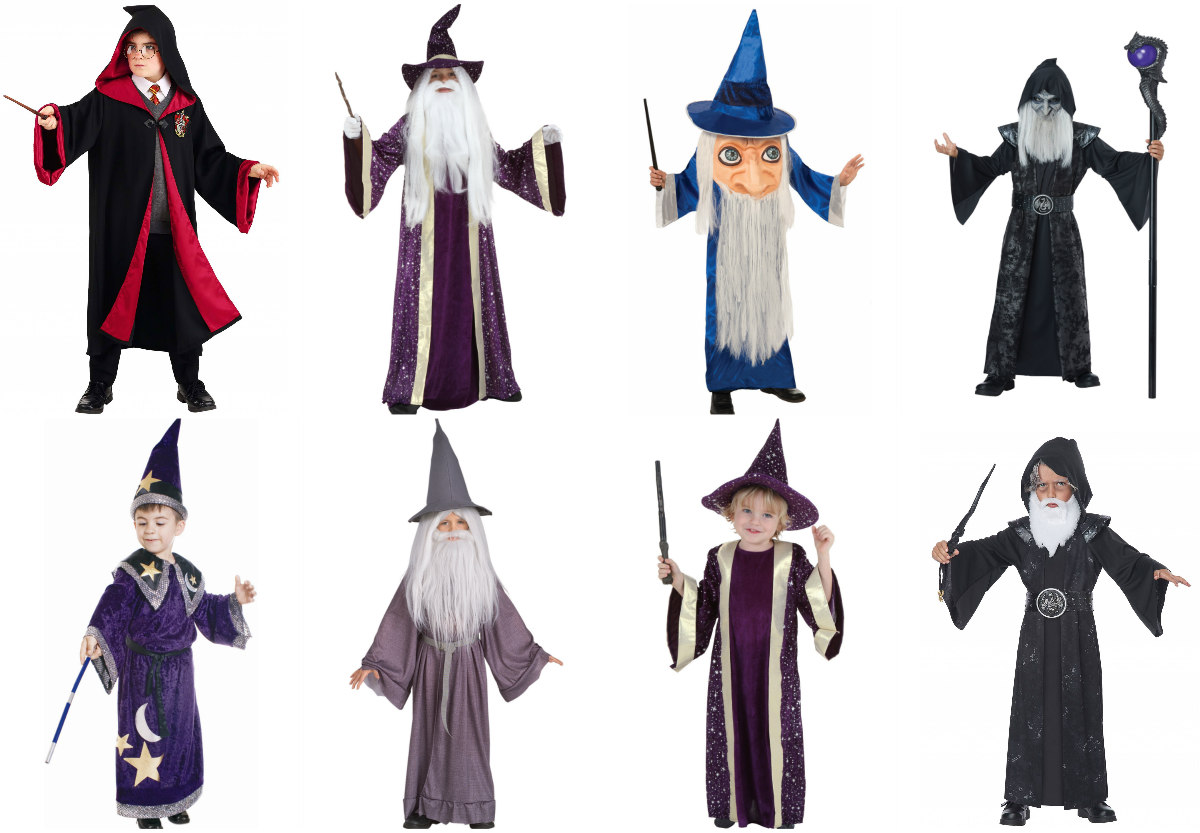 Now let's look at some of the kid wizard costume options! You'll find many of the same costumes from our adult selection: purple and sparkly or dark and ornate. There are Dumbledore and Gandalf costumes for kids, too. But our favorite of the boy wizard costumes is the most iconic boy wizard ever, Harry Potter! Not only do we have Harry Potter, but we have robes for all of the Hogwarts Houses!
Wizard Accessories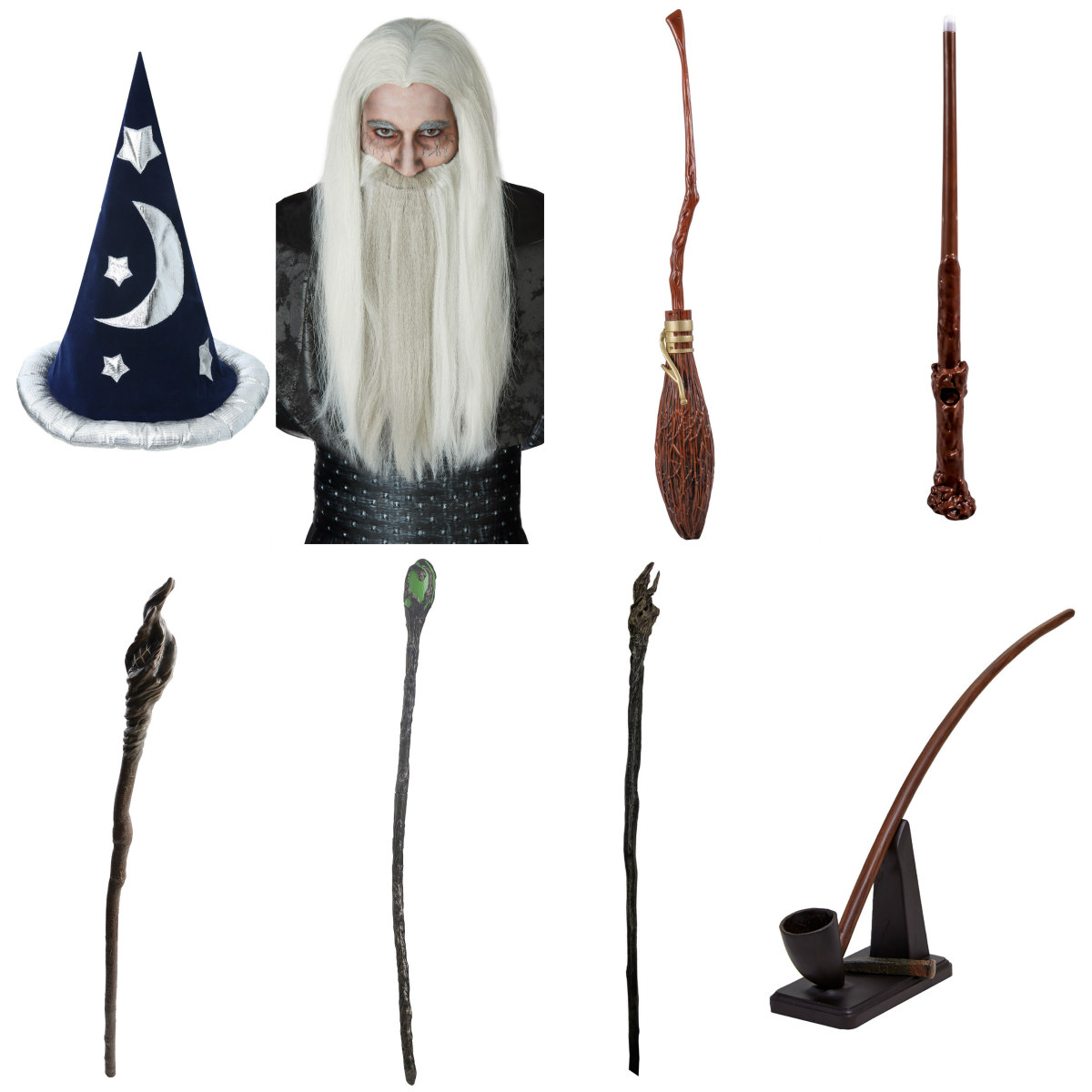 Now that you've picked out your favorite wizard robes, it's time to find the perfect accessory. If you're going as an older wizard, that means a big beard—unless, of course, you're a dude with a beard. Then you'll need a staff of some kind. The Gandalf staff is an all-around great option, even if you're not dressing up as Gandalf. Of course, Gandalf always has his pipe, like the replica above, but we'd recommend finding a less expensive option. If you're dressing as someone from the Wizarding World, then you'll absolutely need a wand. Maybe even a Quidditch broom, like the Nimbus 2000.
Did you find the witch or wizard costume that you need? Or can you suggest a costume that we should make? Please let us know in the comments! And if you're still looking for that perfect wizard or witch costume—or even just a classic Halloween costume—be sure to check out our full selection of Halloween costumes.