How To Be A Wolf
Having a hard time choosing which kind of animal costume is perfect for you or your child? Yeah, it's not easy with so many different wild animals out there, but as luck would have it, we're tried and true costumes experts around here (we better be with a name like HalloweenCostumes.com)! So, let us tell you why a wolf costume makes for an awesome costume experience! From the ferociously frightening werewolf, to fanciful fairy tales like Little Red Riding Hood and The Three Little Pigs, wolves are always finding their way into the story. In the wild, wolves are highly social, so it gives you the perfect opportunity to create a wolf pack themed group. And did we mention that some of our kids' wolf costumes are adorable beyond comprehension? It's just one more reason to love being a wolf!
You might be thinking to yourself, "But I don't really know how to look like a wolf!" Well, never fear, because we're here to help you with that too. Below we have a guide to really help you maximize your look and experience in one of our wolf costumes. So, just sit back and let us show you some tips, tricks and ideas, so you can have a really great time howling at the moon!
Big Bad Wolf Costumes
So, you've decided that you or your little one is going to be wearing a wolf costume, but joining the pack takes a lot more than you might think! Unless you're born into a family of wild wolves, you may have a hard time fitting in. Not all of us can be lucky enough to be like Romulus and Remus (the mythical founders of Rome), after all! No worries, though—we're here to help you out! We've got plenty of ways, including a selection of accessories and some inspiring imagery, to help you make the most of your wolf costume experience. We even have a pair of wolf parents who are willing to adopt you and show you their ways. Okay, so maybe that very last part isn't entirely true, but we do have plenty of styles of wolf costumes for kids and adults that will blow you away, and you will find some cool ideas to get you started. And that way, you can love your look at the next costume party.
To The Woods You Go!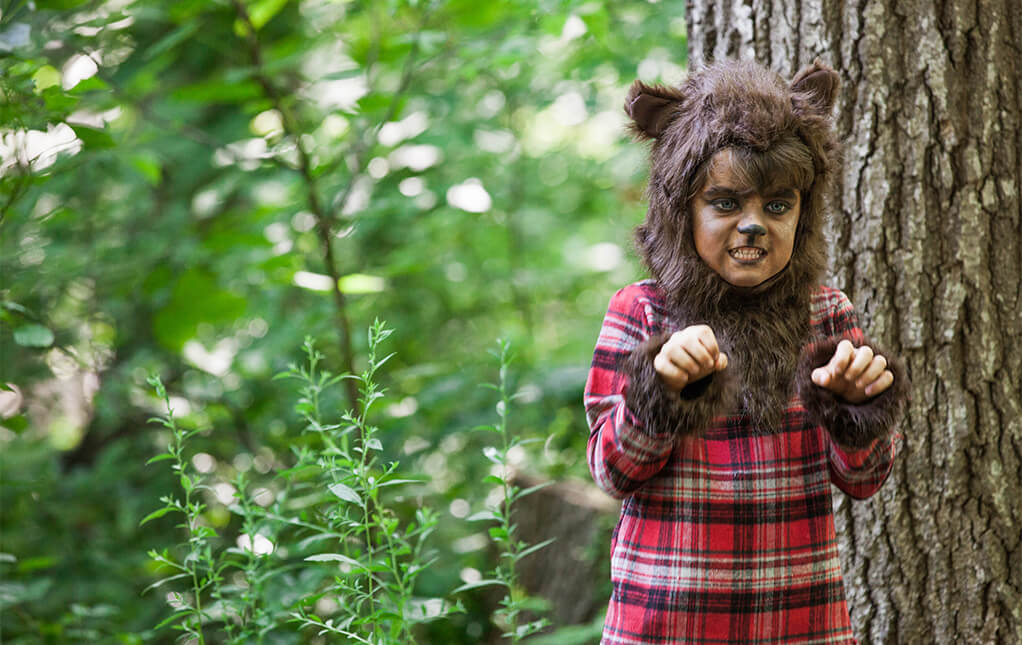 Every young pup feels most at home in the wilderness, which is why the best photo opportunities lie waiting in the deep woods, or at the very least near a few grand old trees (we have a few tree costumes if you don't live near the woods). After all, that's where all the real wolves live, so that's where your lupine journey should begin! Once your child has selected a furry costume fit for the forest (and we have plenty of awesome kids wolf costumes for you to choose from), you must venture into the woods. Be on the hunt for a pristine tree, with a plethora of vibrant foliage. Don't forget to bring a camera or a smartphone! Once you've picked the perfect spot in the woods, you'll want to capture every moment that you can, so you can keep a piece of moment with you forever!
Snarling Close-Up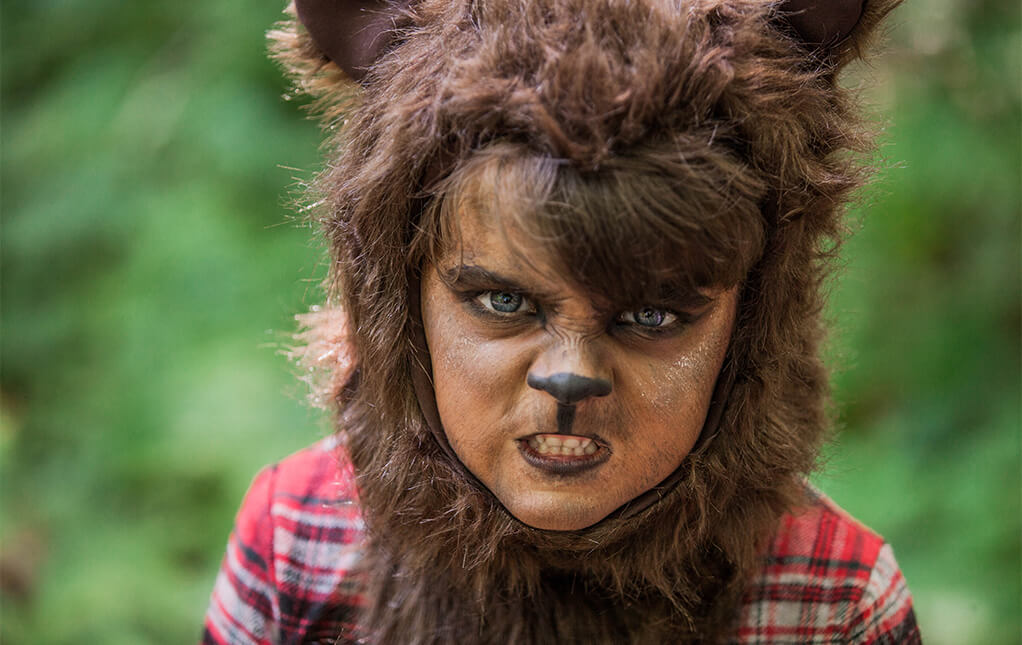 Of course, just being in the woods won't complete the perfect wolfy look. You're going to need a little more than a keen sense for forest scenery to create the perfect experience for your tiny wolf. You're going to require a touch of makeup! It's the only way to achieve a ferocious look that might just have your child snarling like a wild animal. All it takes is a little bit of white makeup and a bit of black makeup to achieve a savage style. A touch of black makeup can turn your tike's normal nose into the snout of a snarling pack alpha! Using a mixture of light and dark brown makeup, you can create very wolf-like tones, while a thin line of black makeup around the lips gives him a growling look that will have him ready to howl.
Little Bad Wolf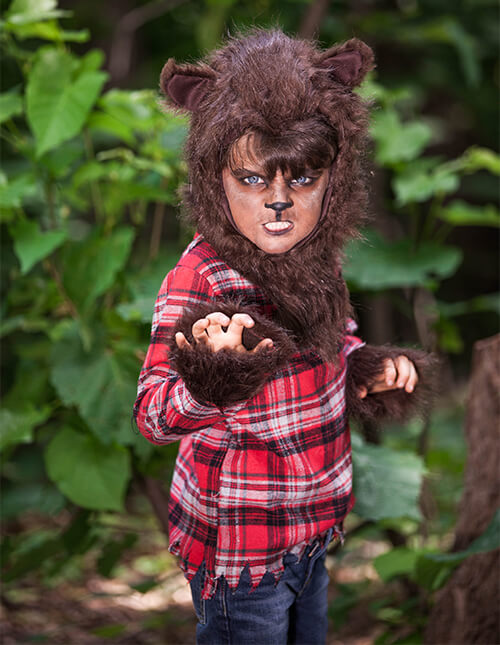 You may be wondering what the next step is! Well, once you've brought your little one to the natural habitat of wolves, it's time to get him ready with some ferocious poses. He's going to need some savage snarls, grisly growls and maybe even a few booming barks to be the wild wolf that he looks like! Most of all, it's just about having some fun getting a little wild in the wilderness. To capture the aura of a real wolf, he'll need to be ready to bear his fangs and claw at the air. And if you should happen to be there with a camera to capture the moment, then it makes for a great new post on social media! And, as an additional tip, the lively shrubbery should make for the perfect backdrop for some furry photos of your pup's newfound playground, so make sure to take full advantage of the bright greenery surrounding you.
The Tiny Timber Wolf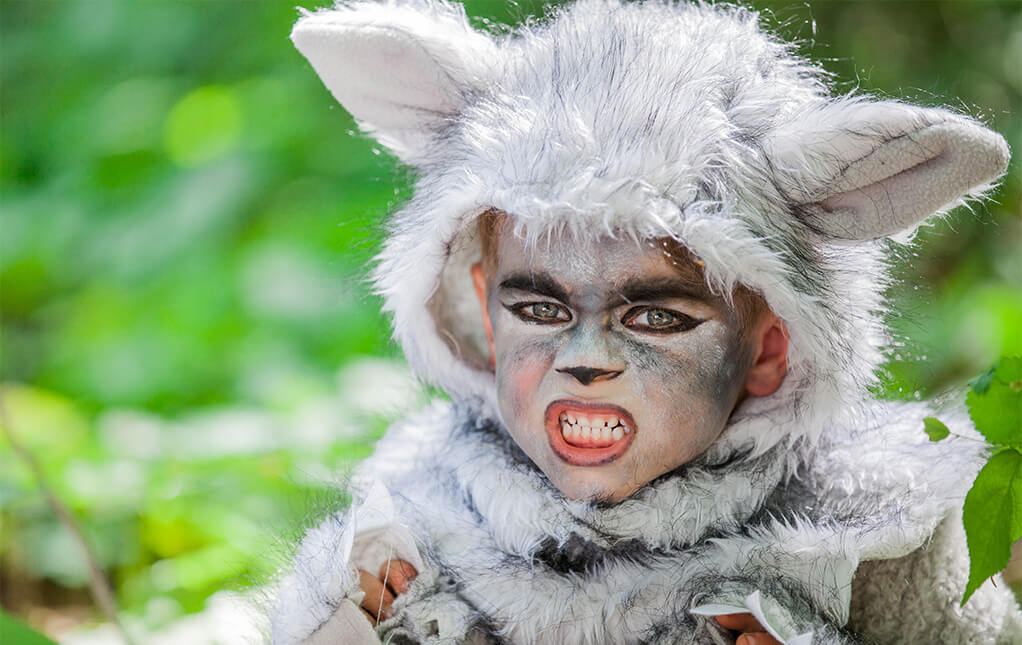 Not all fearsome wolves come in the form of brown wolves. There are all sorts of wolves out there, so you can also create a viciously cute style based on the mighty gray timber wolf! Of course, we'll just leave it up to you to decide which one looks the most adorable (or ferocious) on your child, since we have plenty of styles to accommodate both child wolf costumes. You can gear your little pup in a gray wolf costume, which brings a slightly less wild and nobler appeal to his look. You might even see a bit of dire wolf instinct creeping into his style when your little one dons the soft gray tones of a timber wolf. Just don't blame us if you start calling your kid Ghost or Grey Wind from this day forward! (But just think how cool a Game of Thrones nickname would be for your little one to have.)
Lone Wolf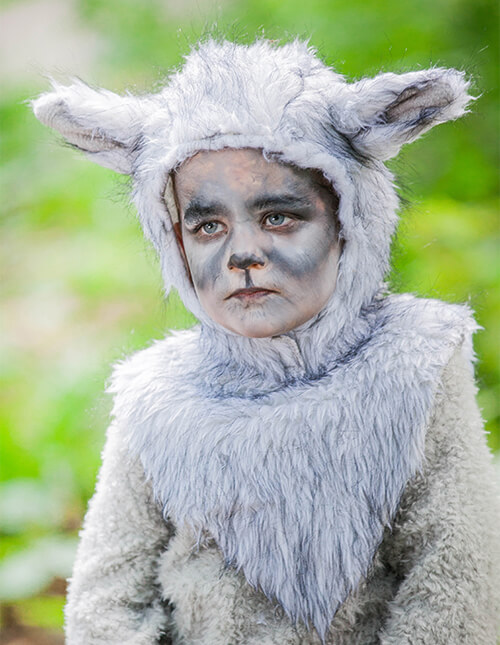 Aww, look at this widdle sad wolf! Most of the times, wolves run in a pack, so a solo wolf can get lonely when he's out in the woods, but luckily, we've got the perfect cure for that kind of problem! A little touch of makeup should have all the other wolves ready to play with him. When you're perfecting the look of a gray wolf, you'll want to use less browns in the makeup, along with much more whites and blacks to create various gray tones. Once you've got the look down, make sure to get a pic or two of your little lone wolf before the rest of the pack shows up to greet him!
Howling at the Moon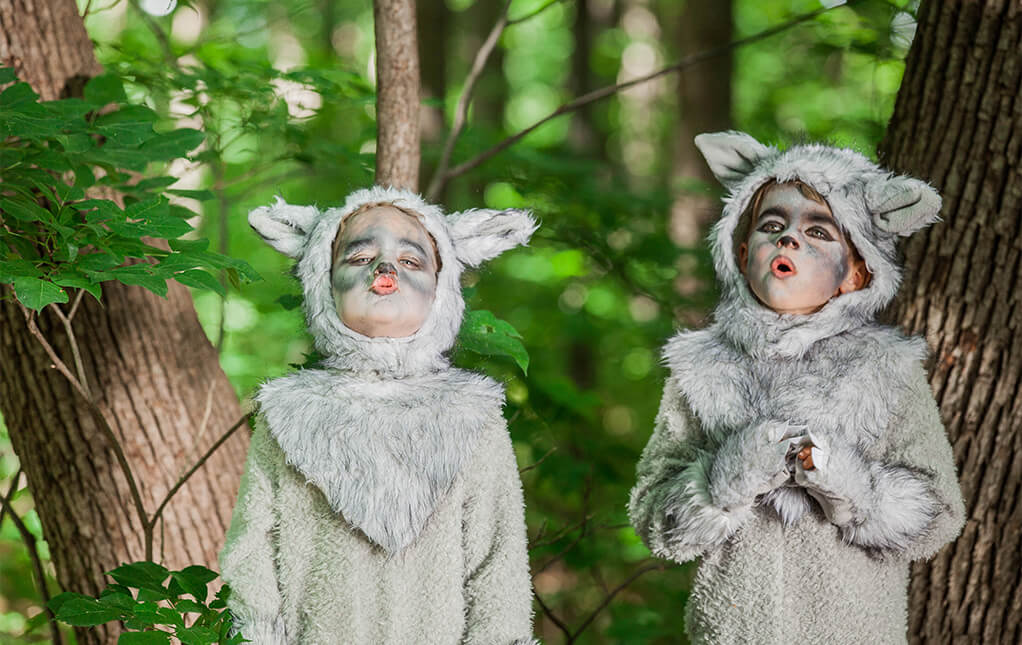 When you've gotten your little one's wolf costume and wolf makeup all set and ready, it's time to let him run wild with the pack and howl at the moon (provided it's not past your little one's bed time, of course). Since most wolves love to form a pack, it's time to get a bunch of your little one's friends together so they can bark and howl their way to a good time. Who knows! It might look like so much fun; you might find yourself suiting up in an adult wolf costume of your own to join your kid. Nothing quite brings a family together like a run through the woods as a pack of wolves (and family togetherness is always something we love to condone).