People love to find Halloween costumes that accentuate their features—bald character costumes, beard costumes, red hair outfits and more! Well, we're going to show you tons of costumes with glasses that will allow you to add your specs as part of your Halloween costume. Sure, you may have the freedom to pop in a pair of contacts, but if you can harness the power of your eyeglasses, just do it! Here are some of our favorite Halloween costumes with glasses.
1. Harry Potter Costume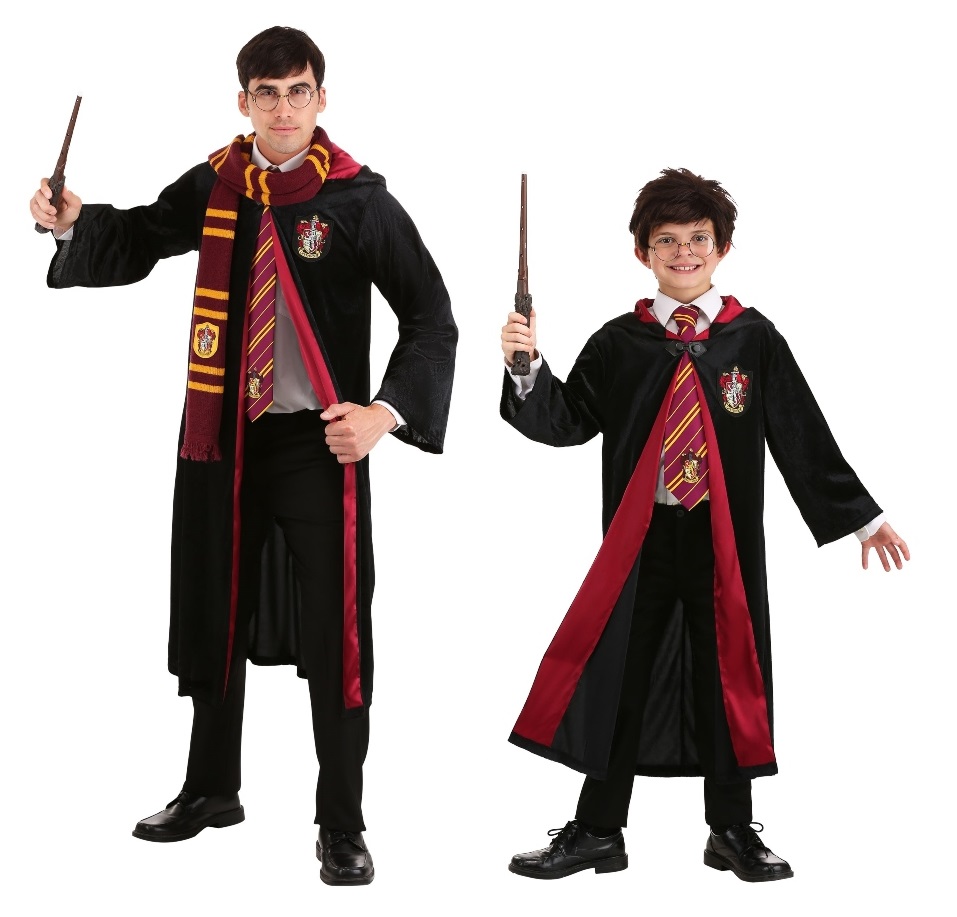 One of the most famous spectacled characters ever, Harry Potter has a set of round glasses that remain iconic even today. (And of course, don't forget the lightning-bolt scar!) There are a variety of great Harry Potter costumes for kids and adults, so you're welcome to find your favorite outfit for Halloween.
2. Velma Costume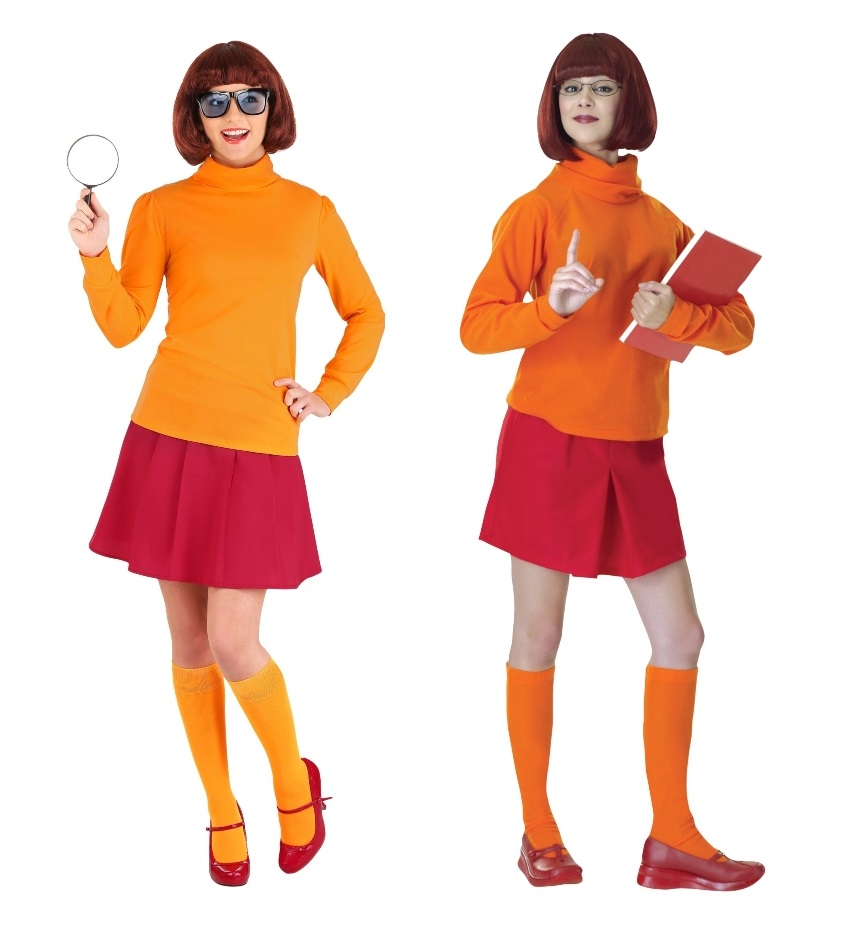 We're not sure what compelled our girl Velma to wear orange and red together, but her outfit is perfection! This classic cartoon character with glasses is naturally the nerdy girl of the group, and honestly, we don't think Mystery, Incorporated would function without her. (Just make sure not to lose your glasses at the Halloween party. She could really use a glasses chain!)
3. Austin Powers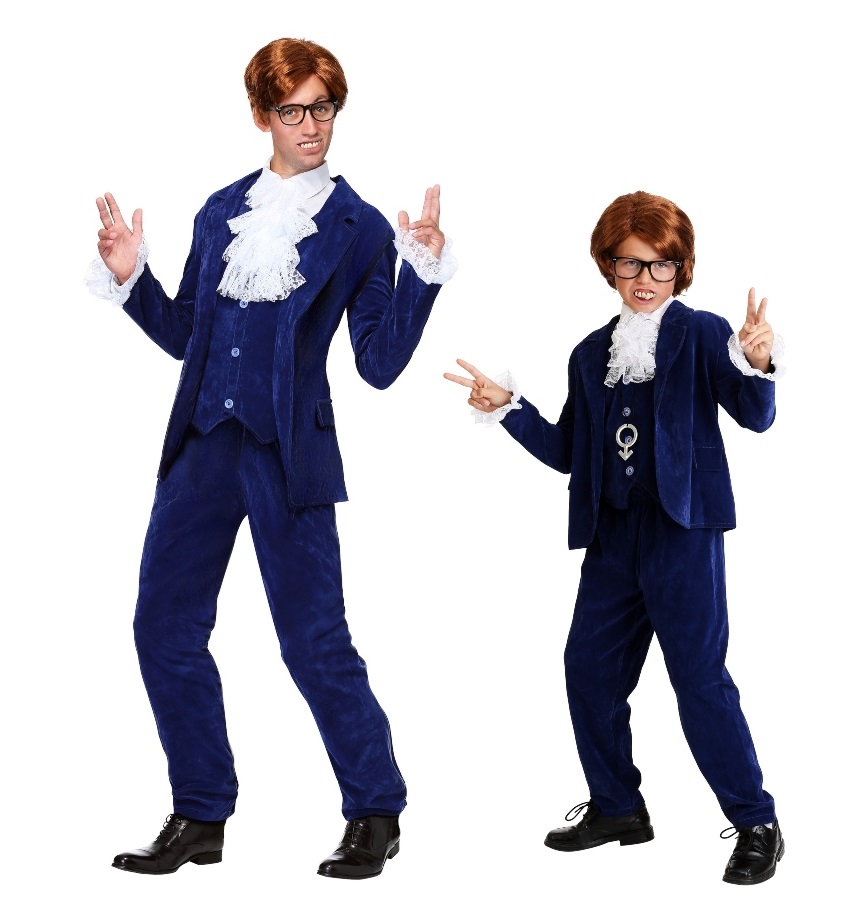 Yeah, baby! This British spy has some of the nerdiest eyewear around, but he's somehow irresistible. The key to a good Austin Powers costume is his blue crushed velvet suit and frilly white jabot. You can always take it up a notch with a male pendant accessory and some fake bad teeth, but your eyewear is essential to pulling off an authentic Austin Powers costume.
4. Santa Claus Costume & Mrs. Claus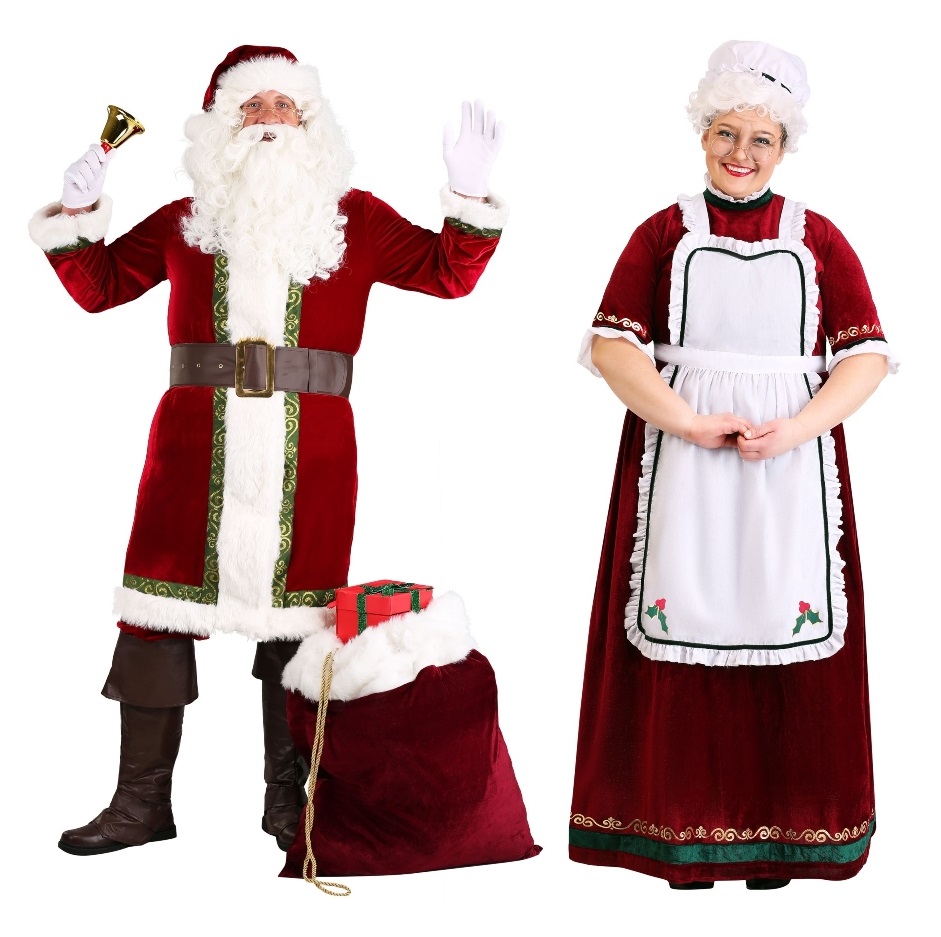 It's beginning to look a lot like...Halloween? Honestly, wearing a Santa Claus costume for Halloween is a smart idea, because you can harness the power of your outfit twice in one year! No rule says you can't, so full-steam ahead! Turn this glasses Halloween costume into a couples' outfit by adding Mrs. Claus. Who knows? You might get some early Christmas present requests!
5. Blippi Costume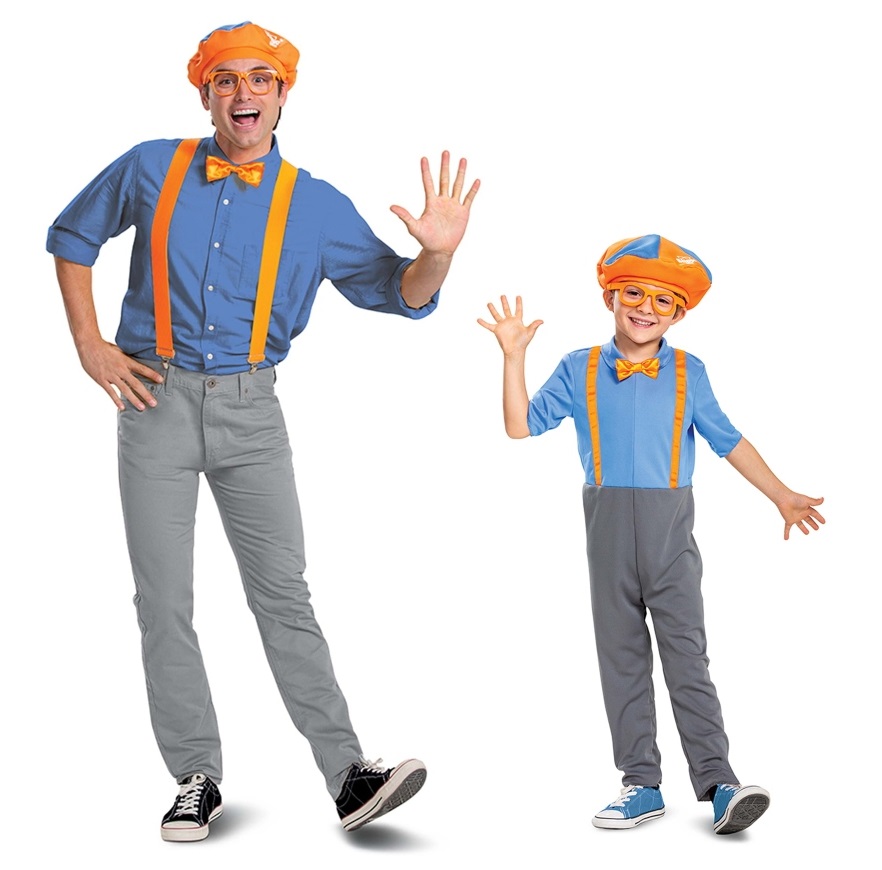 If you have kids, you have likely heard of Blippi. He has macaroni orange glasses and wears bright colors while teaching kids via social media. While he began as a YouTube star, Blippi's educational adventures for kids can be found streaming on Hulu and Amazon too. You can find a complete Blippi costume for toddlers, but adults can get in on the fun with accessory kits too!
6. Nerd Costume or Librarian Costume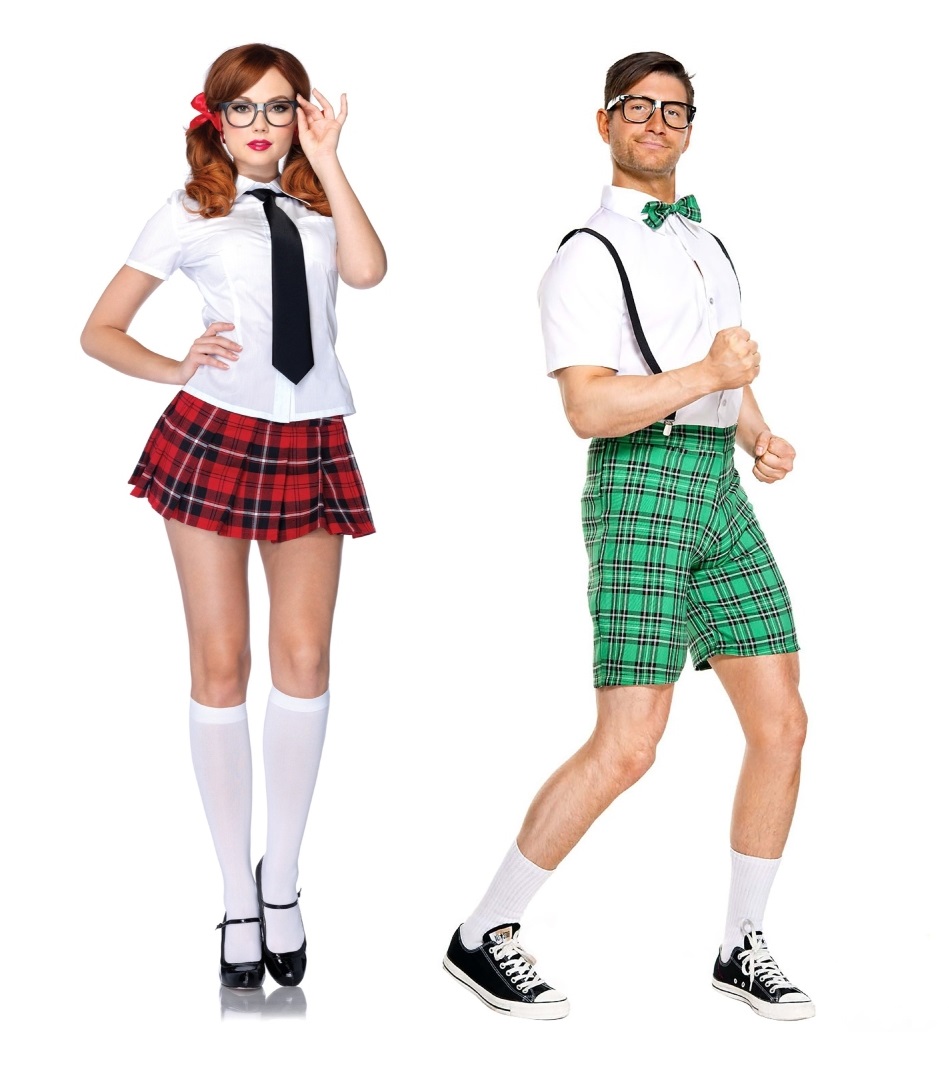 You probably expected to see the classic nerd costume, and here it is! With a combination of plaid pants, thick black glasses and a white button-up shirt, you can easily throw together your own nerd costume too. Famous nerds like Steve Urkel, Ugly Betty and Penelope Garcia are all great if you're hoping to dress as a geeky character. But if you're hoping to be less school kid and more adult, ladies can wear cat-eye or horn-rimmed glasses, cardigans, and skirts for a vintage librarian look. Bonus points if you have a cool glasses chain to go with your outfit!
7. Mad Scientist Costume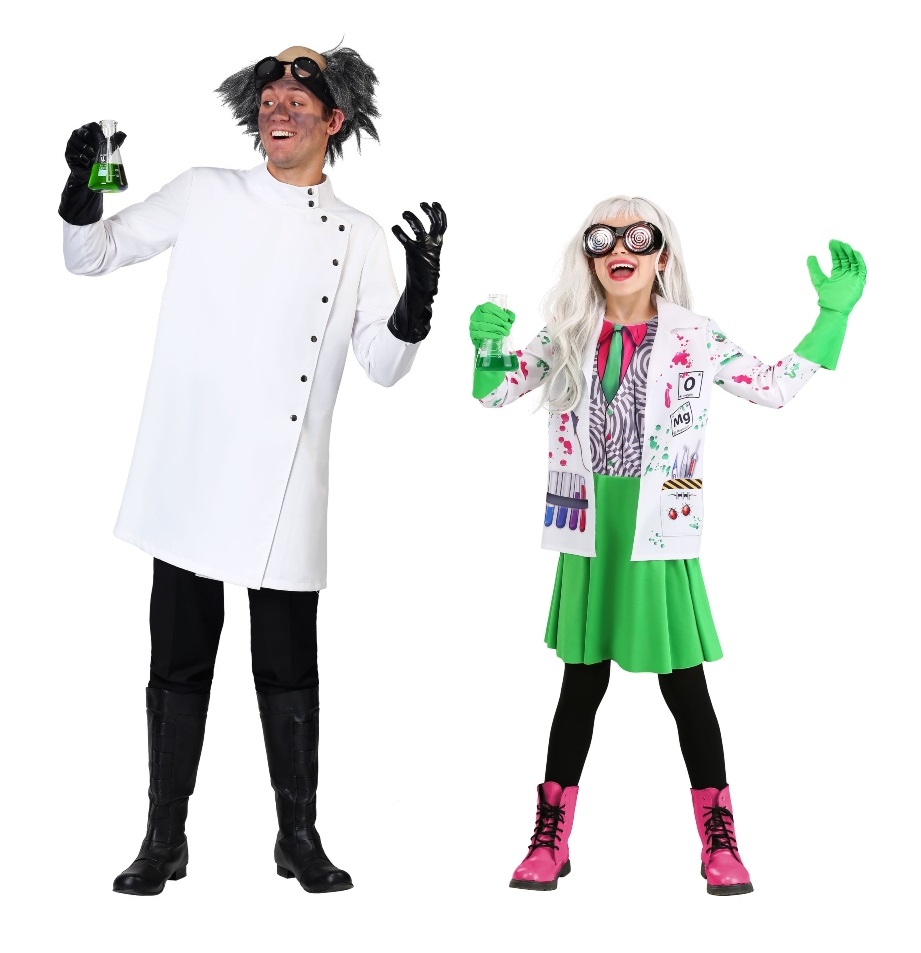 Sometimes, we nerdy glasses-wearing, science-loving folks let that lust for power go to our heads. Characters like Herbert West, Dr. Frankenstin and Dr. Jekyll warn us about the potential outcomes of bad science, but they make great Halloween costume ideas! Grab a white lab coat, a beaker and a pair of lab safety goggles, and you too can have the mad scientist costume of your dreams!
8. Riddler Costume (Gotham Version)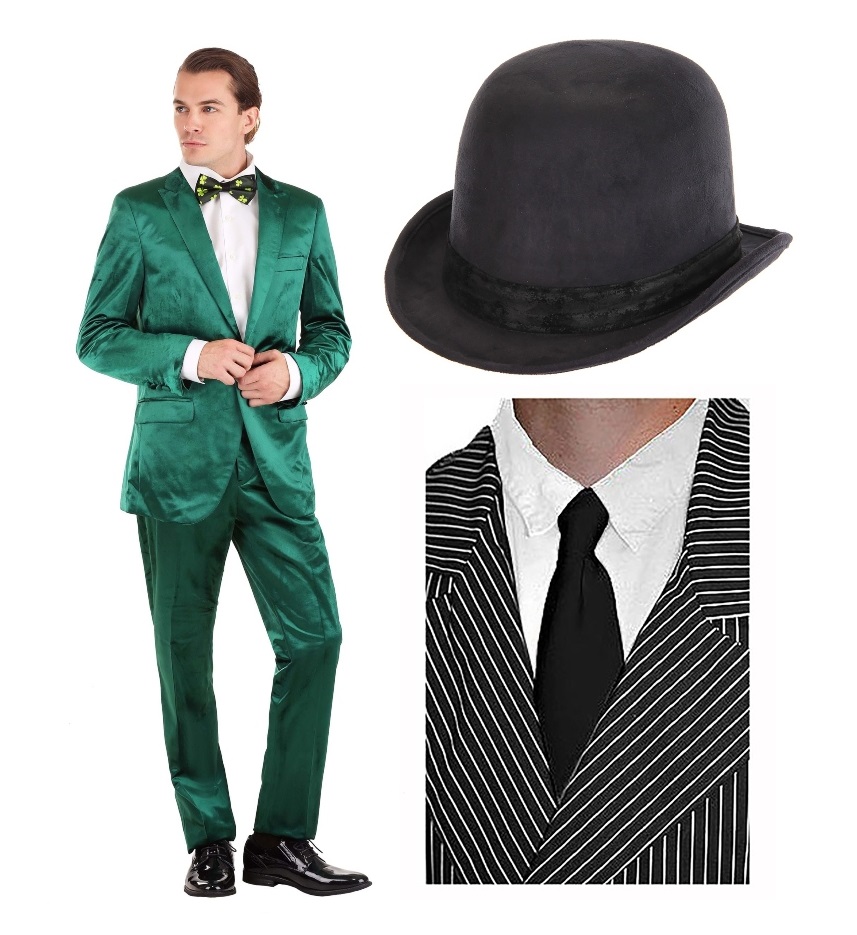 There are many takes on classic Batman villains like the Joker and Catwoman, but one version of the Riddler from Gotham has him wearing glasses! If you're ready to harness your stylish bad boy vibes, grab a green suit and pair it with a black bowler hat and tie. Just make sure to look out for the Penguin, because you never can tell whether he'll be friend or foe!
9. Dwight Schrute Costume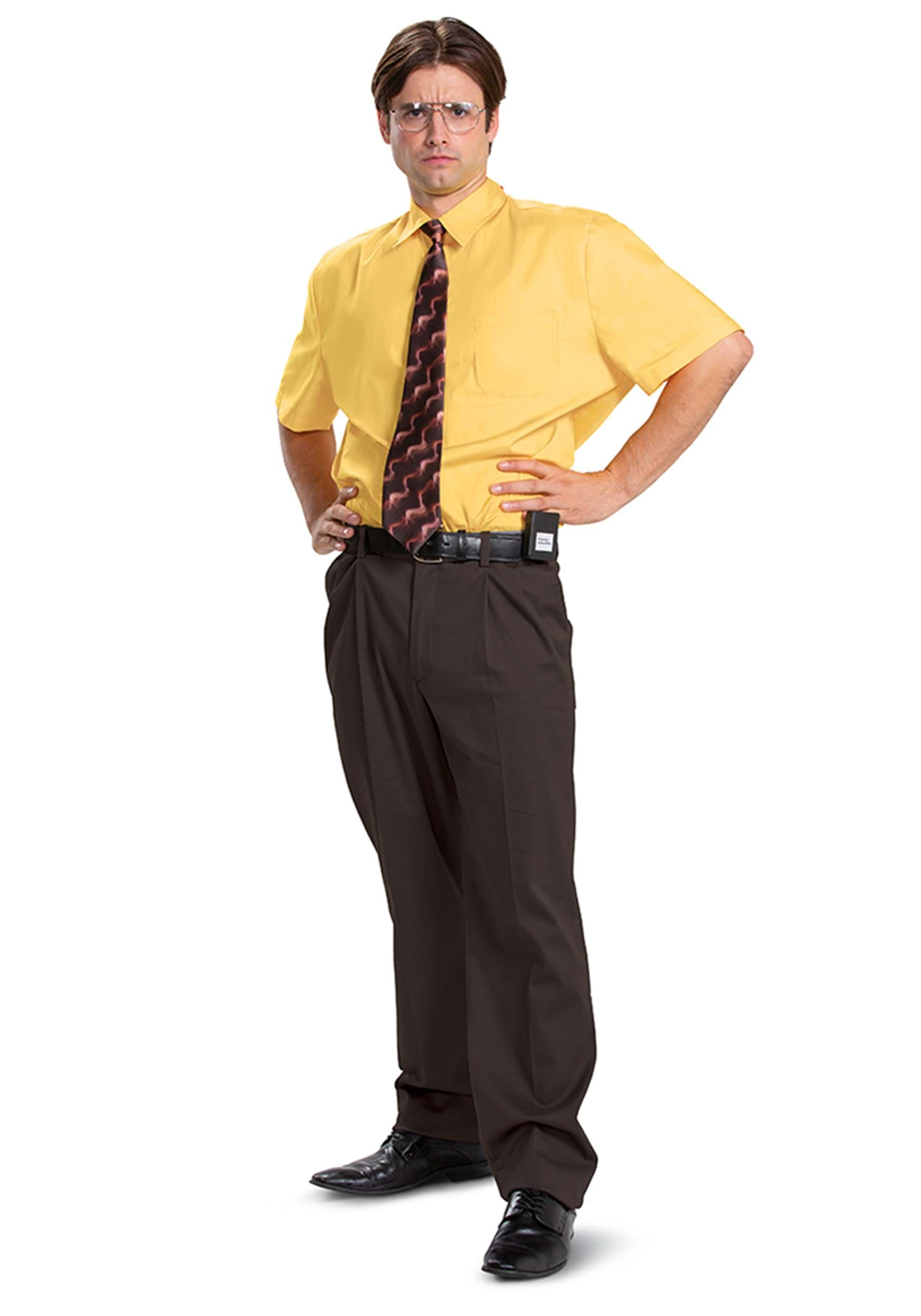 We're not sure how he does it, but Dwight Schrute makes working at a paper company seem interesting—if only to hear some of the strangest quotes on TV. He's certainly shooting for the stars, unsatisfied with being an office peon. If you're a fan of office wear and your glasses, and perhaps karate, you're going to love wearing a Dwight Schrute costume for Halloween!
10. RBG Costume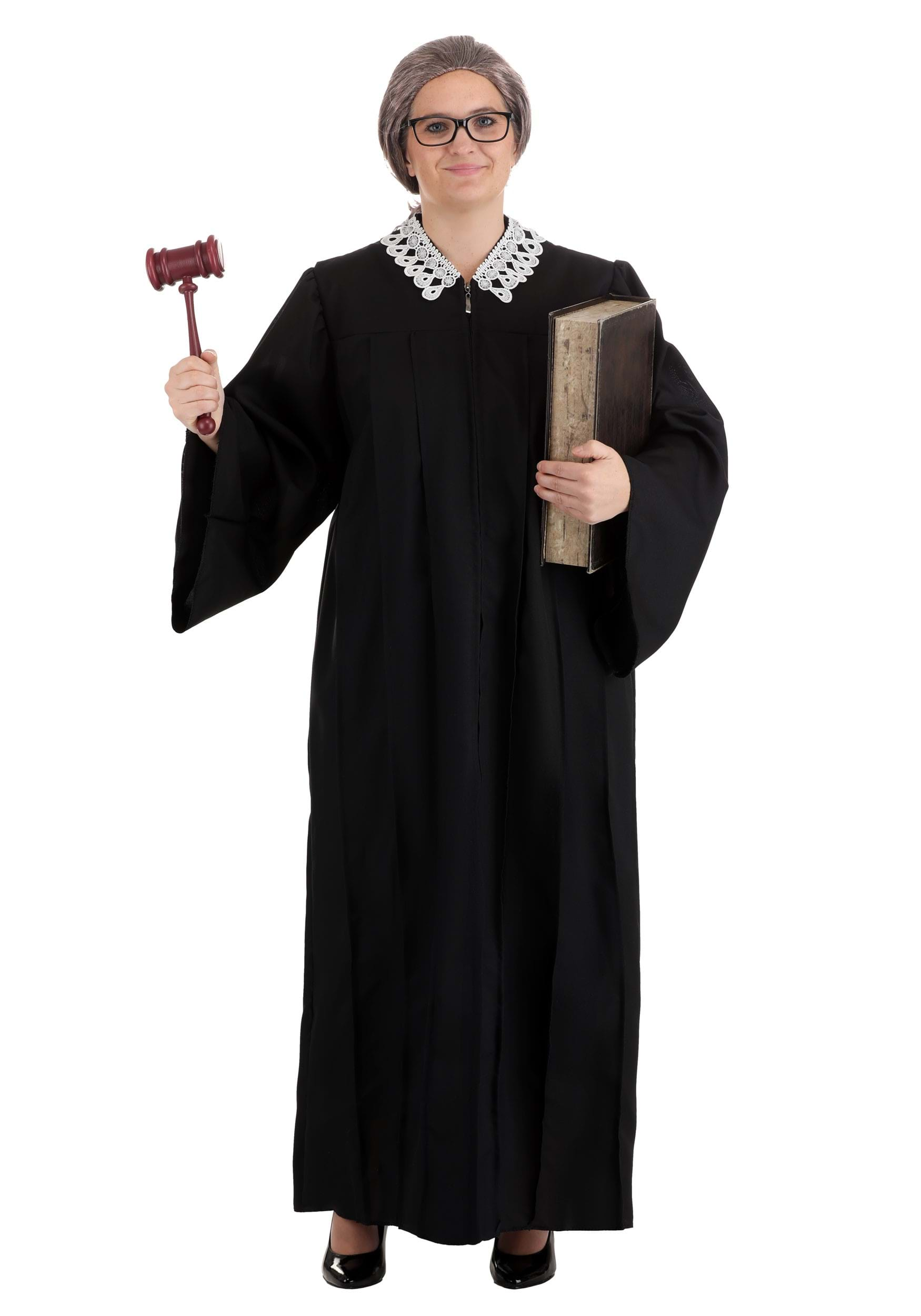 Are you a fan of political costumes? Maybe you're hoping to make a statement this Halloween. Whatever the case may be, our girl Ruth Bader Ginsburg was a legend in her time and a champion for women's rights. A Ruth Bader Ginsburg costume is pretty easy to pull off when you already wear glasses. Make sure to pair a white lace collar with a black judge robe, and you're well on your way to looking like RBG. You can even add a gavel and a gray-haired wig to make it feel more authentic.
11. Edna Mode
You may not have her comically oversized glasses, but you can have her fashion sense. (No capes!) Edna Mode was one of many awesome Incredibles characters. (Let's face it—they were all great, no matter how much screen time they got!) Her pure joy at making new costumes for the family was a lot of fun to watch, and she even came back in the sequel.

12. Clark Kent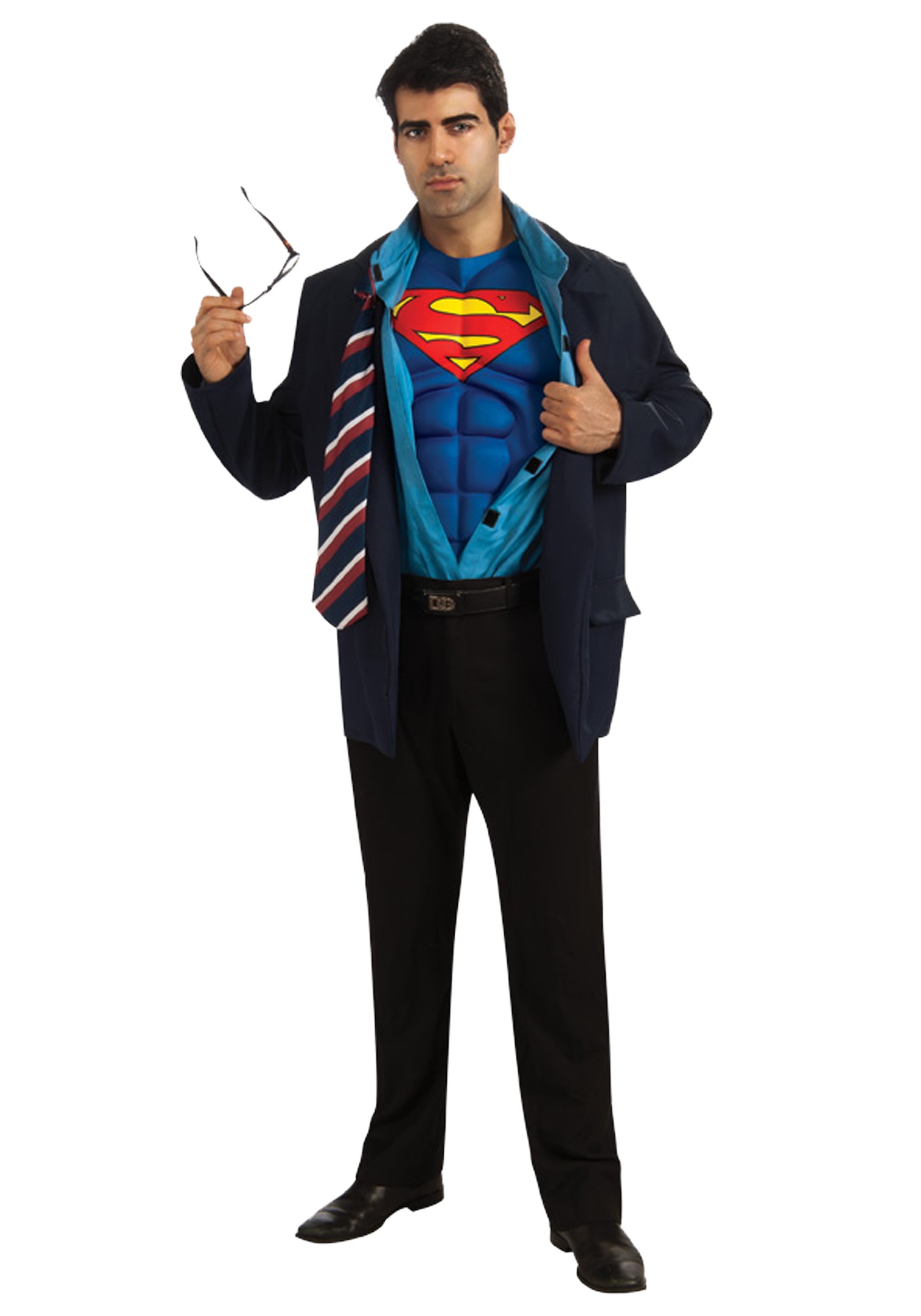 We're not sure how he managed to turn glasses and a business suit into a disguise, but we can't argue if it works for him! The Man of Steel masquerades as a newspaper reporter when he's not fighting crime, using telephone booths to change from one identity to the other. (Granted, he'd have to use a different gimmick these days!)
13. Waldo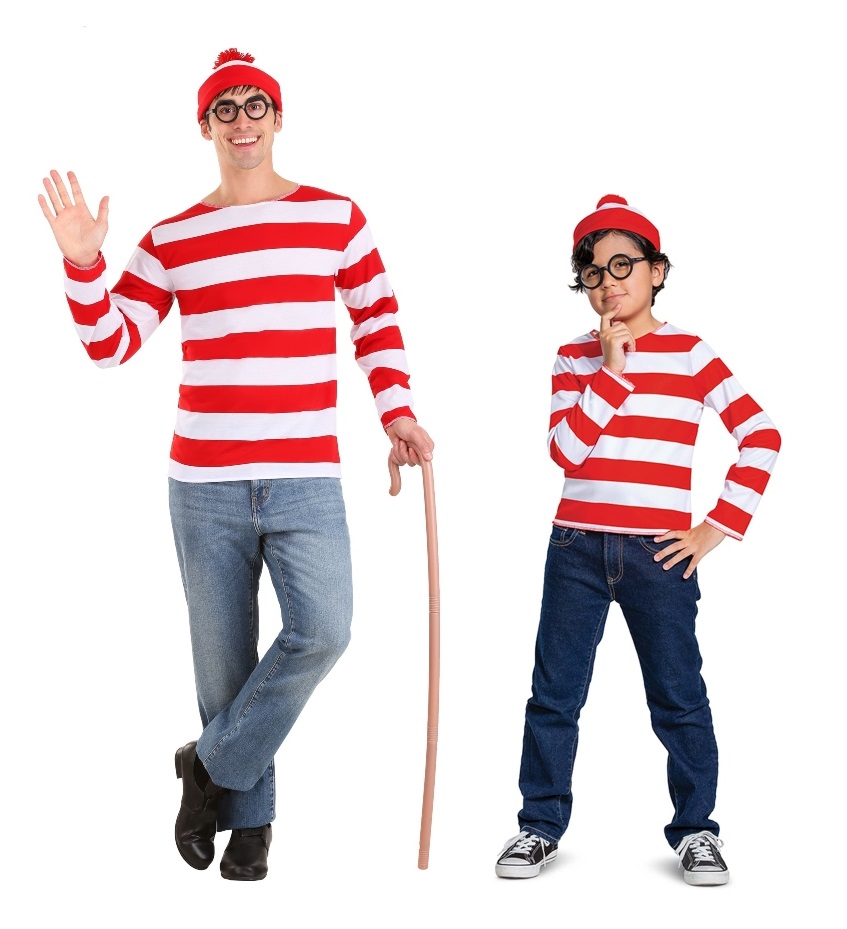 Are you hoping to find a glasses costume idea that's instantly recognizable? Look no further than Where's Waldo! While Waldo is the main man that no one can seem to spot, you even have characters like Wenda and Odlaw who also wear glasses! You can find these and all the rest of the Where's Waldo costumes online on HalloweenCostumes.com.
14. Walter White Costume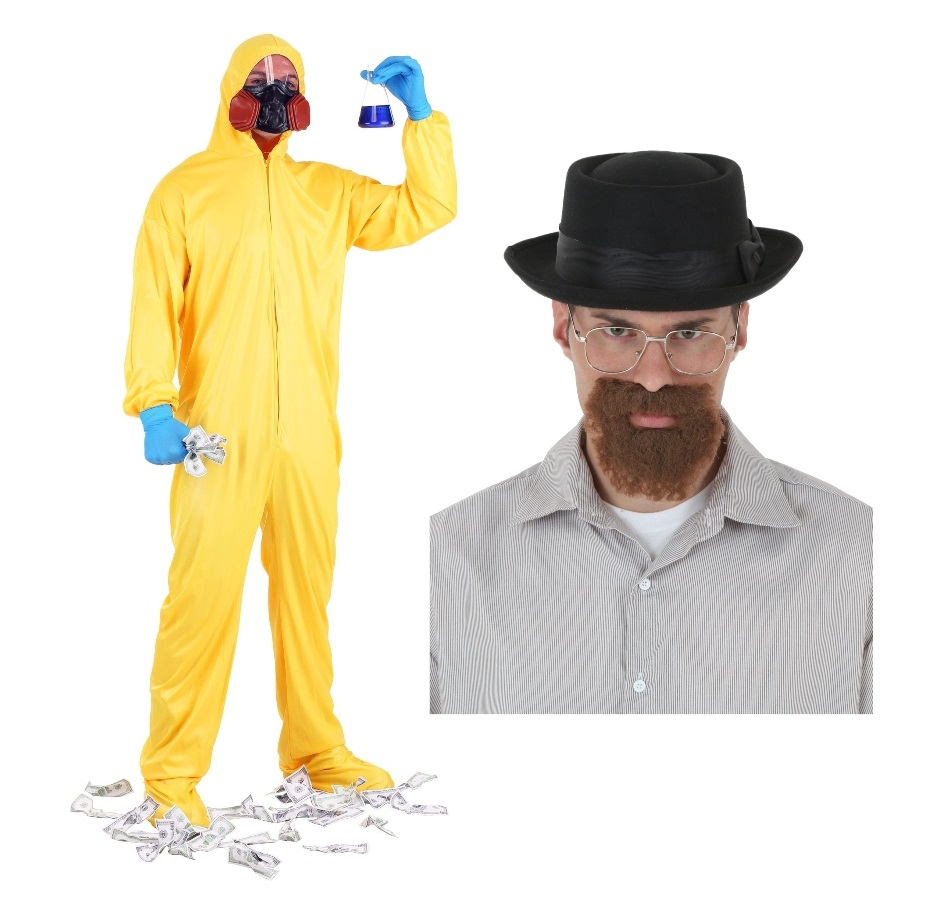 Even after the conclusion of Breaking Bad, Walter White continues to be a popular Halloween costume idea. This teacher-turned kingpin is a brilliant man, and he wears the glasses to show it! (We know that not everyone who wears glasses is automatically smart, but it does convey intelligence in pop culture.) You can either wear the hat with your glasses and a button-up shirt, or go in a full HAZMAT suit if you prefer that outfit.
15. Run-DMC Costume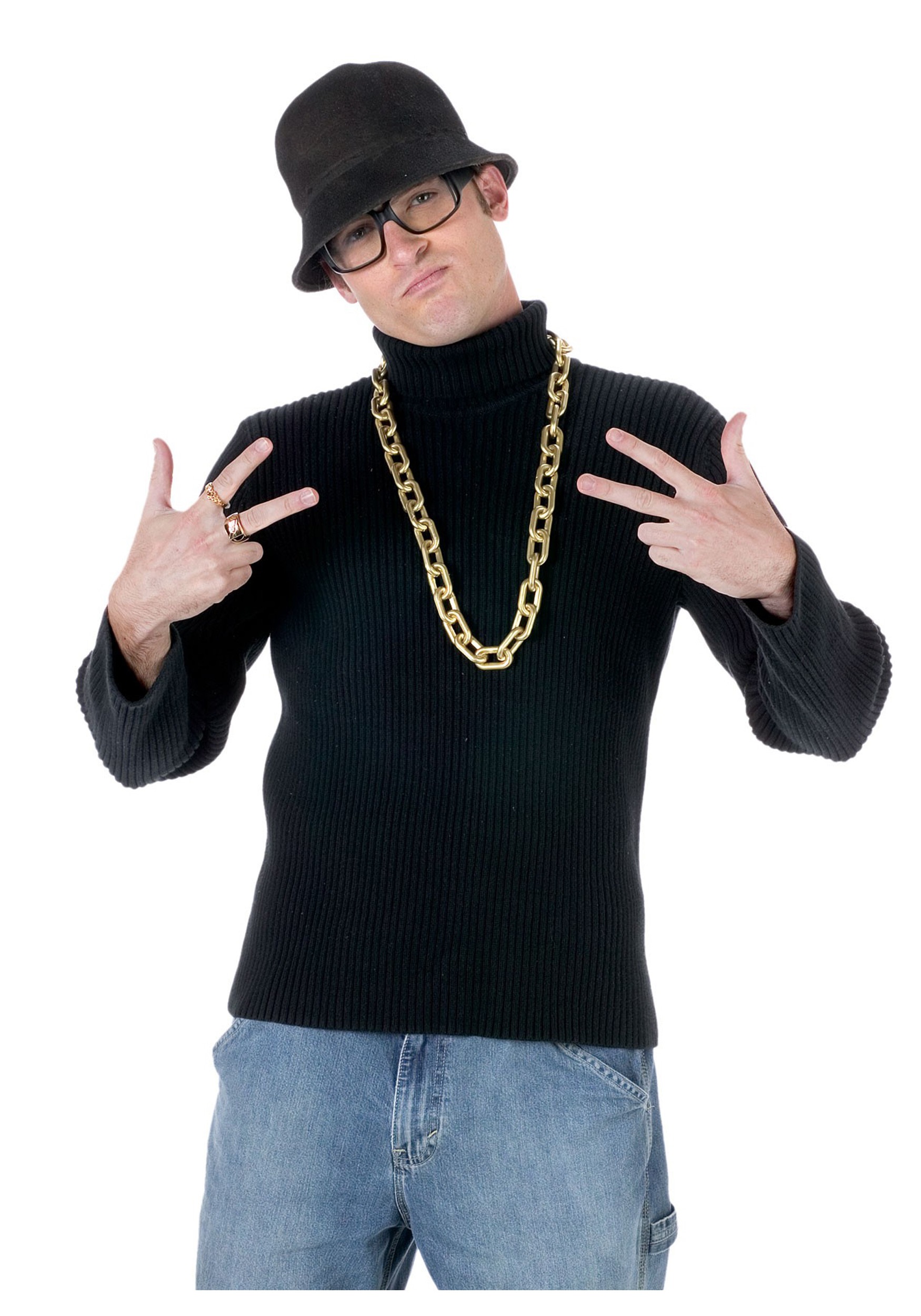 Fans of old-school hip-hop are probably familiar with DMC of Run-DMC. This influential hip-hop artist wore the signature hat and gold chain like the rest of the group, but with the addition of a stylish pair of thick-framed glasses. If you're really hoping to get some mileage out of this costume, hang onto it for Christmas and grab a buddy in an Elf or Santa suit to recreate "Christmas in Hollis"!
16. Dumbledore Costume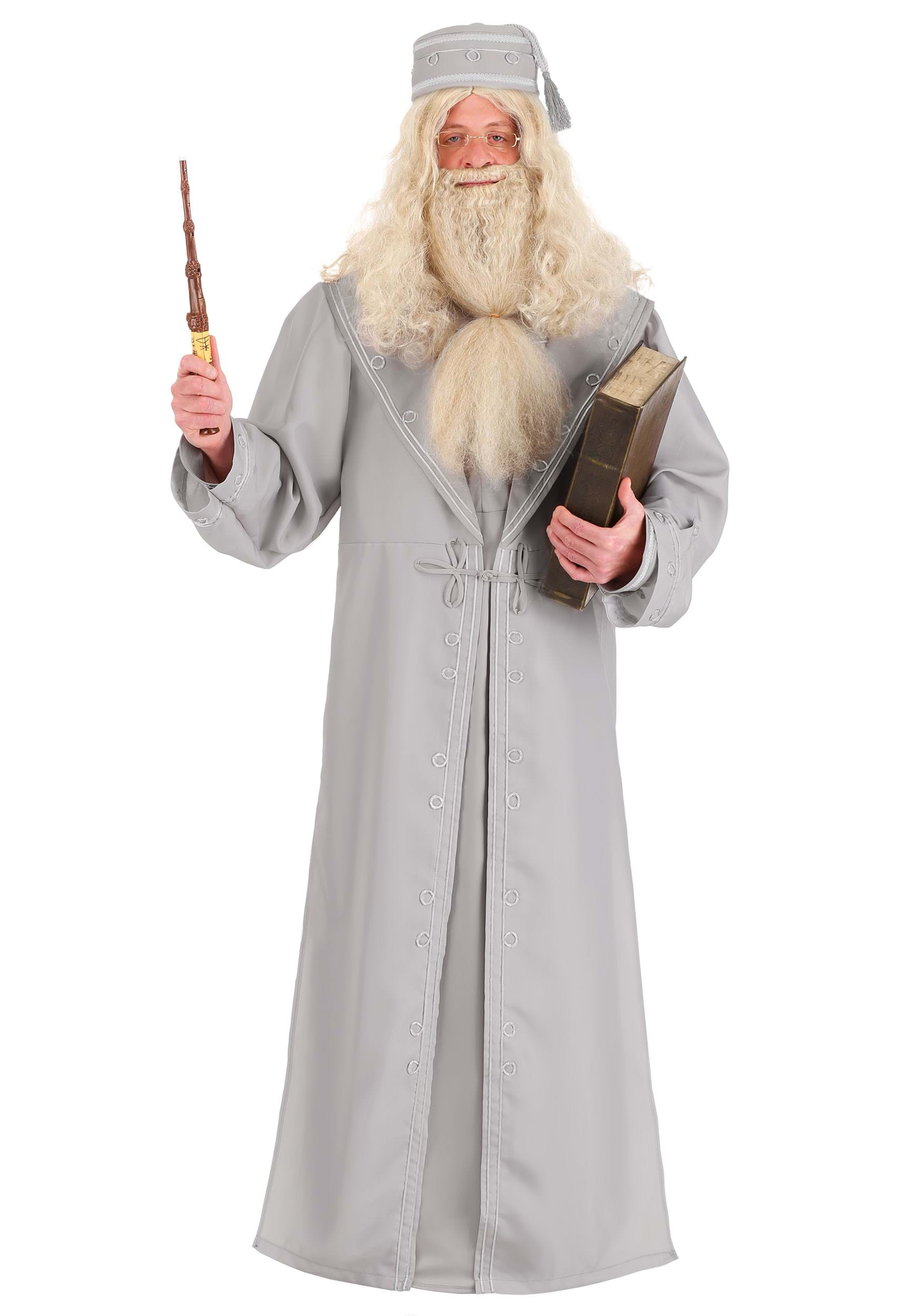 There are a few Harry Potter characters with glasses other than the main character, and who could forget about Headmaster Albus Dumbledore? A very decorated and accomplished wizard, he settled into his position as the Headmaster for Hogwarts School of Witchcraft and Wizardry. While he died protecting the school from the advances of Voldemort, it was ultimately with his help that the evil wizard was defeated.
17. Colonel Sanders Costume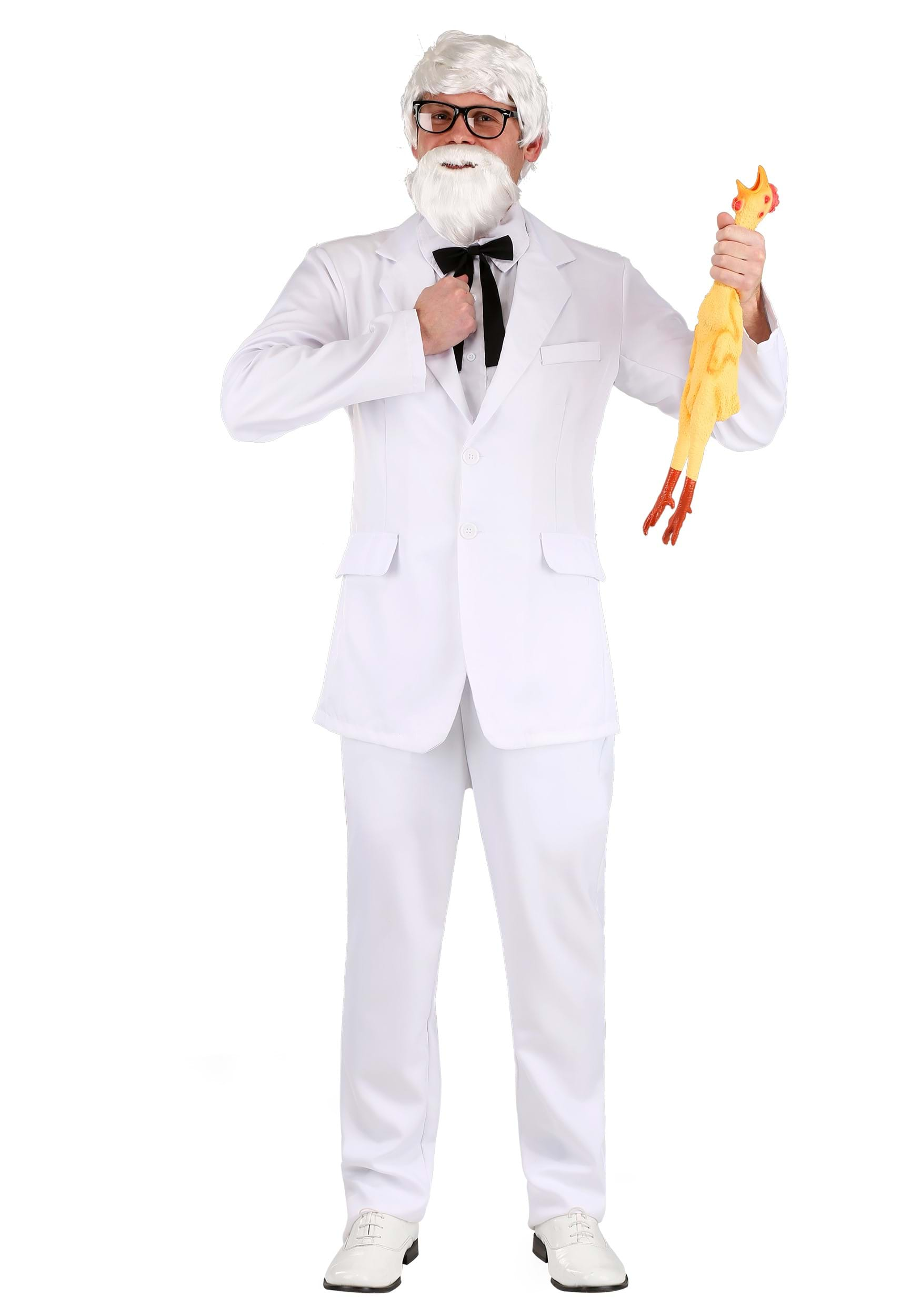 There are brands with characters who are instantly familiar to us from their years of TV and newspaper ads. One such figure is Colonel Sanders of Kentucky Fried Chicken! This restaurant character is instantly recognizable in his glasses and white suit, complete with a black bow tie and white hair. Add a rubber chicken prop or a KFC bucket, and you're all set for Halloween night!
18. Linda Belcher Costume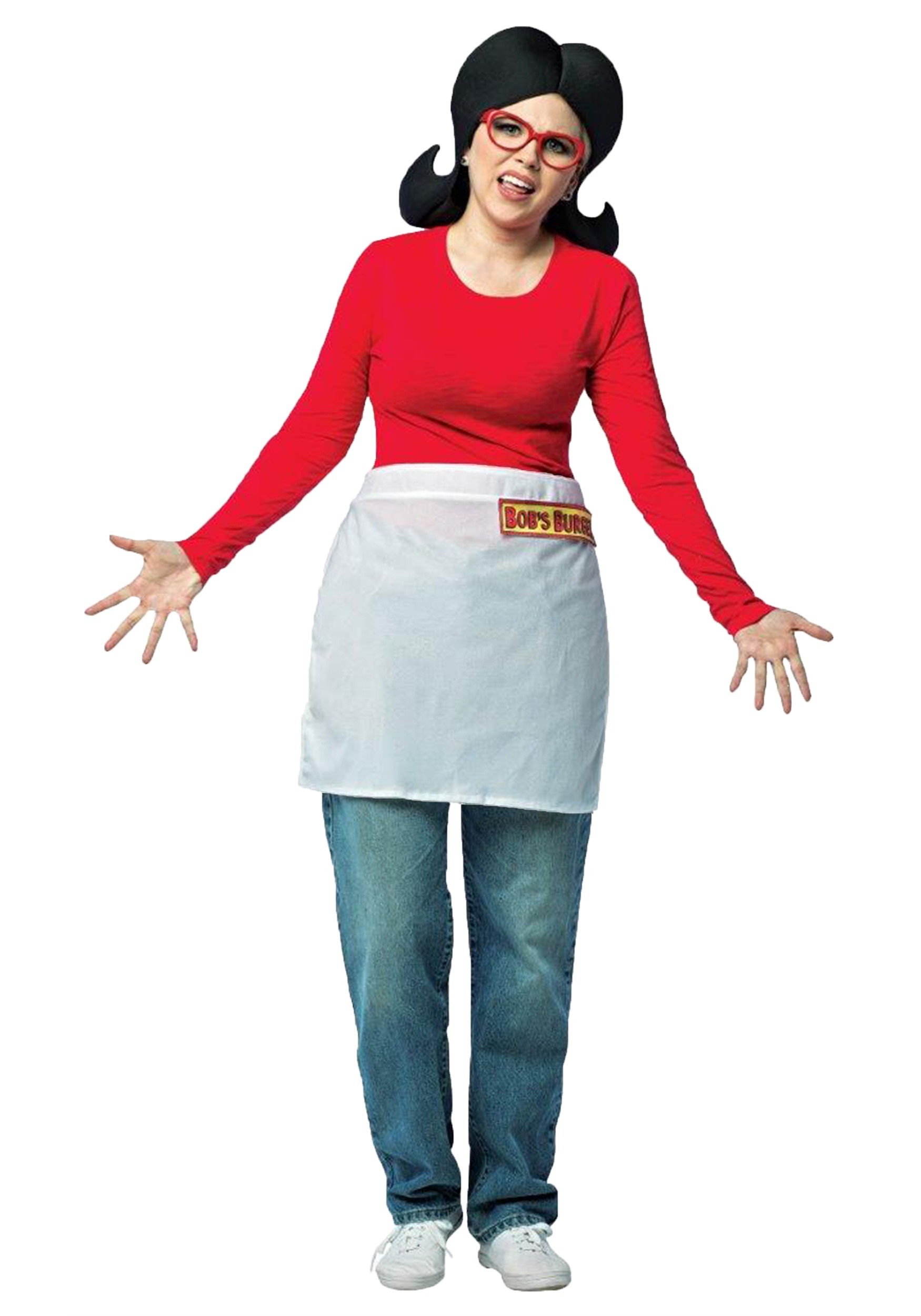 If you're looking for the ultimate mom costume with glasses, you're going to love Linda Belcher. She's sweet and funny, and the family's source of encouragement in their endeavors. Her sense of optimism knows no bounds, and she's always ready to throw a surprise party! Linda also has a daughter with glasses named Tina, so if you're DIY-savvy, you can easily turn this into a glasses-themed couples' costume.
19. Grandpa and Grandma Costume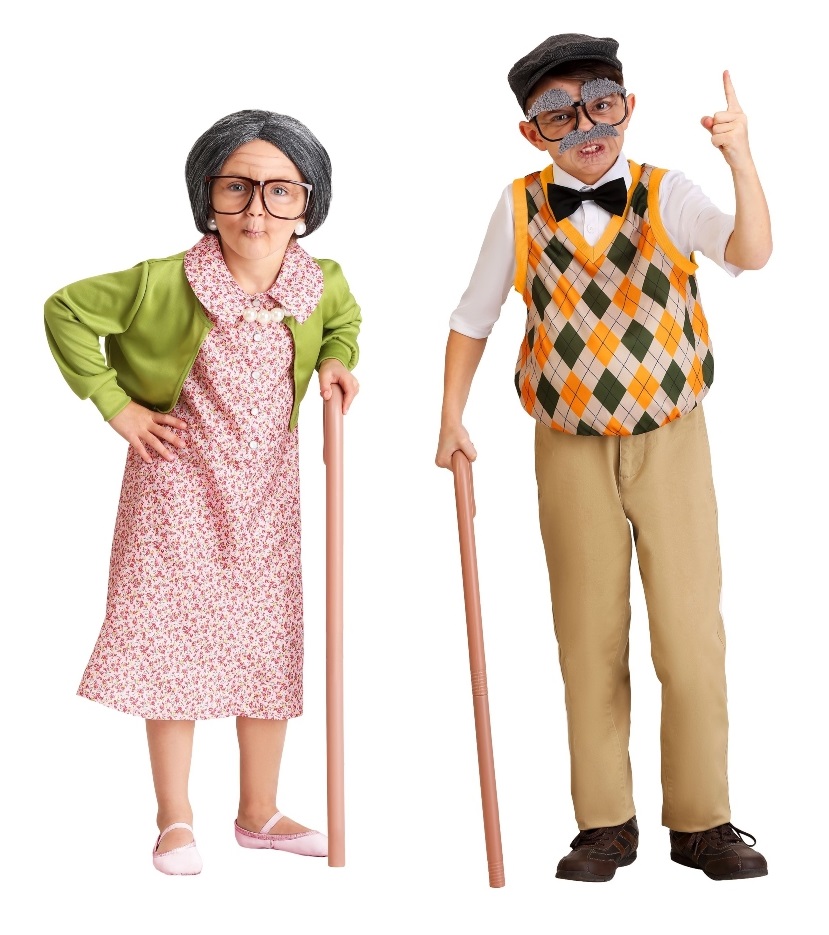 Many people end up needing eyewear by the time they're in their golden years, so why not dress the kids up as grandparents? Not only is this an adorable Halloween costume idea, but they can also use it for any 100 days of school parties too! If you're more in the mood for a famous grandpa or grandma costume idea, you can try favorites like Carl from Up or one of the Golden Girls crew.
20. Dexter Costume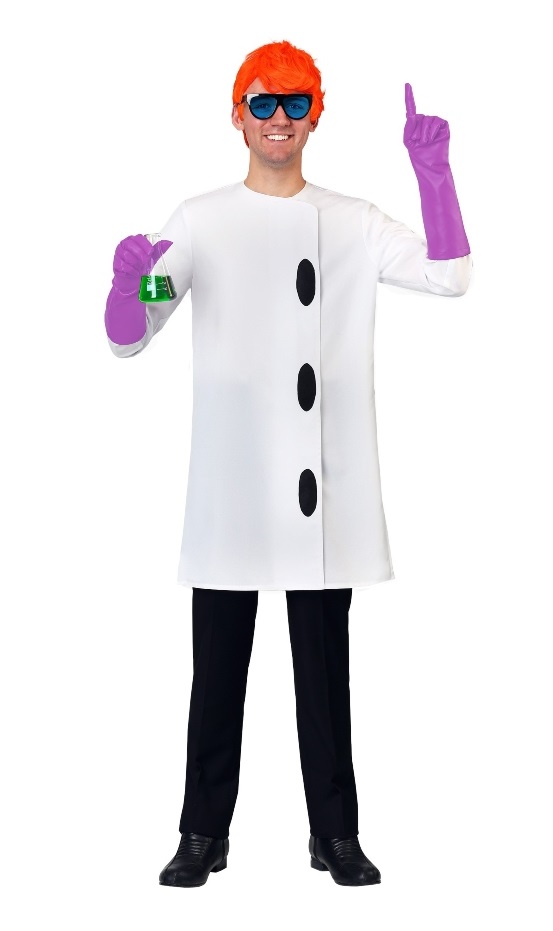 Ahhh, what a fine day for SCIENCE! This classic 90s cartoon character was constantly trying to kick his sister out of his laboratory while conducting experiments that would put most science fair projects to shame. (We're looking at you, baking soda and vinegar volcano!) Surprisingly, he manages to keep his lab and experiments a secret from his clueless parents. Buuuut...we don't recommend doing most of his experiments without supervision. (Safety first!)
21. Squints Costume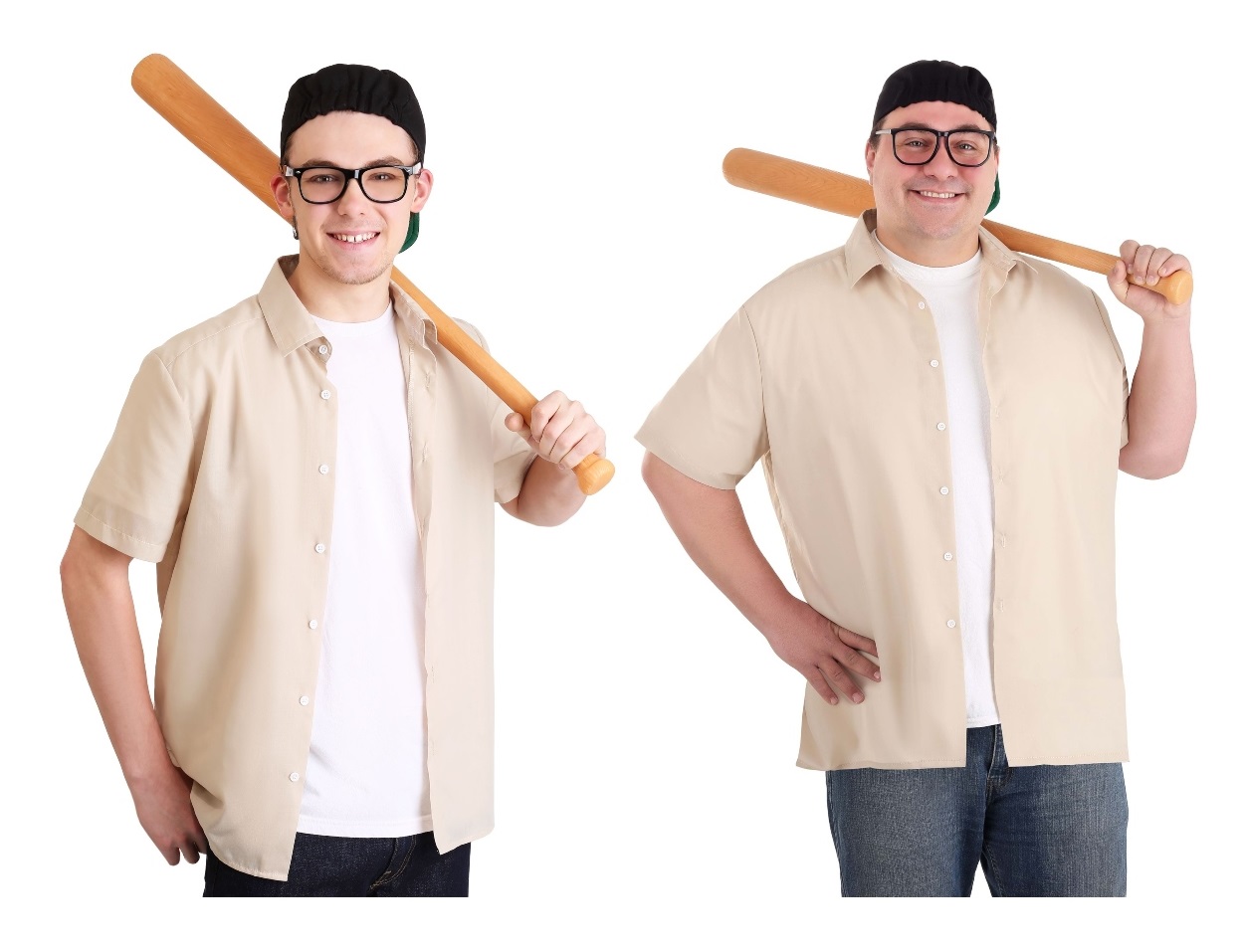 Who says sporty kids can't wear glasses? Squints from Sandlot certainly wore his glasses with pride, and he was no slouch when it came to playing backyard baseball. He also idolized Babe Ruth, just like every other kid on the team—minus that new kid Smalls. Who doesn't know the Sultan of Swat? The Titan of Terror? The Colossus of Clout? The King of Crash? The Great Bambino? Well, you probably get the picture.
22. Smee Costume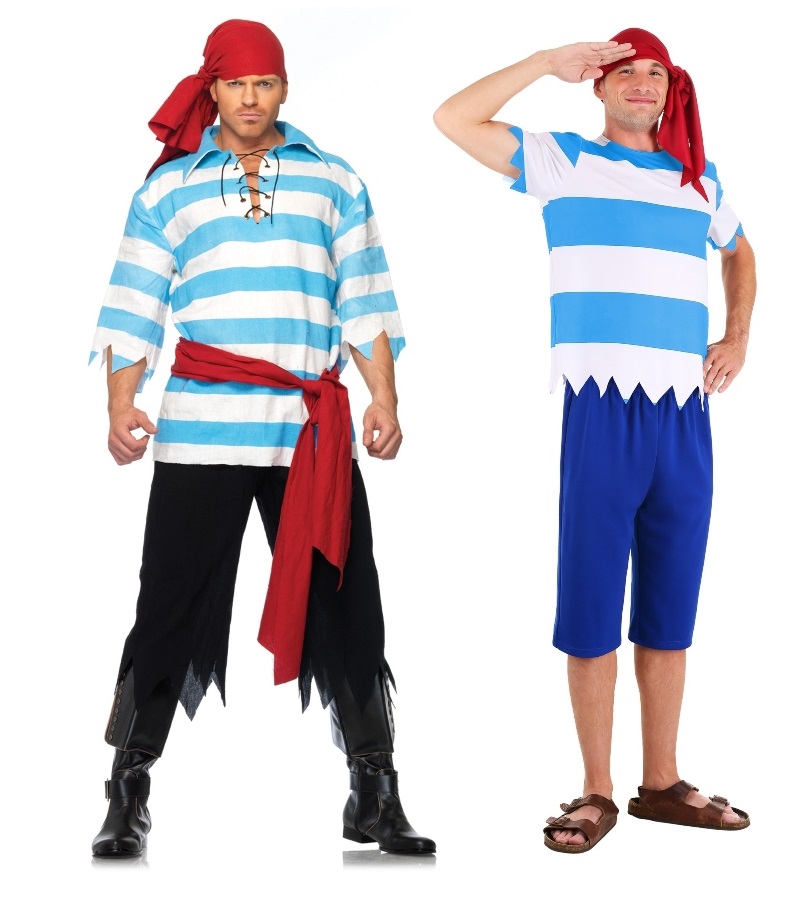 It's tough being second in command to a persnickety pirate, but Mr. Smee manages to balance his duties well in the presence of Captain Hook. In the animated Disney movie, he's a rather rotund fellow with small Santa-like spectacles. He's adorable in his own way, and loyal to a fault. Someone give this lad a raise—and probably a new boss!
23. Mary Katherine Gallagher Costume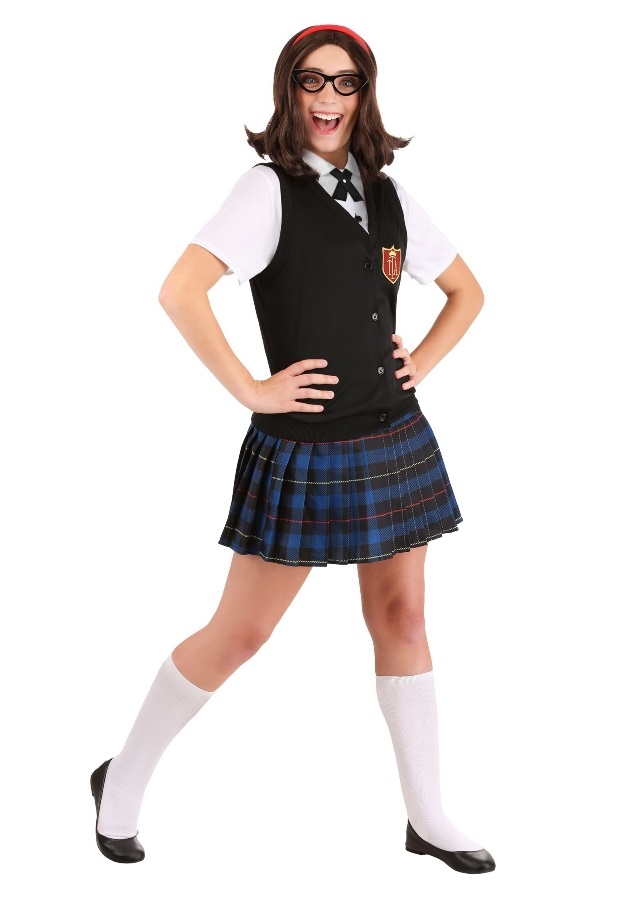 There are tons of great SNL costume ideas, and Mary Katherine Gallagher is certainly a fan favorite. This glasses-wearing gal has an enthusiasm that can't be matched, no matter what she does! Absolutely breaking the school girl mold, she's all sorts of awkward and boisterous mixed together in a plaid skirt and sweater vest. Just make sure not to break anything while you're in character!
24. Hipster Ariel Costume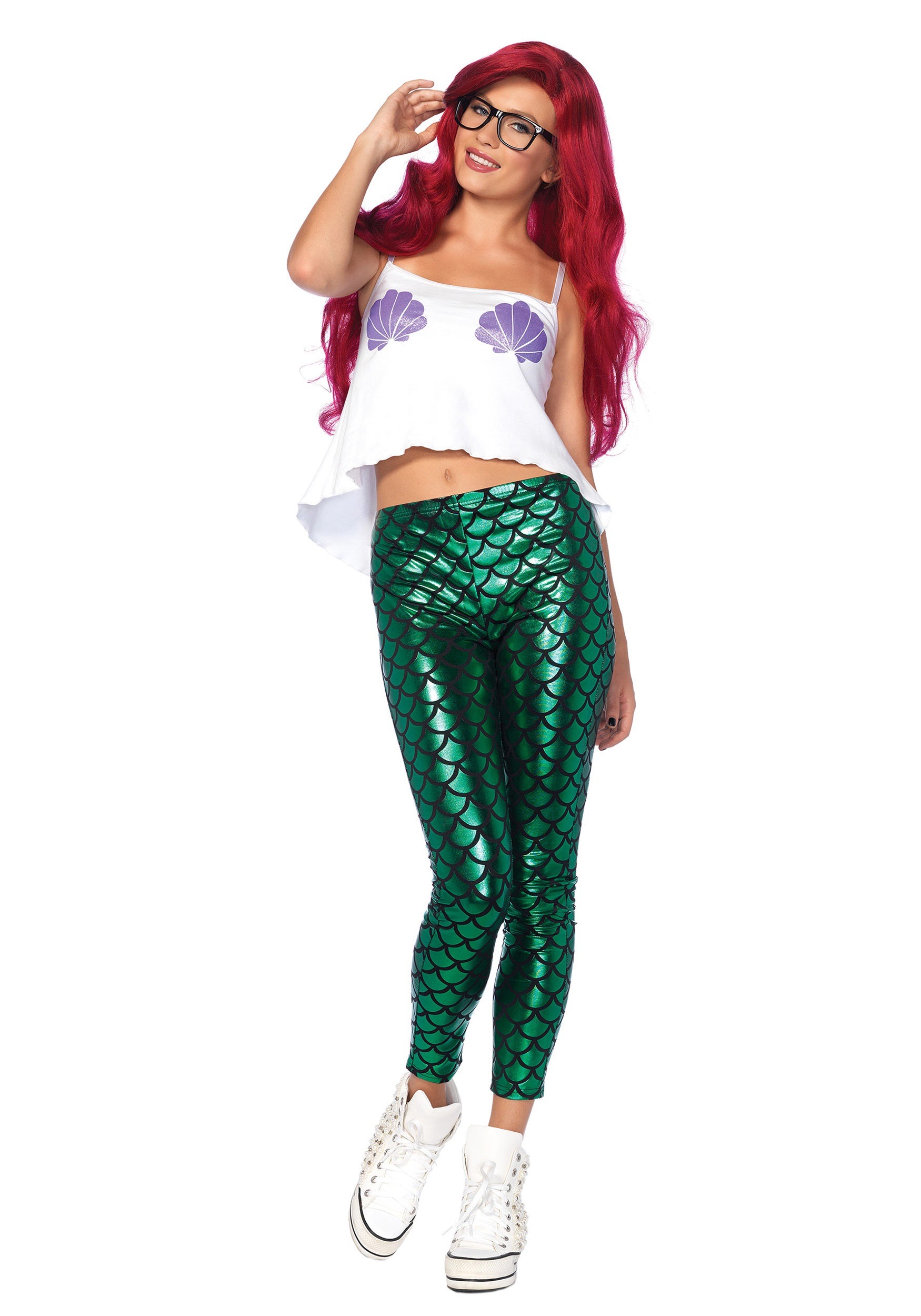 Do you remember the hipster trend? Do you still have your black Ray-Bans? Hipster Ariel was the original Disney Princess to start the Disney Princess hipster trend back in the 2010s. (It also spread to the villains, because who doesn't want to see Maleficent in a pair of hipster frames?) Go by yourself as Ariel, or grab a group of four-eyed friends and bring this famous meme to life this Halloween!
25. Garth Costume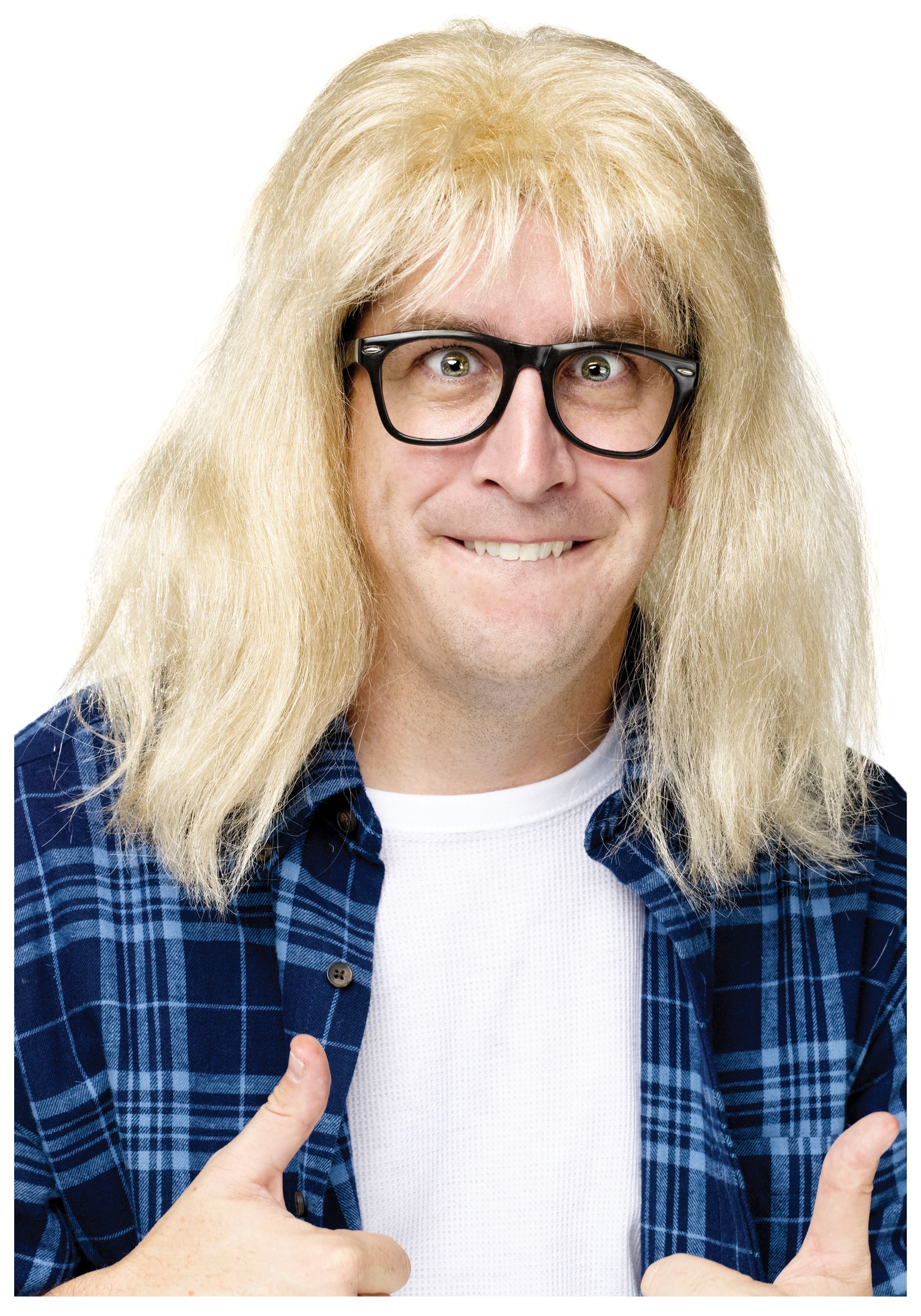 Live in the now and harness your glasses power to create the perfect Garth Algar costume! This goofy SNL character makes up half of the Wayne's World duo. He's the drummer, so if you're trying to be authentic, snag a pair of drumsticks as part of your Halloween costume. Garth is certainly more of a DIY glasses costume, as you can buy the wig to pair with your glasses, but you'll need to wear a white t-shirt with a plaid button-up shirt and jeans for the full effect. Once you have your outfit together, all you need to do is party on!
26. Ben Franklin Costume
We already have quite a few scientists and other geeky costumes in this glasses costume blog, but what can be geekier than a famous scientist from history? (He's technically a polymath, but do with that what you will!) Known as a pioneer in the study of electricity, he has a list of accomplishments longer than your pharmacy receipt. You're more than welcome to dress as Benjamin Franklin for Halloween, but your kids may also require this costume for a history project.
27. Egon Spengler Costume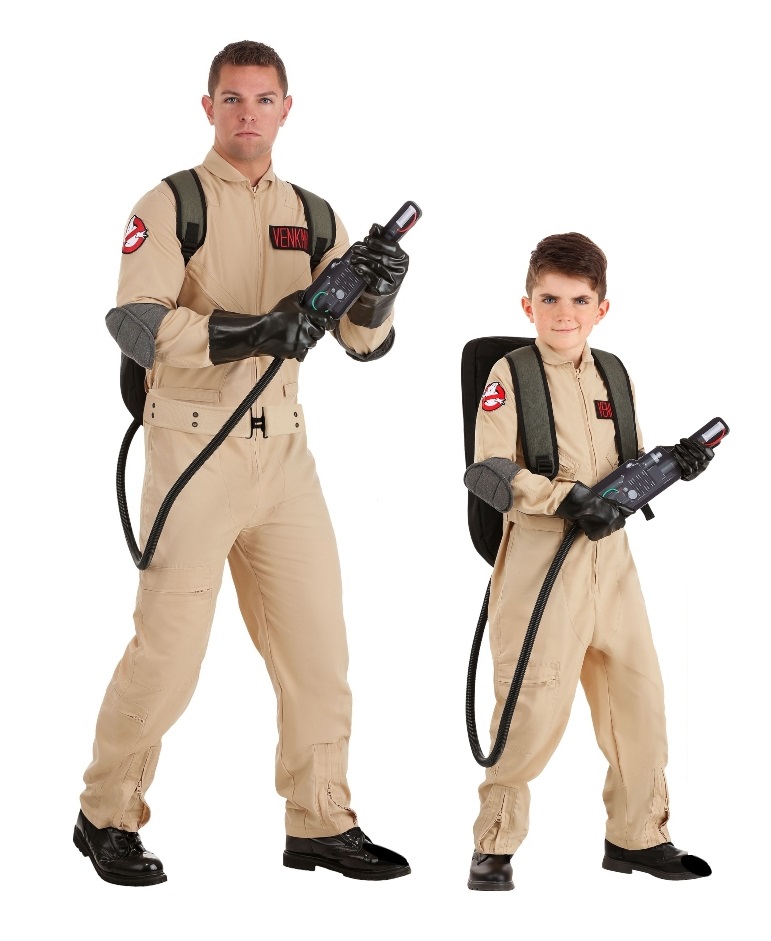 Everyone's familiar with the wisecracking Venkman, but Egon Spengler is honestly the brains of the Ghostbusters operation. Like many of the Ghostbusters costume jumpsuits, these cosplay outfits include patches that allow you to be any of the four main protagonists. And why wouldn't you want to be the awkwardly brainy Egon? You can start conversations off with lines like, "I collect spores, molds and fungus." What a fun guy!
28. Doc Costume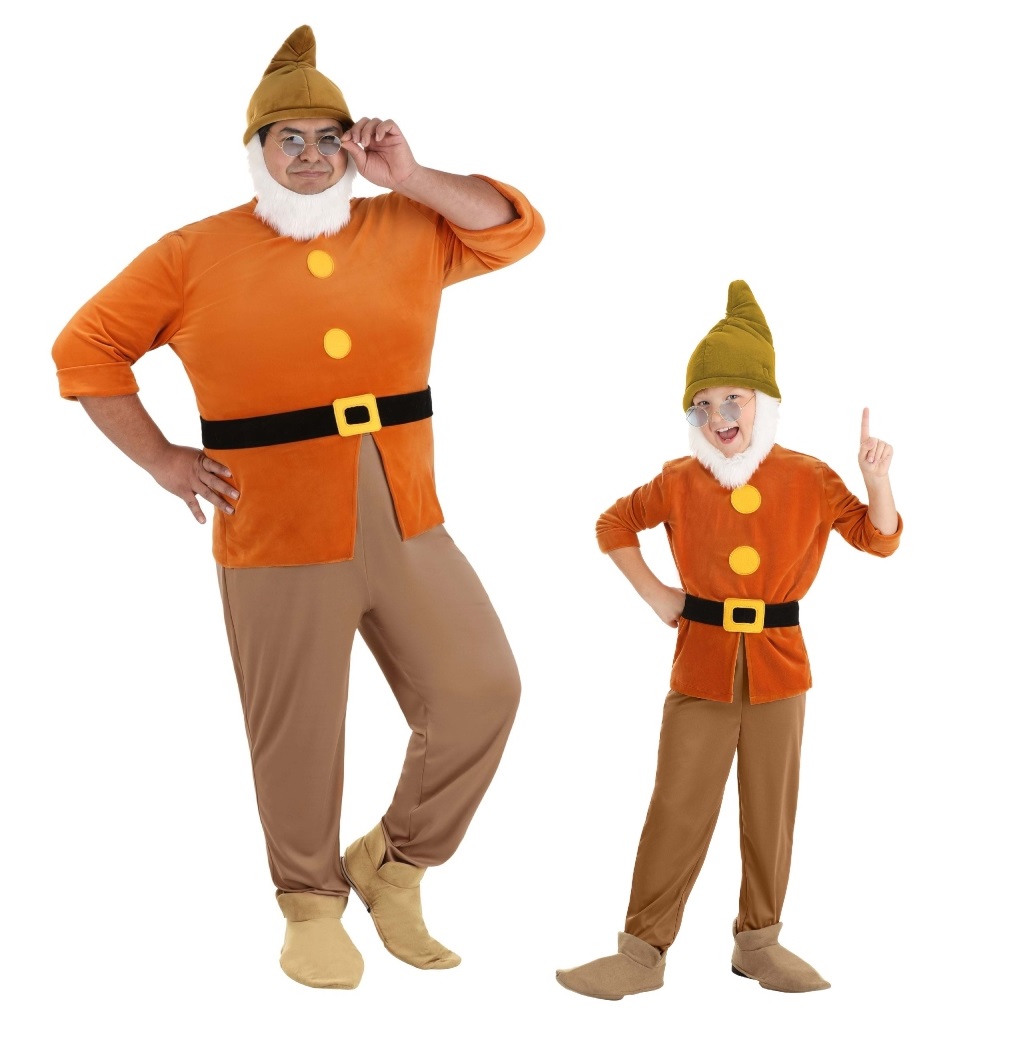 Snow White encountered seven dwarfs, so it's only natural that at least one of them would have a pair of glasses! Doc, who also happens to be the lead dwarf, is the man with the glasses in this case. He also has a bit of a stutter, but he doesn't let it get in the way of directing his fellow dwarfs. Loyal to a fault, Doc does what he can to accommodate Snow White when she encounters their home.
29. Rosa Parks Costume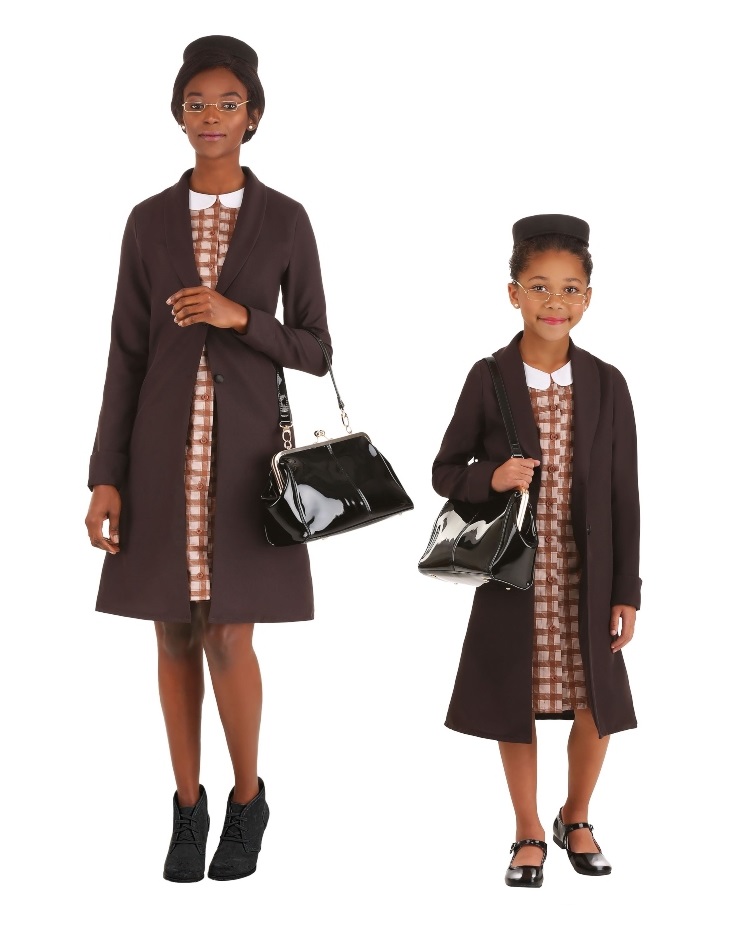 History buffs, get your glasses ready for this Rosa Parks costume! As a civil rights activist, she was most famous for not giving up her seat on a bus for a white passenger. (Can you believe she was actually arrested for that?) It all resulted in a court case that decided that bus segregation was unconstitutional, a monumental decision that paved the way to tearing down segregation in the United States. Just like other historical Halloween costumes, your child may also find a Rosa Parks costume perfect for school history projects.
30. Honorable Mentions - Sunglasses Costumes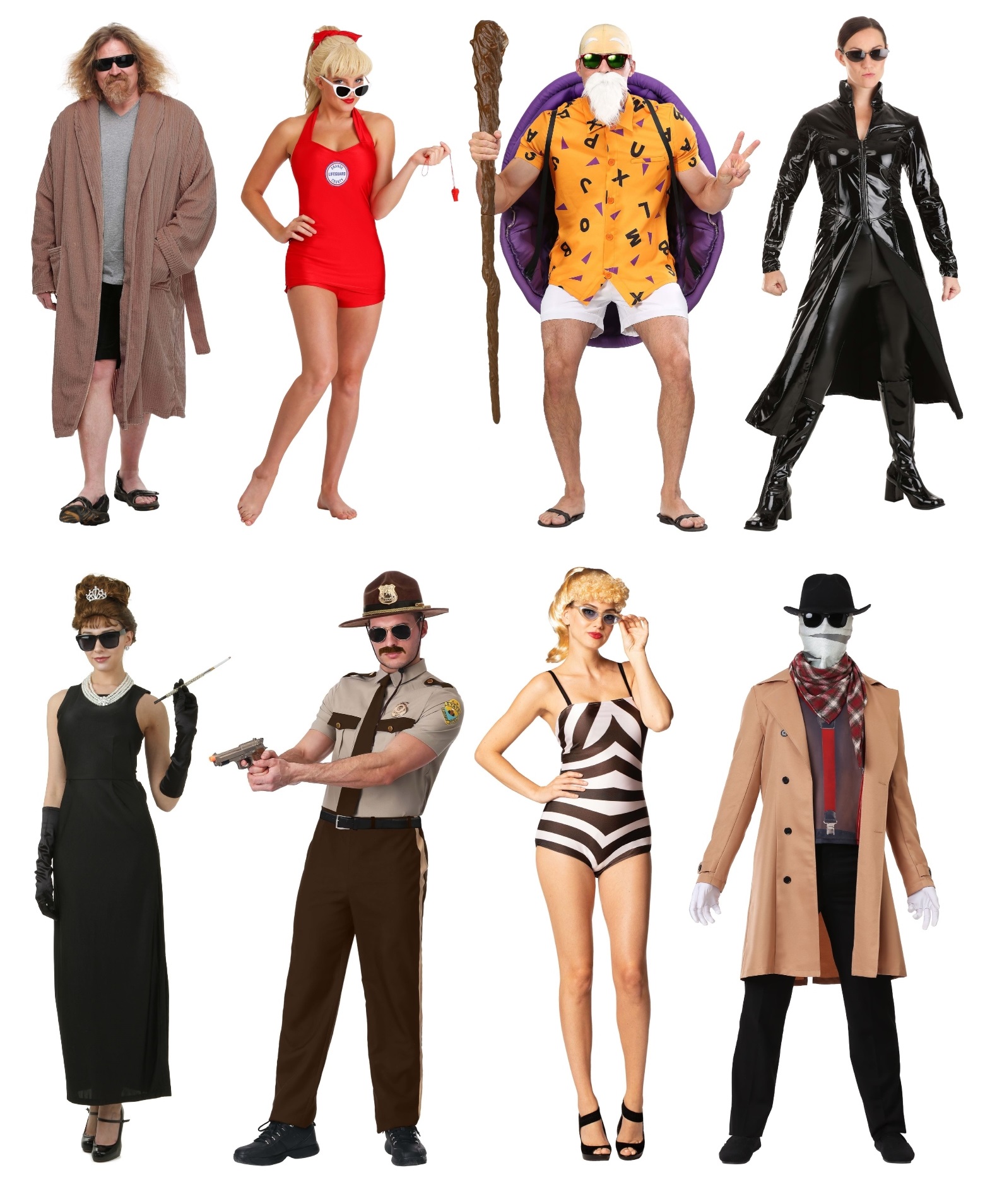 Now you may or may not have a prescription pair of sunglasses, but a few characters are known for their affinity for tinted glasses. If this is an option for you, go for it! A black suit will instantly transform you into one of many characters—the Blues Brothers, Men in Black, a secret agent, you name it! We also have a smattering of cartoon, TV and movie characters with sunglasses. These sunglasses costume ideas are merely suggestions, but we're sure you have a few others you're fond of too!
We hope you enjoyed ogling our Halloween costumes with glasses! What are some of your favorite characters with glasses? Which costumes do you think we need to add? Don't be shy, and drop us a comment down below! As always, we have plenty of costume ideas on HalloweenCostumes.com should anything else strike your fancy.