Men's Nerd Costumes
If you have no idea how to calculate the square root of anything but want to look like you could, wearing one of our nerd Halloween costumes is absolutely what you should do. We're not asking you to take a programming course or learn to figure out complicated equations. This is all about looking smart and having fun! Check out our gallery of plaid pants fashions and figure out which geeky look will equal fun at your next party!
Brainy Nerd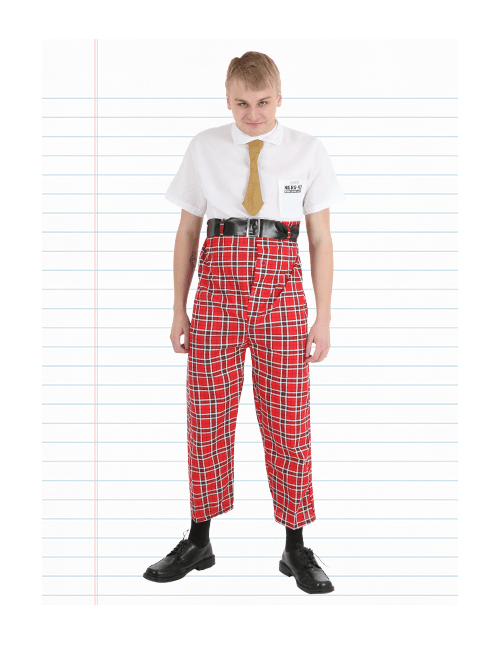 This Brainy Nerd costume for men makes achieving the dorky look of hiked up pants easy, because it is a single piece jumpsuit that's styled to look that way! The short neck tie is also attached so your silly makeover can be quick and efficient.
Retro Nerd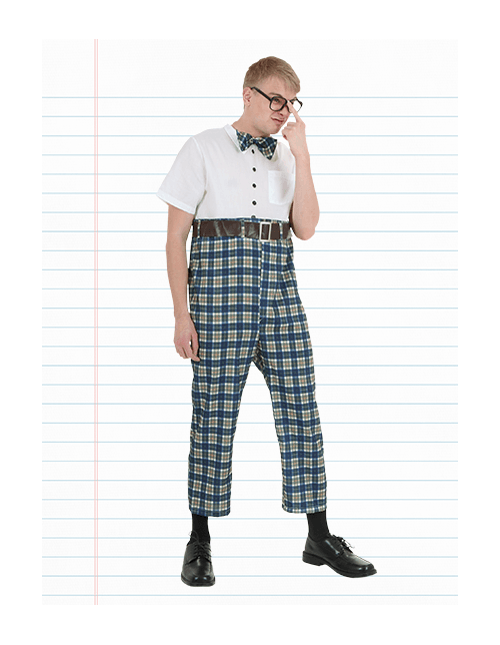 Do you have a 50s themed party to attend? This Retro Nerd costume is styled to make you look like a blast from the past. The good news is that you can be a convincing 50s nerd without needing to know and computer skills because those really weren't a thing back then.
Nerdy Nerd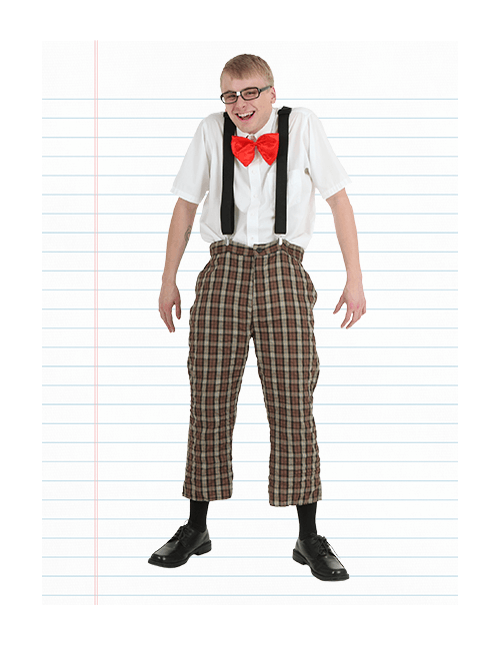 The suspenders and oversized bow tie of this Nerdy Nerd costume are going to transform you into a dreamy dork. Add the glasses you'll look ready to talk physics or algebra with anyone who will listen.
DIY Nerd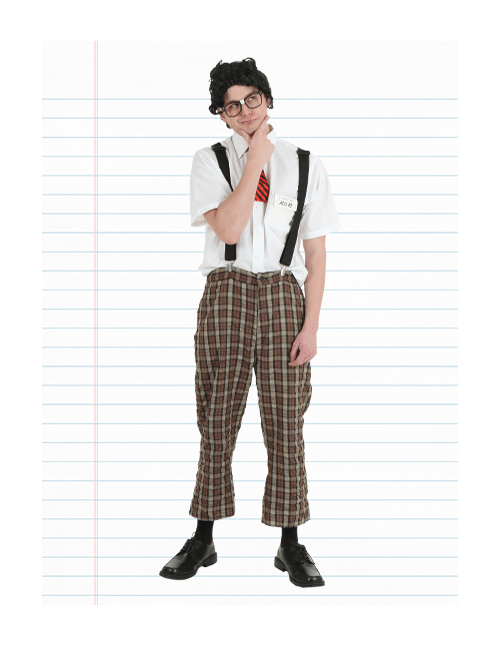 If you're looking to combine a few pieces to get a unique look that's part office computer geek and part awkward dressing dork pair this nerd accessory kit with our Nerdy Nerd costume. Then sit back and wait for the tech support requests to start rolling in. You may not be able to help with technology issues, but you'll at least provide some comic relief.
Beauty and the Brain: Women's Nerd Costumes
Our women's nerd costumes are a fun mash up of sexy school girl looks with nerd accessories like suspenders and glasses. The result is a look that's both sweet and sexy, an irresistible combination. Prove that being brainy is beautiful in one of these fun nerd outfits.
Cute Nerd Costume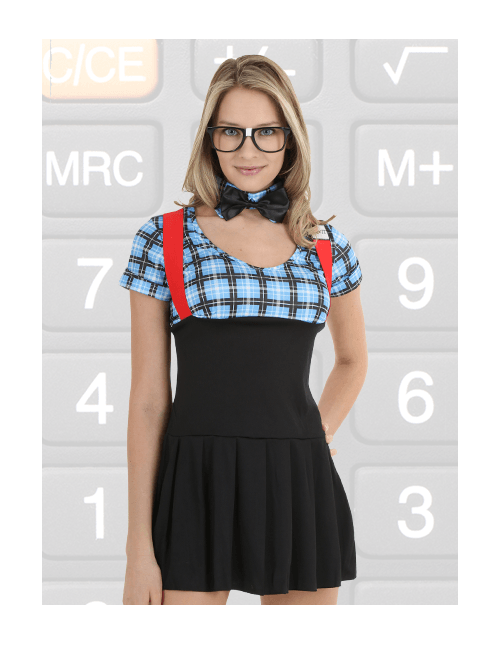 This Naughty Nerd costume is almost too cute to even be called nerdy. It has bright red suspenders, a plaid top attached to a cute pleated skirt and a matching bow tie collar. The dorky glasses only seem to make the whole look more charming but they're also what makes the whole look so much fun to wear!
Nerdy School Girl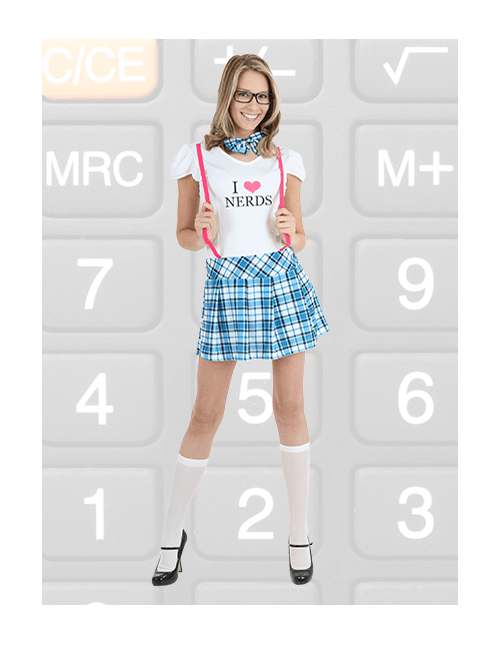 If you're a fan of the smart guys who always seem to have the answers, be bold and let them know it with this Nerdy School Girl costume. The printed top says "I 'heart' Nerds" right on the front. You'll never have to worry about completing a homework assignment ever again, because your crew of loyal geeks will be lining up to help you study!
Class Nerd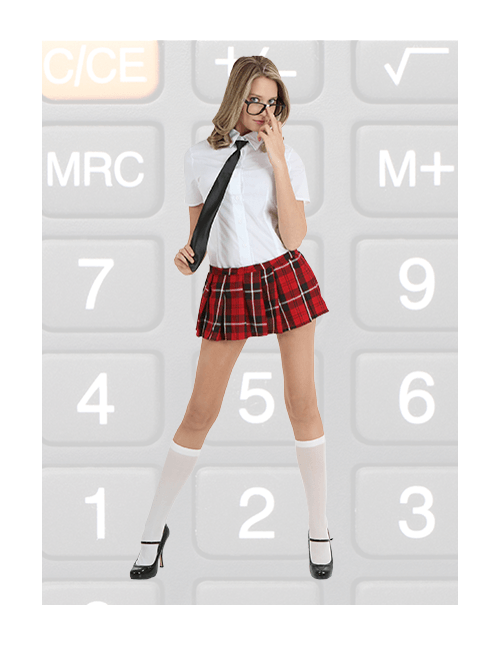 We doubt she is thinking about math equations, she looks much smarter than that in this Class Nerd costume. The oversized glasses frames give lend a highly intelligent look, while the rest of the outfit says she's ready to skip school and start the weekend early!
Sexy Nerd Costume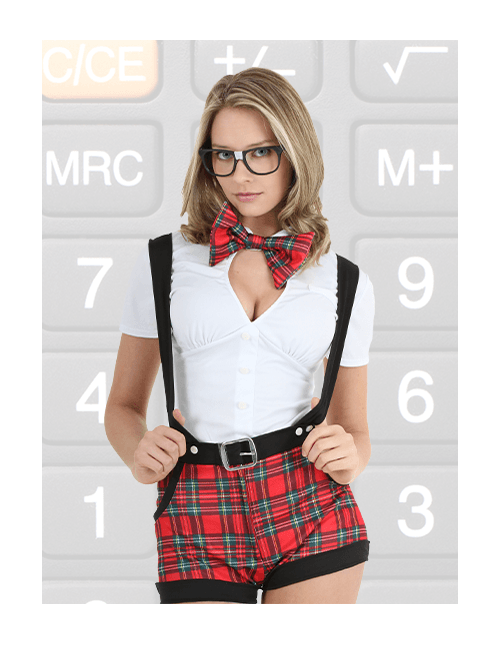 You'll earn a trip to detention with shorts that short, but in this Sexy Nerd costume you'll be the teacher's pet anyway! You might even get the jocks to start hitting the books, if only to have a chance to impress a smart girl like you!
Accessories That Take You From Chic to Geek
In order to ensure your costume is nerdy enough, you've got to make sure that the essential pieces have been acquired. Consider this a quick tutorial on how to get a geek makeover. With these key pieces and nerd costume ideas you can't help but look super smart and dorky.
Argyle Socks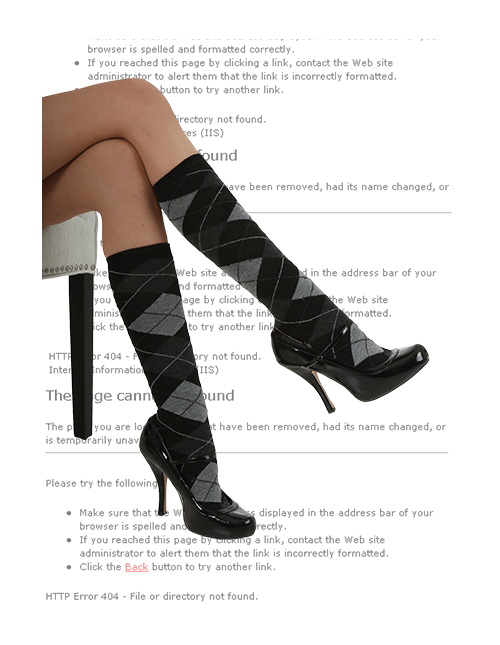 Argyle socks are great because they have this amazing quality of being both sexy and geeky. The ladies can wear them with a short skirt and watch the guys fall all over themselves to try not to drool in front of her. Guys can wear them with their plaid pants and somehow they manage to make him look even smarter. We think they might make you feel smarter too. In fact, if you could decide to wear them hidden under the normal hem of your favorite jeans to help ace a test. Not that we, ahem, have tried it but you could.
Glasses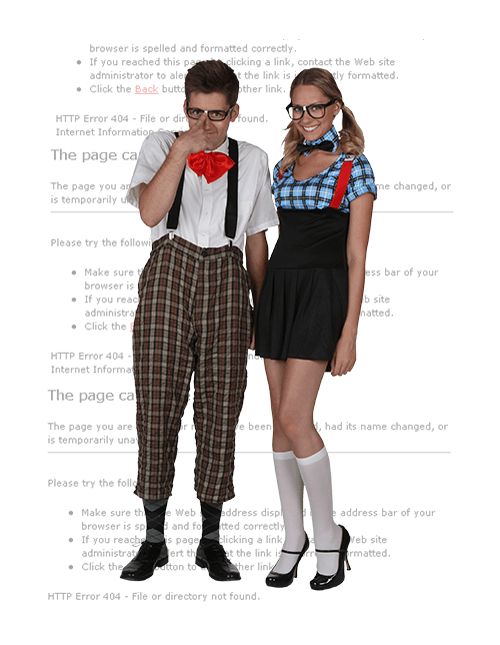 Everyone looks smarted in glasses, if it hasn't already been scientifically proven we're pretty sure it easily could be. There are a few immature folks who'll try to tease you with taunts like "four eyes" but the second you mention how they'll be out of luck the next time their phone crashes they'll quickly eat their words.
Fake Braces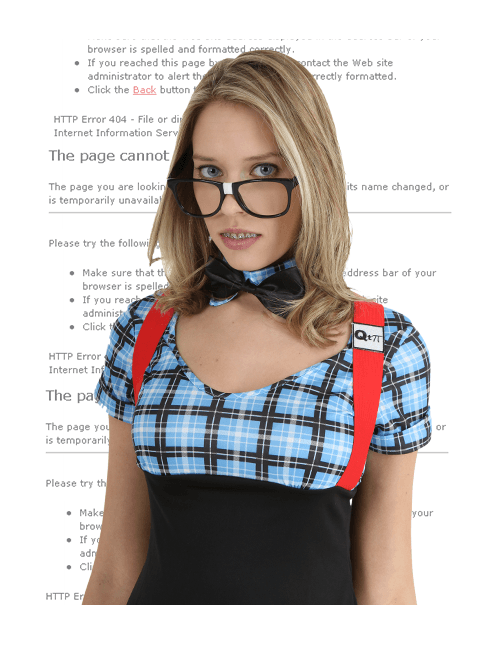 We all know that braces are just a temporary part of giving people healthy and attractive smiles. Wearing them can look awkward...but this is perfect for your nerd costume! With this fake braces accessory you can get a classic metal mouth look to finish your look.
Nerd Wig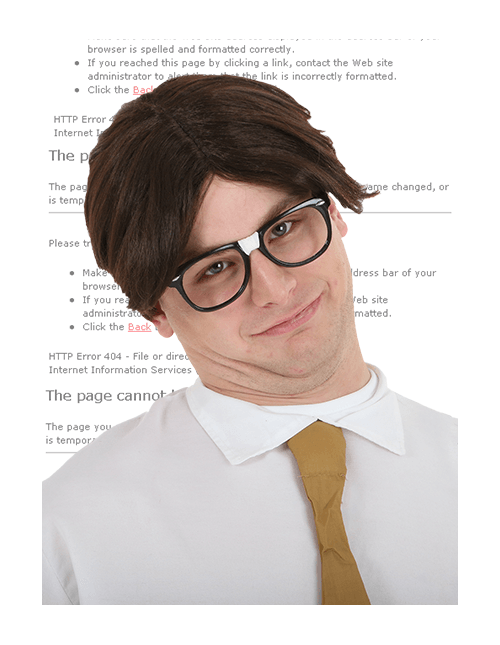 Before you run to the nearest hair salon and request their best bowl cut hairstyle, consider covering you currently non-geeky hair with our Nerd Wig. You'll have the benefit of a bad haircut to compliment your nerd costume without having to live with the consequences when the costume comes off.
Ideas For Being An Adorkable Nerd Couple
Here are a few pointers for learning to act the part of a cute nerd couple for your next event! From helping each other find lost glasses to watching out for bullies, these two will walk you through creating an "adorkable" relationship! Nerds are not known for their confidence in approaching a crush, so it's okay to be shy around each other in the beginning. This will give you some time to get used to your nerd look and gain the confidence needed to strike up a conversation.Once you break the ice with a clever comment about fractions or by discussing your favorite calculus equations you'll realize that you're better off as a couple! After all, you have so much in common.
Wear Matching Glasses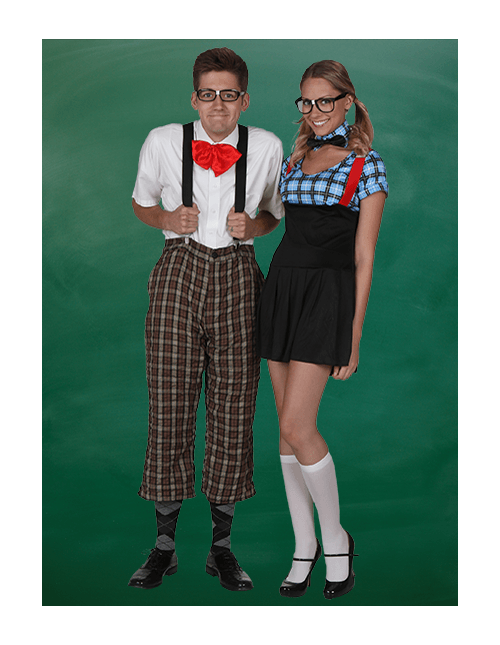 The couple that wears glasses together, stays together? We're not sure about this, but being able to see each other clearly has to help. Wearing matching frames will just make it all that much easier to pick out a friendly face in the crowd.
Suspenders are a Must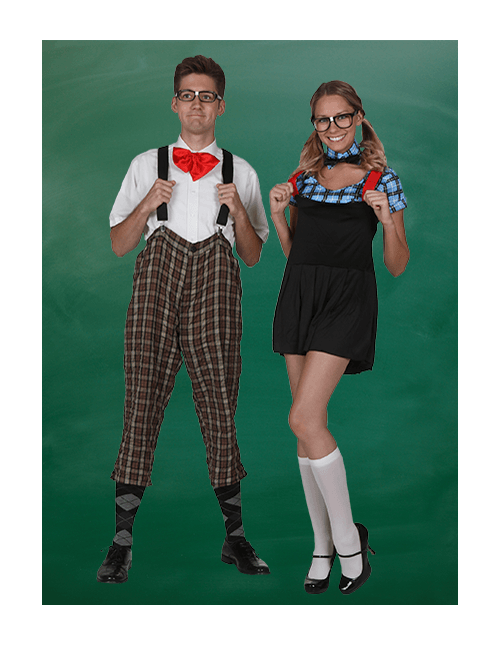 You both have busy schedules. Math league, science club, and programming classes keep you running from the start of the day to the end. You don't have time to let a pair of sagging pants slow you down so keep your clothes efficiently in place with suspenders. It's the only logical choice.
Nerds are Nice Guys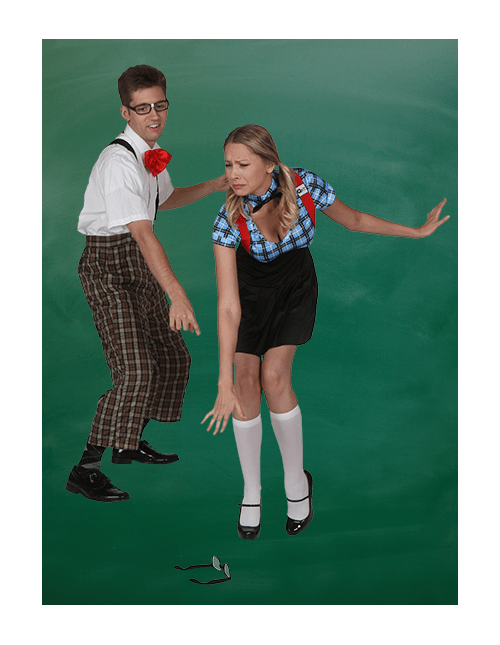 Oh no! She's managed to drop her glasses and now she's basically blind! You might not be able to solve all of life's problems but you can be the nerdy superhero she needs and come to her rescue in situations like these.
Nerd Appreciation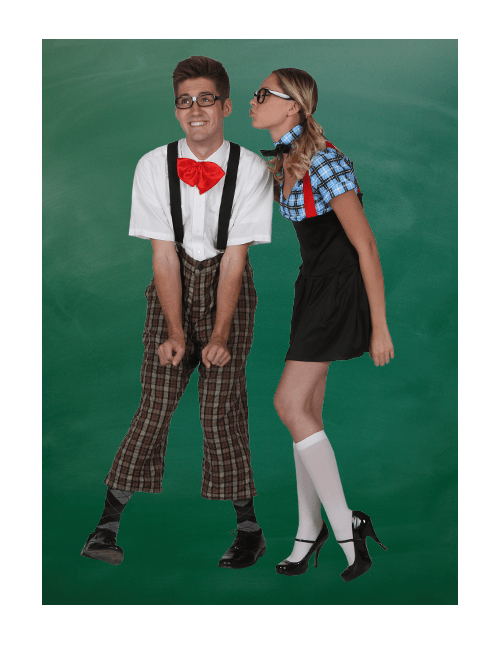 When you help her recover her vision, and she'll see what a catch you really are! In the end, kindness is what matters so no matter how dorky you decide to dress, remember to be sweet.
Always Have Each Other's Back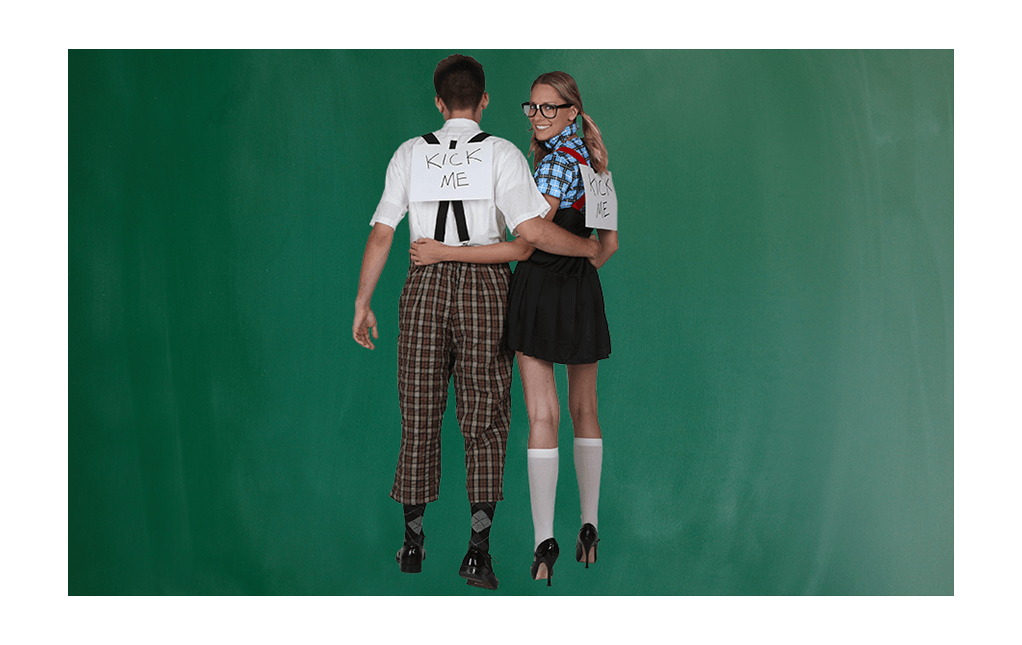 It's a big, bad world out there. Genius is usually under-appreciated and sometimes even ridiculed. That's why it's important to know who your friends are and stick up for them in times of need. You can't stop bullies from being who they are, but you lessen their blows by always having each other's backs.