There came a weekend like no other where an unlikely group of heroes brought together fan boys, non-fans, the young, the old and all those in between to create box office history. Vanquishing the opening weekend box office record held by 2011's "Harry Potter and the Deathly Hallows Part 2" finale, The Avengers grossed a whopping $207.3 million in its U.S. opening weekend alone and as of Thursday, May 10, 2012, passed the $800 million mark globally in a little more than two weeks of release. This Mother's Day weekend it's expected that "The Avengers" will easily take a bite out of the box office from Johnny Depp's "Dark Shadows" and could possibly reach $1 billion global box office by the time Sunday evening comes around.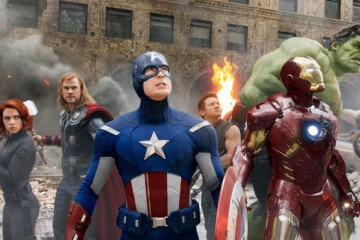 (source)
Starring Chris Evans as Captain America, Robert Downey Jr. as Iron Man, Chris Hemsworth as Thor, Scarlett Johansson as Black Widow, Jeremy Renner as Hawkeye, Mark Ruffalo as the Incredible Hulk, Samuel L. Jackson as Nick Fury, and Tom Hiddleston as Loki, the Joss Whedon directed movie is one that surpasses all superhero movies, except for say Christopher Nolan's upcoming "Dark Knight Rises".
Filled with wall-to-wall action the two and a half hour comic flick, is anything but long and boring. Whether it's Nick Fury and S.H.I.E.L.D. members gathering up the Avengers, the Hulk literally smashing anything in his path, or Iron Man using witty sayings to get to Loki, the rest of the Avengers and the audience, this movie is one that provides everything a superhero nerd could imagine.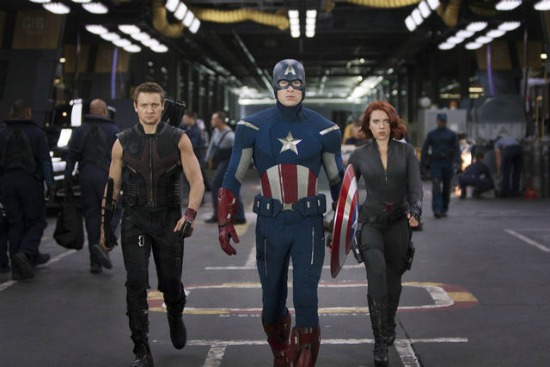 (source)
As a fan of the Avengers, I was deeply impressed with how the male superheroes worked out their differences and eventually came together as a team. The performance by Scarlett Johansson was impressive in that despite being the only female Avenger in the movie, she made her mark known in helping retrieve Hawkeye from Loki's control and gunning down the enemy.
Captain America being out-of-time, but still a military figure, sends out directions of what to do as soon as Loki's alien army, the Chitauri, come to Manhattan. While his story isn't exactly laid out firmly throughout the movie, thanks to the 2011 movie, "Captain America: The First Avenger", Cap forms a connection in that despite being out of time and away from everyone he knew, he's got to put that behind him and be what he was in World War I, that being a super soldier and a leader. One thing noticeable throughout the movie is the U.S. military's absence from saving the world with Avengers. This is due to the fact that when making the film, the Pentagon thought that having a secret organization called S.H.I.E.L.D. seemed too unrealistic in present day. Because of this noticeable hole, Captain America has to fill in and show that he is indeed the same American hero he was before he was frozen. His ideology may be a little dated, but it does help when stopping Loki and the rest of his army.
Thor is the one who understands the kind of "god" Loki is and can kind of understand why his adoptive brother wants retaliation. In a way, one can wonder if Loki's need for power, especially hanging onto the Tesseract, is part of greater plan of making a name for himself because as Thor put it quite bluntly "he's adopted." Throughout the movie, Thor attempts to help Loki see that the destruction of Earth will not do anything for him or his power.
Tony Stark, a.k.a. Iron Man, while snarky the majority of the time, is extremely intelligent and realizes that with his iron suit he can do what the other Avengers cannot. This ability leads to him taking a nuke up to the Chitauri's world, thus destroying the communication between the two worlds. Stark also has the balls to bring out the other guy in Bruce Banner.
Perhaps the most amazing show-stopping performance was done by Mark Ruffalo's Incredible Hulk. In the beginning, Ruffalo appears to be a soft-spoken physicist. Later though, influenced by Loki while on the hovercraft, transforms into the mean green raging machine that smashes anything in this path. One of the secrets that Bruce Banner reveals in the movie is that "I'm angry all the time." Because of this, one can guess that Banner has figured out a way to control such angry outbursts while in India and off S.H.I.E.L.D.'s radar. One of the most hilarious scenes of the Hulk in action would when he and Loki are in the same room together and Hulk just grabs Loki by the legs and just throws him around. That in several fans opinions is probably the most epic seen out of the entire movie.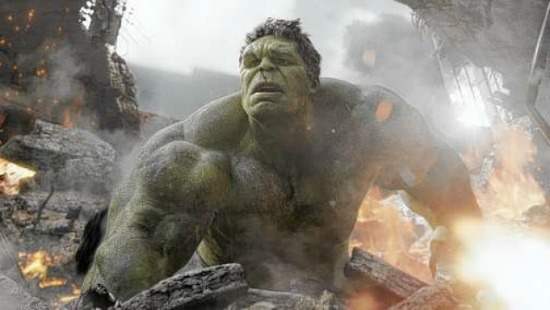 (source)
Hawkeye, while under Loki's control for the first half of the film, has an eye for targets as seen when he is in Germany preparing the tesseract that Loki is so desperately after. Once back to his normal self, he uses his archery skills to hold off the Chitauri along with the rest of the Avengers.
Some fantastic action scenes in the movie were perhaps that the beginning when a hole between worlds opens and Loki appears. Destroying S.H.I.E.L.D headquarters was pretty epic, along with the Manhattan scene when the Chitauri and these alien ships come down. While the movie does pack a huge punch and impressed enough to score $800 million in ticket sales thus far, the teaser at the end with the villain, Thanos, is something that remains to be seen. A few questions after seeing this movie include, what will happen to Thor and Loki when they return to Asgard? Also, will Captain America reunite with his love from Captain America? What will happen to Hawkeye and Black Widow? What will happen in the next Iron Man movie?
With such a great group of superheroes smashed into one mega-flick, one can expect that Marvel will continue expanding the Marvel Universe by introducing new superheroes in upcoming years. "Iron Man 3", "Thor 2" and "Captain America 2" are all slated to come out in the next couple of years, and Disney announced on Tuesday May 8, 2012, that an "Avengers 2" sequel is definitely happening. Ubisoft also announced that they are busy developing a new "Avengers" video game that would be for Kinect and Wii gaming systems. While most of these films and games are still in pre-production, it's okay to say that the Avengers will remain popular for quite some time.
Kelsey Schultz is a staff writer for HalloweenCostumes.com, where you can get your own Avengers gear.