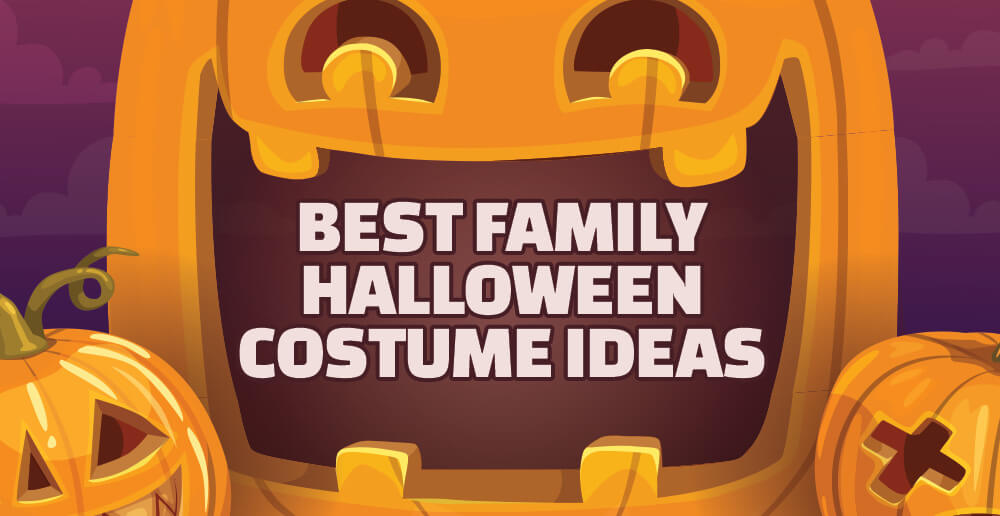 A pirate, a space alien, a flapper, and the Mad Hatter. These costumes are great on their own, but if you're trick-or-treating with little ones you ought to look at these amazing family costume ideas. Our Back to the Future, Grease, and A League of Their Own costume sets will satisfy your film geek within, or go with the kids' favorite—Harry Potter. You can never go wrong with classic mummy or pirate costumes sets either. Happy Halloween!
1. Family Harry Potter Costumes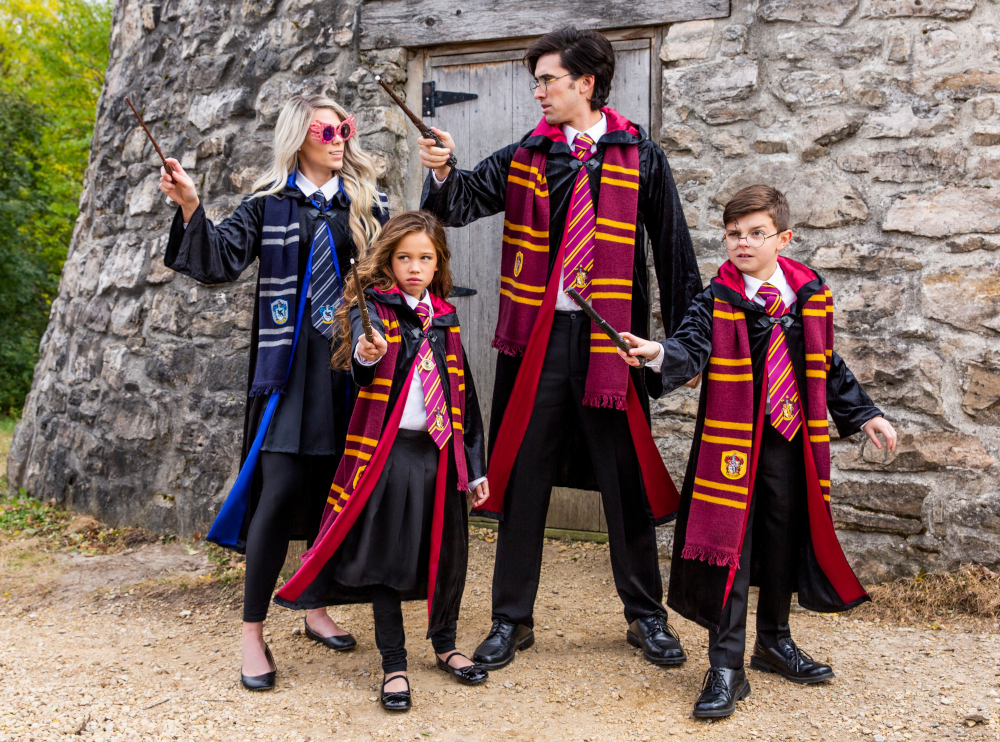 With so many memorable characters, Harry Potter costumes are always at the top of our popular costumes list. With our range of licensed costumes, you can dress your whole family in the robes of Hogwarts. It's not limited to Harry Potter either—we also have accessories and character costumes for Luna Lovegood, Draco Malfoy, Ron Weasley, Hermione Granger, and much more. There are so many characters, and with the fact that there are four houses, it's easy to turn Harry Potter into a family of 4 Halloween costumes! With our Harry Potter costumes you're sure to lose your muggle trappings and fully realize your wizarding potential. Expecto patronum!
2. Family Star Wars Costumes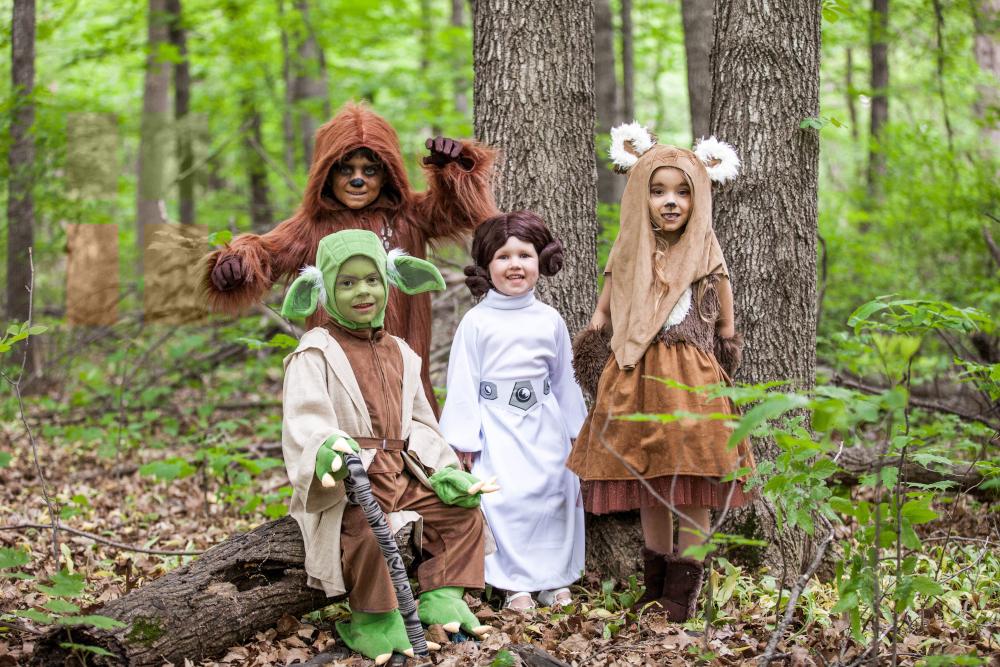 If you're a Star Wars fan with kids, you know that it is your duty to make them all wear adorable Star Wars costumes at least once. (Maybe even several times before they grow up and want to pick their own costumes!) With so many Star Wars character costumes to choose from, even picky kids will find a costume they like. Kids will also love hanging onto their old Halloween costumes to play dress up. After all, doesn't everyone want to save the galaxy?
3. Family Alice in Wonderland Costumes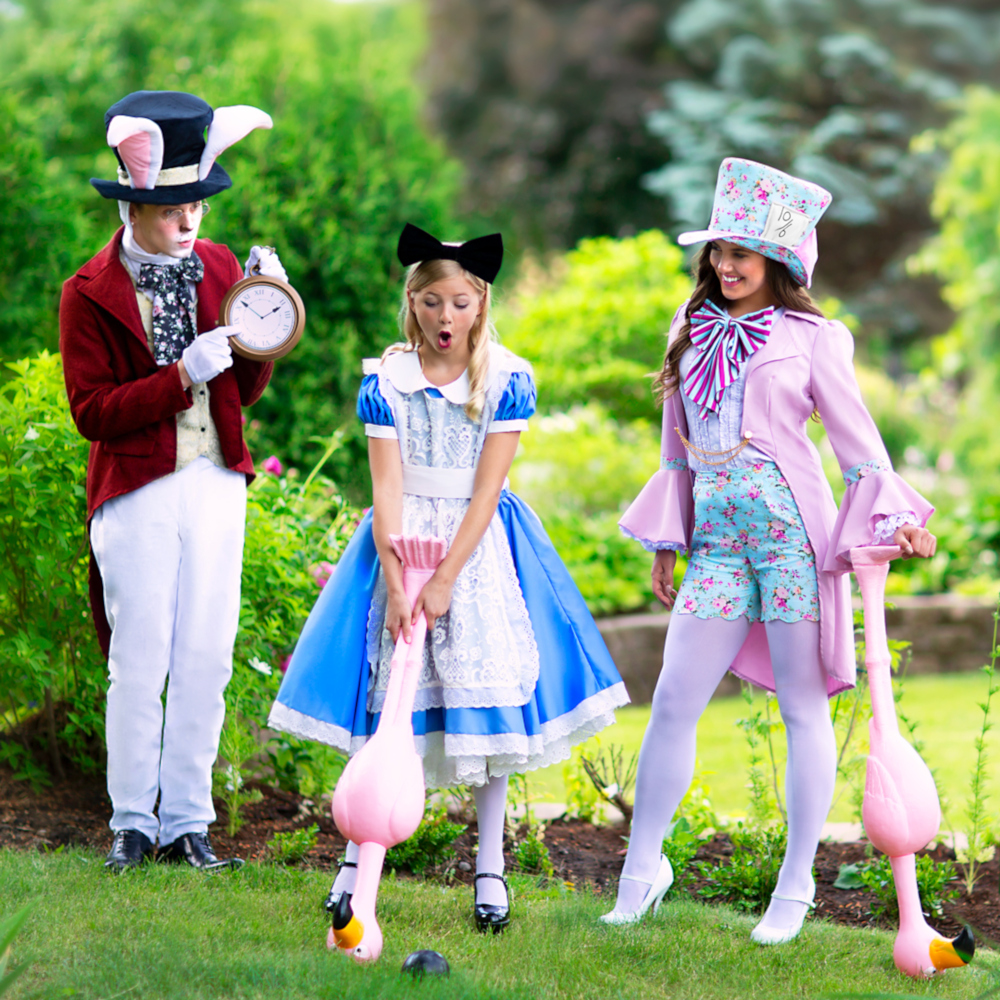 There are many renditions of Alice in Wonderland, from Disney's Alice Through the Looking Glass to Lewis Carroll's classic book. Even if there hasn't been a new Alice in Wonderland anything for a while, the costumes for Alice, the Mad Hatter, the Cheshire Cat, and the White Rabbit are popular favorites. With a combination of all these costumes in child and adult sizes, your family Halloween costume ideas are sure to look "curiouser and curiouser".
4. Family Back to the Future Costumes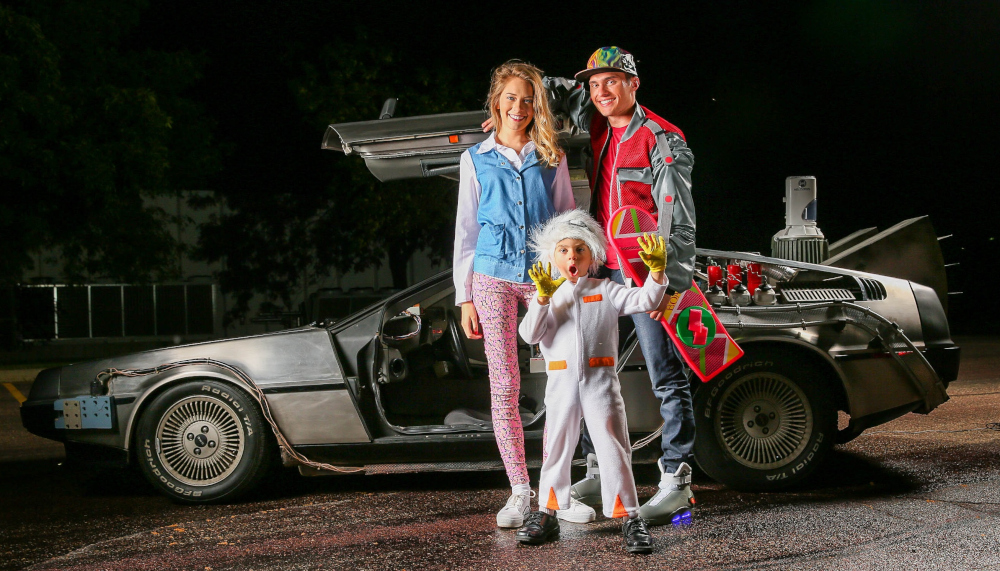 This is heavy. The year is the faraway Two Thousand and Fifteen, and Marty McFly has just arrived from 1985 with Jennifer and Doc Brown. Armed with their trusty Delorean and Hoverboard, "future boy" will check out all the newest technologies of 2015 like the hoverboard, the flying car, and the 3-D movie, "Jaws 19". These three costumes come in a variety of sizes so your child can be Marty McFly or Doc Brown, or you can have a female Marty McFly (and if you're feeling really gutsy, you can have your fella slip into the Jennifer Parker costume—the pants are elastic!). Our Back to the Future costumes are made by us and will help you get back to 1985 safe and sound, daaa- daaa-, daaaddy-o!
5. Family Grease Costumes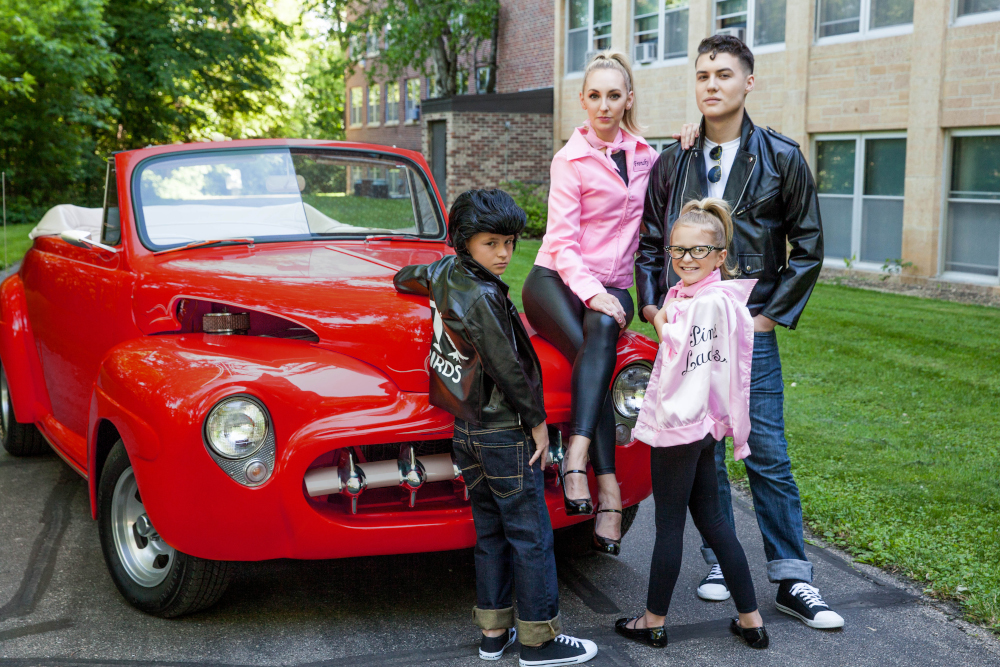 Are you hopelessly devoted to authentic movie costumes? Well, these costumes are systematic, hydromatic, ultramatic...why, they could be greased lightning! Our Pink Ladies jackets come with a pink scarf, but as with most costumes, the devil is in the details. Don't forget to get your own tight-fitting t-shirt for the Danny Zukos and the 50's-style ponytail for the Sandys. Go for the Danny wig if you like, or if you've got the dark, curly hair just style it yourself. Buy lots of hairspray!
6. Family Ghostbusters Costumes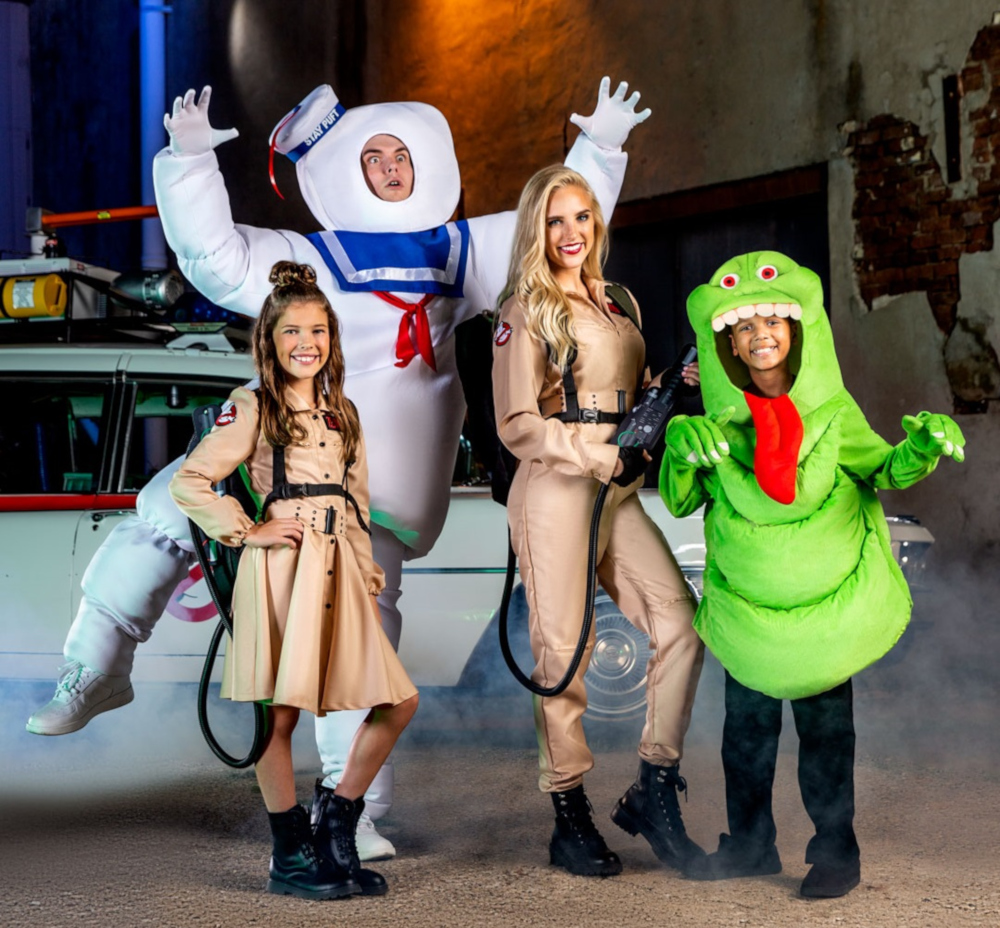 Everyone loves a great 80s movie to watch with the family, and Ghostbusters is one of the best! If you got your kids hooked on this classic 80s movie, they're going to love dressing up as their favorite movie characters. Maybe everyone wants to be a Ghostbuster or you can have one or two ghosts mixed in with your crew. Honestly, there's no wrong way for your family to wear Ghostbusters costumes for Halloween. The best part is that some of our proton packs come in a backpack-like style, so kids and adults have a way to haul all that Halloween candy!
7. Family A League of Their Own Costumes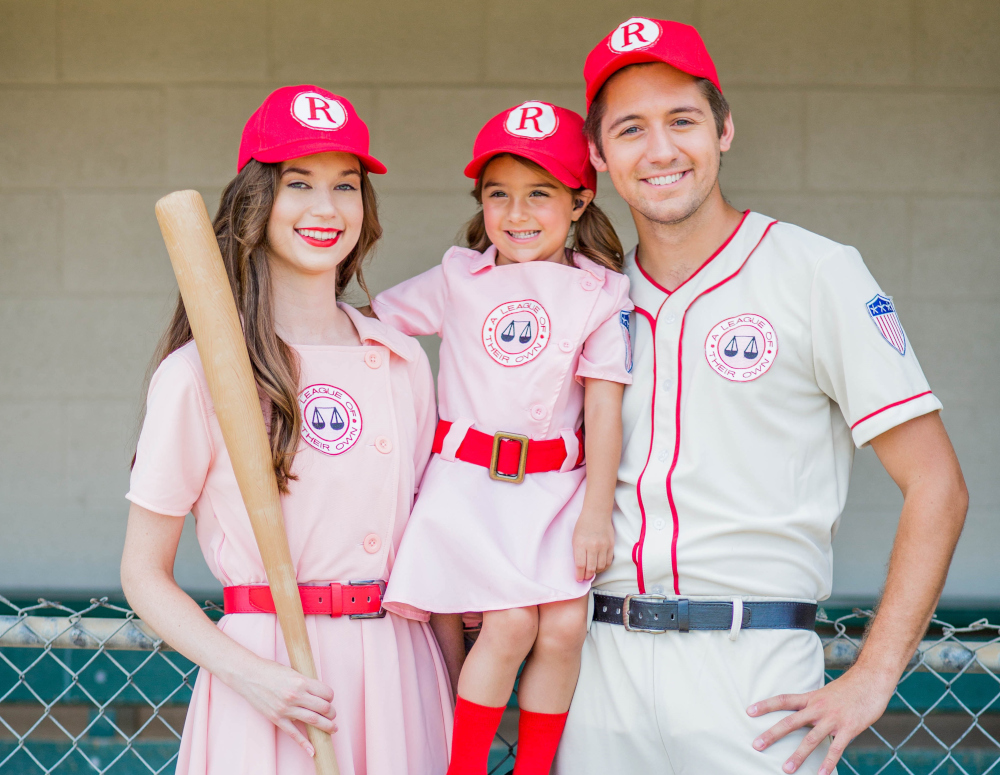 A League of Their Own, the classic 90s film about a women's baseball team during World War II, provides some fantastic historic costumes. You needn't have seen the film to appreciate the 1940s-style, including the knee-high red socks and baseball dress. If you are a fan of the film, make sure to bring along the Mister for a role-play of one of the film's most memorable scenes. For the kids, we have children's' A League of Their Own costumes that will complete the family ensemble. These officially licensed costumes are high quality—the embroidery in the hat is so good you could easily wear it without the costume. However you wear this costume, just remember, "There's no crying in baseball!"
8. Family Astronaut Costumes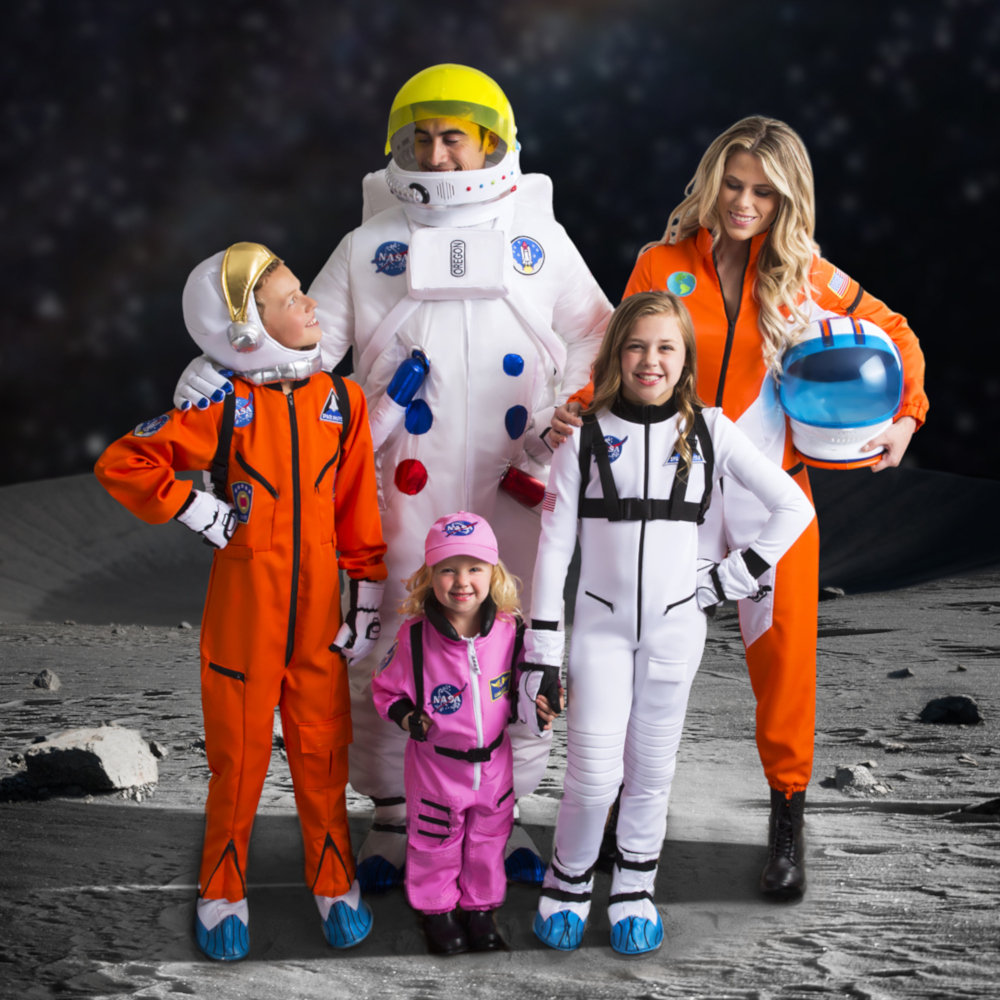 Are you looking for a Halloween family costume idea that the kids can't argue with? Perhaps even a costume idea that your kids will continue to wear for dress-up after Halloween is all over? Astronaut costumes for the family are definitely the way to go! You can even mix it up a little bit by adding an alien costume or two, especially if you have a large family. It will be a Halloween expedition to remember!
9. Family Pirate Costumes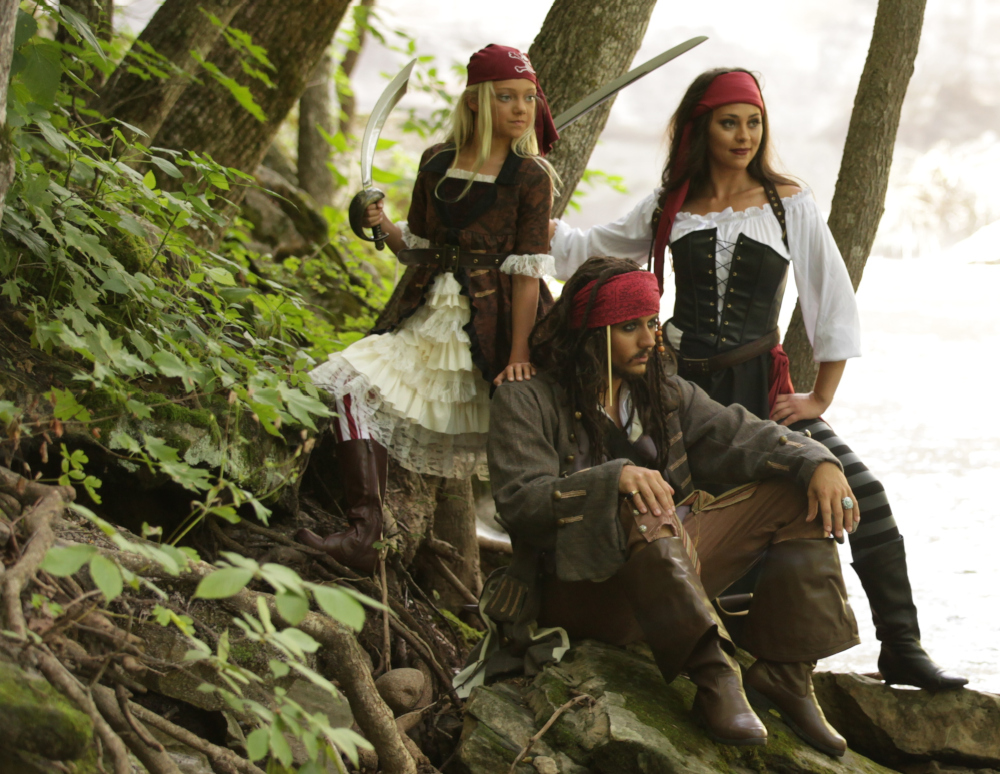 Q: What's a pirate's favorite letter of the alphabet?
A: You'd think it's the "R" but it's really the "C". After all, the pirates love the sea!
These are the kinds of dad pirate jokes to prepare as you practice your best Jack Sparrow impression. We have a huge variety of pirate costumes for kids, adults, and babies. Whether you want to be a buccaneer, a wench, a cutthroat, or Captain Hook, each of our pirate costumes comes with its own distinct personality. If you're going for a Peter Pan-inspired pirate, we suggest also getting one of our alligator costumes.
10. Family Mummy Costumes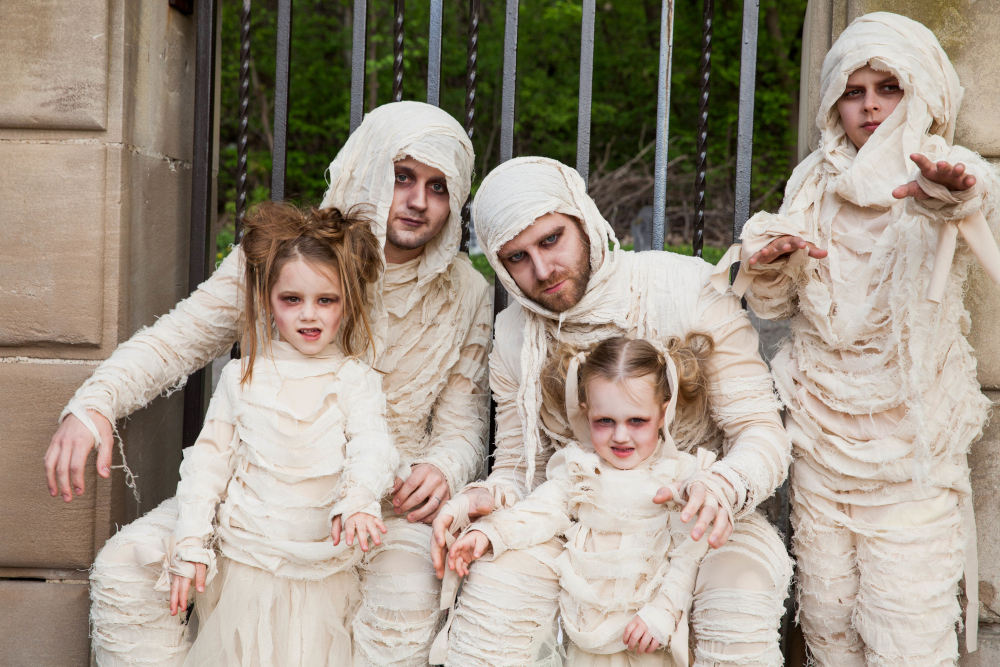 Back to basics—a mummy costume is one of the original go-to costume ideas. You'll need something a bit more durable than wrapping yourself in toilet paper, though. These family mummy costumes are high quality—we even have unique costumes for a men's mummy, women's mummy, girl's mummy, boy's mummy, and even baby mummy costumes! Practice your undead moans over a bowl of Yummy Mummy cereal!
11. Family Incredibles Costumes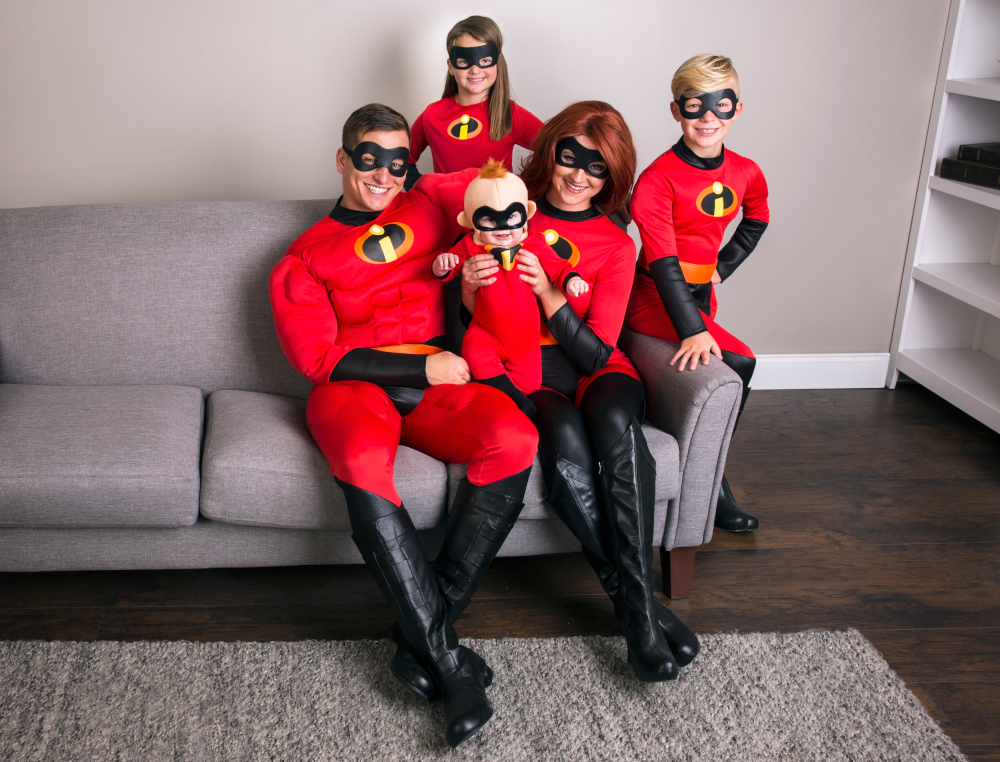 If you have a family of 5 and the perfect family ratio for a family Incredibles costume...you know what to do. (You can be a whole family of supers!) Your family will probably get stopped for photos when you're out trick-or-treating because you look simply incredible. Even if you don't have 5 people in your family, you can always add or subtract characters with our other Disney Incredibles costumes.
We hope your family Halloween costume is a smashing success! Be sure to see all of our group costumes for more inspiration this year! If you end up dressing in any of these family Halloween costume ideas, leave a comment below and tell us all about it!