Wonder Woman Costumes
Results: 1 - 56 of

56
Wonder Woman is considered as one of the ultimate female superheroes. She is part of the Amazon tribe and is the founding member of the Justice League. Wonder Woman comes armed with the "Lasso of Truth," a rope that while within its embrace compels you to tell the truth. We have Wonder Woman costumes in all styles and sizes including an adult Wonder Woman costume. Find Wonder Woman costumes for the superhero female in your life!
Wonder Woman is a DC Comics superheroine created by William Moulton Marston. She first appeared in All Star Comics #8 (December 1941). She is a warrior princess of the Amazons, she is also known as Diana of Themyscira, whose powers include superhuman strength, flight, super-speed, super-stamina, invulnerability, and super-agility. She is a masterful athlete and trained in many ancient and modern forms of armed and unarmed combat. She uses many weapons including her Lasso of Truth, which forces those bound by it to tell the truth; a pair of indestructible bracelets that can deflect gunfire; a tiara, which doubles as a throwing weapon, that can cut through diamond; and an invisible airplane. Later during her history, it is said that her bulletproof bracelets were formed from Athena's shield, and that her Lasso of Truth was forged by Hephaestus from the golden girdle of Gaea and is virtually indestructible. Over the years, new abilities were added and her super-strength was increased. Her backstory has been adapted to provide new explanations of her powers.
Wonder Woman has her own comic series by DC Comics and is a member of the Justice Society of America. She was created during World War II as a character that was depicted fighting the Axis military forces. She was also made by Marston as a role model for women—being truthful, strong, and superior to men.
Wonder Woman appeared in her own TV series, "The New Adventures of Wonder Woman," starring Lynda Carter from 1975-1979. She has also appeared in "Super Friends" (TV series 1973-1977), "The All-New Super Friends Hour" (1977-1978), "Challenge of the SuperFriends" (1978), "Super Friends" (1983), "Superfriends: The Legendary Super Powers Show" (1984) and the "Justice League" (2001-2006). The video Wonder Woman came out in 2009 with Keri Russell as the voice of Wonder Woman.
MEDIA /
Wonder Woman Costumes

You've got the costume, you've done your hair and makeup, and now you've got to get the right moves! When you go in one of our Wonder Woman costumes, you'll want to have the perfect, heroic pose each time a photo is snapped, right? But, you ask, 'how do I get that iconic Wonder Woman pose?' It's easy! Our exclusive pose guide has everything you need to capture that classic Wonder Woman silhouette this Halloween. Perfect for Justice League meetings as well as the after party.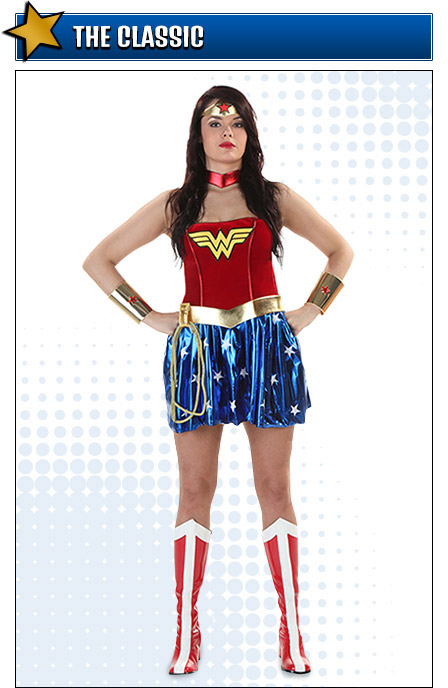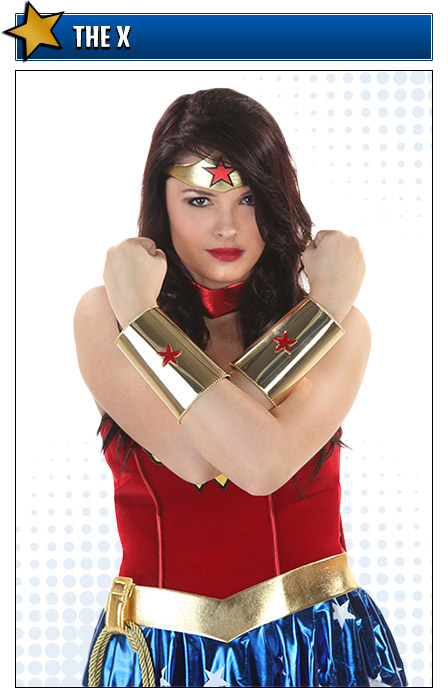 | | |
| --- | --- |
| You may remember Linda Carter doing this pose often on the classic Wonder Woman television show. It's sort of an oldie, but certainly still a goodie. Stand straight up, chest out, fists on your hips, and show that this is one goddess nobody should mess with. | This is the perfect pose to show off your wristlets. Your arms also frame your face, which makes it a great look for photos. Flex your arms tight to get that extra tough-girl look. |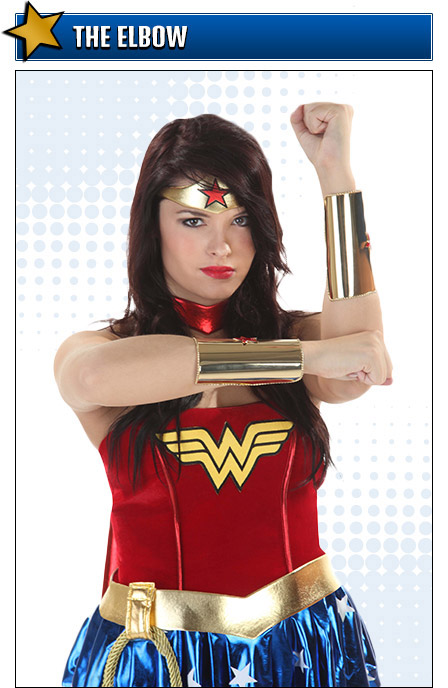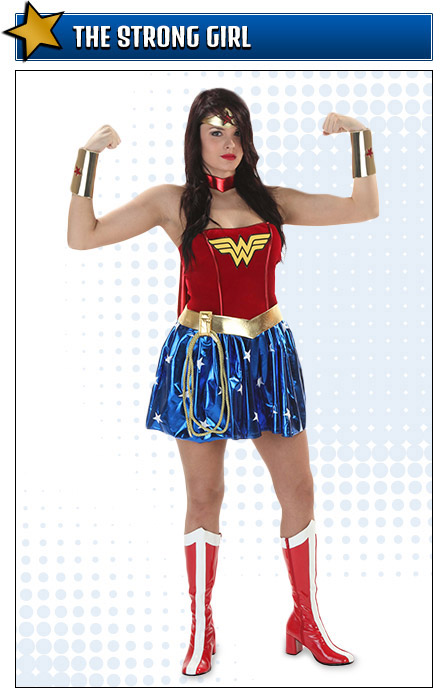 | | |
| --- | --- |
| Wonder Woman likes to show off her wristlets, and show everyone that she doesn't mess around. This pose is similar to the "X" move above, but instead she's meeting one fist to the elbow, and the other arm is in the air. We're not sure what it means, but we like the way it looks, and it will certainly make you extra eye-catching in all your photos on Halloween. | Another classic superhero pose: flexing like a true goddess. Make all those other superheroes jealous of your heroic posturing and authentic visage. But don't flex too long or you might get a muscle cramp! Halloween is a long night, so don't wear yourself out right away. |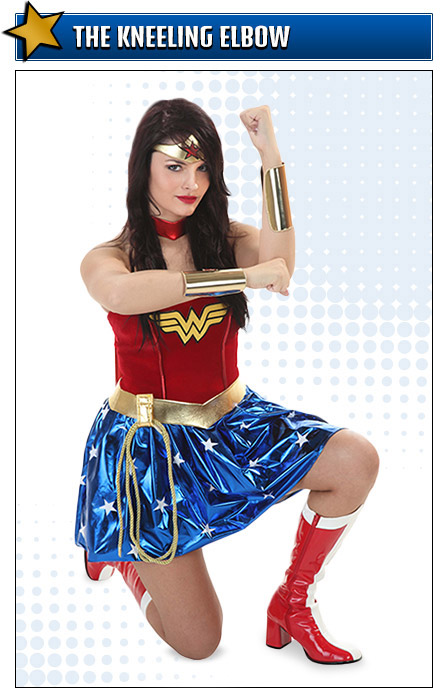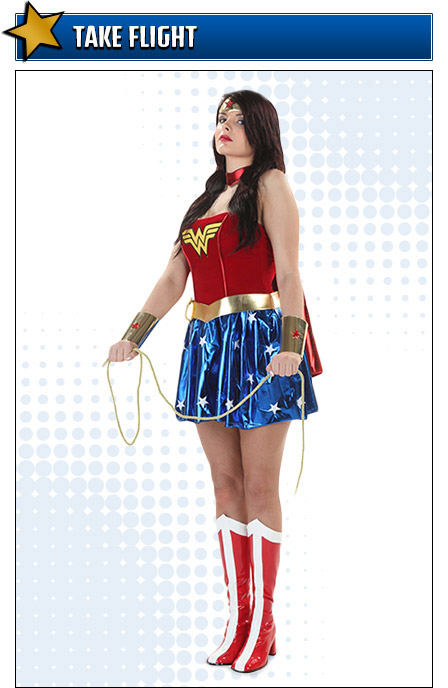 | | |
| --- | --- |
| When you're a superhero, you have to be ready to throw down at any time. You never know when a super villain will show up and start stirring up trouble. This pose is fantastic not only for pictures, but also to kick off a sprint towards a bank robber. Hopefully you don't have any of those at your party, though… | Wonder Woman has an invisible plane, but she can also fly. We're not sure why she bothers with the plane, but that's a topic for another day. You can look like you're about to blast off from the ground with this pose. Go tippy toe, or keep your feet flat on the ground. Just be sure to hold onto your lasso! |

Let's get one thing straight. Wonder Woman doesn't need a man, but that doesn't mean she has to go out solo every night. She has it all: smarts, superpowers, beauty; and there's no superhero around who'd refuse a date with her. This guide will show you some of our favorite couples combinations possible with Wonder Woman, whether you're a DC purist kind of girl, or you want to get a little naughty and cross comic universes.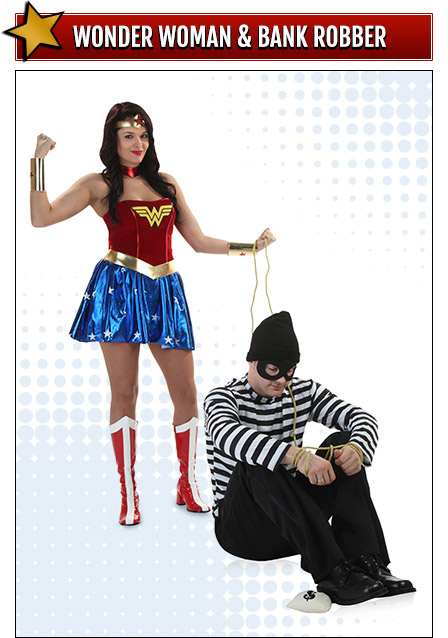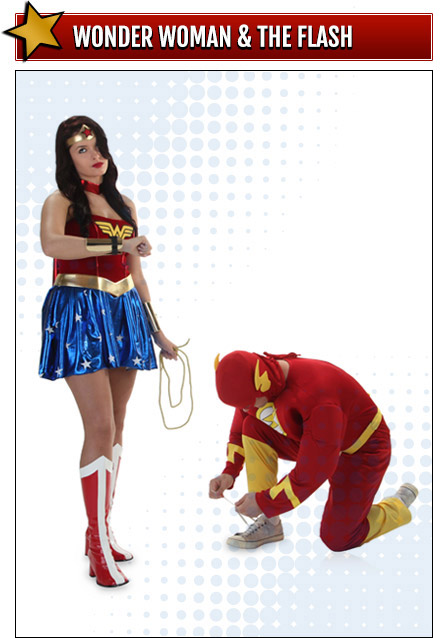 | | |
| --- | --- |
| Wonder Woman catches guys pretty easily, especially the bad boys. Okay, that's a little cheesy, but she really does fight criminals from supervillains to the petty bank robber! One of our most popular couple pairings is Wonder Woman and our Bank Robber costume. Use the golden lasso to tie him up and prevent any more jewel heists! | The Flash is lightning fast, but every now and then he's got to take a moment to tie his shoe. Have you ever seen someone trip while running one thousand miles an hour? It isn't pretty! You'll already be looking 'Amazon' amazing in our Wonder Woman costume, so just give old Barry Allen the time he needs to get himself ready. Then you two can go on your spectacular date to the most exclusive restaurant in Metropolis. |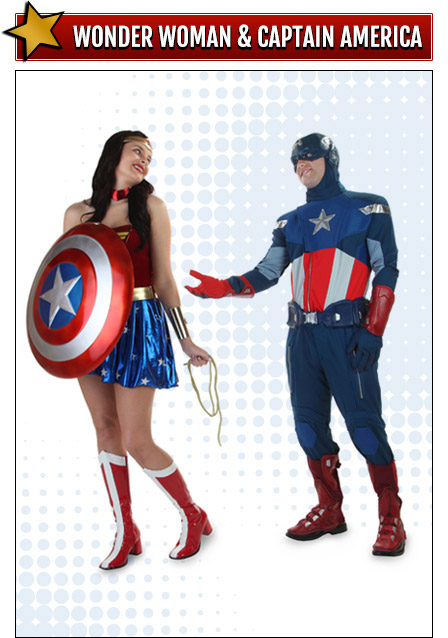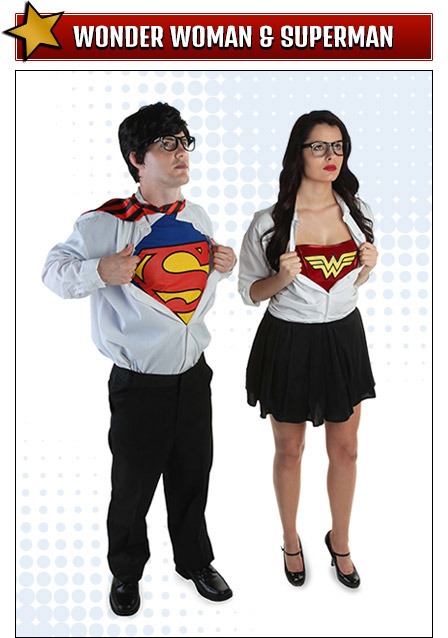 | | |
| --- | --- |
| Alright, comic books geeks will notice that Wonder Woman is from the DC Universe and Captain America is from the Marvel Universe. It's crazy talk, in almost any situation, to put these two characters together--unless it's Halloween! On Halloween, anything goes. Could there be a better pair than Wonder Woman and Cap to cutely canoodle over cups of classy coffee and cappuccinos? No way! | If you want to keep your comic book universes straight and don't want to dip into the Marvel arena, then step out on Halloween with none other than Superman! Try showing up as mild-mannered news reporters and suddenly transform into Superman and Wonder Woman later in the evening. You'll be the hottest news of the night. |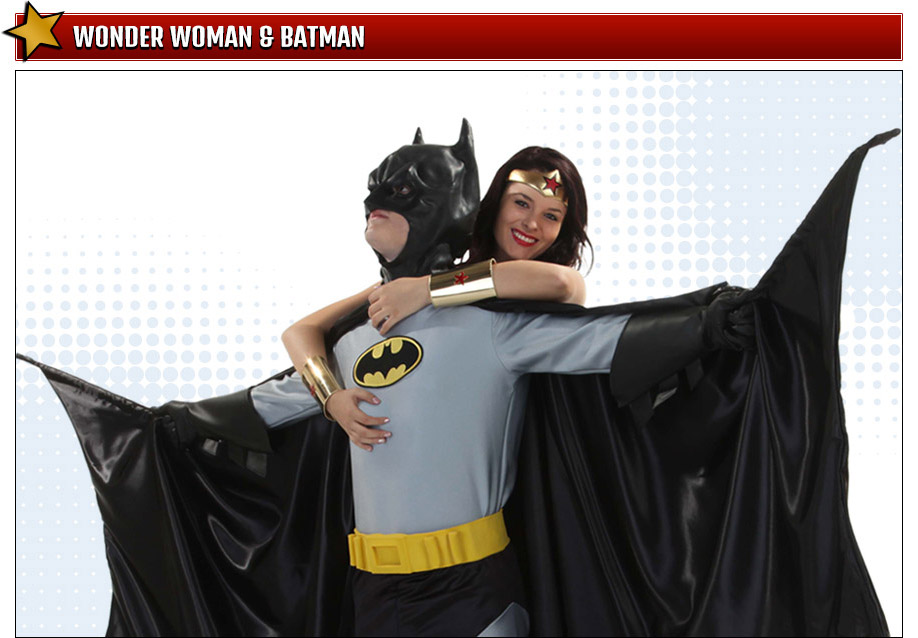 Finally, try pairing up with Bruce Wayne himself, Batman! What girl hasn't daydreamed about flying around Gotham with the old Dark Knight. Sure, he's a little brooding, troubled and all that, but he's handsome, a successful businessman, and he has all those cool gadgets. There's perhaps no better team-up than Wonder Woman and Batman. So, better watch out supervillains! Because these two are comin' for ya.

Wonder Woman's attitude might be perfect for any occasion, but sometimes the situation calls for a little improvisation to make her costume work for your event. From weather that's not playing nice, all the way to family friendly parties, these tips will show you how to gear up, or down, for any party without losing any of that Amazon Princess ferocity.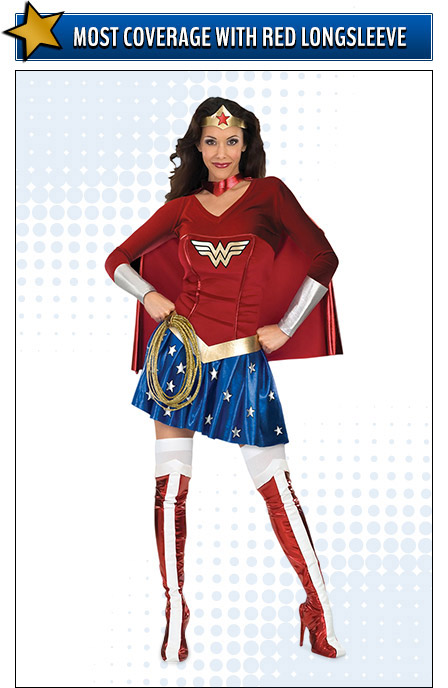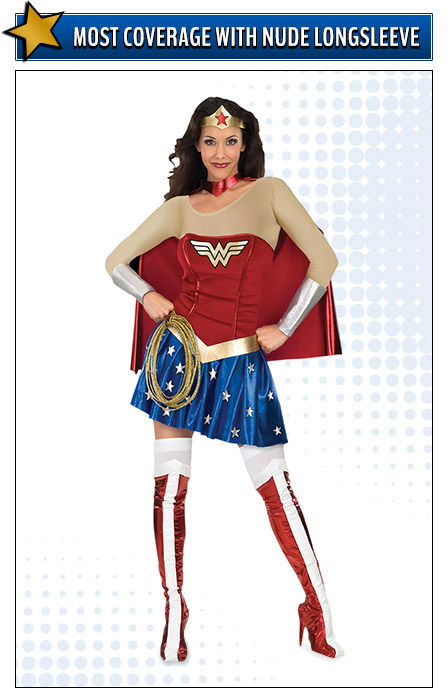 | | |
| --- | --- |
| This look uses our standard Wonder Woman costume and adds a red long sleeve shirt. This not only keeps you warm but sticks with the color scheme. We also added our white leggings to go under the boot covers. These additions make your Wonder Woman costume less revealing without losing the details of the character. | We liked the red long sleeve look so much that we tried it with a nude version! We think this looks really good, too. It keeps the look of having bare shoulders, and the wearer gets to control how much they reveal. This is great for a children's party! Or you know, just a Halloween night out with the rest of the Justice League. |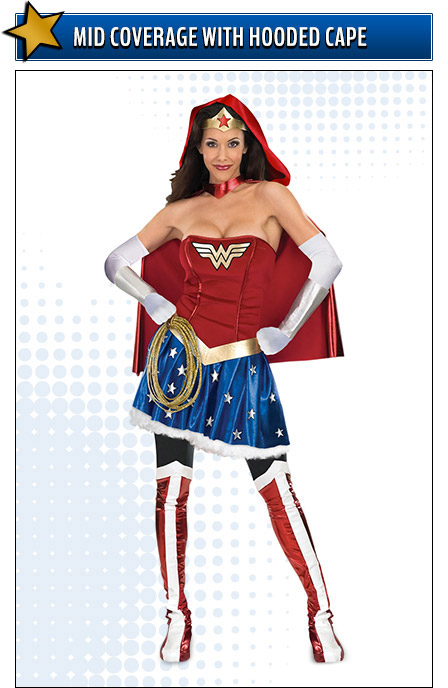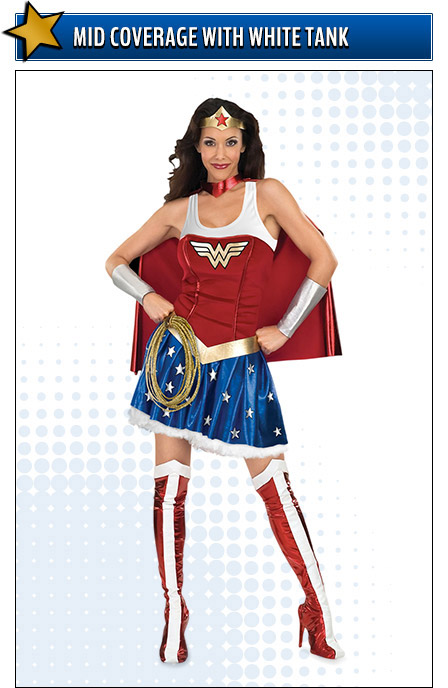 | | |
| --- | --- |
| This version of our Wonder Woman costume uses black leggings, white gloves, a white petticoat, and our Red Riding Hood hooded cape. This has a lot of coverage, and it just looks really cool as well! A great take on Wonder Woman with a bunch of added details that will also keep you warm on a chilly Halloween night. | This version of our most popular Wonder Woman costume is exactly like the version to the left, but with a white tank top beneath. Even though we liked how the black looked, the white might match Wonder Woman's regular colors better. Beneath the skirt we added our white petticoat as well, which is a fun and flirty detail to match the top. |

Have you ever been stuck in a situation where you just didn't know what to say? You know, someone asks about how high your invisible plane can fly, if your lasso is actually made of gold, or what Batman is really like. It's tough being a superhero! You're probably not a professional actor, so we'll help you sound exactly like Wonder Woman when you use our handy quotes guide. We have all her favorites, as well as a few inspirational things she's said. You can even learn a fun fact or two about her along the way! So, memorize a few lines, learn a few things, and truly become Wonder Woman this Halloween!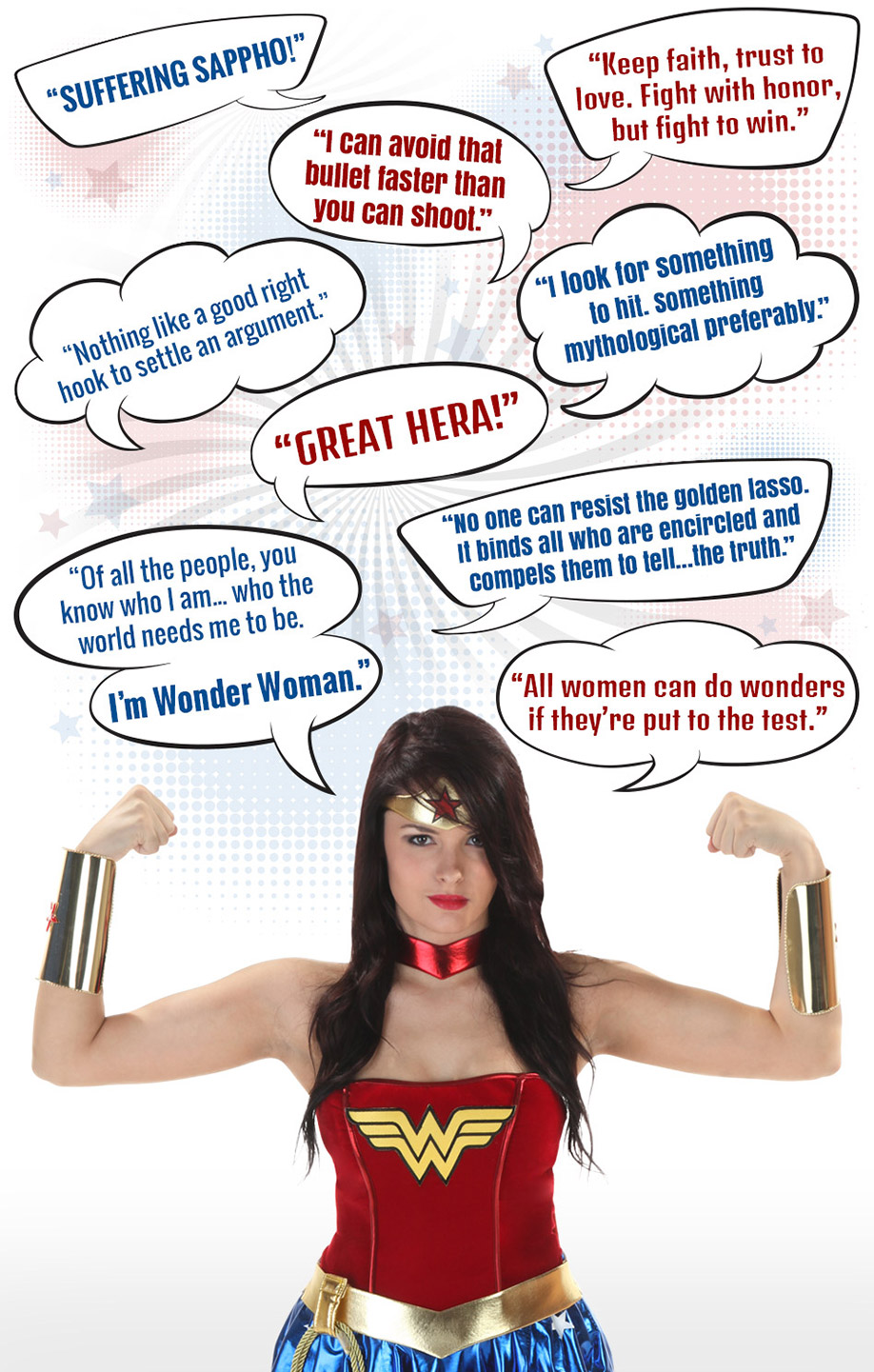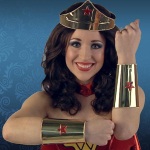 Wonder Woman Costume Makeup Tutorial
You may be fighting injustice and evildoers all day but that doesn't mean you can't look amazing doing it. Use this Wonder Woman makeup application this Halloween to add some extra flair to your Wonder Woman costume. The tutorial uses a blue eyelid color, eyebrow darkener, and a bright red lipstick for a quick and simple look. Add the Wonder Woman wig and a few key accessories to complete this superhero costume experience.