Harley Quinn Costumes
Results: 1 - 32 of

32
"I've always had a thing for extreme personalities. You can't deny there's an element of glamour to these super criminals." - Harley Quinn, Arkham City
Harley Quinn, also known as Dr. Harleen Frances Quinzel in the Batman franchise, is one of Batmans most notorious female villains. First appearing on September 11, 1992 in the episode, "Jokers Favor" in the TV series, "Batman: The Animated Series", Harley Quinn was ranked #45 in IGN's 2009 Top 100 Comic Book Villains of All Time. Throughout the Batman franchise Harley Quinn displays a great, love-hate relationship with the famed villain, The Joker.
Known for her black, red and white suit, you can now get the famed villains look with two different versions of the suit. One of the Harley Quinn costumes we offer is a sexy two piece costume. The top is a black and red tank top with various black and red accents. The pants feature the trademark black and red diamond shapes on each thigh. The second costume we offer is more of a clown-like version of the suit which is more reminiscent of comic book appearance. Add our sexy thigh high Harley Quinn boot tops and you'll have a complete Harley Quinn look! The character remains so popular that we continue to get new designs all the time, from many different mediums from video games to graphic novels.
Traits of Harley Quinn include high intelligence, exceptional agility and strength, and immunity to many toxins. She is also a skilled gymnast and psychologist. She is most recently seen in the Dark Knight video game, Arkham City.
MEDIA /
Harley Quinn Costumes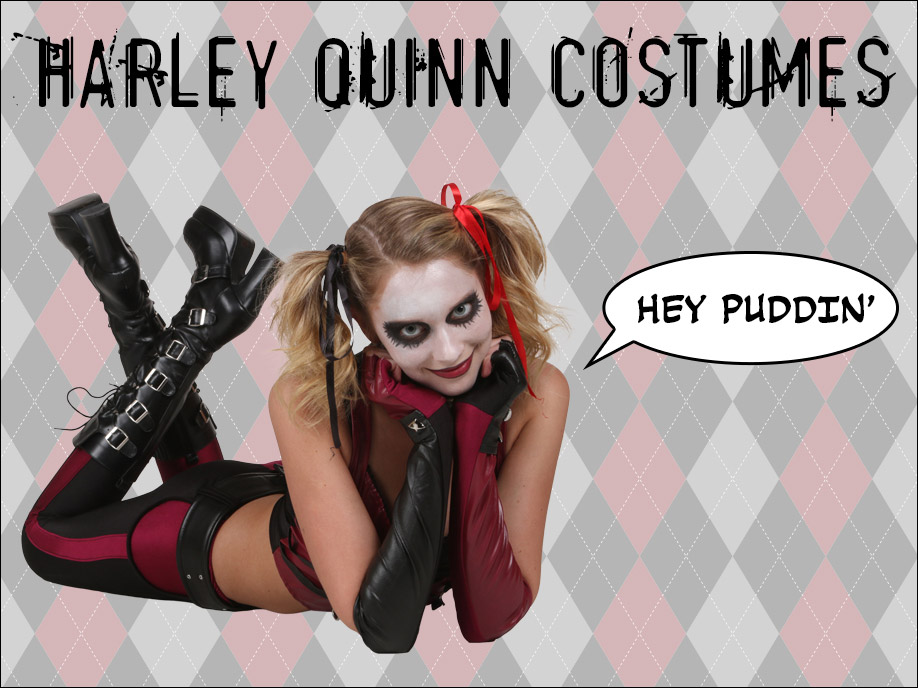 When you're The Joker's girlfriend, you'd better be packing a lot of different tricks to keep things interesting. Their idea of a romantic date usually doesn't include dinner and a movie. More often than not, it includes armed robbery, assault and kidnapping. That's why Harley's got a look for every different occasion, since one minute she might have to fight toe to toe with Batman and the next she might need an outfit that's ready for a bank robbery. These different versions of her will give you a pretty good idea for what to wear during any Gotham City crime spree you might be planning.
| | |
| --- | --- |
| This lovely look is for the super villain who's looking to go on a romp through Arkham City. It's made specifically for the kind of girl who doesn't know whether she'll be fighting Two-Face's goons or hanging around with Batman! | This slightly more playful number highlights her whimsical side. Harley isn't always attacking Batman with a baseball bat! Sometimes she likes to switch it up with brighter reds and a mallet. |
| | |
| --- | --- |
| Tights and a top might work for when you're painting the town red with The Joker, but sometimes you just can't deny the power of wearing a nice dress out on the town. This look keeps Harley's traditional sense of color combinations and brings it together with a cute dress. | Harley might be a little on the crazy side, but she definitely knows how to entertain. When she's not mad with murderous intent, she's actually quite charming! This look comes straight from her "I'm-not-going-to-kill-you-tonight" line of apparel. |
| | |
| --- | --- |
| Formal affairs? Those bore Harley to tears. She'd rather have a swarm of cops chasing her through the streets than be cooped up at some dinner party, but on the off chance her and Mr. J have to attend one, this is the type of dress she'd wear to the shindig. | Heading for Arkham Asylum? Harley spent a stint as a nurse for the patients there. Of course, she may have conspired with The Joker to create a big trap for Batman, but it's best not to dwell on the little things. This nurse costume brings Harely's much needed sense of style to mental health care. |

Harley Quinn isn't your average girl. Ask to take her picture and she's not going to give you the standard runway model pose. She'll tell you to wait so she can go get her mallet or one of her guns. These are some of the different poses you might just come across if you took a look at Harley's Facebook page, aside from all the shots of Mr. J and her pet hyenas, of course.
| | |
| --- | --- |
| Harley's favorite accessory is a blunt object and she sure does love showing it off! Whether she's got herself a mallet or baseball bat, she likes to show that she's ready to knock it out of the park! | Harley's got a prankster side to her too! Sometimes she just likes to give her victims a good scare instead of something more violent! This pose is one of the tricks she likes to do with a toy gun. |
| | |
| --- | --- |
| Harley just loves her mallet! It's a good thing Mr. J's not the jealous type since she might spend more time hanging out with her mallet than she does with The Joker. This pose just shows how good of friends she is with her mallet. | How does Harley show her affection for Mr. J? Like this, of course. Just blow a little kiss to steal the attention away from Batman. |

Really, there's only one man for Harley Quinn. Mr. J has been the love of her life since she laid eyes on him in the mental institute, but it's never a bad idea for a girl to look at her options. After all, there are a whole lot of criminals roaming the streets of Gotham City, so why keep yourself tied to one of them for the rest of your life, right?
| | |
| --- | --- |
| Of course, Mr. J is Harley's true love. Although The Joker might not always treat her undying devotion with the kind of love and respect it deserves, can you blame her? There's something diabolically sexy about a pair of clowns who like to wreak havoc in Gotham. | Okay, so Penguin might not be as handsome as Mr. J, but he does have some serious connections, so he can get all the coolest new toys way before The Joker can get his hands on them. If you get tired of being Mr. J's number 2, you may just want to give this bird a try. |
| | |
| --- | --- |
| The Joker isn't one for thinking too much. He just does stuff and hope it ends up being fun for him. The Riddler on the other hand, is a man who's got a real plan. If you're tired of Joker's erratic plans and need a man who has the next ten moves figured out, then Ed Nigma might be the kind of man for you. | Girls have a hard time choosing between a good guy and a bad boy. With Two-Face as your date, you get to have both, pending the outcome of a coin flip, of course. |

Some bad guys take up to crime when they become adults. Others, start small...literally! Check out some of these options to get your girl ready for a life of villainy as Harley Quinn and company.
There's just something about supervillainy that's adorable when it's pint-sized! You almost just want to let them rob banks and get away with murder instead of calling for Batman. Just remember, that even though they look cute, they might be plotting something truly devious behind your back!
Bane and Harley might not be the most likely of duos, but sometimes opposites make the best teams! Bane might be obsessed with a crazy scheme to purge Gotham City and she might just be crazy, but there's one thing that's clear. Kids make way better supervillains than adults!
Being a crazy and deadly villain isn't just about causing mayhem with some weapons! Sometimes, it comes down to having the best accessories to look a little bit crazy and deadly. These are some of the things Harley likes to wear when gearing up for some villainous activities.
| | |
| --- | --- |
| Listen. You don't want everyone to think you're just some kind of murderous crackpot who follows Mr. J around, just so you can do bad things. Show them your fun and playful side. Some ruffles ought to off-set that giant scary mallet you like to carry around. | Matching stockings? Please! Harley wouldn't be caught dead in them! She likes to mix it up from side to side, which is why she has a whole drawer full of stockings like these ones. |
Fashion forward villains don't just walk around wearing a pair of solid color heels! Okay, so maybe some of the boring ones might, but Harley Quinn likes to make sure things are wild even when it comes to her feet. These checkered heels are her way of being wild while keeping up with her sense of style.