Arkham City Harley Quinn Costume
Product Includes:
Top

Belt

Pants

Choker

Gloves
Product Measurements:
Measured In: Inches

|

Centimeters
Size
Chest
Shirt Waist
Top Length
Pant Waist
Pant Length
X-Small
28" - 32"
24" - 28"
17"
19" - 34"
31"
Small
29" - 36"
28" - 32"
17"
19" - 36"
32"
Medium
32" - 38"
30" - 35"
18 1/2"
21" - 38"
33"
Large
36" - 41"
34" - 40"
19 1/2"
23" - 42"
34 1/2"
Size
Chest
Shirt Waist
Top Length
Pant Waist
Pant Length
X-Small
71cm - 81cm
61cm - 71cm
43cm
48cm - 86cm
79cm
Small
74cm - 91cm
71cm - 81cm
43cm
48cm - 91cm
81cm
Medium
81cm - 97cm
76cm - 89cm
47cm
53cm - 97cm
84cm
Large
91cm - 104cm
86cm - 102cm
50cm
58cm - 107cm
88cm
How to take your measurements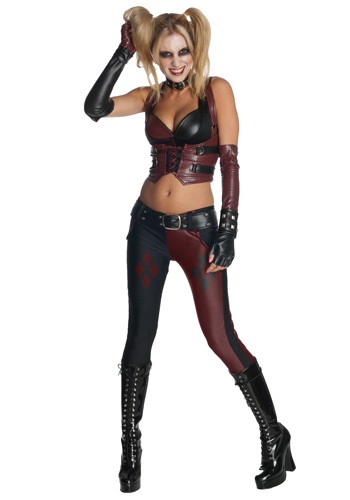 Product Description
You'd have to be crazy to fall in love with a clown psychopath and Harley Quinn is just that. This former psychiatrist was in change of analyzing the Joker while he spent time in Arkham Asylum but instead became utterly infatuated with him. Knowing that she had to be with her main man Mr. J she helped him escape and has done that many, many times for him. But now that part of Gotham City is now a prison and the Joker on his deathbed it is up to Harley to make sure his gang does what they can to take on the dark knight. Now you can look like Miss Quinn from the hit video game in this costume!
Black cropped bustier with maroon vinyl corset on top
Low-rise pants with vertical panels of maroon and black
Black vinyl belt and choker with fake buckles on them
Vinyl elbow-length gloves in black and maroon.
Product Reviews For:Arkham City Harley Quinn Costume2 Total Reviews
Awesome likeness
This costume is pretty much as close as you're going to get to Arkham City Harley unless you're looking to go the (more expensive) custom-made route.

Pros:

- It looks good.

- It has a snug, accurate fit.

- The pieces are made of comfortable materials.

- Includes gloves, belt, and dog collar (which are key pieces).

Cons:

- The top and bottom are made of different materials. This isn't really obvious on camera, but it might bother someone who's more detail-oriented.

- The collar felt a bit loose (had to add extra velcro to get it to fit all the way around).

- The top is a bit roomy. I ordered the XS, and while the pants fit perfectly, I had to readjust the top because it wasn't fitting snugly (could be due to my body shape, but other smaller-busted shoppers should keep this in mind).

All around, though, I felt that the costume was a very good value for the cost. Would definitely recommend.

---
Fit Finder
For additional help: