Mickey Mouse Costumes
Results: 1 - 25 of

25
It's no fluke that The Walt Disney Company is referred to as "the house the mouse built." Mickey Mouse is one of the most popular and recognizable cartoon characters in the world, and with his friends Minnie Mouse, Donald and Daisy Duck, Goofy and Pluto has been featured in more than 130 films. Mickey was the first cartoon character to be honored with a star on Hollywood's Walk of Fame, and he regularly receives write-in votes in many U.S. elections at local, state and national levels.
Mickey was born in 1928, the brainchild of Walt Disney and Ub Iwerks, as the replacement for Oswald the Lucky Rabbit, a character to which Disney had lost the rights in a contract dispute. Disney then started his own company and began producing cartoons based on a new character whom he originally named Mortimer. Disney's wife, Lillian, persuaded him to change the name to Mickey, and the rest is history. Mickey's official screen debut was in one of the very first "talkie" cartoons, Steamboat Willie. Over time, ten of Mickey's cartoons would be nominated for Best Animated Short Film at the Academy Awards, and 1942's Lend A Paw won the award. Disney himself was Mickey's voice until 1946, and again for a few years in the late 1950s. Mickey's first, and arguably most iconic, feature film role was as the Sorcerer's Apprentice in Fantasia in 1940.
Visitors to the Disney theme parks can meet Mickey and his friends; Mickey has been featured on wristwatches and in many toys and games. Now you can become Mickey or one of his friends in our Mickey and Minnie Mouse costumes. They come in sizes for adults and kids, and let you bring the world's most famous mouse couple to life!
MEDIA /
Mickey Mouse Costumes

Whether you want to look just like the iconic Disney mascot, or do something a little more original there's lots of ways to wear a Mickey Mouse costume. So long as you are wearing a pair of large black mouse ears on your head you can be as classic or creative as you want. No matter how you decide to dress up Mickey, we're sure that Minnie will still think you're the most handsome guy around.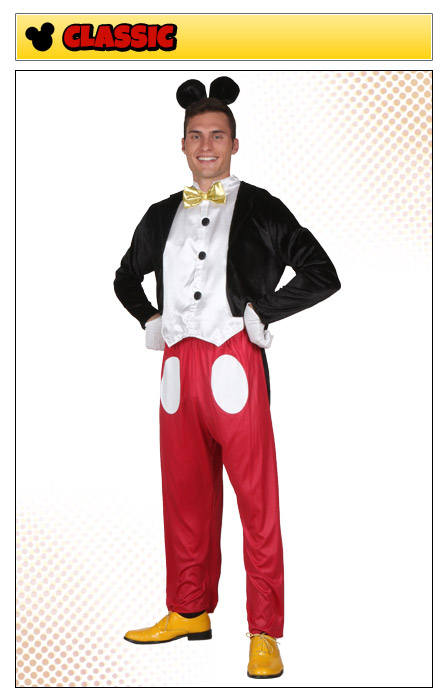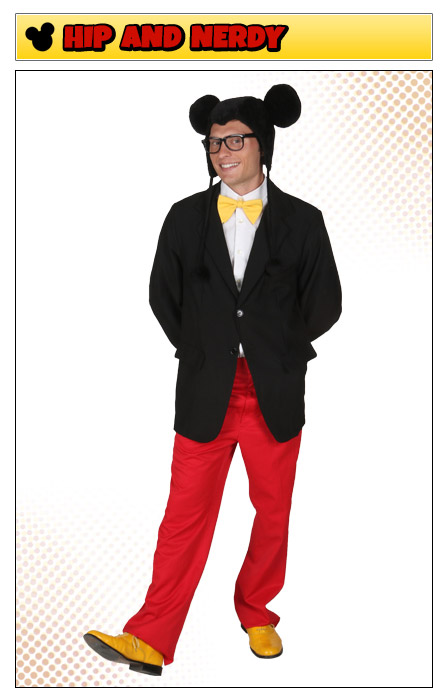 | | |
| --- | --- |
| Mickey cleans up quite nicely! Even Minnie has to agree that his classic look is one class act. | Hipster Mouse? Mickey Mouse was cool before it was cool to be cool. Put on your thick rim glasses, get yourself a coffee, and hipster it up! |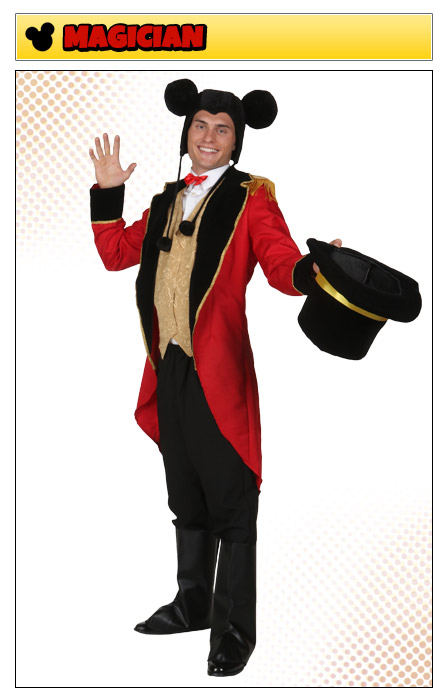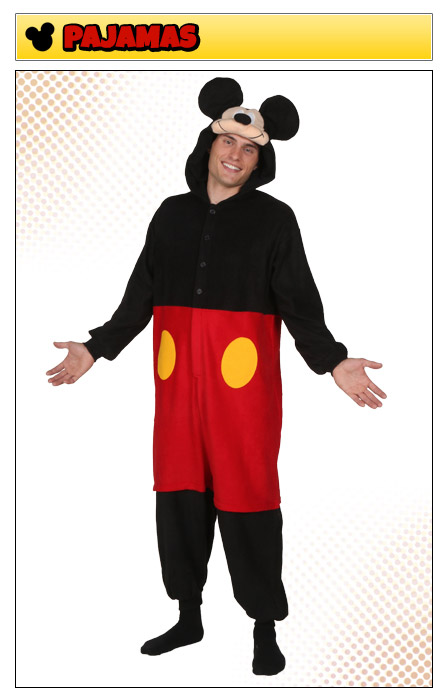 | | |
| --- | --- |
| Mickey likes to dabble in magic now and again. Ever seen Fantasia? Just be careful around brooms when you're sporting this version of Mickey's look. | Do you know the secret to Mickey Mouse's youthful look after almost 100 years of living it up on the silver-screen? He always takes his naps! This pajama version is your best way to sleep, the Mickey way. |

Mickey Mouse has lots of friends and if you're the same then check out these fun costume ideas! Now everyone you know can have fun right along with you when you wear your Mickey Mouse costume!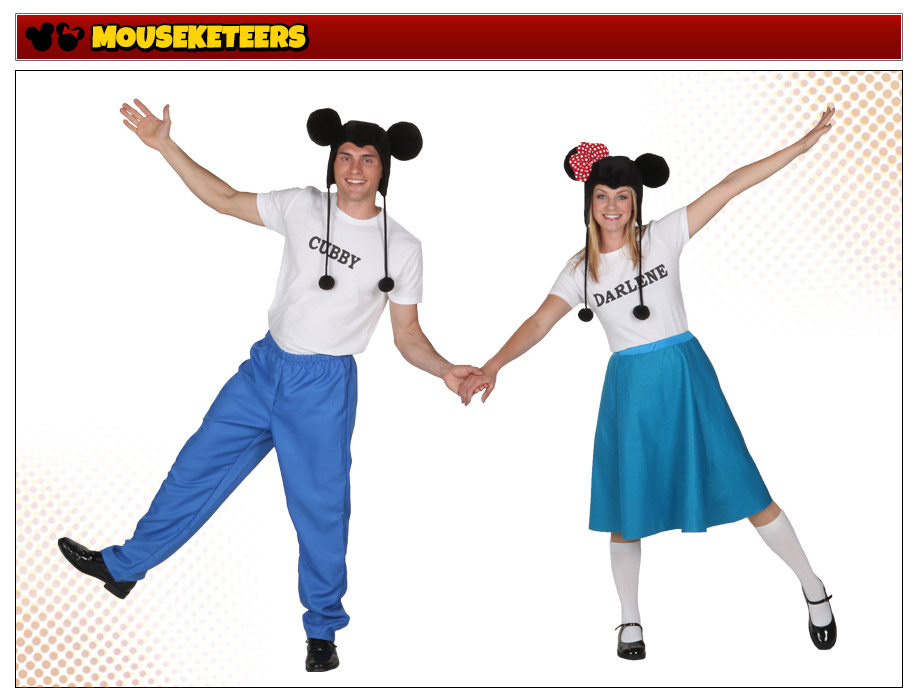 The Mouseketeers were a happy, friendly bunch who will be instantly recognized by all of their fans! Sing and dance all night just like you would on the set of the Mickey Mouse Club.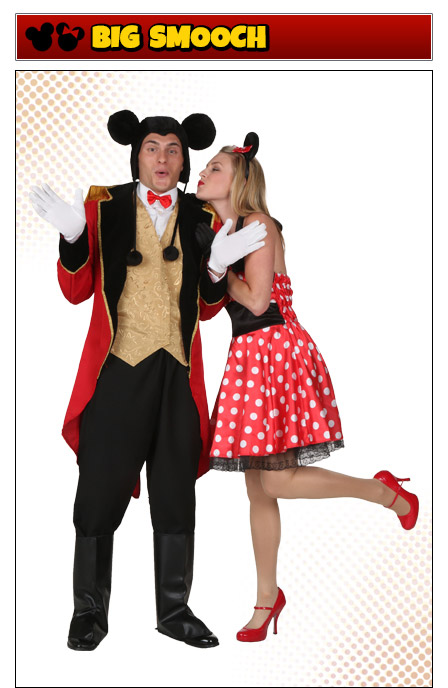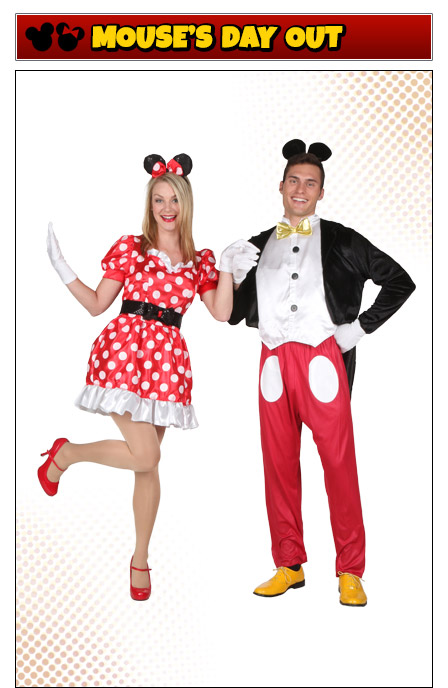 | | |
| --- | --- |
| Mickey's just so darned adorable, it's no wonder his favorite gal, Minnie, can barely keep her lips off of him! | Minnie and Mickey like to hold hands! And they look so cute doing it too. |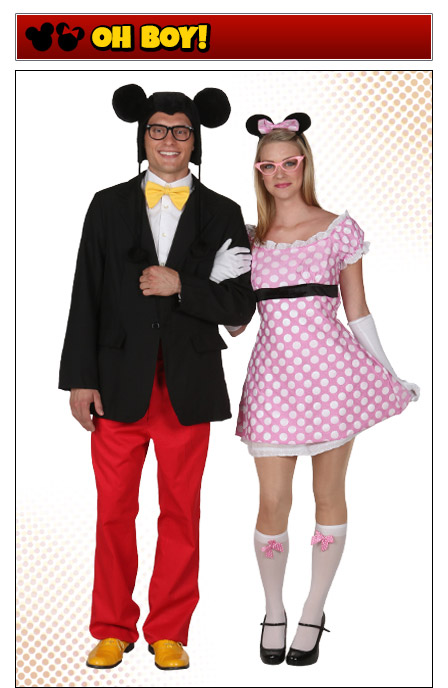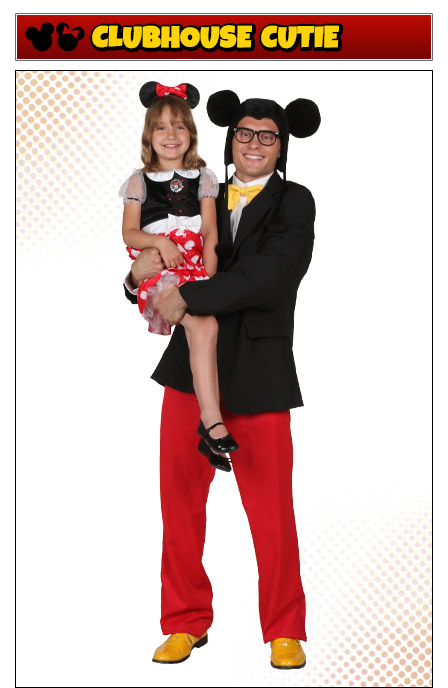 | | |
| --- | --- |
| Mickey knows how to treat a gal! Just ask Minnie, she's been with him for decades. It does help that this pair was made for each other! Locking arms and taking a stroll? Is there anything more romantic? | Mickey's adorable enough on his own, but add a little Minnie with him and he's too cute for school! |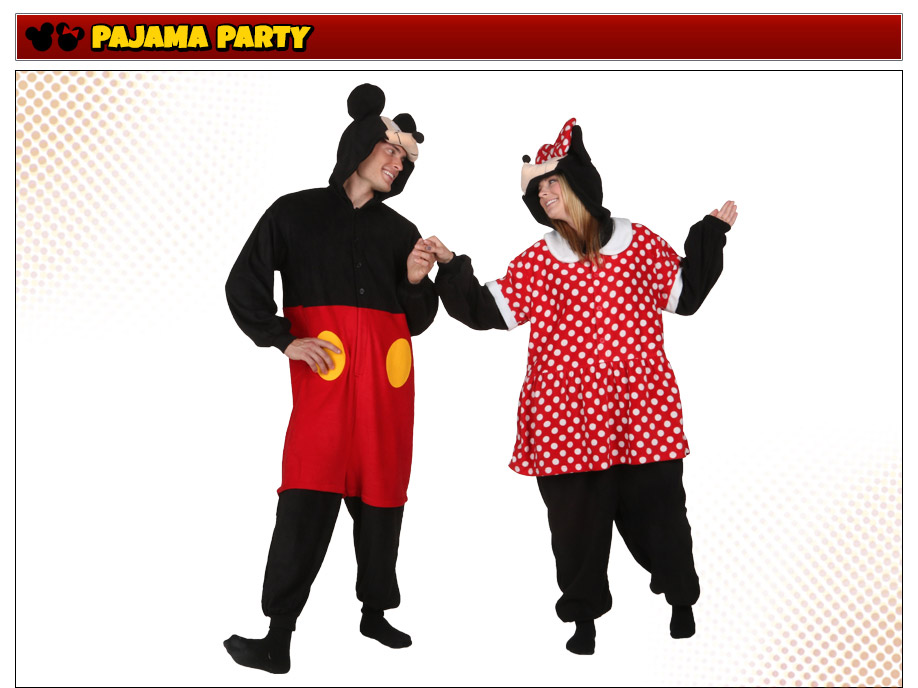 Dress in coordinating Mickey Mouse and Minnie Mouse pajama costumes for couples look that's as comfortable as it is adorable! This couple is going to be envied by all because it's clear they've mastered the art of relaxing while simultaneously rocking costumes that everyone will be jealous of. When looking great is this effortless, there's no reason not to be the cutest couple at the party!

Little Mickey Mouse fans deserve to look like their favorite cartoon mouse! With these kids Mickey Mouse costumes, they have a variety of options from classic to cozy to do just that. In either case, it's clear he's going to command his audience's attention with his charming good looks!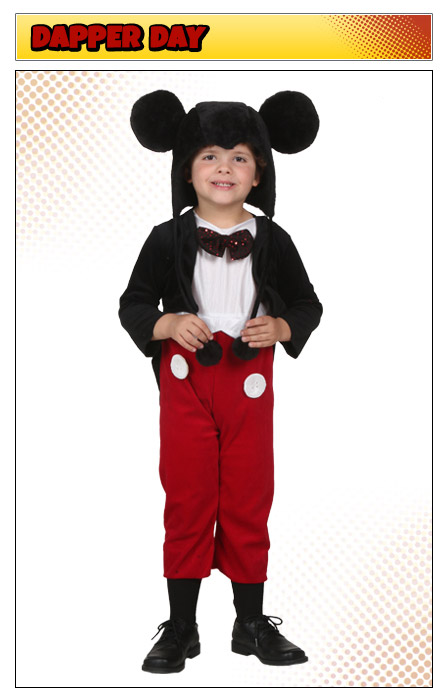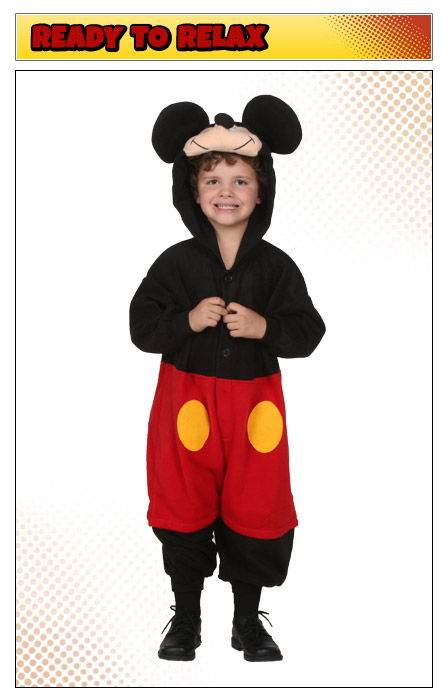 | | |
| --- | --- |
| Little Mickey's all dressed up and ready for a party! We think he could teach his grown up counterparts the right way to rock a tuxedo because he looks really great. | Time for a Mickey-style nap? He's got some pajamas just for that occasion! Now he can head straight to bed after trick or treating and his loot will then be 'fair game' for mom and dad! |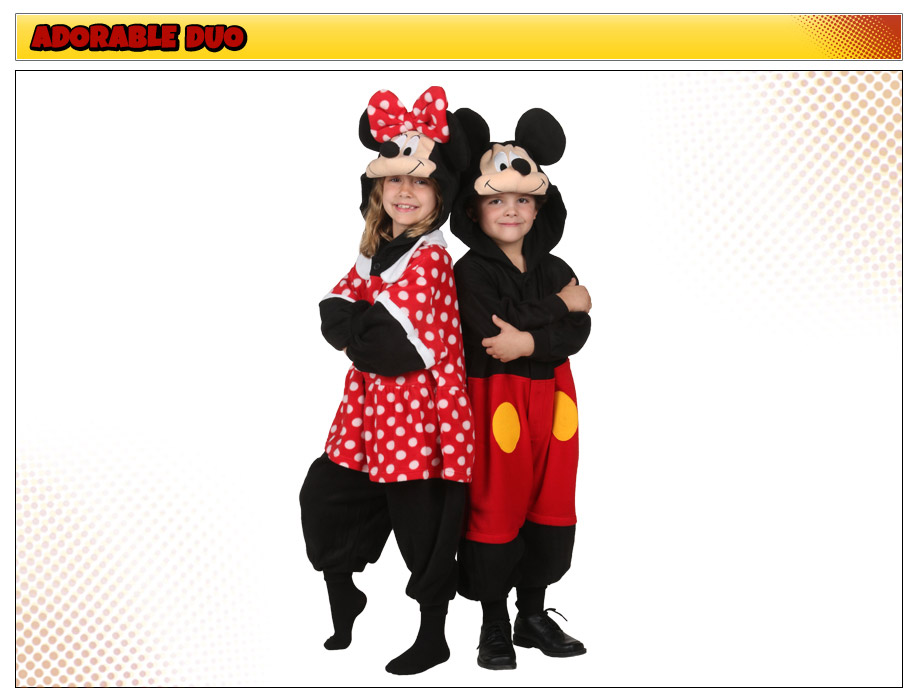 If he loves watching Mickey Mouse while hanging out with his best friend, then he'll enjoy relaxing with her in coordinating Mickey and Minnie costumes. These two cozy kids are almost too cute for their own good. I see many bonus pieces of candy in their future just for looking this adorable.