You know how we're always being told that there is no magic pill or potion that will instantly give us perfect bodies? Well, apparently Steve Rogers didn't get that memo. This guy was given an experimental serum by the U.S. Government and next thing you know, he's a super soldier complete with a superhero persona we've come to know as Captain America. And if being enhanced to the peak of human perfection wasn't enough, he was given a virtually indestructible shield to both arm and protect himself. Some guys have all the luck.
While we cannot score you any of that special serum, we can make you over into a superhero resembling Captain America. We've got the snazzy (or spangly according to Iron Man) super suits worn by the Captain in the features films you've seen him in as well as looks that mimic his comic book appearances. And if you're looking at your physique and thinking that you don't quite have the same muscle profile as Captain America, fear not. We have muscle enhanced costumes too! Not quite a magic pill, but it's the next best thing.
Let's not forget the shield. Made from an experimental combination of steel and vibranium this shield puts ordinary weapons to shame because it cannot be destroyed. Also, he looks cool carrying it and has a trademark ricocheting shield-toss that's always impressive. While we can't really help you with the shield-toss skills thing, we can help you get a shield. Whatever costume style you choose, we've got the shield accessory to match.
Costume with muscles? Check. Super shield? Check. You should be all set! One last thing though. If you're the guy who just finished reading this and is now saying to himself, "Hey man, ain't no one got time to be a running around like a superhero. When is a guy supposed to relax?" then you should know that we hear you and we still want to help. A Captain America hoodie will look just as heroic as the uniform, but will keep you comfortable. A comfortable superhero, is still a superhero.
MEDIA /
Captain America Costumes

Here are all of the essential poses and moves that you need to memorize in order to become Captain America. While dressed as the Cap, you might not face actual danger that leaves you fighting for your life but still, you've got to give the people what they want. And what they want is to see Captain America act cool. So assume some of these tried and true poses and everyone will be happy.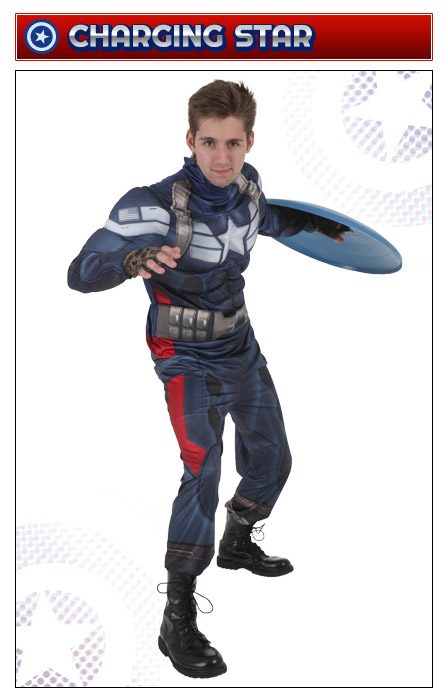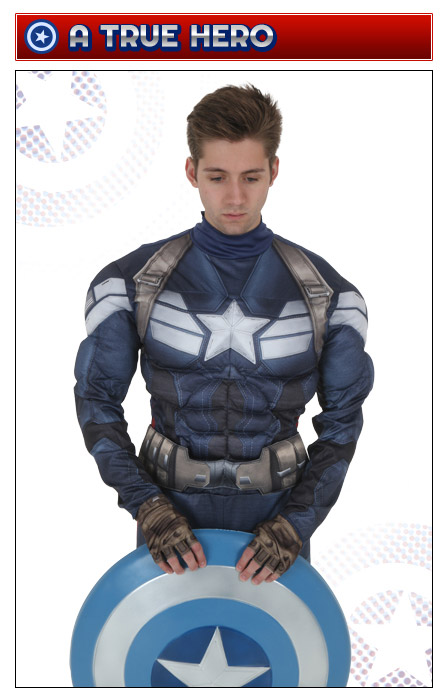 | | |
| --- | --- |
| Captain America isn't afraid to charge in and get the job done, even if it's dangerous. So with your shield in tow, run towards the danger and be the hero we all know you can be. | Sometimes Captain America is forced to question everything he thinks he knows about the world. His moral compass wants him to always do the right thing. But what happens when you're not sure what the right thing is? Think about it. |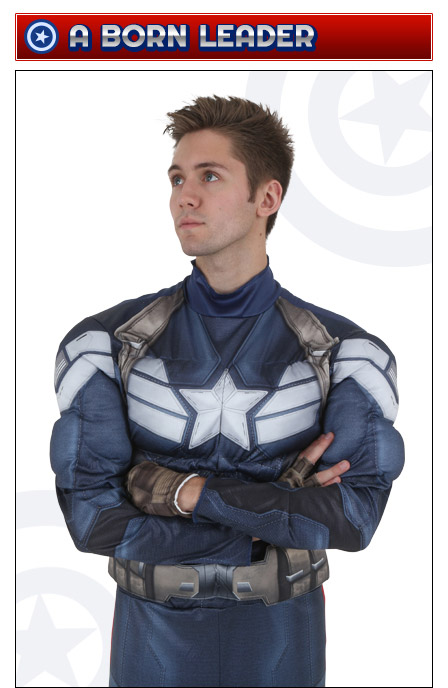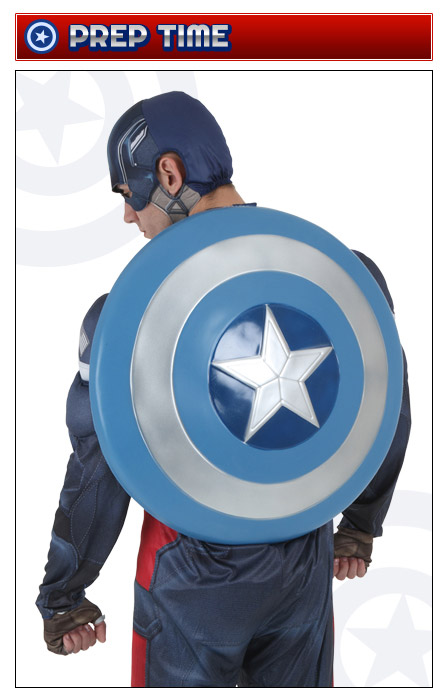 | | |
| --- | --- |
| Ever since the day he became a super soldier he has known and accepted that it's his responsibility to not just follow orders, but to lead. Show confidence and others will naturally respect and follow you. | Just before you leap from a plane or jump from a moving vehicle to confront the enemy, take a minute to mentally prepare your strategy. (Actually, DO NOT leap from any vehicles. You will be hurt since you didn't get a shot of this guy's super serum.) |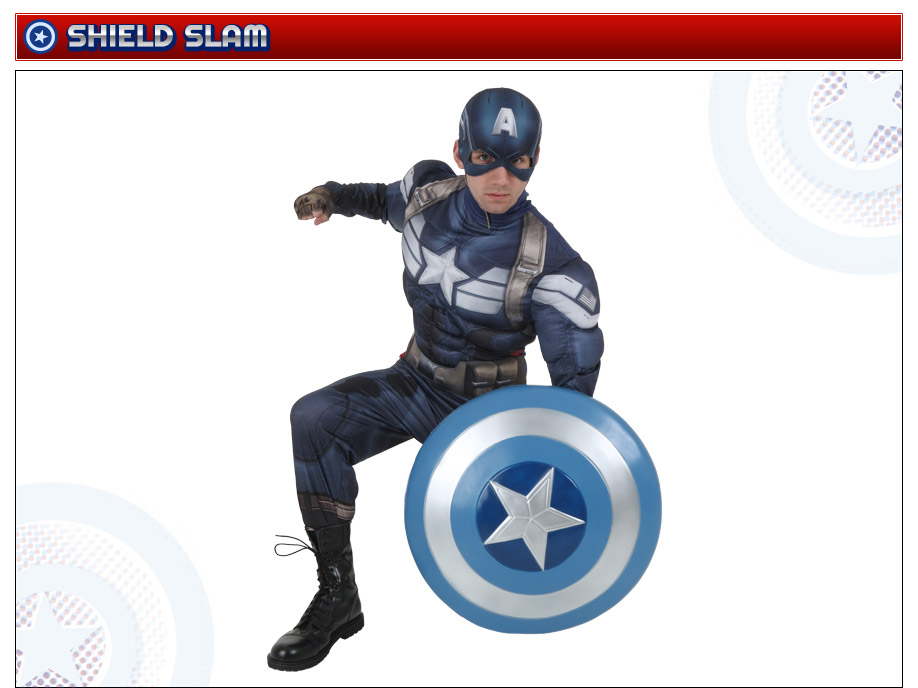 Captain America looks super awesome when he's slamming his shield against the ground. It's a show of strength that reminds everyone that he's more than a soldier who knows some awesome fight moves. He's the captain. If you want everyone to remark how epic you look as Captain America, do not forget this essential move.

Check out our complete collection of Captain America costume options for men and women. From comfortable t-shirt and hoodie options to elaborate replica jumpsuits there are lots of ways to become the First Avenger. And that goes for the ladies as well. Pick the costume that you'll be most comfortable in to play the role of everyone's favorite patriotic hero.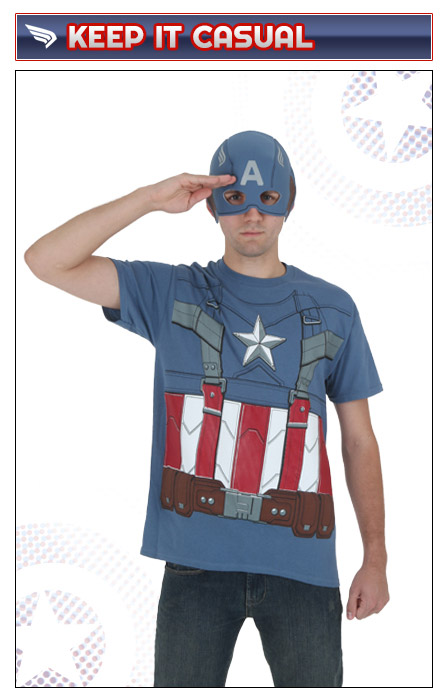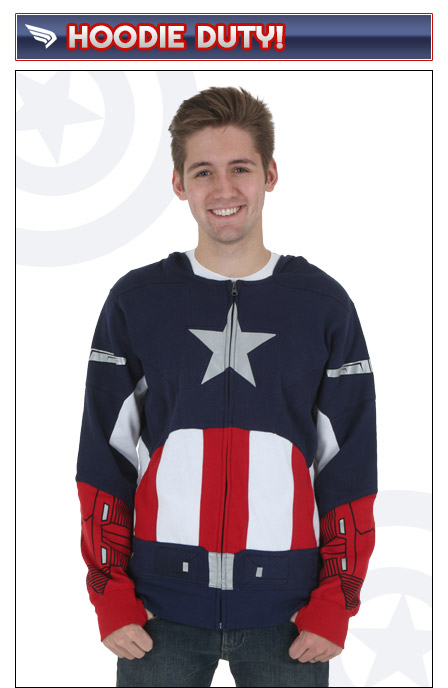 | | |
| --- | --- |
| Fighting off bad guys doesn't automatically mean having to wear tights. We know you're ready to commit to the whole hero thing, and we don't want a detail like your wardrobe preferences to get in the way. So here is a costume that looks best paired with a pair of jeans. You're welcome. | Need something a little warmer than a t-shirt? This Captain America hoodie not only is designed to look like you're wearing his signature uniform, it has a hood attached that forms a mask. It is so comfortable that it will convince you that being a superhero isn't very hard. |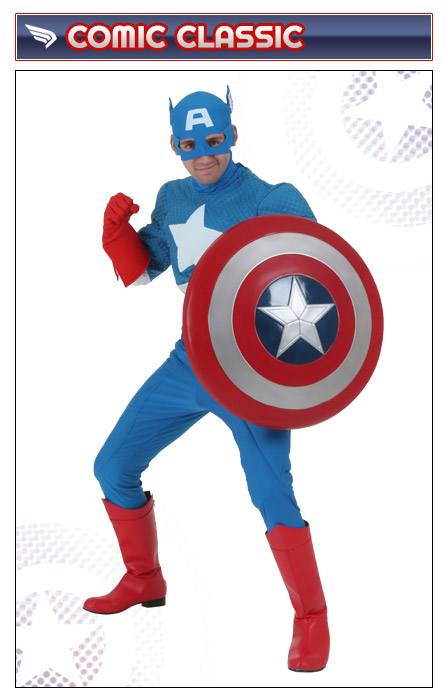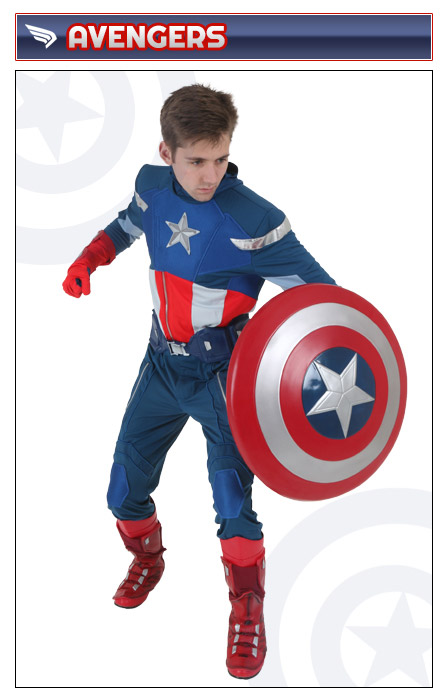 | | |
| --- | --- |
| If you are a guy who laughs at all of the fans that think they know Captain America just because they watched a couple of movies then this suit based on the comic book version of the Cap is probably what you're after. Because you liked him before it was cool, we know. | Looking for the spangled suit that Iron Man talked about in the Avengers movie? This costume is an officially licensed replica of that suit and paired with the shield you might almost think you could defeat invading aliens when you see yourself. (If aliens DO invade, we're not saying that the suit will help. But it probably won't hurt either.) |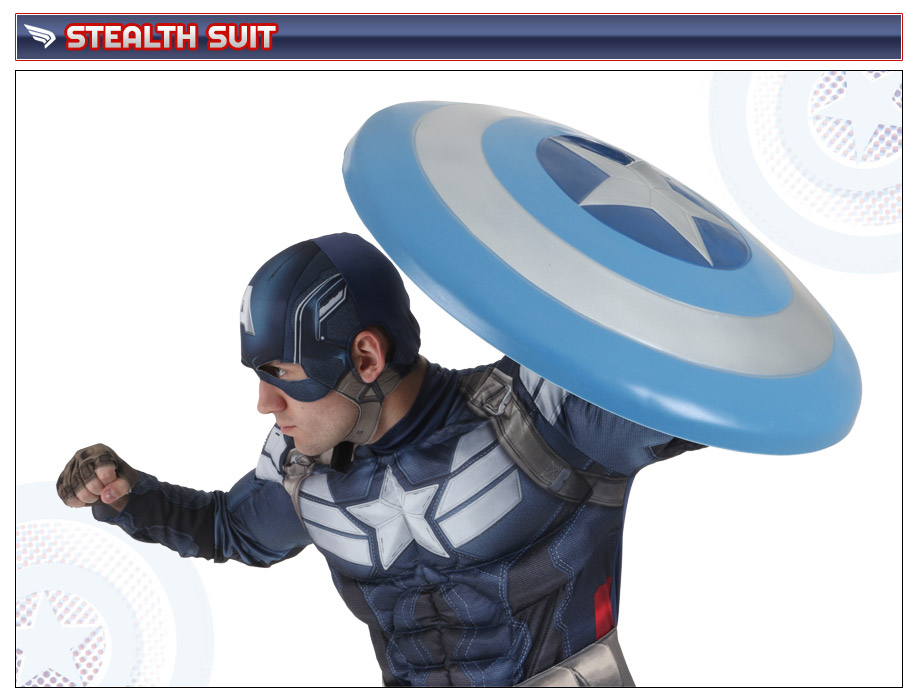 Captain America debuted his stealth suit in Captain America Winter Soldier. He wore it when he was deployed by S.H.I.E.L.D. on a special mission and it didn't let him down. Add the coordinating stealth version of his shield and you'll have the complete package.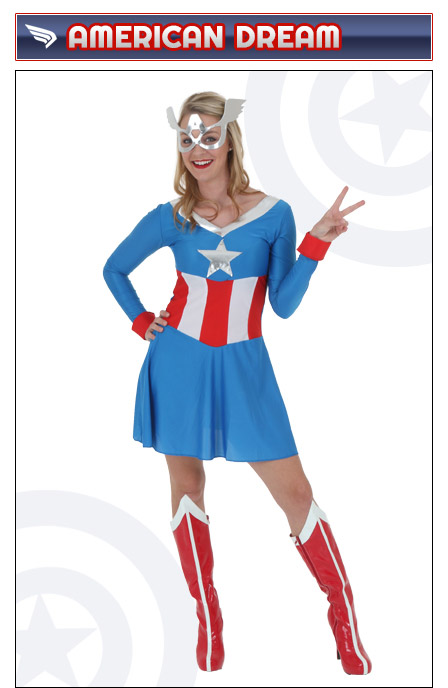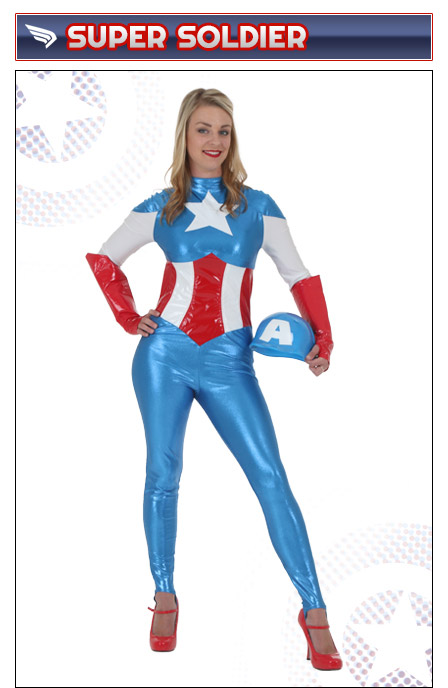 | | |
| --- | --- |
| This female version of Captain America is just as patriotic as the men's version. But since it shows off your great legs you're bound to get the most compliments about how super you look. | You don't need a costume with a skirt to become a female superhero, you just need one that fits. This Captain America jumpsuit is specially designed for the ladies so that you can look as fierce and serious as any other hero. |

Captain America Winter Soldier was a blockbuster hit in the theaters and if your young superhero in training couldn't get enough of those characters then you'll want to check out this collection of officially licensed costumes from the movie. He can pick from Captain America, the Falcon or the terrifying Winter Soldier himself.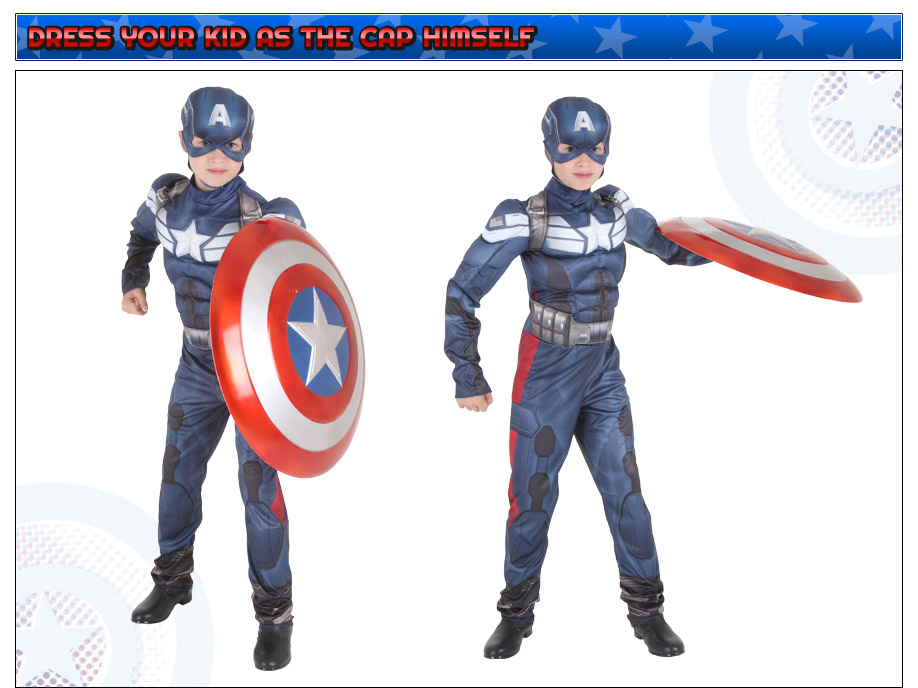 He can become America's greatest soldier in this detailed Captain America costume for kids. This suit not only looks just like the uniform worn by the Cap in the movie, it comes complete with soft muscle padding in the chest and arms. That's right, no need to use experimental government serums on your kid, he can just wear the suit with the ready-made muscles.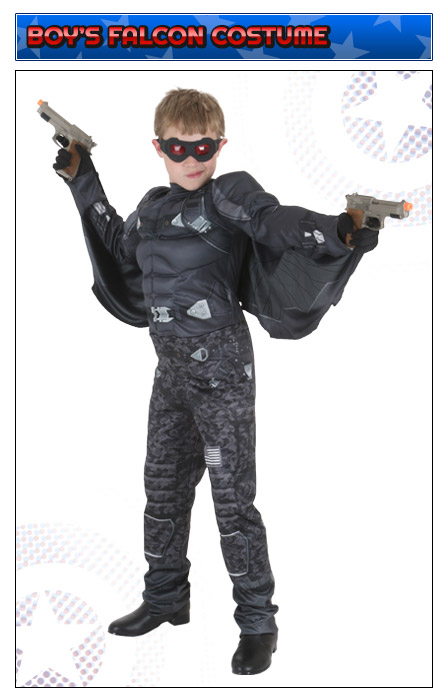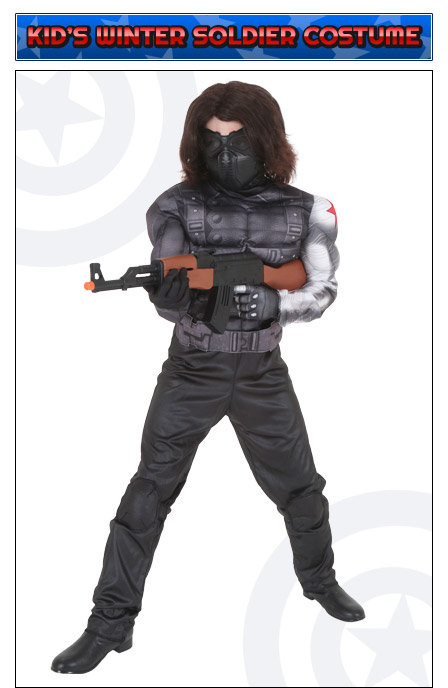 | | |
| --- | --- |
| The Falcon joined forces with Captain America and Black Widow to defeat their enemies, and became a trusted friend and ally. If the Captain needs a favor, he doesn't even need to ask, the Falcon will be there. | In the movie, we find out the real identity of the Winter Soldier. This deadly enemy is someone important from Captain America's past and he goes after his targets with an unstoppable determination. |

Looking to partner up with someone as super as you to share the glory while dressed as Captain America? Here are a few suggestions for who could serve as your sidekick or significant other. Whether you prefer the classic comic book uniform or want to wear Captain America's current suit from the latest movies, there's a coordinating super lady that can fight at your side!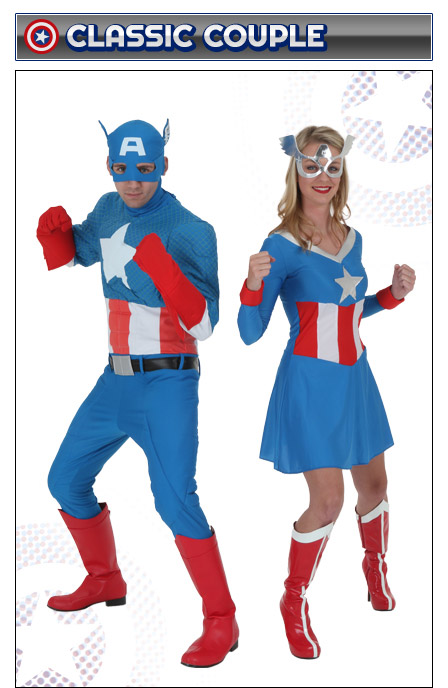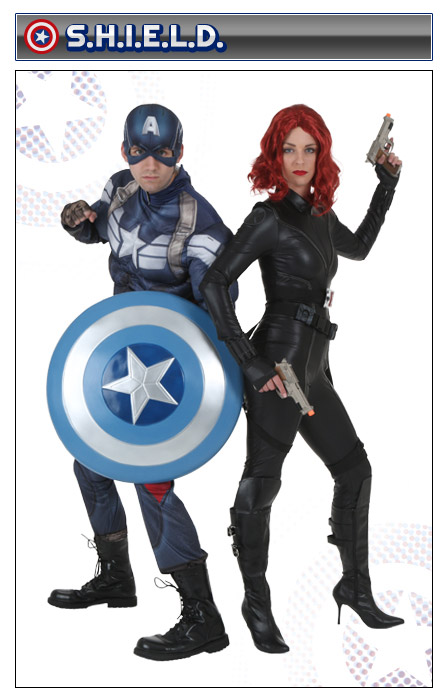 | | |
| --- | --- |
| This super duo is all about showing their strength as a team. In their coordinating Captain America and American Dream uniforms they will be the patriotic super couple that can't be beat. | In Captain America 2 the Cap and Black Widow made an ideal team. If you want to show everyone how well you and your own significant other work together then these two superhero suits are ones you should try on. |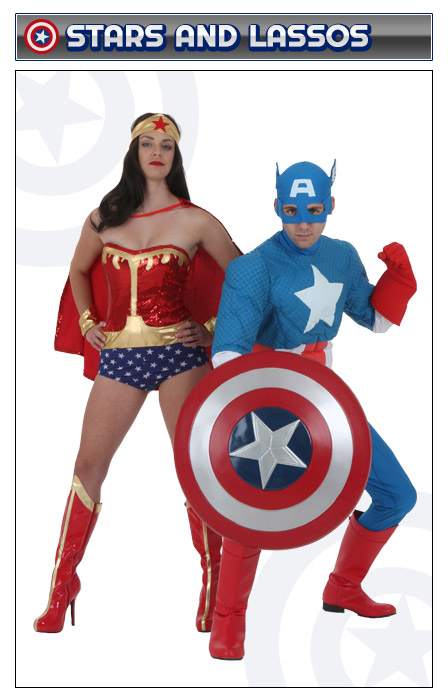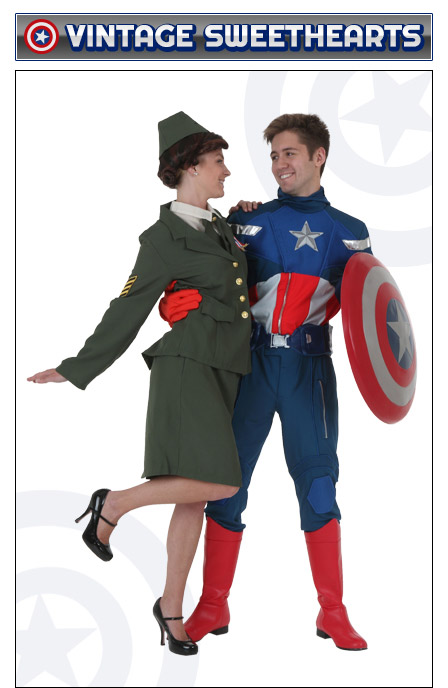 | | |
| --- | --- |
| For the record, we're not trying to break the internet. We are well aware that these two characters do not exist in the same comic book universes. That tiny fact aside, these two look like they've always belonged together don't they. Wonder Woman and Captain America working side by side to rid the world of evil is a winning combination if we ever saw one. | For a couples who loved the romance between Steve Rogers and Peggy Carter then these coordinating looks will help you revive their relationship. Together they will stop Red Skull and become the cutest couple to ever thwart Hydra. |

Bored with the idea of playing a good guy? Try out one of these Captain America villain costumes instead. We have his most dangerous enemies from both movies for you to choose from so that you can decide whether you want to be a threat from his past or his modern day nemesis. Both of these villains have strong connections with Hydra and should not be underestimated.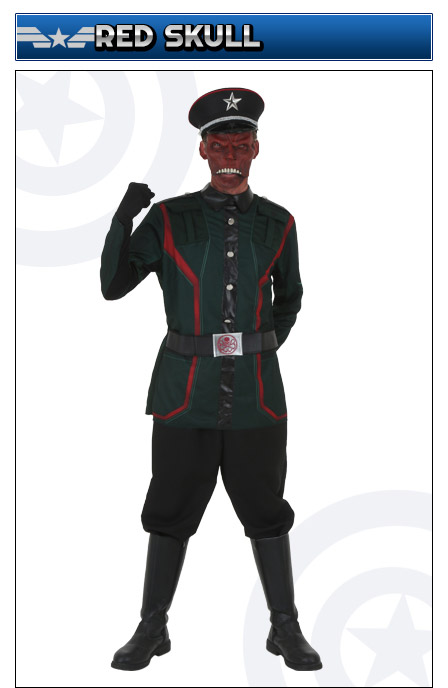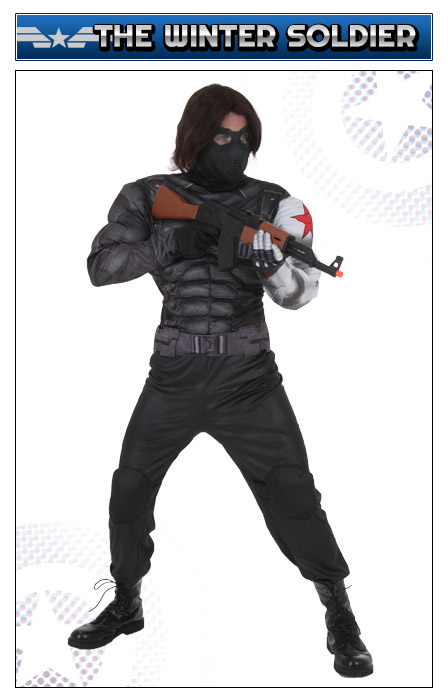 | | |
| --- | --- |
| Red Skull was the villain from the first Captain America movie who was Adolf Hitler's head of advanced weaponry. His goal? World domination of course. Like the Cap, he's had a dose of the super serum but that's where their similarities end. This guy is bad through and through. | The Winter Soldier is revealed to be a human weapon created by Hydra. They continually reset his memories and ensure that he remains nothing more than a killing machine under their complete control. His true identity is revealed to be someone very important in Steve Rogers' past. |

Before you rush out to save people from evil, make sure you've gotten all of the proper gear. You wouldn't want to arrive on the scene where you help is needed only to realize you forgot to get a shield or proper pair of superhero gloves would you? No, you wouldn't. So take inventory and make sure all of the accessories you need to be extra super are present and accounted for.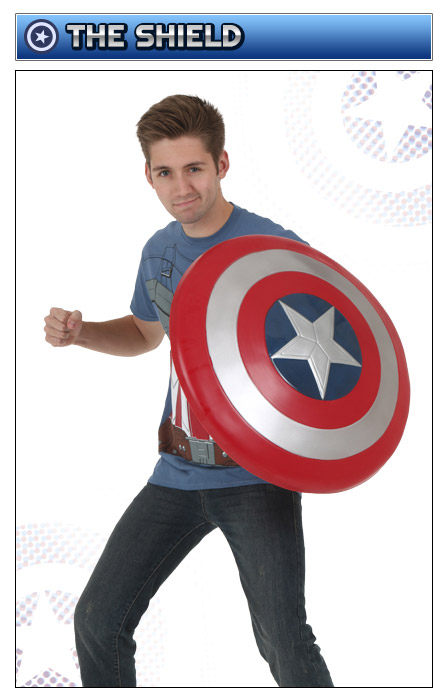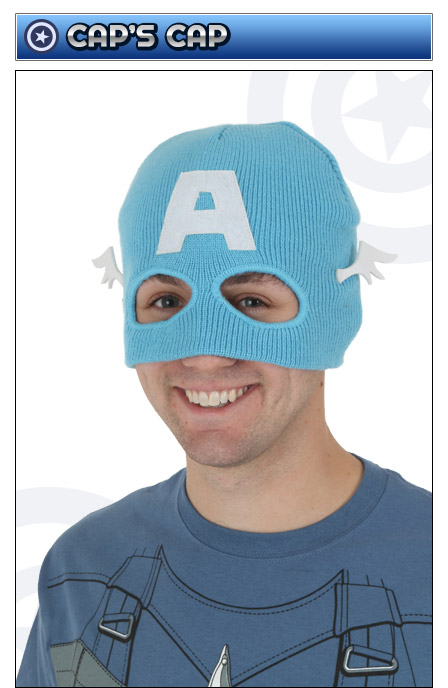 | | |
| --- | --- |
| The shield is a given, right? Can you imagine the constant questioning you'd be subject to if you decided to be Captain America and not carry a shield? No shield? How will you block bullets? What will you throw at your enemies? It doesn't make any sense to not have a shield. | With this Captain America cap, you can have a great costume accessory and warm winter essential all in one. If that doesn't sound like the stuff of superheroes we don't know what does. |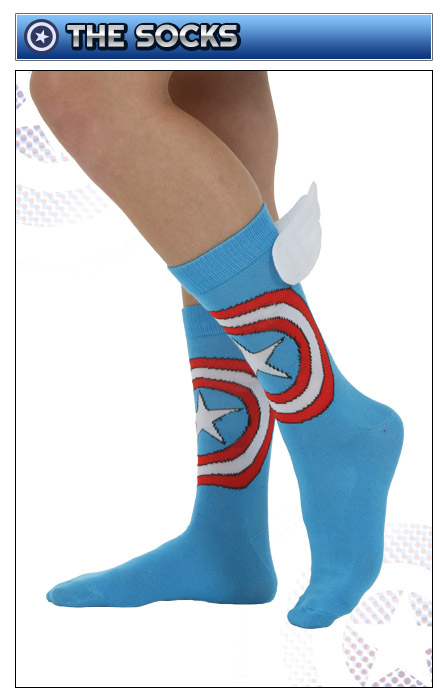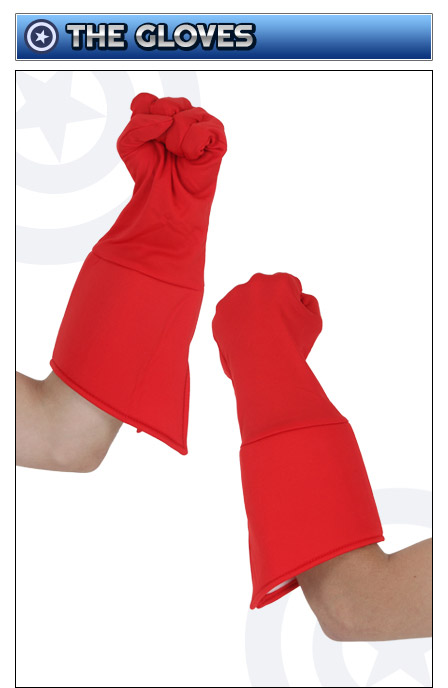 | | |
| --- | --- |
| Captain America socks with the shield symbol and wings on the side? Yes please! Wear these with any outfit and instantly feel more super. Perfect for days when you're faced with a test at school or a difficult deadline at work. You'll feel unstoppable! | Beating up bad guys can be rough on the hands. To avoid blemishing those fair fingers, put on a pair of red gloves. They will match your Captain America uniform perfectly and help protect two of your best weapons: your fists. |