Batgirl Costumes
1 - 51 of 51
---
1 - 51 of 51
Barbara Gordon was the best-known characters to assume Batgirl's mantle, but she wasn't the only one. And the classic Batgirl image is of Yvonne Craig playing the role in the 1960s Batman TV series. But she's more than just another pretty face. She's also smart and resourceful.
Batgirl is a cultural icon who has bolstered the image of librarians, disabled persons, and women in general. She made her debut as a feminine copycat of Batman, but soon made her own mark on the DC Comics universe.
You or your daughter can become Batgirl in one of our costumes. They come in sizes from toddler through women's plus. The women's costumes come in sexy and revealing versions and also form-fitting full-coverage jumpsuits.
You can show Gotham City just what you're made of!

Batgirl Costumes
How to Be Batgirl
Ideas, Tips & Tricks
Are you ready to hit Gotham as the city's top female crimefighter? It won't take long for the denizens of the city to forget about Batman when they see you hit the scene as Batgirl. With a variety of costumes, we're guaranteed to have the right look for you to take on the famous DC character. But if you're a little worried about making sure your cosplay lives up the legacy of the those that filled her shoes before you, fret no more. We've assembled our favorite poses, costume combinations, and catch phrases so that you can make the most of your time with the cape. Pick the right look, study up, and you're sure make your next costumed event one for the ages!
How to Pose for Pictures in Your Batgirl Costume
Batgirl Poses
While there's sure to be great adventures in store for a costumed Batgirl, there's one thing that this look was designed for above all other. Starring in all of the group shots and selfies! Make sure that your Bat-poses are worthy of everyone's likes, hearts, and favs by studying up on some of our go-to moves. With these cool poses in your repertoire, you're sure to be a star.
"Batarangs Aren't Just For Boys"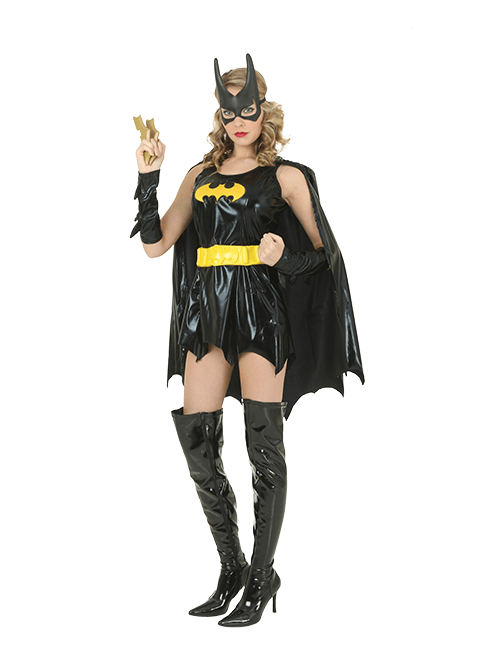 Like Bruce Wayne, Batgirl doesn't have super powers or abilities, so it's going to take some sharpshooting prowess with a Batarang to be swinging from rooftop to rooftop. Grab your accessory, take aim... and wait for those photos to be snapped. This classic pose will guarantee that your costume look gets posted in the Instagram feed!
"Stand Strong"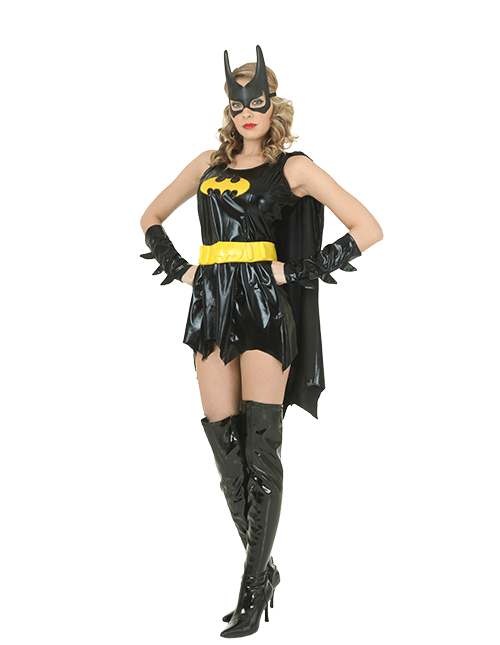 Batgirl has typically fallen into the sidekick typecast, but that doesn't mean she can't stand strong on her own. Whether you're facing off in battle or are just looking to grab that last plate of nachos, you're going to want to make sure that you can pose with an air of intimidation. Put your fists on your hips, jut out your arms, and make sure your posture is perfect. You're going to be the hero of this night!
"Intimidate Them"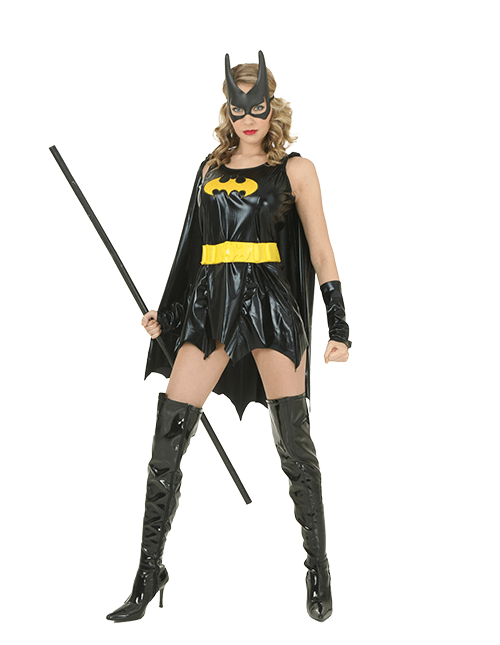 Whether you're armed with a bo staff or are intent on taking out this band of ruffians with your bare knuckles, you're going to want to be able to let these villains know that this fight is NOT going to go their way. Stand tall and make eye contact to take a stand against crime (or even just a minor party foul...). With you on the scene, all the bad guys are going to be Jokers!
"Super Cape"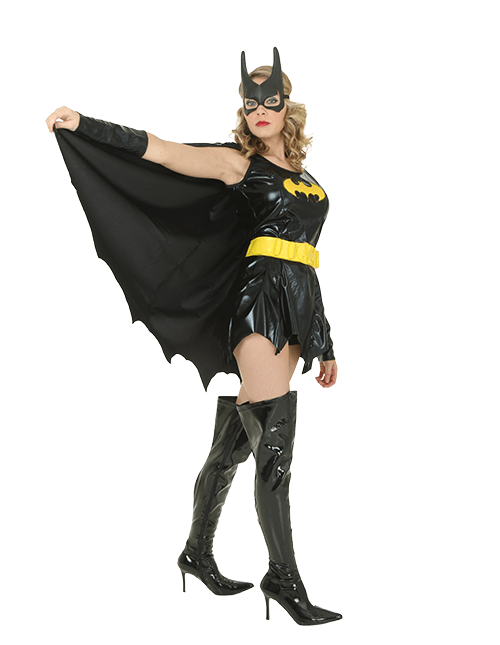 Being a caped crusader just means you have an extra tool in your toolbox of great poses. Maybe you'll imagine yourself standing at the edge of a roofline, or maybe you just want to try to stop your frenemy from photobombing the big shot. Whatever the reason, you're going to want to have a cape pose ready to go. Draw your arms out , let the cape flutter, and project your 'tude with your stunning stare!
Couples Costumes to Pair with Batgirl
Batgirl Couples Costumes
While Batgirl is the perfect choice for a strong, independent lady... well, there's nothing wrong with bringing along a date for the night too. Truth be told, with danger lurking around every corner in Gotham City, it's probably not a bad idea to have a buddy along! Check out these classic costume combinations to help decide which partner you're going to tackle the scene with.
Batman and Batgirl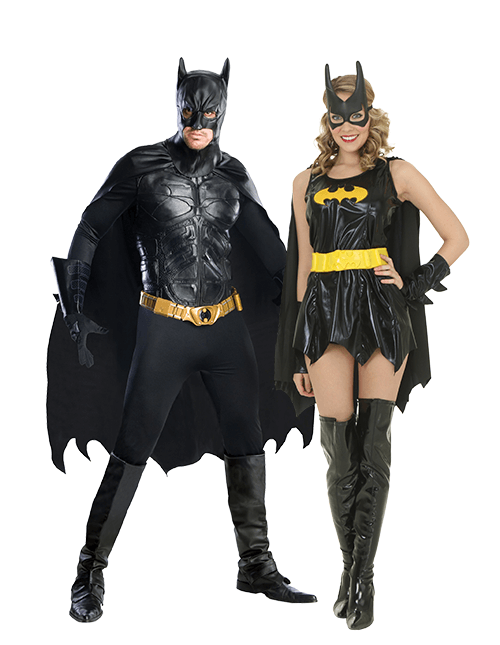 While Batgirl is typically portrayed as a protege or sidekick to Batman, you can put whatever spin you'd like on the relationship when you pair up with The Bat for your couples costume. You might be BFF or madly in love, but either way we're sure The Joker is going to end up getting his butt kicked! Try pairing our authentic costumes for an on-screen worthy look.
Robin and Batgirl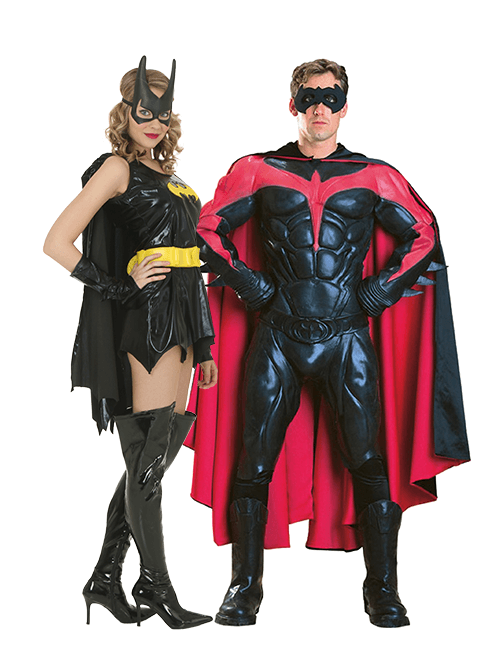 If romance is the definitely the flavor of your costume partnership, Dick Grayson would be the perfect choice for your couples combo. The original Robin (and later Nightwing) has had an on-again-off-again relationship with Batgirl for years. We have to say these two make a pretty cute (and very intimidating) couple!
How to Talk Like Batgirl
Batgirl Quotes
We'd like to offer one last piece of advice for your big costumed event. Don't just walk the walk, talk the talk! With some of Batgirl's most famous phrases in your pocket, you're sure to have the boost of confidence that will have everyone thinking that you're the real deal. With the right look and a few choice quips and catchphrases, you're sure to steal the show! Study up on these famous quotes to make sure you have the right words for any situation.