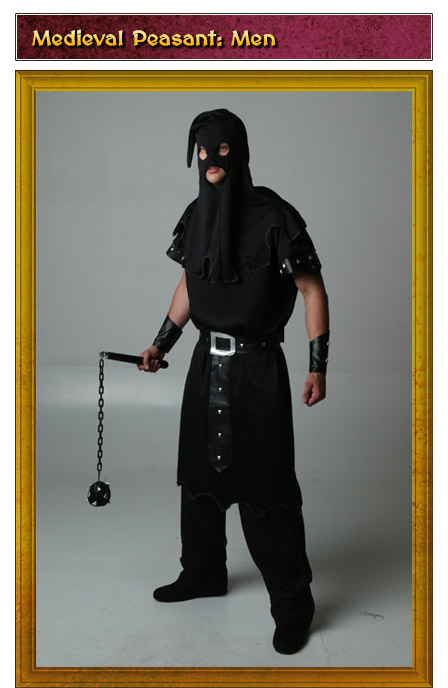 If you were a man born as a peasant in the Middle Ages, you were very likely a manual laborer. You did farm work, quarrying, road building or forestry. You probably didn't know how to read or write, and could only do enough arithmetic to handle money–which you probably didn't have much of. You may or may not have been a slave. You worked from sunup to sundown on your lord's manor and on your own small rented plot to feed your family.
What did you wear? Perhaps something like this tunic, though you wouldn't have worn the hood most of the time for your daily work. But the dagged (square-cutout) edge was common. In warm weather (and maybe even in cold weather, too) you would have gone bare-legged and barefoot–trousers hadn't been invented yet and shoes were expensive. If anything, you would have worn tube hose tied to a loincloth–it made an arrangement similar to modern tights. Your hair would be cropped short so you didn't have to do anything to it.
So be glad you live in the 21st century and not the 12th. Go ahead and wear trousers if you wish, or tights if you want to be a bit more authentic. Leave the executioner's hood at home for a farm worker look. And perhaps add a sickle accessory, too, or a flail. It was used as a weapon when needed, but primarily as a farm tool for threshing grain.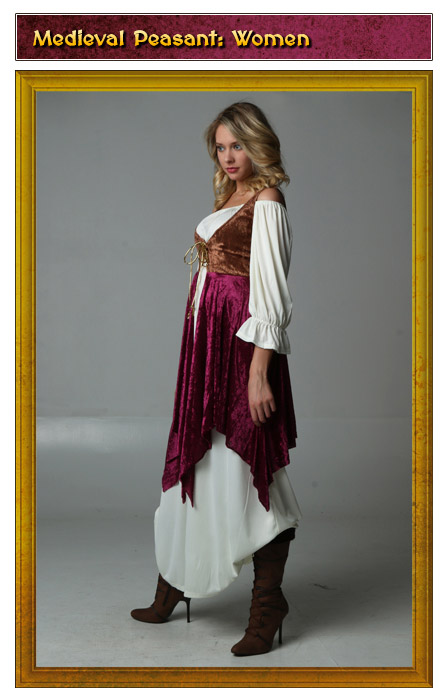 If you were a woman and a peasant, you were probably married to a manual laborer. You, too, worked from dawn to dusk. You might be a household servant in the manor house, or work at spinning & weaving cloth; but you also managed your family's household. You raised the children, tended small livestock such as poultry, cooked the food, made and cared for clothing. You had even less education than your husband, whom you probably married when you were 14 or 15.
Medieval peasant women wore similar types of garments as their "betters," just made of cheaper and coarser fabric and either natural unbleached fibers or muted colors (bleaching and brightly colored dyes were expensive!). You would wear a long chemise with drawstrings at the neck and wrists; and you would keep your shoulders covered. Over the chemise you would wear a simple overdress, fastened with laces at the front. Your hairstyle would be simple, because you had to do it yourself. Most likely you would braid it and then pin the braid(s) around the top and sides of your head. Or else you would simply tuck all of your hair inside a cap. Married women always wore a veil to cover their hair.
So you, too, can be glad you live now. You can wear your costume any way you wish and nobody will think less of you. Just have a good time!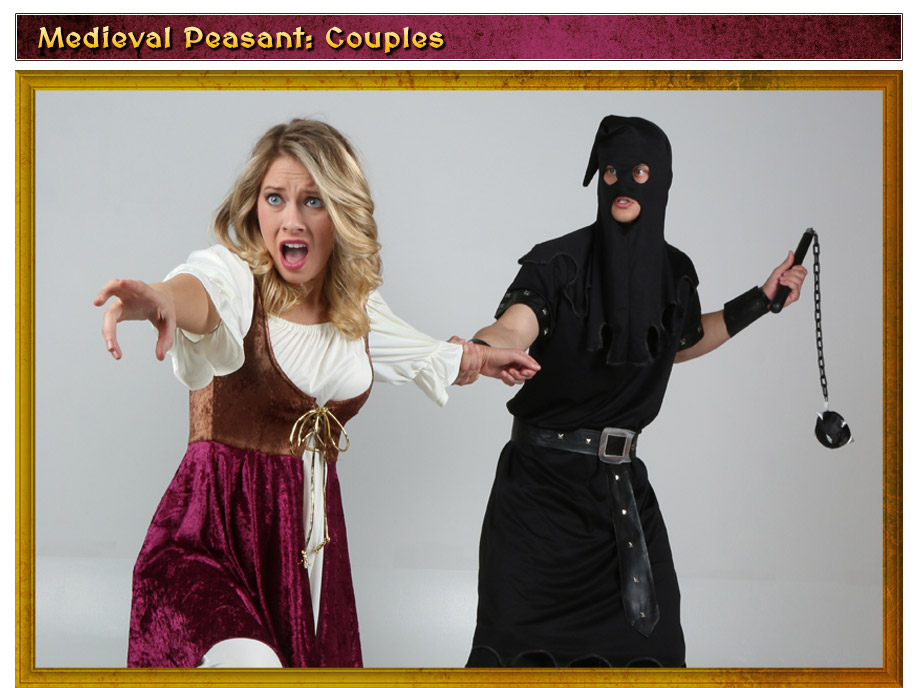 This photo actually shows what would have happened to a woman who wore her chemise off-the shoulder! A woman who wore her chemise off-the-shoulder was viewed as having questionable morals, and men took it as a sign that she would welcome attention that a respectable woman would not. In short, they thought she was a prostitute. Of course times have changed, and now nobody would think that. So it depends on how much of a historical purist you are, or if you're participating in an event that requires period authenticity.
Men, if you loved the woman you wouldn't be chasing her with a flail. If, on the other hand, she was a slave and trying to run away, and your master assigned you to catch her and bring her back, you might. But the good thing about living now is that you can portray your character any way you want.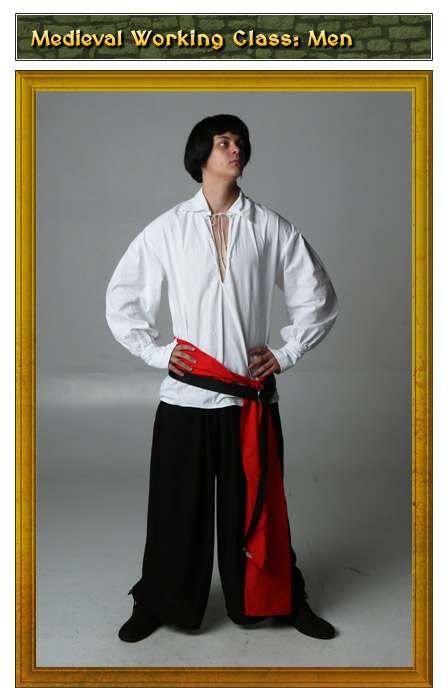 "Working class" was a step up from being a peasant. You were free-born, not a slave. You lived in a village or town, and earned your living as a merchant or tradesman. As a boy, you might go to school for a year or two, long enough to learn basic reading, writing and figuring. At about age 10 or 12 you would become an apprentice. You would go and live in a master craftsman's household and learn the trade, which could take anywhere from 3 to 7 years. You would receive room and board, but no pay. When you finished your apprenticeship you became a journeyman, and could earn a daily wage working for any master craftsman who would hire you. On your own time you worked on creating a "masterpiece" to show how well you knew your craft. If enough masters of your trade considered your finished masterpiece good enough, you became a master yourself. Then you could open your own shop and take on apprentices and journeymen.
Most men wore a shirt that was essentially a shorter version of a woman's chemise, over hose or, later, trousers. Everything fastened with drawstrings until the late 1300s when buttons were invented. Depending on your trade or craft, you might wear specialized garments over your shirt and trousers. A butcher or baker would wear an apron. A blacksmith or metalworker would wear leather gloves and an apron to prevent burns from hot metal. A merchant who wove, dyed or sold fabrics might wear richer, more expensive or brightly colored garments, to show off the quality of his work and wares.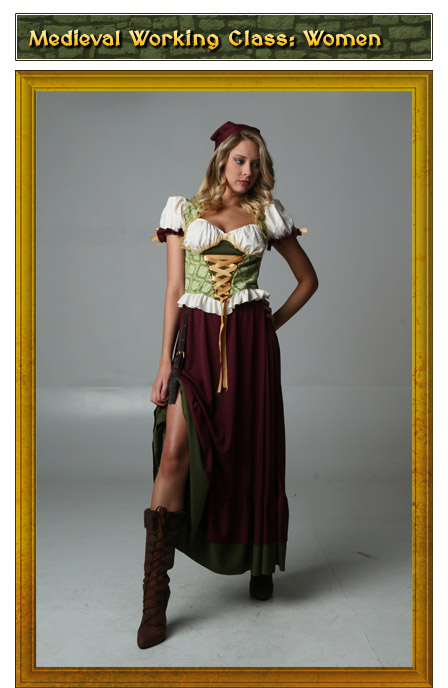 A tradesman's daughters might be taught to read, and would learn enough figuring to use money for the family's marketing. A girl's main occupation was learning the household skills she would need to eventually run her own home after getting married in her early teens. A tradesman's wife might, or might not, help out in the business in addition to managing the household. If she herself was literate, she might teach her daughters at home. If the family was prosperous enough to afford servants, she would hire and supervise them. If not, she and her daughters would do all of the family's cooking, laundry and housecleaning.
A working class woman's clothing would be of better fabric than a peasant's, and the same basic shape, but not as fine and soft as that of a noblewoman. She might wear more than one overdress or overskirt. If her husband's trade was weaving, bleaching or dyeing fabrics, she might wear clothes almost as fine as a noble's, to show off her husband's wares and skill. Her clothing would be fastened with laces and drawstrings, usually in the front. However, if the family could afford servants she might have her laces at the sides or in the back. That was a sign of wealth, because it required the assistance of a servant to put it on. (No medieval husband would fasten his wife's laces. Unfasten them, maybe, if feeling amorous. But the days of "Honey, would you zip me up?" were more than half a millennium in the future.)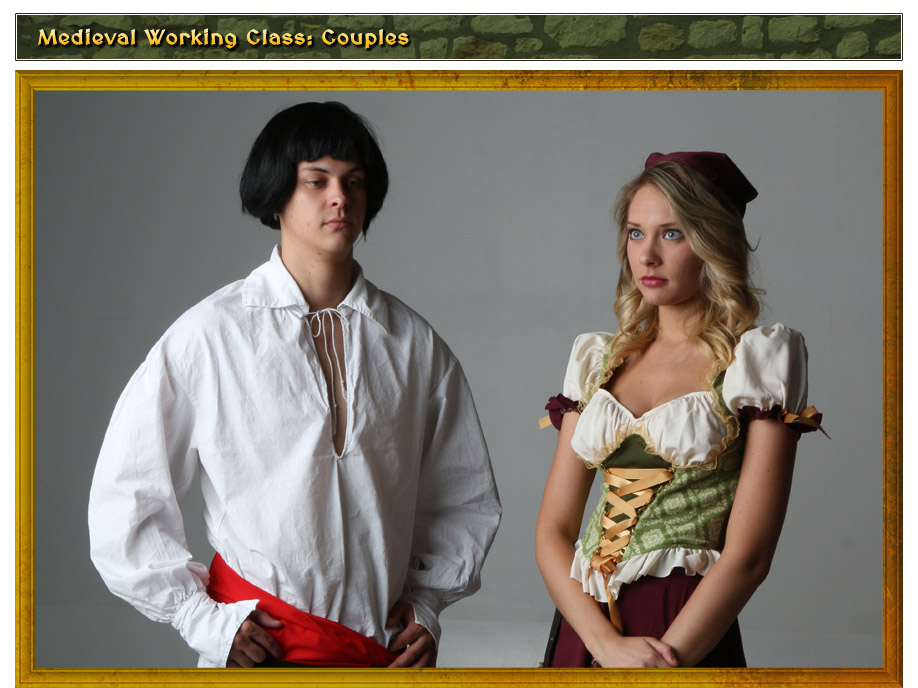 A journeyman on his way to work encounters the daughter of his former master, on her way to the market square. The last time he saw her a year or so ago she was an awkward little girl. But now, she's become a beautiful young woman. Could love be brewing? From the young man's point of view it would be a good match, giving him the prospect of long-term employment in her father's business. The question is, would her father allow it? Would the girl be pleased? (Not that her opinion mattered–she would marry whomever her father chose. But still, it wouldn't be pleasant to marry a girl who hated you.)
But thoughts of marriage could wait until another day. For now, a simple smile and nod is a good start to courtship. Perhaps a greeting of "Good morrow." If he should meet her again on the way home from the market, maybe offer to carry her market basket for her. For today, though, he had to get to work. Maybe after Mass on the Lord's Day he could approach her...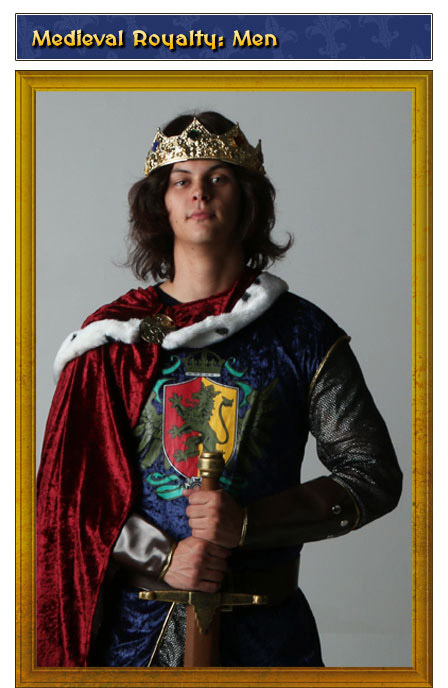 A medieval king's primary function was military, to defend the land against invaders. He granted fiefs of land to nobles in return for military service when needed. And he collected taxes from them. This was his primary source of income. Each lord managed his fief with the labor of peasants. Extensive education was not considered necessary. Most nobles and royals could read, but not all could write or figure. They hired clerks for that.
Since he was a military general, the king often wore chain mail armor over his shirt and hose or trousers. When not fighting or training to fight he would wear a surcoat or tunic over the shirt and hose. These would be made of the finest, richest materials available, to demonstrate wealth–which equaled power. Everyday items such as drinking cups and chess pieces would be set with gems, again to show off wealth.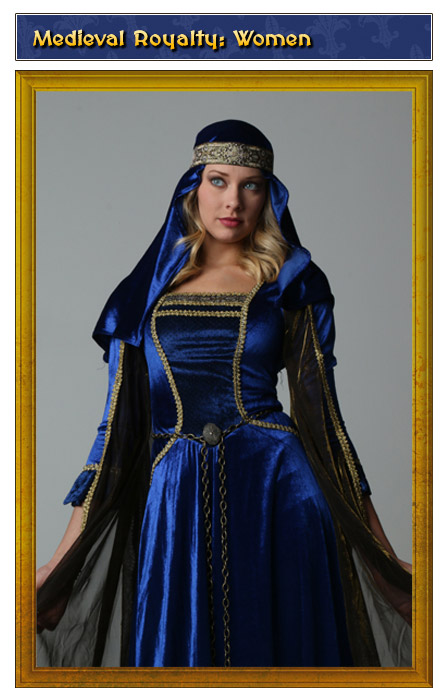 Royal women probably wore the most elaborate clothing of anyone in the Middle Ages. It didn't matter how complicated it was to put on, because they had plenty of maidservants to help. A queen started with the same type of chemise as any other woman, but hers would be made of the finest bleached linen and thin enough to be almost sheer. Her bodice, skirt and sleeves would all be separate pieces, attached by laces and ties. They would be made of the softest wool or the smoothest imported silk, and might be decorated with elaborate embroidery or set with gems.
How did a queen or noblewoman occupy her time? She still managed the household, though her input took the form of giving orders to servants. When her husband was off at war she also managed the estate and oversaw any trade. For leisure she might sing and play a musical instrument such as a lute, or play chess or backgammon. Many ladies enjoyed horseback riding as well. Many noble and royal households maintained private chapels and chaplains, and most ladies attended Mass daily.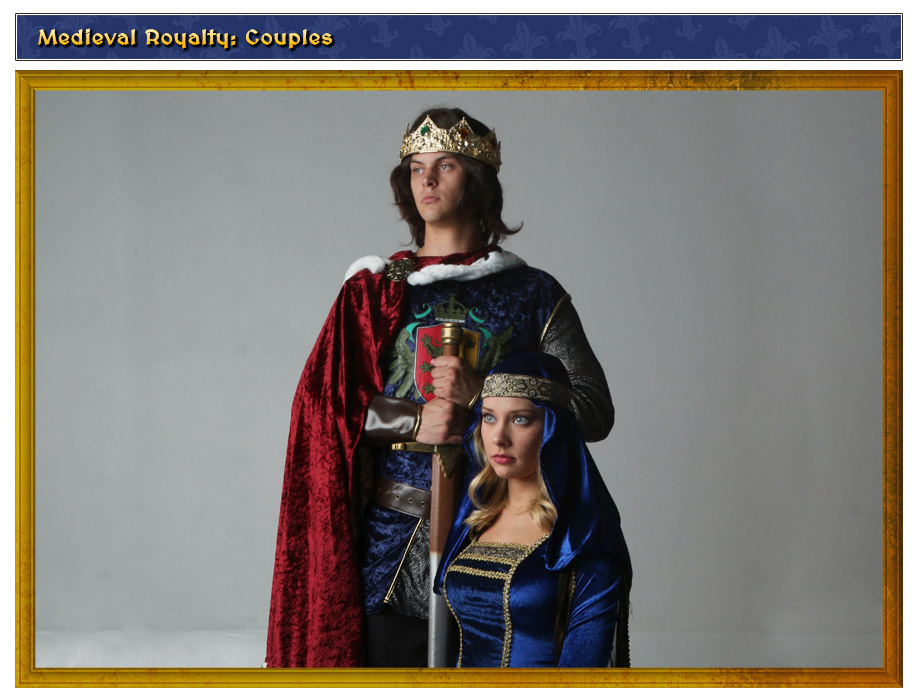 Love or the lack of it was considered irrelevant in noble or royal marriages. Marriages were arranged to cement political alliances or prevent wars. No king would attack a neighbor if his sister or daughter was that neighbor's wife! That led to the romantic ideal of courtly love that's celebrated in Arthurian legend and much medieval poetry. Since most marriages were not based on love, lords and ladies found other lovers than their spouses. But there was a huge catch, especially for the ladies. Adultery was a sin in the eyes of the Church, and a crime in the eyes of the law. So courtly love had to remain chaste and unconsummated. Knights carried tokens from their lady-love into battle. They required vanquished opponents to swear fealty to their ladies. And ladies pined at home for lovers they could never formally acknowledge. Minstrels and troubadours wrote and performed songs and poems celebrating famous lovers and love triangles. Arthur and Guinevere and Lancelot. Tristan and Isolde. Troilus and Criseyde. Palamon, Arcite and Emily.
You and your beloved can become any of these renowned literary couples. You could also become a real-life historical couple such as Eleanor of Aquitaine and Henry II. William the Conqueror and Matilda of Flanders. Abelard and Heloise. Be glad that in the 21st century you don't have to suffer in silence as you love someone who is married to another!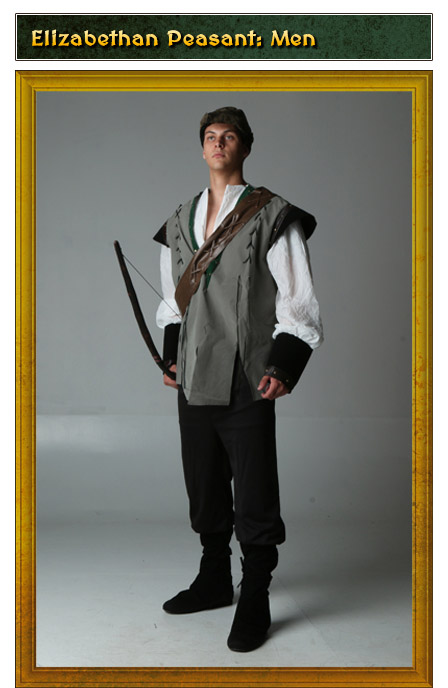 By the Renaissance (roughly the year 1400), slavery and serfdom were becoming rarer; peasants weren't legally tied to an estate. However, most peasants remained tied to the land by tradition, if not by law. That was the only life they knew, and they didn't have the skills or learning to do anything else. Education became a bit more common; more peasant boys were taught the basics of reading than in earlier eras, but still mostly did farm work. Clothing styles became more complex as tailors learned to cut and shape garments to better fit the curves of the human body. Buttons became common. And garment types became a bit more standardized. Men of any social class wore a shirt and tunic over trousers. The difference between a peasant's clothes and a nobleman's was the type of fabric used. Peasants wore rough, coarse homespun wool or linen fabrics in muted colors (bright dyes were still expensive).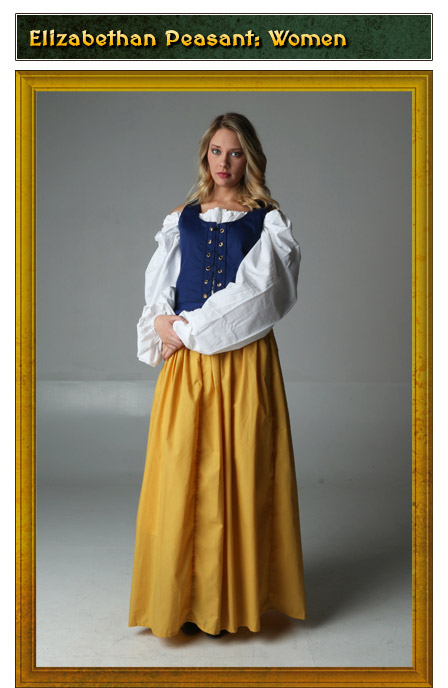 Women's clothes, too, became more complex and form-fitting. But the basic garment types stayed the same for the lower classes. A skirt and bodice over a chemise (worn covering the shoulders) was the basic female attire. As with men, a peasant girl's clothes would be made of cheaper, coarser fabric than a princess's. Peasant women helped with farm work by tending poultry and kitchen garden plots. They brewed ale, made cheese, baked bread. They spun and wove homespun fabric and made clothing for their families. It was less likely that a peasant girl would be allowed to have any education. Nobody thought it was necessary.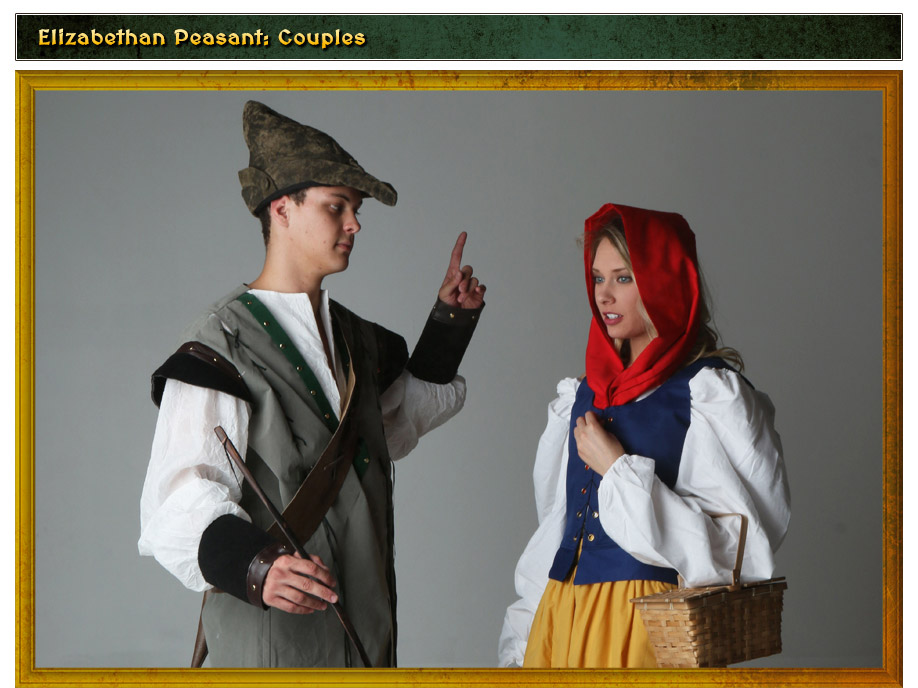 By the reign of Queen Elizabeth I, peasants no longer needed their lord's permission to marry. And since they didn't have to worry about political concerns, they could and did marry for love. A girl still needed her father's permission to marry (or, if her father was deceased, another male relative such as a brother or uncle). So young men could court young women, perhaps by walking home from Sunday Mass together, or meetings on market day. The young couple shown here might be doing just that!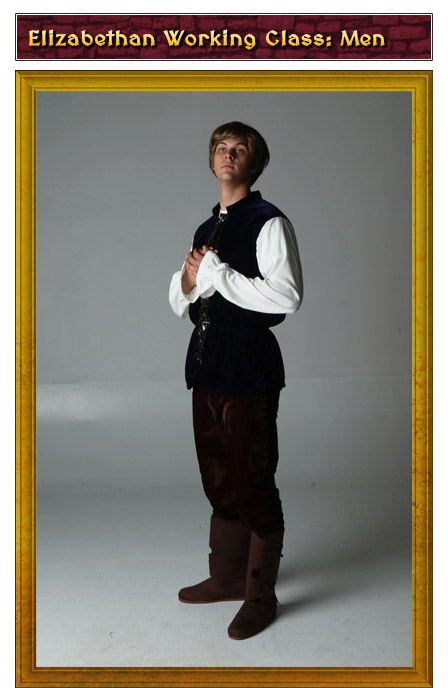 In the Renaissance a working-class man would still be a tradesman or craftsman. He would be more likely to live in a town than on a country estate. He might be a tavern keeper, or a butcher, a chandler (maker of candles), a carpenter or a stone mason. He might be a glover or a shoemaker. He would wear the same type of shirt, trousers and tunic as any man. His clothes would be of finer fabric than a peasant's, but not so fine as a noble's (unless his trade involved making, bleaching or dyeing of fabrics. Then he would wear the best of his wares, as a form of advertising.) Most working-class men had at least basic education in reading, writing and figuring.
Working-class did not automatically equate to poverty. Some tradesmen who were skilled at their craft and astute in their business practices became quite wealthy. But no matter how much wealth they might amass, they would never be allowed to own land or to become a knight. Those privileges were reserved for men of "gentle" birth, who looked down upon wealth acquired through trade as vulgar.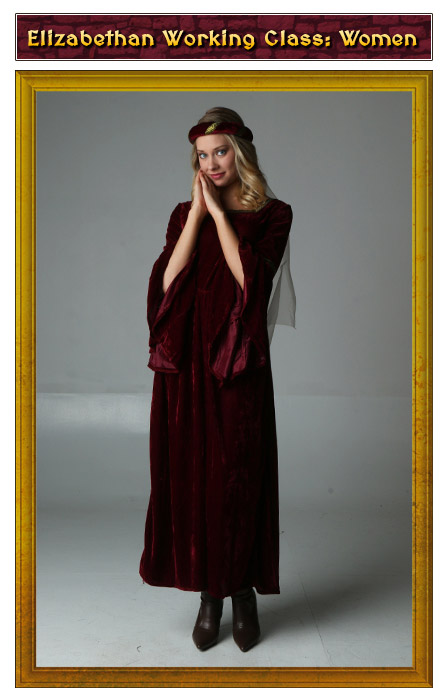 The wife or daughter of a prosperous tradesman might have a very pleasant life. Or not. Like any woman of the age, her role in life would be to eventually get married, have children, and manage her household. She would likely have at least a bit of education, and might help out in the family's business. The more prosperous her father, the more likely she might be to have an arranged marriage to further her father's business interests. And her father may or may not care about her own preferences.
A working-class woman would wear more elaborate clothing than a peasant, and made of better fabric. If her family's business involved cloth, she might even wear the same fabrics as royalty, to show off the quality of the merchandise. If the family could afford servants, she might have leisure time to do music or decorative needlework.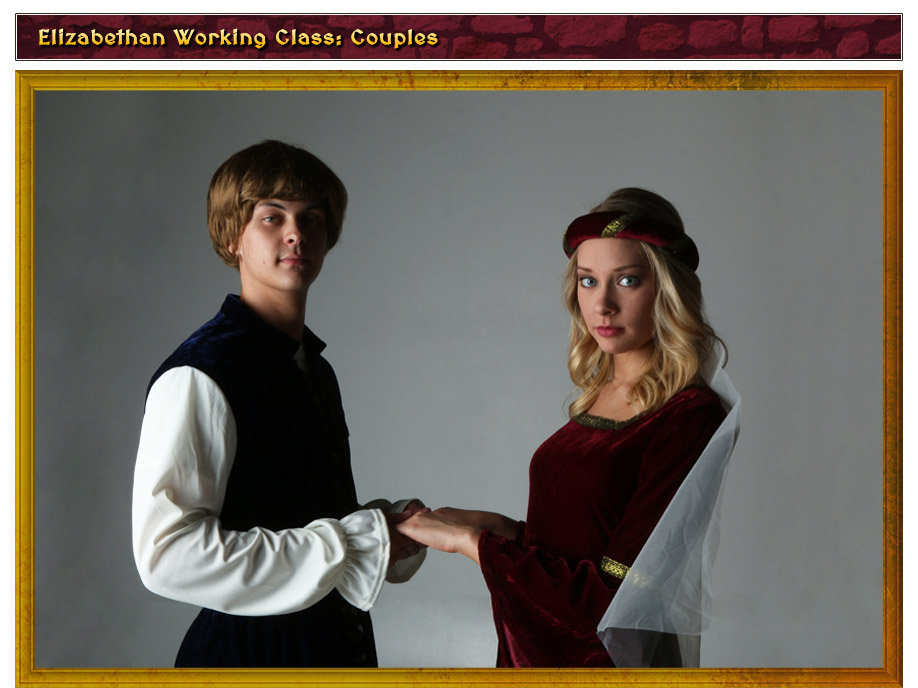 This photo could represent a Renaissance working class couple on their wedding day. (The custom of brides always and only wearing white didn't arise until more than two centuries after the Renaissance ended. And only in the wealthiest families could a bride afford to have a special dress made just for her wedding. So most brides simply wore their "Sunday best," whatever color it happened to be.) Chances were that the man had more choice about the match than the woman, though some families did consider a girl's wishes and preferences when choosing her future husband. And while few fathers would force their daughters to marry cruel or brutal men, love was not considered essential.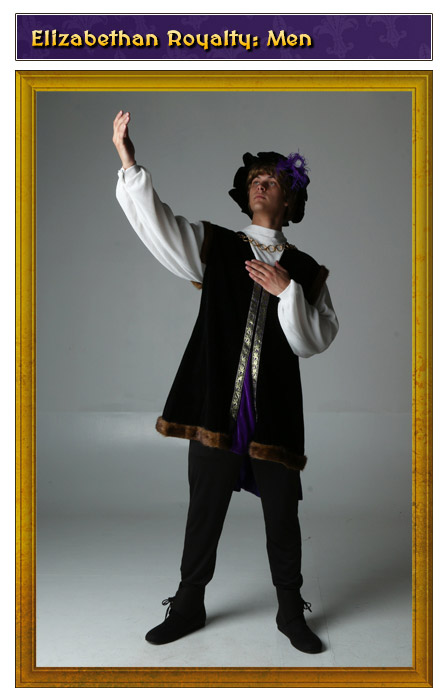 Noble and royal men wore the same basic shirt, tunic and trousers ensemble that lesser men wore. The difference was that a noble's would be made of fine wool and linen instead of homespun, and might include imported silk or cotton as well. It would also be more lavishly decorated with embroidery, gems or metalwork.
As a Renaissance king, prince or nobleman you could become Henry VIII, King James (of King James Bible fame), King Ferdinand of Spain (who sponsored Christopher Columbus's voyages to the "New World"), courtier Sir Walter Raleigh or explorer Sir Francis Drake. Even if you choose to be an anonymous noble, you would enjoy the fruits of education made possible by the writers and thinkers and scientists of the age.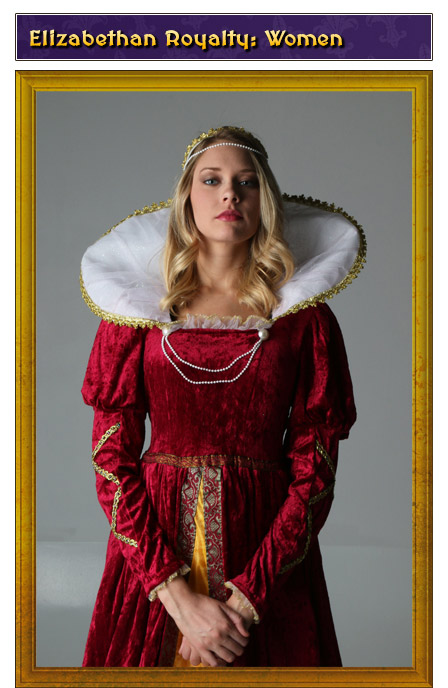 The Renaissance is perhaps the first period of European history to have so many prominent women figures. Queen Isabella of Spain. Elizabeth I of England. Her mother, Anne Boleyn, and four stepmothers. Mary, Queen of Scots. "Bloody" Mary Tudor, Elizabeth's half-sister, and her mother, Catherine of Aragon. Whether you choose to become one of these historic women or a character of your own invention, you'll need a truly regal look.
This luxurious gown is typical of one Elizabeth I might have worn, with its square neckline and high, stiff collar. Royal garments were elaborate, with wide full skirts draped over stiff frames called farthingales to maintain their bell shape. Some farthingales were so wide that a lady had to go through a doorway sideways! Clothes would be elaborately embroidered and set with gems. We don't have farthingales–be glad of it. But we do have hoopskirts to give a full skirt look.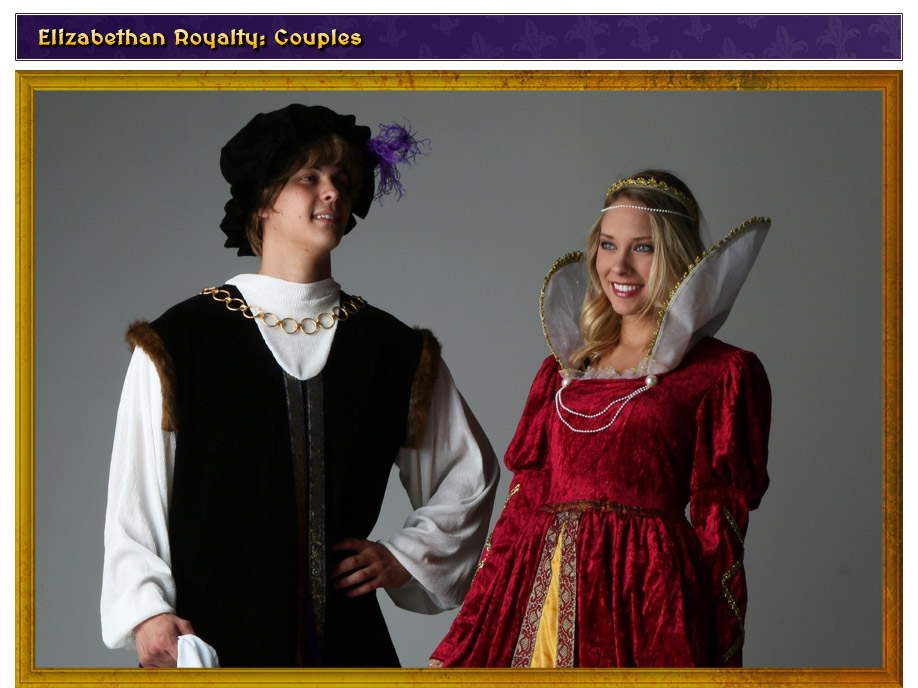 Royal women of the Renaissance began to take more equal roles in courtship and marriage, though most royal and noble marriages were still arranged to serve political objectives. Many ladies whose husbands were absent or inattentive took lovers, and many of them felt little need to be discreet. They were simply following the example of King Henry VIII, who was not noted for discretion.
As a Renaissance couple you could portray Henry VIII and any of his six wives. Or you could be King Ferdinand and Queen Isabella of Spain. Maybe even Elizabeth I and Robert Dudley, Earl of Essex. Attend entertainments of music and dancing, or see one of Master Shakespeare's plays at the Globe Theatre. Host a salon gathering and invite noted poets and scholars of the day. Maintain a correspondence with such luminaries as Galileo or Copernicus. It was a time when learning began to be available to anyone who wanted it and could afford it.