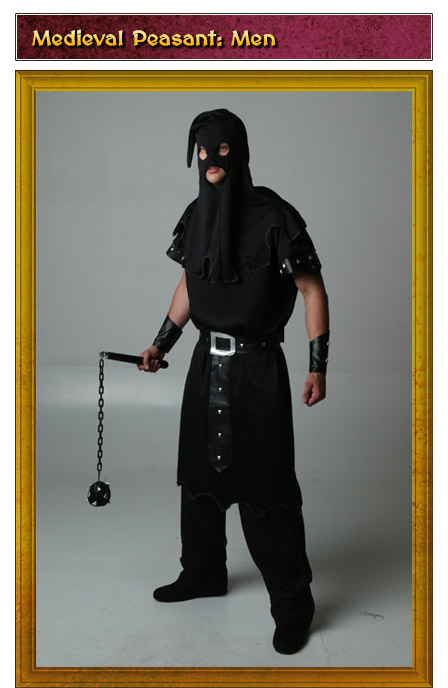 This executioner costume was designed to help you get your job done without revealing your identity. It's dark, like your job responsibilities, and features a hood that keeps who you are a mystery. To make the look festival ready, we added long pants and a pair of black renaissance boots. The medieval mace weapon looks menacing but is actually made of soft foam, just in case you get a little carried away in your role.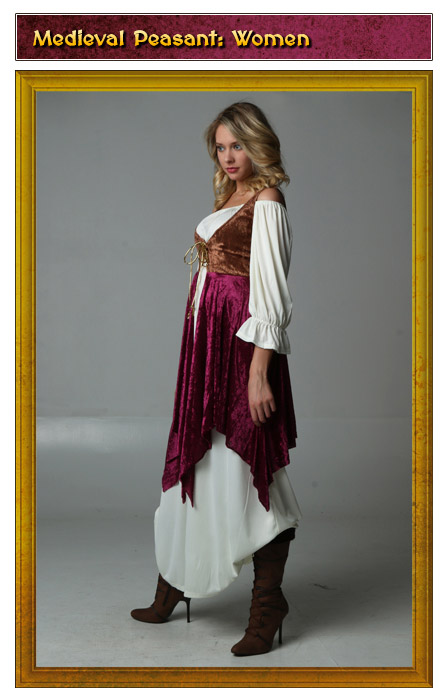 Medieval peasant women wore similar types of garments as their "betters," just made of cheaper and coarser fabric and either natural unbleached fibers or muted colors. Over the chemise you would wear a plain overdress, fastened with laces at the front. When paired with these rustic looking boots this simple look becomes a festive choice for any faire.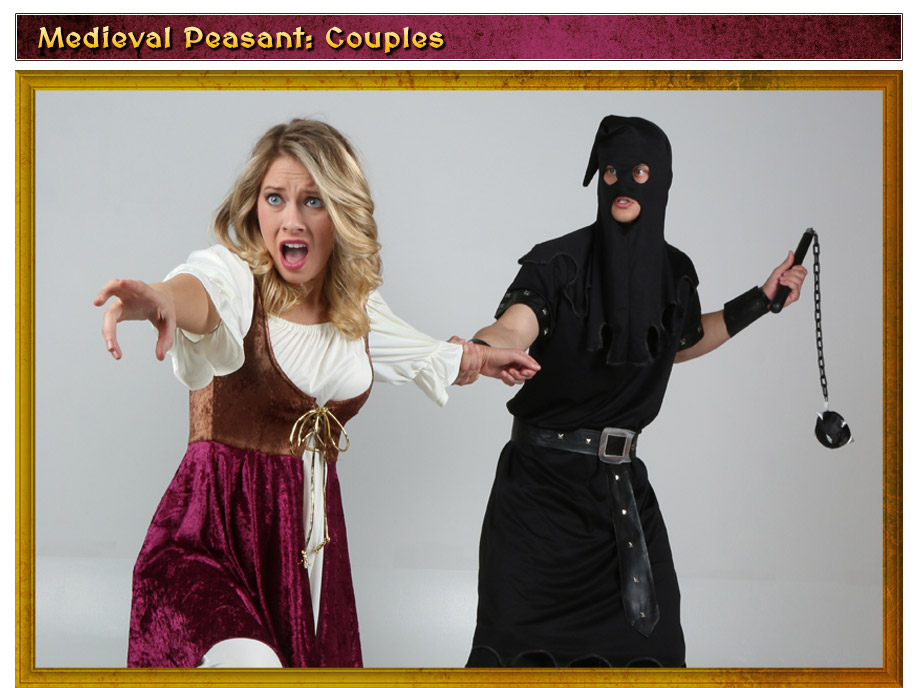 These costumes are great on their own, but if you really want to get into your medieval roles, going as couple will be especially fun. What are her crimes? Will you show mercy? What happenes if she manages to wrestle that mace away from him? So many possibilities to be serious or as silly as you like. We're actually rooting for the girl, she just seems too pretty to be guilty of anything!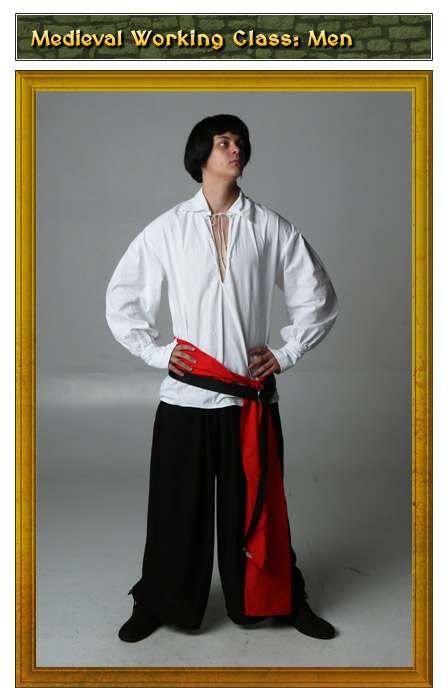 Most working class men wore a shirt over trousers. A merchant who wove, dyed or sold fabrics might wear richer, brightly colored garments to show off the quality of his work and wares. When you wear this look you might not command the respect of a king but you'll still be able to feast like one when you sample the fabulous food available at the festival you attend. Act the part of a gentleman and you'll surely be admired no matter what your socio-economic status might have been back in medieval times.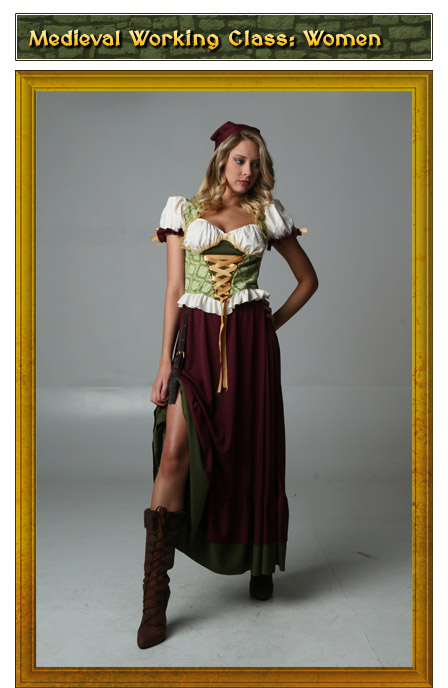 A working class woman's clothing would be of better fabric than a peasant's, but not as fine and soft as that of a noblewoman. Her clothing would be fastened with laces and drawstrings, usually in the front. This costume features more embellishments than the peasant look from before and we think it a pair of brown faux suede boots provides the finishing touch. This dress in particular even allows you to hitch up your skirt so you'll be ready for dancing and celebrating.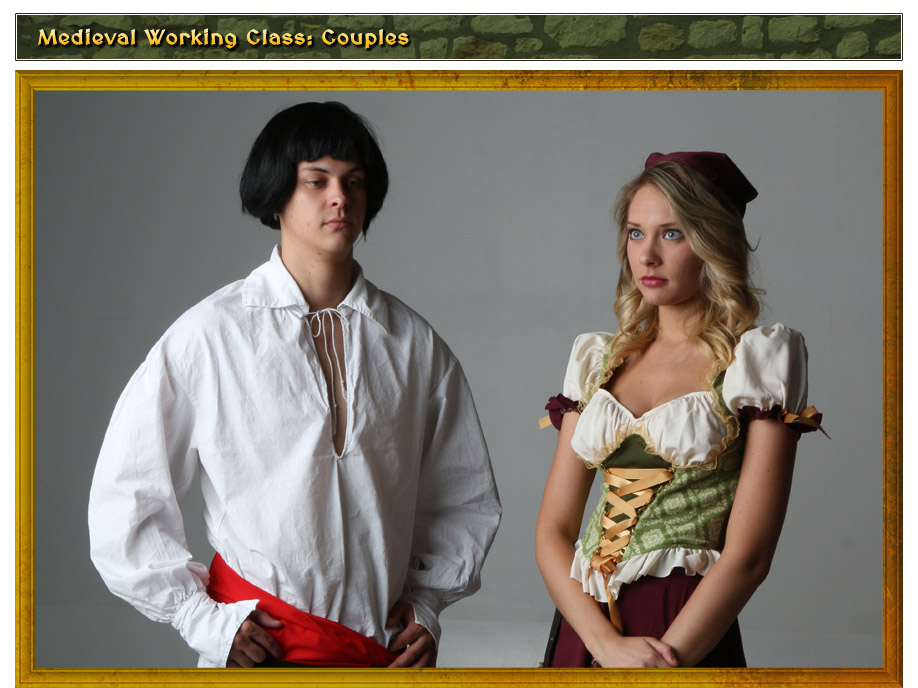 Make the most of your working class renaissance looks by pairing them together. We recommend practicing some flattery like, "Thou smile is like the dawn, it brightens my day." before putting in any requests like, "Would thou goeth quickly and fetch me a turkey leg?" for best results. You're sure to get plenty of compliments as you make your way around your next festival.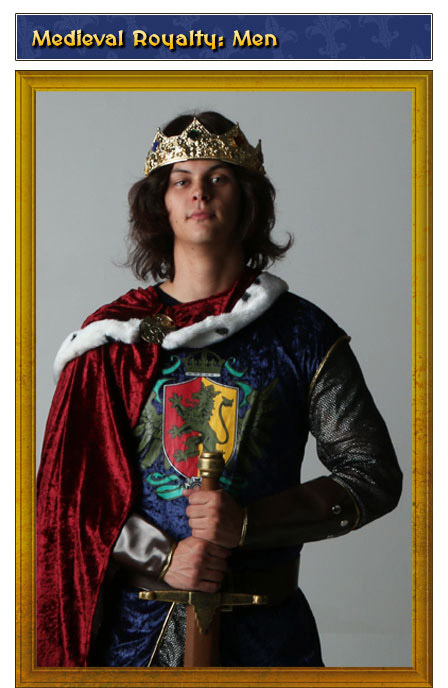 Since the king was a usually a military general, he often wore chain mail armor over his shirt. When not fighting or training to fight he would wear a surcoat or tunic. This costume will have you fit for being featured in a royal painting. The kind that hangs in a long, vast hall along with all of the past rulers of the kingdom. We added a wavy brown wig for a more medieval appearance, which had the benefit of helping keep the crown comfortably in place.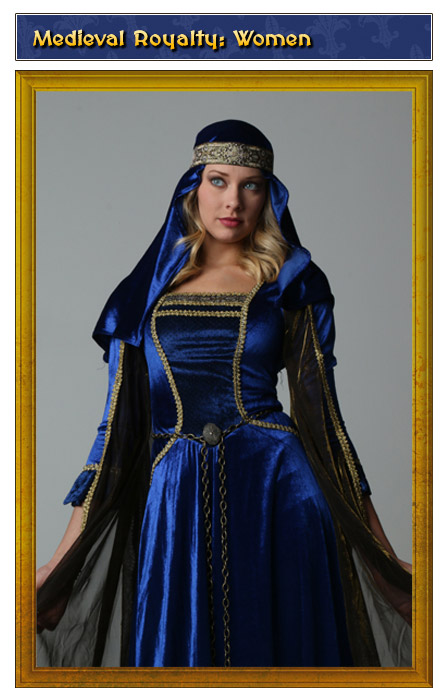 Drape yourself in velvet and gold trim for a royal look like this one. When you are the queen, you get to dress the part with rich fabrics fine jewels. Since this costume included a beautiful matching headpiece we opted to pass on a crown but we imagine she would look just as royal with one. The attached sheer cape adds a dramatic detail.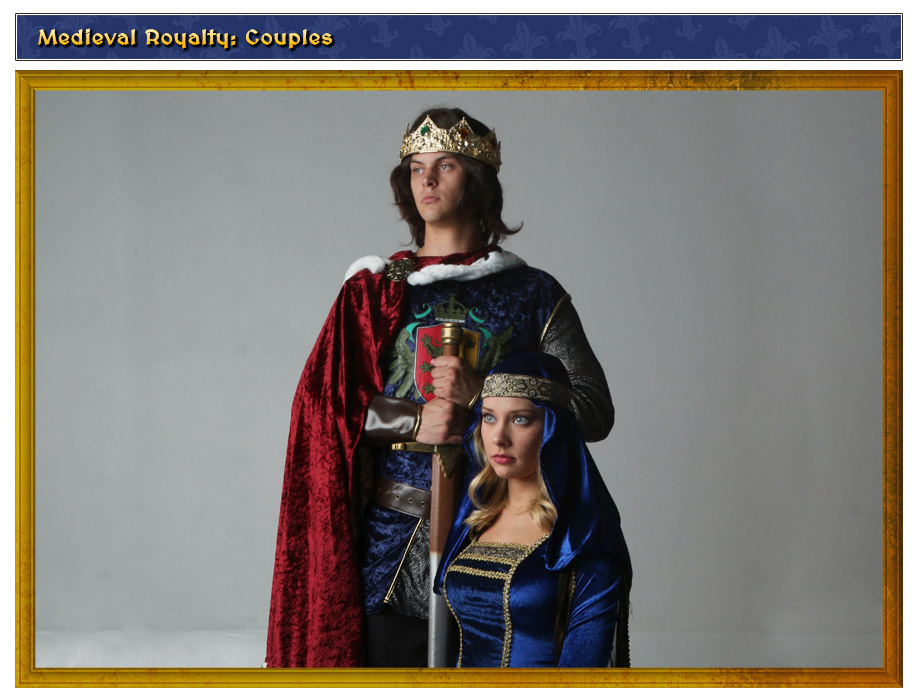 Be the power couple that no one dares to cross at your next faire! These costumes will help you command the respect of a royal. From the soft velvet fabrics to the gold embellishments, these looks will make it impossible for anyone to deny what you've decided should be your birthright. Enjoy your reign your highness.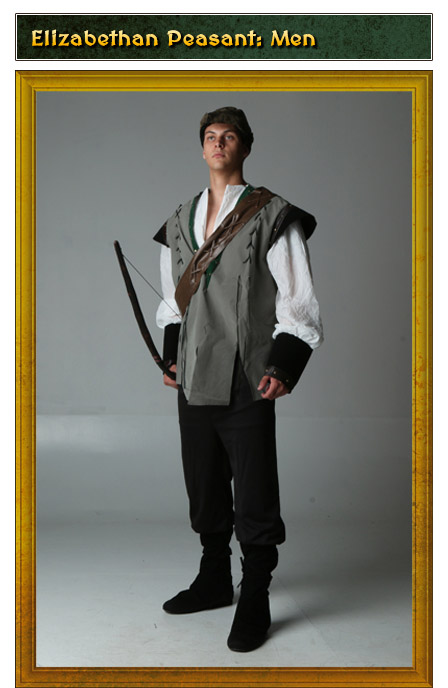 By the Renaissance (roughly the year 1400), clothing styles became more complex as tailors learned to cut and shape garments to better fit the curves of the human body. Buttons became common. And garment types became a bit more standardized. Men of any social class wore a shirt and tunic over trousers. The difference between a peasant's clothes and a nobleman's was the type of fabric used. Enjoy the handsome look of a hunter with this exclusive Robin Hood costume.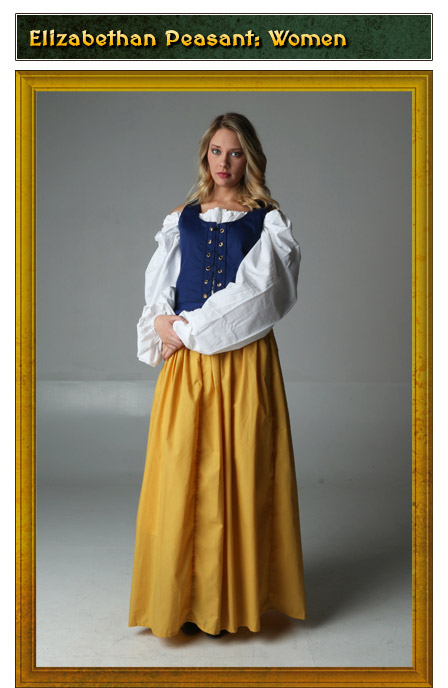 Women's clothes, too, became more complex and form-fitting. But the basic garment types stayed the same for the lower classes. A skirt and bodice over a chemise was the basic female attire. As with men, a peasant girl's clothes would be made of cheaper, coarser fabric than a princess's. We like the combination of this deep blue corset with the bright yellow skirt. Both are worn over a chemise, which on a cool fall day has the added benefit of giving you an extra layer of warmth.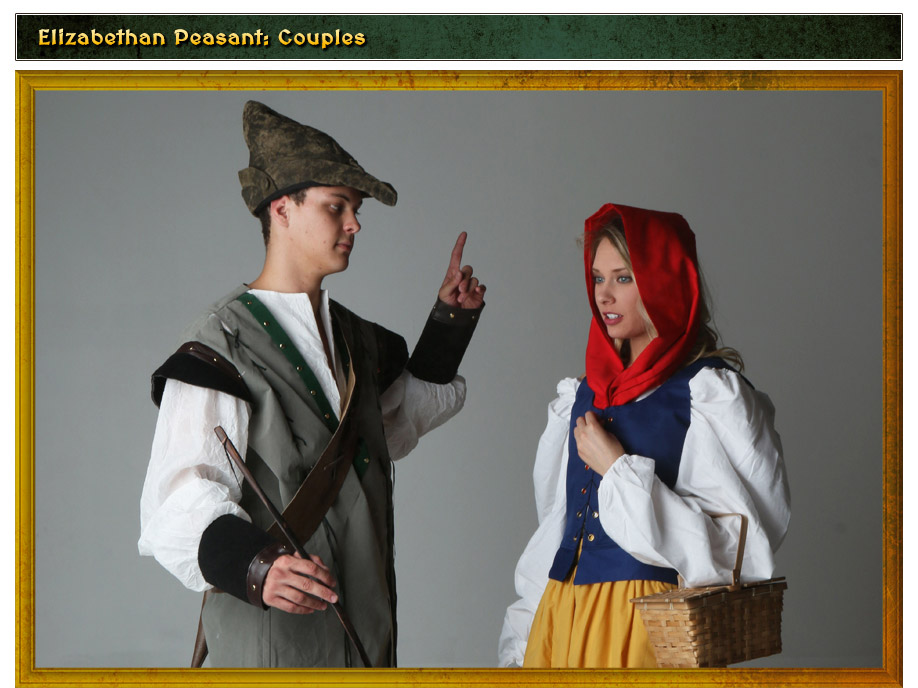 What kind of plans are these two making for their next festival, besides looking fantastic? Probably they are debating which musical acts to see, and what food to try. For him, a mug of ale might be priority number one. We added a bright red head scarf to her look here becuase we thought it added to her peasant appearance. But she might like that it gives her an excuse to ignore some of his requests and carry on with her own plans!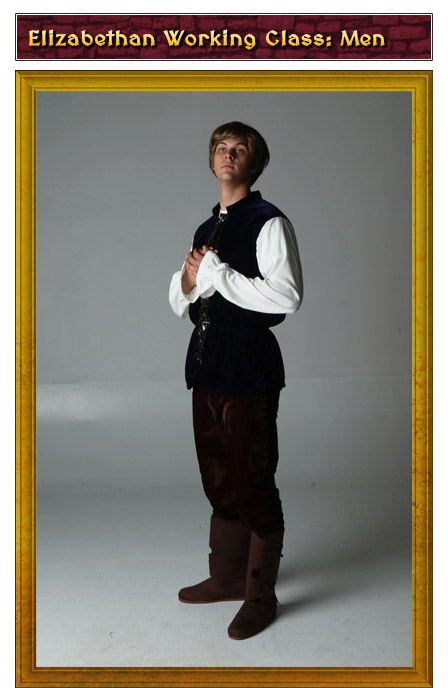 In the Renaissance a working-class man would wear the same type of shirt, trousers and tunic as any man. His clothes would be of finer fabric than a peasant's, but not so fine as a noble's. So, once you've laced up your tunic and ensured you're looking handsome you'll be ready to head to your favorite tavern and see what fair maidens find their way over to your corner of the establishment.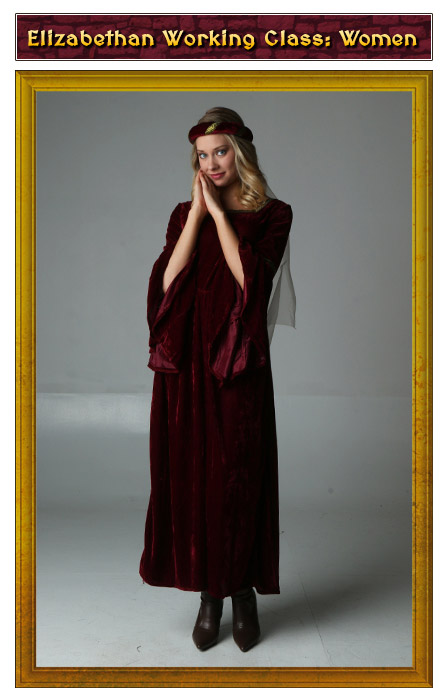 The wife or daughter of a prosperous tradesman might have a very pleasant life. Or not. Like any woman of the age, her role in life would be to eventually get married, have children, and manage her household. She would likely have at least a bit of education, and might help out in the family's business. The more prosperous her father, the more likely she might be to have an arranged marriage to further her father's business interests. And her father may or may not care about her own preferences.
A working-class woman would wear more elaborate clothing than a peasant, and made of better fabric. If her family's business involved cloth, she might even wear the same fabrics as royalty, to show off the quality of the merchandise. If the family could afford servants, she might have leisure time to do music or decorative needlework.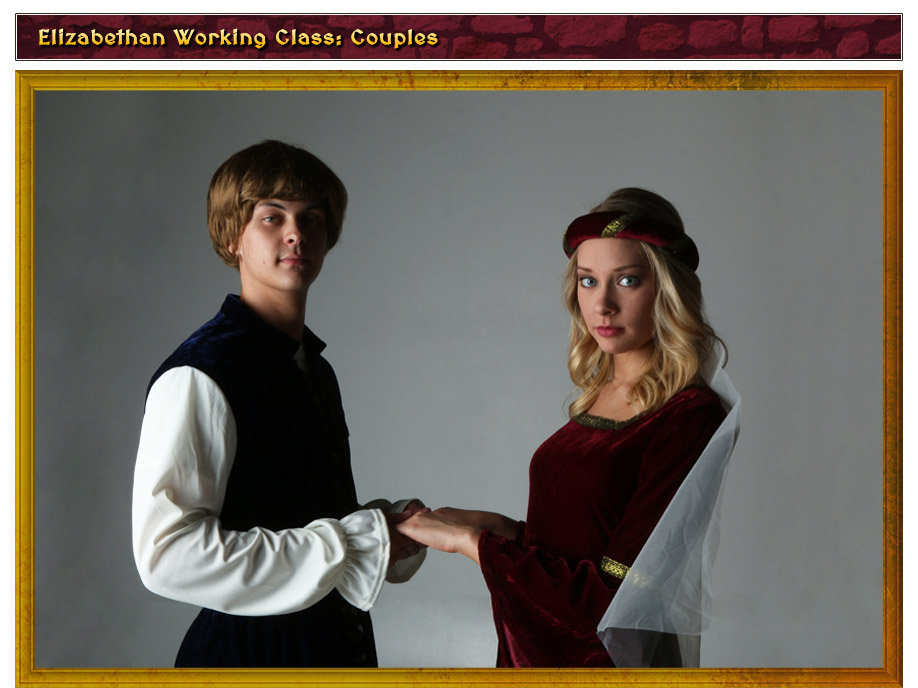 This photo could represent a Renaissance working class couple on their wedding day. (The custom of brides always and only wearing white didn't arise until more than two centuries after the Renaissance ended. And only in the wealthiest families could a bride afford to have a special dress made just for her wedding. So most brides simply wore their "Sunday best," whatever color it happened to be.) Chances were that the man had more choice about the match than the woman, though some families did consider a girl's wishes and preferences when choosing her future husband. And while few fathers would force their daughters to marry cruel or brutal men, love was not considered essential.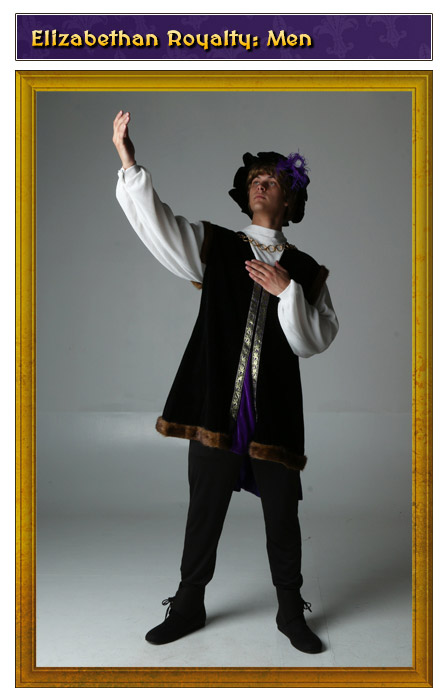 Noble and royal men wore the same basic shirt, tunic and trousers ensemble that lesser men wore. The difference was that a noble's would be made of fine wool and linen instead of homespun, and might include imported silk or cotton as well. It would also be more lavishly decorated with embroidery, gems or metalwork.
As a Renaissance king, prince or nobleman you could become Henry VIII, King James (of King James Bible fame), King Ferdinand of Spain (who sponsored Christopher Columbus's voyages to the "New World"), courtier Sir Walter Raleigh or explorer Sir Francis Drake. Even if you choose to be an anonymous noble, you would enjoy the fruits of education made possible by the writers and thinkers and scientists of the age.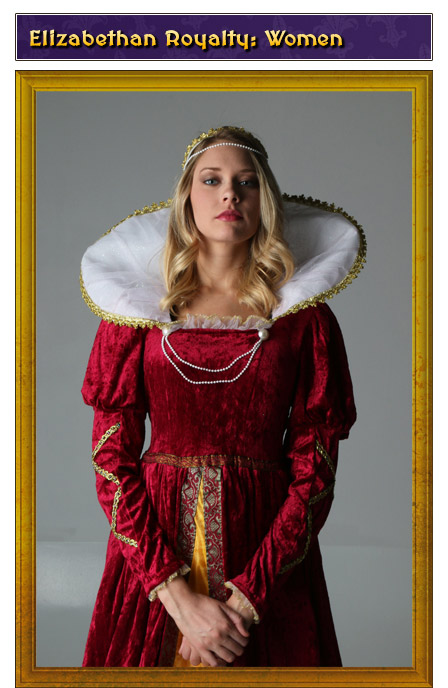 The Renaissance is perhaps the first period of European history to have so many prominent women figures. Queen Isabella of Spain. Elizabeth I of England. Her mother, Anne Boleyn, and four stepmothers. Mary, Queen of Scots. "Bloody" Mary Tudor, Elizabeth's half-sister, and her mother, Catherine of Aragon. Whether you choose to become one of these historic women or a character of your own invention, you'll need a truly regal look.
This luxurious gown is typical of one Elizabeth I might have worn, with its square neckline and high, stiff collar. Royal garments were elaborate, with wide full skirts draped over stiff frames called farthingales to maintain their bell shape. Some farthingales were so wide that a lady had to go through a doorway sideways! Clothes would be elaborately embroidered and set with gems. We don't have farthingales–be glad of it. But we do have hoopskirts to give a full skirt look.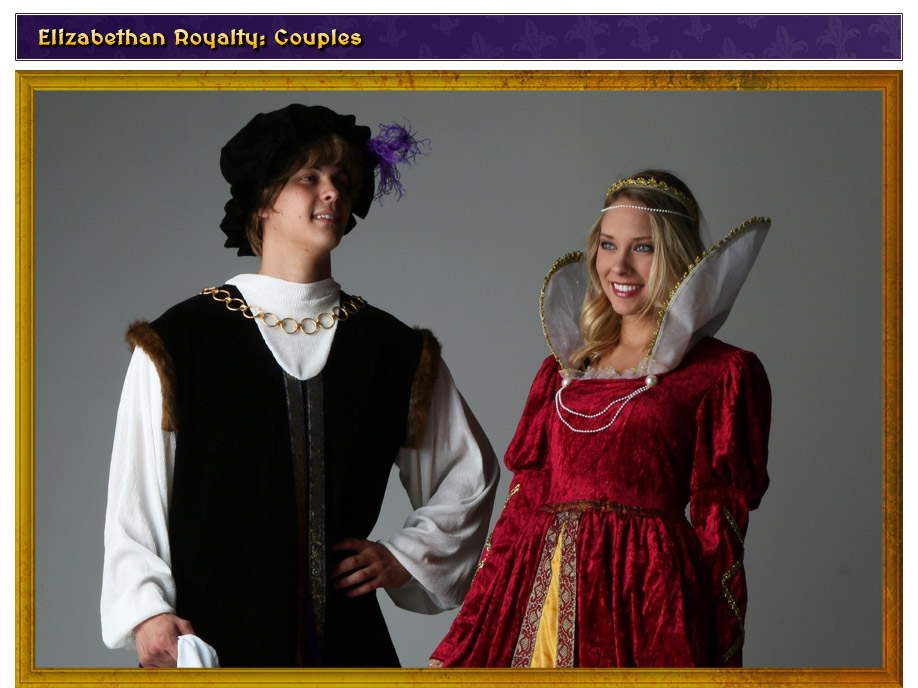 Royal women of the Renaissance began to take more equal roles in courtship and marriage, though most royal and noble marriages were still arranged to serve political objectives. Many ladies whose husbands were absent or inattentive took lovers, and many of them felt little need to be discreet. They were simply following the example of King Henry VIII, who was not noted for discretion.
As a Renaissance couple you could portray Henry VIII and any of his six wives. Or you could be King Ferdinand and Queen Isabella of Spain. Maybe even Elizabeth I and Robert Dudley, Earl of Essex. Attend entertainments of music and dancing, or see one of Master Shakespeare's plays at the Globe Theatre. Host a salon gathering and invite noted poets and scholars of the day. Maintain a correspondence with such luminaries as Galileo or Copernicus. It was a time when learning began to be available to anyone who wanted it and could afford it.