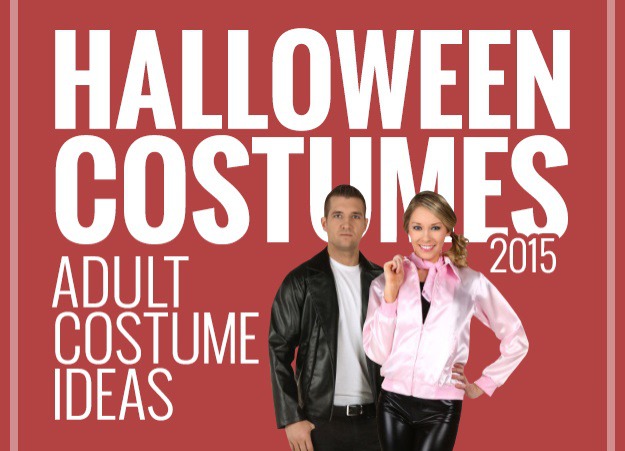 Work, bills, and responsibilities. Ugh! Growing up sure seems to be the pits, but it's not all bad! You can eat ice cream any time you want, you can stay up late, and you don't have to answer to your parents when choosing your Halloween costume. Let's face it, our parents all made us wear a humiliating costume at one point in time! Did we mention that adult Halloween costumes are way cooler than the ones for kids? Don't believe it? Check out some of these adult costumes and prepare to have a whole new perspective on adult life.
Men's Movie Costumes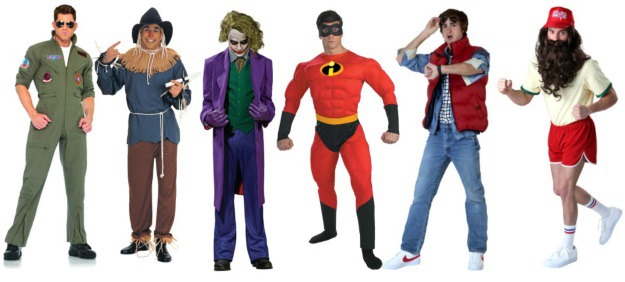 Top Gun Costume Scarecrow Costume Joker Costume
Mr. Incredible Costume Marty McFly Costume Forrest Gump Costume
Men's costumes have come a long way and these aren't the days of old when guys could only choose between a sheet with holes in it and a devil costume. Those costumes are classics, but nowadays, you can be everything from Marty McFly to The Joker. With choices like that, you can save your sheets for building blanket forts in the living room. (Just because you're an adult doesn't mean you have to stop building blanket forts).
Books and Television Costumes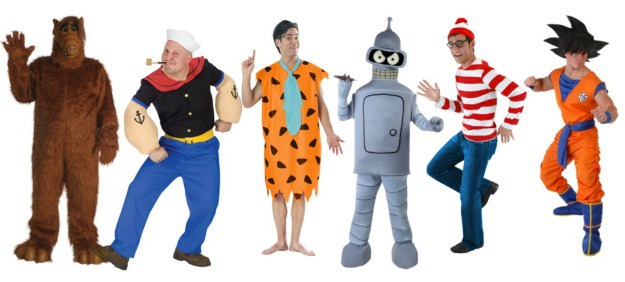 Alf Costume Popeye Costume Fred Flintstone Costume
Bender Costume Waldo Costume Goku Costume
Television is another big part of being an adult. After a hard day's work, sometimes you want to just veg out on the couch with your favorite shows. So, of course, costumes based on the best TV shows are kind of a no-brainer. Whether you feel like showing everyone how you remember the exact movements of Kamehameha Wave in a Goku Costume, or you want a reason to yell Bender quotes without getting funny looks from strangers, these costumes will serve you well.
Funny Costumes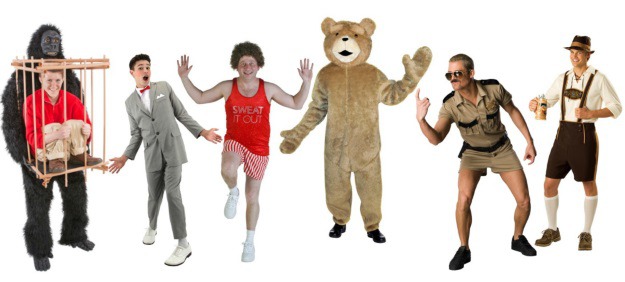 Man in a Gorilla Cage Costume Pee Wee Herman Costume Workout Video Star Costume
Ted Costume Lt. Dangle Costume German Beer Man Costume
A good laugh is priceless. When you're a kid, everything is funny, from boogers to knock-knock jokes. Adults have a more refined sense of humor! Okay, so maybe that's not true. What's funny is funny and these costumes don't pull any punches. You should get more than a few chuckles while wearing these costumes. Heck, you won't even need to use any of your "chicken who crossed the road" jokes to get a laugh.
Women's Movie Costumes
Cheshire Cat Costumes Top Gun Flight Dress Minion Costume
Pink Ladies Jacket Jessica Rabbit Costume Dottie Costume
Ladies have it made when it comes to costumes. The days of choosing between a witch and a....witch are gone! If you've got a favorite movie, then there's probably a costume to go along with it. Minions, Top Gun, A League of Their Own? The only thing you can't be is the kitchen sink from that one scene in Who Framed Roger Rabbit. Word on the street is that someone is working on a kitchen sink costume, but until then, you can still dress up like Jessica Rabbit.
Timeless Women's Costumes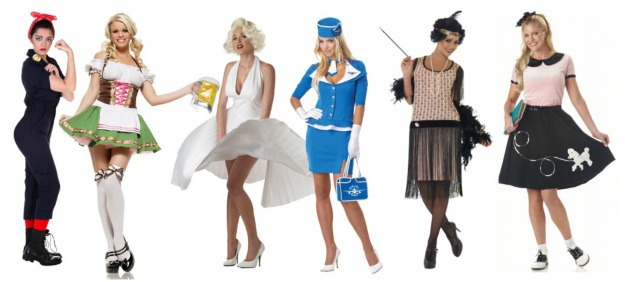 Hardworking Lady Costume German Beer Girl Costume Marilyn Monroe Costume
Retro Stewardess Costume 1920s Flapper Girl Dress Sock Hop Costume
Some things never go out of style, like chocolate, smiles, and convertible cars. Other things? Well, they don't stick around for very long. (Pet Rocks, slap bracelets, and Snuggies, here's looking at you). From Marilyn Monroe to the classic beauties of the roaring 20's, these timeless costumes are the kind of thing a girl can wear year after year, without having to worry about them loosing appeal. (On second thought, Snuggies are still totally awesome).
Sexy Costumes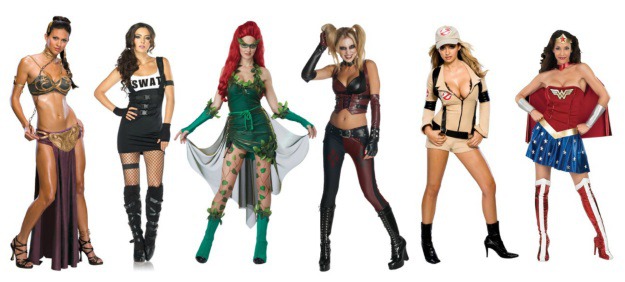 Princess Leia Slave Costume Swat Costume Poison Ivy Costume
Harley Quinn Costume Female Ghostbuster Costume Wonder Woman Costume
Despite what your dad might think, you're not exactly a little girl any more. Chances are, other people have begun noticing that too. These sexy costumes help show off your best curves, so you can look good and feel good. Of course, dad might not approve of all of these outfits, but what he doesn't know can't hurt him, right? Actually, you might be able to sell him on the Wonder Woman Costume if he watched the 1970's TV show when he was younger.
Men's Big and Tall Costumes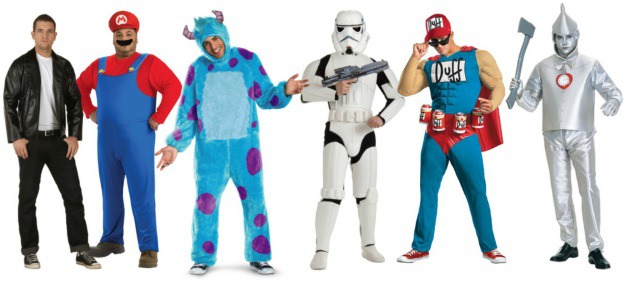 T-Bird Jacket Tanooki Mario Costume Sulley Costume
Stormtrooper Costume Duffman Costume Tin Man Costume
Not every guy is built like a stick of celery, so why should all the good costumes fit tiny guys? How about taking a stand against it! If you're man who has some meat on his bones, then you can appreciate being able to select from a variety of men's plus size costumes that will fit. With styles like Super Mario, Duffman and even Stormtrooper suits, you won't get stuck with some lame costume, just because it's the only one that fits.
Women's Plus Size Costumes
Roman Empress Costume Alice Costume Little Red Riding Hood Costume
Pirate Wench Costume Snow White Costume Glinda Costume
Got some curves that are a little too voluptuous for a small? Beautiful comes in more than one size and so should costumes! The selections for full figured women haven't always been the best in the past, but these days, cute styles come in all sizes. From sassy pirate, to Roman empress, it's easy to find a style that fits your taste and body.
Maternity Costumes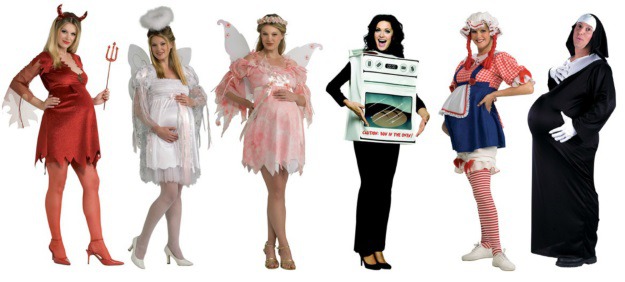 Rag Doll Costumes Pregnant Nun Costume
Having a bun in the oven doesn't mean you have to sit around the house while everyone else has a good time. Get out there and shake your groove thing! What's good for mommy is good for the baby, so having fun should on your list for prenatal care. These maternity costumes make it pretty easy for pregnant women to find something to wear to the party too.
There you have it! A few more reasons why it's okay to be an adult. Of course, if you still really want to feel like a kid, you could see if your mom will let you move back into the basement, but grabbing one of these adult Halloween costumes and celebrating your adulthood is probably a much better idea. How do you plan to celebrate? Share your ideas with us in the comments below and don't forget that you are never too old for Halloween!