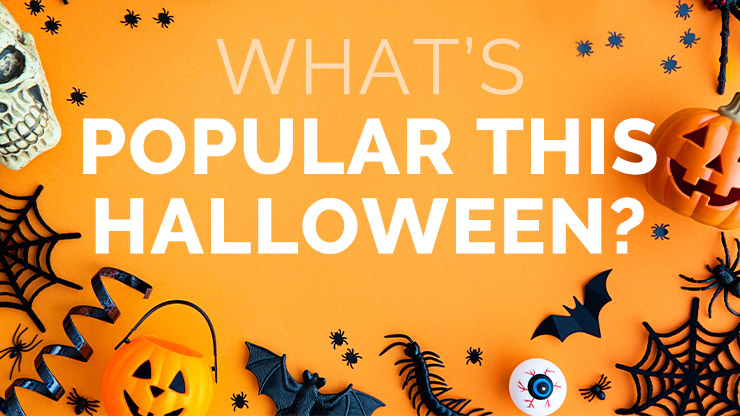 During every Halloween season, there are dozens or hundreds of products and trends that rise above the rest. We're talking about the costumes, accessories, décor, and more that everyone wants to have and show off! You've got best-selling Halloween costumes like witches and wizards, vampires, zombies, and your friendly neighborhood Spider-Man. Then there's décor like skeletons and spiders and animatronic bats. Oooh, spooky! We also see plenty of interest in themed Halloween costume ideas and DIY costumes, so we'll review those trends, too. So let's get to it and look at what's popular this Halloween!
1. Traditional Halloween Costumes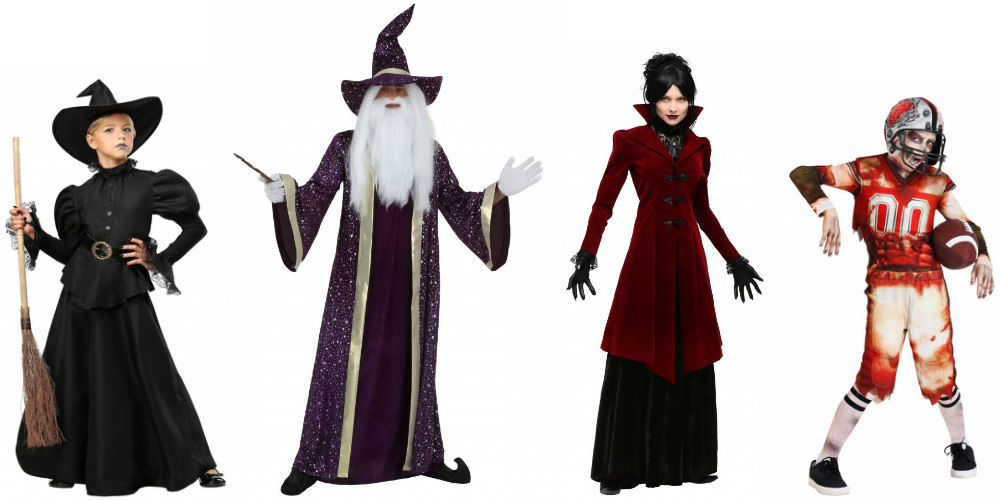 We know what you're thinking, but traditional Halloween costumes are always a trend! After all, the classics never go out of style. We're talking about witches and wizards, vampires, zombies, animals, skeletons, ghosts, clowns, and pumpkins. (We've explored all of these classic Halloween costumes before, so check that out if you're interested!) Superheroes have been around for almost a century, meaning you might even call them "traditional" but the specific trending costumes are always changing. The biggest exceptions are Batman and Spider-Man Halloween costumes, which tend to stay at the top of trend lists year after year.
2. Movie and Video Game Costumes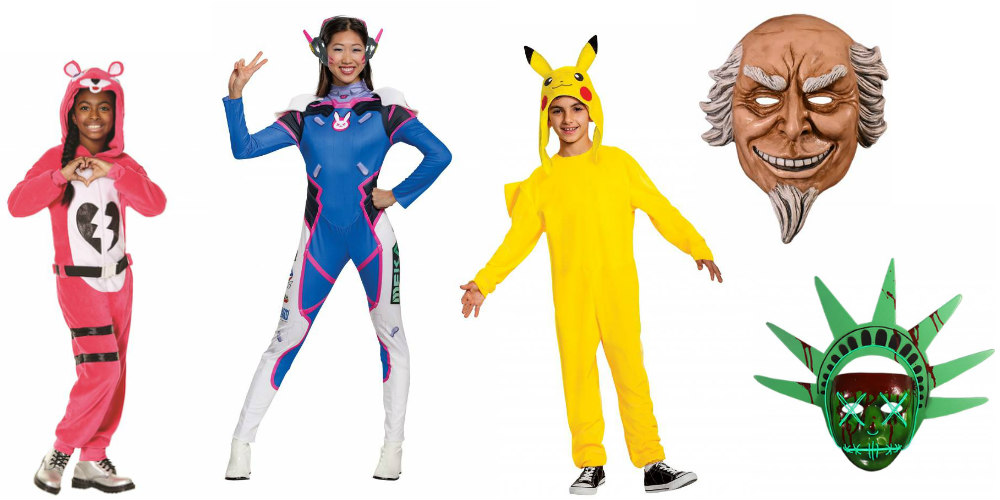 Of course, what's popular in movies and video games is also popular when Halloween rolls around. Sometimes it seems like everyone is playing Fortnite, so you'd expect Skull Trooper and Cuddle Team Leader costumes to be a trend. And you'd be absolutely correct because Fortnite Halloween costumes are one of the biggest trends this year. Overwatch Halloween costumes like D.Va and Tracer are a hit, both in the Overwatch Halloween Event in-game and in real life. Overwatch skins, Halloween costumes, it's all the same thing, right? (Apex Legends is also huge right now, but unfortunately there aren't any officially-licensed Halloween costumes yet. But it's still a trend and folks are making their own DIY costumes based on skins from the Apex Halloween Event. If you're looking to do the same, you might want to look through our accessories to help bring your project to life.) And turning to movies, The Purge is big with Halloween fans. There aren't many options for Purge costumes, but that's fine because The Purge masks are what it's all about!
3. Easy and Last-Minute Halloween Costumes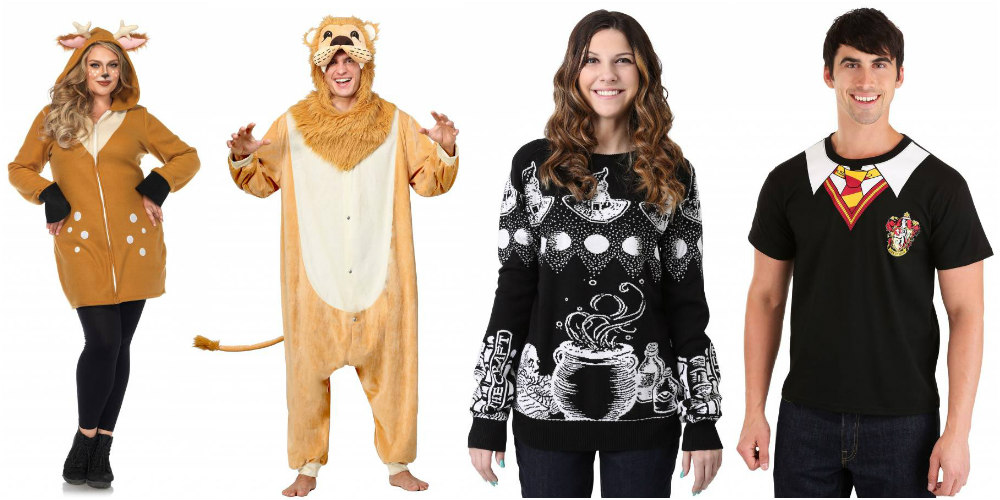 Look, Halloween is all about having a fun time. For some people, that means elaborate costumes, elaborate makeup, and elaborate Halloween decorations. But sometimes you just want to take it easy! That's where easy Halloween costumes come in. They're low-stress, just throw them on and—voila!—instant costume. The more "costume-like" of these are hoodie and pajama costumes. But you can still celebrate with low-key, last-minute Halloween costumes. In fact, it's a new trend to keep the spooky spirit alive by wearing Halloween sweaters and shirts year-round, which is totally fine with us! All of these can be bought in pairs to make easy couples costumes for trick-or-treating with the kids or a cozy weekend at home. And hey, if you decide to add some easy Halloween makeup to your costume, we've created some tutorials to help you out!
4. Halloween Safety
Staying safe on Halloween isn't exactly new, but there are plenty of Halloween safety trends to know about! The Teal Pumpkin Project—which exists to raise awareness about food allergies—has been growing for several years now. You can help by setting out a teal-painted pumpkin and giving allergy-free, non-food treats to trick-or-treaters with teal buckets. A more recent trend is the blue Halloween bucket to raise awareness about autism. Other time-honored but trendy safety tips include attaching reflective pieces to children's clothing, carrying a safety light or flashlight, and bundling up when it's cold.
5. UPS Dog Costume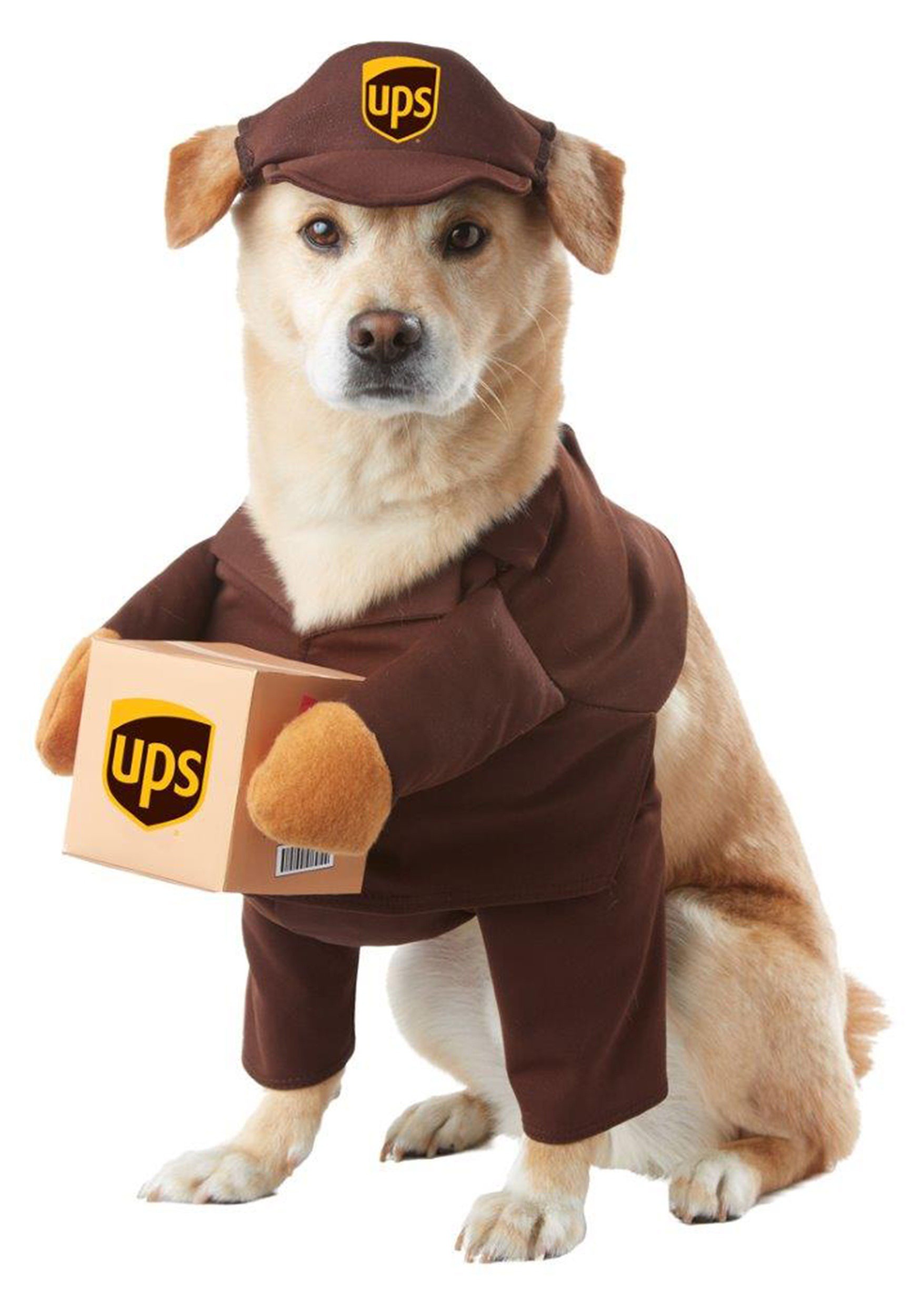 What funnier than dogs in costumes? Pretty much nothing. That's why eeeeeveryone loves this UPS costume for dogs!
6. Ariana Grande Costume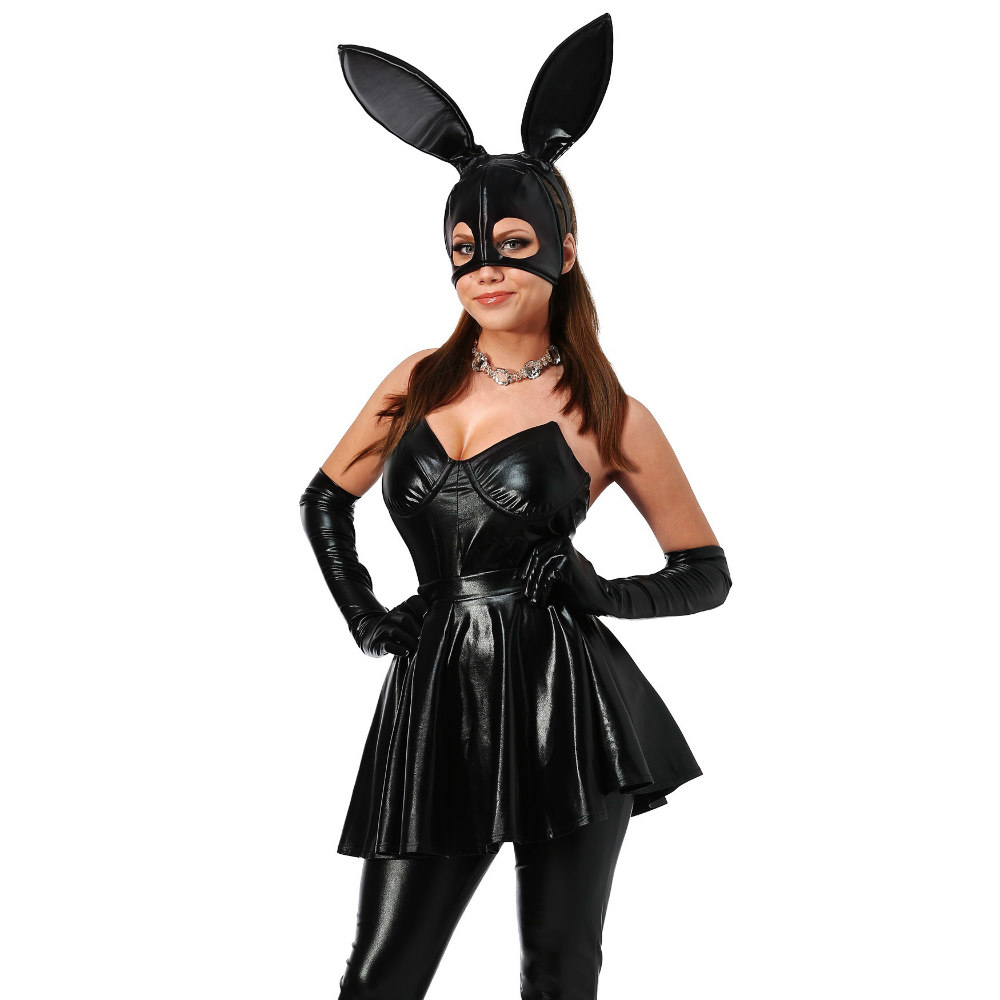 Ariana Grande's third studio album, Dangerous Woman, came out in 2016 but this Ariana Grande costume is still popular. It's based on her costume from the hit title track, "Dangerous Woman". If you're an Ari stan and love her "Thank U, Next" video, you might want to check out these Mean Girls Halloween costumes as well!
7. Heidi Klum Halloween Costumes
Heidi Klum is pretty much the queen of Halloween. Every year she reveals another elaborate costume—from Jessica Rabbit to the Thriller Werewolf to Princess Fiona—and social media goes wild! In 2019, special effects artists will apply her costume over 10 hours in the Manhattan Amazon storefront.
8. Halloween Cupcake Ideas
Some desserts have a strong association with a season or holiday: there's pumpkin pie at Thanksgiving and sugar cookies at Christmas. As far as we're concerned, every day is cupcake day—which is great!—but making spooky Halloween cupcakes is getting more popular every year. (That's also fine with us!) If you're into Halloween and baking, you can get some great Halloween cupcake ideas from our cupcake costumes category. Or make a spooky-cute version of these Care Bears cupcakes from our sister site, Fun.com!
9. Halloween Décor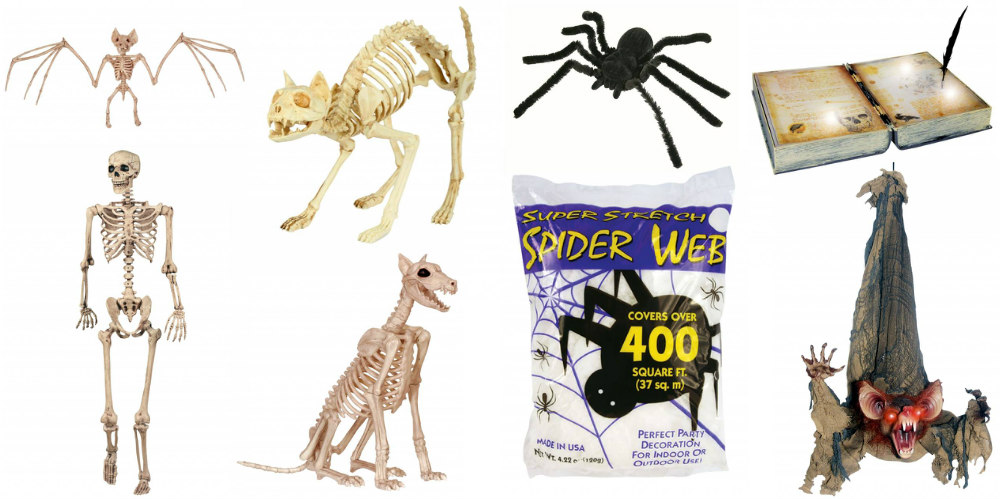 If you want your home to scream Halloween this year, then you really ought to up your Halloween decoration game! Basic skeletons are tired. Get some animal skeleton props—including bats and cats and dogs, oh my!—and a posable human skeleton that you can put in all kinds of terrifying positions. Posable spiders are trending for the same reason. Just don't forget the spreadable spider webs! And animatronics are looking better and getting less expensive every year, which goes a long way towards making them trend! The animated spellbook and creepy bat are both big but you can't go wrong with any moving prop!
10. Pennywise Costumes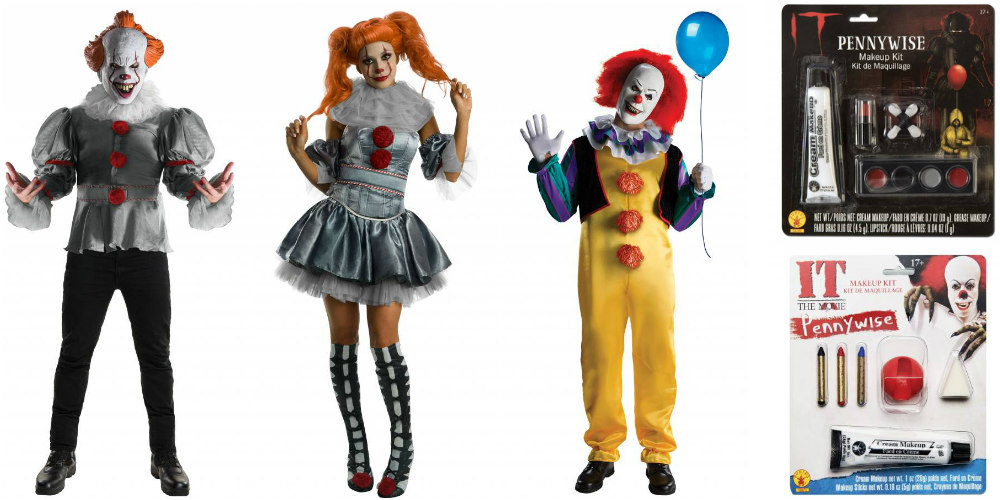 The It miniseries in 1990 is a cult classic and Tim Curry's performance as Pennywise was nothing short of iconic. When a reboot was announced, there was some initial hesitation. Well it turned out the It reboot films in 2017 and 2019 were great and Bill Skarsgård's turn as Pennywise was equally acclaimed. Of course this means that you're going to see a Pennywise costume or two at Halloween. In fact, it's one of the Top Halloween costumes for 2019! And you've got your choice of the 2017/2019 film version, a sexy version with a skirt, plus the Tim Curry classic It costume that we all love. With a couple of these costumes, you've can also choose between wearing a mask or doing your own makeup. This may seem intimidating but is actually easy with a makeup kit!
11. Punny Costumes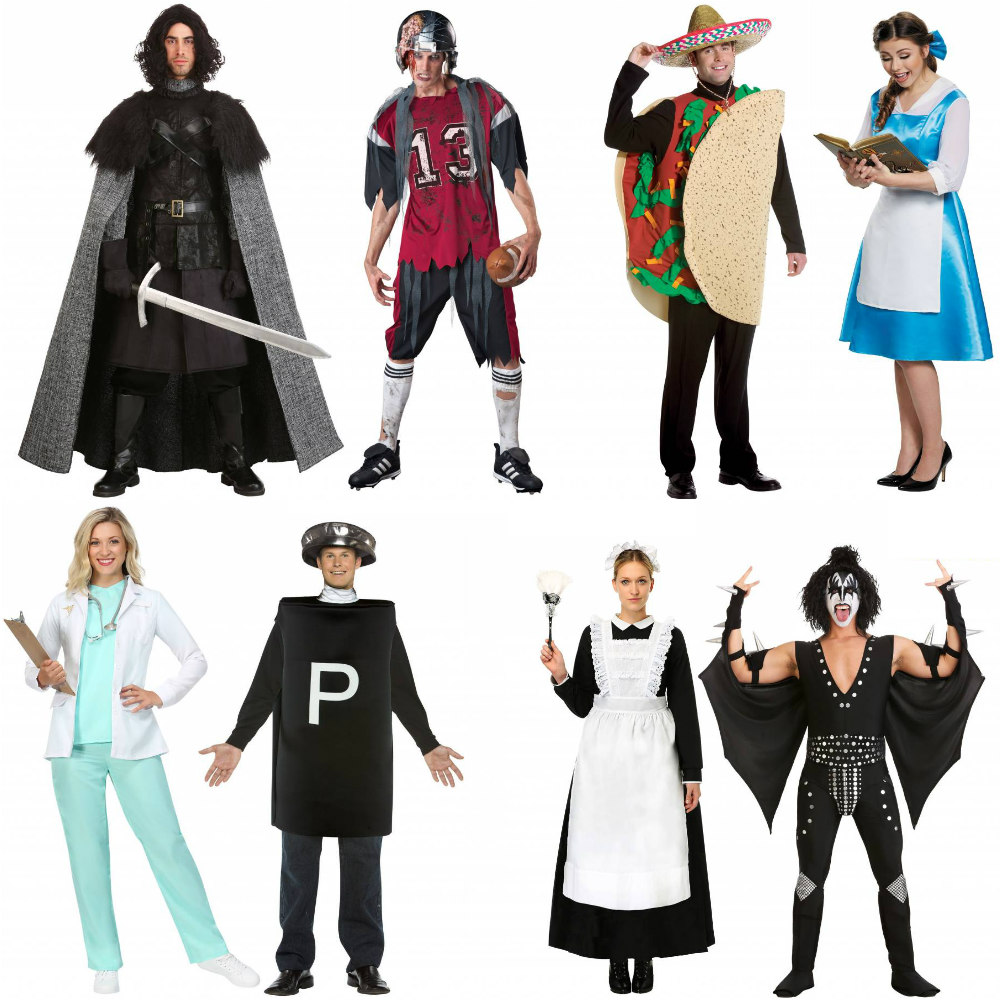 From Pennywise costumes to Punny…wise costumes? Hey now, you're entering the corny joke zone, you've been warned! Punny Halloween costumes are a staple of the holiday. And while you can buy funny costumes that don't require any extra planning or work, the best punny costumes are the combinations you make yourself. Add some football equipment to a Game of Thrones costume to become "Fantasy Football". (We chose a "zombie football" costume to reinforce those White Walker themes!) Combine Belle from Beauty and the Beast with a taco costume and you've got "Taco Belle". You can also make a "Doctor Pepper" pun from pepper shaker and doctor costumes and a "French Kiss" pun from a traditional French maid costume and one of our KISS costumes. We included "The Demon" from our new budget-friendly KISS costumes! So far we've suggested combining costumes to make these puns, but of course a couple can wear them, too. Plus then you've got instant funny couples costumes. Check out our article on punny costume ideas for more!
We hope you found what you're looking for! We did our best to show off the coolest new Halloween costumes for 2022 and our best-selling Halloween decorations, but we've got our eyes on so many trends that it was difficult not to include pretty much everything! If you spot some popular products in your own area, be sure to let us know about them in the comments. We might just add them to our huge selection of products!