Inflatable Halloween Decorations
If you're anything like us, you love to celebrate Halloween in a big way. There are a lot of ways that you can do that, of course. You can buy the very best Halloween costumes and sport them all around your neighborhood. You can also transform your entire home with the eeriest of lighting and then place the spookiest Halloween décor out there all around your halls. Trust us, there's nothing like seeing the startled faces of your family when they come around the corner to a witch in the room!
But we can hear you asking yourselves, "Is that really big enough!?" There are no bones about it. An average skeleton might send shivers down someone's spine, but you can always go bigger! That's why we'd love to introduce you to the wonderful world of inflatable decorations for Halloween. There are a ton of different options, and they are all surprisingly simple to set up. Whether battery-powered or plugged into the wall, the flip of a switch fills these inflatables up and transforms an easy-to-store decoration into a larger-than-life figure that will make mighty memories for years to come! Scroll through our top suggestions for how you raise a hundred spirits this Halloween.
Inflatable Halloween Décor
Inflatable decorations are a great way to deck out your den for any holiday—but especially for Halloween. Most decorations are either really tough to store throughout the year or require quite a bit of setup every year—and heaven forbid if any screws go missing along the way! An inflatable decoration fixes all those problems. When out of use, they roll up and fit into a box that can comfortably fit with the rest of your off-year décor. When you're ready to go, stake out a spot, plug in the fan, and flip the switch. In no time, your decorating is done! Buy a Halloween inflatable decoration for easy, fun thrills!
Jack Skellington Inflatables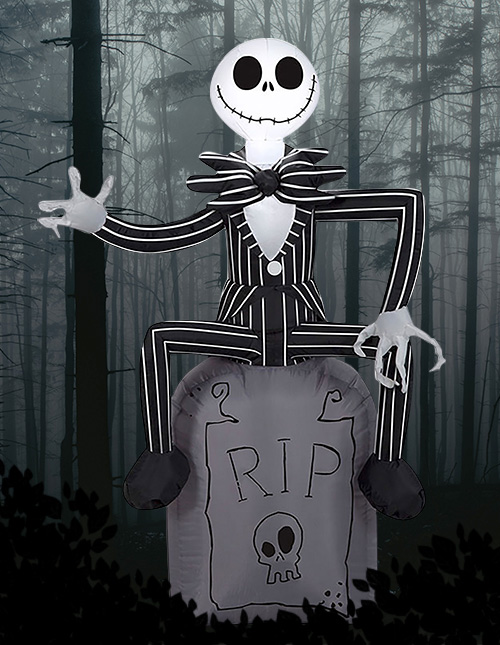 The magic of Nightmare Before Christmas is that it can be celebrated no matter the season. Plus, the host of supernatural creatures that dwell in Halloween Town is certainly memorable. So, if you're a fan of the Pumpkin King, what better way to show your spirit than to connect a fan to an Inflatable Jack Skellington decoration and let the whole world see!? Tether this guy down on the lawn or in your party area and let him light up the night!
Inflatable Dragons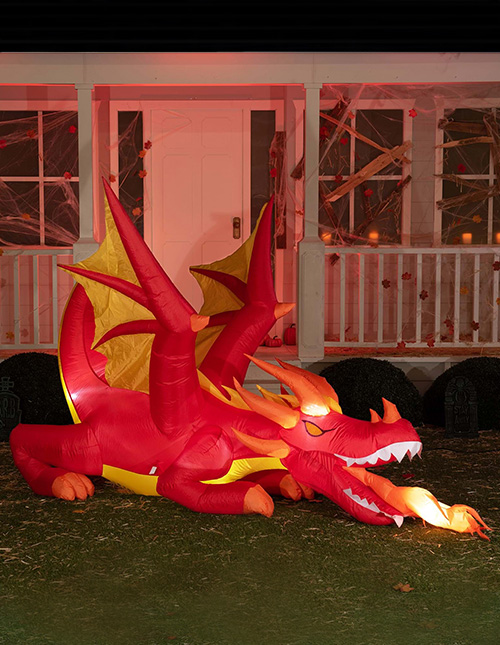 What's more magical than a Halloween night? Well, if you look into the fantastic stories of your favorite myths, you're sure to find a few creatures who are just as eager to paint the town red! Dragons hold a place in all of our hearts and when you place an Inflatable Dragon in your yard, you'll be bringing a bit of magic to your home. Even better, the flow of air gives their wings and fire the perfect animated effort!
Grim Reaper Inflatables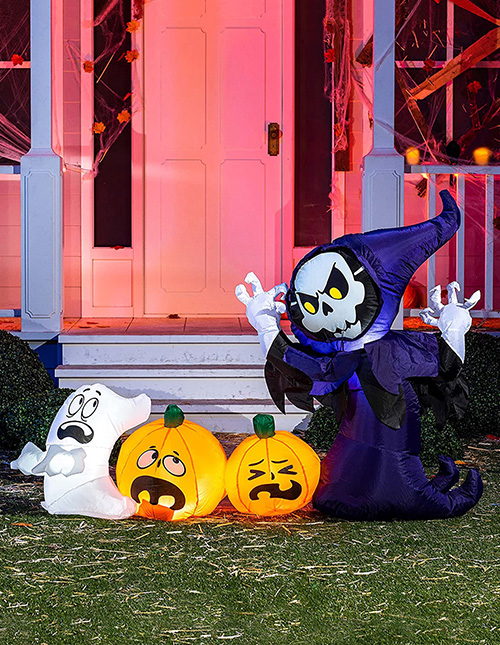 It's pretty easy to assume that anywhere you find a Reaper is going to be a pretty spooky place. And that's fair, to be honest! When you choose an Inflatable Reaper decoration, you'll have your pick of a wide assortment of creatures—everything from creepy animated skeletal figures to cartoonish scamps that are more likely to make people smile instead of scream. Find the Grinning or Grim Reaper you've been looking for today!
Inflatable Black Cats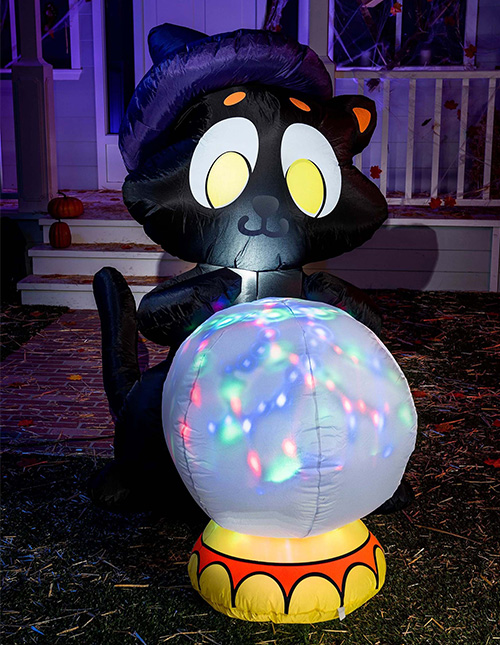 It's impossible to talk about Halloween without mentioning one of the most important icons of the holiday: the black cat. Is this a creature of wicked superstition or simply the most popular familiar of the season? That's up to you to decide! However, when you put a Black Cat inflatable decoration in your home, you'll let everyone know which way of the broomstick you fall. Cuddly kittens full of curiosity or sinister spirits searching for trouble!?
Giant Inflatable Halloween Decorations
Alright. We get it. We told you that you needed to go big for the holiday and, so far, we've been showing you things that fit practically anywhere! Now you're asking if we were joking. "If we're going to go big, let's go monstrous!" Well, your wish is our command. Let us show you decorations that will have everyone's eyes widened. Are you interested in life-size inflatable décor that can look you right in the eye? How about something big enough to get jaws to drop!? 10 feet tall? 25 feet tall!? Make sure that your auditorium is in awe. Get yourself an inflatable decoration that takes over your entire yard! Go for an inflatable archway that seems like a portal into a brand-new world. It's time to go giant!
Stay Puft Marshmallow Man Inflatable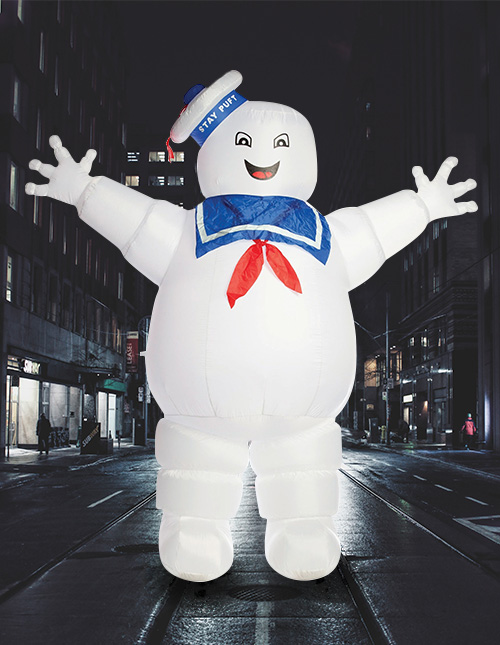 When there's nothing strange in your neighborhood, who ya gonna call? How about a giant Stay Puft Marshmallow Man Inflatable decoration!? From an 8-foot monster to a Ghostbusters decoration standing up to 25 feet tall, this iconic destroyer is a perfect way to bring your home some attention! Ropes and stakes are included, so all you need to do is find the perfect place to let your favorite version of Gozer hang out for the holiday.
Inflatable Ghosts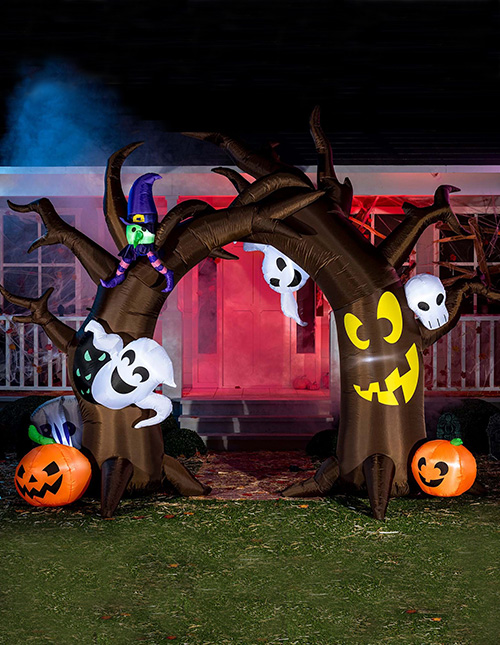 Did someone say g-g-g-ghosts!? They can be pretty scary with their ability to float and hover around. The fact that they can appear out of nowhere is another way to get anyone to jump. But when you choose your choice of Ghost Inflatables, you can go small or you can go to truly terrifying scale! But you'll suffer no prop panic. As big as these 10-foot specters may be, the included instructions help ensure they won't haunt the whole neighborhood.
Halloween Inflatable Archways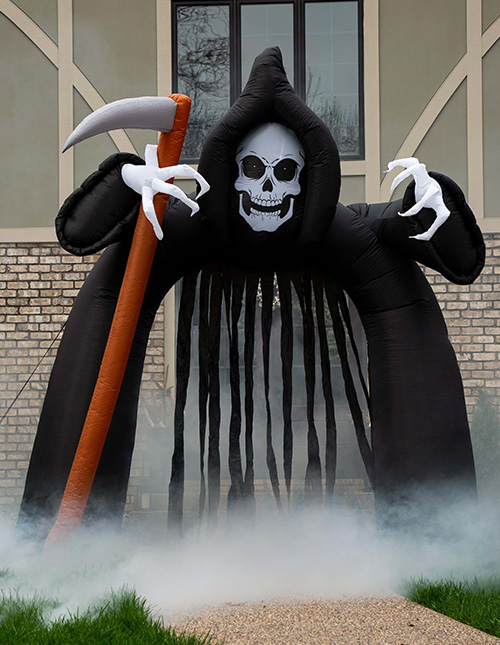 There's nothing like giving your doorway an awesome decoration for the holiday. It shows your guests that they are welcome and even sets the tone for any scene. But what's better than that? Imagine springing up an entirely new doorway from out of nowhere! Archway Inflatables are an ideal way to create an opening to any area. Just like the rest of our inflatables, just stake down an area and flip the switch and you'll have a portal to fun!
Inflatable Skeletons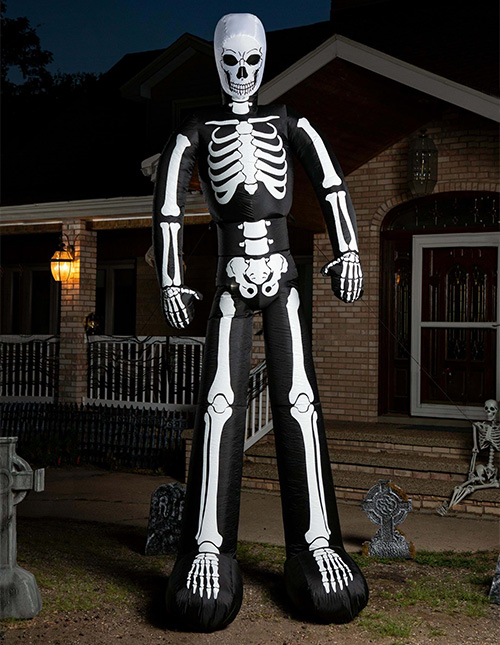 There are a ton of options for spooky creatures to deck out your den. Zombies and vampires are iconic, obviously. Werewolves can be a huge hit, too. But there is something about the dread of a skeleton that will always leave people's skin crawling. So… what happens if you bring home a Skeleton inflatable that can reach the second floor!? Let your friends and family wonder just where giant skeletons dwell and how you got your hands on one!