Are you looking for a costume that everyone can wear? Maybe you need matching costumes for a special event, like a silly group costume for the office or a group costume run. Or you're trying to pull off a family costume where everyone is wearing the same thing! If you're in the market for unisex costumes, we have just the costume guide for you. Keep reading to find a fun variety of gender-neutral costumes for adults, children, and infants.
Gender Neutral Costumes for Adults
Adult Inflatable Unisex Costumes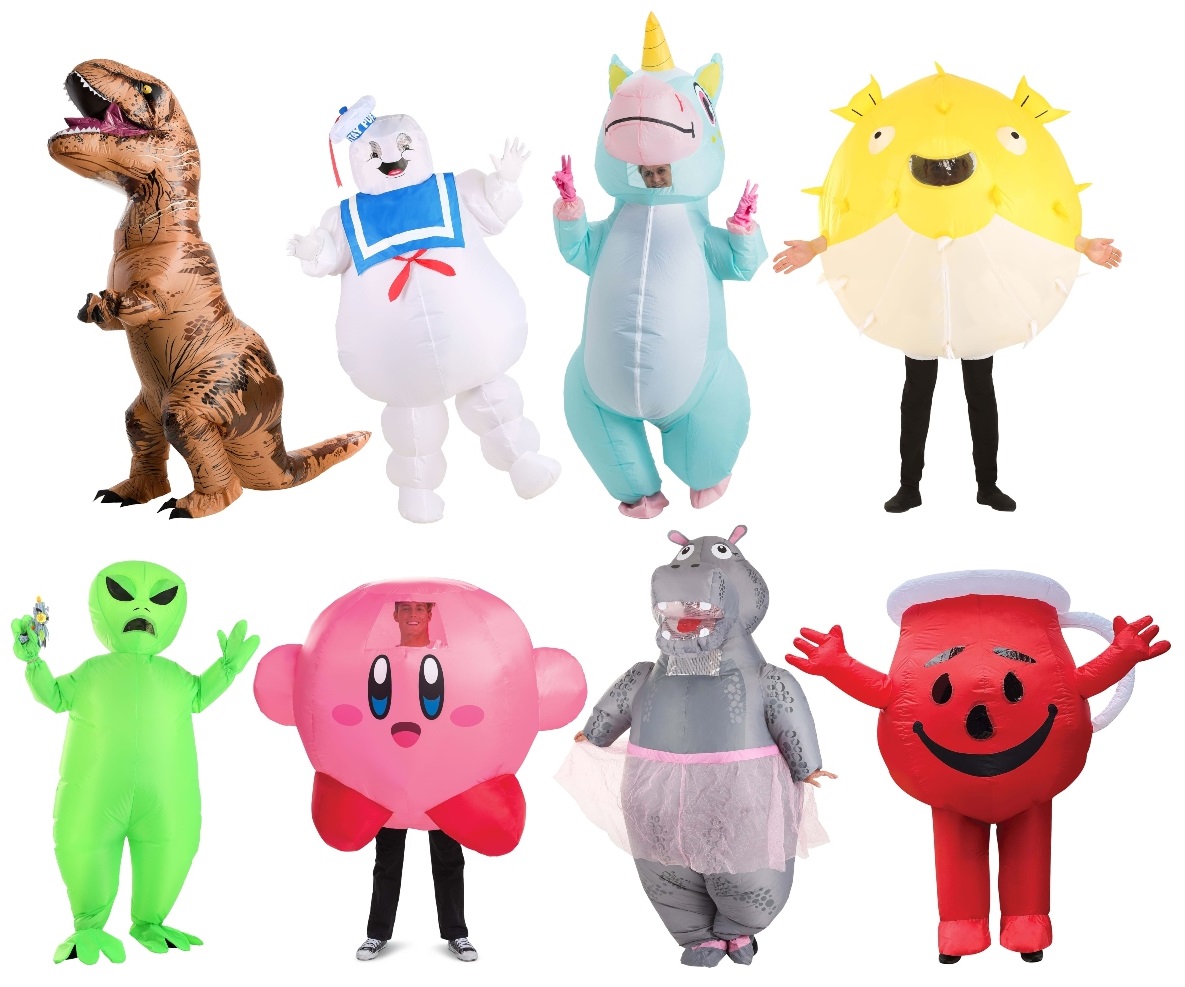 Inflatable costumes are fantastic. They can easily fit a variety of body types as they're not meant to be form-fitting, making them perfect nonbinary Halloween costumes. A battery-operated fan inflates the costume so you can take on all kinds of weird shapes, whether you want to be a puffer fish, the ever-so-popular inflatable T-Rex, or the wacky wavy arm thing that you see at car dealerships. You and your cohorts will bring a smile to everyone's faces when you waddle your way up to the party in any of these blow-up costumes for adults!
Adult Cozy Gender Neutral Costumes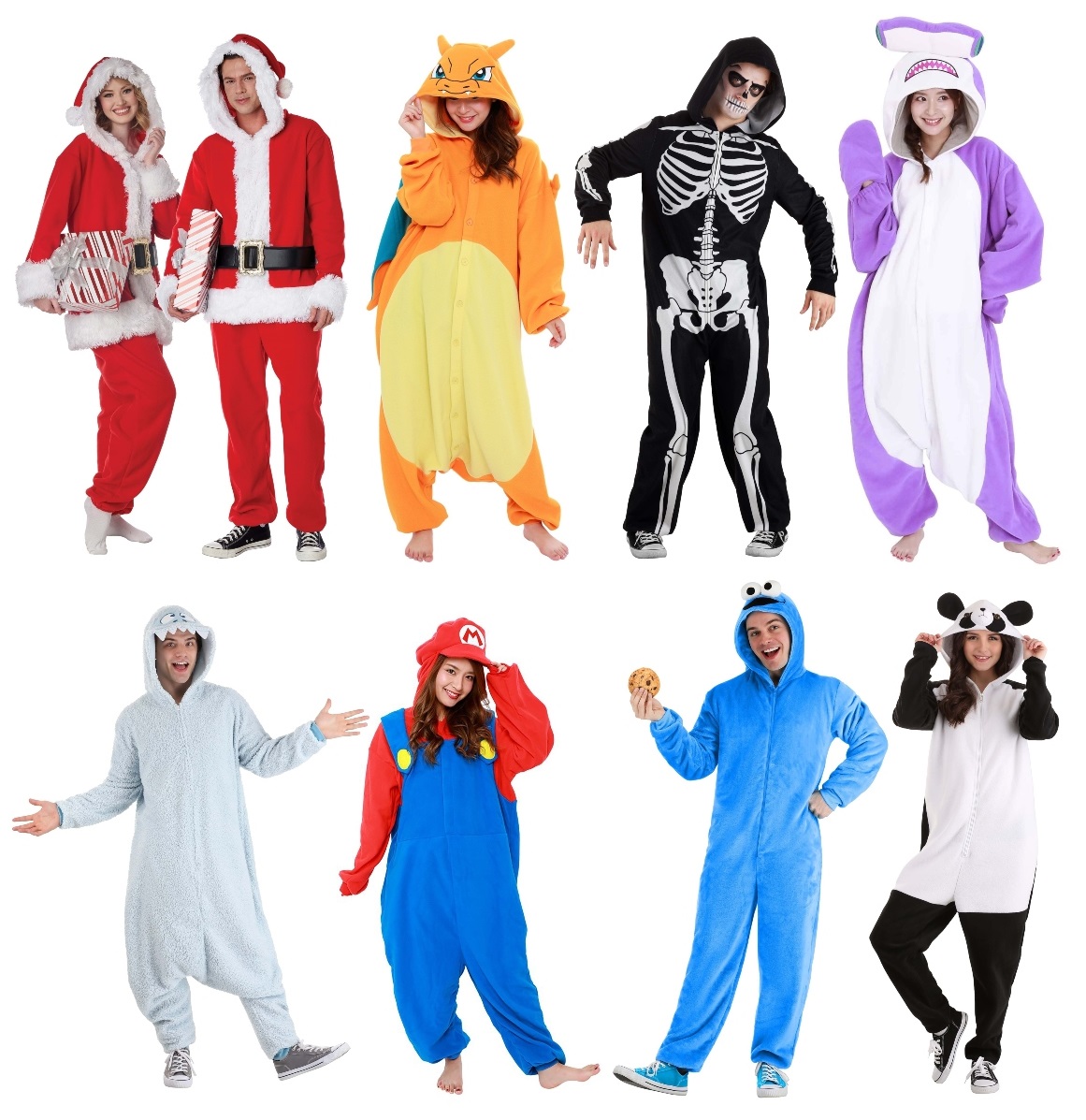 If you and the gang want to be extra warm while also having an assortment of pop culture costumes and animal costumes, you should look at cozy costumes. Most of these unisex costumes come in a jumpsuit style, although they may be listed as pajama costumes or as kigurumi costumes. Kigurumis are wide and roomy with a low crotch, making them very comfortable and easy for a wide variety of people to wear. More form-fitting pajama costumes may also be called onesies or union suit costumes, and they will also feature a looser fit without the severe drop crotch. (However, you may want to keep a sharp eye on the torso measurement for very tall or muscular people when outfitting a large group.)
Gender Neutral Animal Costumes for Adults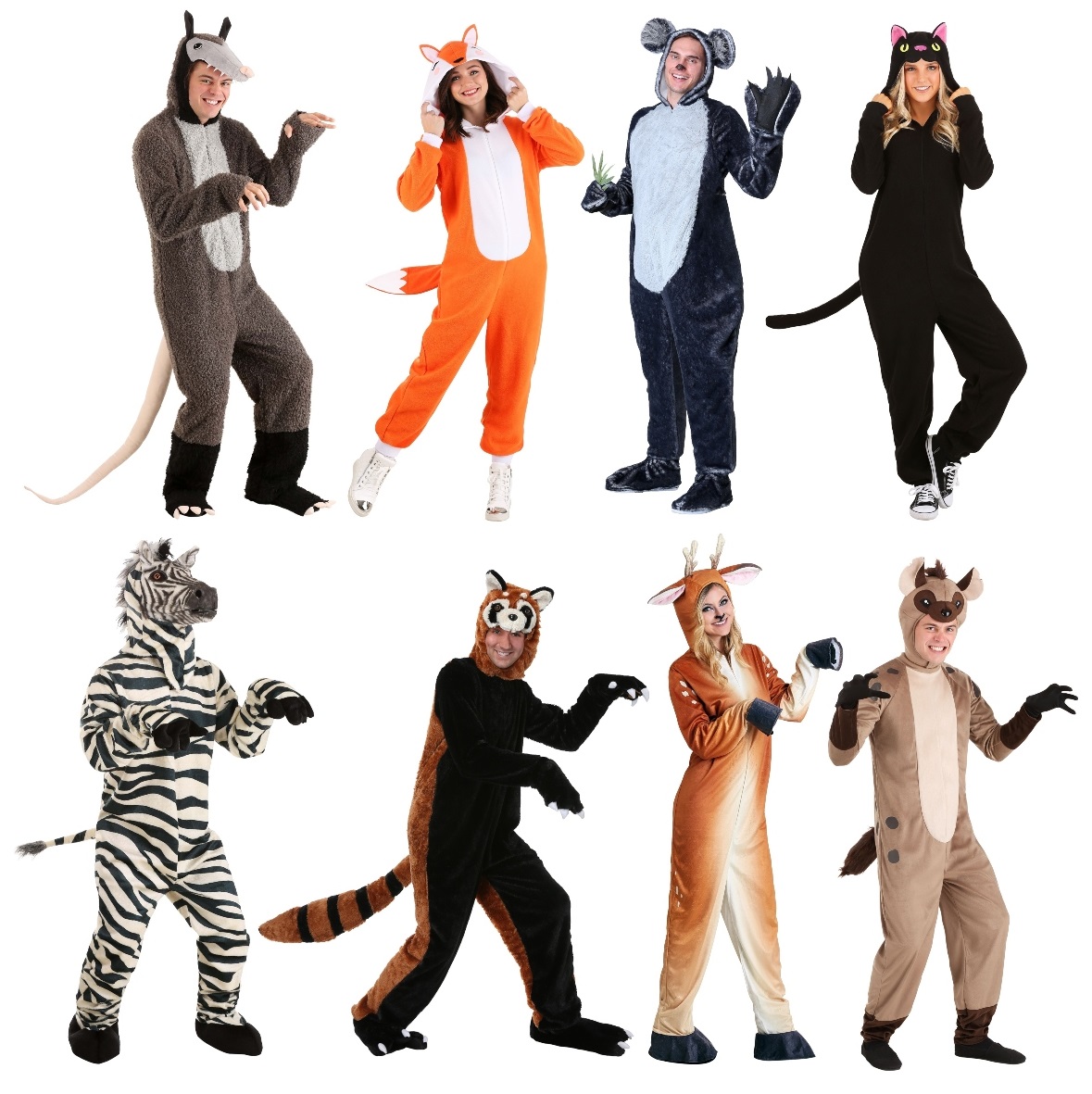 Similar to most pajama costumes, quite a few adult animal costumes are made as jumpsuits and onesies. Whether you're a teacher looking to add some fun to your classroom or you simply want a comfortable costume for Halloween, you can't go wrong with an animal costume! Just keep the torso measurement in mind, as some costumes may be more form-fitting than others. Animal costumes with hoods are very easy to wear with minimal effort, but you can always wow the crowd with a more anonymous mouth-mover mask costume. They're simply jawsome!
Unisex Career Costumes for Adults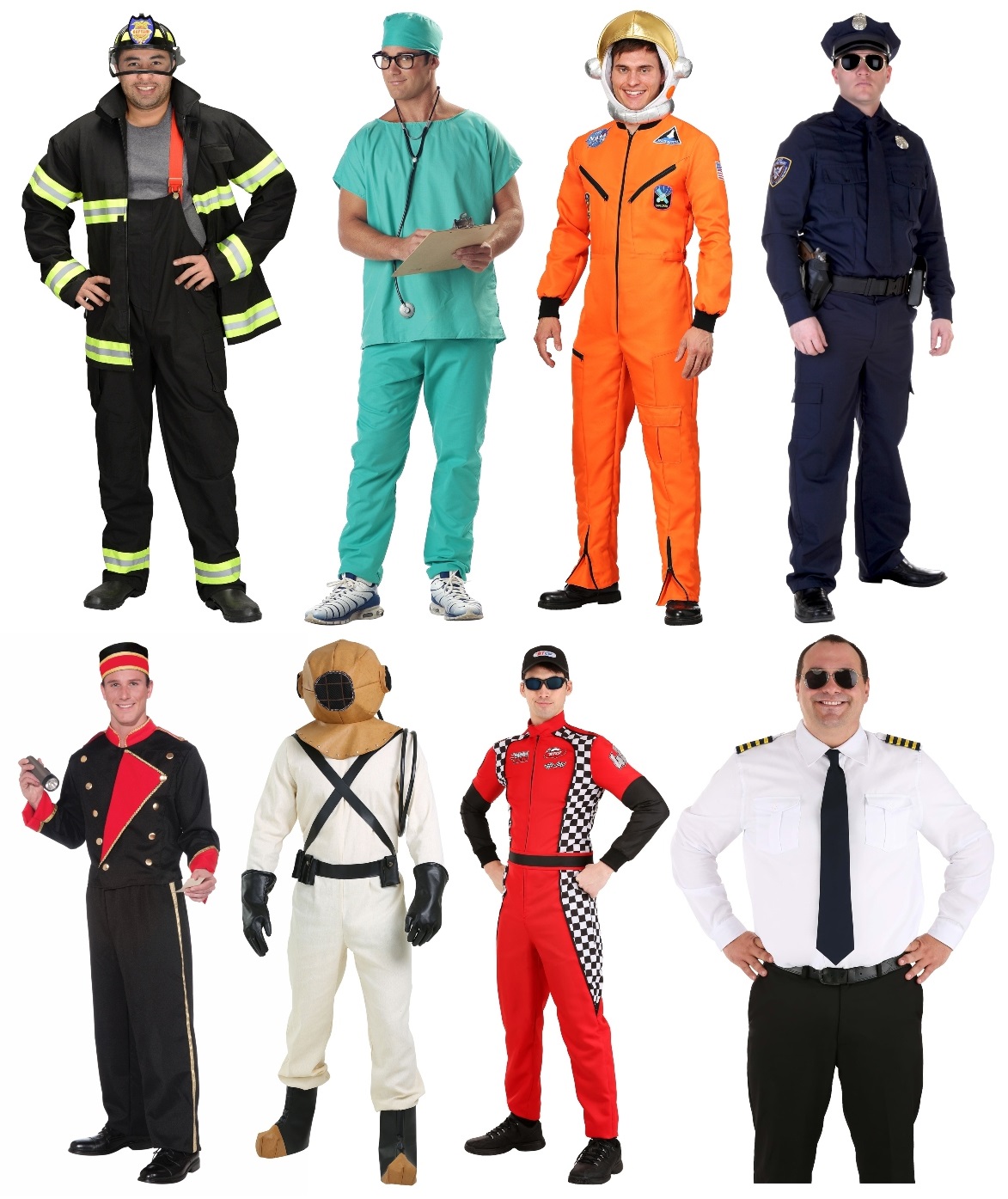 Maybe you're considering a career change for Halloween? These adult uniform costumes are easily worn by both men and women, from scrubs and police uniforms to firefighters and movie ushers. (Just make sure to check the size chart!) Even if you're not much of a costume person, there are a few uniform shirts that you can wear with your favorite pair of pants. These are also great as nonbinary costumes, as jobs don't have to indicate a gender!
Unisex Adult Food Costumes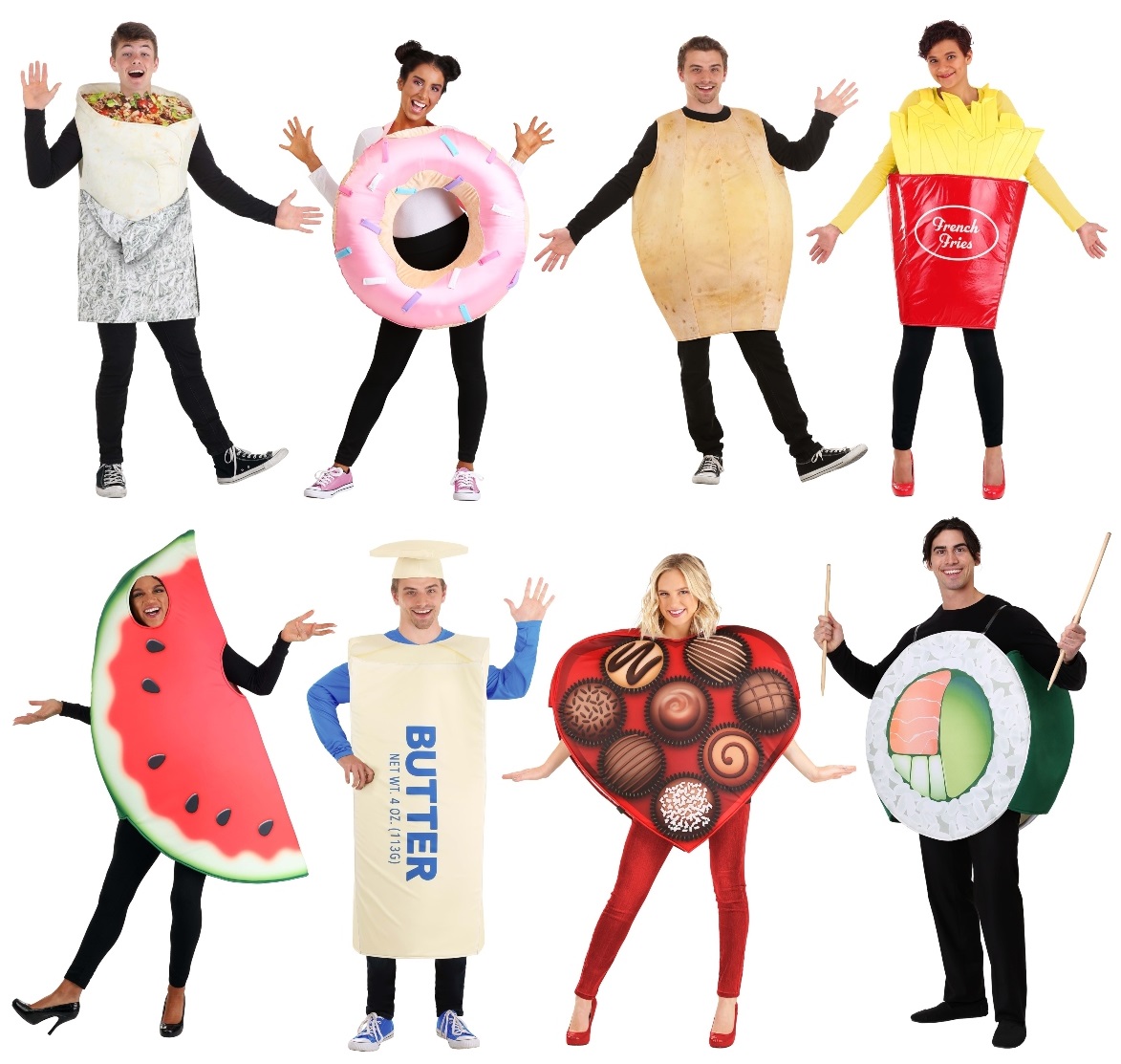 Last time we checked, food doesn't often have a gender attached to it, so no one will bat an eye at your Fruit of the Loom group costume—or a bunch of adults wearing funny food costumes. Just wear black clothing underneath, and you're ready to go! As an added bonus, food costumes are eggcellent for people who love puns and dad jokes.
Unisex Adult Funny Costumes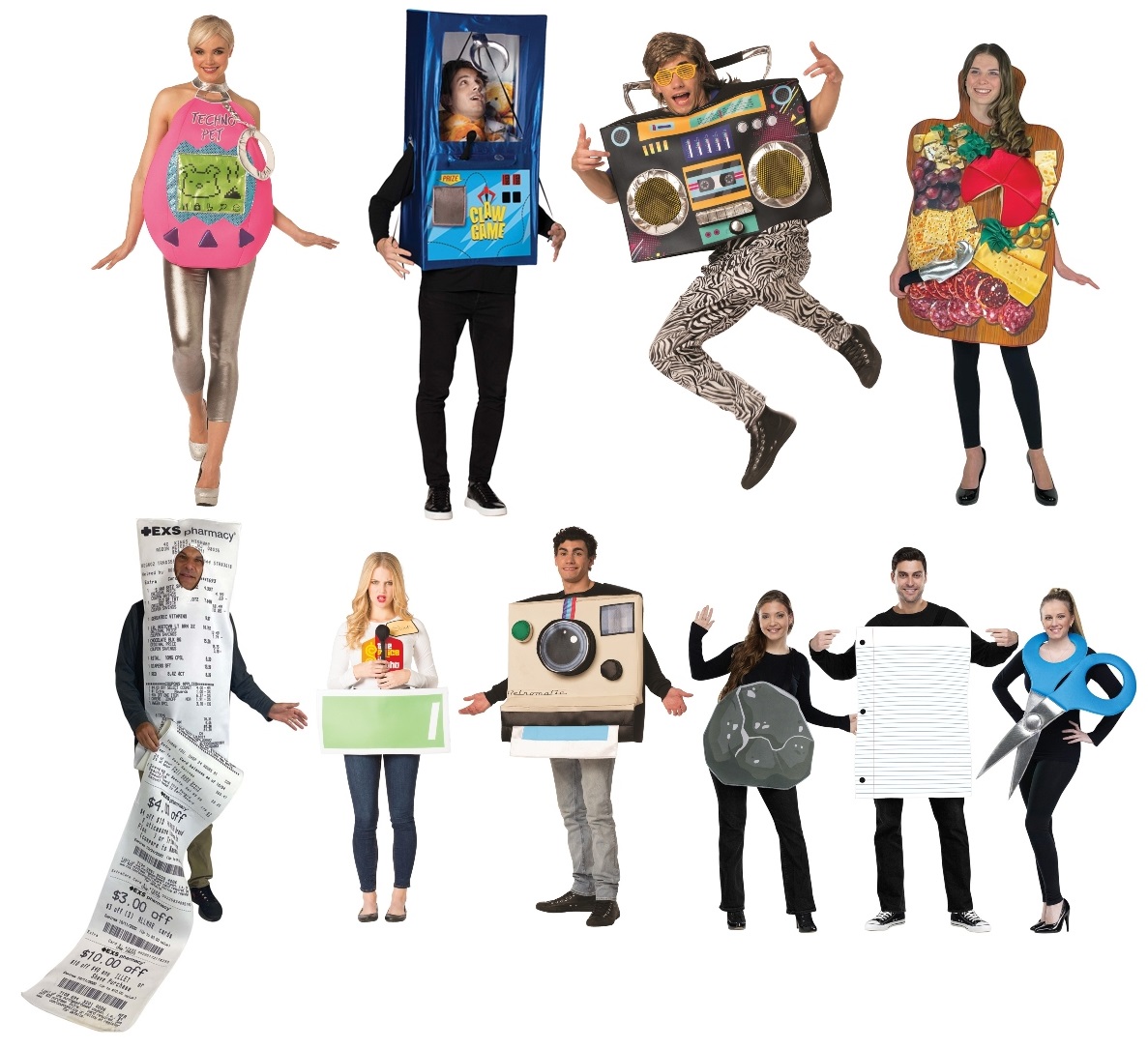 There are tons of funny adult costumes that both men and women can wear. Silly costumes like these would also be great to wear at work—from dentists in toothpaste costumes to shoe salespersons in shoe costumes, or even music store employees wearing cassette tape costumes. You can also wear many of these to a fun run, as most of them are lightweight and leave your arms and legs free. (Kudos to anyone who can pull off running in a cactus costume!)
Gender Neutral Costumes for Kids
Child Unisex Inflatable Costumes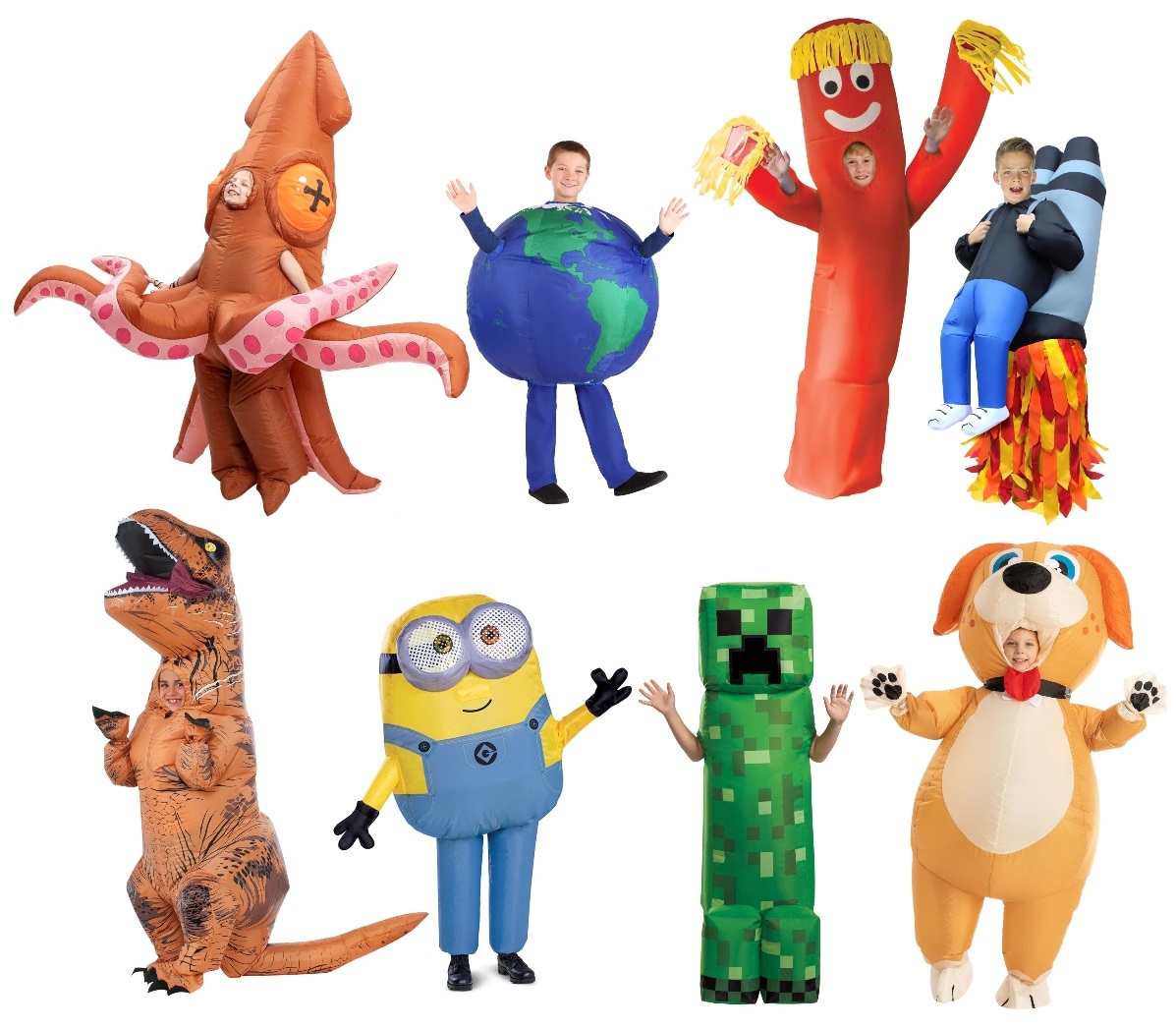 Kids love silly costumes, so inflatable costumes for kids are sure to be a hit! Create a T-Rex family photo with the inflatable T-Rex costumes for adults and kids, or wear your favorite Star Wars costumes and have the kids dress up as the droids. (It's so cute when they're little!) The possibilities are endless, and having a gender-neutral kids' costume will make it easy to keep and reuse with any of their younger siblings or relatives.
Child Cozy Gender Neutral Costumes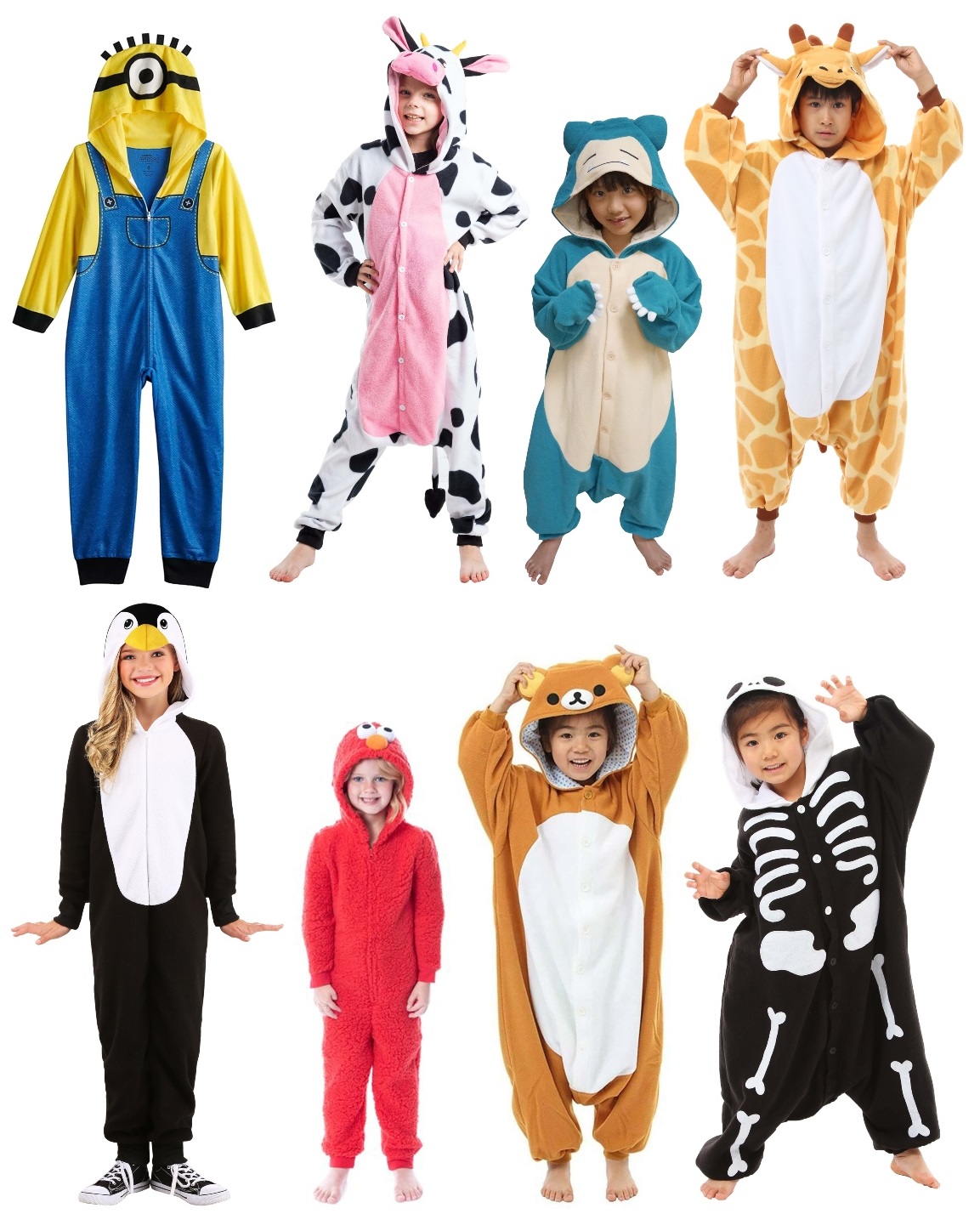 Kids love to wear costumes, but they also love comfortable costumes. Forget the itchy fabrics and get them a fleece costume or something made with plush fabrics! There are plenty of animals and characters to choose from, too. Kids will look adorable in a Snorlax costume or a Stitch costume. They may even want to continue wearing their pajama costume after Halloween for dress-up.
Unisex Kids' Animal Costumes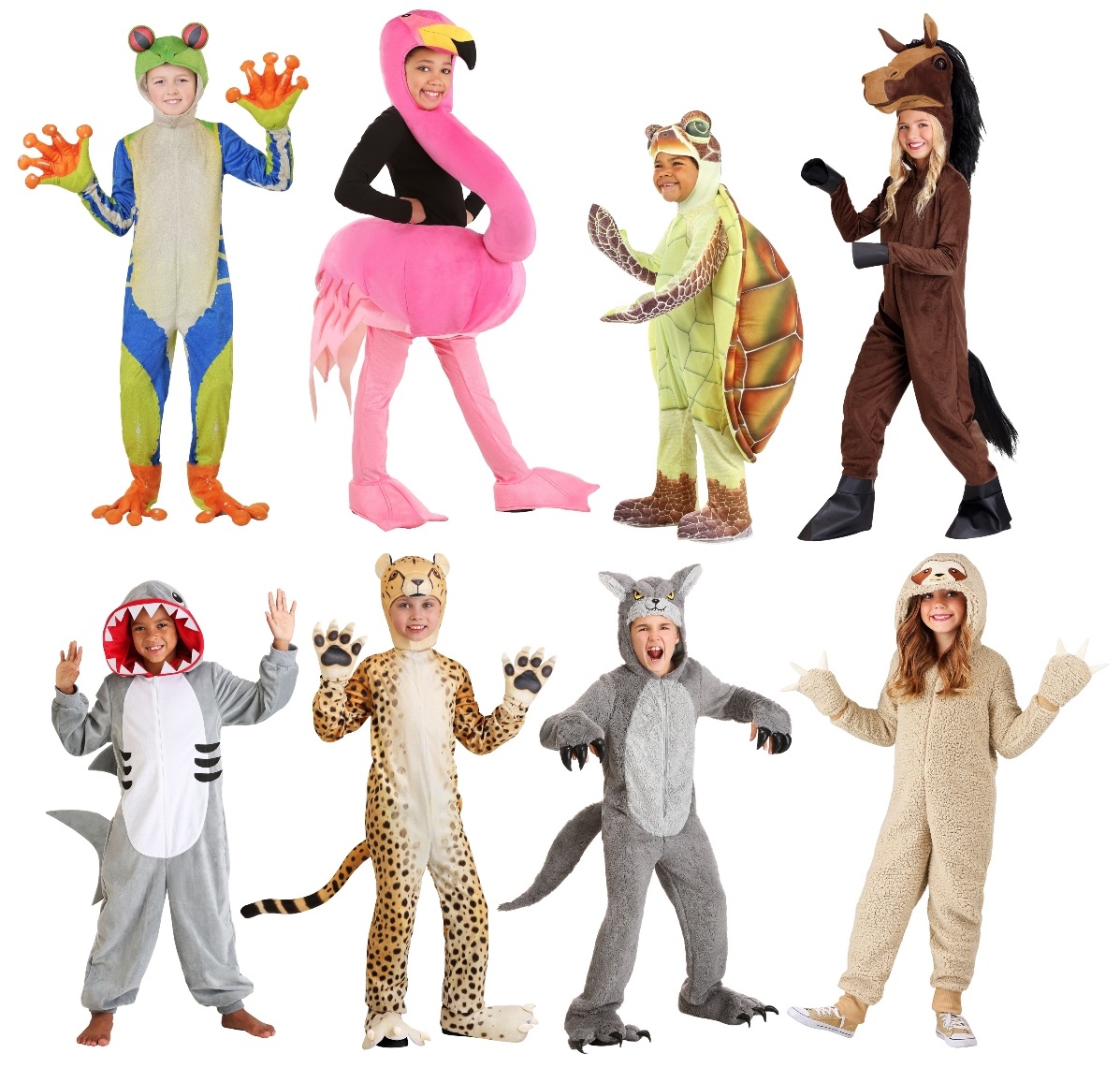 Have you ever asked a child what their favorite animal is? As one could imagine, the answers you'll get will vary wildly! Frogs, cheetahs, sharks, horses—a child's favorite animal can even change every time they hear a cool animal fact. Hopefully, they don't change their Halloween costume idea that often, but many kids are excited to wear animal costumes. While some may be more gendered with bows and tutus, there are plenty of unisex kids' animal costumes in easy-to-wear jumpsuits for boys and girls. The best part about these animal costumes is that they can easily be handed down to younger siblings or worn multiple times for pretend play sessions!
Gender Neutral Uniform Costumes for Kids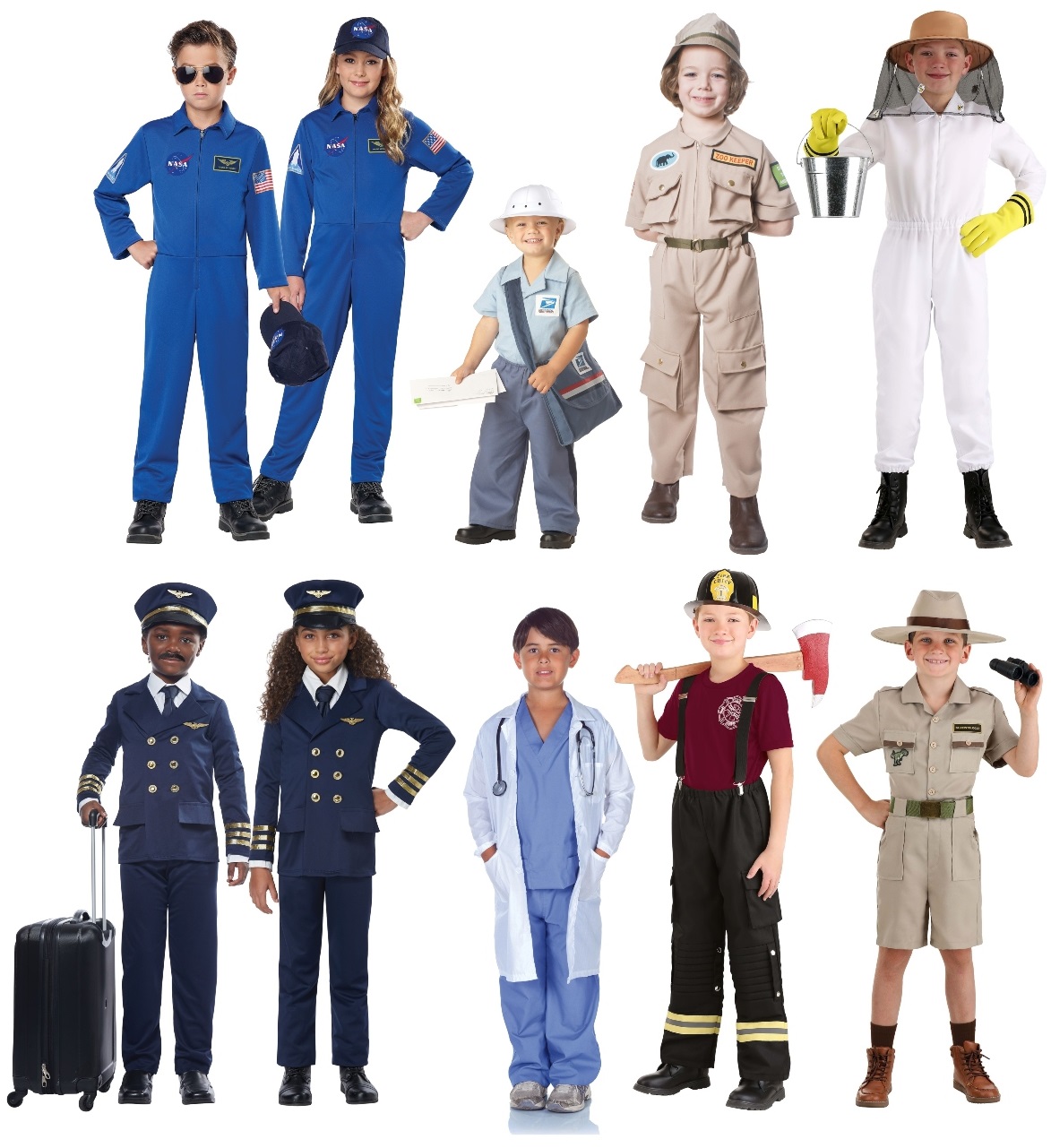 Your child may not know what they want to be when they grow up, and that's ok! They're bound to change their mind many times before starting a career path. Foster their imaginations with these fun occupation costumes for kids. Does your little girl dream of being a firefighter? Maybe your son would love to be a beekeeper or a paleontologist. People have jobs in all of these fields, so your kid can wear any one of these unisex costumes too!
Unisex Child Food Costumes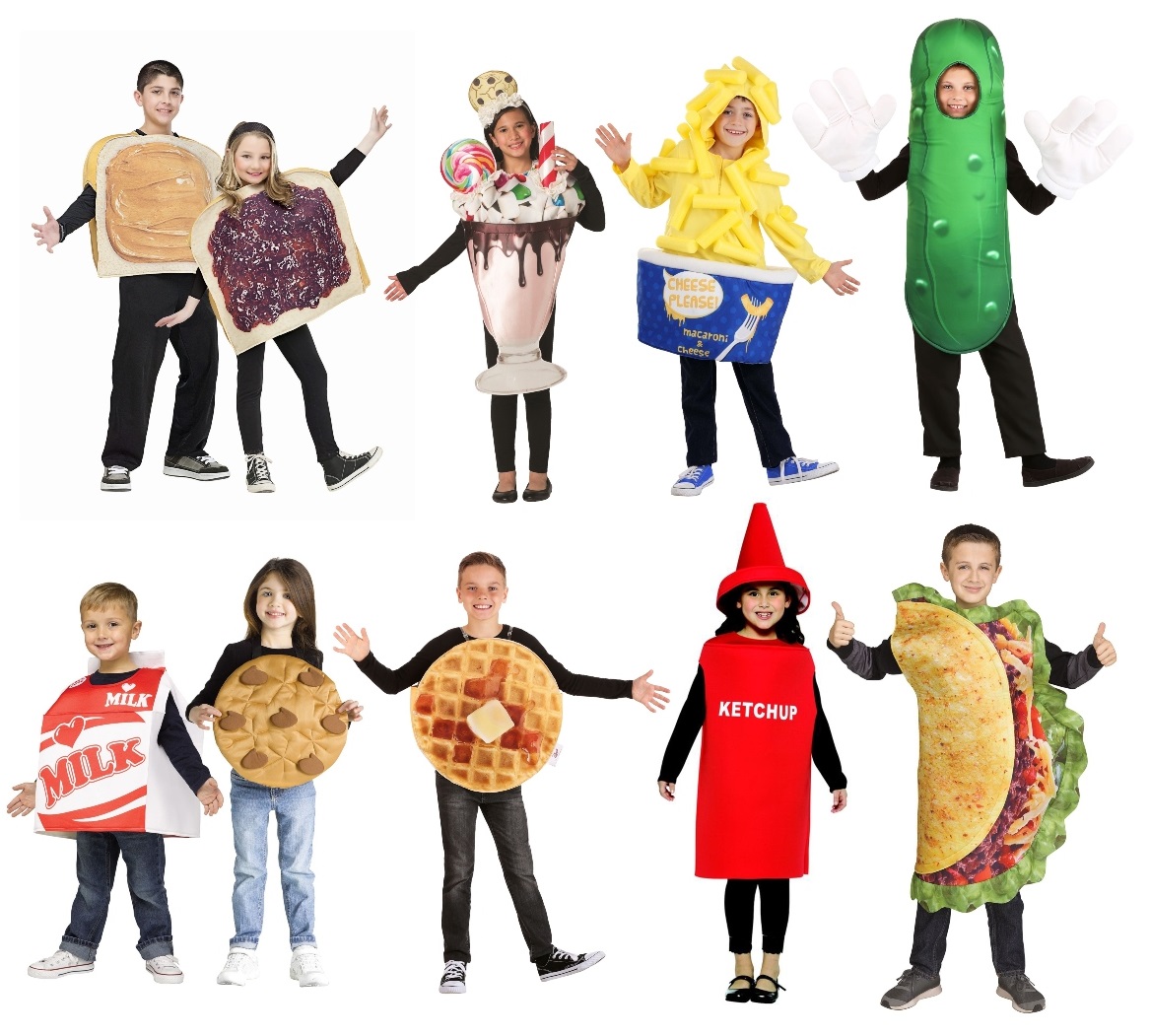 Plenty of gender-neutral food costumes for kids don't involve tutus and tiaras. Turn your family into your favorite food group. Or have your kid wear an Eggo waffle costume to match your Eleven costume for a Mommy and Me look that's incredibly cute! (Don't forget to take plenty of pictures!) These also make awesome sibling costumes so you can have a pair of peanut butter and bananas or cookies and milk.
Unisex Child Funny Costumes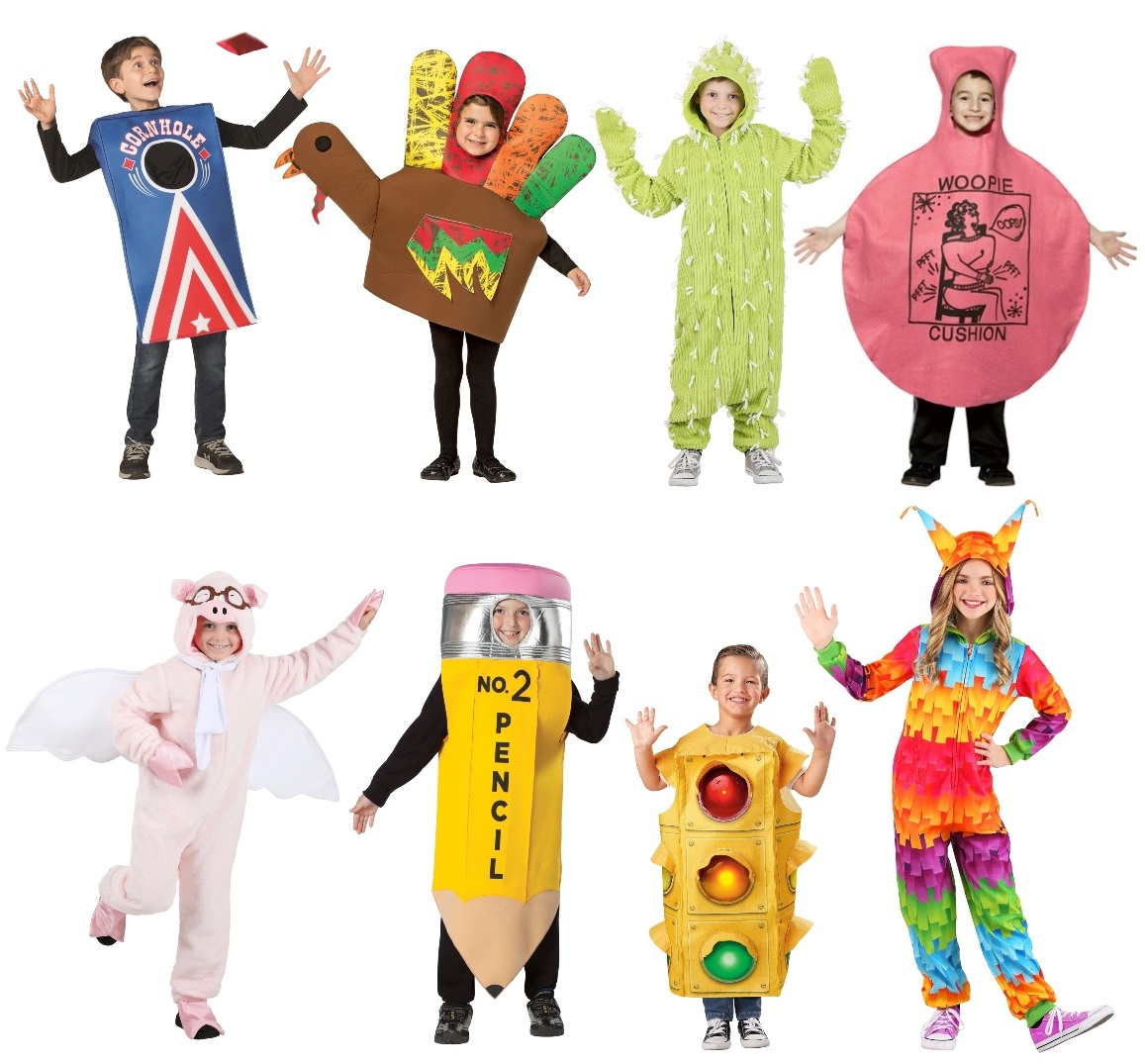 Kids love to be silly, so allow them to be themselves in some of these funny costumes for kids. A few of these are very #relatable for school children, so they would also make great 100 Days of School costumes! (We're looking at you, hand turkey costume, #2 pencil, and whoopie cushion.) It would also be impressive if you could get your kids to dress up to cheer you on at your cornhole tournament. Make sure to get some video!
Unisex Baby Costumes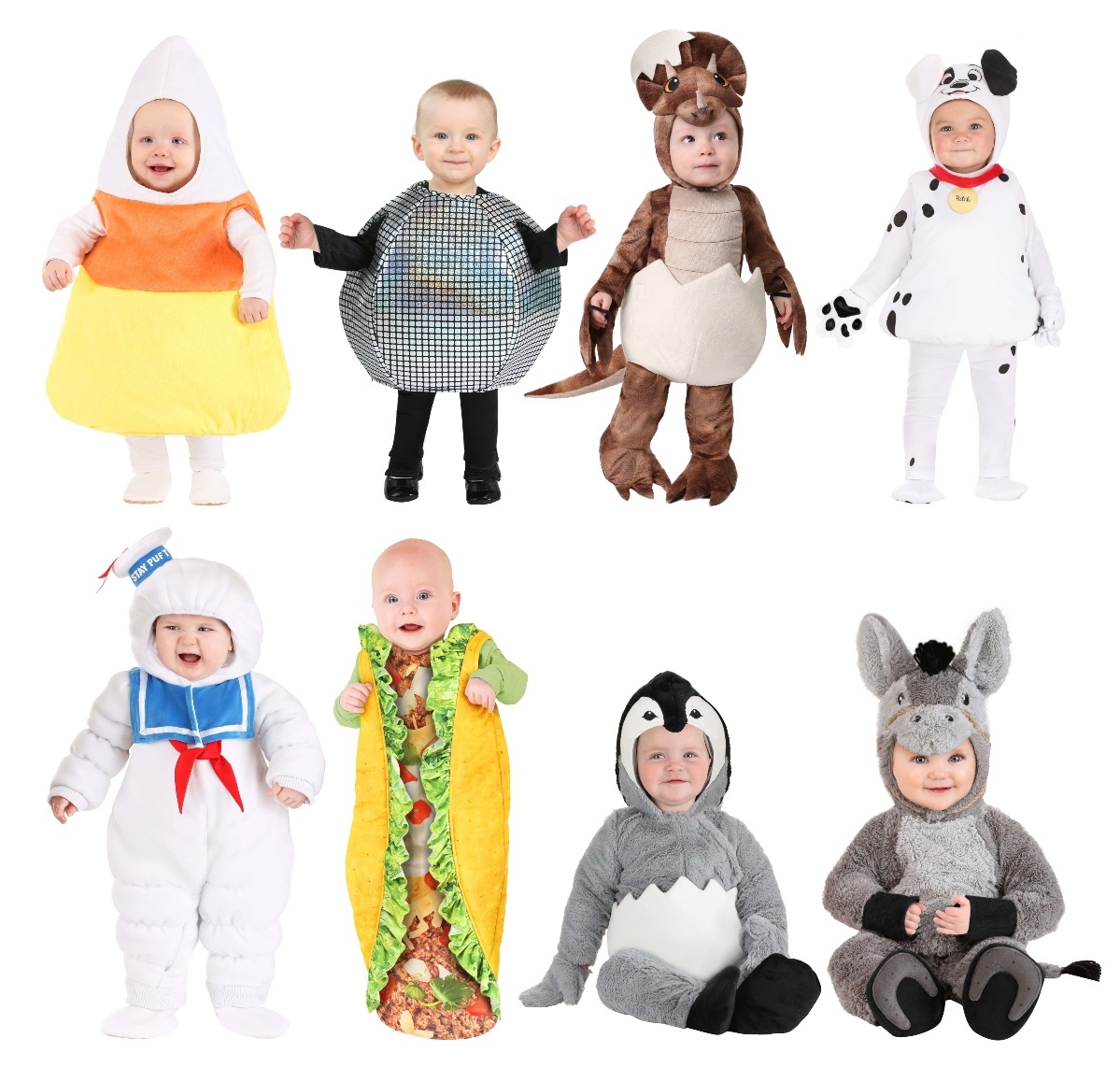 Babies are cute, but putting babies in costumes can be even more adorable. (Seriously, some of these costumes need warning labels because we think our hearts just melted a little bit!) Baby Ewoks, baby sheep, baby lions—and even baby shark costumes. Infants look good in anything, and a fair number of costumes for babies are unisex. The best part is that you can save your infant costumes if you know you'll be expecting again, or you can share them with friends and family.
Gender Neutral Costume Kits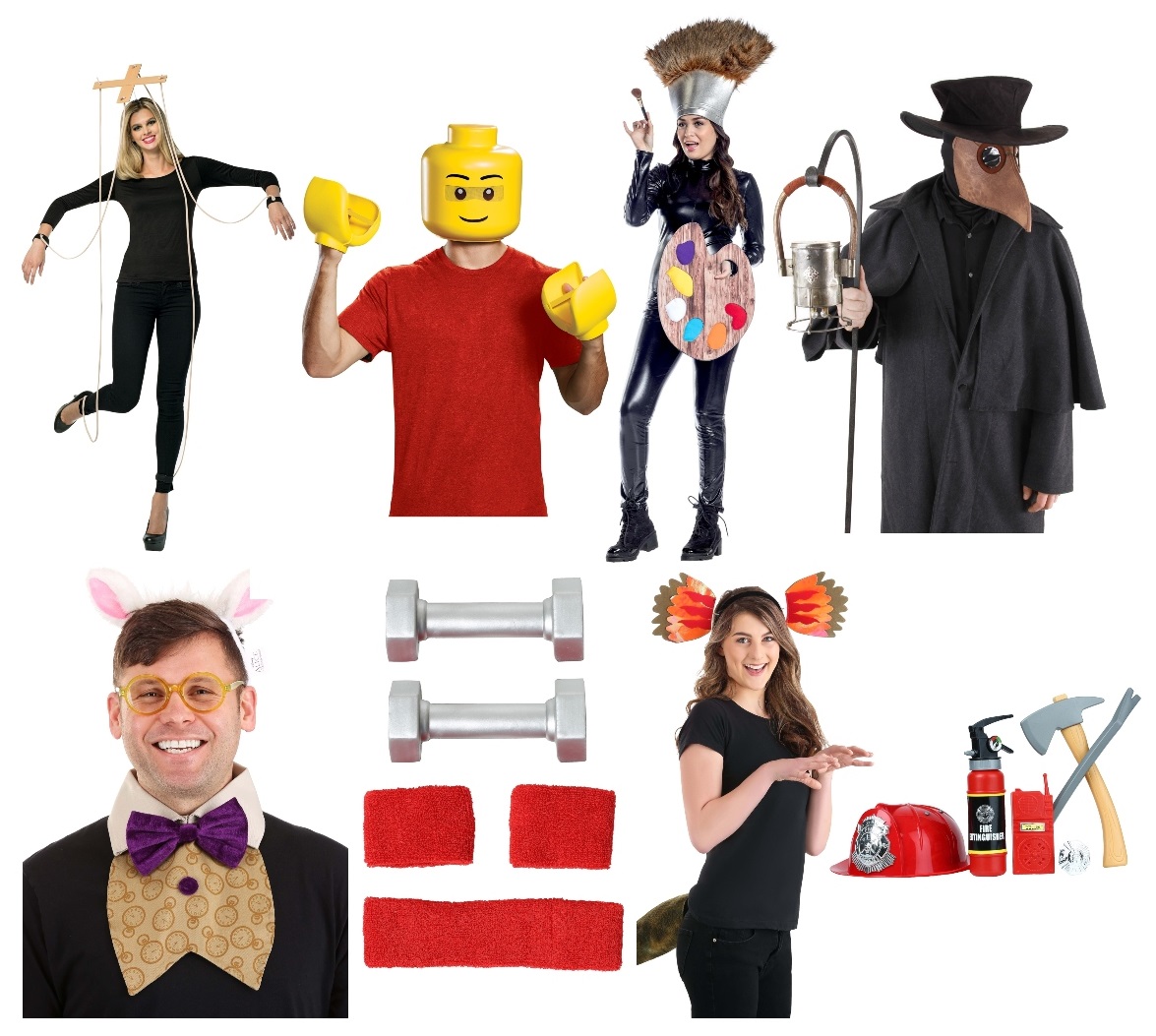 Costume kits are excellent for large group costumes. They're inexpensive, easy to coordinate with clothing you own, and convenient to take on and off if you only plan on being in costume for a short time. They're also usually made for a wide variety of people, so size and gender don't matter! Costume kits are also great for photo booth props due to their unisex nature, so guests can be silly and wear anything when they take photos. Cheese!
Hopefully, we gave you plenty of gender-neutral costume ideas! These costumes are excellent no matter the event, whether you're going to use them for Halloween, a fun run, or an office party. Do you feel like there are enough unisex costumes? Do you have ideas for other great unisex costume ideas that you'd like to see? Let us know in the comments below! We're always looking for more ways to cater to everyone's costume needs, and if you have a good idea, we might just take you up on it!