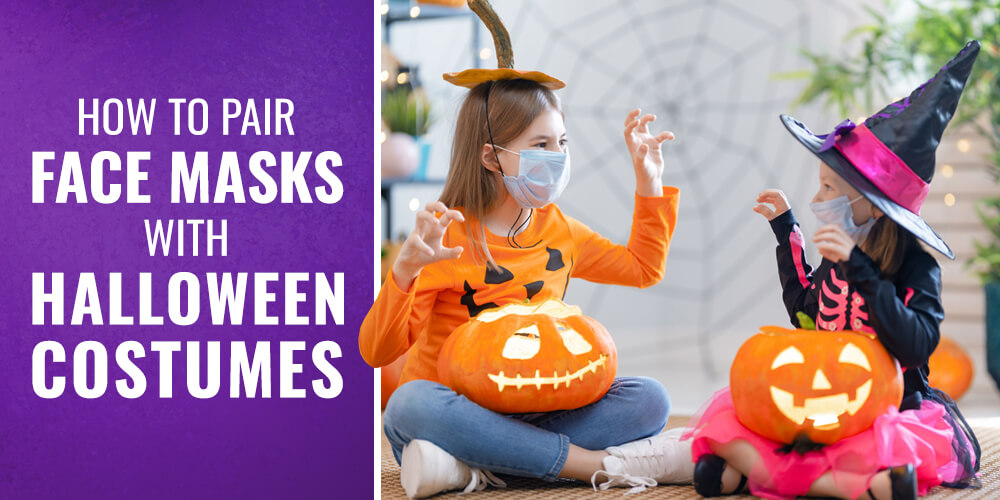 Halloween 2020 is shaping up to be different than most, but that doesn't mean that you can't still have fun! There are plenty of ways to have a safer Halloween, including wearing a mask. Disposable masks aren't always the prettiest or easiest to coordinate with your Halloween costume, which is where a reusable fabric mask comes in! So read on for some ideas on matching your mask to your costume this year.
These mask and costume pairings are just suggestions, but you can always take these ideas and make them your own! Use a little fabric paint, bedazzle them or perhaps bring out some fabric markers to make your own mask match your costume. (Just make sure not to sacrifice function for fashion!) What about a mermaid costume with a few matching sequin scales on your mask? Maybe you could add some Ben-Day dots to pull off a unique pop art outfit. At the end of the day, it's up to you to do you!
Black Mask and Costume Ideas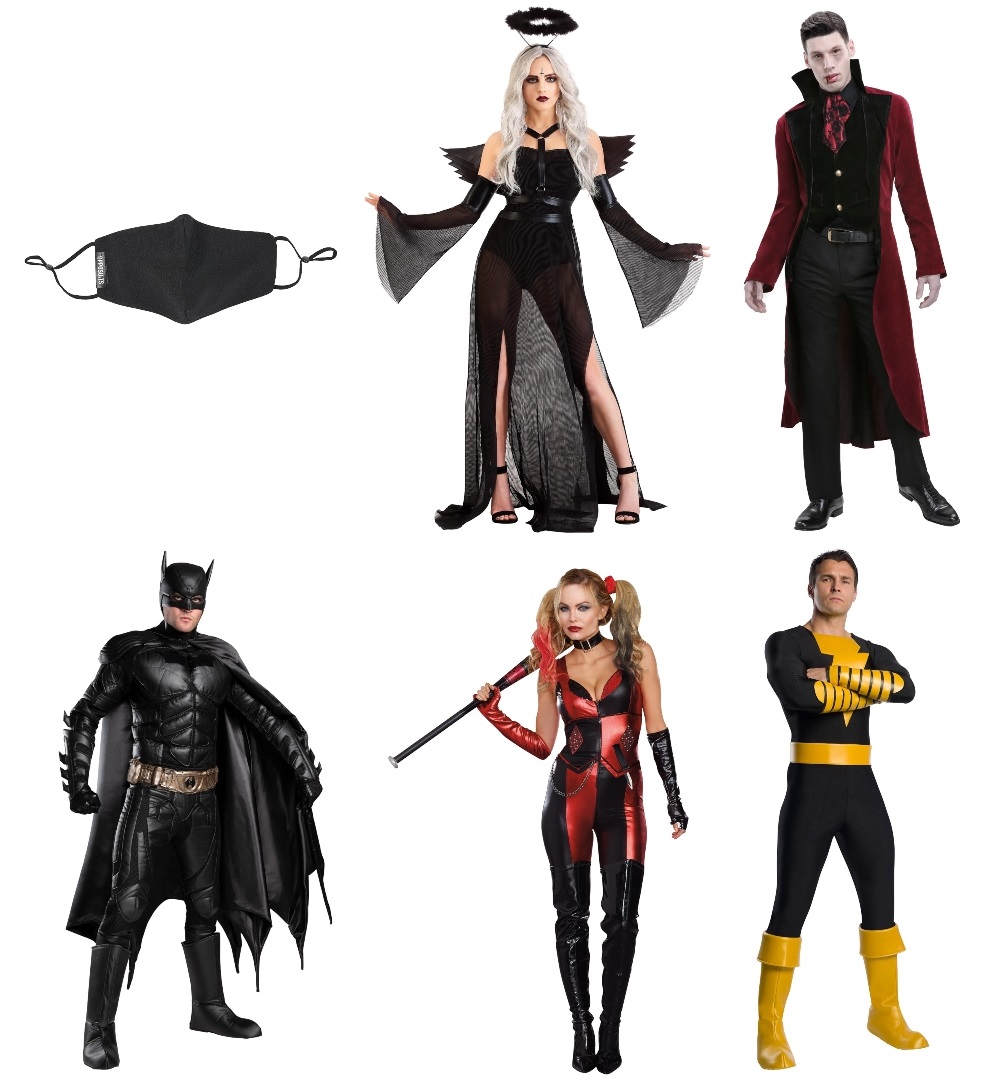 No, we're not talking about the Birds of Prey villain. We're talking about Halloween costume ideas that pair well with a black face mask! Many costumes that match well with black masks will have black fabric in them already, often with a dark or edgy theme. Think witches, vampires, fallen angels, villain costumes and more! That doesn't mean that you can't take other black costumes to pair with your mask, such as superheroes or animals. People will admire your dedication to color coordination.
Medical Mask Costume Ideas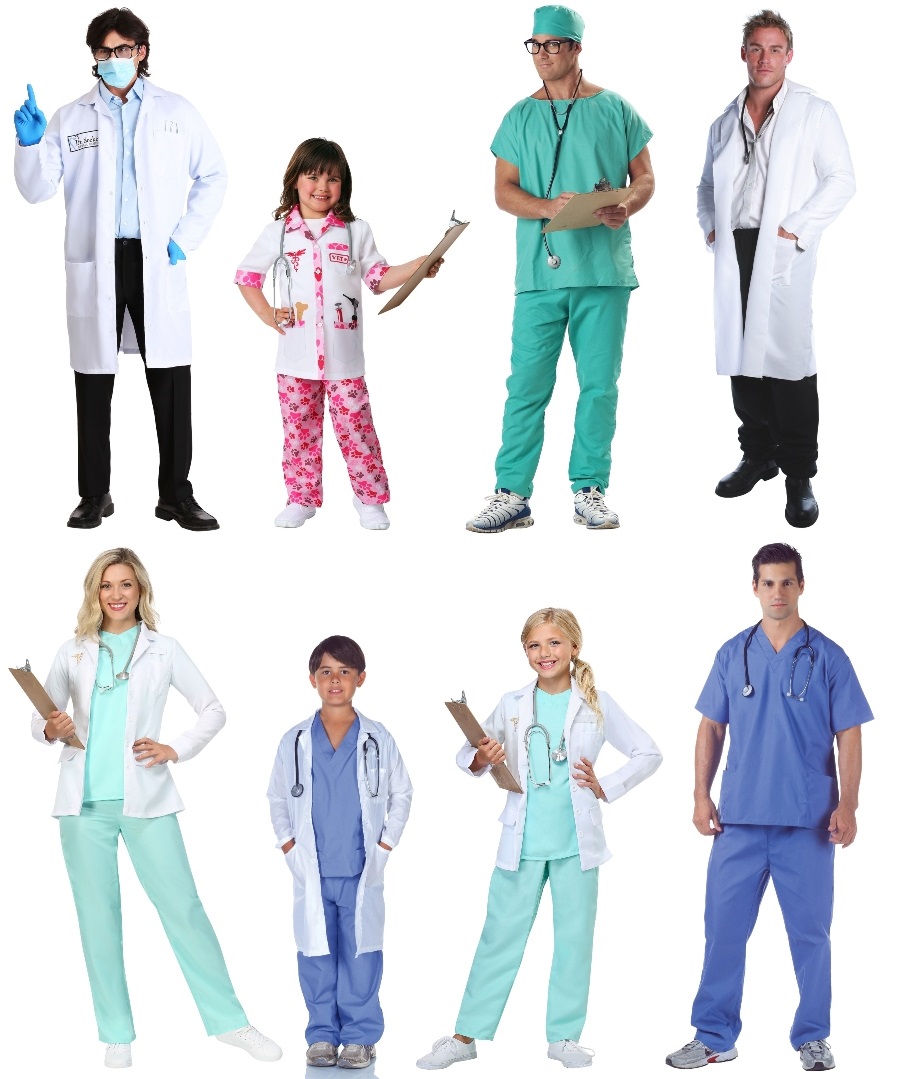 If you have a bunch of those blue disposable masks and you'd like to incorporate them into your costume, why not wear one with a medical costume? Medical masks make sense for occupations such as doctors, dentists, surgeons and veterinarians, and you're sure to have one of the most comfortable outfits on Halloween night. As an added bonus, occupational costumes for kids make great role play outfits, so they can keep their Halloween costume in their dress-up trunk to use again and again!
Joker Mask and Costume Ideas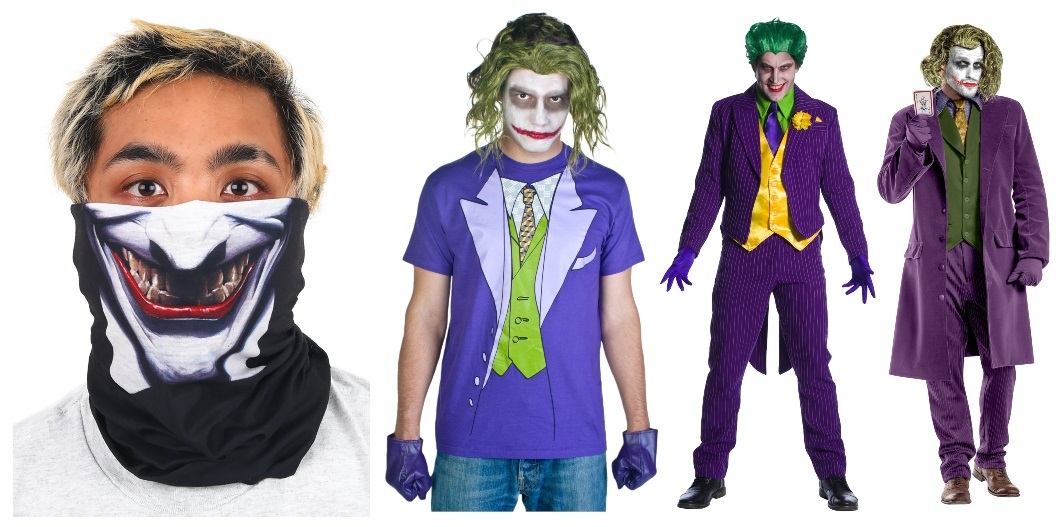 The Joker is a very popular Halloween costume idea, but what if you don't want to deal with all of the makeup? A Joker mask will certainly do the trick for you! Joker's pale face and unnerving smile work with several costume styles, even including a casual cosplay t-shirt. Just don't forget to add some green hair color or a green wig for authenticity!
Dog Mask and Costume Ideas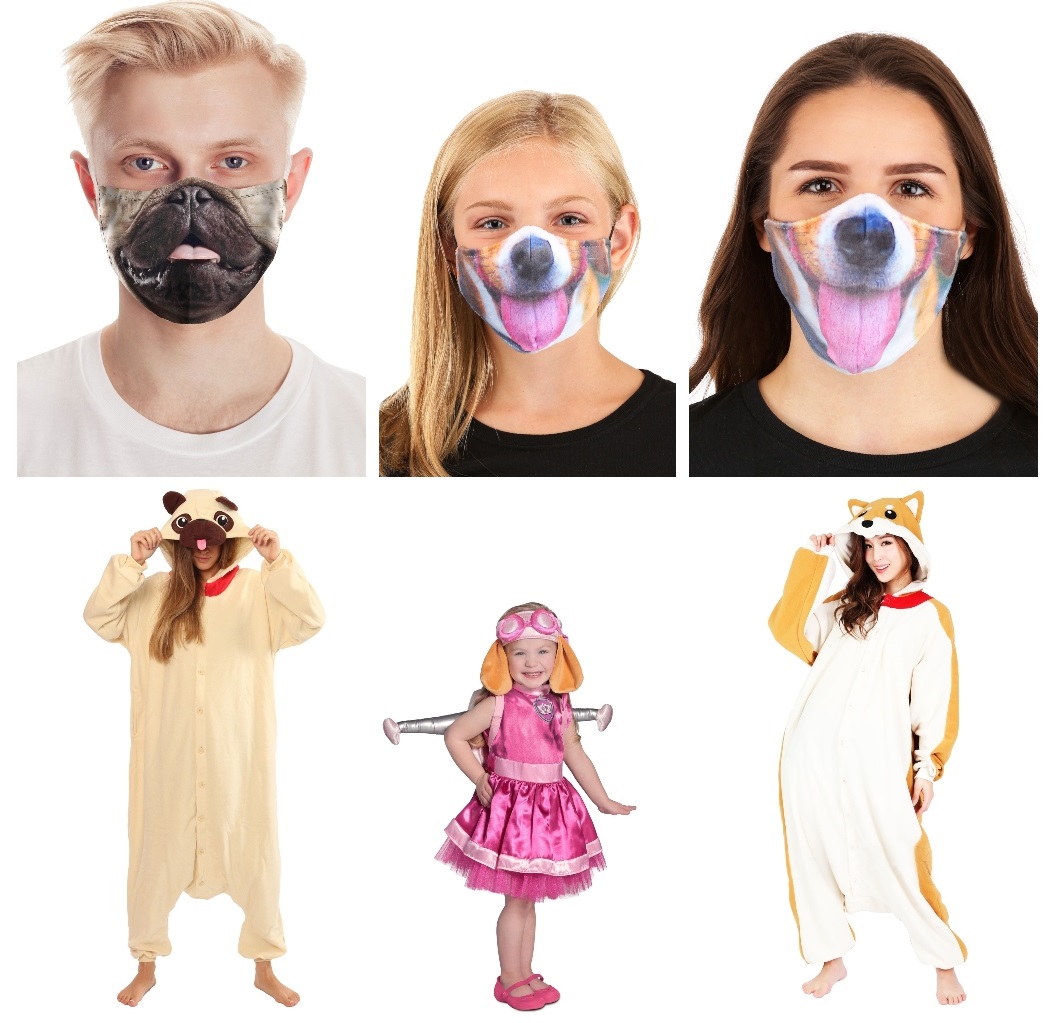 Live the pug life you have always dreamed of by pairing a dog face mask with a dog costume! These faux-real masks take the place of using makeup for a no-fuss Halloween look. For the best mask and costume matching ideas, we picked several brown dog costumes to pair with these dog masks. Still, you're free to pick and choose whatever pleases you. (Too bad there aren't any people face masks for your pup for a silly face swap!)
Cat Mask and Costume Ideas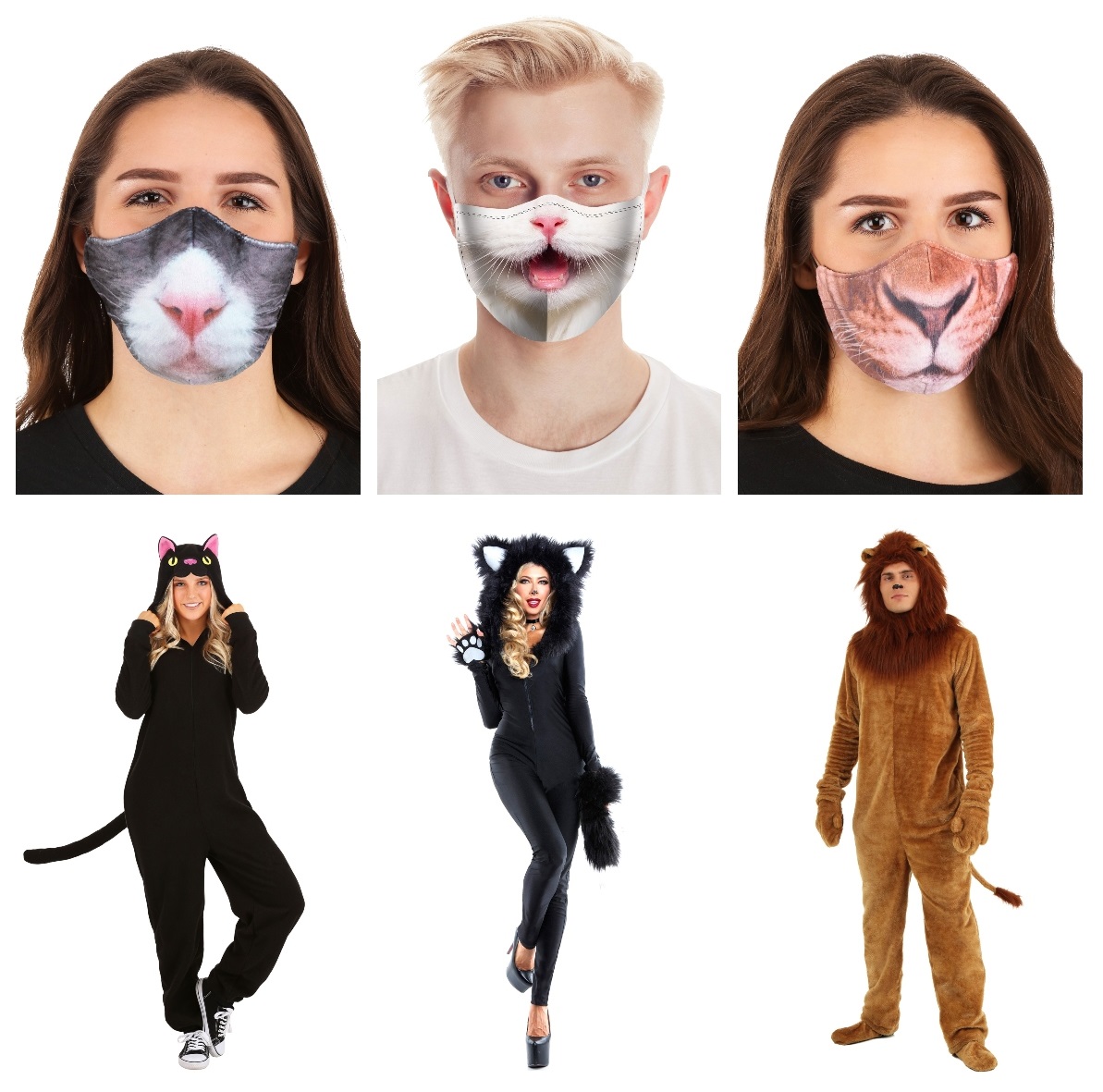 Breathe new life into a basic old cat costume by adding one of these sublimation-printed face masks. (There's even a lion mask if you're a fan of big cats!) Also, don't fret, ladies if you still want to do some minimal makeup with your mask. The classic cat-eye eyeliner technique will always have your back. Purrhaps you could even pair a tiger mask in a Tiger King costume for a low-budget costume idea.
Scary Clown Mask and Costume Ideas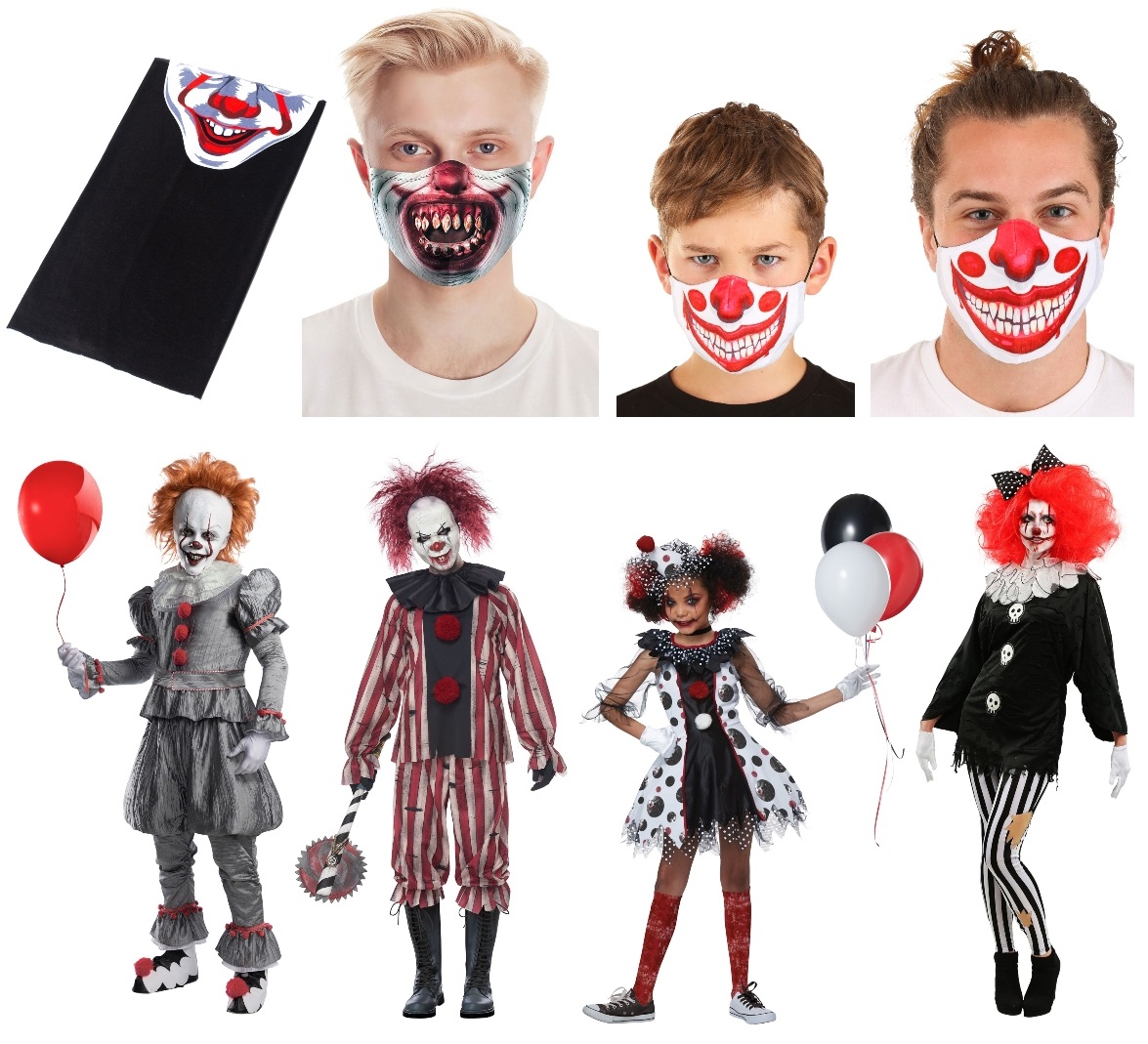 Gearing up in greasepaint got your goat? Do latex masks make your face sweat? Pull off the creepy clown look with a scary face mask instead! Available in both adult and child sizes, you'll be more than ready to bring on the scares this Halloween. Available in sizes for kids and adults, you'll be able to put on a happy face—with an extra side of creepy teeth. Also, should you want a clown mask in other colors or if you're dressing as a cute clown instead of a scary one, you can always customize a white cloth face mask to suit your style.
Skeleton Mask and Costume Ideas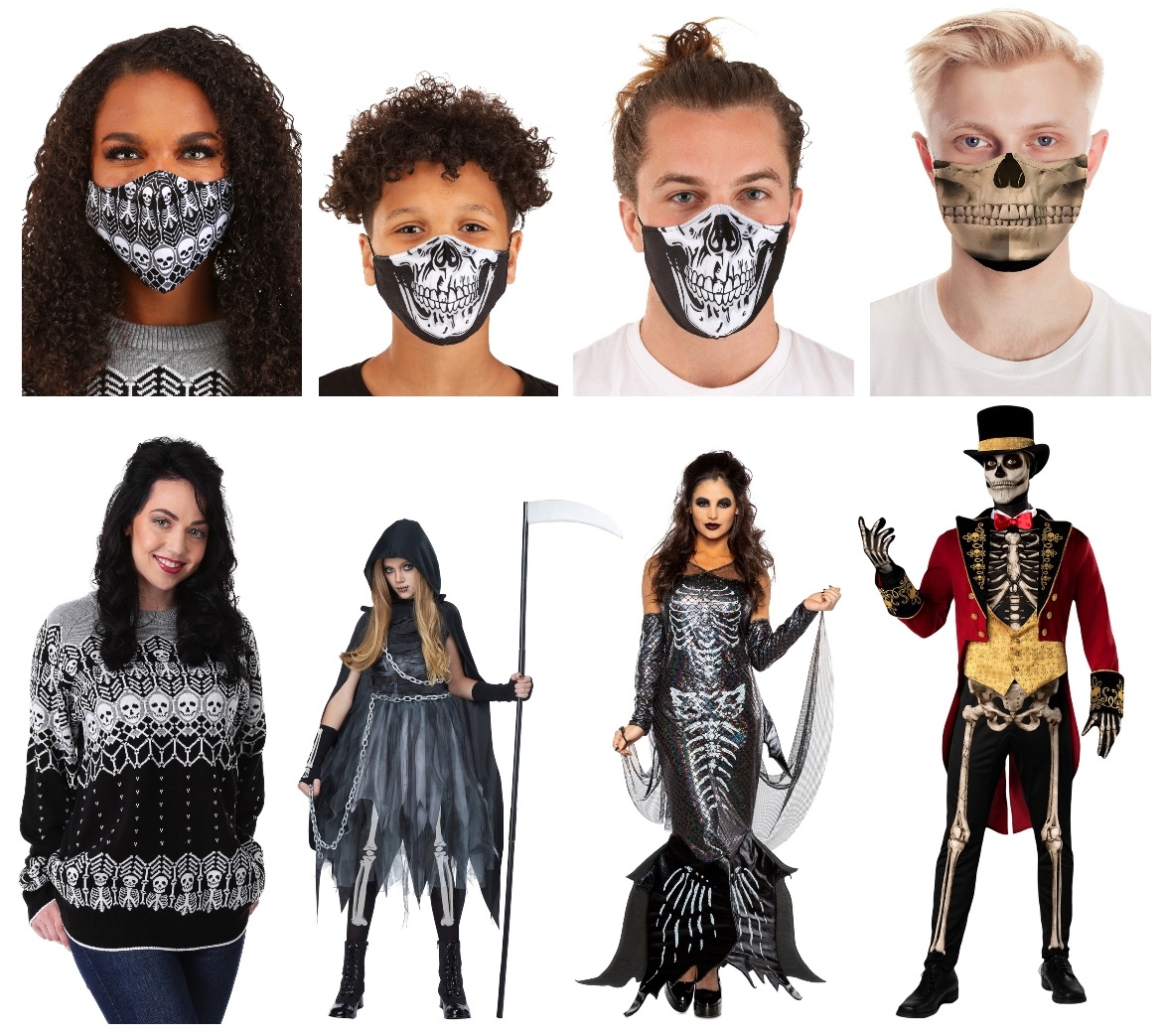 These skeleton face masks will give you all the creepy vibes! Skeleton masks will, of course, pair well with any and all skeleton costumes, so here's a sample of a few alternative ideas. The grim reaper is generally depicted with a skull for a face, and you can even match a skeleton sweater with your face mask. Dinosaur fossil costumes, skeleton mermaids and creepy ringmasters are other perfect ideas for pairing with a bony skeleton mask. You could even wear a skeleton mask with a biker costume for a look that's bad to the bone!
Dinosaur Mask and Costume Ideas

Dinosaur costumes were made for masks—after all, how else are you supposed to perfect that toothy grin or create the appearance of their scaly skin? Your kids are going to love trying out their best dinosaur roars with these masks and costumes! So why not join in the fun? As always, you can try to customize a mask yourself if you really want to be matchy-matchy this Halloween. Glue on some felt teeth if you're a meat-eating predator, or perhaps draw on a smile and some scales for a friendlier herbivore.
Pumpkin Mask and Costume Ideas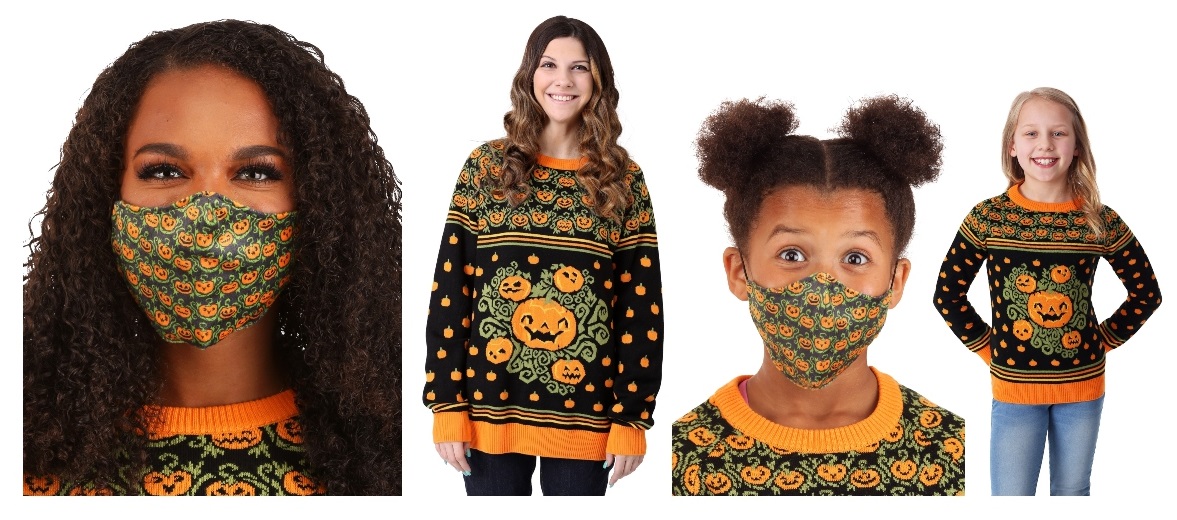 If you're a maestro of matching outfits, you're going to love these pumpkin masks and sweaters! The masks share some of the same patterns as you can see from these Halloween sweaters, but the pumpkin masks would easily work with other Halloween apparel or pumpkin costumes. Otherwise, you could always find an orange mask and decorate it with a black fabric marker or fabric paint to look like a jack-o-lantern! The kids would probably get a kick out of making their own pumpkin masks.
Red Mask and Costume Ideas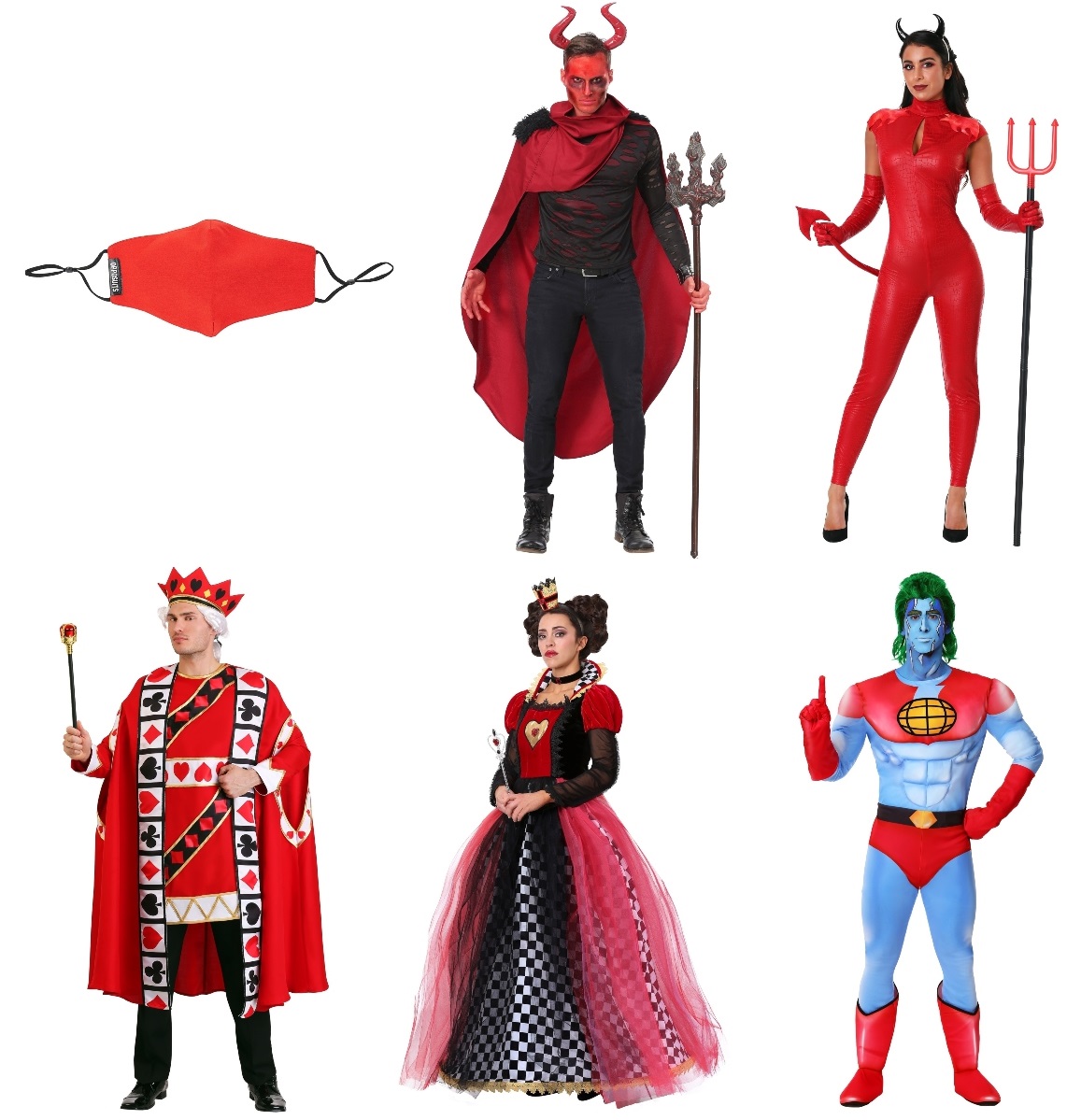 You'll look absolutely ravishing when you pair a red mask with a red costume! Whether your outfit is mostly red or simply has red accents, a bold red face mask will look great with either option. There are tons of superheroes with red outfits, as well as TV and movie costumes such as the King and Queen of Hearts. (Wouldn't it be cute to add a few hearts to your Queen of Hearts mask?) Don't forget other Halloween classics like devil costumes. You'll make wearing a mask look hot!
Shark Mask and Costume Ideas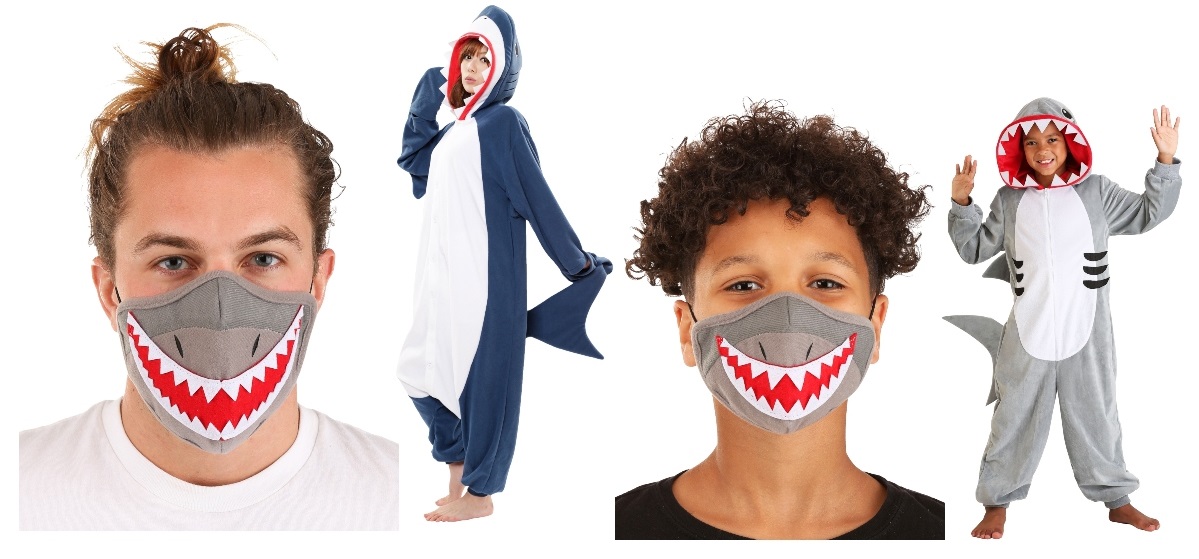 Feel absolutely jawsome by pairing a toothy shark face mask with a shark costume! We found a few cozy styles that would pair well with this exclusive shark mask, but you're more than welcome to try it out with other shark costumes, too. Kids and adults can get in on the aquatic fun this Halloween, but you're more than welcome to continue outside the holiday. Make your own Tik Tok dance for Baby Shark, lounge around as a shark on Shark Week or keep your child's costume around for later dress-up opportunities. No matter what, you'll have a grin as wide as a shark's with these shark masks and costumes.
Zombie Mask and Costume Ideas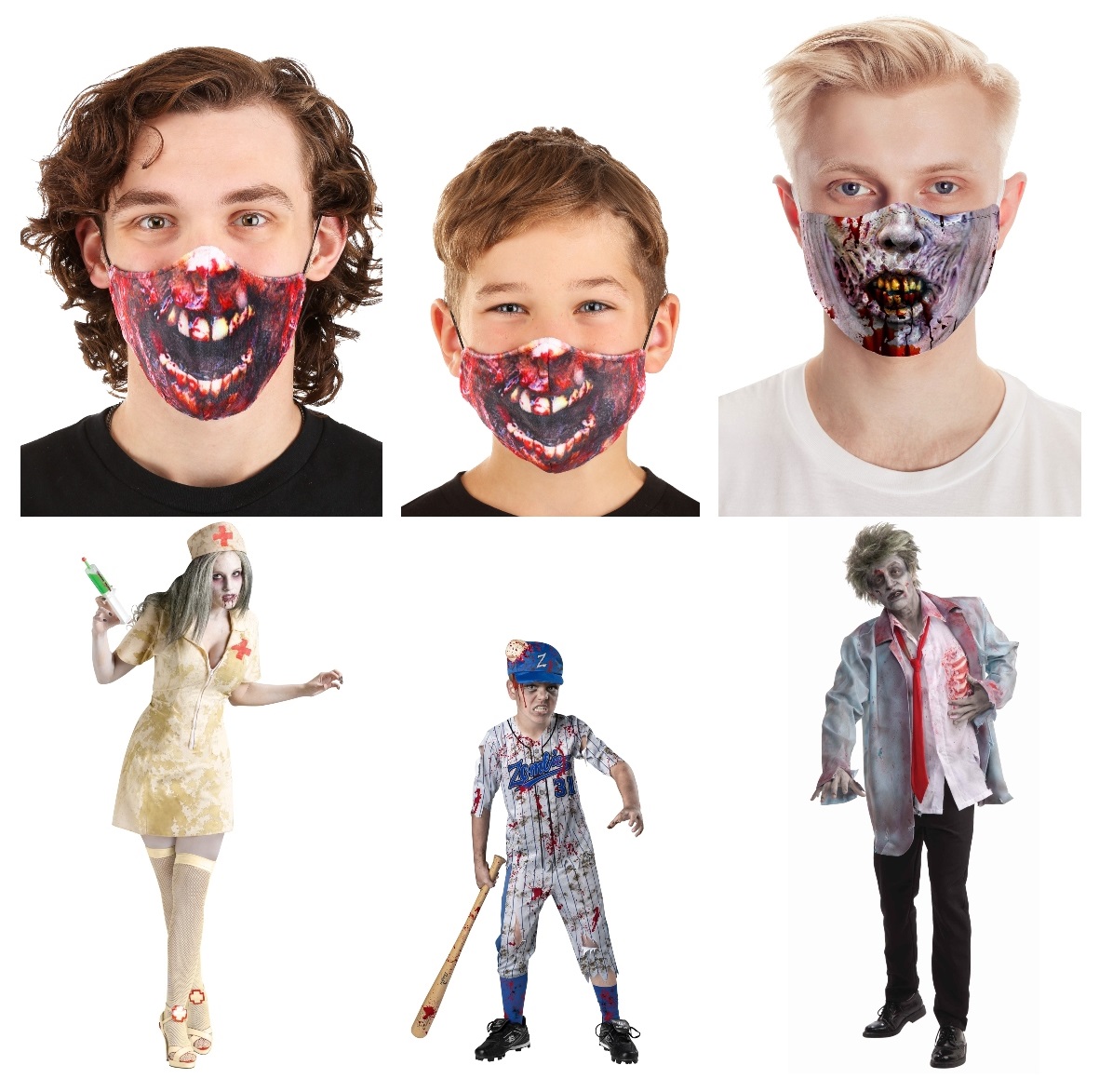 Fans of scary movies and scary costumes will, of course, at some point have a zombie costume on their Halloween bucket list. Whether you want to be a normal zombie or you want to spice things up by being a zombie nurse or perhaps a zombie baseball player, there's going to be lots of makeup involved. If you or your child is one of those people who shies away from the likes of prosthetics, greasepaint and blood gel, perhaps you'd prefer trying a zombie mask with your costume instead? These soft fabric masks are much easier to wear than latex masks, so perhaps being a zombie for Halloween isn't so scary!
Monster Mask and Costume Ideas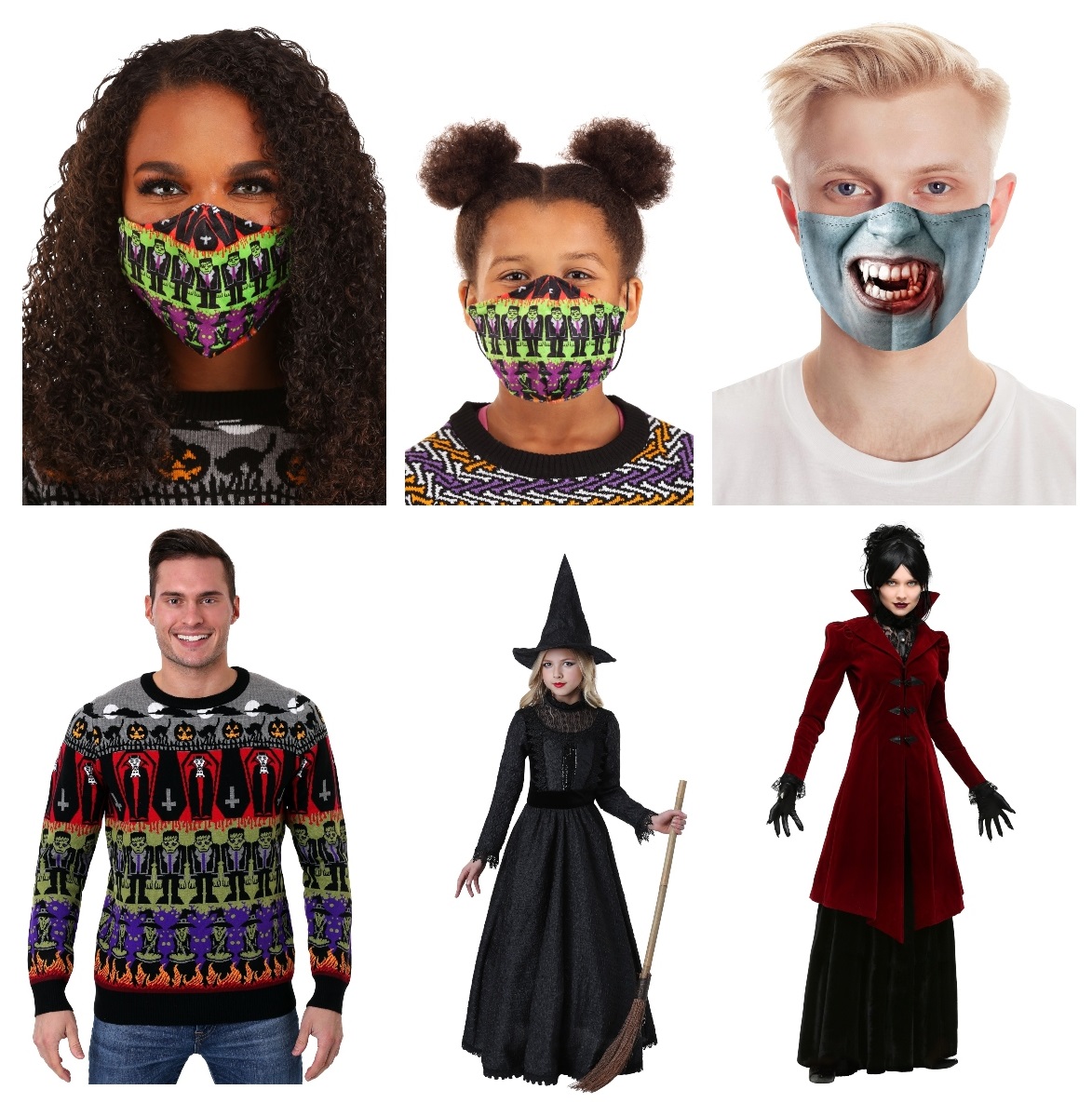 Classic monsters are always a Halloween favorite. If you love Halloween monsters like witches, mummies, vampires, werewolves and more, why not select a face mask to match your spooky style? These classic monster masks will look great no matter which monster you choose. Or you could always select a mask to match your costume, such as the vampire face for a vampire outfit. Spooky szn is here, and you're here for it!
Care Bears Mask and Costume Ideas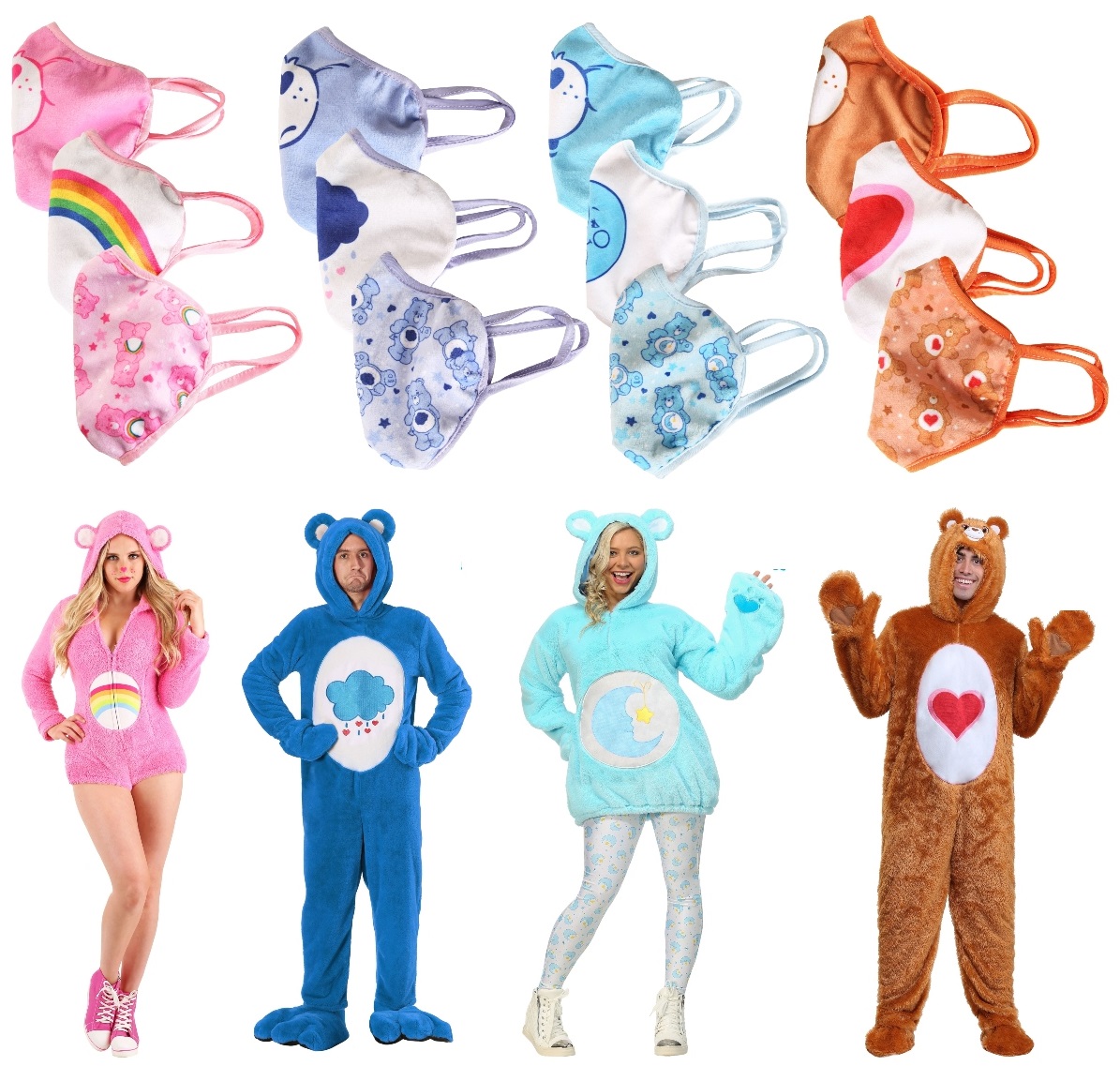 Share your love for the Care Bears by pairing your favorite Care Bears costume and matching mask for an outfit that's cute and cuddly! You can wear a Care Bears mask with a bear mouth to complete your look without makeup, or try out a patterned mask or one with their belly badge. You'll feel ready to take on No Heart in no time!
Superhero Mask and Costume Ideas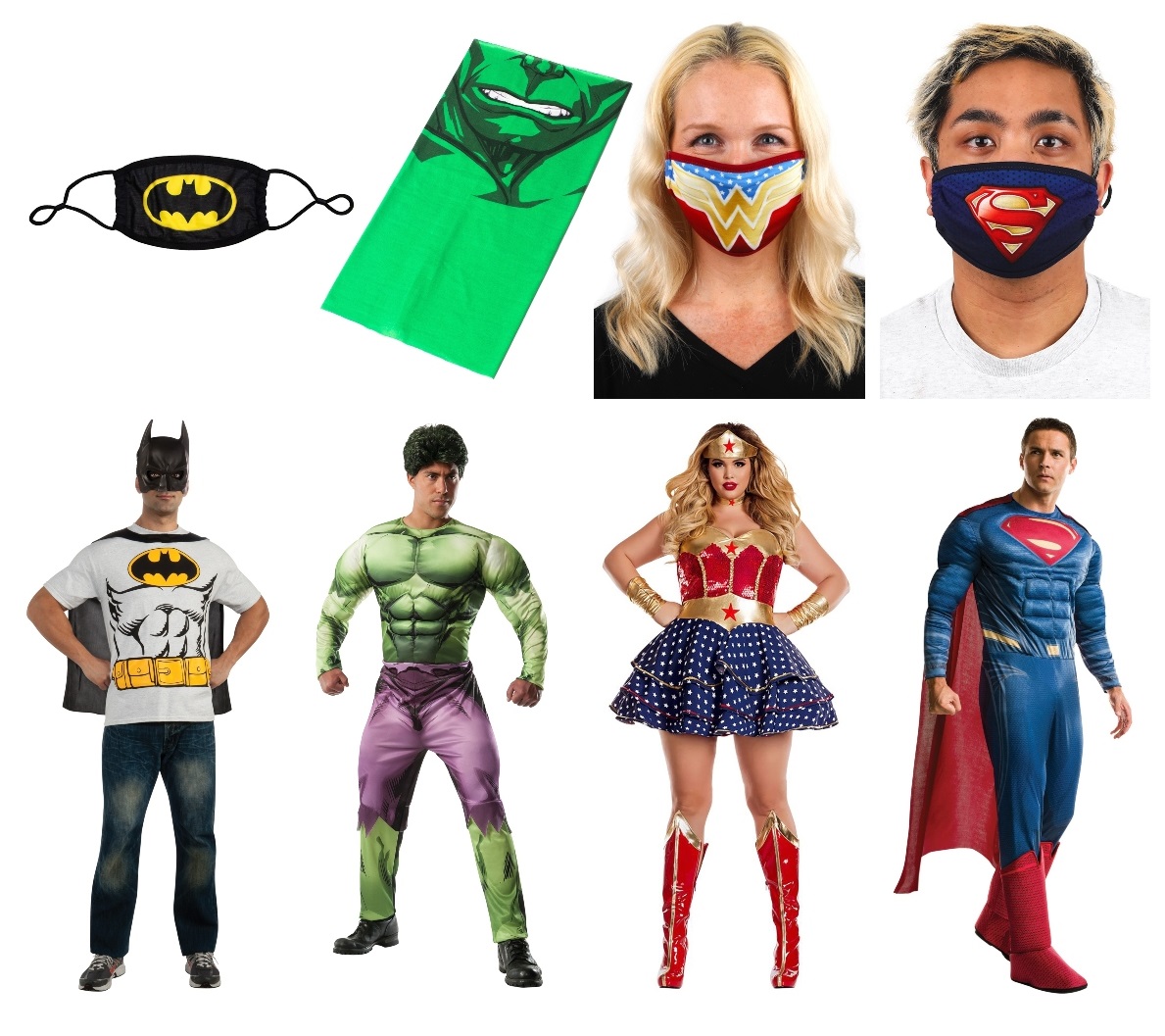 Superheroes are always wearing masks to help hide their secret identities, so obviously, face masks won't feel out of place here at all! You can wear superhero masks with a matching costume, or flaunt your style with a licensed shirt. You can even be an everyday hero by wearing your superhero mask outside of Halloween. If you can't find a mask for your favorite superhero, you can always make a DIY mask to show your support for your favorite character.
Halloween Costumes With Fabric Masks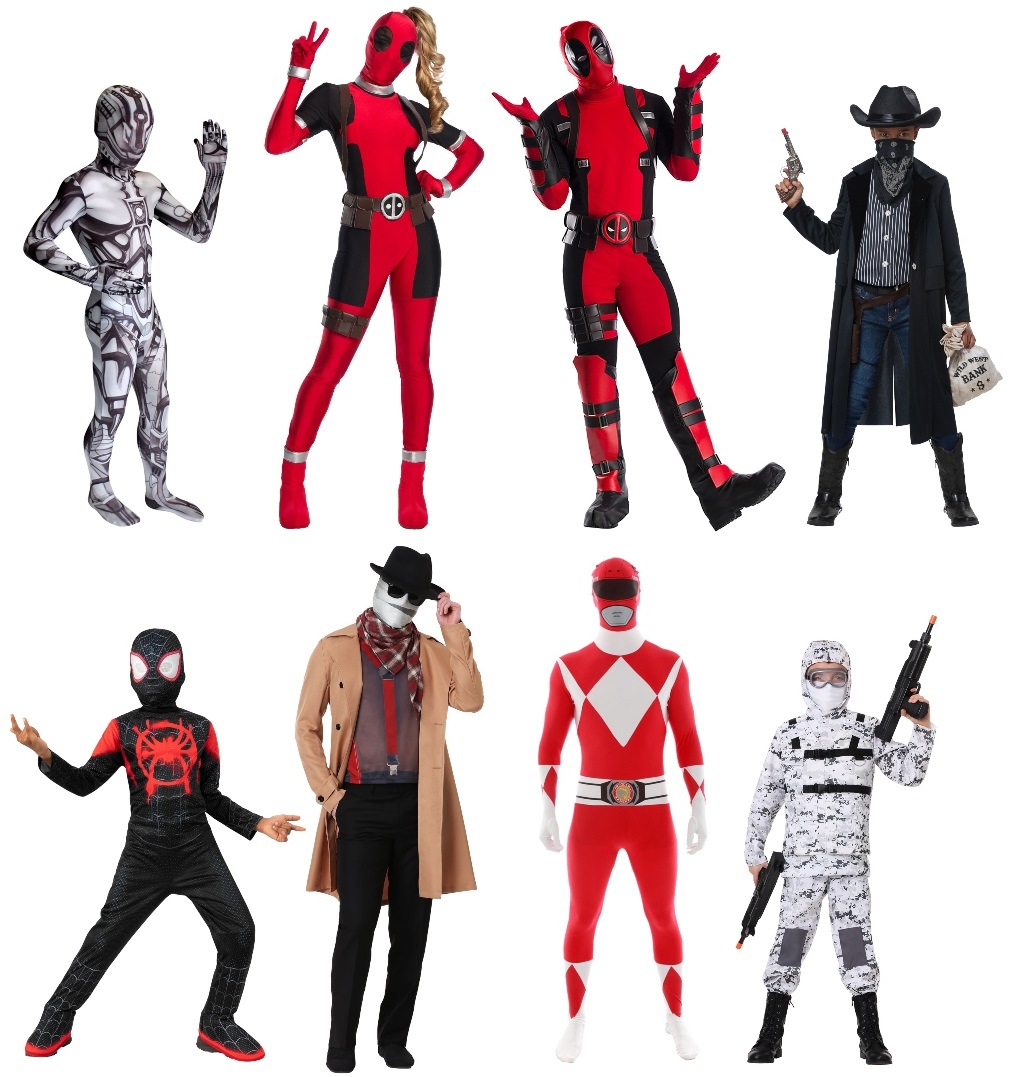 If you want to wear a fabric mask but you're concerned with authenticity or you don't want to layer mask, you can also find a few Halloween costumes that include their own! Morphsuits are some of the most popular full-body fabric costumes around, and they run the gamut from plain color outfits to scary costumes and Power Rangers! Some Halloween costumes even come with half-masks such as some soldier costumes and cowboys. (As long as you wear it with the bandana up!) There are even superhero costumes with fabric masks such as Deadpool and Spider-Man. These are merely some examples, but you're bound to find others too!
We hope you're filled to the brim with face mask inspiration! Whether you're hoping to buy a mask that matches your costume or you're down for a DIY, there are many ways to match. Are you planning on celebrating Halloween this year? If so, how do you intend to celebrate? Share all of your ideas for how to Halloween this year in the comments below! It has certainly been a year, and we'd love to see how you plan to have a safe holiday.