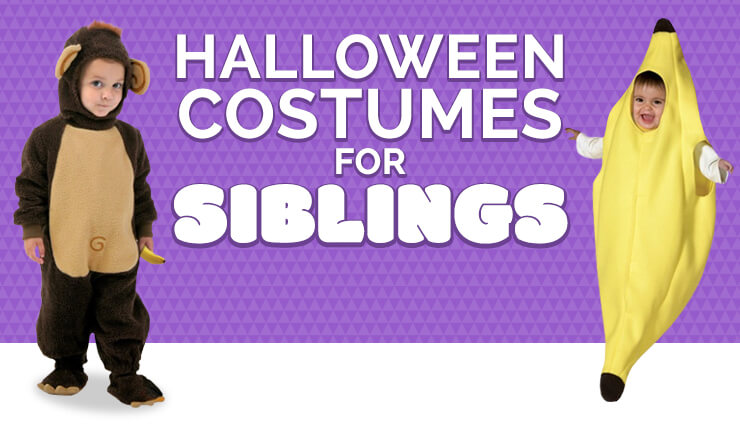 Halloween is the perfect time of year to dress up the kiddos in themed outfits for their yearly trick-or-treating debut. Matching Halloween costumes for siblings might be the cutest thing we've ever seen. The peanut butter to their jelly, the peas to their carrots, the Wookiee to their Han Solo. They are the best of friends and the younger siblings want nothing more than to be like their older brother or sister. Perhaps the older children will roll their eyes, but when the littles are included, it's enough to make your heart melt. No matter if you have two kids or twelve, we've got tons of costume combinations to make this the best Halloween yet!
Popular Duo Costumes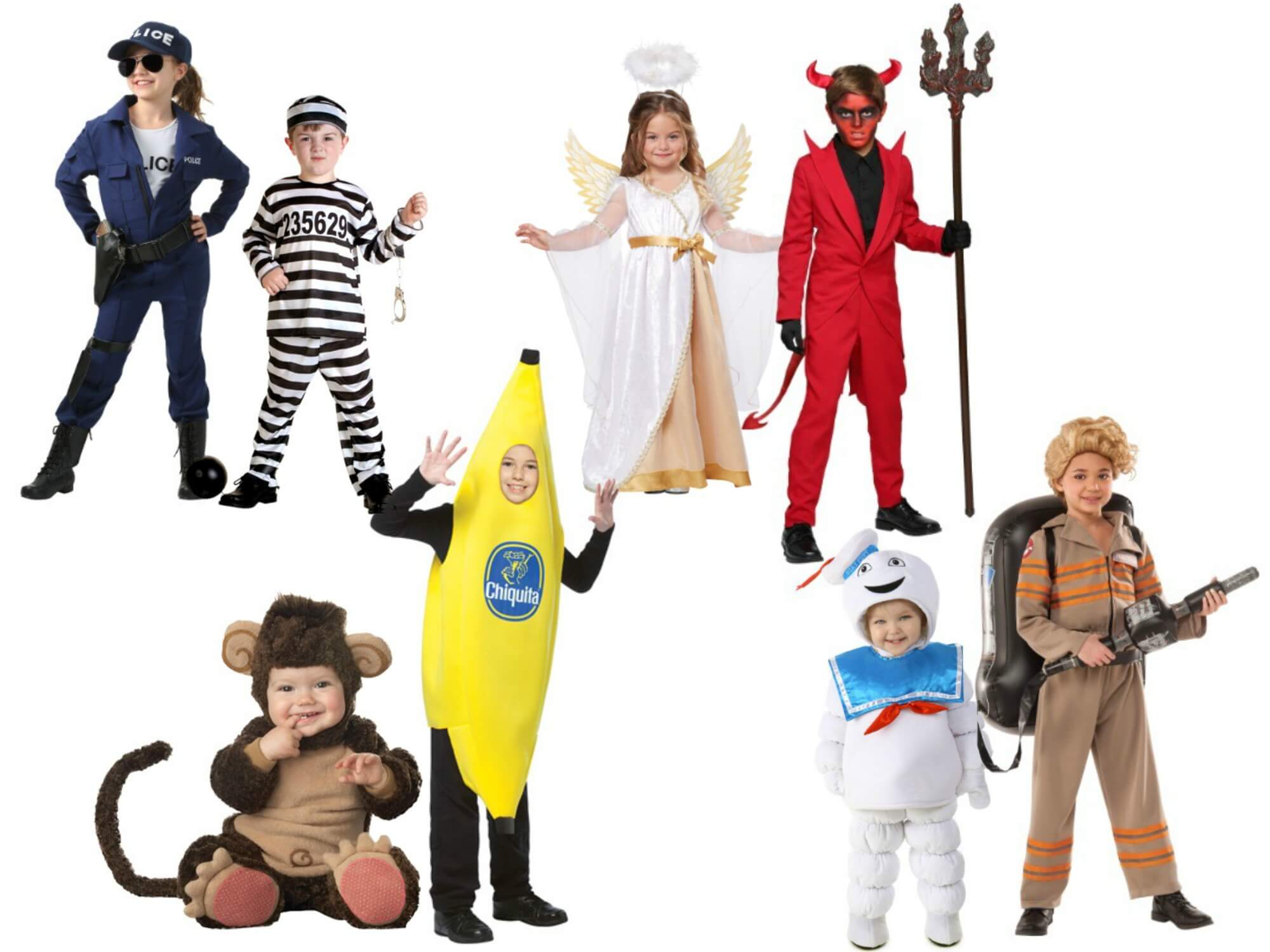 Cop Costume Prisoner Costume Angel Costume Devil Costume
Monkey Costume Banana Costume Stay Puft Costume Ghostbusters Costume
Dressing your children in the same exact costume is not nearly as fun as it is to make them wear matching clothes every other day of the year. Kids need a little independence when it comes to their Halloween costume and finding one to best capture their personality is a must! Is one of your children a bit more naughty while the other one is nice? You can't go wrong with one of these popular duos.
Costumes for Groups With a Baby

Toddler Astronaut Costume Kids Astronaut Costume Baby Astronaut Costume
Corn Costume Peas Costume Carrot Bunting
Let's face it, babies are adorable but dressing them up in a costume can be a feat in itself. Not every costume theme will have infant sizes so we wanted to help you pick out a few combinations that will include that brand new bundle of joy this year. We even have several styles of buntings for the newborns to keep them bundled up on a chilly Halloween night.
Halloween Costumes for Two Siblings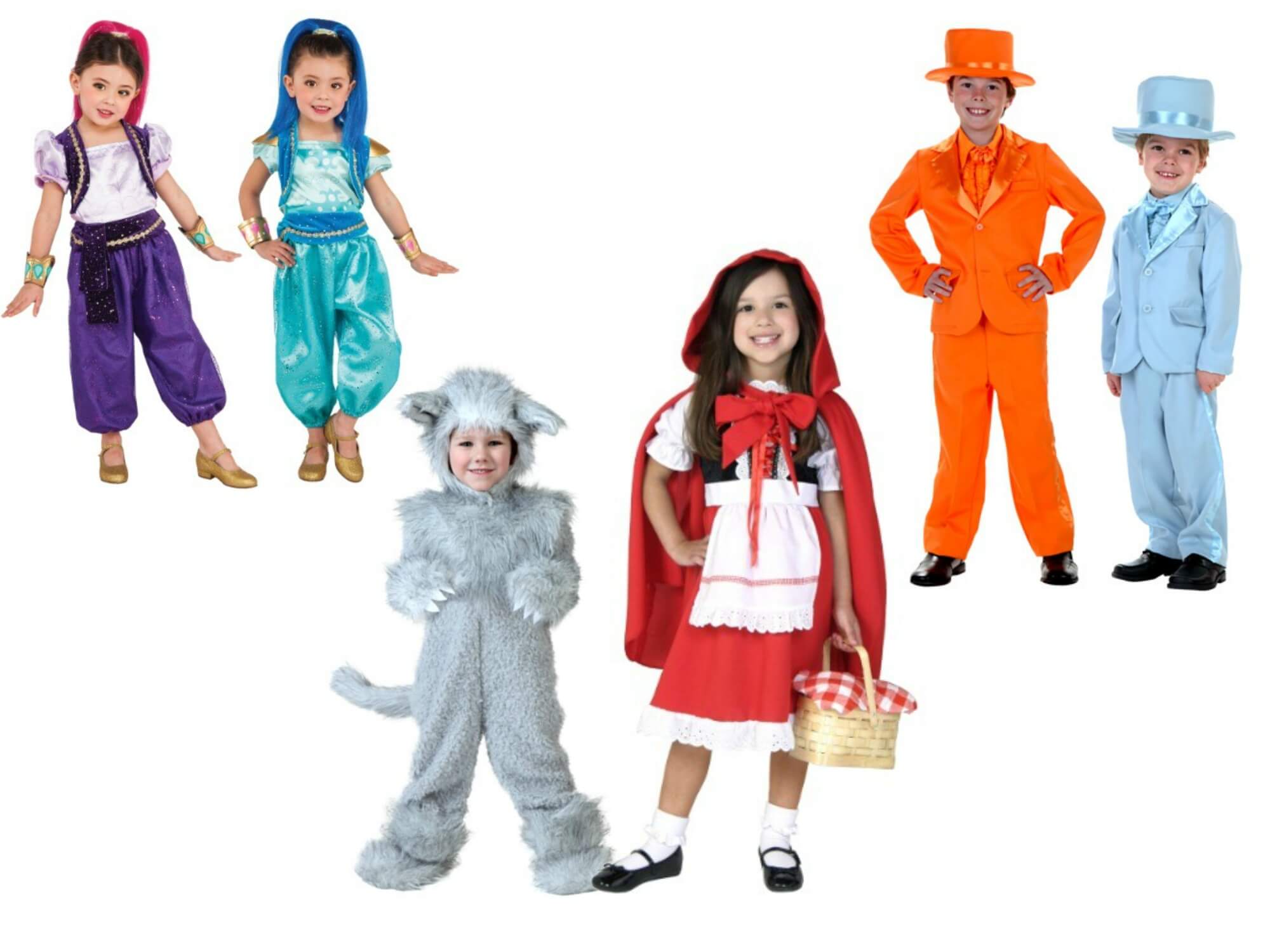 Shimmer Costume Shine Costume Wolf Costume
Little Red Riding Hood Costume Orange Tuxedo Blue Tuxedo
Matching costumes for two kids is easy peasy, especially when you have twins! Since there are so many costumes that go together, it can make narrowing down the final choice quite a battle. There are several costumes that have proven popular year after year. Little Red Riding Hood and the Big Bad Wolf are a classic combination that many kids and parents love.
Halloween Costumes for Three Siblings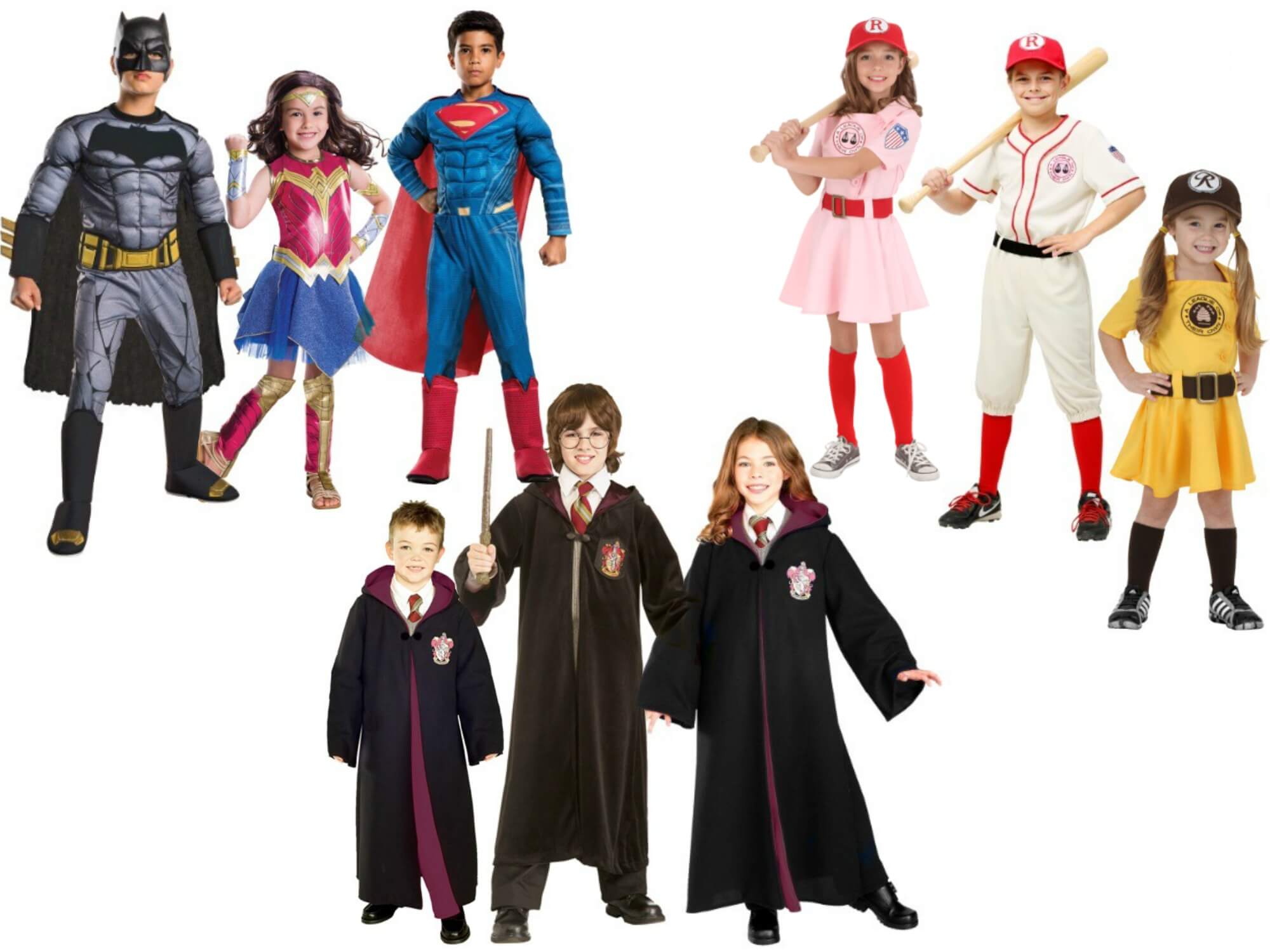 Batman Costume Wonder Woman Costume Superman Costume
Ron Weasley Costume Harry Potter Costume Hermione Granger Costume
Jimmy Costume Dottie Costume Kit Costume
Three girls, three boys, two girls and one boy, two boys and one girl; there are so many possible themes for each combination of siblings. A few of our favorites from the year are Dawn of Justice costumes, A League of Their Own costumes, and Harry Potter costumes to name a few. The biggest question is: Are you leaning toward popular culture costumes or a more classic Halloween costume option?
Halloween Costume Themes for Four or More
Wizard of Oz Costumes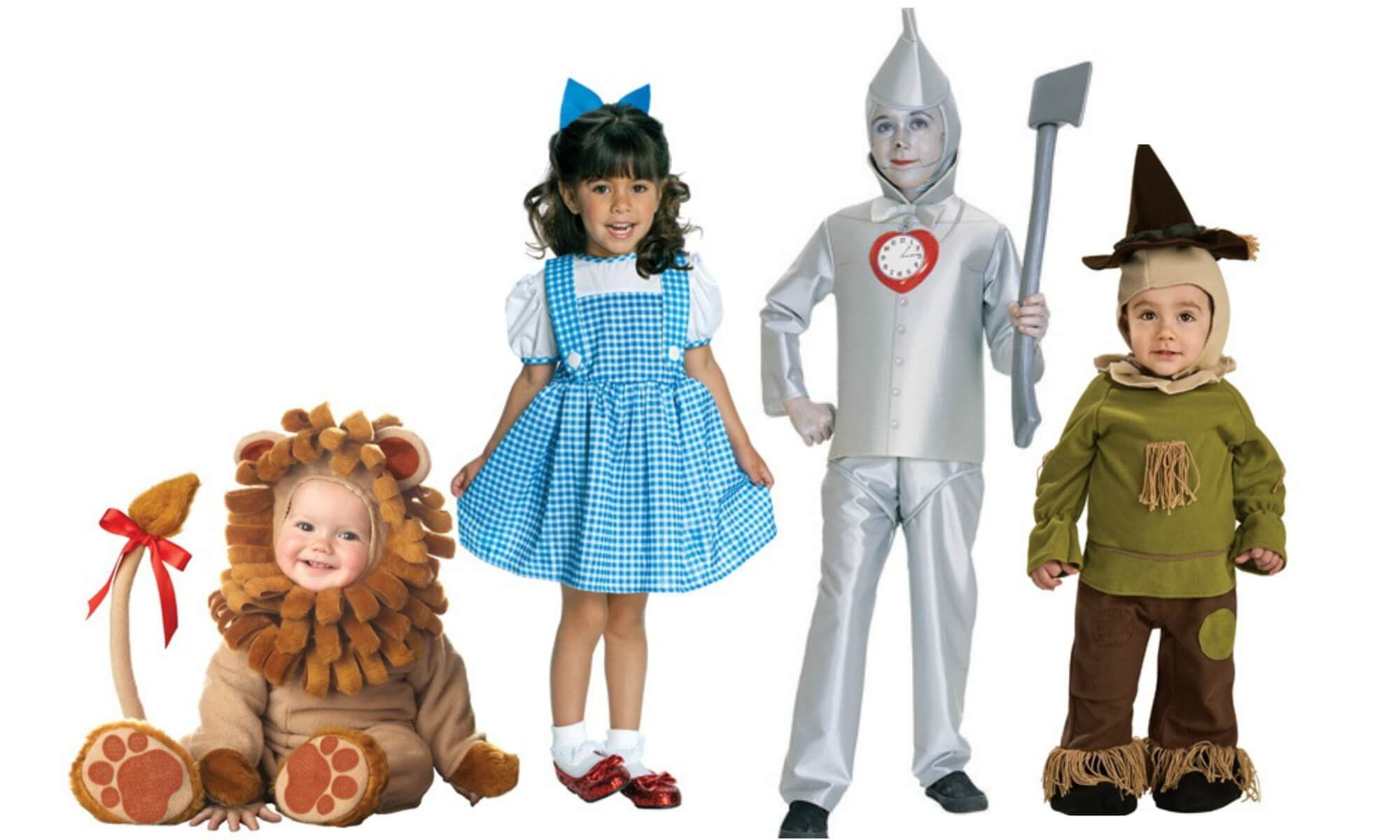 Lion Costume Dorothy Costume Tin Man Costume Scarecrow Costume
Follow the yellow brick road in these adorable Wizard of Oz themed costumes. Need more costume ideas from the merry old Land of Oz? No problem, we have several other character choices to add to your group just check out the rest of the Wonderful Wizard of Oz costumes. We even have adult characters if you would like to join in on the fun!
Dinosaur Costumes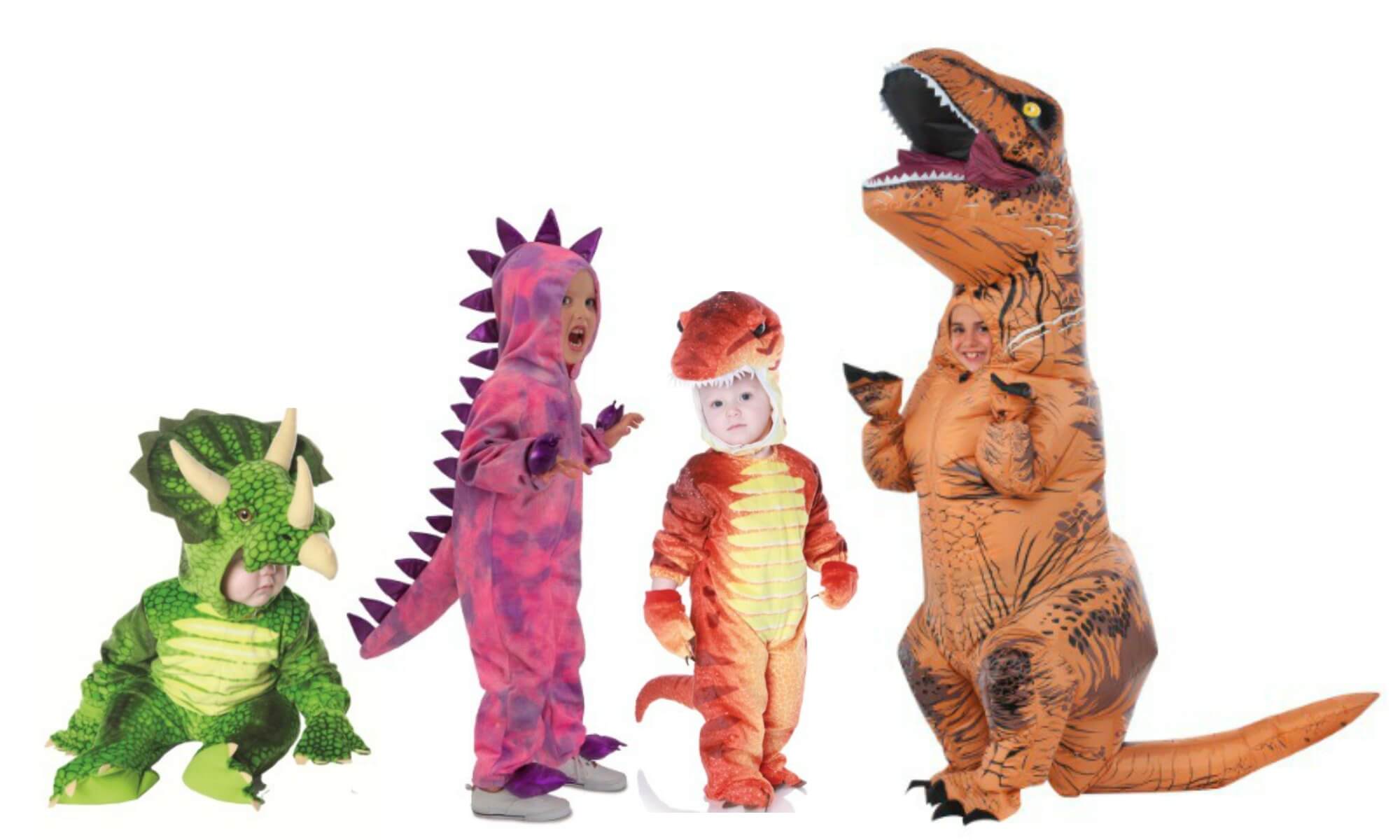 Triceratops Costume Girls T. Rex Costume T. Rex Costume Inflatable T. Rex Costume
The inflatable T. Rex costume has been a crowd favorite costume (and source of entertainment) for the internet. Many inflatable T. Rexes have been spotted at baseball games, the gym, and even at the office. For the parents who want to dress their kids alike and one child has their heart set on the inflatable T. Rex, we have plenty of other dinosaur costumes to round out the bunch!
Beauty and the Beast Costumes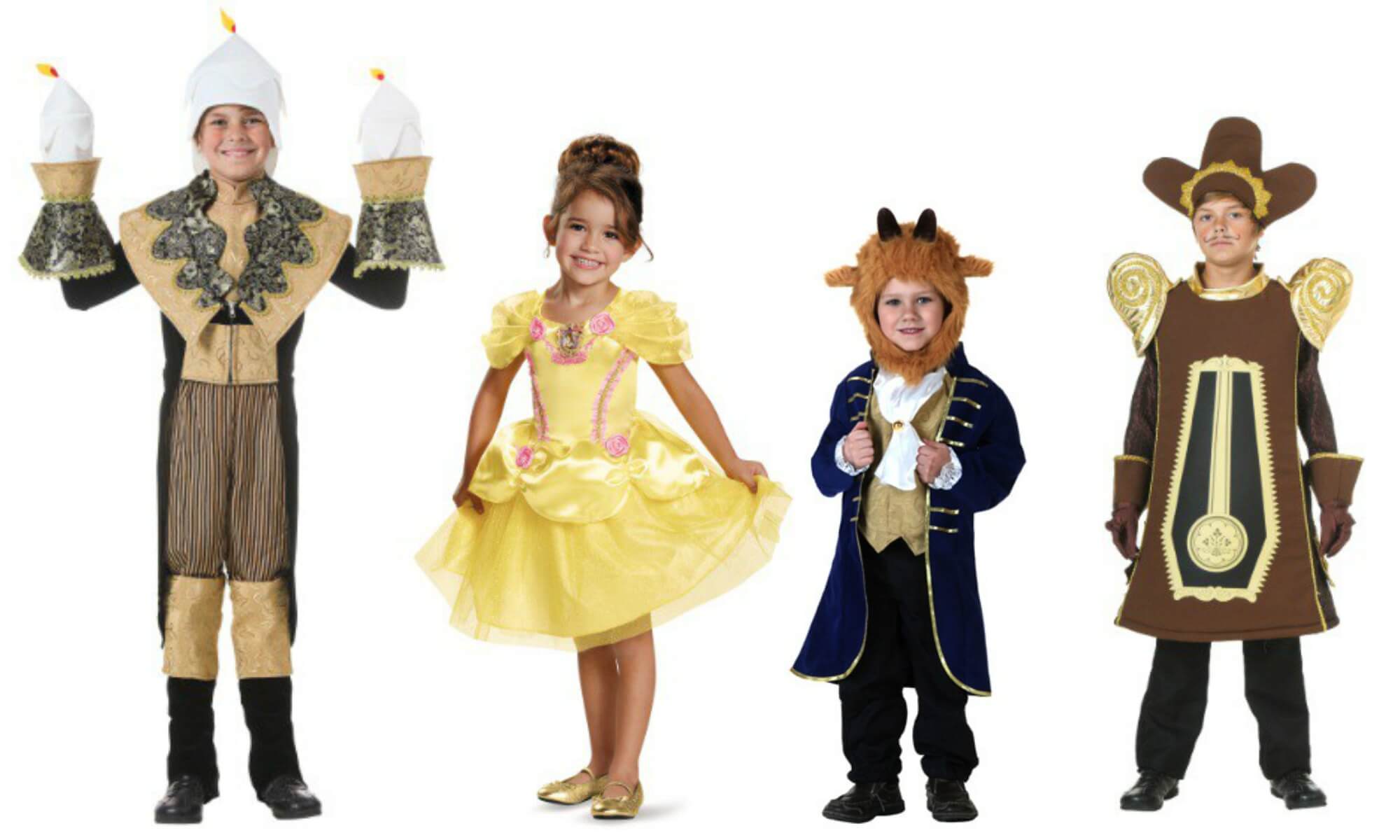 Candlestick Costume Belle Costume Beast Costume Clock Costume
Beauty and the Beast is one of those costume ideas that will never go out of style. A tale as old as time and the perfect costume choice for those who love the Disney classic films. Take a look at all the Beauty and the Beast themed costumes and, please, be our our guest!
Star Wars Costumes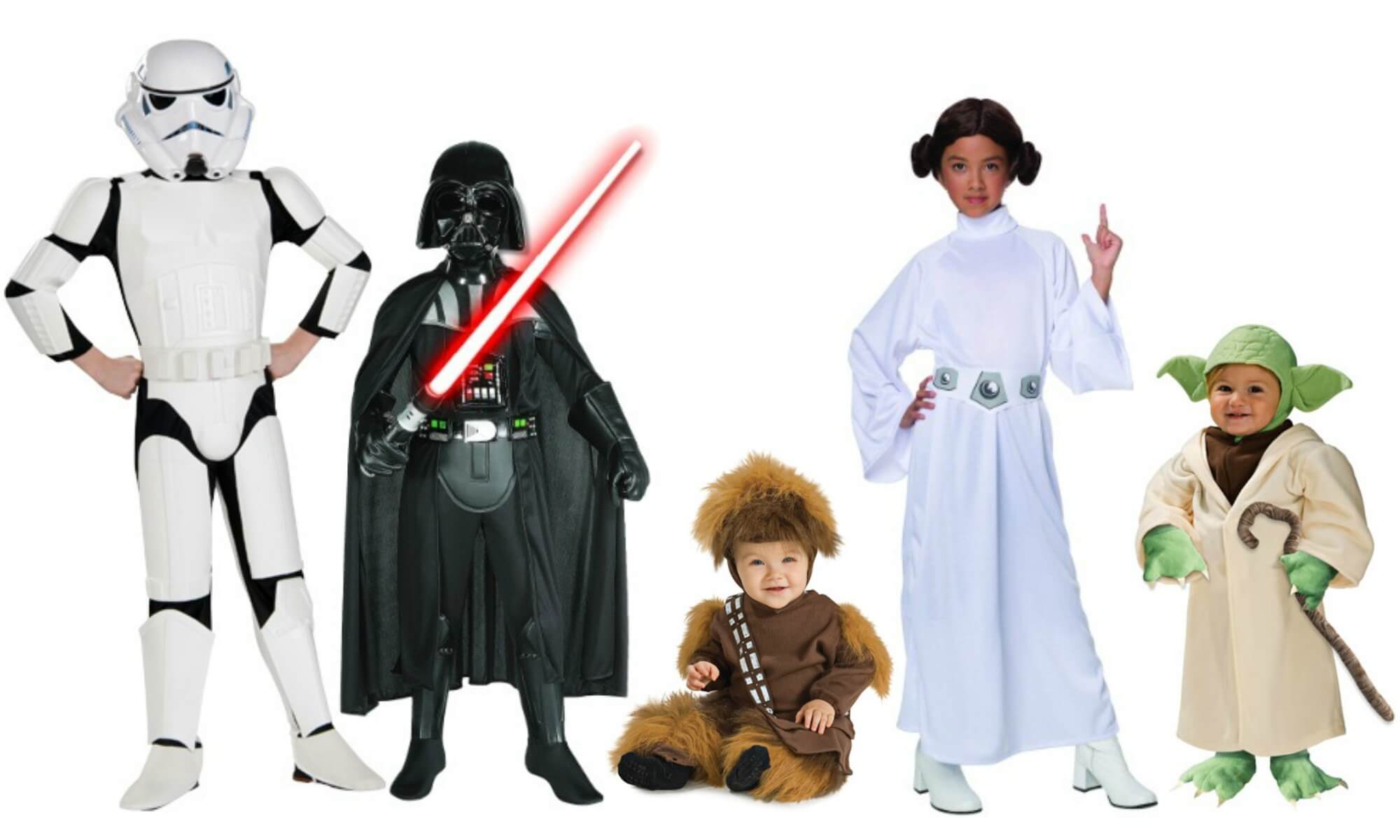 Stormtrooper Costume Darth Vader Costume Chewbacca Costume
Princess Leia Costume Yoda Costume
Star Wars costumes are also an excellent idea for those with a large clan. Whether you are dressing up the family or just the siblings, our selection of Star Wars costumes is so vast that you can find a different costume for everyone. If you have several boys in your group, we're confident they won't turn down a good excuse to don a lightsaber for the night.
Superhero Costumes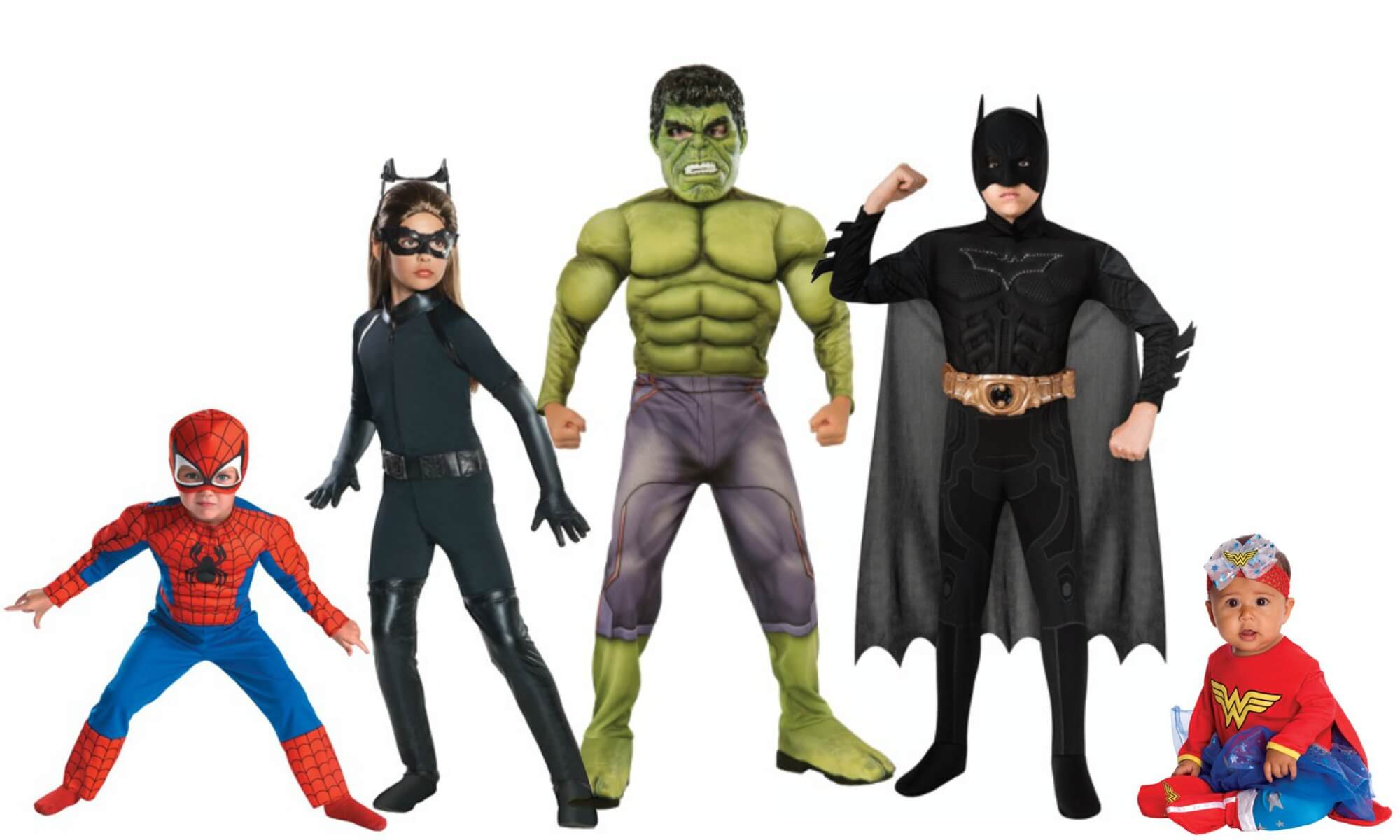 Spider-Man Costume Catwoman Costume Hulk Costume
Batman Costume Wonder Woman Costume
Superheroes is one of those sibling Halloween costume ideas that is sure to please the whole crew. Both boys and girls have several options to choose from. You can keep a Marvel theme, a DC theme, or even mix and match. Come Halloweeen night, the kiddos will be keeping the streets safe while collecting their loot of candy.
Alice in Wonderland Costumes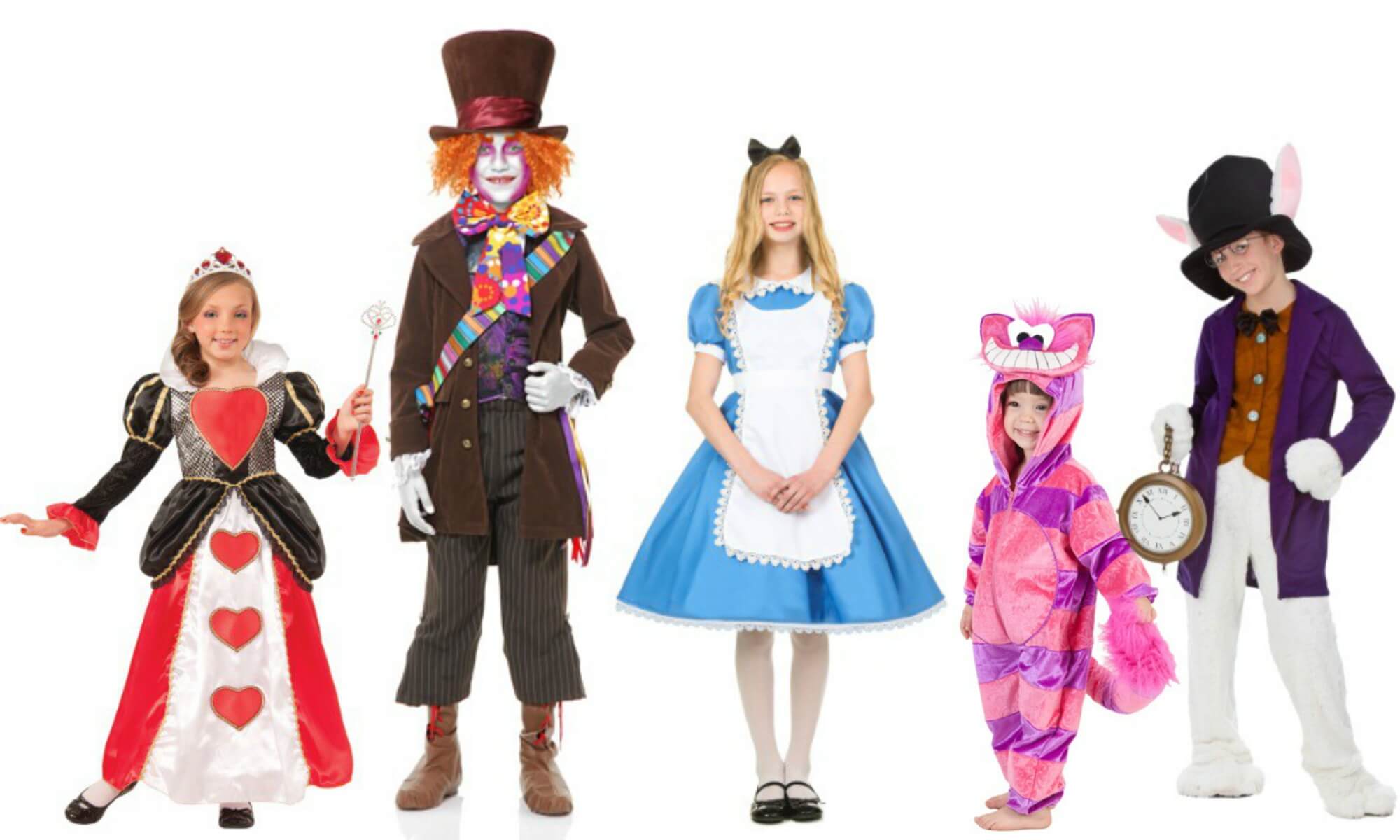 Queen of Hearts Costume Mad Hatter Costume Alice Costume
Cheshire Cat Costume White Rabbit Costume
Dressing your kids up in Alice in Wonderland themed costumes might make people think you're entirely bonkers, but we'll let you in on a little secret, all the best people are! Whether you've gone mad or are looking for a different costume idea this year, Alice in Wonderland costumes won't disappoint. You can see all our costumes here.
Farm Animal Costumes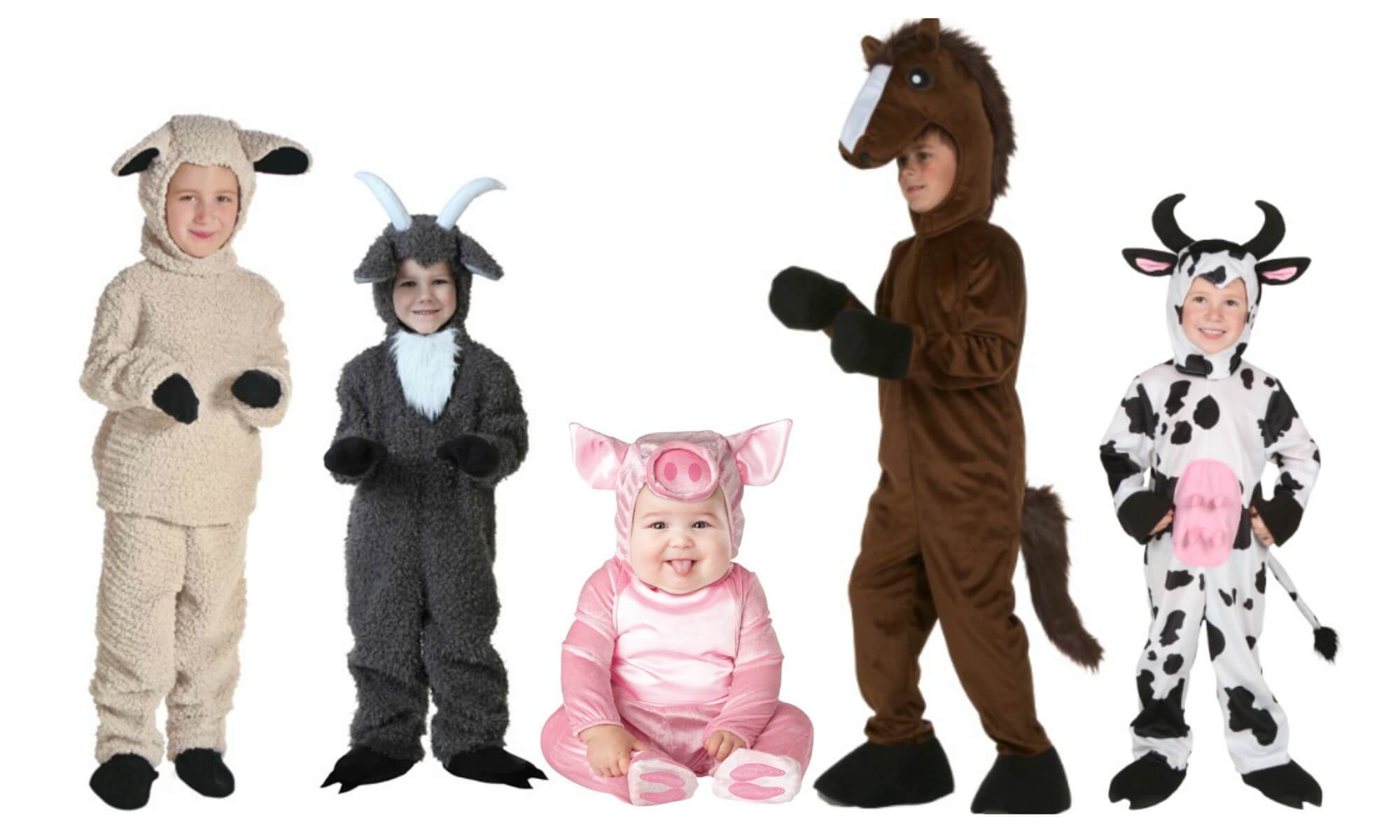 Sheep Costume Goat Costume Pig Costume
Baby farm animals are so cute that they have become such a popular Halloween choice, especially among younger children. For the parents who have farmers in training, these costumes are a perfect Halloween costume idea. Hook up the tractor and load the hay rack, these farm animals are going trick-or-treating.
Grease Costumes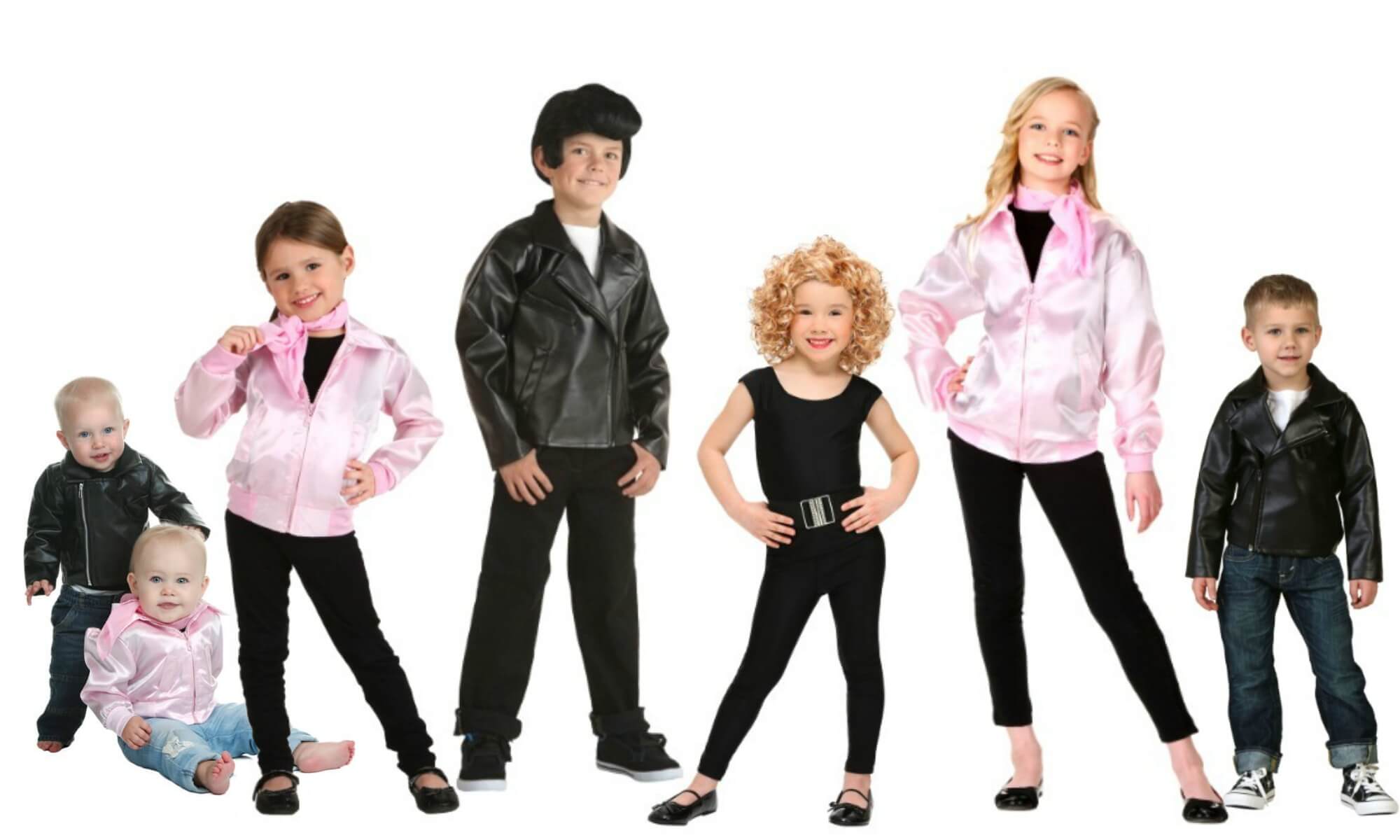 Infant T-Bird Jackets Infant Pink Ladies Jacket Toddler Pink Ladies Jacket
Kids T-Bird Jackets Bad Sandy Costume Girls Pink Ladies Jacket Toddler T-Birds Jacket
Grease is the word. The hit movie has been a top costume choice for several years running. Many parents love the classic, so dressing your kids as T-Birds and Pink Ladies is a surefire Halloween victory. Take a peek at all our Grease costumes to join in on the fun!
Coordinating Halloween costumes for siblings is so much fun, we could go on and on with different ideas! If you already have your children's costumes picked out, we want to hear your ideas in the comments below. Still haven't decided? No problem, check out our large selection of Halloween costumes for kids for even more themes! Happy Halloween!