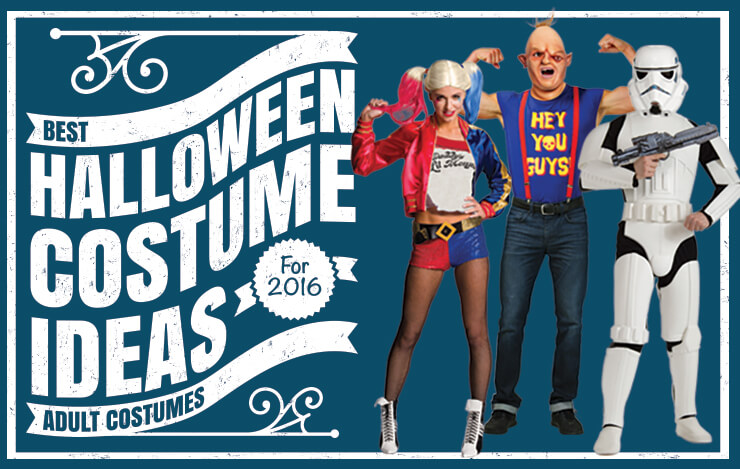 The countdown has begun! Halloween is upon us and it's time to start searching for that perfect costume. Since last Halloween, we've seen some big movies in the theaters - from Star Wars: The Force Awakens to Captain America: Civil War to Suicide Squad. We've got costumes for your favourite characters from those films. (Yes, including Harley Quinn.) Throwbacks? As if! We have new nostalgic costumes from Clueless, The Goonies, and Mean Girls. With Halloween so close to Election Day this year, we of course have Donald Trump and Hillary Clinton costumes, as well. Inflatables are huge this year, too. These blow-up costumes are larger than life and great for grabbing the attention of your friends. If you want to go back to basics, we've got great old-school costumes of animals, clowns, pirates, and mummies. The HalloweenCostumes.com HQ has been working hard this year to give you the best costumes, and we hope you'll enjoy our 2016 costume ideas list.


Nostalgic Costumes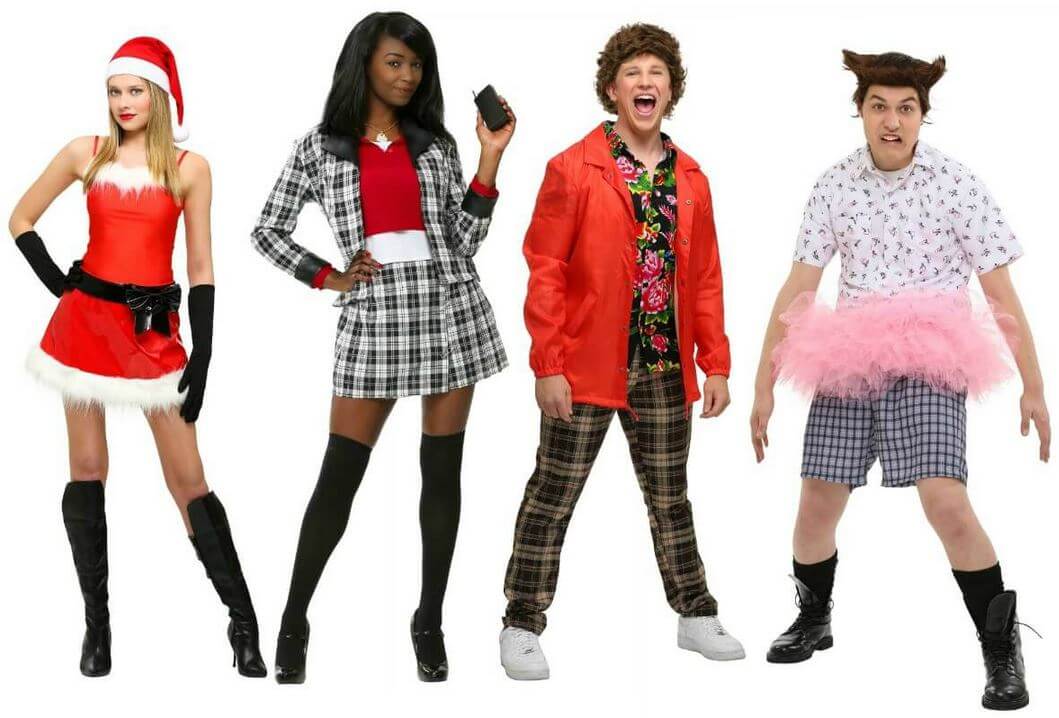 Mean Girls Christmas Costume Clueless Dee Costume
The Goonies Costumes Ace Ventura Tutu Costume
Nostalgia is always a good way to go, and with our officially licensed costumes from classic movies from the 80s through the 00s, you'll have plenty to chose from. Bust out the plaids and cans of Diet Coke and dress up as your favourite character from Clueless. If you want something a bit more recent, you can put together a group costume and wear the Santa costume The Plastics made famous in Mean Girls. Our Goonies costumes are going to have you shouting "Hey you guuuys!" all night long. Somebody stop me! We also have great Ace Ventura costumes for your selection.
Suicide Squad Costumes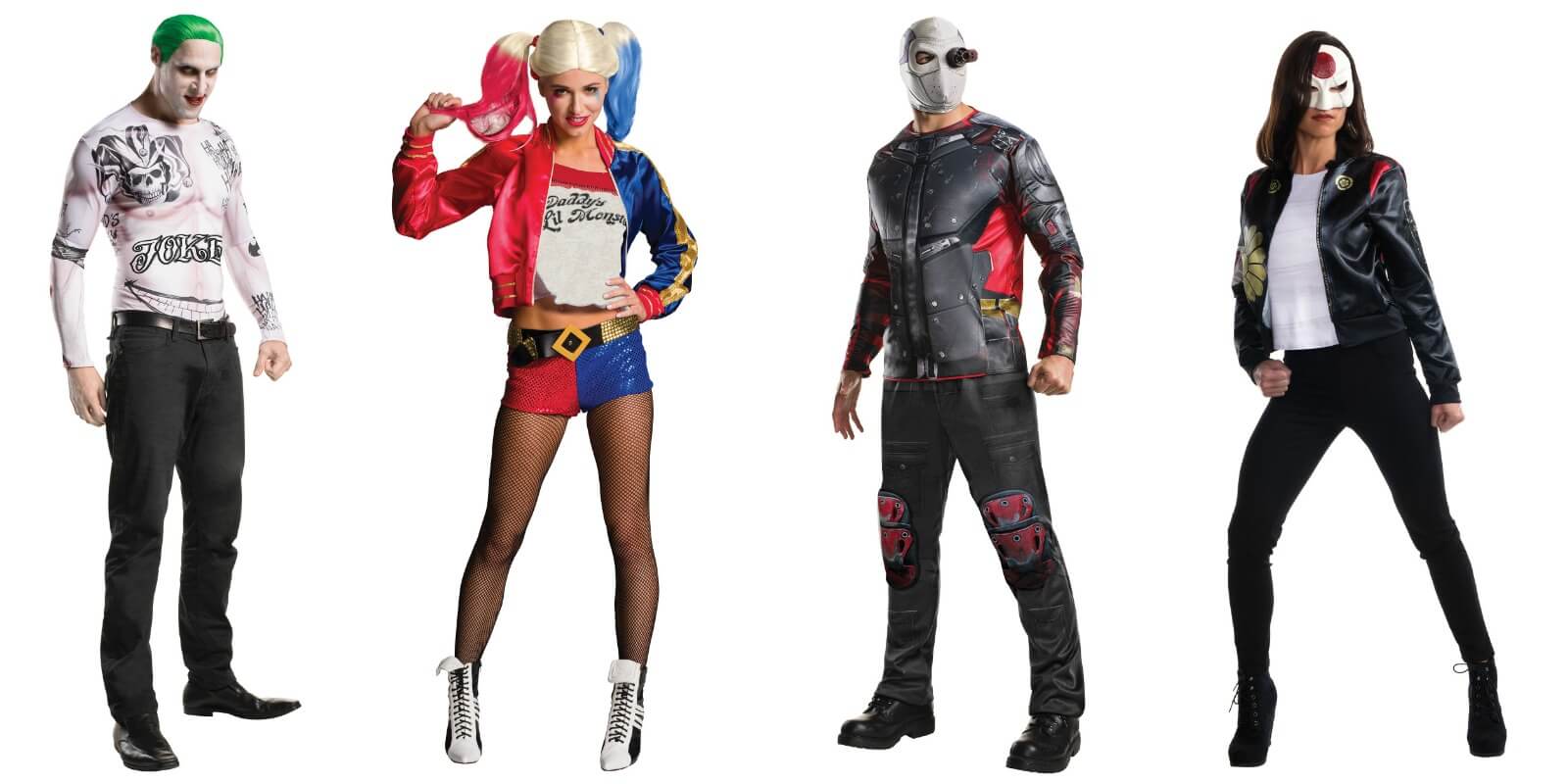 Joker Costumes Suicide Squad Harley Quinn Costume
One of the biggest movies of 2016 also featured a complete re-imagining of a comic book character that is sure to be a huge costume. We're talking about Harley Quinn, of course. She initially debuted in the 90s kids TV cartoon Batman: The Animated Series, but has since seen a resurgence thanks to Margot Robbie's performance in Suicide Squad. The Harley Quinn and Joker costume would make a great couples' pairing, or you can get a group of friends together and all wear costumes from Task Force X.
Batman v Superman Costumes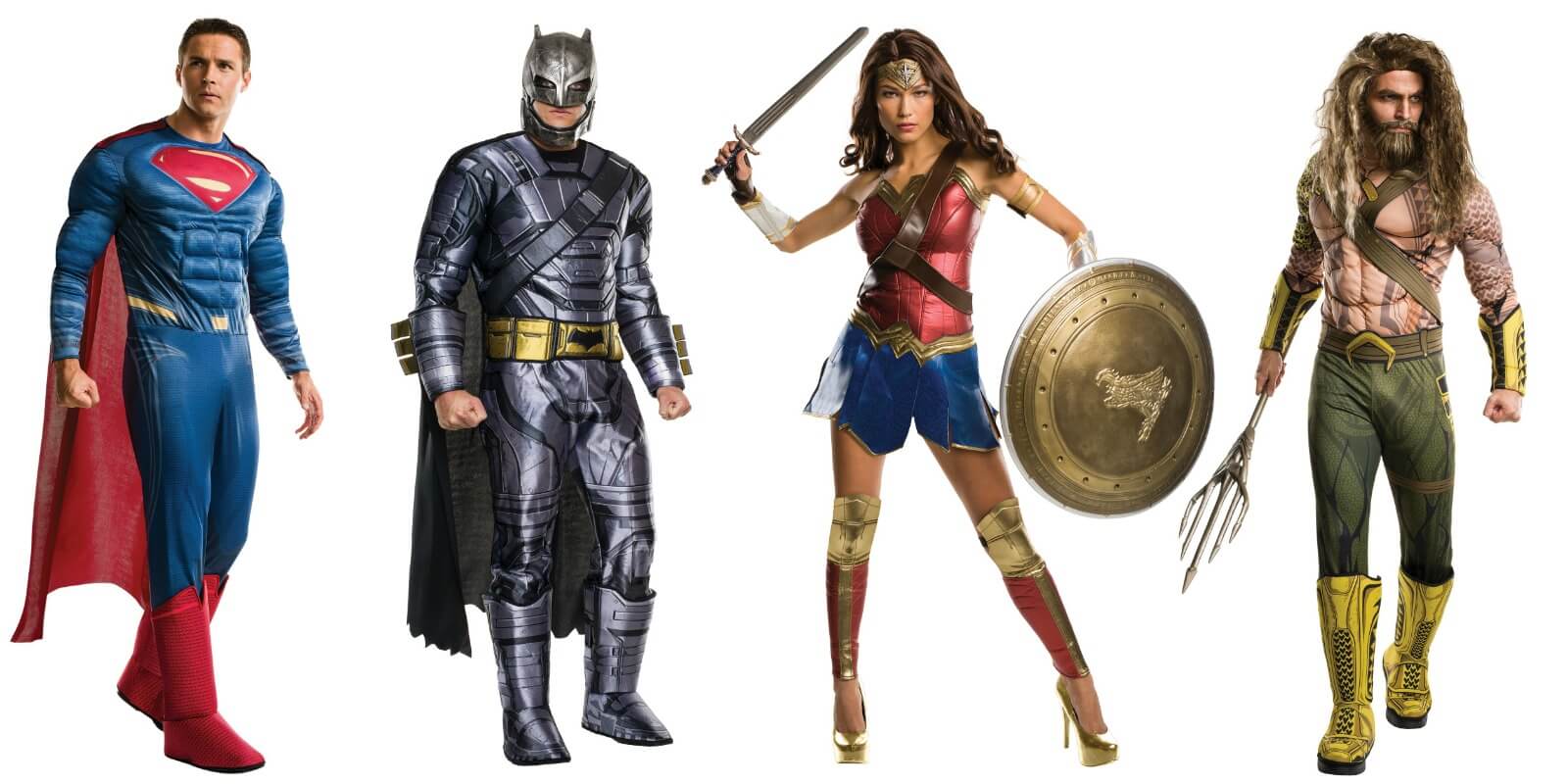 Superman Batman Wonder Woman Aquaman
Suicide Squad wasn't the only big DC Comics movie to debut this year. Batman v. Superman launched what will become a major franchise of films which will culminate in the Justice League movie coming in 2017. Batman v Superman gave us our first look at some of the characters in this film like Aquaman, Wonder Woman, and the newly redesigned Batman costume. This armored outfit is inspired by the famous Frank Miller graphic novels and will put you squarely in the Ben Affleck Batman costume camp, (as opposed to the Christian Bale, Michael Keaton, Adam West, or *shudder* George Clooney Batmans). Don't forget Superman's costume, which is inspired by the Henry Cavill iteration of the character.
Ghostbuster Costumes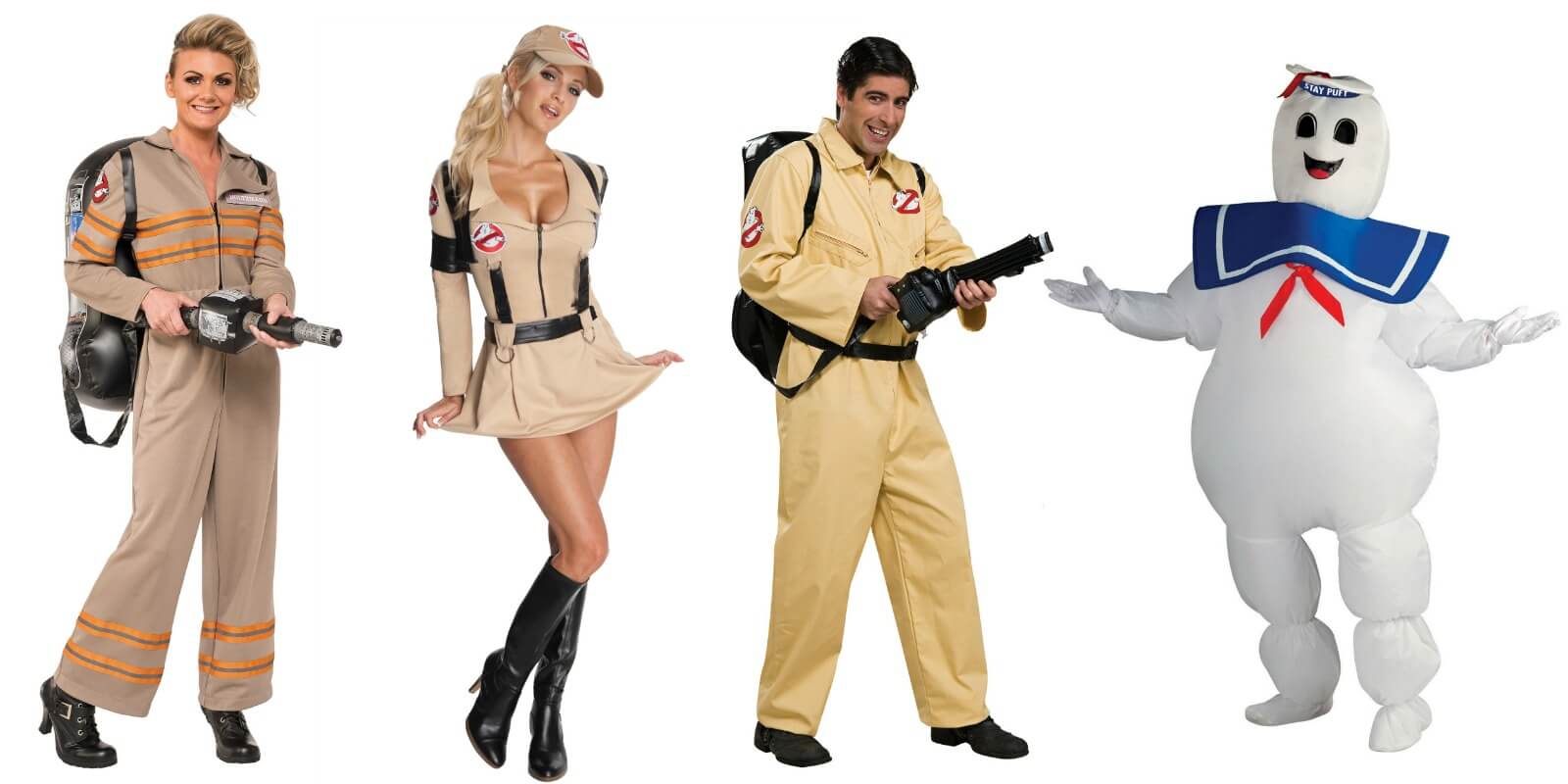 Ghostbusters 2016 Womens Costume Sexy Ghostbuster Costume
Ghostbusters 1984 Costume Stay Puft Marshmallow Man Costume
Ghostbusters was the most talked-about remake of the year. This all-female reboot of the original 80s movie featured memorable performances from Kristen Wiig, Melissa McCarthy, Leslie Jones, and Kate McKinnon. For fans of the new movie, we have costume jumpsuits of the reimagined suits. For fans of the classics, we have the original costumes, as well. But, what if busting DOESN'T make you feel good?! (That's so weird.) You can be the ultimate spectral vision as this inflatable Stay Puft Marshmallow Man. Yikes!
Star Wars Costumes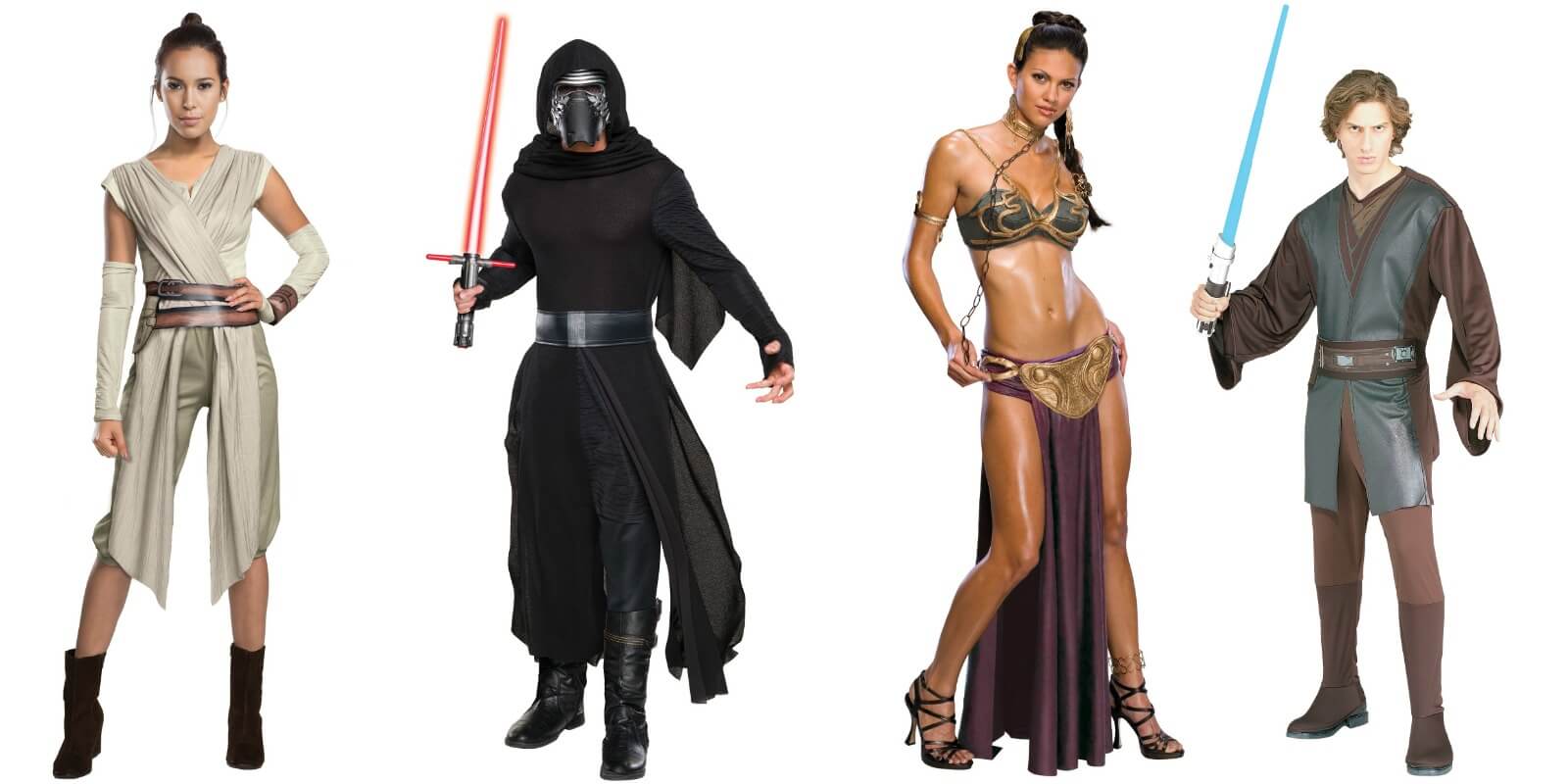 Sexy Princess Leia Slave Costume Anakin Skywalker
In 2016 we're faced with a very first world problem - just which Star Wars era costume to wear? Of course the en vogue thing to do is wear the costumes from The Force Awakens. After all, the film only came out in December, so this is your first chance to don Rey or Kylo Ren costumes for Halloween. On the other hand, can you really compete with the original trilogy? Our Princess Leia Slave costume looks so authentic you'll want to carry a chain with which to choke Jabba the Hutt when Luke Skywalker makes his entrance. Or you could go against the grain and dress up as the critically unpopular Anakin Skywalker from the prequel trilogy. He does have the most hammy lines, so you can go toe-to-toe with Hayden Christensen's line readings. Just try competing with this:
Marvel Costumes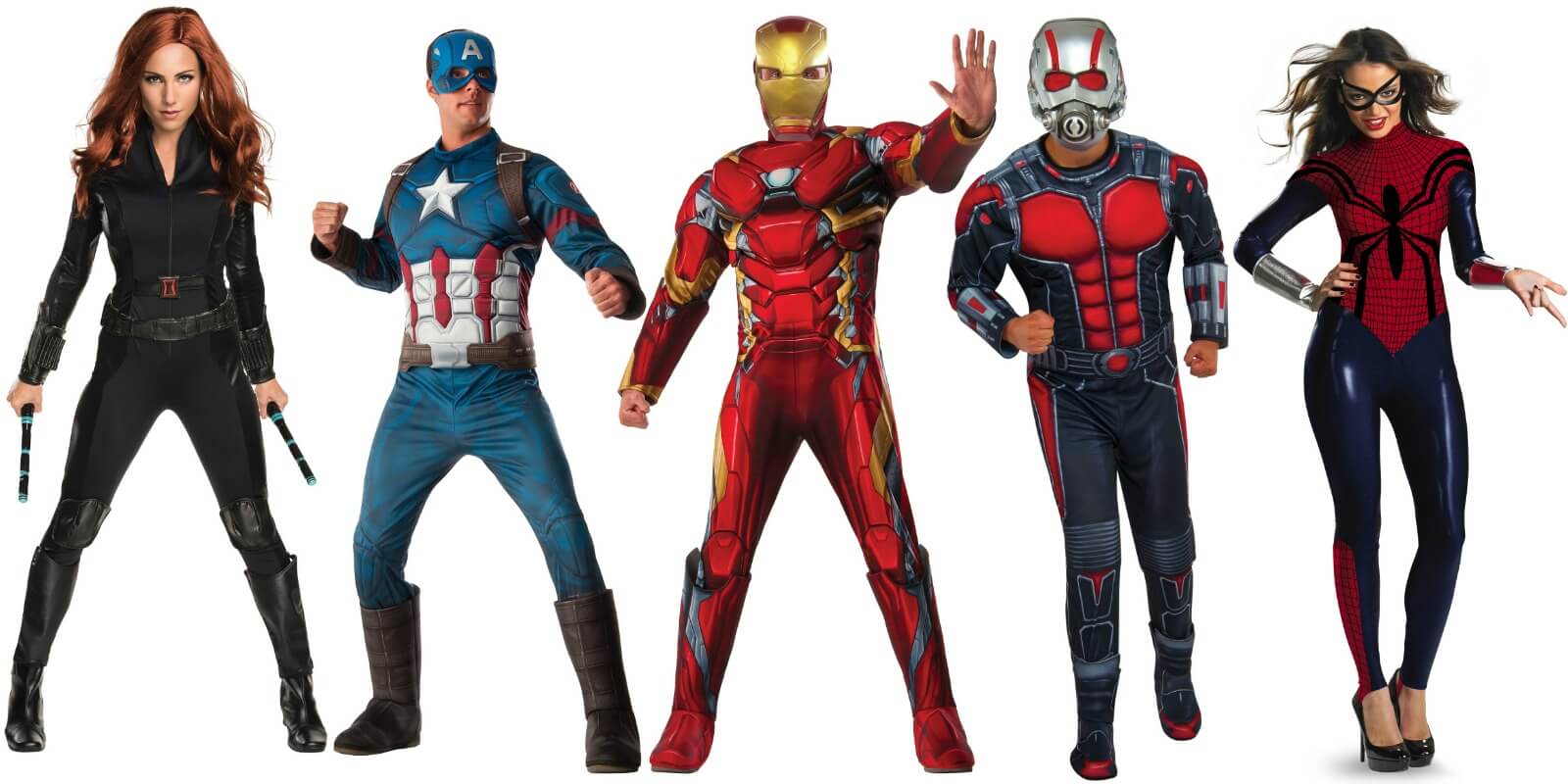 Black Widow Costume Captain America Costume Iron Man Costumes
It's going to be another big year for Marvel movie costumes. Captain America: Civil War played out more like an Avengers movie, with many of our favorite characters returning to the big screen, including a scene-stealing battle sequence with Marvel Cinematic Universe's newest character, Ant Man, who was fighting alongside and with Captain America, Black Widow, Iron Man, and the other big surprise of the film (spoiler!), Spider-Man.
Animal Costumes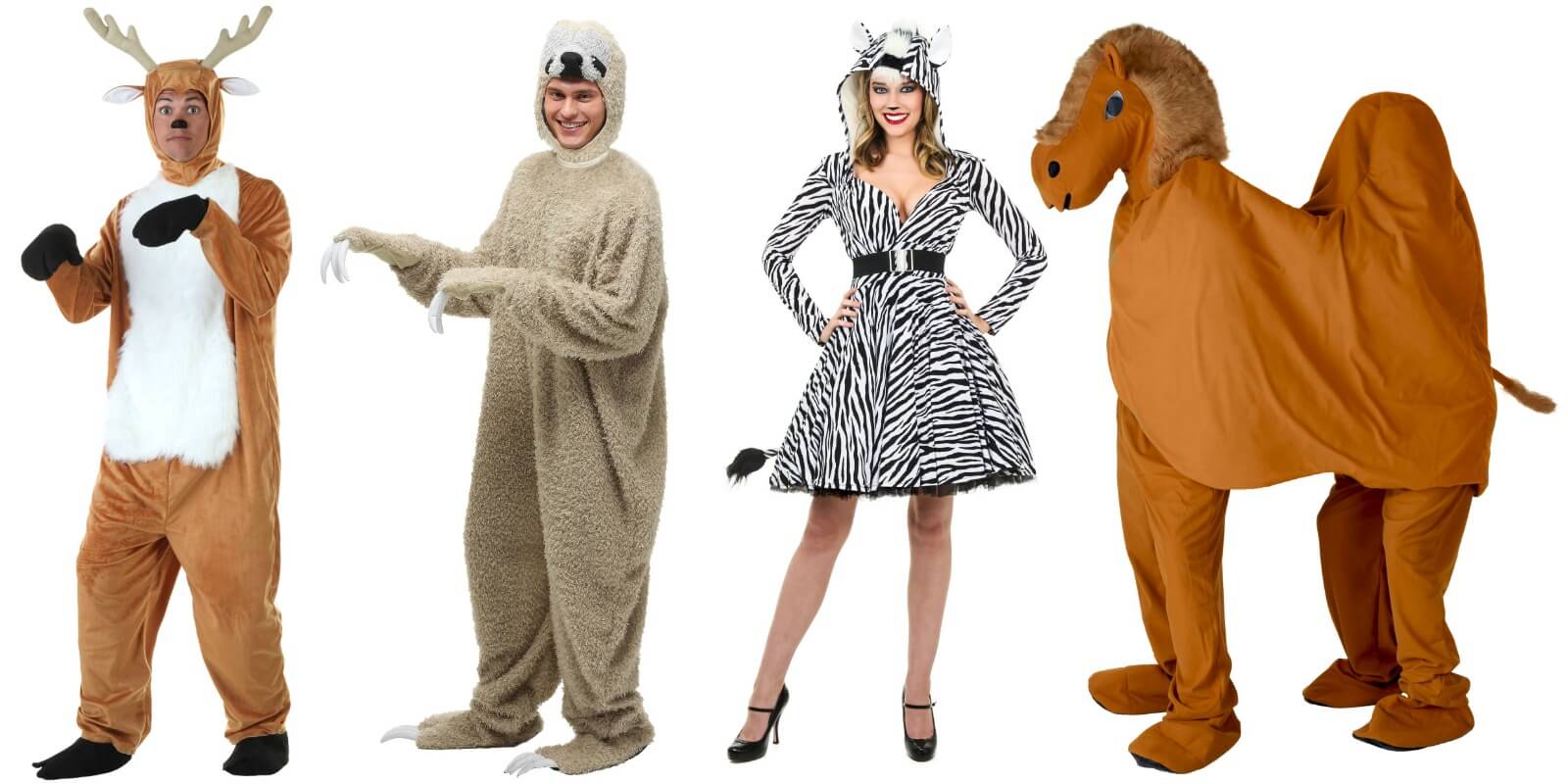 Deer Costume Sloth Costume Zebra Costume Camel Costume
Animal costumes will never go out of style, and these retro costumes will have you wearing something that is both funny and unique. Dress like a deer, a sloth, a zebra, or find a good friend to be a camel with you - just leave us out of the argument over who goes in the costume's backside!
Inflatable Costumes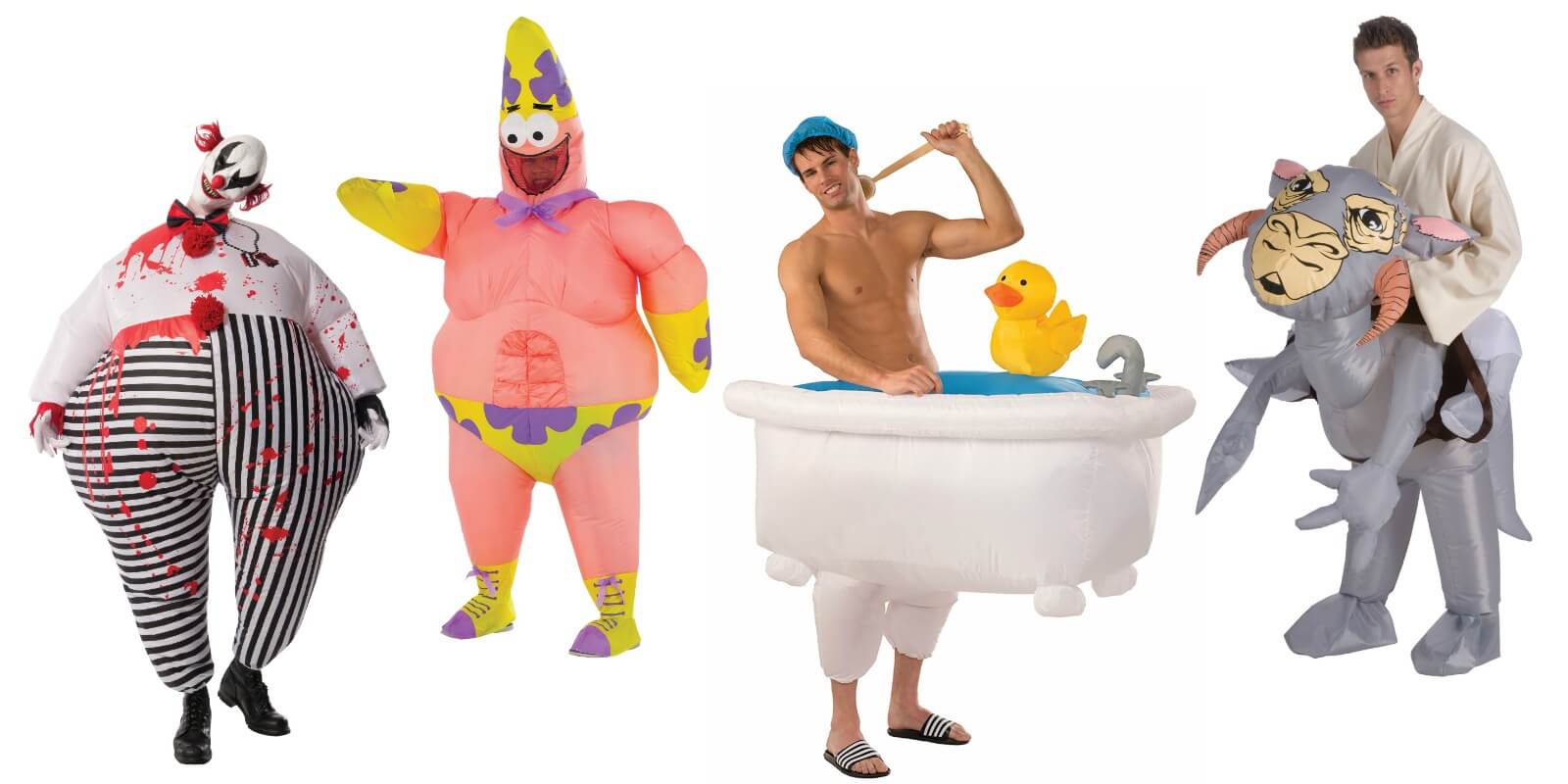 Evil Clown Patrick Star
Man in a Tub Costume Tauntaun Costume
Inflatable costumes have taken over! These costumes are lightweight, yet they take up more room than a normal costume and give you lots of opportunities to steal the spotlight. We'll leave it up to you which is scarier - the horrifyingly creepy Evil Clown costume or the Man in the Tub. Just make sure not to cut the Tauntaun open for warmth - it won't be quite like the movie!
Current Events/Topical Costumes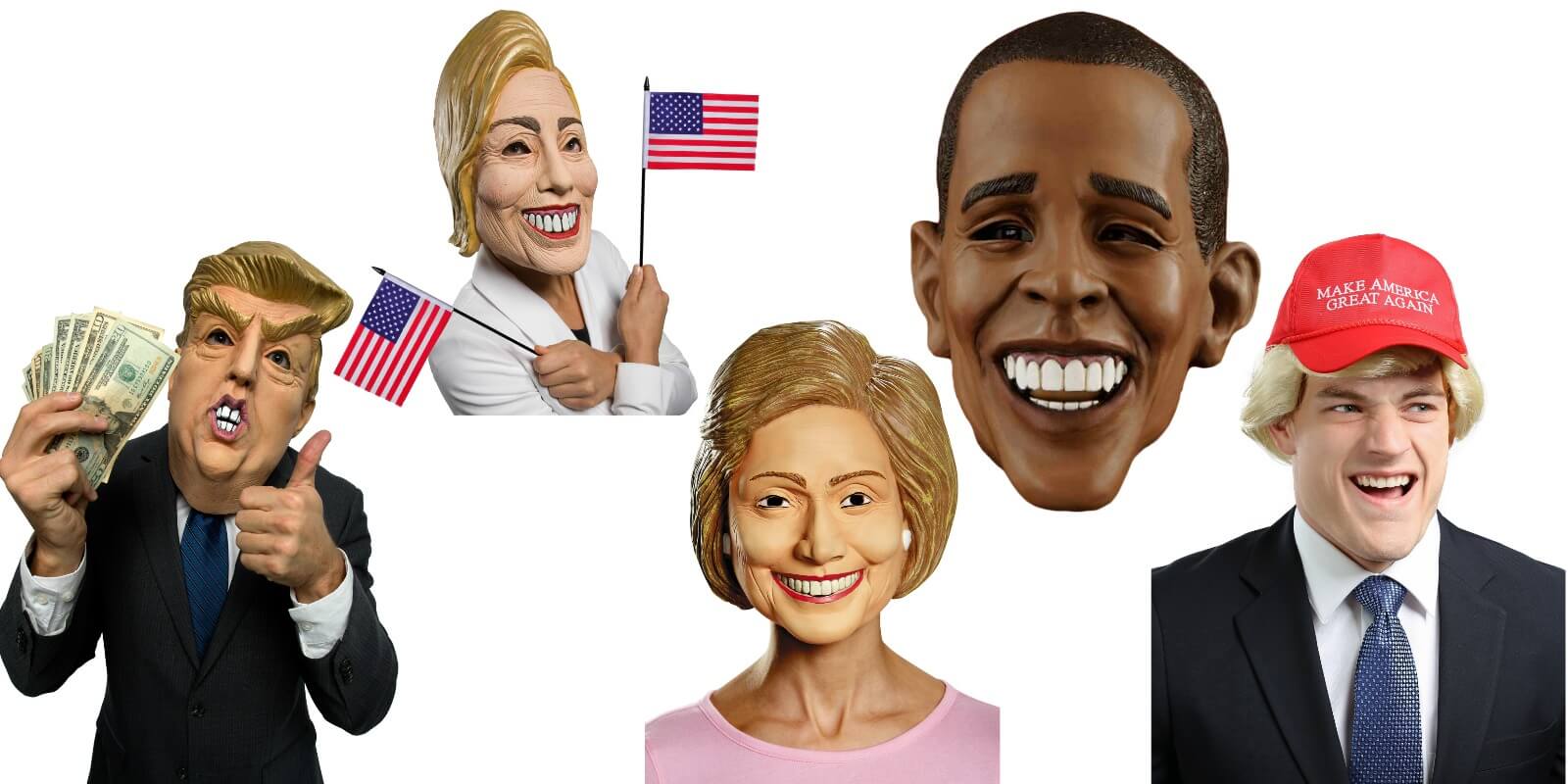 Trump Caricature Mask Hillary Caricature Mask Hillary Mask
With only 9 days between Halloween and the election, there is lots of interest in our topical costumes. For the traditionalist, we have the Hillary mask and Trump "Make America Great Again" hat, which will let you emulate the two major party nominees in a more authentic light. For a comical take on the nominees, check out our caricature masks, which make the two candidates a bit larger than life. Don't forget that there's only a few months left of President Obama's tenure, so it could be high time to bust out your best suit to combine with our Obama mask.
Political Costumes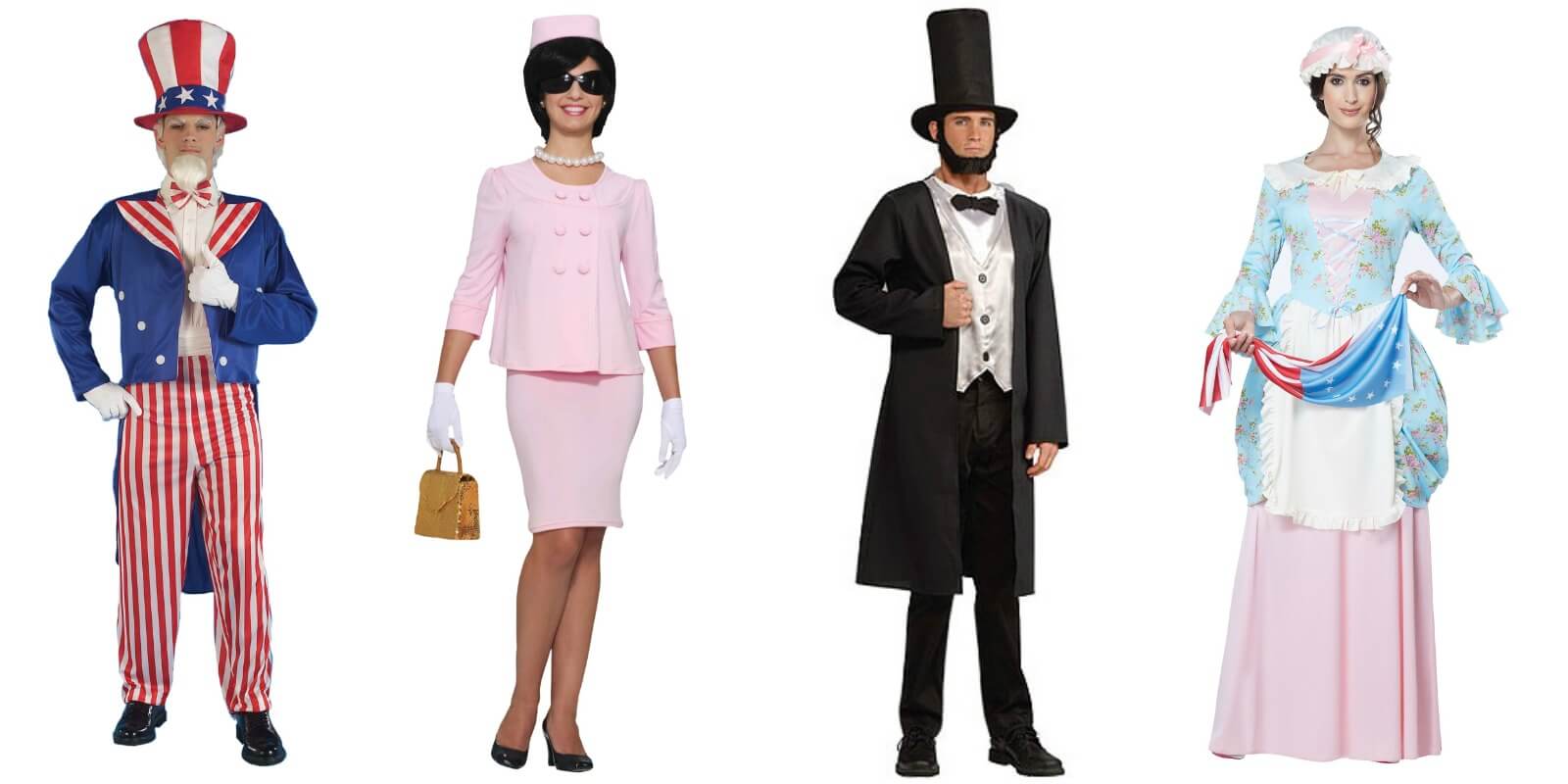 Uncle Sam Costume Jackie O Costume
Of course, our political costumes aren't limited just to Donald Trump and Hillary Clinton. The USA has a 240-year history, and there's lots of inspiration that can be drawn from America's past. Uncle Sam is the physical embodiment of America, so our Uncle Sam costume may be a good place to start. Abraham Lincoln is commonly regarded as one of our best presidents. Jackie Kennedy is one of our most famous first ladies, and Betsy Ross is the creator of the American flag. With any of these political costumes you're sure to feel the USA! USA! USA! coursing through your veins.

These costume suggestions just scratch the surface of choices for the year. All of our adult costumes are great choices!