Scary Halloween Costume Ideas
Here at Halloweencostumes.com we always appreciate seeing a really scary Halloween costume. A horrifying Frankenstein, a mangled witch, a decaying zombie—we love them all because being a little spooked on Halloween makes the experience far more fun. That's what Halloween is all about!
With all of the funny and pop-culturally relevant costumes to choose from, it's all too easy to forget that sometimes the best recipe for fun is to be a little scary. Trust us, it's fun to hear family and friends let out an ear-splitting shriek when they see you all done up in prosthetic makeup, or a freaky mask, or a classic fright-inducer like Dracula. That's why we're encouraging you to embrace your inner scary... you scare because you love! So, if you decide to take our advice and bring the terror back to your town, you've found just the right spot for the creepiest costumes anywhere. Take a peek at this scary Halloween guide for some quick inspiration, and if one of these looks doesn't quite work for you, it's still a sure-fire way to get your diabolical ideas flowing!
Scary Couples Costumes
Are you and your partner scary cute? Or maybe you two are simply scary. Either way, couples have plenty of dashing options when it comes to this season's disguises. You can choose to dress as a classic creepy duo like Frankenstein's Monster and his shockingly beautiful bride. Or match your partner with lush vampire costumes that would look right at home in a castle in the Transylvanian mountains. From television to fairy tales, there are plenty of options to choose from. Peruse through our featured looks who knows where these costumes will take you!
Couples Mummy Costumes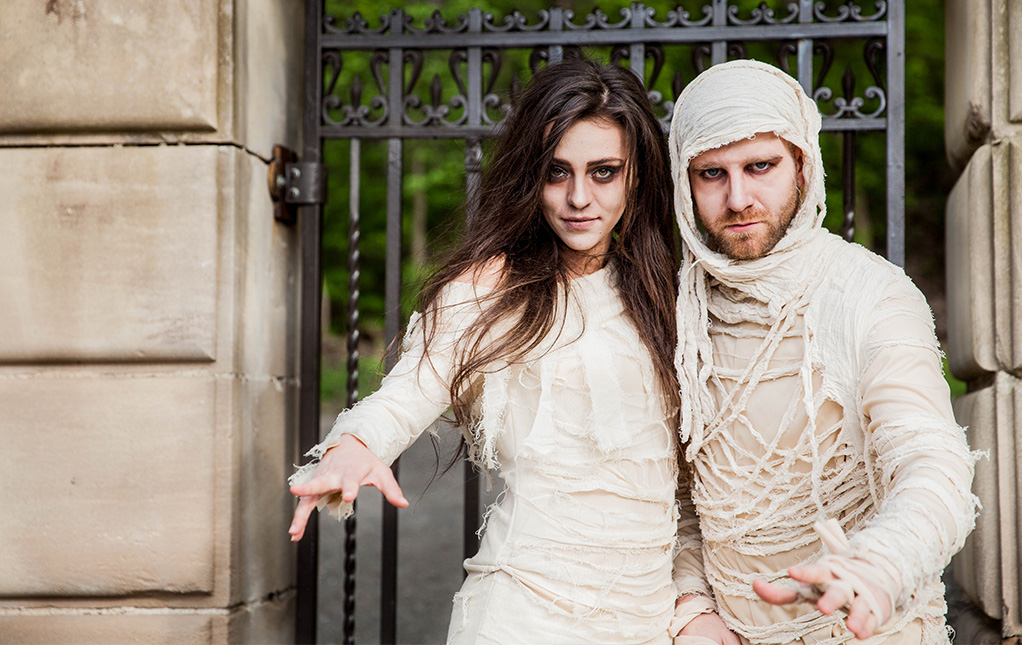 Deep under the pyramids lies an ancient dusty chamber. In this chamber, under a golden sarcophagus, something is sleeping. Wait. Two things are sleeping. It's the Sunday morning after Halloween so they need to sleep in. Let's not wake them. That would be rude.
Mummy costumes have improved immensely in the last couple years. No more wrapping yourself in water-soluble toilet paper. No need to tear up a sheet. Get a mummy costume that's easy to throw on and even easier to wear again and again. The lovely women's mummy costume features a long-tattered mummy maxi while the men's mummy costume is made up of a bodysuit that has tattered bandages draped over the fabric. Add Egyptian accessories to your heart's content to customize your looks and reign over this Halloween holiday!
Couples Skeleton Costumes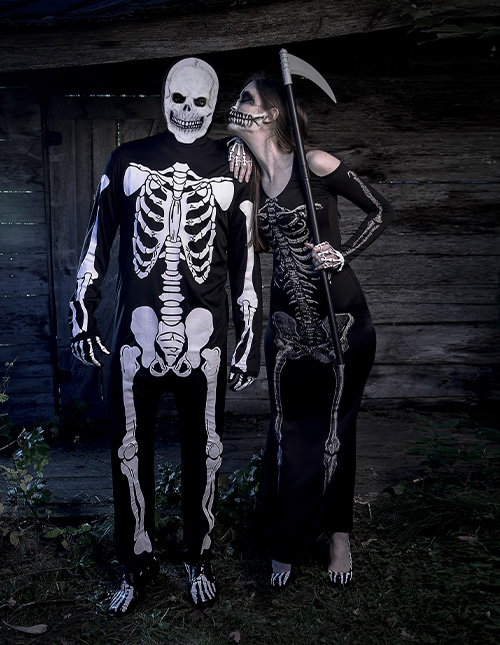 Undead couples are all the rage these days. All that bleached white bone and macabre personality, it's no wonder we can't get enough! Want to hitch your Halloween wagon to this ghoulish convoy? Our Made by Us skeleton costumes are a great way to go. Our maxi skeleton dress is always a favorite with cutouts for the shoulders and an aged skeleton printed on the front. The men's skeleton bodysuit is also quite dapper. It features bleach white bones on a loose fit jumpsuit to make sure you're comfortable while you jump and jive at your local monster mash.
Scary Couples Bat and Witch Costumes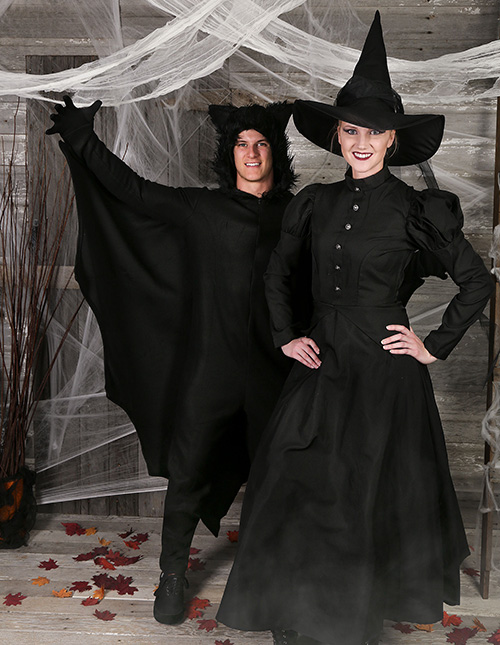 Want enchanting, timeless photos from this festive yet frightening holiday? Our high-quality witch costume is sure to set the tone you're looking for. And of course, you're going to need a familiar if you head out in your pointed hat and long black skirts. Pair the witch costume with our Made by Us bat costume and watch as your couple's costume doubles in charm. From handing out candy to trick-or-treaters to brewing up trouble at your local Halloween party, this bat and witch costume is sure to have everyone under your spell!
Scary Costumes for Kids
Certain kids just can't get enough scary stories, even if those stories give them the occasional nightmare. Parents usually can relate since the fascination with spooky tales usually runs in the family. It's no wonder that scary Halloween costumes for kids will always be a popular choice! Kids have so many options no matter what their tastes might be. Are they Goosebumps fans? Slappy the Dummy will frighten young and old alike. Do they eat up any story that has to do with ghosts? Delight them with our ghastly ghost bride costume. Scroll on through our scary kids' costumes and you and your kids will have a lot of decision making to do!
Scary Clown Costume for Girls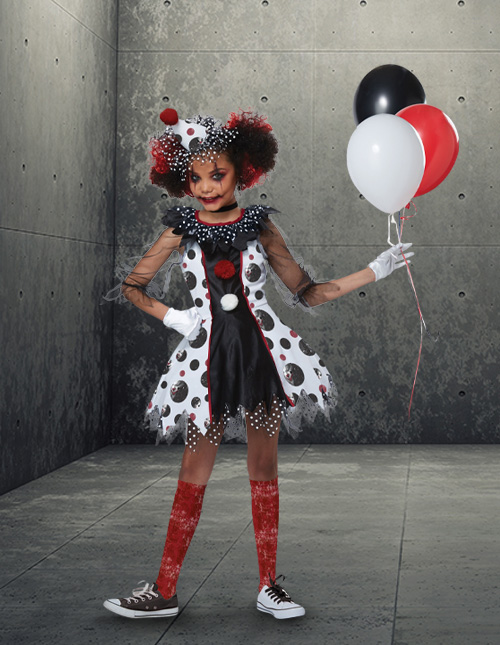 This little clown really knows how to entertain! It's hard to guess what she might be hiding up her sleeve. Then again, this scary kid's clown costume is so photogenic, we're going to keep our eyes on her antics even if they might cause us to shiver and shriek. This polka-dotted clown costume might be adorable on its own but you can always customize it with an over-the-top wig!
Scary Vampire Costume for Girls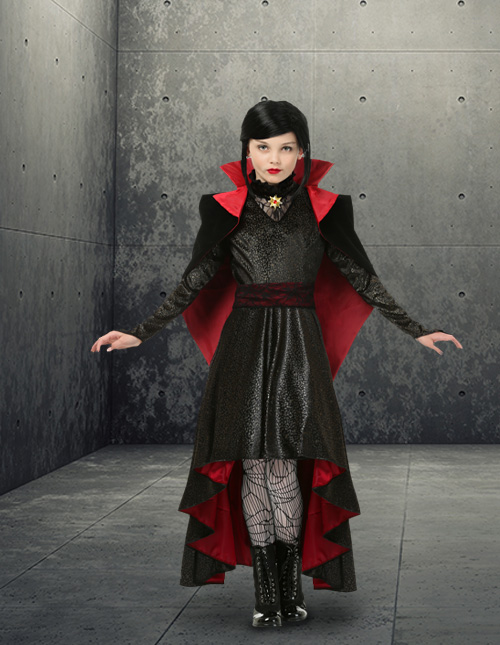 Some girls want to be princesses. Others want to live in a different kind of castle. A castle that's set in a spooky mountain setting where bats swirl around the towers and the inhabitants only come out at night. This girls' Vampire costume features a high-low design black dress layered under a dramatic cape that is lined with a deep red fabric. Polish off this look with spiderweb tights and spooky fangs and you're sure to have a look that'll be a favorite for years to come!
Scary Werewolf Costume for Boys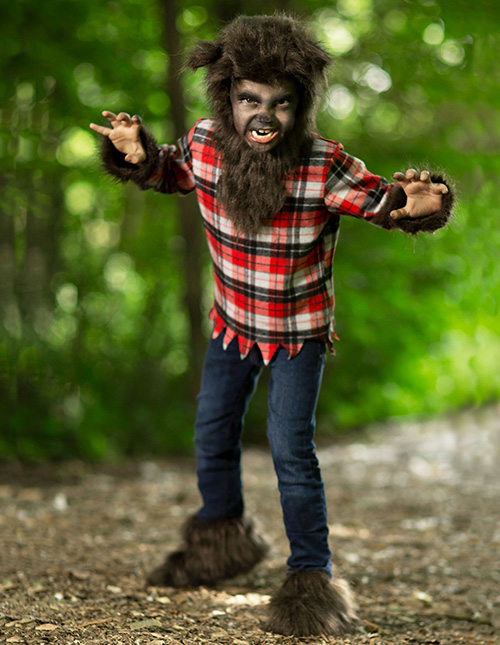 Halloween should always be a howling good time. It totally makes sense that werewolf costumes will always be a worldwide favorite. Cause kids are great at getting into character. You know how kids do wolves. They go around growling around with their hackles hunched and their hands formed into claws. This werewolf costume will make all that frightening stalking and growling more picturesque. And if you need more options, we have plenty of wolf costumes for girls, adults, and even babies!
Scary Devil Costume for Boys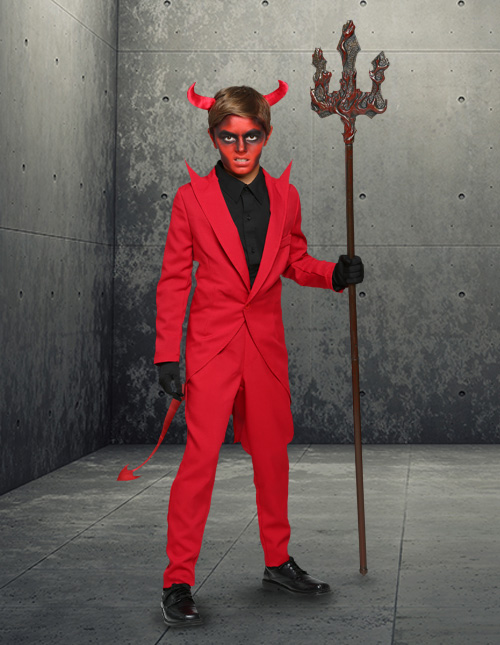 Your kid is a leader. It makes sense that they wouldn't be a simple demon from the depths. Your kid can be the devil himself! Scary Halloween costumes for boys can be a little gory at times. Not so with this look! The dashing red devil featured here is sure to stand out in a street full of trick-or-treaters. With a bossy attitude and a pitchfork to give them extra authority, your child's devilish new persona will rule this Halloween!
Scary Clown Costumes
Do you know someone who has coulrophobia, otherwise known as an intense fear of clowns? If they get nauseous, sweaty, and their heart starts to beat fast when they know a clown is walking around the mall, it's safe to say that your friend has coulrophobia. We get it though. There's just something about a clown's bright red nose, over-sized shoes, and bright colored curls that makes us cringe. Gone are the days where the terrifying jokers made kids giggle at birthday parties, now they just make adults run in fear. So if you're in the mood to make lots of people tremble with dread, we recommend clowning around!
Pennywise Costume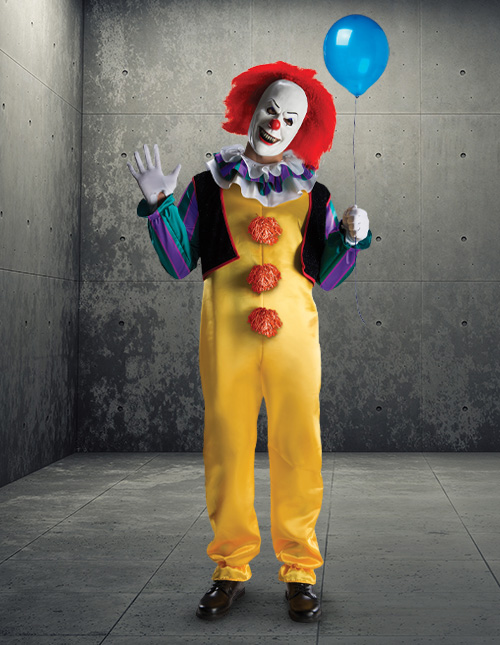 Did Tim Curry embody the most terrifying clown ever created? It's possible because Pennywise still gives us nightmares. That receding hairline, those yellow, jagged teeth, and that eerie balloon he carries are all reasons why the evil clown still makes us shudder. After all, Stephen King is one of the best horror novelists of all time, so of course his brain would conjure up a character as wicked as Pennywise, and dressing up as this clown means that you'll become one of the most horrifying fictionalized characters ever conceptualized. Don the costume and experience what it's like to become Pennywise the Dancing Clown.
Women's Scary Clown Costume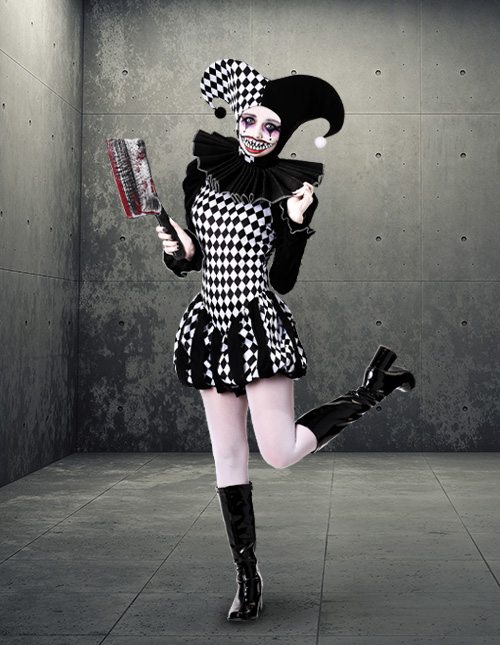 Hear-ye, hear-ye! It is time to announce the most sinister member of the royal court...the one and only, Scary Clown! Whatever you do, don't call this jester a clown. She's much more than some dope who tells jokes and juggles. This jester entertains the king but not in ways that you'd think. She performs macabre style magic and entertains the court with creepy dark comedy that will make your skin crawl. If you're looking for a medieval style costume that will make people say, "yikes," rather than, "wow," this Scary Clown costume for women is the one for you.
Killer Clown Costume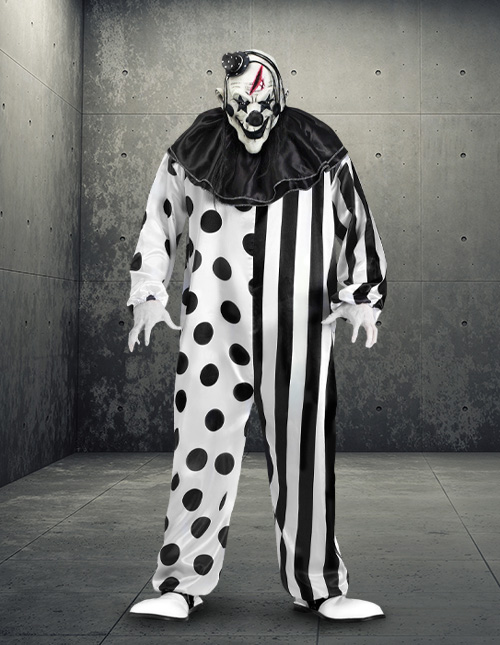 Clowns aren't really intended to cause nightmares, but we suspect that a lot of them end up creating a few to say the least. However, it wasn't until Hollywood came up with the concept of killer clowns that people began to fear them. We don't know about you, but we kind of enjoy the new and scary take on clowns. Get ready to channel the crazy jokesters when you dress in this black and white clown costume. Complete your horrifying look by picking up a makeup kit or a mask to create an appearance that will make people cower in fear. We have a feeling that you'll love giving fellow party-goers a bone-chilling Halloween experience!
Giggles the Clown Costume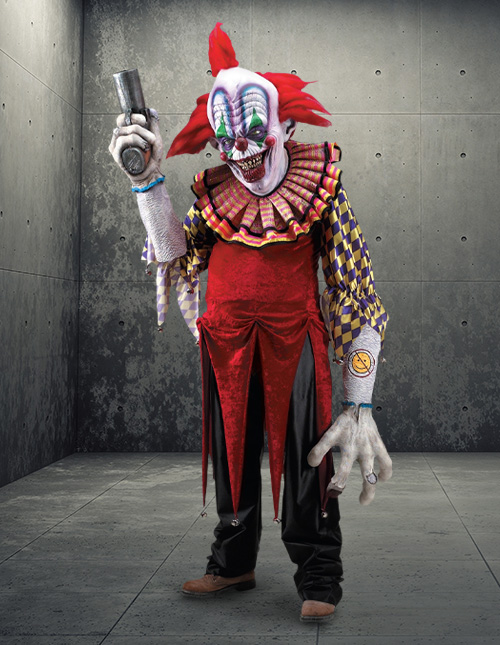 Meet Giggles. He's half clown, half monster and 100% terrifying. With larger than life hands and a gruesome grin, you'll have a frighteningly good time dressed as the one and only Giggles. This redheaded psychopath holds a big barrel gun in one hand while reaching out to grab a few innocent souls with the other hand. So, what kind of experience will you have when you dress as Giggles? It'll be an adventure that will have people shrieking in terror while you giggle underneath your creepy mask. So, it's easy to see why this clown is named Giggles, isn't it?
Scary Scarecrow Costumes
Country creep is a whole different kind of creep. There are isolated country roads surrounded by tall corn that could hold any number of murderous villains. Walk down a country road and someone (or something) could be watching you at any time. It makes sense that some of the best horror stories out there feature scarecrows with a super serious chip on their shoulder.
Sadistic Scarecrow Costume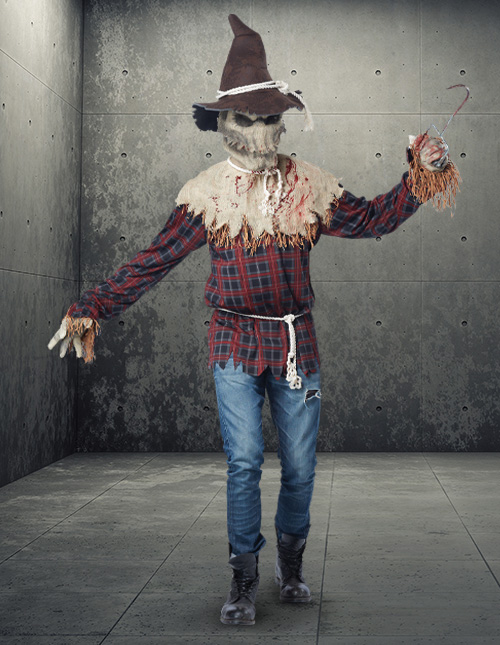 If you're looking for a scarecrow costume with an eerie face, this scarecrow costume is the way to go! The mask features deep black eyes and an eerie mouth with bloody jagged teeth on the interior. With a plaid shirt, burlap material, and a faux leather peaked hat will make your scarecrow look admirable at first glance!
Killer Scarecrow Costume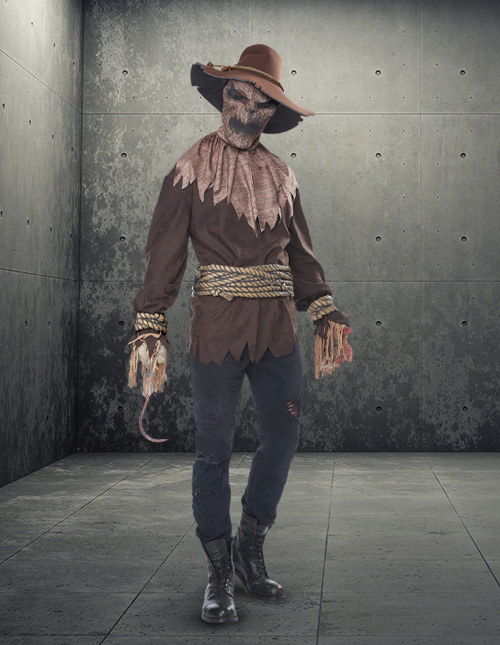 We wouldn't touch this scarecrow with a ten-foot corn stalk. This nightmare level scarecrow costume is super creepy but comfortable with a lightweight mask that's topped with a wide-brimmed faux leather hat. The long brown tunic is belted with a hard, molded rope belt and rope cuffs to make sure your country look really hits home!
Frightening Jeff the Killer Makeup Tutorial
In order to do a correct Jeff the Killer makeup application you'll need to round up all the supplies listed in the video. Once you have all of the necessary utensils, you can begin the makeup process. First, roll the scar wax into a tube shape and apply it alongside both sides of the face to create an elongated creepy smile. Take a sharp object and cut slits into the scar wax where a smile would go. You will need to seal the fake skin and the slits you made with Fixative A. Next, cover the nose in a thin layer of liquid latex and single sheets of tissues. Keep applying until you're happy with the consistency. You may need to do many applications of this step until you get the consistency that you want. The third step is to cover the face in white makeup followed by white powder. Don't forget to do the eyebrows! Do more than one application if necessary. You can also put in the white contact lenses at this time. Apply the red shade inside the mouth slit that you created and cover the eyes in black cream makeup. After this is done, you can add the coagulated blood gel inside the slits of the face. If you want to, you can add dripping blood down the mouth but that part is up to you. Finally, tease the black wig for a messy look and place it on your head. Now get out there and start terrifying people with your Creepypasta style makeup application!
Scary Masks
Do you want to know the easiest way to make a person's blood run cold? Put on one of our scary masks. Yup, that's it. You'll terrorize the whole neighborhood when you're wearing one of these creepy creations. This is an excellent option for people who want a scary look but prefer not to wear a full costume. A mask gives you the freedom of still being frightening with a minimal amount of effort. Just slip the mask over your head and you'll be ready to hear shrill shrieks. We have ghastly masks that will appease all types of horror fans, so just pick out your favorite and let the terrorizing begin!
Scary Zombie Mask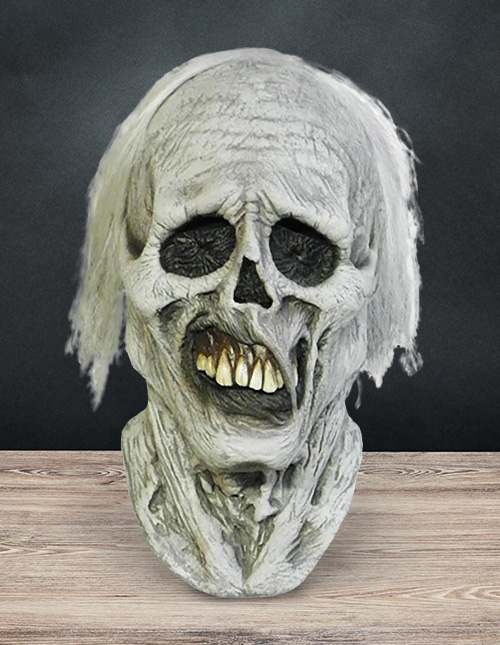 Whoa, it looks like this guy has been dead a long time yet he's still up for some walking around the living! Fans of zombie movies will love this Chiller Zombie Mask because of the intricate gruesome details. The decaying teeth, the thinning gray hair, and the wrinkled white skin create a look that will make your blood run cold.
Terrifying Monster Mask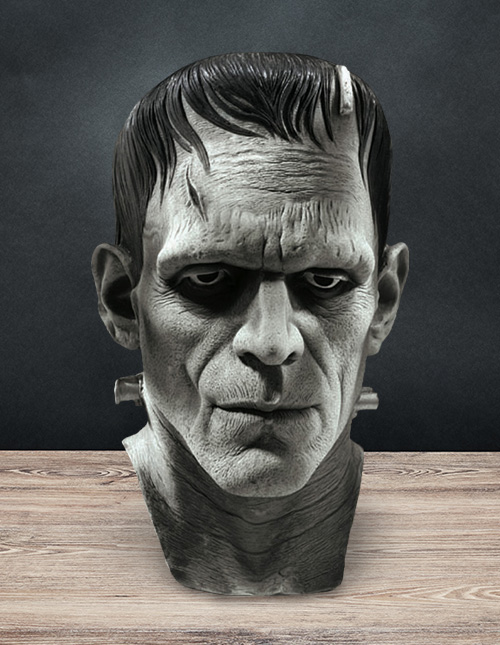 Now you can look like a science experiment that has gone horribly wrong! Move over Frankenstein, this realistic monster is ready to start some chaos. This Latex mask has realistic details. For instance, the stitching, wrinkles, and yellow eyes create a look you'd see in a classic horror film. You'll send chills down everyone's spine no matter where you're stomping off to!
Creepy Scarecrow Mask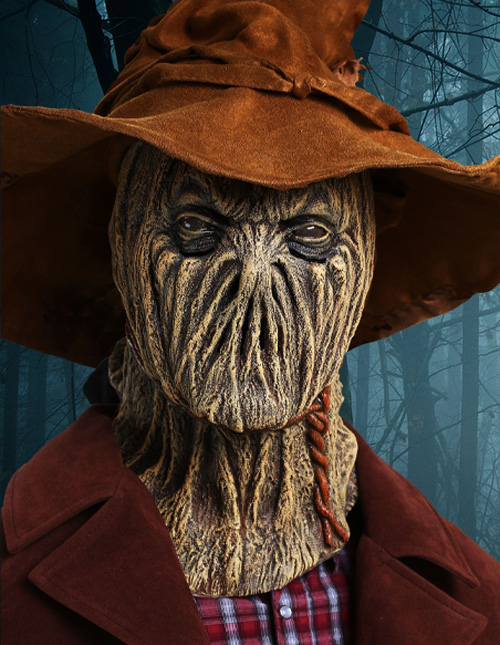 Be careful if you venture out into the cornfields...this evil scarecrow might be lurking in the shadows and he doesn't care about scaring crows...he loves to scare people! That's right, this particular scarecrow isn't looking for a brain, he's looking to eat a brain! This latex mask is shrouded in a burlap sack-style hood that attaches in the back with hook-and-loop, so you can ensure that it stays on your head all throughout the night while you chase after people.
Skull Mask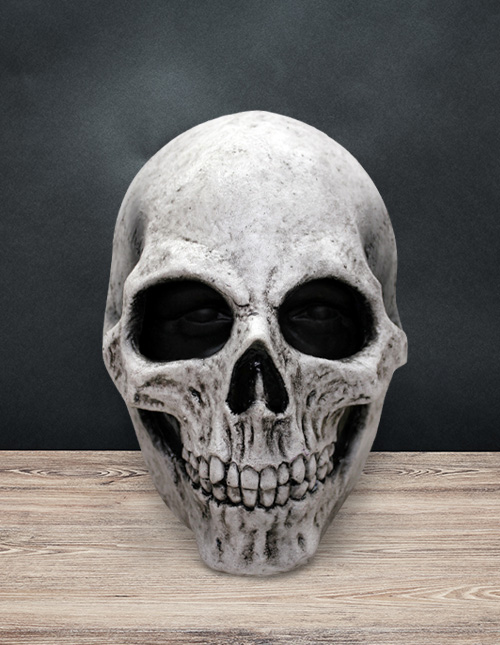 Become a deathly character in an instant with this creepy skull mask that will cover your entire head. It's molded with hollowed out eyes, bared teeth, and exaggerated cheekbones that'll stand out from the crowd. When it comes to making grave decisions, this skull is the right choice!