Plague Doctor Halloween Costumes
So, it is time to garb yourself up in a costume that will leave everyone with wide eyes and stunned expressions. That might have never been a problem before, but you'll no doubt run into a few beasties that are bound to top your look. Whether you're headed out to the Halloween party or joining the parade of tykes who are on the hunt for candies, you'll be encountering all sorts of creepy costumes. From ghosts and goblins to all the other types of creatures that lord around in Lord of the Rings, there are more mysterious monsters out there than there are stars in Star Wars. We can hardly have that! It would be wise to protect yourself from all the wildest of wardrobes, and we're ready to give you the license you need to do just that. Chase away all the troubles when you garb yourself in the classic look of the Plague Doctor.
Adult Plague Doctor Costume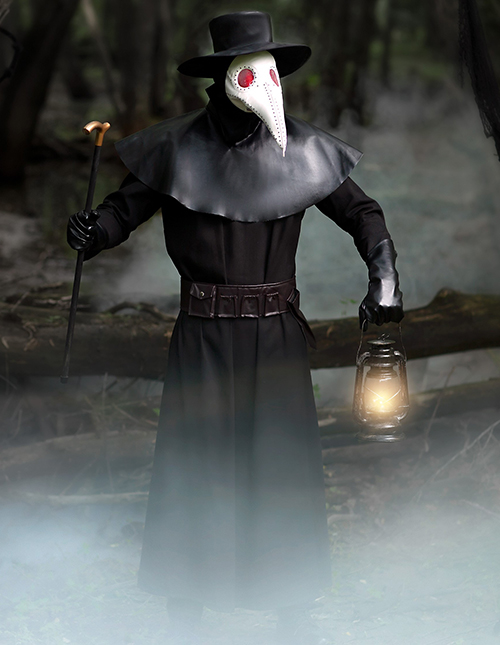 The frightening red eyes and long beak of the wanderer appear through the fog. Lantern light only makes the figure even stranger. Is this a demon come to claim the souls of the plagued!? No! This is the plague doctor on a house call, of course! Make sure that you're ready to show up in style when you garb yourself in an authentic-looking part of history. (Heck, you might know more about medicine than the original ones did, too!)
Plague Doctor Costume for Kids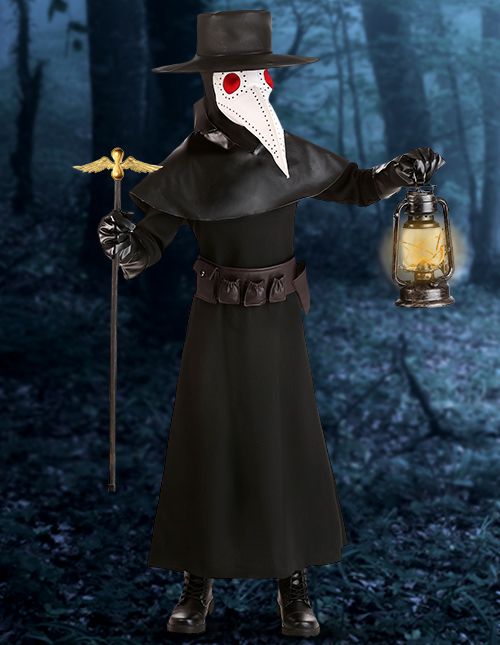 You were so proud when your tyke said they wanted to be a doctor when they grew up. Who knew that they meant they wanted to grow up in the Victorian Era just so they could wear the creepiest outfit that a medical professional ever conceived! Hey, it's still an occupation in heavy demand and, this way, you won't have to worry about the tuition bill either. If all else fails, a kid's plague doctor costume will help them decide if they are in it for the long haul.
Women's Plague Doctor Costume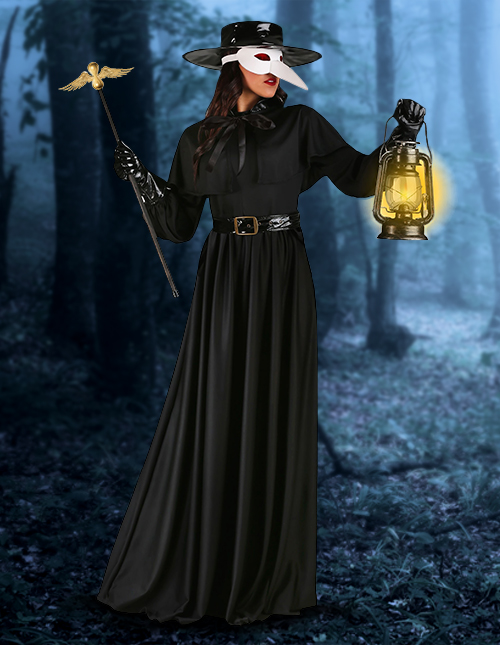 Not all Plague Doctors were fake. A few of them were genuine, trained professionals. That meant they probably cared just a bit more about their sense of style, too. They'd want to incorporate some elegance in their appearance rather than just showing up at the office in a look that reeked of wax! Alright, so perhaps the actual doctors were focused on function before form. But if you're looking for an elegant Plague Doctor costume, you'll find a half-mask and feminine twist terrific!
Sexy Plague Doctor Costume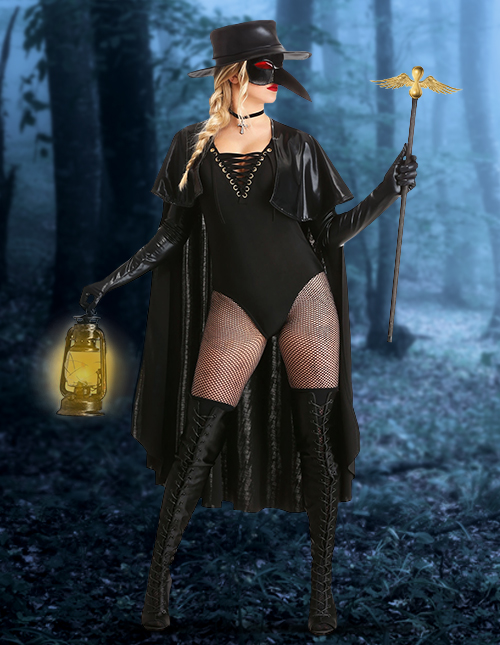 Let's be honest. The frightening doctors of the old world could probably have used a hint of fashionista flair when they came up with the duds for playing doctor. Something like that might have helped out with their bedside manner, too! That's why we suggest applying some modern sensibility for your sexy Plague Doctor style. Give yourself the freedom of mobility while in your Medieval medical mask with a look the other docs wouldn't raise their beak noses over!
Plague Doctor Accessories
Every doctor is known for the gear that they're carrying. A surgeon has their iconic mask for heading into the operating room. A doc in the clinic is sure to keep their stethoscope at the ready. Nurses show their style with unique scrubs, sure, but they practically deserve a crown for the work they do! But how about when it is time to make those house calls? They have to pack up their medical bags with all their implements are folks would be asking, "Doctor Who?" unironically! Naturally, the Plague Doctors of the Victorian age had a few things that helped them stand out among the crowd, too. Ensure that you have all the gear needed to keep people healthy (or at least super creeped out) when you look through our exclusive accessories for Plague Doctor costumes!
Plague Doctor Mask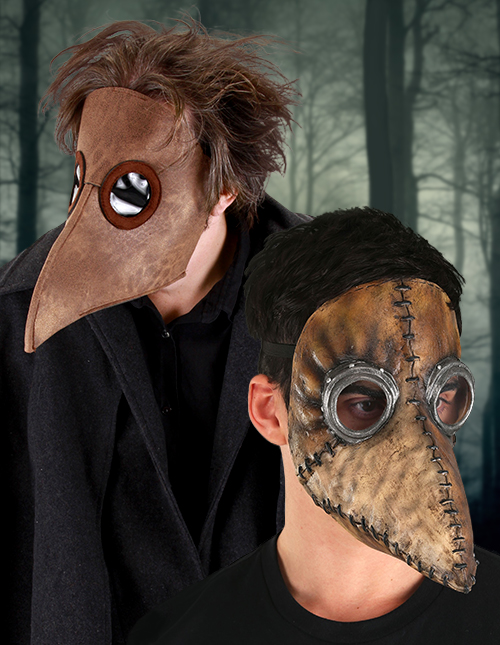 Once you've decided to take on the role of the Plague Doctor, you'll want to consider the kind of mask that you should wear. There are a surprising number of varieties depending on if you're going for the Steampunk style or something authentically Victorian. Add one of our masks for Plague Doctors to any costume to give yourself that perfectly professional look!
Old Halloween Lantern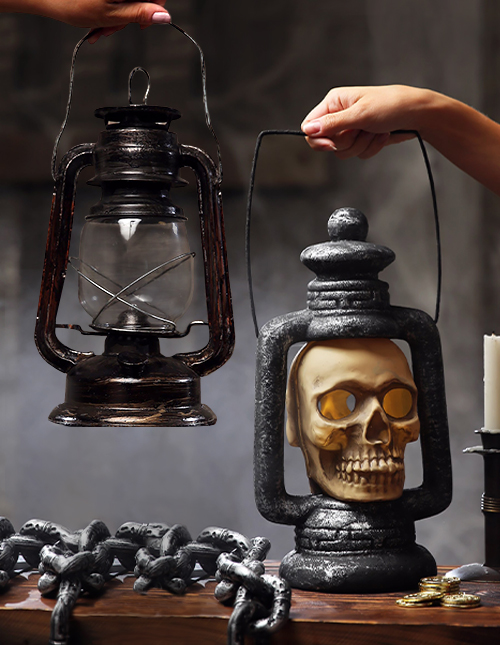 Unless you're living in a unique timeline, the Plague Doctors from days of yore didn't have a whole lot of electricity to light their way down fog-filled avenues. They could carry a torch, for sure, but that's really diving deep into Middle Ages stereotypes, don't you think? Give your Plague Doctor the upgrade they deserve with a modern interpretation of the lantern!
Black Plague Doctor Kit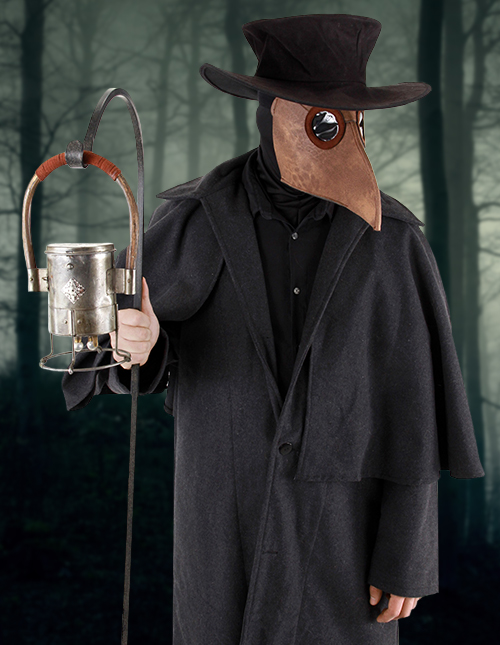 You won't have to go all the way down the Plague Doctor path if you've got the right accessories to complete the look. In fact, you can add some of the tools of the trade to just about any costume you can think of to give yourself a Victorian Era evolution. Whether you're an alien masquerading in the plague days or a caveman who traveled forward for fun, a black Plague Doctor kit completes your look all in one!
Plague Doctor Staff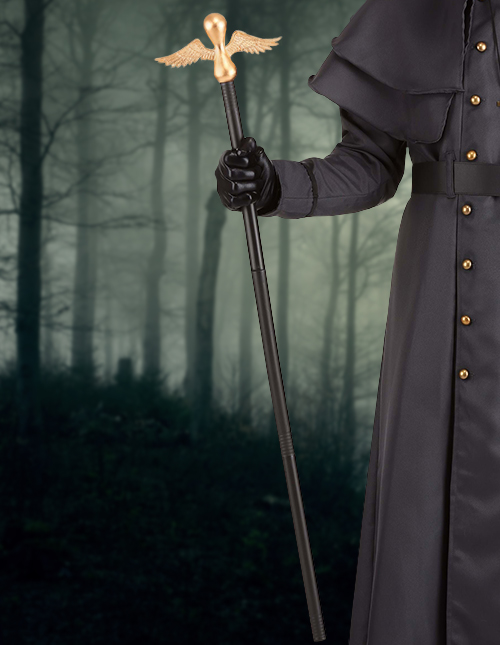 Medical professionals have always been identified by the serpentine staff that marks their trade. The Caduceus Cane comes in a lot of styles that can work perfectly for your Plague Doctor costume. Go with the iconic staff that features snakes for a traditional spin, or give your doctor wings with a modern interpretation of the staff. Mix and match to create your own individual style while tripping through the fog.
FAQs about the Plague Doctor
What is a Plague Doctor?
For as popular as the image of the plague doctor has become, not everyone knows where they came from! Most know that they were a kind of doctor that treated folks during the time of the bubonic plague. The image that you are likely familiar with showed up between the 17th and 19th centuries. The funny thing is that these so-called "doctors" weren't really that well trained and most of their "cures" were fake! It's no wonder they are lumped in with some of the creepiest characters from Victorian and Medieval history.
Why did Plague Doctors wear Bird Masks?
We often hear people asking, "What are Plague Doctor masks called?" as part of trying to figure out why plague doctors wore costumes. Well, the beak-like mask was thought to help protect them from the plague. They believed that it floated around as a dangerous miasma that could be breathed in. After basically stuffing the beaks with potpourri, they hoped that the spicy scents would keep them from breathing in anything harmful. Don't get us wrong. It looked pretty intimidating and was better than nothing...but not by much.
What else did Plague Doctors wear?
The whole look of the plague doctor originally came from the mid-1600s from Charles de L'Orme. Their protective garments included a long, black coat coated in wax, and their masks were fitted with glass eyes. They would carry canes to move plague victims without having to touch them, too. Let's just say that these guys weren't the most comforting person to see if you were suffering from illness! (And that's not even getting into the frogs and leeches they'd carry around to "treat" any diseases.) Fortunately, you can skip all the gross parts and just enjoy the creepy look with our collection of Medieval plague doctor costumes.