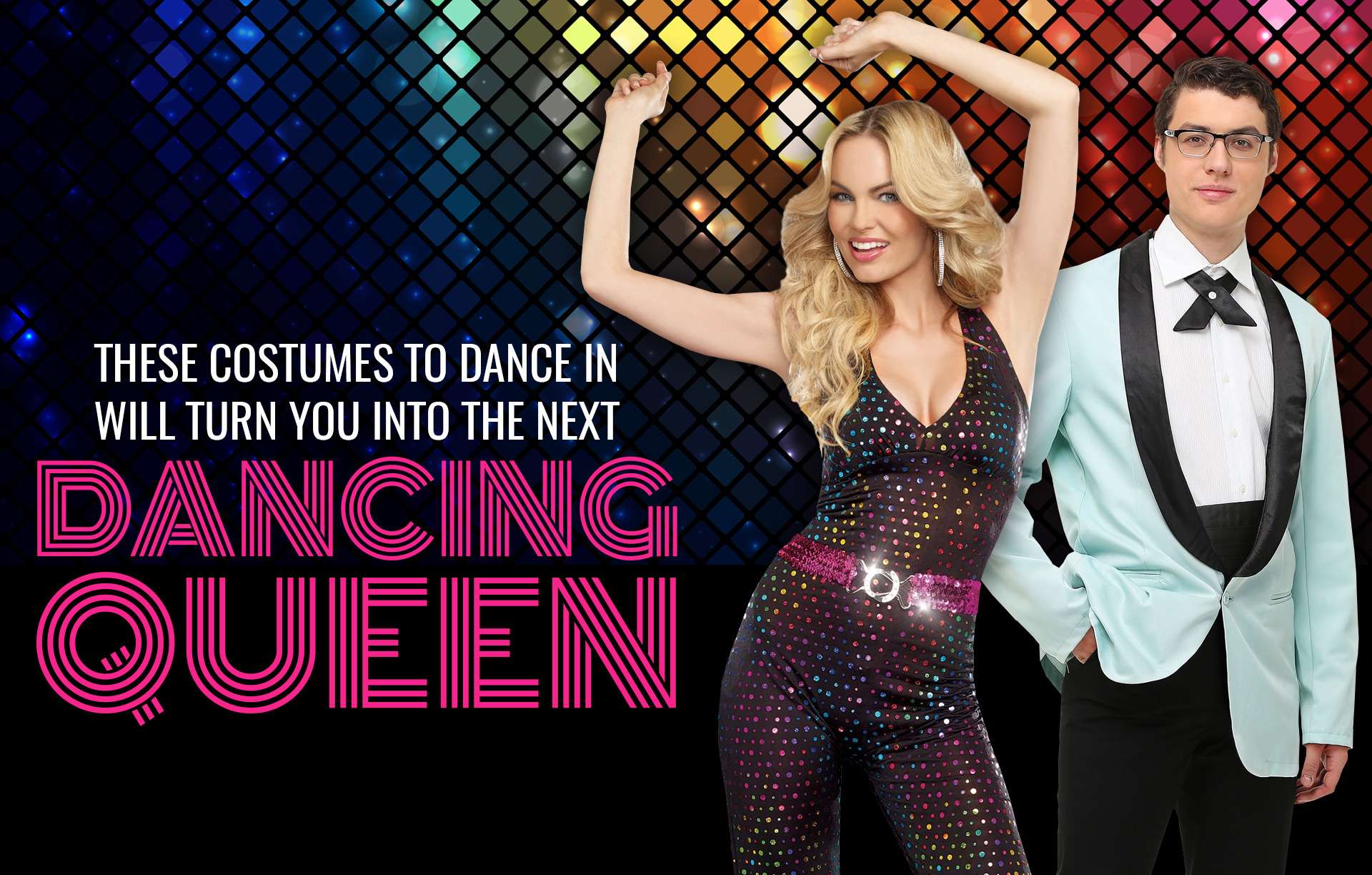 Dance is the hidden language of the soul. It doesn't matter whether you're dancing at a party or if you dance professionally, but costumes can make dancing even more fun! These dancing costume ideas can help you portray a certain character, take you back in time for decade-themed parties or help your dancing look completely ridiculous in a good way. (Let's face it, almost everyone loves a good class clown!) Whether you're looking for costumes to dance in that will enhance your movements or give your fellow partiers a good belly laugh, we have a little bit of something here for everyone.
Disco Costumes to Take You to Funkytown
If you're going to a disco-themed party, you'd better be ready to take your boogie oogie oogie with you because it's definitely going to require some dancing. There are a wide variety of disco costumes for the family from kids to adults. These are some of the most iconic dance costumes you will see, from gogo dresses to bell-bottom pants and open-chested collared shirts. Whether you're looking for a one-piece jumpsuit costume, a two-piece costume with a shirt and pants or a gogo dress costume, you can usually expect the material to have some stretch so you won't bust seams while you bust moves.
Sock Hop Costumes to Jitterbug In
Sock hops are another party idea that often involves dancing. Poodle skirt costumes are prevalent for the ladies, although anyone that wants to be a little different can always rock a 50s prom dress costume. Guys will usually don a greaser costume or a vintage bowling shirt, but a 50s style tuxedo costume is another way to go too! Don't be surprised to see any Elvis costumes out on the dance floor either! These dance costumes tend to be quite comfy, but nothing is quite as satisfying as twirling in a 50s poodle skirt. (Mind you, this is coming from experience!)
Best Dancing Movie Costumes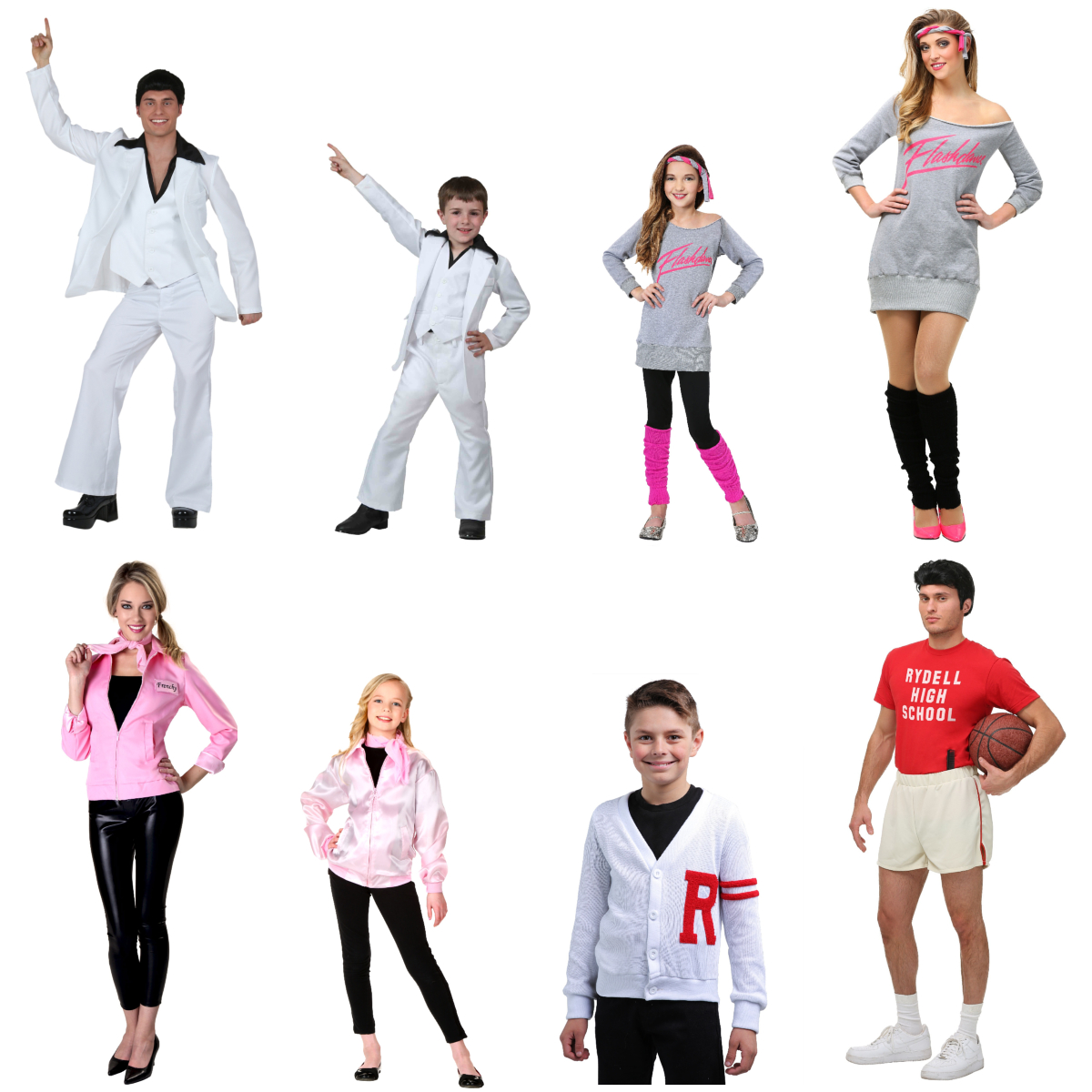 If you're looking for a dance costume idea that actually came from the movies, these costumes are for you! Saturday Night Fever costumes and Flashdance costumes are certainly no-brainers as the story lines of both of those movies are centered around dance. (The white disco jumpsuit would also work well at disco parties, too!) If you're a fan of movie musicals and you're looking for some musical costumes, check out all the Grease costume possibilities. Whether you're planning to hit the dance floor at a party or you're on stage singing and dancing, Grease costumes are a lot of fun.
Dance Costumes from Actual Dances
Should you be in the market for costumes based on outfits that actual dancers wear, there are a couple options. If you like Spanish dancers, you might enjoy a flamenco dancer costume. You can even add castanets and a flamenco shawl (also known as a mantón) with long fringe for graceful twirls. Fans of the Russian ballet may enjoy a classic ballerina costume. If you enjoy both pop culture and ballet, there is also a munchkin ballerina costume that gives you the best of both worlds.
Form-Fitting Costumes to Dance In
There are a wide variety of dancing costumes depending on the dance moves you have choreographed. Some dances are okay to do with loose-fitting clothing and wide skirts, while other dances are better performed with form-fitting costumes. If you want a costume that hugs you closer and enhances your poses, you're definitely going to want something with a little stretch or sturdy material so you don't pop any seams. 80s workout costumes certainly check all the boxes when it comes to being stretchy, comfortable, form-fitting and easy to move in. Tank top and shorts sets like the Tune Squad basketball uniform or the Sweat It Out Video Workout Star costume are both excellent choices to get your groove on. Pop star costumes and other musician costumes are also great choices because they often sing and dance while on stage. If you're dancing to any of their songs wearing the music video costumes or on-stage costumes that's certainly a nod in the right direction. Superheroes or other characters that wear jumpsuits are also great for dancing. (If you're like us, Spider-Man seems like a likely candidate to bust some smooth moves!)
Costumes with Skirts to Twirl In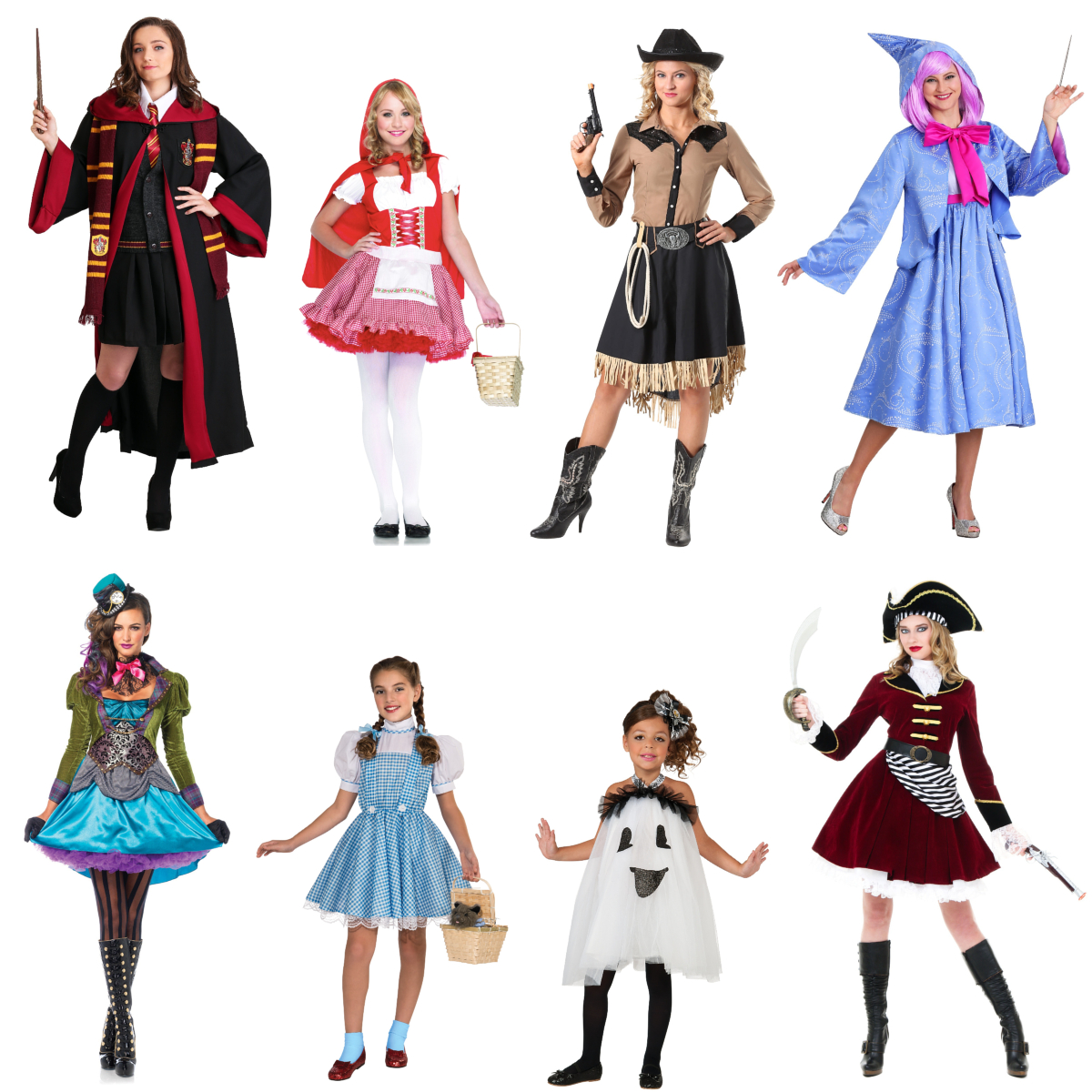 Move over, boys! Dancing in costumes with skirts is a lot of fun, but it is mostly limited to costumes for girls. (We're not going to say that dudes can't, but it's certainly not typical.) There are so many options for costumes with skirts that you can dance with practically any theme in mind from storybook and movie themes to pop culture and historical outfits. Most of the time you will want your skirt length to be medium to short in length, and petticoats help to give your skirt more volume. (There are plenty of sexy costumes with short skirts, but you can also find some that fit this criteria without it being a "sexy" costume.) You may also want to wear tights, spandex boy shorts or leggings so you're not showing too much when you twirl.
Ridiculous Costumes to Make Any Dance Look Silly
These silly costumes may not be the most practical for dancing, but they will certainly make any funky fresh moves look utterly ridiculous. (That's a good thing, in this case.) These funny costumes probably won't be used in any professional dancing performances, but you will be the life of the party when you shake your groove thing in a T-Rex inflatable costume. Inflatable costumes make any movement silly, period, which is why you should bust some moves if you're wearing one! WE know that earlier we said costumes for guys don't often involve skirts, but the men's tooth fairy costume is a wonderful exception—bonus points if you can turn this into a version of the Nabisco snack fairy. (Does anyone still remember those commercials?) As a rule of thumb, any costume with wildly exaggerated features will make you the life of any party that involves dancing!
Are you ready to tear up the dance floor? Do you like to wear costumes when you dance? Do you have a favorite dance costume? Feel free to share your experiences with us in the comments below. We love costumes so much that there are plenty of occasions to wear them outside of Halloween. Get ready to get up offa that thing and dance!