Dog Costumes for Adults
Let's start off with some dog costumes for adults! It's crossed our minds on occasion that dogs really have a great life. Heck, you've heard that old phrase about dressing for the job you want, right? Well, we'd probably dress like a dog. They have the greatest job of them all! They get to laze around all day, go for walks with their best friend, play a little tennis ball at the park, and when they're done doing all of that, they get rewarded with a big bowl of their favorite food! Most dogs never have to do a day of real work in their lives, not mention all the boring adult things like pay rent and clean the house. Yep, they've got it made. That's why we can't blame anyone for wishing that they were a dog instead of a human. Our adult dog costumes really help you live out your dream of being a good doggo!
Dog Onesie for Adults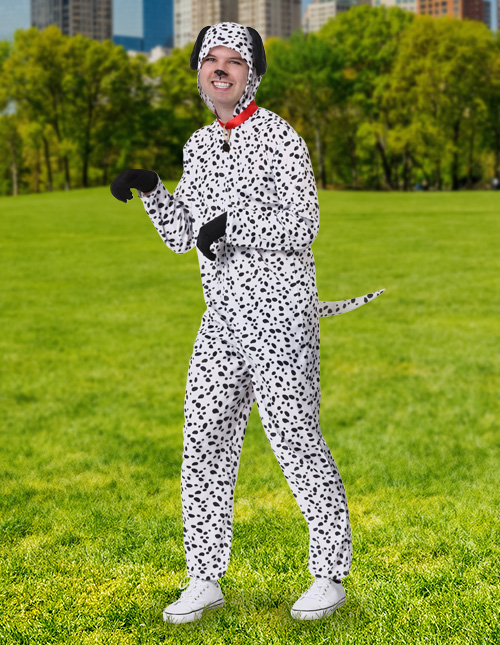 Oh, the onesie. It's the single-piece garment that's most often associated with babies. Yes, it might seem like an outfit that's just for kids, but the truth is…they're so darn comfortable! We could go on and on about the benefits of onesies. They're cozy, they cover your entire body with a single piece of clothing, tons of them come with hoods, and they fit a ton of different body types. Some of them even work as pajamas! We're not really sure why you have to stop wearing them once you hit a certain age! That's why we love a good excuse to wear a onesie! wordsA dog onesie for adults helps you get back into that comfy one-piece that you used to wear as a kid, and it helps you look like an adorable pooch at the same time.
Dog Kigurumi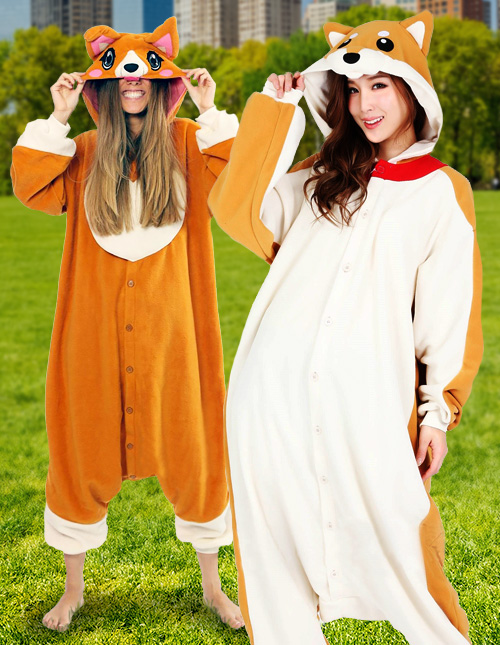 Now if we're going to talk about comfortable costumes for adults, then we have to mention the kigurumi. Kigurumis are a Japanese-style pajama costume that combines your favorite characters with ultra-cozy fleece. That means you can wear one to your next costume party, or wear one for a light nap! They quickly became one of our favorite types of costumes for adults when they started catching on worldwide. We carry a ton of different styles, but our favorites have to be our dog kigurumis, which come in cute varieties like corgi, shiba Inu, and pug! You can decide whether to go for a walk or take a nap at your masters' feet! One thing is for sure though: if you want the most comfortable dog costume around, then this is the way to go.
Dog Mascot Costume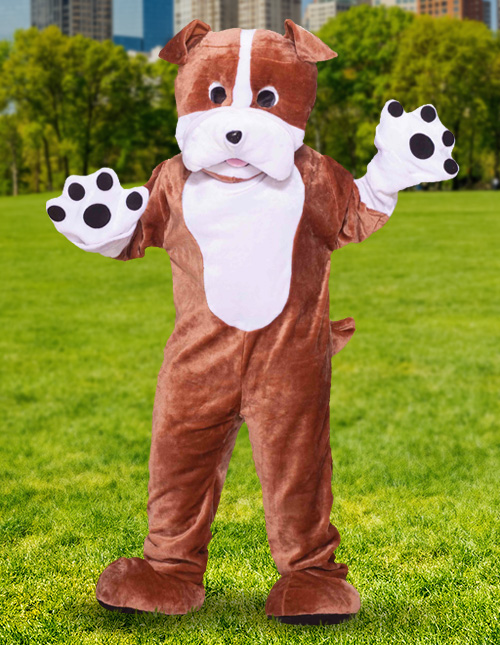 You usually see mascot costumes at sports games. They're generally dancing, jumping on trampolines as they to dunk a basketball from half-court, or they're engaged in a race against other mascots on the baseball field. It's really tough NOT to love a good mascot, with their odd antics and their comically oversized head. That's also why everyone loves a good mascot to show up at their party! A dog mascot costume is not only an excellent opportunity for you to engage in a little wacky behavior, but it's also a surefire way to spread some laughs. If you don't believe us, imagine someone chasing after a tennis ball while wearing a dog mascot costume. Make sure you have some cameras ready because that's a video we want to see!
Pug Dog Costume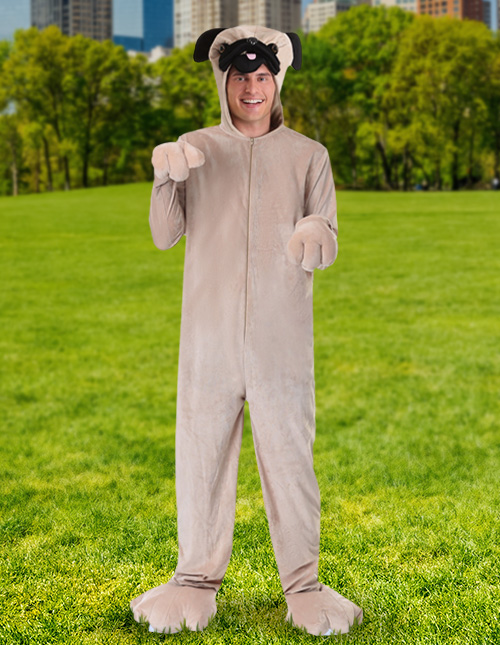 Then, of course, there's the pug. It's tough to describe the appeal of pugs. They have a pudgy face that's kind of ugly, but in a really adorable way. They have those big, funny eyes that always seem to be looking in random directions, and they have a penchant for making snorting noises. You sort of either just get it and love them, or you don't. Us? Well, we love the little guys. They're sort of like a really dopey friend who's always just glad to be around, even though they have no idea what's going on. If you love pugs and want that adorably goofy look, give pug dog costume a try. We even have one that's exclusive, which means it's a Made By Us costume that was created by our very own costume designers.
Dog Costumes for Kids
We all know that dogs are man's best friend...but really, dogs are kids' best friend. Kids have boundless energy and dogs always want to play, so it's sort of like a match made in heaven. In fact, we've seen plenty of kids who love doggos so much that they'd almost rather be a fluffy dog than a kid. And who could blame them? We're full-grown adults and we still kind of wish that we could be a dog instead of a human. For those children who dream of being a pup, we have the perfect solution. Yep, you guessed it, an adorable doggo costume for kids. Here, we'll run through some of the cute options we have for kids.
Baby Puppy Costume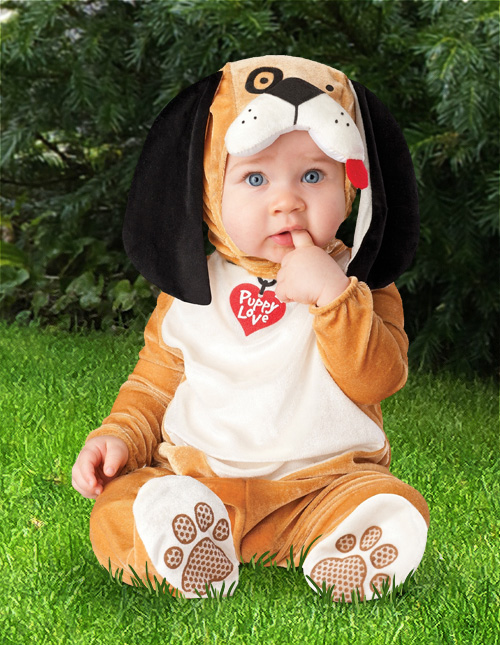 How about bringing together the two cutest things on the planet? You know what we're talking about. Your baby and puppies! Yes, a baby puppy costume transforms your infant into a fuzzy little pup with doggy ears and everything. We're not sure if everyone in the family will be able to withstand the cuteness overload!
Toddler Puppy Costume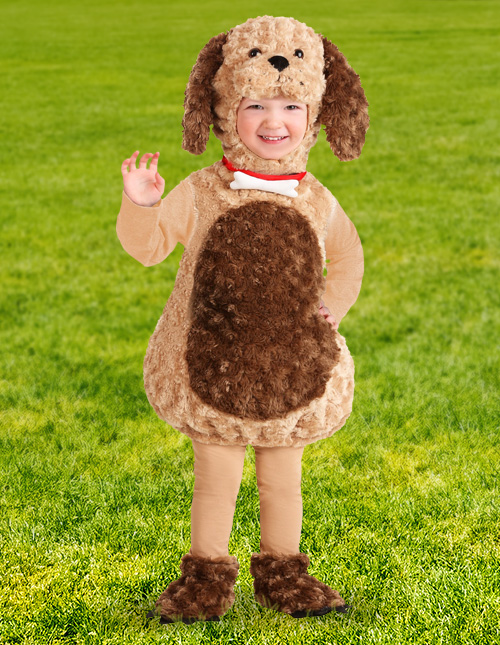 If your little toddler has started taking those first steps, it can be challenging. They're probably roaming the house and looking for new things to explore. Maybe it's time for a costume that's a bit more mobile. Our toddler puppy costumes will keep your kiddo as cute as a pup, while still letting them scurry around the house like a real rambunctious puppers.
Dog Onesie for Kids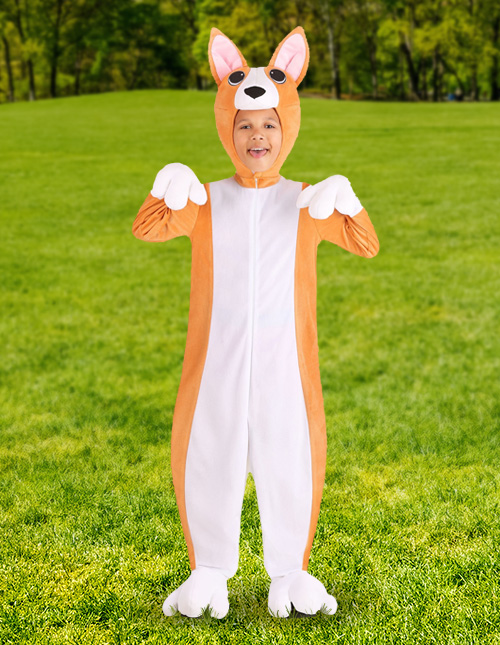 If your child loves pajamas, then how about a costume that's comfortable enough to sleep in? We carry dog onesies for kids that will have them ready to bark it up during Halloween, but they're also a soft design that's great for a light nap. It'll keep your little one warm and cozy during their day as a dog!
Poodle Costume for Kids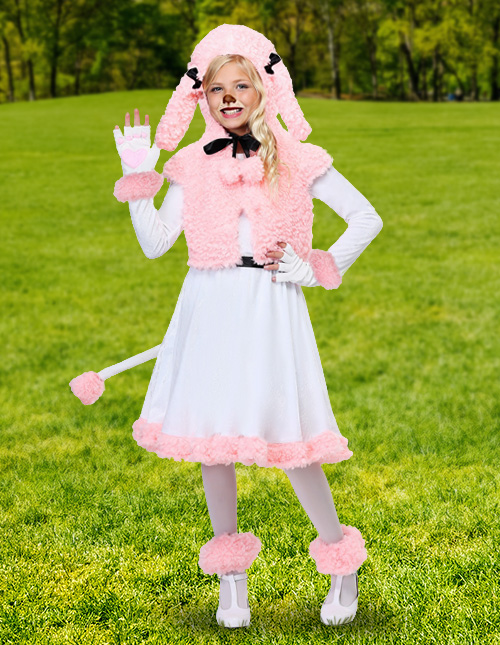 We all know that poodles are known for a couple of things. The first is that they've got a great hairstyle, complete with curly puffs that make us want to have hair just like them. The second thing is that they were trendy on girl's skirts back in the 50s! Well, our poodle costume for kids combines both of them into an outfit for your little girl.
Dalmatian Costumes
We had to devote a whole section to Dalmatian costumes. We think the craze (which we've officially decided to call "Dalmatian-mania") started in 1961, when Disney's very first 101 Dalmatians movie hit the theaters. Then Dalmatian-mania slowly subsided until 1996, when Disney released the live-action film with Glenn Close as Cruella De Vil. That's when Dalmatian-mania came back in full force! Of course, we love the bespeckled pooches and that's why we carry so many Dalmatian costumes. Here, we'll look at some of our best ones that have been crafted by our costume designers.
Women's Dalmatian Costume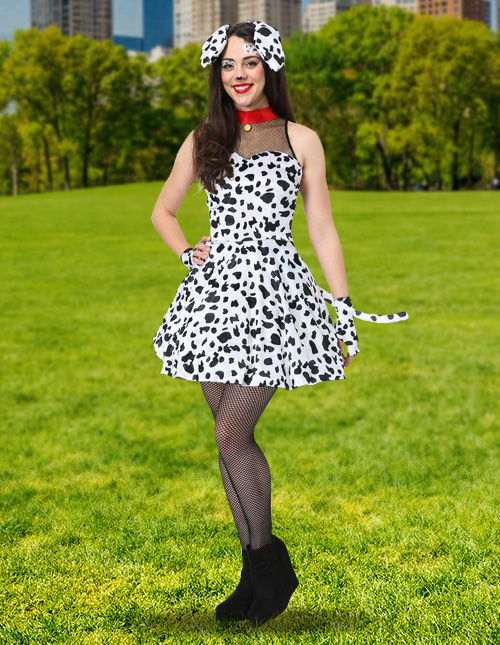 Let's start our delve into Dalmatian-mania with women's Dalmatian costumes. Sometimes, this sort of outfit is for anyone who wants that Perdita look, but also wants a modern-style dress to wear. This type of costume carefully combines both looks to provide an outfit that's fun, easy to wear, and just a little bit flirty.
Adult Dalmatian Costume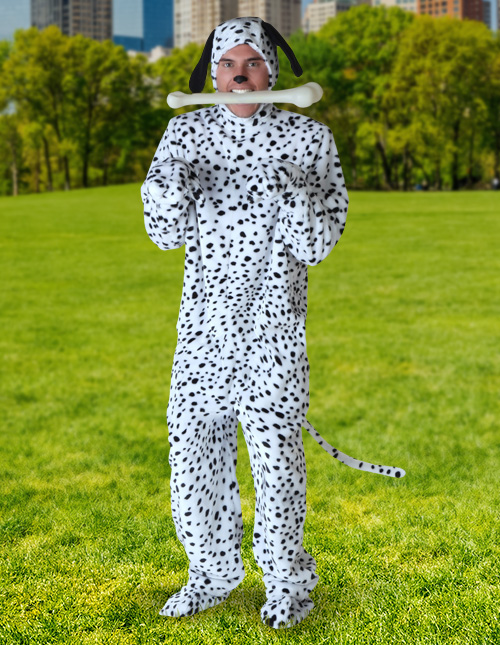 If you're more of a traditionalist when it comes to Dalmatian costumes, then you may want a classic, jumpsuit-style costume. The classic jumpsuit costume hearkens back to the days of being a kid, scampering through the streets, trying to hit every house in the neighborhood for some candy! If you want to recapture the feeling while dressing up as a Dalmatian, then this is the way to go!
Kid's Dalmatian Costume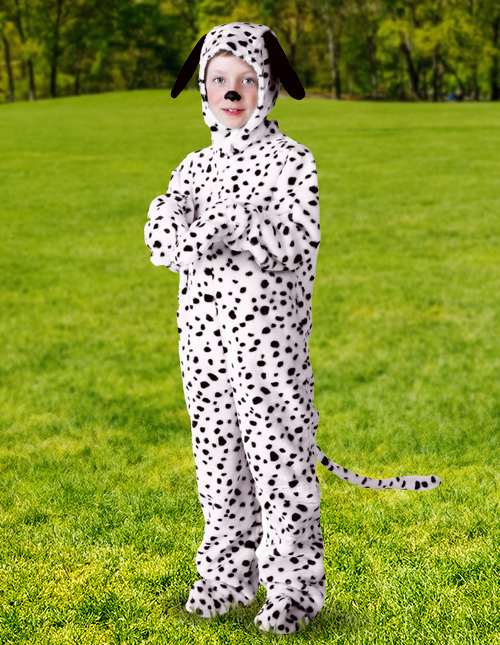 It happens to every kid. They see 101 Dalmatians and suddenly their entire life revolves around Dalmatian puppies. They start barking like a puppy, they want their birthday party theme to be Dalmatians, and they even start telling you that they'd like to grow up to be a Dalmatian puppy. Well, you can indulge that lofty dream with an adorable kid's Dalmatian costume.
Baby Dalmatian Costume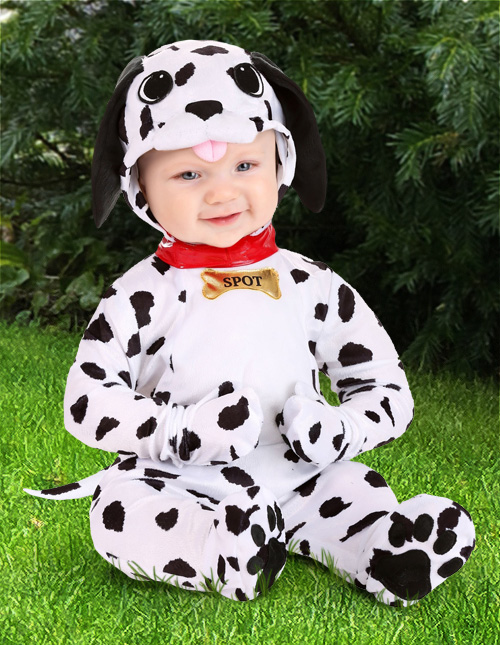 We saved the most adorable for last! If you're looking to do a full group costume, then the whole family will need a puppy dog costume. You don't want to leave the newest member of your family out of the fun, so you'll want one of our baby Dalmatian costumes. They'll keep your little one warm and cute as you create a perfect family photo.
Cartoon Dog Costumes
The only thing we like as much as we like dogs is cartoons. It's true. We really can't get enough of them. From the classic Scooby-Doo of the 70s to the Care Bears of the 80s and the even the Nicktoons of the 90s, we love them all. Of course, we're talking about doggos here and there are plenty of great cartoon dogs. If you're looking to dress up like an animated pup, then just check out some of these cartoon dog costume options we have below.
Courage the Cowardly Dog Costume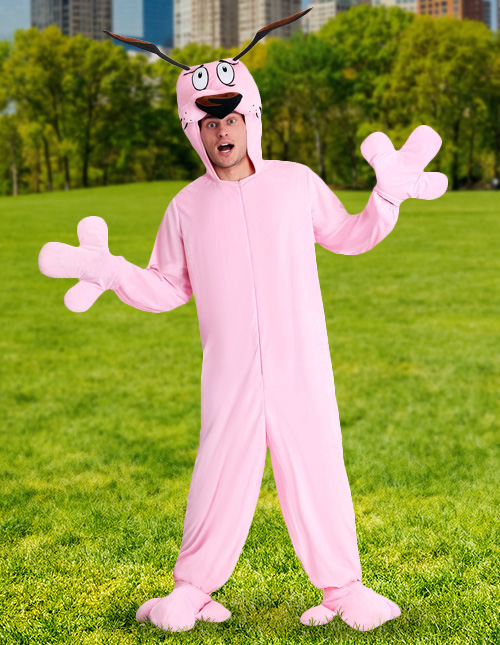 Duhn, duhn, duhn, dah, duh, duh! We watched a boatload of Courage the Cowardly Dog on Cartoon Network. Like, way too much for how old we were! If you watched as much as we have, then you can almost hear that freaky leitmotif any time something creepy happens. We love that classic cartoon so much that we even crafted some Courage costumes based on the lovable pink dog! Just make sure you keep an eye on Muriel when you wear it.
Clifford the Big Red Dog Costume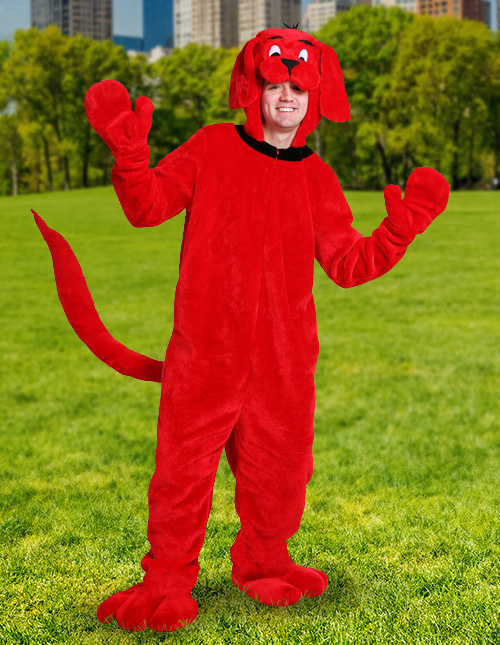 For over 50 years, Clifford the Big Red Dog has been a favorite of kids first learning to read. After all, the main character is a 25-foot tall dog, just trying to be a normal doggo despite his enormous size! Why, it was one of the first books that we ever read! Clifford has become a big hit for Read Across America, but you can wear this Clifford costume for any costume party if you want to spark nostalgia and smiles.