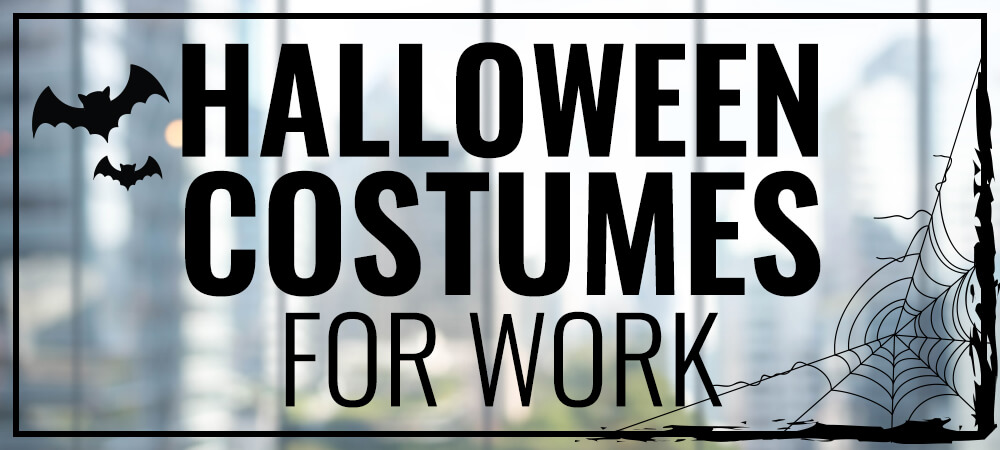 There are two kinds of people in this world: those who LOVE Halloween festivities at work, and those who—gasp!—don't. If you're in the "pro" column, it's likely because you dig the camaraderie and change of pace. Or you're a Halloween freak like us! We love All Hallow's Eve and celebrate it anywhere we can, especially at work. We're a costume company, after all—it's not just welcomed, it's expected! The other side of the coin isn't just for buzzkills and party-poopers, though. It's where stockbrokers, doctors, and other more serious jobs reside. But they have a point. We took a poll at HC's headquarters and only two people said they'd be okay with a clown driving their ambulance. Still, it's not an open-and-shut case. Whether you're an accountant, big-time sales manager, or a Kindergarten teacher, we believe that you can infuse a little trick-or-treat flair into your ensemble on October 31st or Dress-Up Day.
These days, you can find a whole plethora of adult costumes, but selecting a costume that you can wear to work might be difficult. You have to be careful because it is a professional setting, after all. For those of you who would like a little guidance on choosing a safe-for-work costume to wear at your work event, here are some costume ideas that will guarantee a good time without upsetting your co-workers.
1. Book Character Costumes for Work
Books are wonderful sources of inspiration. Quite a few well-known movies and fairy tales are based on books, and the characters wear clothing that is both practical, comfortable and makes for a very good work-appropriate costume. (If you can read it as a storybook to your kids, the likelihood of offending one of your co-workers is pretty low.) We'd say that book character outfits are especially great costumes for teachers, but we could see most of these working for just about every profession. (Unless, of course, you need to be careful about skirts, tails and capes around heavy machinery.) Wearing one of these storybook Halloween costumes to work is sure to bring a smile to your co-worker's faces too, as there's a good chance they know your character!
2. Animal Costumes for Work
How many days have you walked into work wishing that you could have just stayed in your pajamas? These cute adult animal costumes provide you with the perfect excuse! They're comfy and cozy—just make sure you don't fall asleep at your desk! You can also use your animal outfit as a pun costume, depending on your profession. Do you work with stocks and finances? You could BE the wolf of Wall Street. A nurse or dentist would make an adorable duck, and you can tell people you're not a quack. If your job makes people think that you work at the slowest pace on earth, well...all we're going to say is that if you work at the DMV, you know what to do.
3. Halloween Sweaters for Work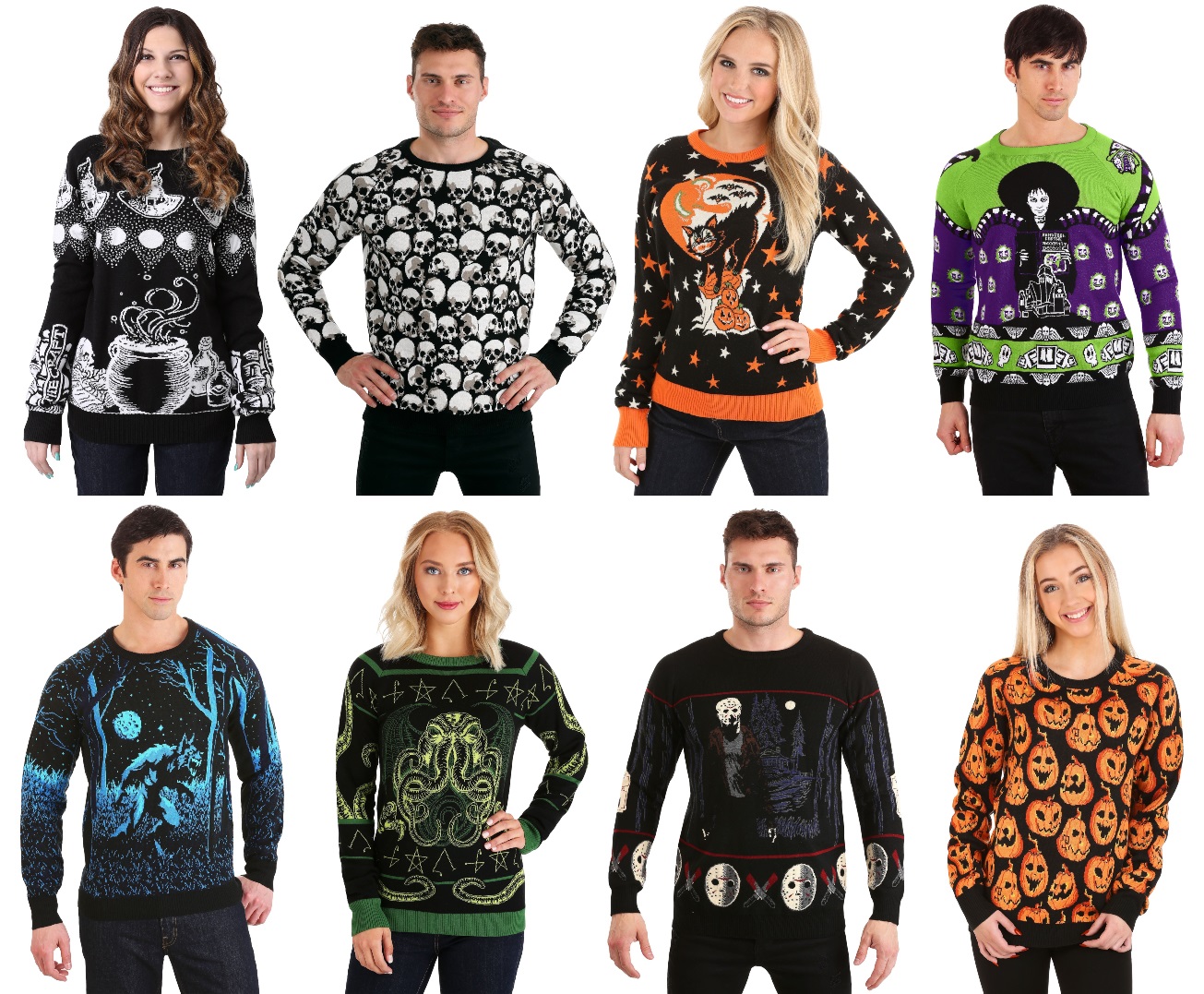 Ugly Halloween sweaters are the latest craze. These cozy and warm sweaters featuring different Halloween themes look great and usually don't go against any dress policies. These were made for those people who don't want to dress up, or even those who do and know that their colleagues won't. Perhaps those workplace party poopers will consider wearing some Halloween clothing when it's this effortless. A little Halloween spirit in an article of clothing goes a long way!
4. Celebrity Costumes for Work
Everyone already knows you're a rock star at work, but a little reminder never hurts! Choosing one of your favorite musicians for your workplace costume is sure to be a hit. (And it gives you a great excuse to belt your theme song from time to time.) However, you don't have to let the celebrity costume fun end there! There are lots of artists, famous actors and even workout video stars worthy of your lofty work costume aspirations. Just make sure not to change your skin tone—people familiar with your favorite celeb will know who you are with the outfit!
5. Historical Costumes for Work
Maybe you're a fountain of random historical knowledge, the kind of person everyone wants on their team for workplace trivia. Perhaps you turned your love of history into a career, or you're one of those people who actually like reading non-fiction. Whatever the case may be, you'd absolutely rock a historical costume at the work Halloween party. It's probably best to steer clear of the more infamous characters—nobody wants awkward conversations with HR—but pirates, Vikings, presidents and famous scientists are fair game. Perhaps you'll make a new discovery that nets you that promotion!
6. Career Costumes for Work
They always say you should dress for the job you want, rather than the job you have, so why not show everyone at the workplace that you're still shooting for the stars? Wear that astronaut costume for the job you wished you had since childhood, or find something else exciting and adventurous like a racecar driver or a firefighter. Even normal jobs like chefs, doctors and policemen have highly recognizable outfits that would be fun to wear to the office for Halloween. Most career uniforms are safe options to pick for a Halloween office party, too!
7. TV and Movie Costumes for Work
Hosting a celebration that allows complete costume freedom means everyone has a chance to show off their creativity. You didn't know that Bob in Accounting was a closet Simpsons fan? Now you do! Perhaps that intimidating coworker is far more approachable in a Ghostbusters outfit. You can even dress like famous people working regular jobs like Leslie Knope from Parks and Rec. There are so many ways to have fun at work in costume! Just know that if you wear an Inigo Montoya costume, you're required to start all your conversations and emails with "Hello, my name is Inigo Montoya...." (Probably skip the part about killing your father and preparing to die.)
8. Halloween Costume Kits for Work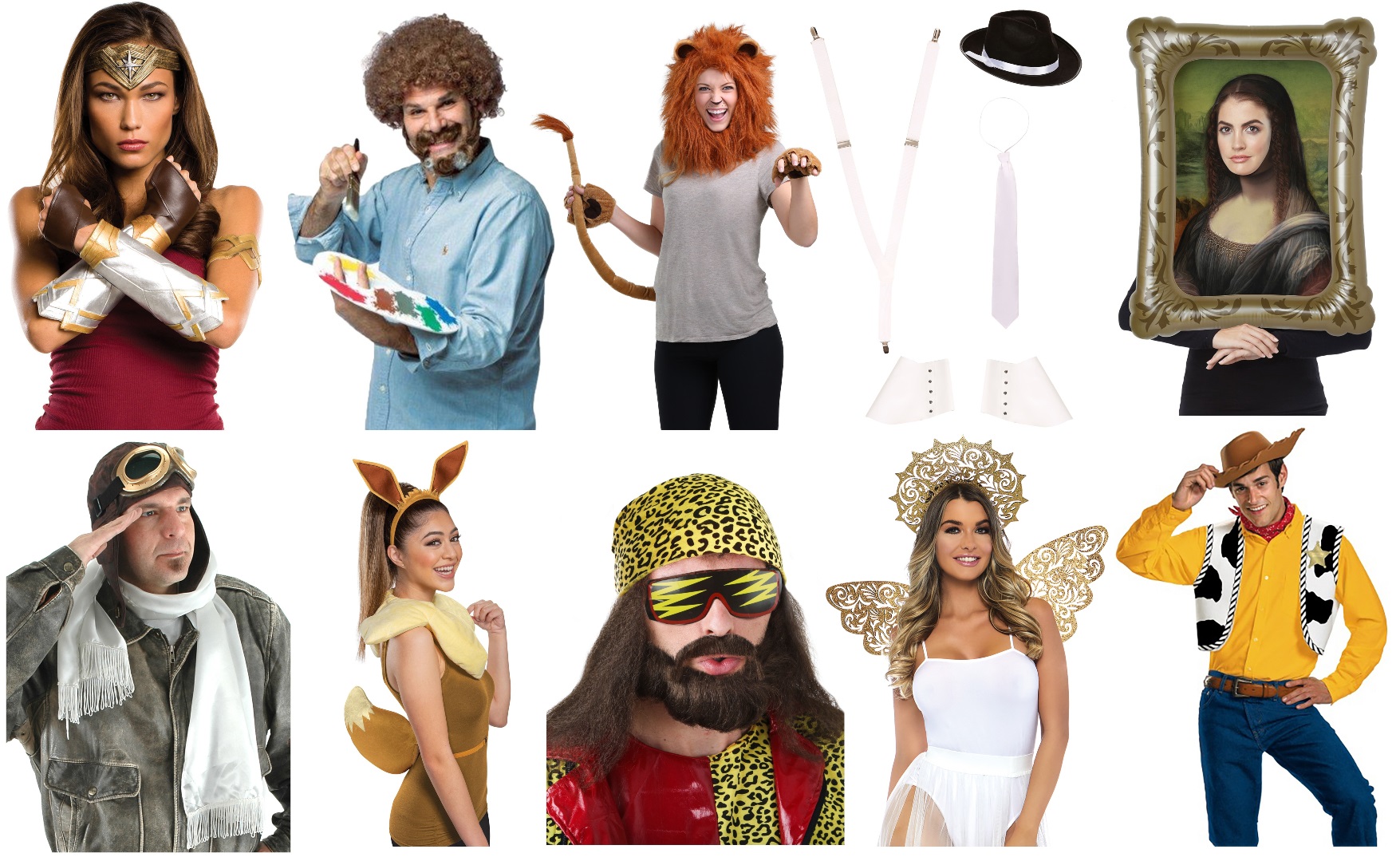 Picking out clothing pieces straight from your closet and coordinating them with an easy costume kit is a recipe for the perfect work costume. Of course, you can find all of the important costume accessories like ear kits and hats right here at HalloweenCostumes.com! You are presentable, comfortable, and can still perform all of your job functions. No one is going to accuse you of being a stick-in-the-mud, but you also save yourself from any on-the-job costume mishaps. These simple costumes are also great to pull out again for fun video call meetings or fancy dress Friday events!
9. T-Shirt Costumes for Work
T-shirt costumes are great! Cozy, cotton construction, character authenticity, plus they look great with a simple pair of jeans—the real question is, what's NOT great about a t-shirt costume? In fact, we have found that they are a surefire way to get a reluctant costume-wearer to join the festivities. (Sorry fellas, no more excuses!) Not only are these simple costumes for work great choices for on the job, but you can wear them to other events, too! Fun runs, comic book conventions, you name it!
Workplace Costume Dos and Don'ts
DO participate in sanctioned activities if Halloween registers on your company's radar. Not only does it show you are a team player, but it sure beats those Six Sigma spirit animal classes you are sometimes forced to take.
DON'T be controversial. No one will giggle at your insensitive costume choice…especially at work.
DO be modest. Undergarments, tights, undershirts, and sweaters can help you steer clear of being the topic of water-cooler conversation come November 1st.
DON'T bring real weapons. Plastic swords are cool, but real swords will earn you a trip to HR.
DO fully immerse yourself in character. Learn catchphrases and backstories to really sell the persona!
DON'T be afraid to take chances. Pun costumes, pop culture references, and anything else that will showcase your cleverness are completely encouraged.
No matter what you decide to wear to the office, remember the number one rule about costumes—have fun! Tell us, does your office encourage Halloween costumes for work? What is your go-to work-appropriate costume? Do you love celebrating at the office, or not so much? Comment below with your favorite pictures and be sure to check out more of our casual costume apparel!