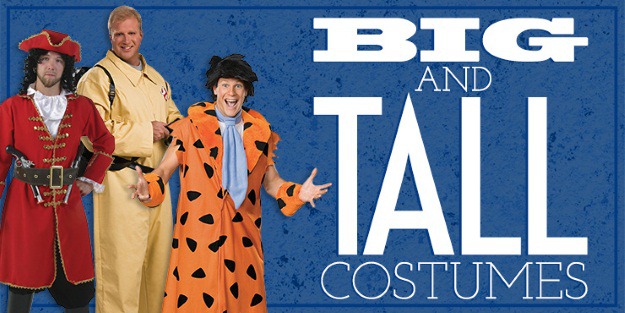 Some days, being a big or tall guy can seem like a curse. Sure, you can reach the top shelf of the cupboard with no problem, but just try finding a decent pair of pants that fit, let alone a costume for a party. Normally, you get stuck with a poor selection of boring costumes, or you're forced to DIY something last minute. It's enough to make a guy want to ban Halloween! But we're here to show you that the fall holiday doesn't have to be a tragedy yet again. Here are nearly 50 great costume ideas that come in sizes for all the larger guys out there.
Exclusive Big and Tall Halloween Costumes
We've got the largest selection of plus sizes here. Why? Because we want everyone to get the big and tall costumes they want. You shouldn't have to cut holes in your bed sheet just because nothing else fits right! (Cue sad Charlie Brown music.) You can only find Halloween classics like pirate costumes, wizard costumes, and yes, even the Mad Hatter!
Big and Tall Formal Wear
When it comes to men's big and tall costumes, a formal suit might not be the first thought that pops into your head. But, for a big and tall guy, just finding some formal wear that fits is amazing enough that you want to wear it as often as you can! These suits come in some crazy styles, so they can pull double-duty as a slightly wild suit for formal occasions or as a cool costume for a party.
Big and Tall Movie Costume Ideas
Face it, guys: without movies, first dates would be a flop. In fact, they might not even happen without the humble movie theater. That's what brings us to our next big and tall Halloween costumes inspiration, the movie costume. This year, we've got some real big hitters. Back to the Future II is a timeless costume choice, so of course we have a Marty McFly costume for you! And since we love the 80s in general, Ghostbusters is another no-brainer idea.
Big and Tall Television Costume Ideas
We shudder to even think about where we'd be without TV. There'd be nothing to talk about during those awkward pauses at parties, Halloween or otherwise. That makes your favorite characters a prime choice for a costume! Scooby-Doo, Bender, and ALF are some of our favorites, so we made some plus size costumes for them.
Big and Tall Superhero Costume Ideas
Most superheroes have a larger-than-life physique, so why shouldn't they also be Halloween costumes for big guys? It's a costume type that makes full use of your larger frame. They SHOULD be for the big and tall before anyone else, really, and it looks much better on you than some of the tiny and skinny guys who put the look to shame. That's why we've brought together the best hero costumes, like Superman, Batman, and Mr. Incredible.
Big and Tall Nintendo Costume Ideas
The cast of Mario Kart knows the perils of being larger than normal. What section of menswear do you think Bowser shops in? (It's a trick question because he spends most of his time in his birthday suit. But if he did shop for clothes, we doubt that he could fit into most regular sizing). That's what makes a Nintendo costume a great choice for big and tall men. Since many of the characters have a larger body, it only makes sense that they'd make great choices for bigger guys.
Big and Tall Uniform Costume Ideas
Do you remember what your answer used to be when someone asked you, "What do you want to be when you grow up?" Most people don't end up being the astronauts and doctors that they had planned on being, but that doesn't mean you can't relive your old dreams a little now that you're all grown-up. These plus size uniform costumes are designed to help you out with that. Many of these uniform costumes make great Halloween costumes for tall guys because they're a shirt and pants set or jumpsuit made with bigger sizes in mind.
Big and Tall Historic Costume Ideas
History was way more adventurous than things are today. These days, heading to a new Indian restaurant is about as adventurous as most people get. We sort of wish we could live in a time where dragon-slaying was a real career opportunity. But alas, the best we can do is wear these costumes mixed with some imagination. If your imagination hungers for an adventure, why not try hopping into a Viking costume and heading to battle? If you're feeling rather regal, you can always try conquering the world in a Gladiator costume. There are so many great historical Halloween costume ideas for big guys that you can't go wrong!
That does it for some of our best big and tall men's Halloween costumes for 2020. So, what do you think of our selections? Is it better than your average line-up, or are there some big and tall costumes missing that you'd like to see? Let us know in the comments! And click here to view our complete selection of big and tall costumes!