UPDATED: September 14, 2015
Finally! The fourth season of American Horror Story starts this month on October 8th. Ryan Murphy and his evil mind finally have brought the scariest thing in the entire world to primetime FX: murderous clowns. So, to keep our mind off of all the greasepaint, rubber shoes, and Twisty's murder weapons, we put together some group costumes featuring the past three seasons of AHS. However, these characters are just as weird as Freak Show looks to be, so #WirSindAlleFreaks holds true for everyone. "We are all freaks." Let's play!
(And, oh yes, spoilers below! Well, besides Freak Show, because we haven't seen it yet!)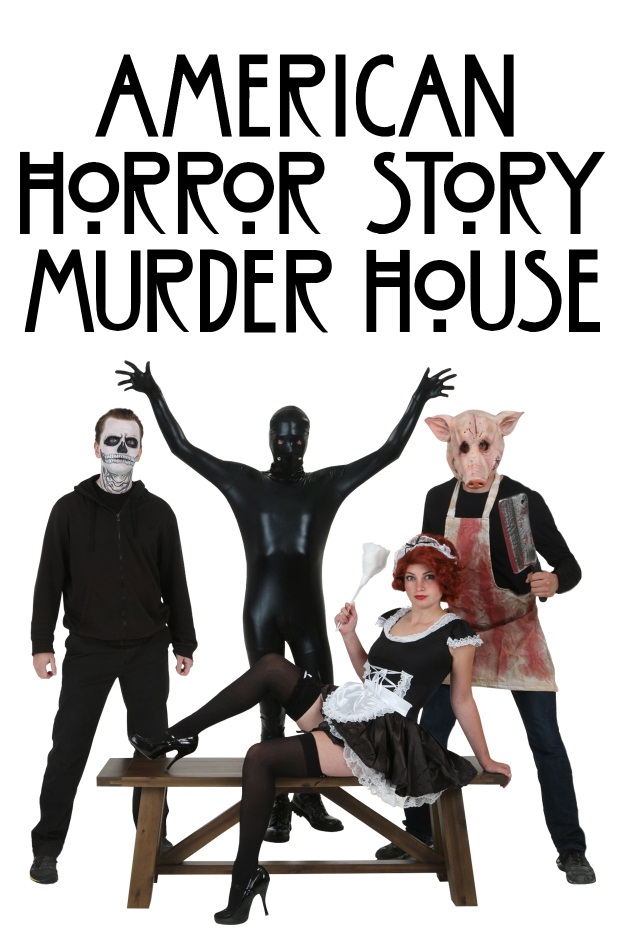 The first season of American Horror Story was Murder House. It introduced us to most of the AHS all-stars: Sarah Paulson, Jessica Lange, Frances Conroy, Denis O'Hare, Lily Rabe, and last but not least, the perfectly-tortured Evan Peters. There were so many weird, creepy, unsettling, awesomely-terrifying visuals in the premiere season that it was hard to pick just a handful, but here is what we came up with.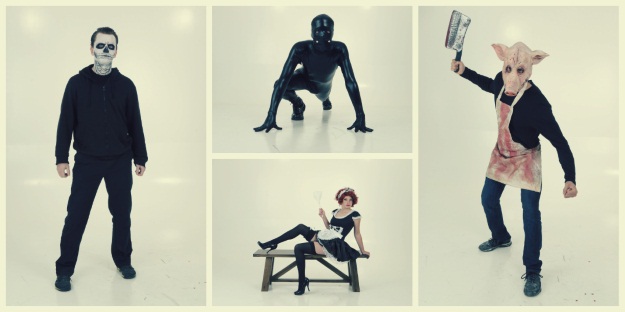 Tate Langdon | "Rubber Man" | "Piggy Man" | Moira
Skeleton Makeup Kit Black Morphsuit Pig Butcher Costume
French Maid Costumes Red Wigs Garter Belt
Rubber Man is pretty iconic to this season, but our favorite is sexy Moira. (The young version! And before she had her eyeball shot out.) The makeup-intensive look for this group was inspired by Tate's fantasies of his less-than-savory past. Here is a pretty cool YouTube tutorial we found of someone doing this makeup as well.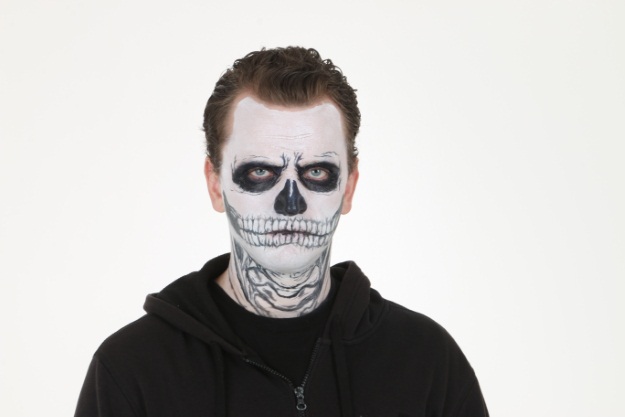 Other ideas for a Murder House group costume are: burned-face Larry Harvey; fabulous Constance Langdon; older Moira with a funky looking eyeball; younger-Moira with that gunshot wound; 1920s-themed Nora Montgomery; the student nurses who were killed in the Murder House in the 1960s.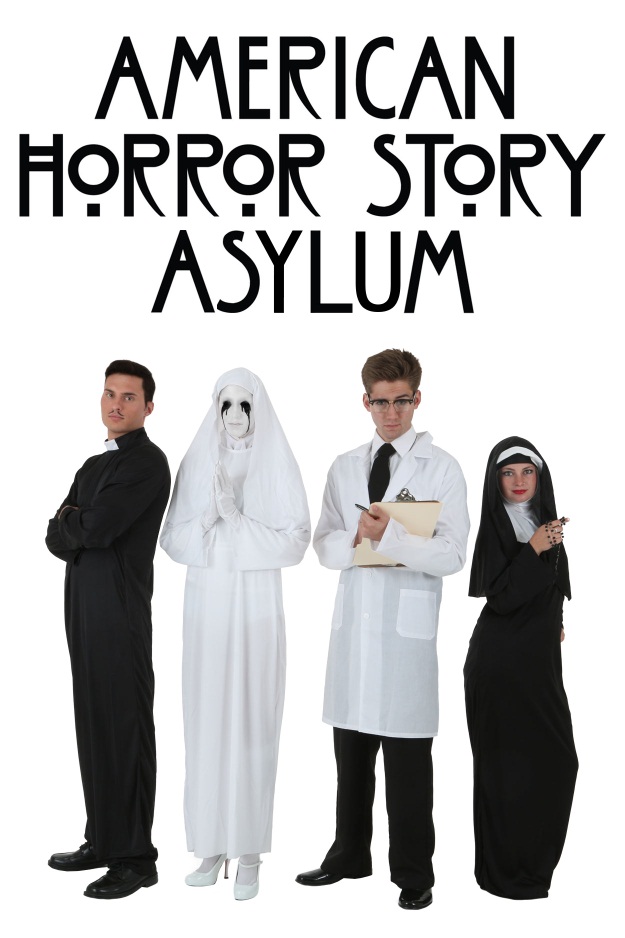 An informal survey taken at this office revealed Asylum to be the scariest season of American Horror Story so far. Probably the best, too, especially if you just ignore the alien stuff. Because, what? Anyway, an insane asylum, creepy religious-motifs, "The Name Game" dance sequence, cute boys with extreme mommy issues, and Chloe Sevigny, all add up to make this the season to watch.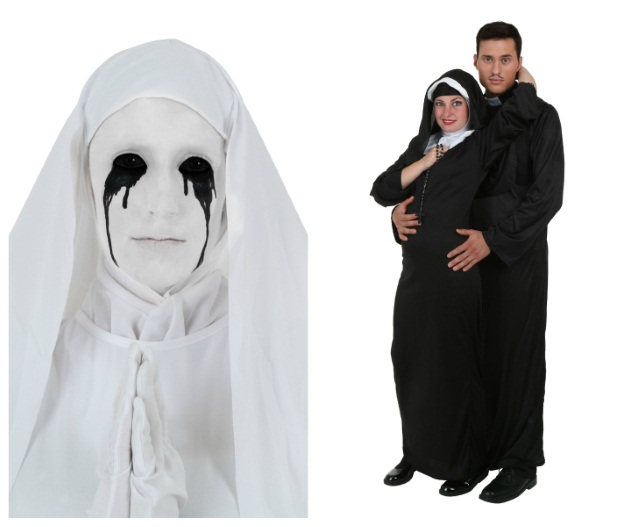 White Nun | Monsignor Howard | Sister Mary Eunice | Dr. Thresdon
Priest Costume White Nun Costume White Shoes
Skeleton Makeup Kit Doctor Coat
The more we think about it, there really was a lot going on in this season, but the stand-out character was Lily Rabe's Sister Satan. The makeup-intensive look for this group of costumes is the white nun from the cover – we used white face paint, black face paint, and some blackout contact lenses.
Other ideas for an Asylum group costume are: a more scandalous Sister Mary Eunice complete with red lingerie; Angel of Death Frances Conroy; an alien; Bloody Face; Pepper (pics if you do this one, please!); Briarcliff-rattled Lana; Adam Levine missing an arm.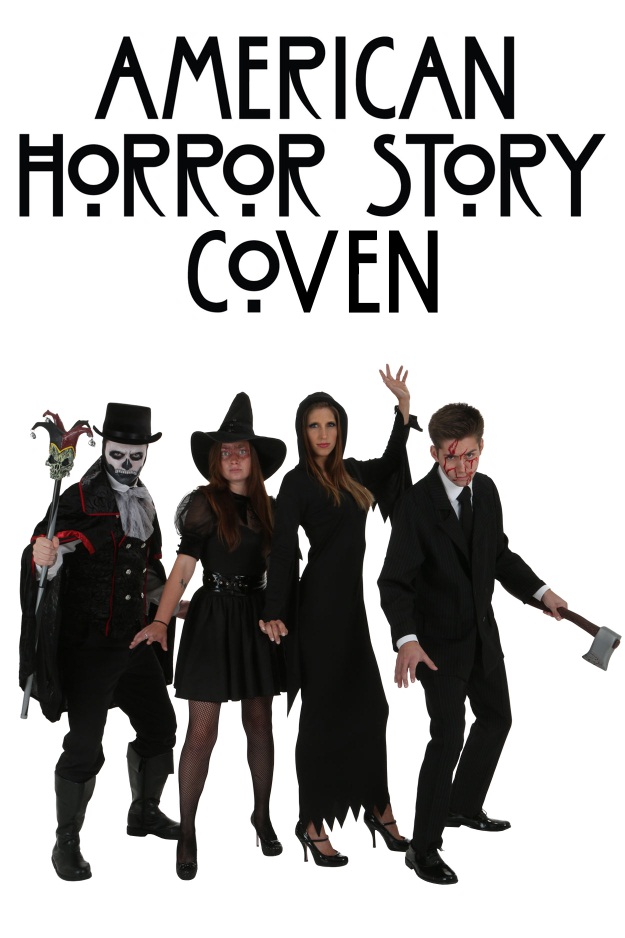 Coven was fun because there were witches with really cute outfits, a lot of Fleetwood Mac on the soundtrack, and a part where Myrtle is burned at the stake and shouted "Balenciaga." Yes, some stuff didn't make sense, and yes, a lot of people died and came back lots of times, and yes, it wasn't really all that scary, but in the end, can't we all forget about that and focus on the Stevie Nicks cameo?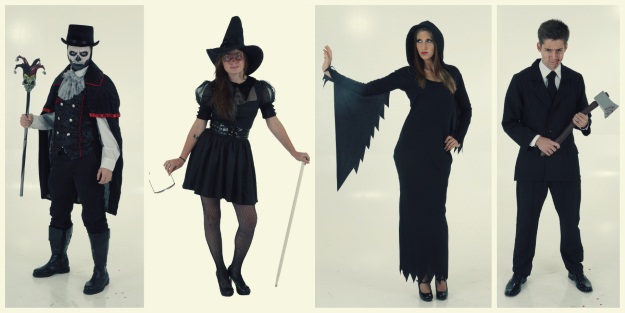 Papa Legba | Cordelia Foxx | Fiona Goode | The Axe Man
Voodoo Costume Jester Cane Cute Witch Dress
Black Sunglasses Special Effects Makeup Kit
Hooded Witch Costume Gangster Suit Axe
The Papa Legba look in this group was kind of a modified Tate-look: instead of the detailed neck and lower jaw, just paint that whole area with black face paint. The real deal for makeup-intensive effects in this group, though, is poor Cordelia's acid-burned eyes. We used liquid latex to achieve the burned skin look and it really looks painful. Really. Painful.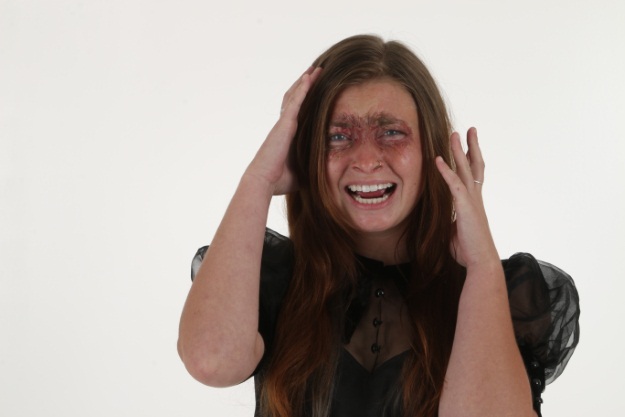 Other ideas for Coven costumes: the white witch herself, Stevie Nicks (grab a fringed shawl and you're well on your way to DIYing your own Stevie Nicks Halloween costume); creepy Denis O'Hare as tongueless Spalding, complete with porcelain doll in tow; Delphine's head on a plate; Myrtle Snow and her perfect red hair; Madison Montgomery with a neck scar; Kyle Spencer with a million scars; any iteration of a cute, goth-yet-fashion-forward witch who would attend Miss Robichaux's Academy.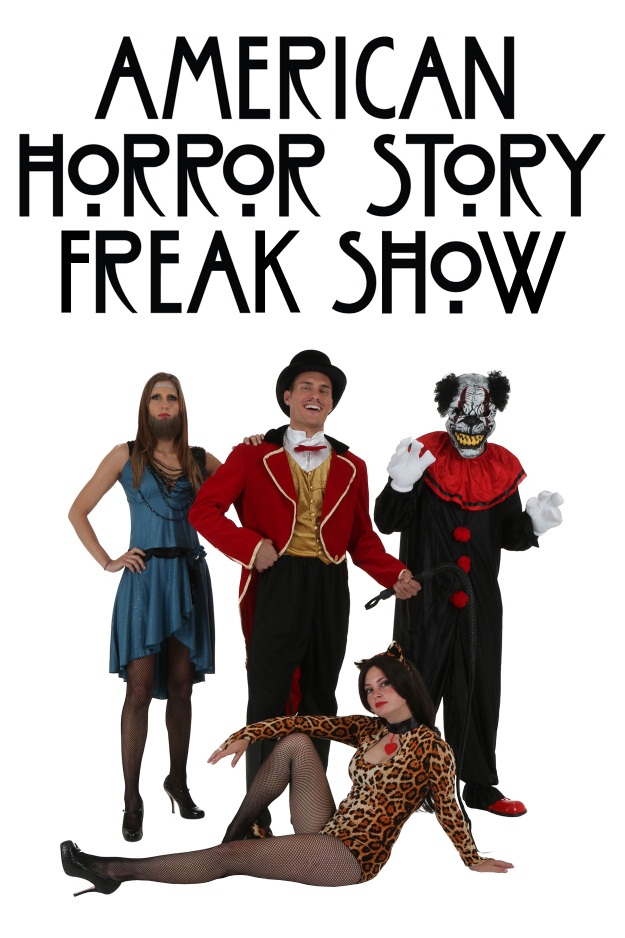 Alright, Freak Show comes out today so we had to use our imagination with this one since we haven't seen it yet! (However, Ryan Murphy, if you would ever like to give pre-screening copies of upcoming episodes to HalloweenCostumes.com, we won't turn them away.) So, we went with a creepy circus vibe. We do know that Angela Basset has three breasts in this season, but we've already done that costume.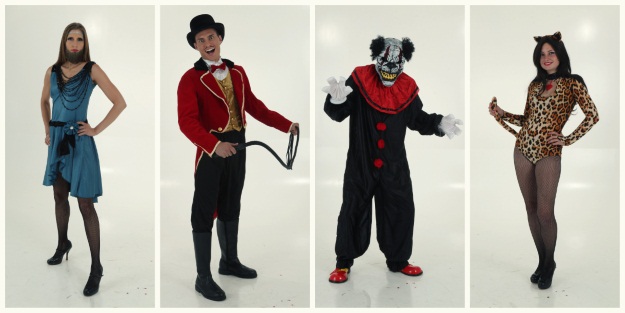 Bearded Lady | Ringmaster | Clown | Leopard
Beards Bearded Lady Costume Ringmaster Costume Whip
Clown Suit Leopard Costume Fishnets Black Heels
Kathy Bates will be playing a bearded lady, so we could not turn that idea down. If you feel like making a statement at a Halloween party (or viewing event for AHS!), get that beard and glue it on your face. It'll be a hit, we promise. Creepy clown, check. But we have a feeling that our guy here won't stack up to what Twisty the Clown will do in this season.
Other costume ideas for Freak Show group costumes: strong man; a boy with lobster hands; two-headed woman; more and more and more clowns; Pepper, again; and who knows! We will have to revisit this once the season is through.
UPDATE: American Horror Story has certainly made a name for itself with American Horror Story: Coven and Freak Show. The Freak Show premiere had an estimated viewership of over 6 million! We've now got some solid additions to our American Horror Story collection that sure to scare you up a great time.
American Horror Story: Freak Show Costumes
After creating this wonderful resource, we got our hands on some of the costumes from AHS: Freak Show—including the terrifying Twisty the Clown. Check out the new costumes below and be sure to check out all of our American Horror Story costumes in our shop!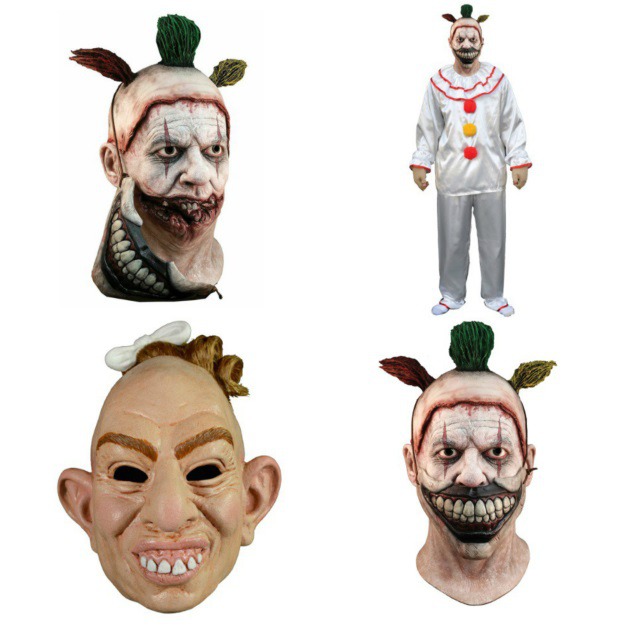 Twisty the Clown Mask Twisty the Clown Costume
What was your favorite season of American Horror Story? Are there any costume ideas that we're missing? Let us know in the comments! And don't forget: #WirSindAlleFreaks.