Legend tells us on December 24th an obese elderly man dressed in red commits what some would classify as burglary. Into our homes he creeps carrying a large bag of presents for good little boys and girls. Underneath a decorated tree he leaves these gifts but not before consuming the milk and cookies left unattended by unsuspecting members of the house. Into the night he flies in a pimped out sleigh, armed with twelve reindeer whose names will not be mentioned. Look carefully and you can see them grazing the night sky. Listen carefully and you might hear his faint "ho ho ho!" On December 25 weary from travel, he retreats to the North Pole to prepare for next year's Christmas, ever watching us.
Before Santa Claus was iconized in mainstream media, he was known as Nikolas of Myra or Nickolas the Wonderworker. Born in Turkey, this kind hearted saint earned his reputation by giving money to poor Christian girls. The money served as their dowry.
In Germany, Santa Claus is most often compared to Odin, a Germanic god. According to legend Odin could be seen riding Sleipnir, an eight legged horse capable of leaping great distances. At night, children would fill their boots, with carrots or straw and place it near the chimney. It was an offering to Sleipnir. As a reward, Odin would replace these gifts with food or candy.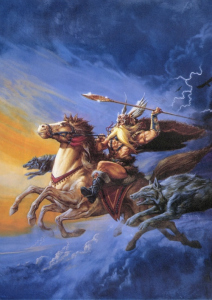 (source)
An elderly Sinterklass gives gifts to the children in the Netherlands, Belgium and Luxembourg. The Good Saint is known for writing every child's name in a book called the book of Saint Nicholas. According to tradition, Sinterklass travels by boat from Spain. His helper Black Peter carries with him the Book of Saint Nicholas. At night Sinterklass rides a white-grey horse over people's rooftops and puts gifts down the chimney for children.
It is from these cultures that we have taken our traditions. The image however that we associate with Santa Claus are ironically the product of the Coca-Cola advertising.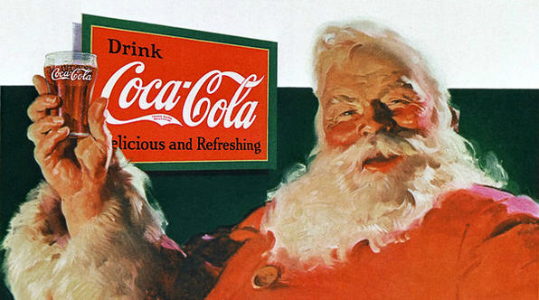 (source)
In the 1920s Coca-Cola had become the most popular drink for everyday people. Enjoying a glass of Coca-Cola after work with friends or coworkers was a common thing. As the most popular drink in America, Coca-Cola capitalized on widespread consumer attention. It began with a slogan, "Thirst Knows No Season." The slogan was mean to connect the summery drink to the upcoming winter season. To help with the campaign, an advertising agency hired Fred Mizen to promote this new winter trend. He painted Santa among a crowd drinking a bottle of coke. In Mizen's version, Santa had a more serious appearance. This image was not popular.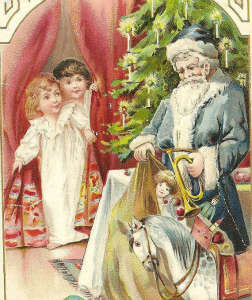 (source)
Before Coca-Cola Company launched its winter campaign, Santa Claus, Santa was often depicted as an average size man wearing a yellow, red, blue or green suit. Coca-Cola's however wanted to create a more wholesome Santa Claus, someone who was both realistic and symbolic.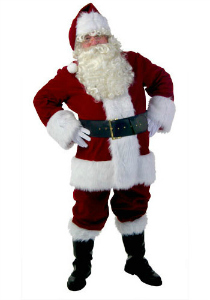 So in 1931 artist Hadoon Sundbloom was hired to illustrate a new Santa. Sundbloom painted a larger than life grandfatherly Claus wearing a red suit. For inspiration he drew from the 1822 poem "A Visit from St. Nicholas," in which Santa is described as plump, warm and friendly. The idea was an outstanding success! For twenty three years Sundbloom would create images of this new and improved Santa. His creations would be seen in The Saturday Evening Post, and appear in magazines such as Ladies Home Journal, National Geographic, and The New Yorker to name a few.