Ahoy matey! If ye plan ta head out dressed as yer favorite pirate, yer gonna have to practice talkin' like yer readin' these here scribbles... Savvy? Did you hear a pirate voice in your head when you read that? We sure did! A pirate's life is the way to be, or so they say. So if ye be in search of salty old pirates you've come to the right place. Whether you're attending a swashbuckling soiree or just taking the tots trick-or-treating we got the perfect pirate Halloween costumes for every buccaneer. You can even be a family all wearing Captain Jack Sparrow Halloween costumes.
Women's Pirate Costume Ideas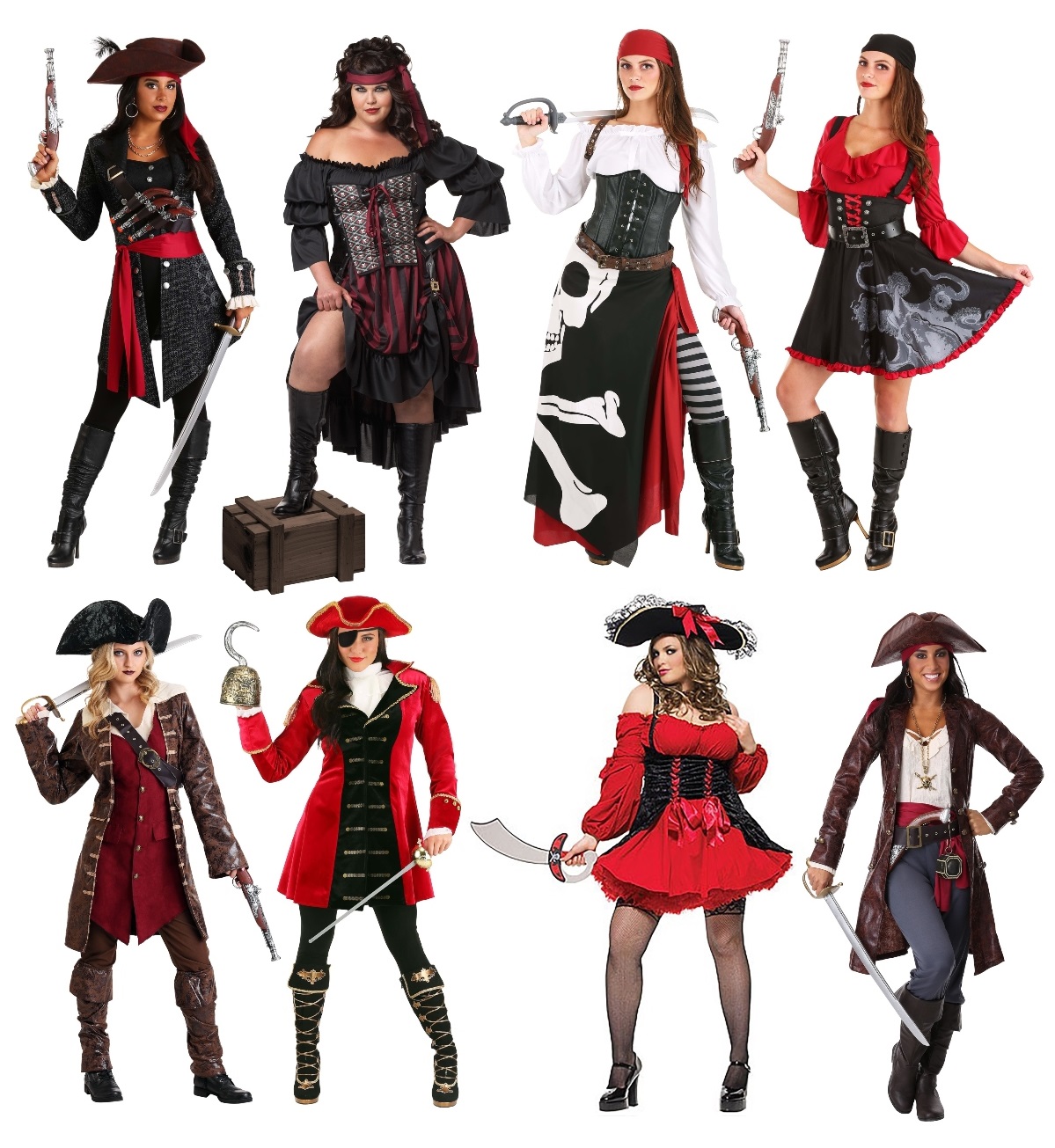 Brazen Buccaneer Plus Size Pirate Wench Captivating Pirate
Authentic Pirate Costume Plus Size Pirate Lady Captain Hook
Women's pirate Halloween costumes come in so many styles it might be hard to just pick one. You can go as Captain Hook, Jack Sparrow, a pirate wench or a brazen buccaneer to name a few. Then you need to decide if you want a sexy pirate costume, plus size pirate, historical pirate costume, dress or pants. We told you there were many different styles, didn't we?
Adult Pirate Costumes for Men
Cutthroat Pirate Blackbeard Costume Captain Hook
Ghost Pirate Captain Morgan Costume Jack Sparrow
For adult men you can go with an authentic pirate costume to match your favorite famous pirate in history. There are so many options to choose from, like Captain Hook, Blackbeard, Jack Sparrow and, of course, Captain Morgan. We'd go with Jack Sparrow, because who doesn't love the Pirates of the Caribbean movies? You can always go as a ghost pirate, too! Haunt your way through the crowd to your treasure.
Pirate Costumes for Girls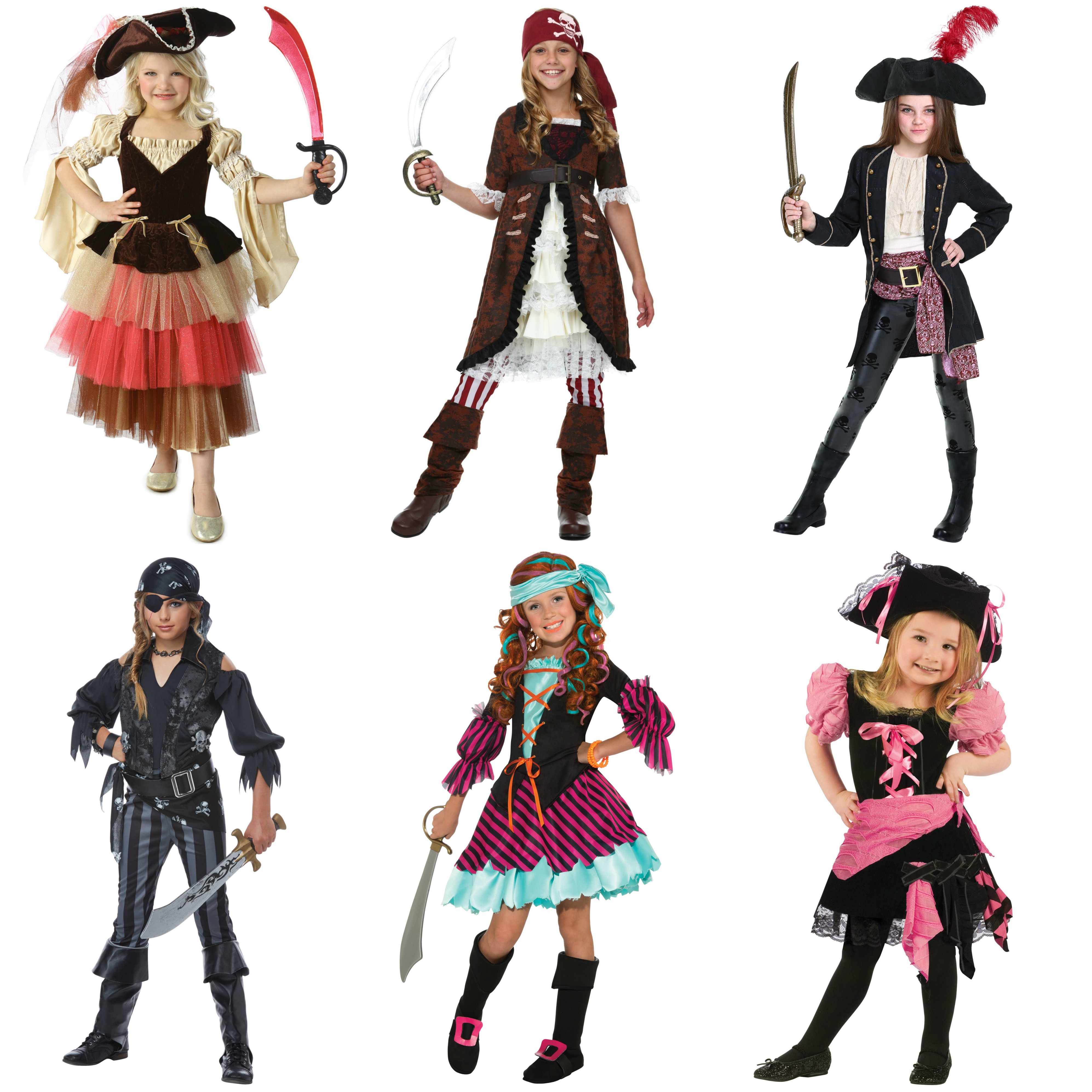 Audrey the Pirate Brown Coat Pirate Girls Buccaneer Costume
Rebel Pirate Salty Taffy Girls Pirate Toddler Pink Pirate
So you have a young lass who wants to take on the family business of pirating. Help outfit her in one of these girl pirate costumes that will be sure to fit her style. Let her choose between a pretty pink pirate or fearsome rebel pirate or a buccaneer. She can look cute and smile for her plunder. They fall for it every time!
Pirate Costumes for Boys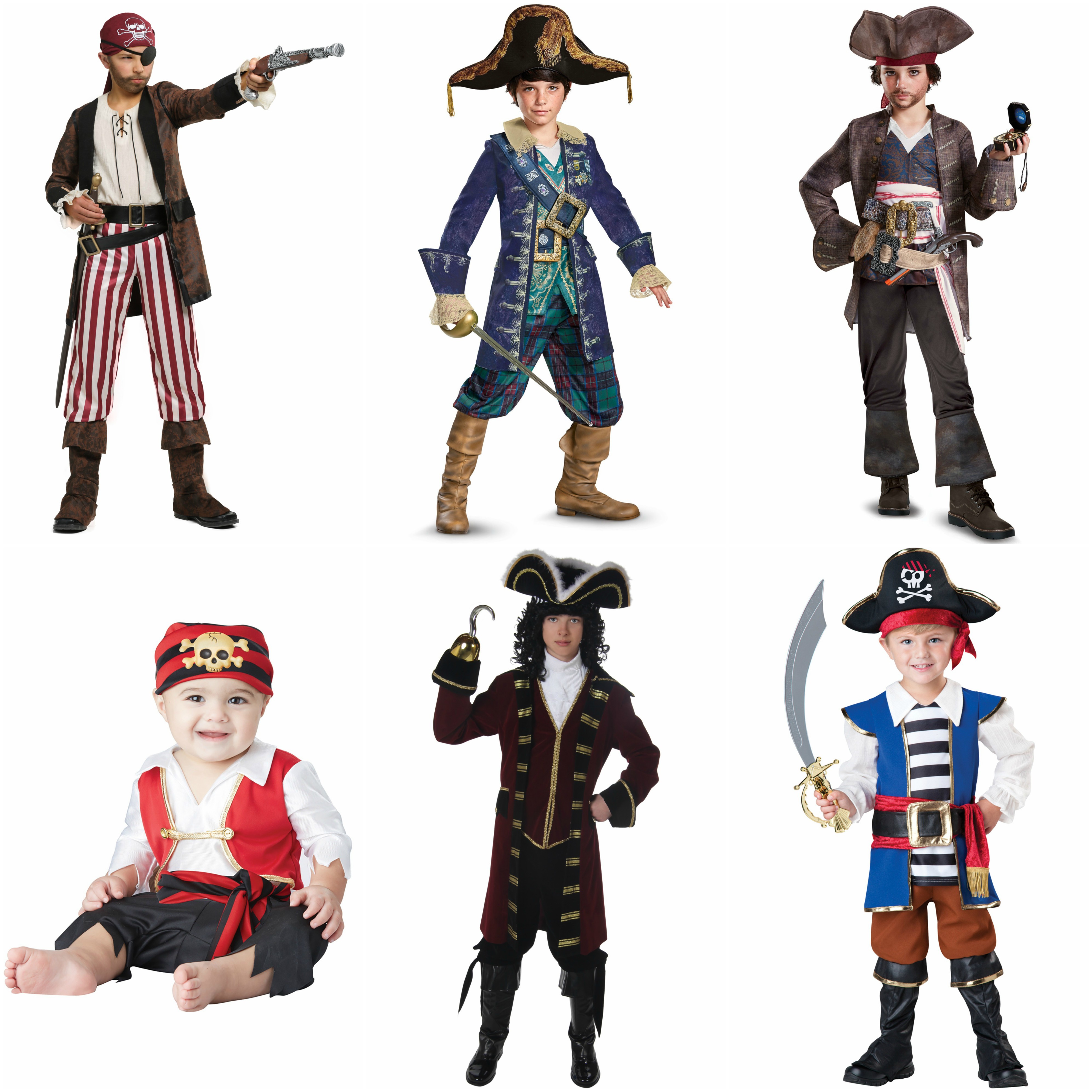 Boys Pirate Costume Captain Barbosa Costume Boys Jack Sparrow
Infant Pirate Captain Hook Costume Toddler Pirate Costume
Transform your little tyke into a dangerous-looking rebel. He will sail across the high seas, digging up treasure chests on uncharted desert islands, and hopefully sharie that treasure with you. Trouble awaits him whether he is in a Captain Hook, Jack Sparrow, Captain Barbosa costume or Jake from the Never Land Pirates. Your little matey will no doubt have a fun time making scallywaggers swab the deck and walk the plank. Hopefully you aren't that scallywag, though!
Pirate Costumes Accessories
Pirate Hook Pirate Cutlass Pirates of the Caribbean Sword
Pirate Hat Flintlock Pistol Eye Patch
Whichever one you pick, make sure you accessorize for full pirating affect. You wouldn't be much of an authentic pirate without a sword or a gun. You wouldn't be much of a Captain Hook without the hook, either. And a hat, don't forget the hat! Now you're ready to grab your telescope and look for buried treasure. Just make sure you bring the map.
Have your kids in their child pirate costumes and take a break from searching for buried treasure on Halloween. Shhh… the secret is to go up to houses and say "Trick-or-treat" and they just hand it out. You don't even have to threaten them with your sword! Make it a family of scallywags to get even more plunder. What pirate is your favorite? Didn't see it? Check out all the pirate costumes we have to offer.