Well folks, we're long past 2015 and we have yet to see a flying time machine car. We might not have the technology to travel through time (or have flying cars), but we can bring the past forward in time with us through themed parties, festivals, and historical reenactments. Sometimes we simply want to dress up as people from our favorite civilizations and time periods because we admire them so much! The Egyptians and Greeks were awesome because they dominated art and culture. Between the two of them, they made six of the seven wonders of the ancient world! The middle ages brought us tales of knights and derring-do that would be romanticized for centuries to come. Even Victorian attire was cool enough that it inspired the genre that is now steampunk. Or take inspiration from any of the United States' Presidents for your look. Whatever the case may be, we have a wide range of your favorite historical costumes from eras like the roaring 20s and earlier. We'll do our best to pick out the most historically accurate costumes from these different time periods!
Renaissance Costumes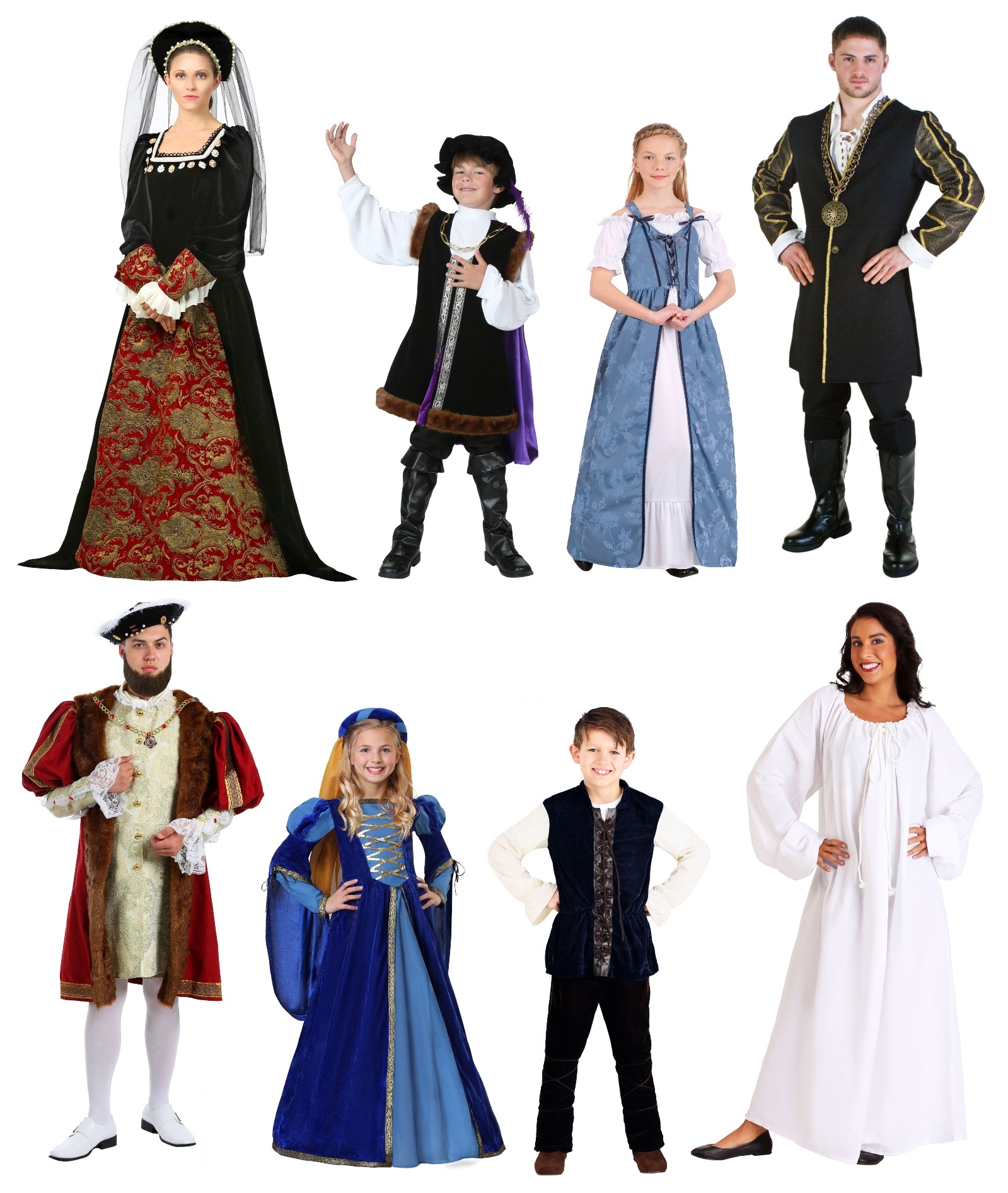 The Renaissance period is probably one of the most familiar, but also the most misunderstood. (It doesn't help that some movies and television shows set in Renaissance times are only vaguely historical.) The Renaissance began in Italy and spread throughout Europe from the 1300s to the 1600s. Fashion changed a lot as this time encompassed a few centuries and countries, and there were huge differences between Renaissance clothing for the upper and lower classes. (This generally means you can get away with a lot and still get a pass for wearing a Renaissance costume!) Renaissance costumes for women will generally consist of dresses, while men's Renaissance costumes should include tunics and jerkins. Also, ladies, the richer you are, the more layers you get to wear. Lucky you!
Medieval Costumes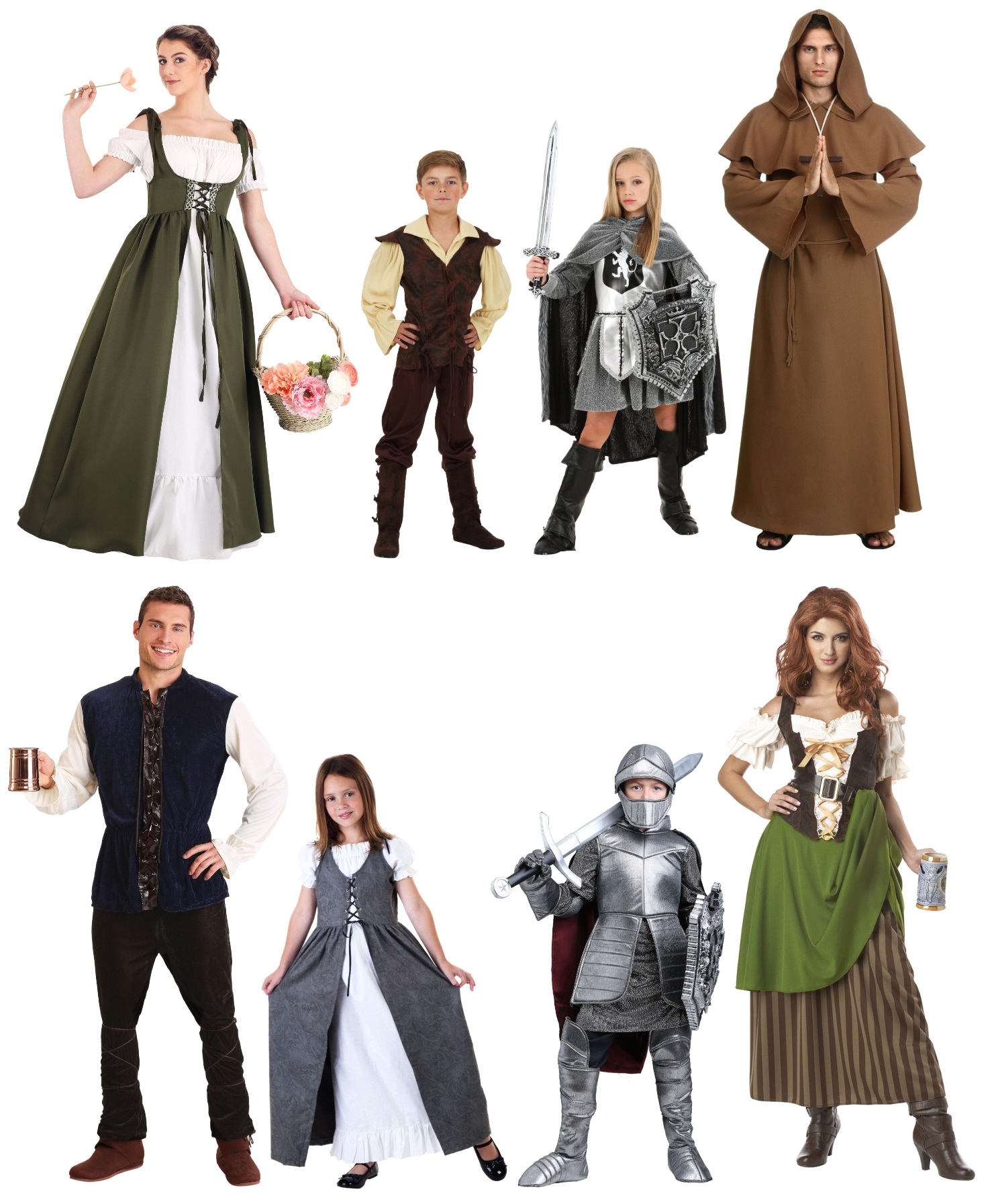 Many people confuse the Renaissance for the Middle Ages and vice-versa, but the Middle Ages occurred during the late 400s and up to the 15th century. (You might notice some overlap with the Renaissance at the end, but that's how history rolls!) The class system was in full swing, and many garments of the day were closely related to your occupation. Sumptuary laws further restricted the Medieval clothing you were allowed to wear, so colors and decorations on clothing for commoners were humble compared to lords and ladies. Knights were also very common as they waged wars abroad, fought between feuding lords and kept the peace on their home turf.
Victorian Costumes
By the time we get to the Victorian era, we have fewer decades to cover. Named for Queen Victoria, the monarch of England, this time period lasted from 1837-1901. That's a little over 6 decades, so it still covers a pretty wide range of fashion! Victorian dress is well-known for big, showy ladies' dresses with lots of layers. Blouses, coats, corsets, dresses, bustles, hoops and bloomers were some of the most common pieces to a Victorian woman's outfit. For Victorian men's clothing, trousers, as opposed to breeches, were coming into fashion, and they looked dashing in a variety of coats and hats. Victorian apparel is a lot of fun and a favorite of many people— so much so that you can find its influence in alternative clothing styles like steampunk. (Which is not historical, by the way!) There are many great fictional characters from this time as well, including Sherlock Holmes, Ebenezer Scrooge and Peter Pan.
Viking Costumes
While Vikings may not have worn the horned helmets as opera led us to believe, it is true that the Vikings were impressive in battle. Most of their garments were uncomplicated and practical, meant for withstanding battles and harsh temperatures. Men usually wore simple yet warm tunics made with linen and wool, while women wore plain dresses with aprons. Viking clothing was also worn in layers to keep warm, with various cloaks and capes to ward off the northern chill. Many Viking Halloween costumes aren't that historically accurate, although it's fair to say that we know less about their clothing than we do about some other cultures. That's due to having fewer surviving pieces and less artwork from the times depicting their traditional outfits.
Pirate Costumes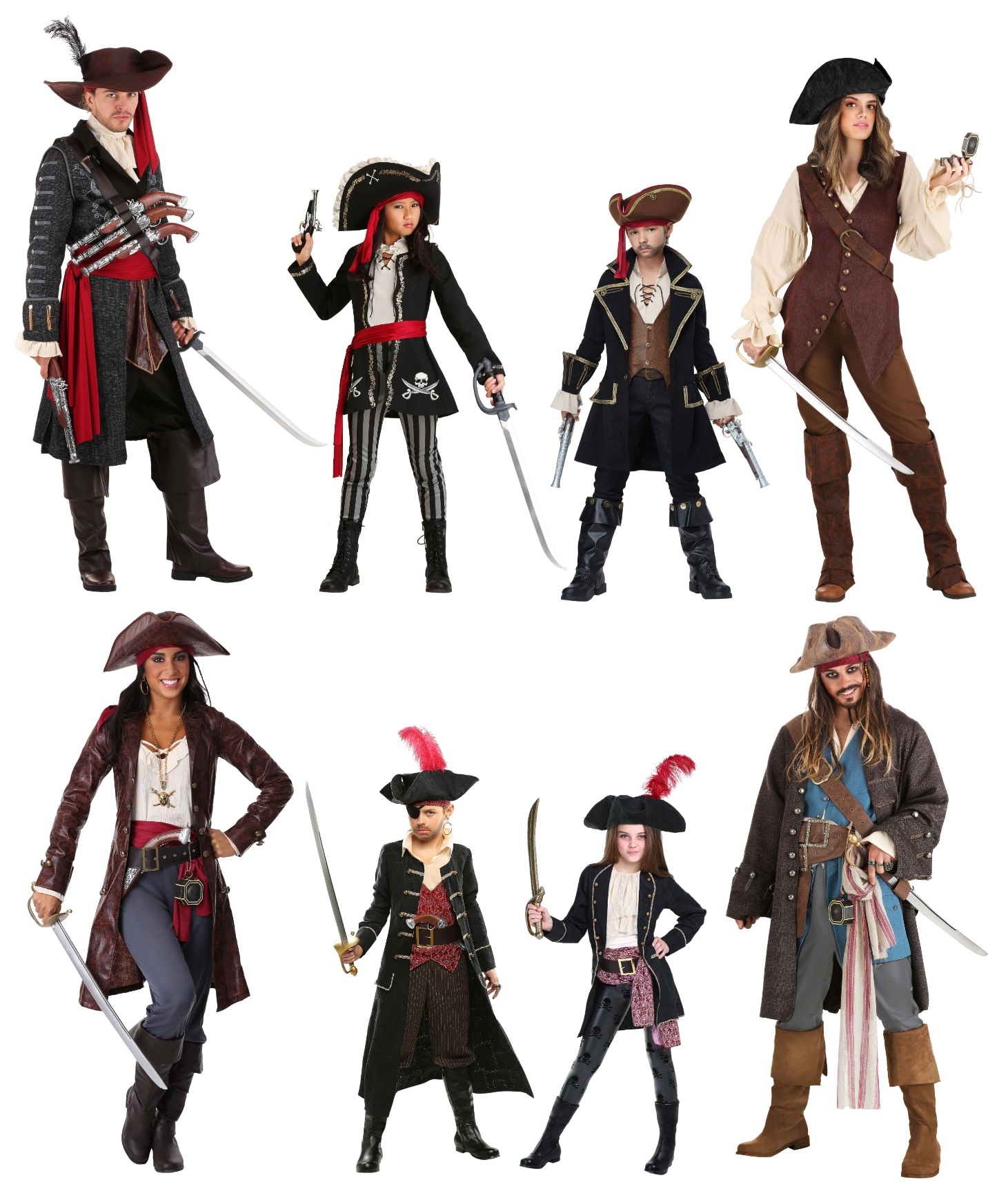 When we talk about historical pirate costumes, we're usually thinking back to the golden age of piracy—the 1650s to the 1730s, to be exact. Figures like Edward Teach and Anne Bonney sailed the seas, raiding passing ships for their valuables. Historically accurate pirate clothing is close to some pirate Halloween costumes, the main difference being that most pirate women wore men's clothes rather than the restricting dresses of the day. While images of female pirates were rare (and women pirates in general), you're bound to be more historically accurate with a pirate costume with pants! That being said, you can find pirate costumes for Halloween for every member of the family, and you get to decide whether you want to be historically accurate—or a sexy pirate.
Colonial Costumes
Clothing in the colonial era—at least as we think of it today—was influenced by Puritan ideals in the Americas from 1607 until 1776. Colonial apparel was a departure from the lace, frills, buttons and decorations worn by others in England and Europe. Men, women and children's clothing was much simpler, although they still frequently dressed in layers, especially during the colder months. Many colonial Halloween costumes representative of the times will be historical figures such as Betsy Ross, Benjamin Franklin and George Washington. Pilgrim costumes also count as they lived in the American colonies during colonial times.
1920s Costumes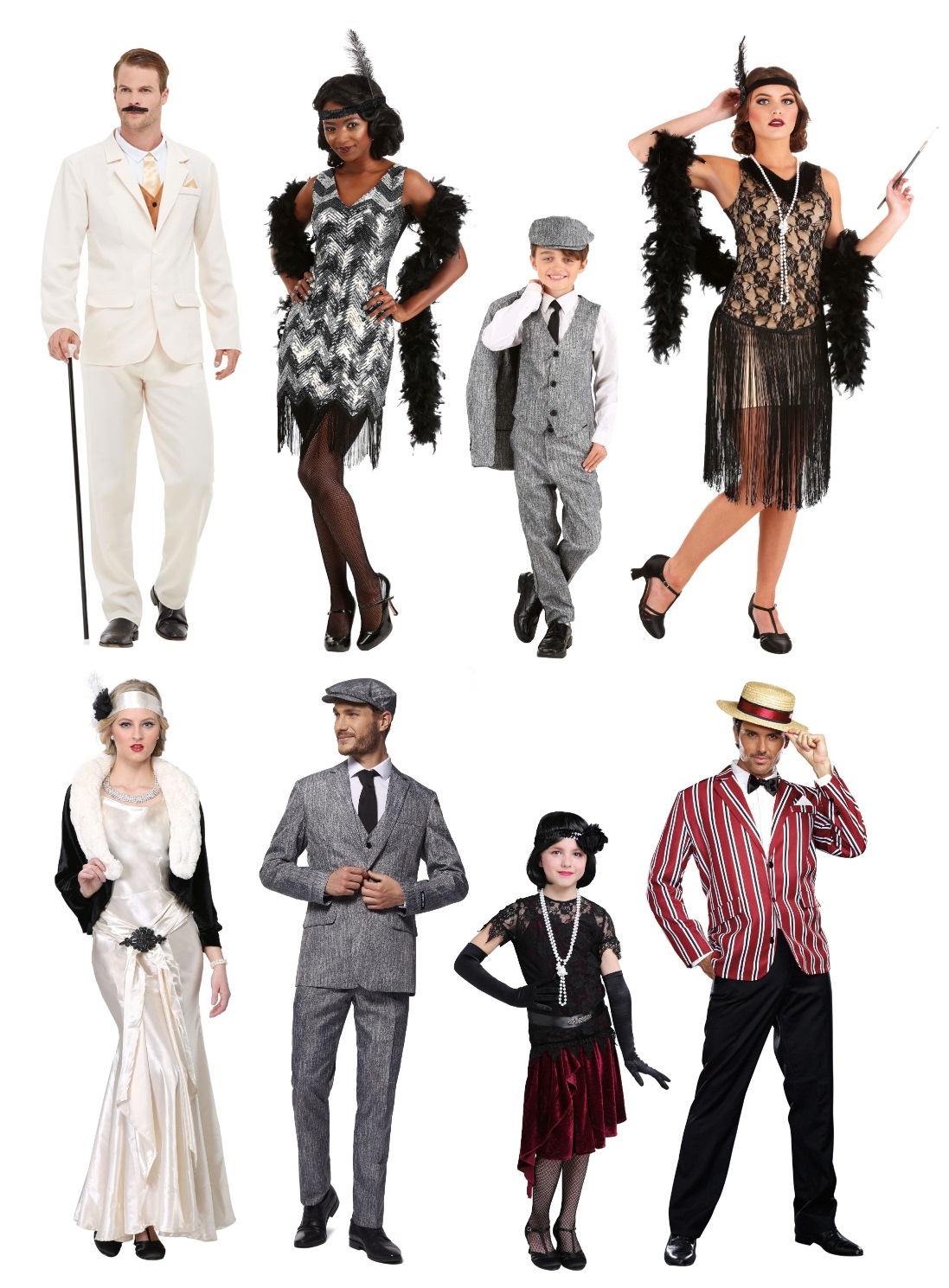 The Roaring 20s was a time of progress. The economy was booming, women gained the right to vote and cars became more affordable for the average consumer. In the 1920s, fashion also changed a lot. Suits for men became standard dress, and they were available in a wide range of colors and patterns, including white, pinstripe and wide stripes. 1920s fashion for women changed a lot from the restrictive clothing of earlier times—flapper dresses and shift dresses were trendy, while ladies wore chiffon and silk evening gowns to more formal events. Typical flapper costumes with fringe are actually less historically accurate, as that was another Hollywood invention. If you're looking for a more historically accurate 1920s flapper costume, look for drop waists, less fringe and more art deco patterns.
United States' President Costumes
You can also draw historical-costume inspiration from past Presidents of the United States. Whether you need a President's Day costume for the third Monday in February, or you're looking to wear a costume during election season, we're here to help. Although there have been 46 presidencies, you have 45 presidents to choose from. This is because Grover Cleveland had two non-consecutive presidencies and is considered the 22nd and 24th president. You can also choose "almost President" founding father Ben Franklin!
Well, we've done all the research for you and compiled a list of the most popular presidents and first ladies so far. From George Washington to Jackie Kennedy, we have president masks and costumes for all your needs. Look no further for some of the best caricature political costume masks around. Pair these political masks with a suit and you're all set to honor your favorite President of the United States. An Obama mask and suit is one of our favorite Black History Month costume ideas!
Historical Figure Costumes
While you might think that these are appropriate Halloween costumes for history majors, you don't need to let them have all the fun! Historical costumes are a great way to remind us about how far we've come. Events like Black History Month and Women's History Month are wonderful learning opportunities for your kids, and a Black history costume or Women's history costume can be a fun addition to a class presentation! You can use these costumes from history in reenactments, school presentations or at your next Halloween party. If you like to learn new things, you can even go beyond simply wearing your costume and learn about the person behind it—it could be a great conversation starter!
Wartime Costumes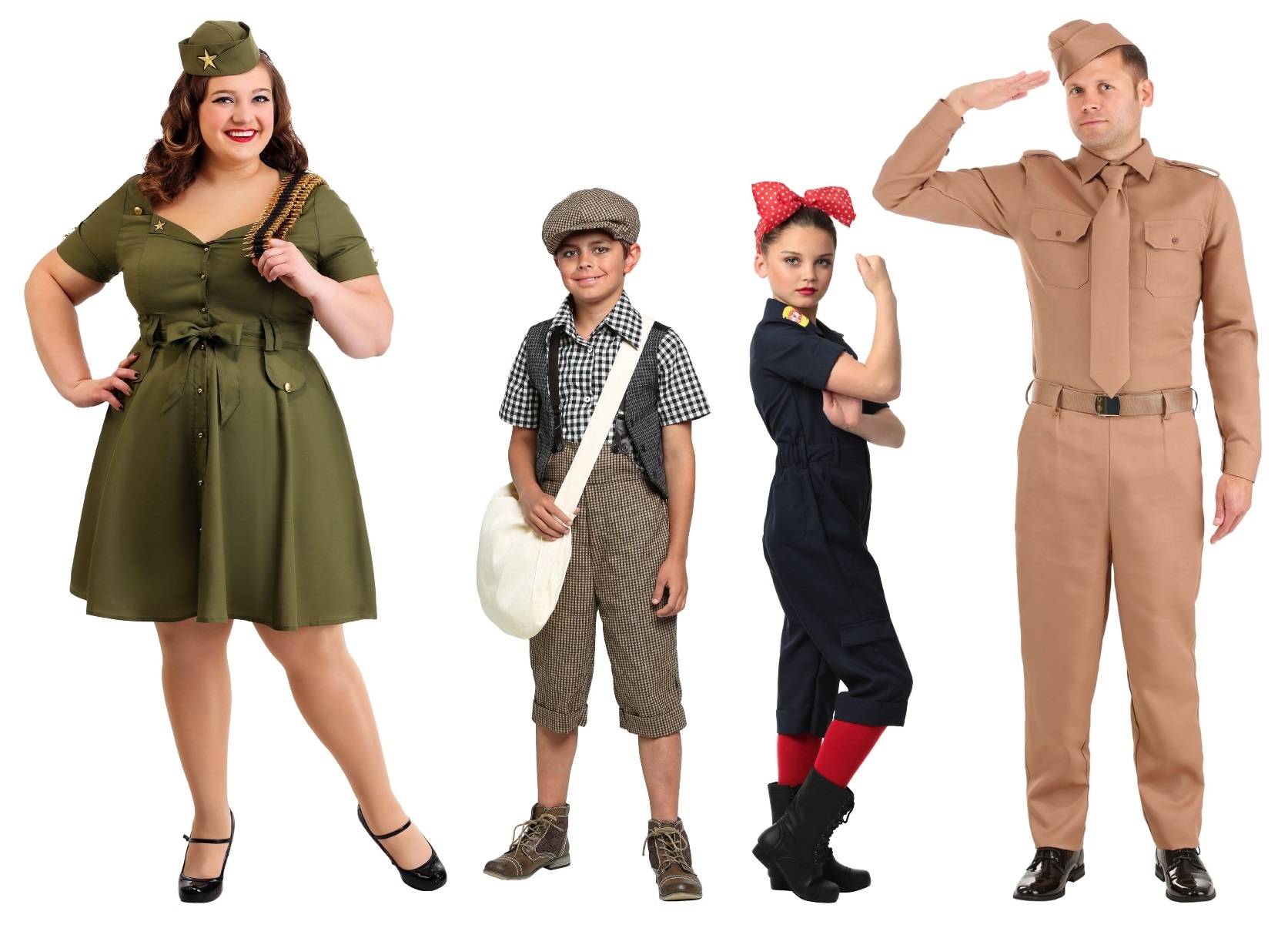 History isn't always filled with the best moments, but there are plenty of ways to honor the past and the work of our heroes. There are plenty of ways that you can give a nod to those who fought to keep the world running during times of war. At the end of May, honor those who died in service to the country with breezy outfits and early summertime wear with Memorial Day outfits. Some bring Victory Day in Europe to life with VE Day fancy dress from the days of the World Wars. If you're looking to live out some of those romantic Hollywood scenes, you'll love our Wartime costumes, too. Plus, who wouldn't want a gal like Rosie to be leading the charge in any season!?
We hope you enjoyed looking through these historical costumes. (And maybe you have some new historical costume ideas!) Do you have a favorite period in history? Are there any historical figures that you'd like to see as a costume? Feel free to let us know in the comments. The road to modernity wasn't always smooth, but the lives and achievements of the people before us should not be forgotten.