Step back in time to the roaring '20s when gangsters ruled the streets and fringe made a fashion statement. HalloweenCostumes.com offers the best flapper and gangster costumes available on the Web, and has a large variety of costumes to suit everyone's tastes. You'll find kids' costumes, adult costumes, and all the necessary accessories to make your costume stand out from the rest. We carry a variety of sizes ranging from newborn to X-Large and Plus sizes. Whether you're looking to make a grand entrance at a '20s theme party or want your gangster tot to be doted over on Halloween, you'll find the perfect costume here! Combine one of our flapper costumes with our variety of Gangster Costumes for a great couples look.

There were a bunch of famous couples, both real and fictitious, that came to fame during the 1920s. They were dramatic, romantic, and kicked off some of the celebrity culture that we're still obsessed with today. Whether for a 1920s themed party or for Halloween, these are just a few of those couples that you can be, and use this guide to really get into your character!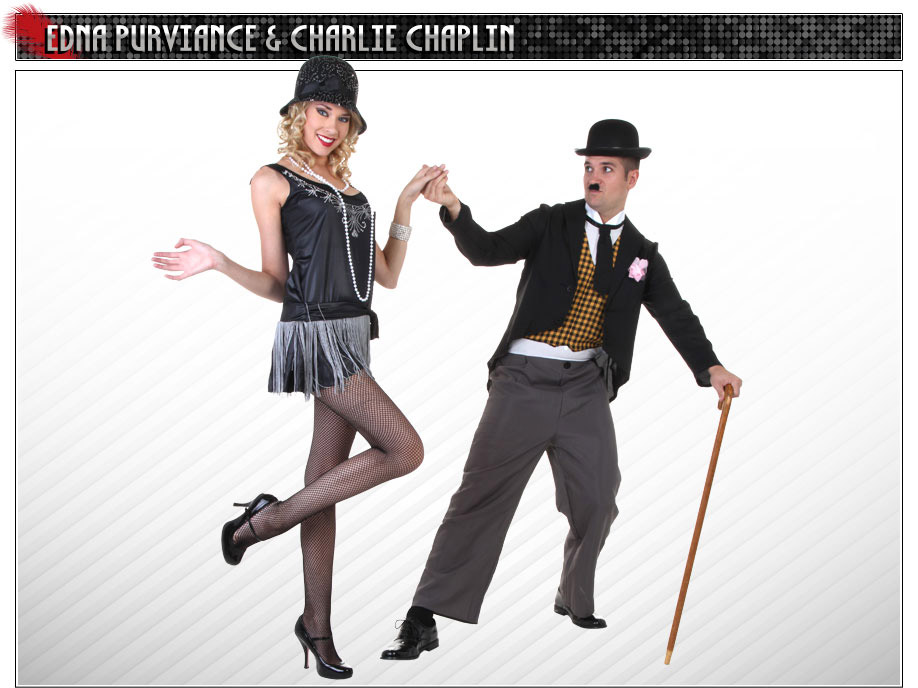 Charlie Chaplin and Edna Purviance were linked romantically for a short time, but better known the world over as co-stars in many of Chaplin's early films. This was still during the silent era when charisma and chemistry was all communicated through body language. These two were so adorable that we just had to include them on this list. We have this Tramp style costume and the flapper dress both. It's your choice if you want to stay silent all night!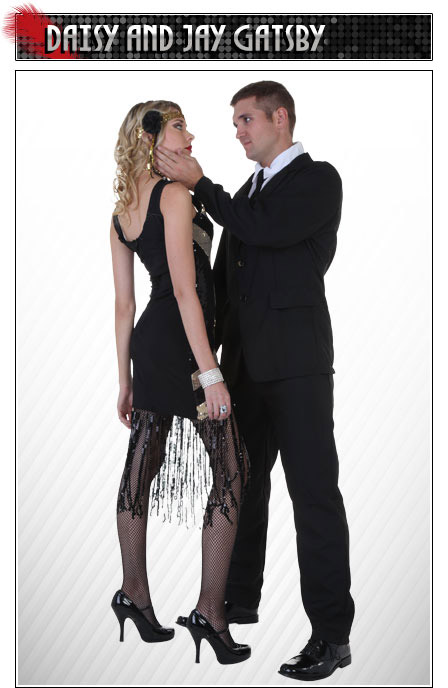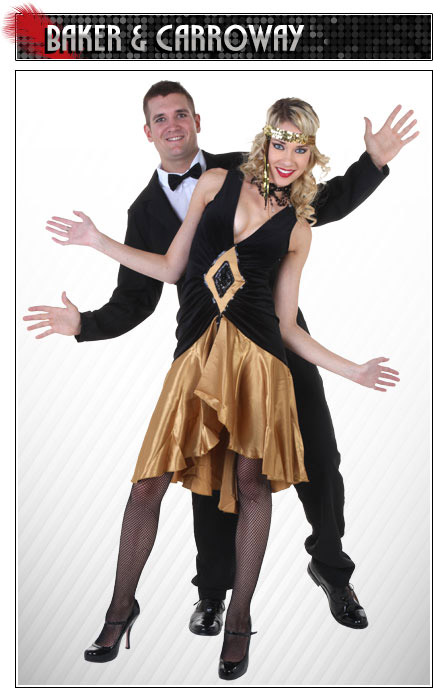 | | |
| --- | --- |
| Considered to be one of the greatest novels in American Literature, the Great Gatsy by F. Scott Fitzgerald gave us memorable characters from the Roaring 20s like Daisy Buchanan and the title character Jay Gatsby. | Here is another couple straight out of Fitzgerald's classic novel: Nick Carroway and Jordan Baker. Nick is the novel's narrator, so feel free to first-person narrate the evening as it happens, but don't be surprised if Jordan starts dancing with Jay over there! |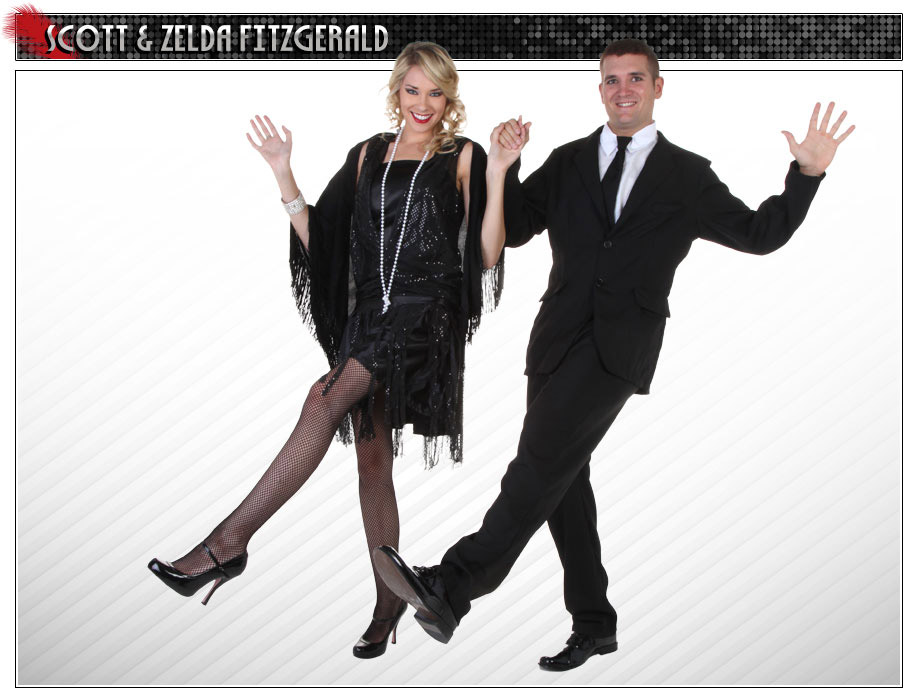 The Fitzgeralds, Zelda and F. Scott, were a celebrity couple of the glamourous 20s. Though they were well known for their exploits as a couple and their artistic works, they had a troubled relationship that would last for the rest of their lives. We like to remember them at the peak of the roaring 20s from which F. Scott drew so much inspiration in his novels and short stories.

When you're a flapper you will always want to look glamorous, just like the real flappers did back in the 20s. The key to getting the perfect photo with your freinds is striking the perfect pose! For a flapper, the perfect pose is being a little flirty, in the middle of a dance move, and definitely using your accessories to your advatnage. These are just a few ideas to make the most of your costume and make your party photos truly the cat's meow!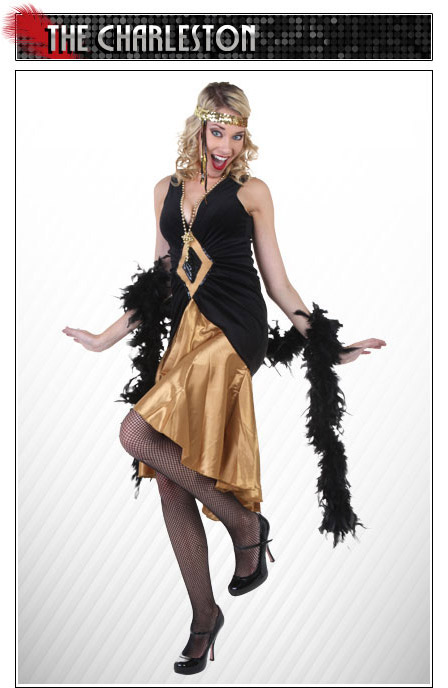 | | |
| --- | --- |
| Lift your leg up as if you're doing a walking motion, and then put your hands out! It's like you're about to cut a rug doing the Charleston. | This elegant pose makes it look as if you're about to belt out a beautiful song in one of New York City's infamous speakeasies. |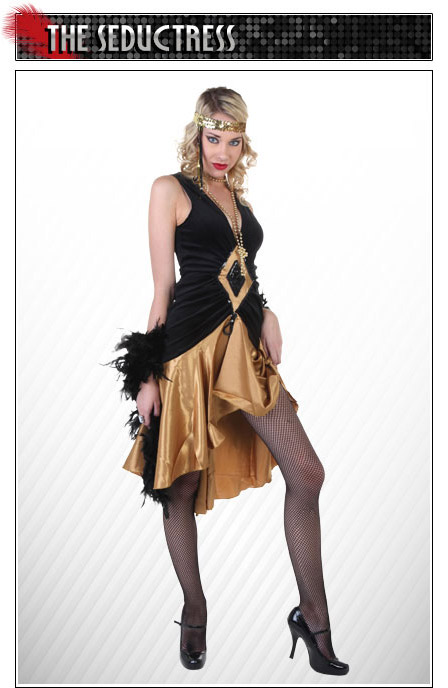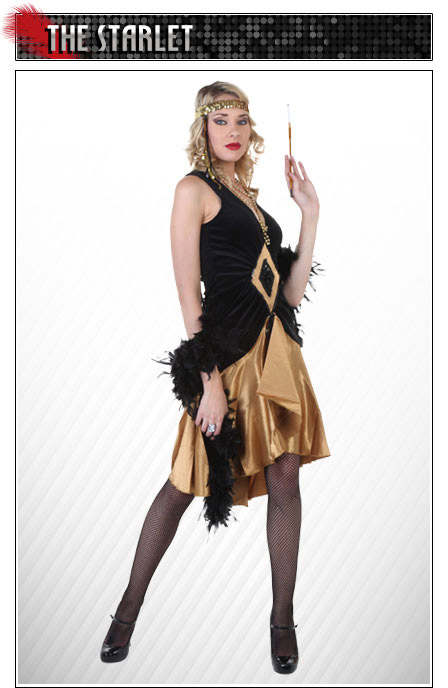 | | |
| --- | --- |
| Flappers were a a seductive bunch, and one way you can get that feeling into your photos this Halloween is by sticking your leg out and to the side and hike your skirt a little. Don't be surprised if you catch a gangster's eye with this one. | The starlet look has a lot of smoldering within it, and a whole lot of confidence. Give your best haughty look through your eyes and raise your cigarette holder. As if you're saying, "Excuse me, darling?" to a reporter's pressing question. |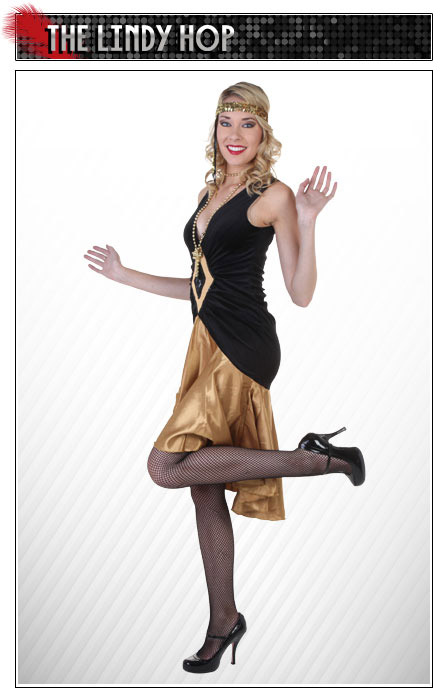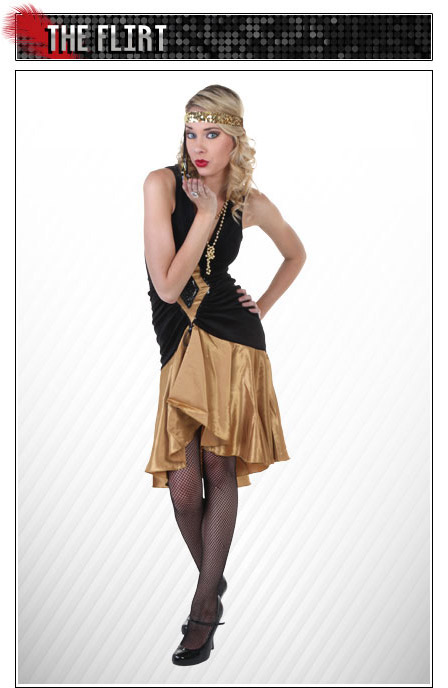 | | |
| --- | --- |
| Flappers loved to dance so any pose that looks like you're in the middle of cutting a rug is a great one. We like this one just because it's easy to do and has a lot of movement to it. Nobody has a beef with this chassis! | The flapper era was the beginning of the women's revolution in many ways, and being more adventurous and flirtatious was one of the ways they identified themselves as individuals. Blowing a kiss in your photographs is a fun way to communicate that. |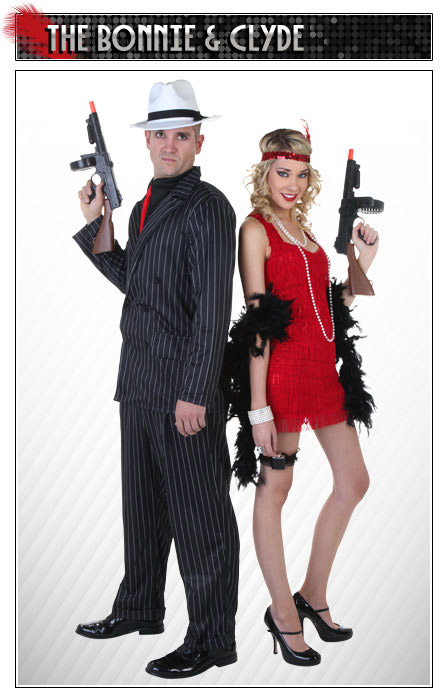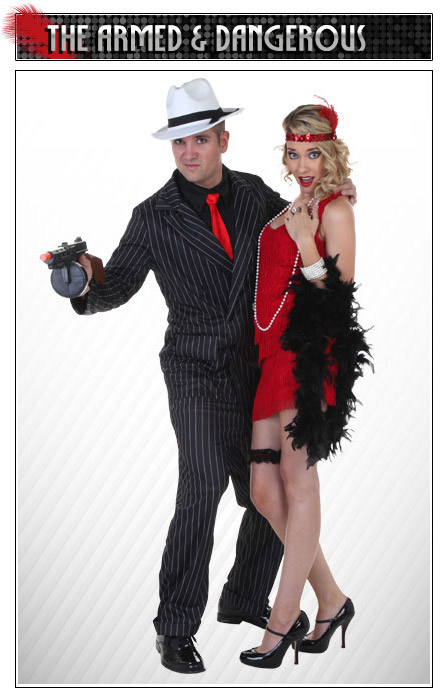 | | |
| --- | --- |
| Gangsters and flappers go together so well we also wanted to show some fun poses you can do with your guy or girl. This one here uses two tommy guns just like Bonnie and Clyde. | Carrying on with the armed and dangerous theme, we have the gangster fella here in a shootout with his girl at his side. "You'll never catch these two, coppas!" |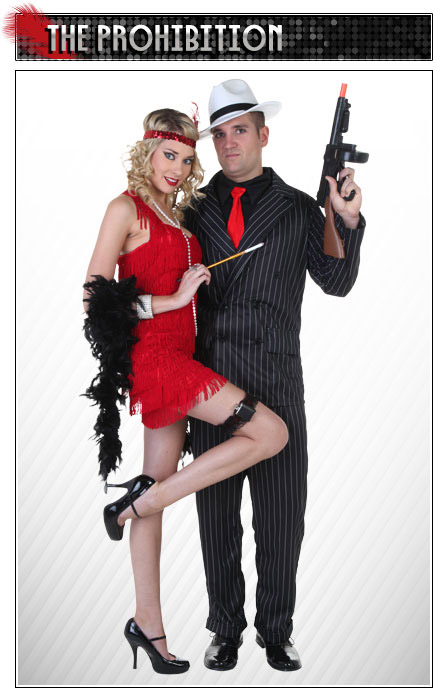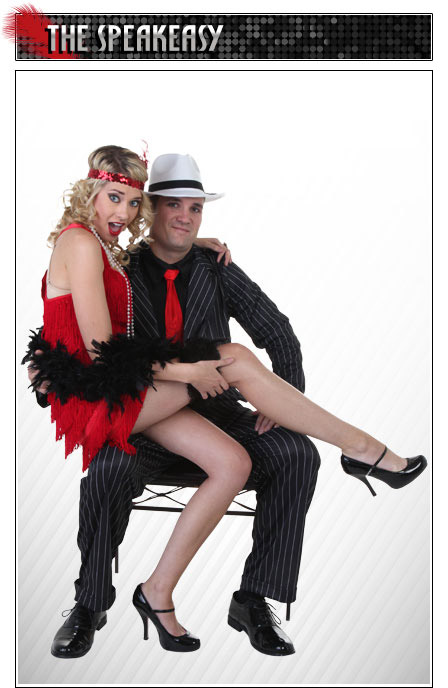 | | |
| --- | --- |
| Danger and seduction in one shot! The gangster is thinking of how he can take more territory, by force if necessary, and she is looking good thinking of how she can be successful as a dancer on Broadway. Together they sum up the intrigue and romanticism of the era! | Have a seat! We really like this pose because it looks casual, yet flirty and fun. Sit down on your guy's lap and stick your leg out. He'll support you, and if he looks smug that's because he just got a smuggled shipment of premium whiskey from Canada! |

The flapper era is known for being opulent and filled with glitz and glamour. The ritzy style was everywhere, from old Hollywood and broadway, to the stages of speakeasies and in the arms of gangsters. We pride ourselves on having the best flapper costumes in the industry, but if you really want to glimmer, you have to add some accessories! Not only do these help the costume really pop, they're actually historically accurate and just add that extra detail that sells the look. With these accessories you'll feel like you're in Atlantic City during the prohibition era, surrounded by gangsters and damsels!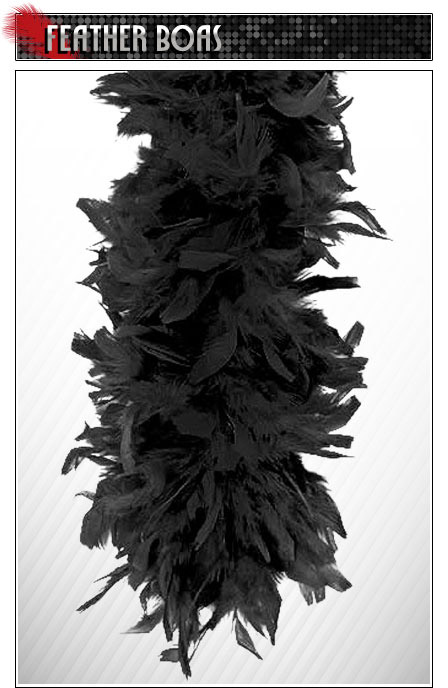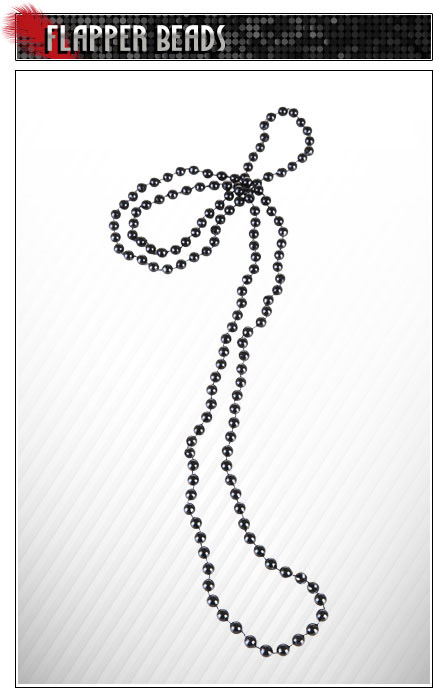 | | |
| --- | --- |
| One of the most ubiquitous accessories in the jazz era was the feathered boa. These were popular with can-can girls and stuck around as a signature item for the flapper. They're fun to hold or drape around the shoulders, and they look great when doing the Charleston. | A flapper without beads is a rare sight. They wore long beads of various colors. Part of this was for the glamourous look, but the other part was to have something moving as they moved, which added a kinetic feel as they danced. |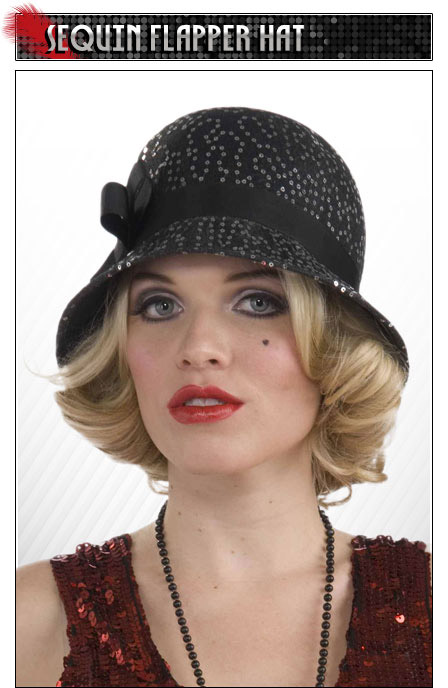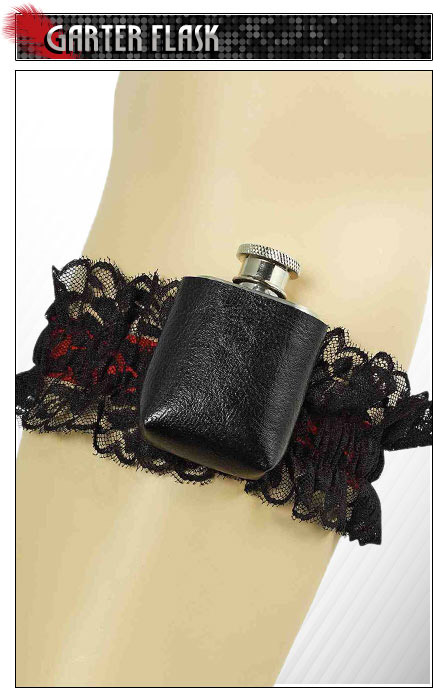 | | |
| --- | --- |
| The most popular hat of the day was a Cloche style hat. It was in a distinctive bell shape, and would often be adorned with bands, bows, and even more glamorous things like sequins. It's a quintessential addition to any flapper costume, especially for the after party. | The Jazz Age coinsided with the Prohibition of alcohol, and so the rise of speakeasies and organized crime was also part of the scene. If you went out for a night as a flapper, you'd have to keep a tiny flask on you that wouldn't get seen by any undercover police! This garter flask is perfect for just such an occasion. |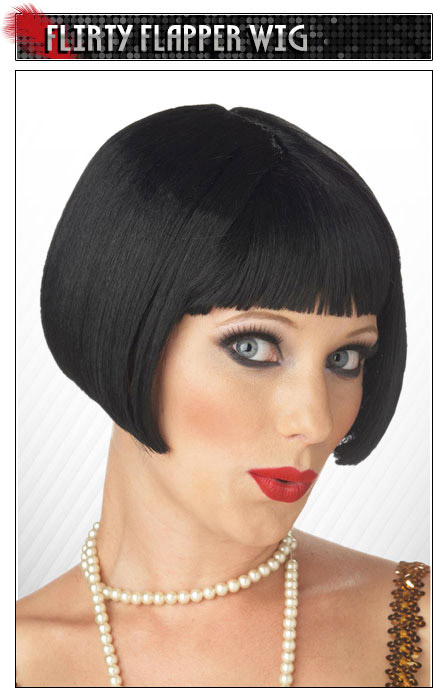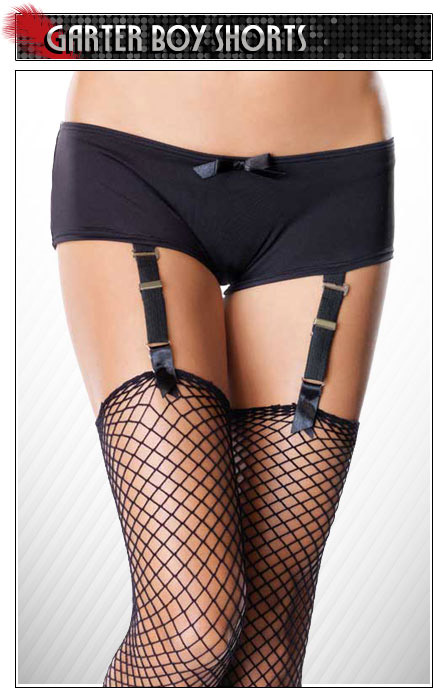 | | |
| --- | --- |
| The bob cut hairdo was a way for flappers to show that they're modern women and won't grow their hair traditionally long. Since not everyone still wants that look for keeps (althoguh we're a fan!) this wig is a great option for one night. | Another way of throwing of the traditional mores was wearing thing like garter belts and boy shorts under short, silky flapper skirts. They'd reveal just enough while doing the Jitterbug or pther popular dances to drive the Gangsters wild. |

You really don't want to get in one of those situations where someone starts speaking flapper slang and you don't know what they're even saying. For instance, if a flapper says, "Aww, applesauce, I've got the heebie-jeebies from all this hooch!" Most folks would raise an immediate eyebrow at this, (Which roughly translates as, "Oh boy, I've got the jitters from all this bootleg booze!) but you wouldn't if you spoke Jazz Baby. Flappers in the Roaring 20's had all kinds of new phrases and slang words that added to the freewheeling style of the era. If you're going in one of our flapper costumes, then you should not only walk the walk, but talk the talk! That's it, now you're on the trolley!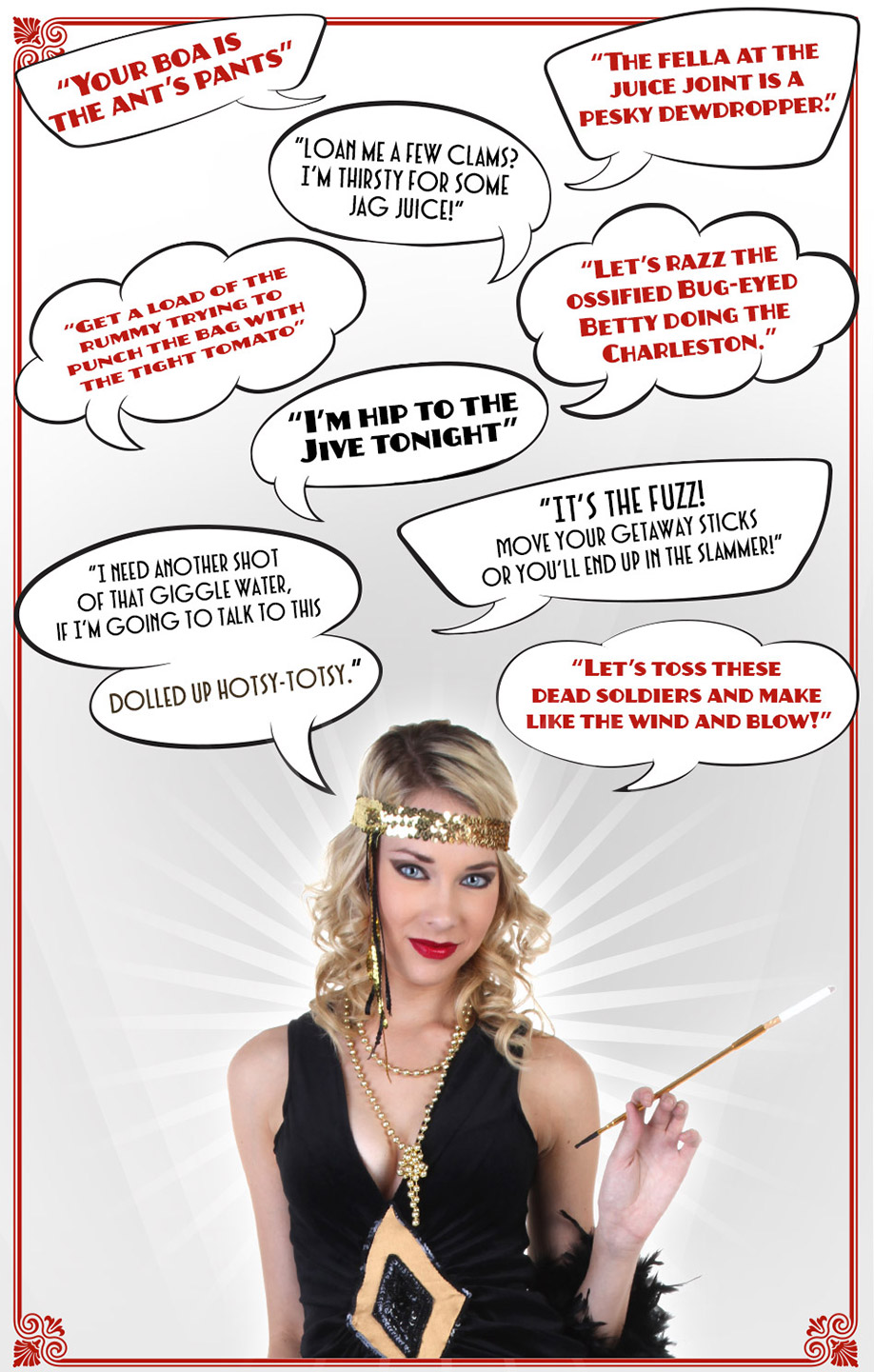 Here at HalloweenCostumes.com we love Flappers, and we love seeing unique takes on the look. Flappers are a great costume on their own, but when you make it look like it's from a black and white film, a zombie apocalypse in the jazz age, or a troubled flapper ghost that came to an unfortunate end... it's truly the bee's knees! These are just a few ideas we had that take the flapper look and turn it into something that is sure to turn all the heads in the speakeasy.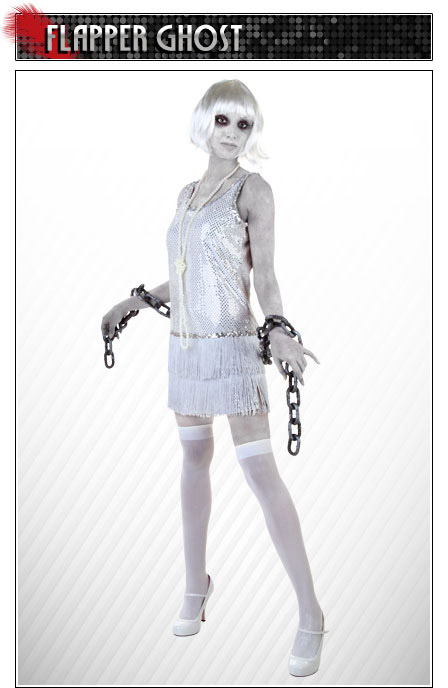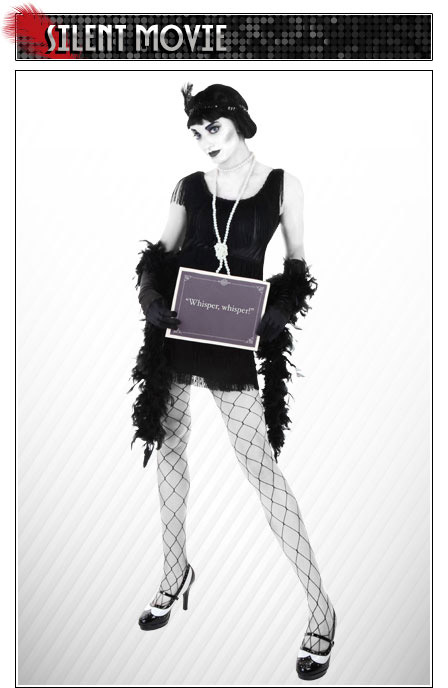 | | |
| --- | --- |
| Not all flappers made it out of the era unscathed. Unfortunately, some reached their demise long before their time. This look uses a silver flapper dress and splotched white paint and sunken dark eyes to get the ghost look. How'd she die? Nobody knows, but it may have been Jitterbugging to death. | Back in the twenties film was still young and still in black and white. Many of them weren't even talkies! If you want to look liek you stepped right off the silver screen, use our black flapper costume and accessories along with white paint to gain the effect. |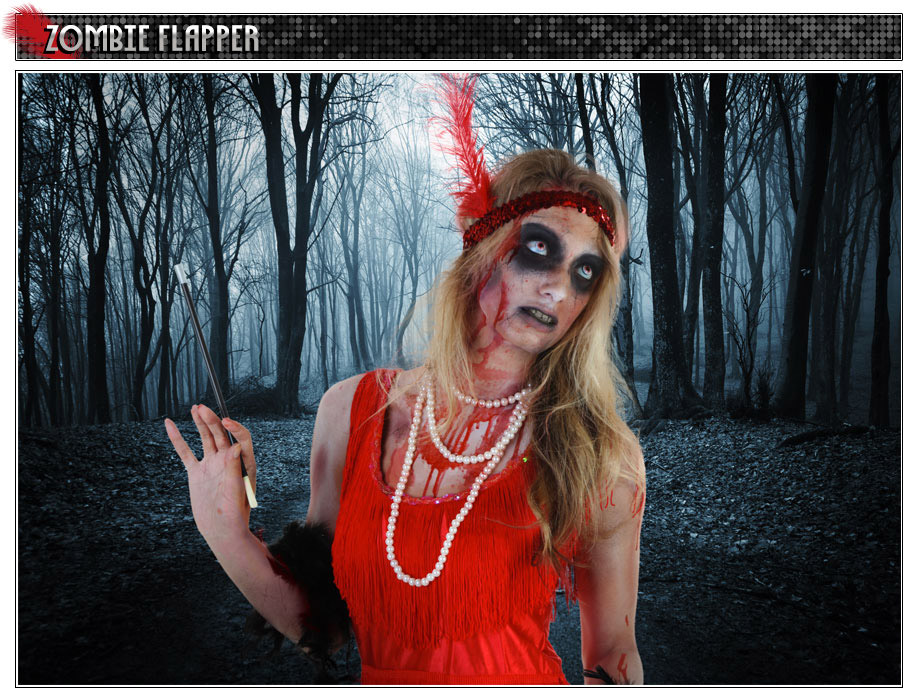 Last but not least is our zombie flapper! All you have to do with this one is bloody it up and get that dead look with some makeup. She came to an unfortunate end, but she'll be romaing the jazz-filled streets looking for brains... as well as an open juice joint.