Mouse Halloween Costume
If scary Halloween costumes aren't the goal. Perhaps you prefer a cheesy style? Maybe something like a mouse Halloween costume? As silly as they are sweet, a mouse costume really has it all and is more than capable of fitting into a variety of themes like mice through a hole in the wall.
Get ready to cheese it up this Halloween! Whether you want to channel the charm of Disney darlings like Mickey and Minnie or bring classic stories to life, our mouse costume collection is sure to leave you and yours squeaking with delight!
So, skip the maze of costume planning and catch the perfect mouse costume idea with help from the following mouse costume guide! From styles for tiny tots that'll turn them into the cuteness mice to onesies for impromptu playtimes, spooky Halloween tricks, and adorable group costumes, we'll lead you right where you need to be!
Baby Mouse Costume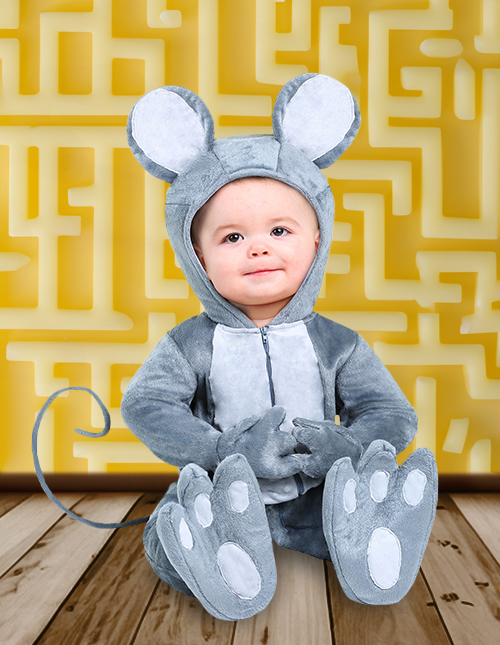 A baby wearing an animal costume is guaranteed to cause a cuteness overload. But a baby animal costume with big ears, a little tail, and your tiny human's bright eyes shining under its plush layers? We can't help but shriek at the idea! And whether planning a Three Blind Mice group costume or planning a mommy-and-me Cinderella theme, this Made By Us baby mouse costume available in our infant costume collection is a must!
Adult Mouse Costume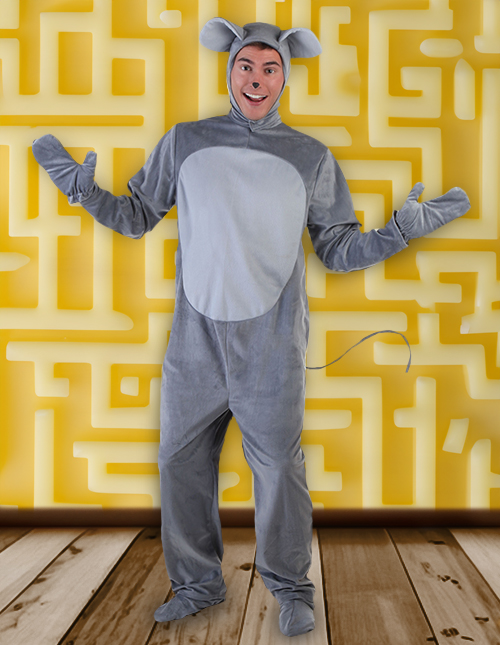 From too cute to terrifying, adult mouse costumes really do run the wheel! If you're going for versatility on the sweet to scary spectrum, our exclusive standard or plus size mouse costume is ready to perform! Charm fellow mouse fans with the costume's soft ears and playful tail and spook those that prefer mice stay in their fields with the same ensemble. Or clear up which side of the mouse debate you're on with our sewer rat and Ratatouille Remy!
Toddler Mouse Costume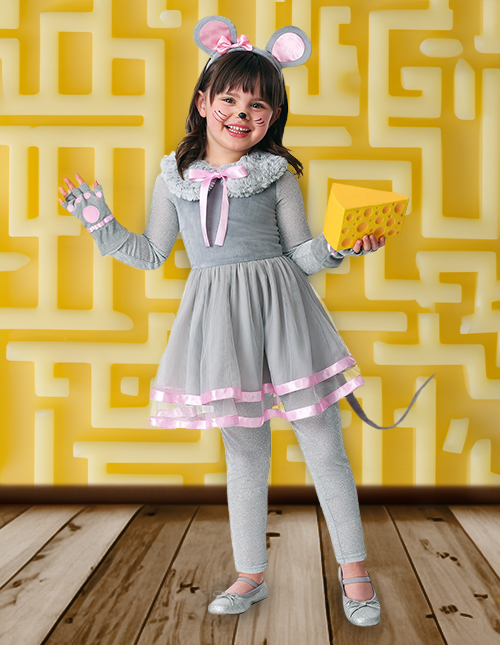 Babies are undeniably cute dressed as mice. But toddlers bring the little critters squeaking to life! If your tot is always scurrying into adventure, nibbling snuck snacks, and acting out nursery rhymes, they're sure to love a mouse costume! Like all our toddler costumes, this exclusive mouse costume dress is great for playtime, trick-or-treat, and beyond. With its flouncy, layered skirt and whimsical detailing, your kiddo is ready to give dress-up a twirl!
Means Girl's Mouse Costume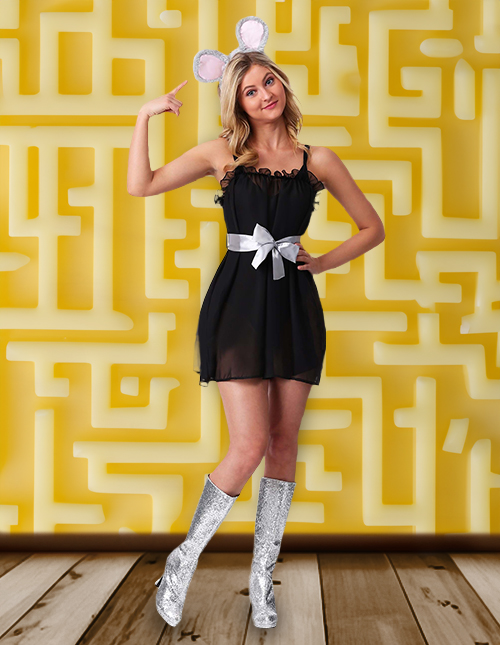 We can thank movies for mice being Halloween costume favorites. But where the Princess Bride R.O.U.S. gives spooky-silly as a pet costume and Disney's Gus steals hearts in any size, Mean Girls' Karen Smith wrote the Burn Book on mouse styles as funny and sexy. And whether going for allure or humor, our Karen Smith mouse dress is the obvious pick! Pair with Mean Girls costumes for a good time more certain than Karen's weather predictions.
Mouse Costume Accessories
With your mouse Halloween costumes picked you're ready for a taste of the cheese and charm of sporting big ears and wiggly noses. But from spontaneous playtime dress-ups to dazzling DIYs, our collection of mouse costume accessories is a must-see!
Grow adorable whiskers and velvety ears. Sprout a tail or expert sniffer when you scurry into the shop now. Or take a peek at the following guide to learn how these mousey essentials and our larger accessory collection can make Mickey Mouse and field mouse costumes sneak into your list of all-time favorite ensembles!
Mouse Nose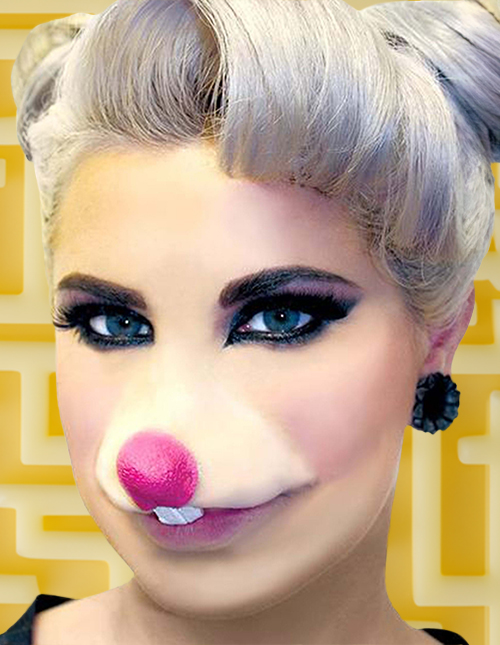 Unless you pick a mouse costume with a soft-sculpted hood, it's your schnoz left to bring the wiggle. But if you haven't mastered nostril twitching, our selection of noses can help ensure your muzzle stays perfectly prominent! Go realistic with a latex mouse nose from our special effects makeup selection. Or choose a playful appearance with plush mouse noses available in our quick-and-easy costume accessory kits!
Mouse Hat
Leave it to Disney to give us a reason to wear a hat with our mouse ears. We thank them for giving us classic characters that are a blast to imitate and again for ensuring even the smallest characters have looks that inspire endless costume options! Sneak into an iconic role when you pair your favorite polka-dot outfit with this vintage Minnie Mouse flower hat. Or explore our full hat collection to dream up new styles for original and classic mouse characters!
Mouse Face Makeup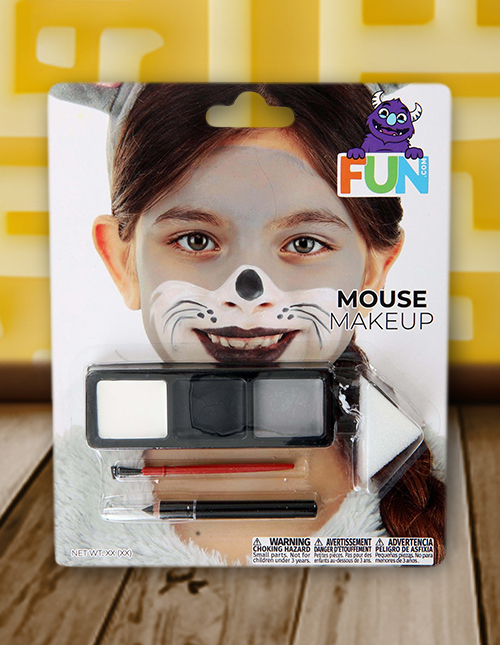 A small spot of black or pink base paint may be all you want for mouse makeup. And our makeup collection has that for you. But you'll also find things like our exclusive mouse makeup kit to help you create more elaborate styles. Use the all-inclusive makeup kit to create the darling style pictured, or dive into the makeup drawer for stencils, lashes, and lipsticks great for creating realistic and illustrative designs!
Cheese Prop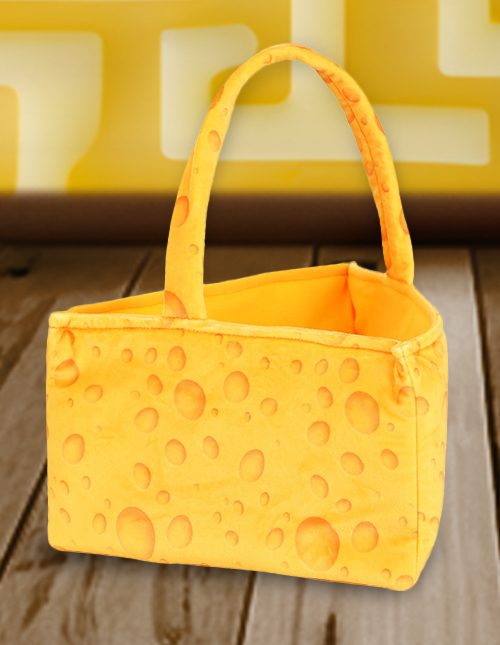 Props can bring subtle or spectacular detail to a costume. In this case, they can even bring the cheese! Whether taking things entirely seriously or looking for a silly extra for a mouse costume, this exclusive cheese tote is a great choice! Carry the essentials to your costume party without breaking character with a purse. Or ensure there are no holes in your kiddo's Halloween costume when you employ the versatile accessory as a trick-or-treat bag!