Halloween Makeup Tutorials
Finding the right costume is only half the battle. A full Halloween transformation isn't successful unless others mistake you for someone else. Altering facial features to better imitate a character or pop culture figure is a costume-must and can be done easily by using professional Halloween makeup kits. It's a more artistic approach than shielding your face with a mask and allows for better personalization. Embrace creativity and let your artistry shine through! We certainly do our best to share tips and tricks when making a new Halloween makeup tutorial.
We've gained a lot of experience with Halloween makeup over the years and we've gathered some of our most popular Halloween makeup tutorial videos for you. In the Love Your Look section you'll learn how to create convincing zombie Halloween makeup and be taught easy makeup techniques as well. We also suggest the best costume makeup products and cosmetics throughout the page so no matter who you're dressed as, you'll look as authentic as possible!
Halloween Makeup Ideas
We're sharing even more Halloween makeup ideas to maximize your costume experience. All of our Halloween face makeup is safe, easy to apply, and washes off simply with makeup remover or just soap and warm water. Make sure to take plenty of close-up photos so everyone can see the intricate detailing and overall incredible transformation. Peruse over the images of needed utensils, the completed makeup photo and brief application instructions, and the costume contest trophy will be yours before you can say, "Trick or Treat!"
Pretty Halloween Makeup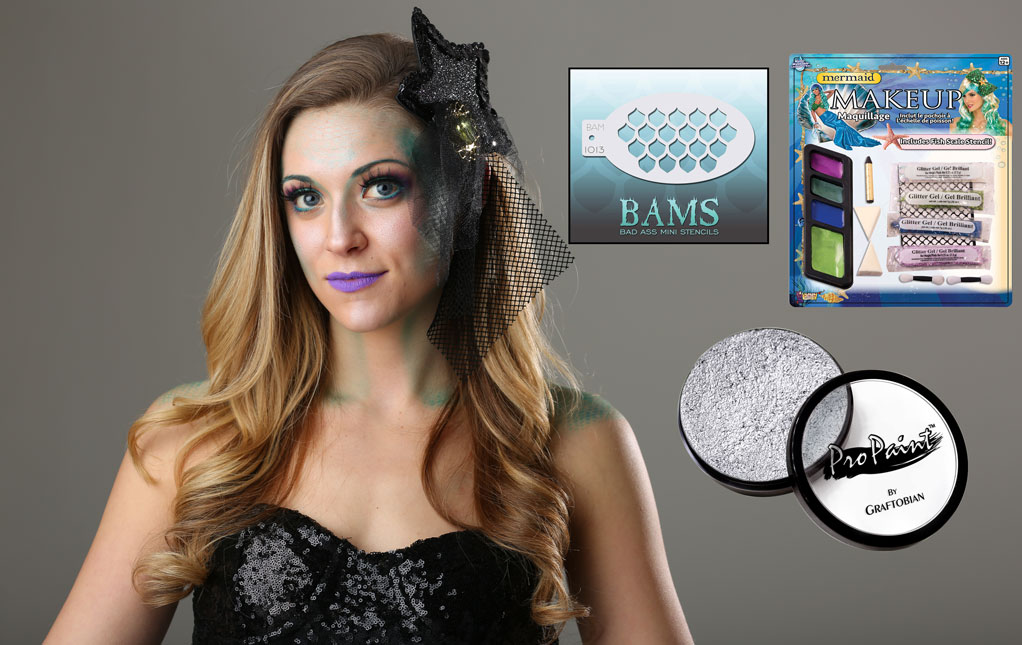 Make waves with your mermaid costume by accentuating iridescent scales with pretty Halloween makeup to elevate your mystifying appearance. Conveniently, we have a Halloween makeup kit perfect for creating a sea siren look. Bright colored face makeup and glitter combine to form an enchanting appearance that catches the eye of many. For the ultimate special touch, purchase the handy mermaid stencil and deluxe silver makeup to create glimmering scales on the forehead and around the sides of the face. Pro tip: the more glitter, jewels and gems applied, the better. Use your creativity as much as possible! Find all the shimmering mermaid accessories–makeup, wigs, and jewelry–needed to make a splash right here.
Halloween Witch Makeup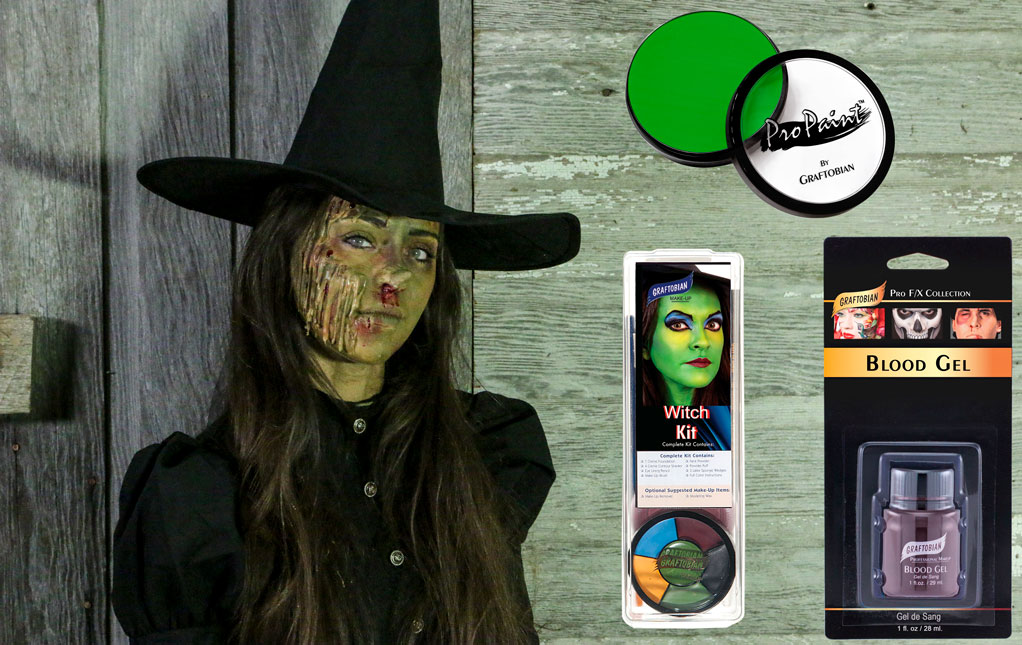 Get a spellbinding look without using a wand- but maybe just a makeup sponge or two! Hone your traditional all-black witch dress by accompanying it with a full-face of Halloween witch makeup. Gorgeously green with slightly scary features (like melting skin), our Halloween makeup kits come with everything needed so you have the classic appearance of a storybook witch. Apply green face makeup from forehead to neck. Create dimension by adding yellow around the hollows of the eye. It's your choice how terrifying you want to seem. If looking extra-eerie is the ultimate goal, take blood gel and mix streaks of blood into freshly applied emerald-colored skin to create the melting illusion. Just practice your most convincing cackle to invoke a state of panic.
Deer Halloween Makeup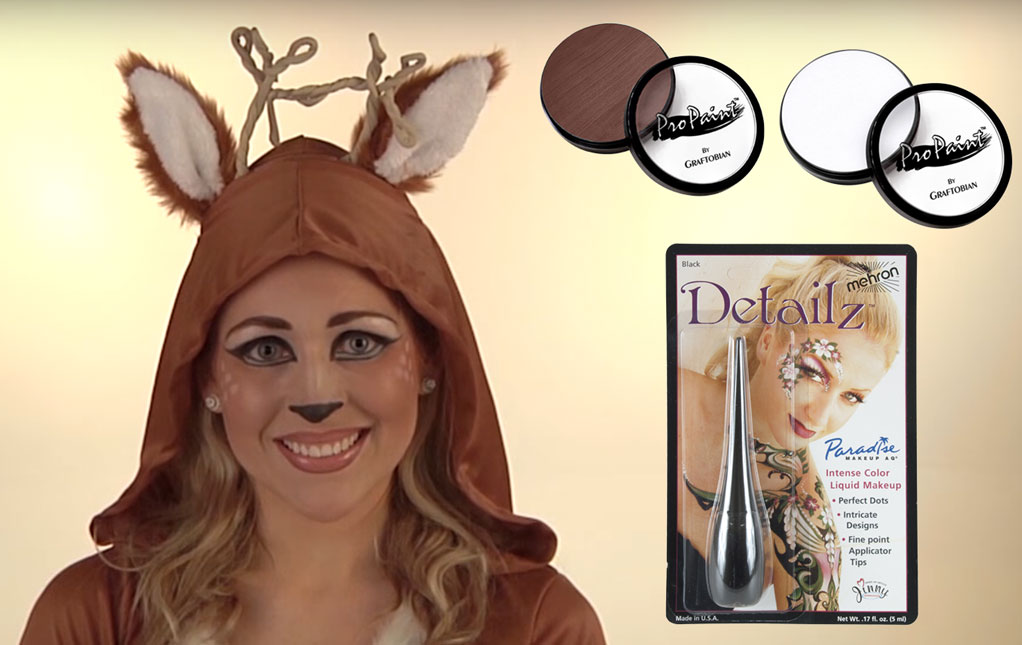 Walking on the wild side by donning an animal costume is always a great Halloween option and our selection of a-doe-able deer costumes are a hit among fashionistas and trendsetters alike. Offset the faux fur costume with an application of deer Halloween makeup. Take the brown cream makeup and apply it to cheek bones, hollows of eyes and edges of the face; just a touch will do. Remember, meticulous blending is the key. Next, grab the white makeup and a brush and create a cluster of circles on both cheeks. Now, it's time to make your eyes pop by applying black liquid eyeliner. Steady your hand and create a winged shape at the outer corner of each eye. Your eyes will magically look bigger. Finally, take black makeup and dab it on the tip of the nose. This can easily be thought of as a sexy Halloween makeup look by applying long fake eyelashes to the lids.
Halloween Cat Makeup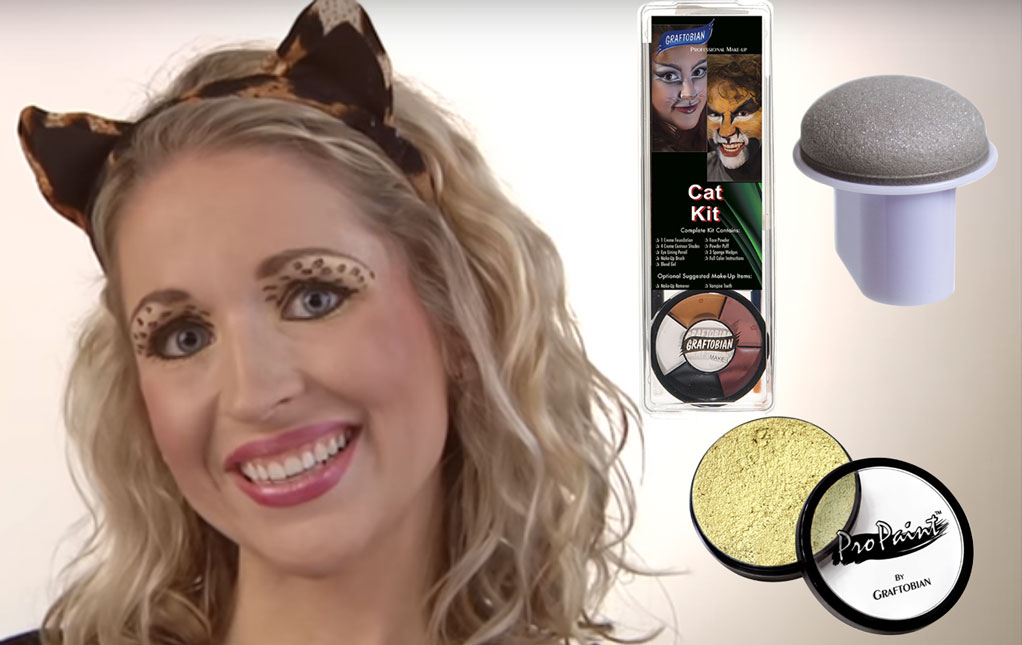 Want a surefire way to be 'feline' fine in your cat costume? Just add cat makeup for Halloween to compliment the pointy ears and curly tail. If you want to do your own cat face makeup, we put together a cat Halloween makeup tutorial. It's simple and only involves a couple of products that will come in handy for a multidute of costume makeup ideas. Dust a generous coating of deluxe gold makeup on the brow bone and both eyelids. This achieves a holographic effect that shimmers and shines in the light. Now, it's time to create the cat eye makeup to draw attention to those lovely eyes! Line upper lids and extend the line past the outer corners for a winged effect. Add small black dots to the brow bone for a spotted appearance. Our convenient cat makeup kit is an effortless way to get everything needed in one convenient package. This Halloween makeup kit comes with a sponge, a cream makeup wheel, eyeliner, face powder, and a paintbrush.
Vampire Halloween Makeup
Look great as a centuries-old vampire by picking up this professional Halloween makeup kit. Perfect for getting the classic bloodsucker look pictured here, this kit comes with vampire teeth, blood, and white face makeup. Apply white makeup all over the face until you can't see your skin poking through. The more opaque, the better! Grab your blood makeup and add a drop near the corner of one side of the mouth to make it appear like you've just finished feasting on a tasty snack. Finish the Halloween vampire makeup by adding a black wig.
Sugar Skull Halloween Makeup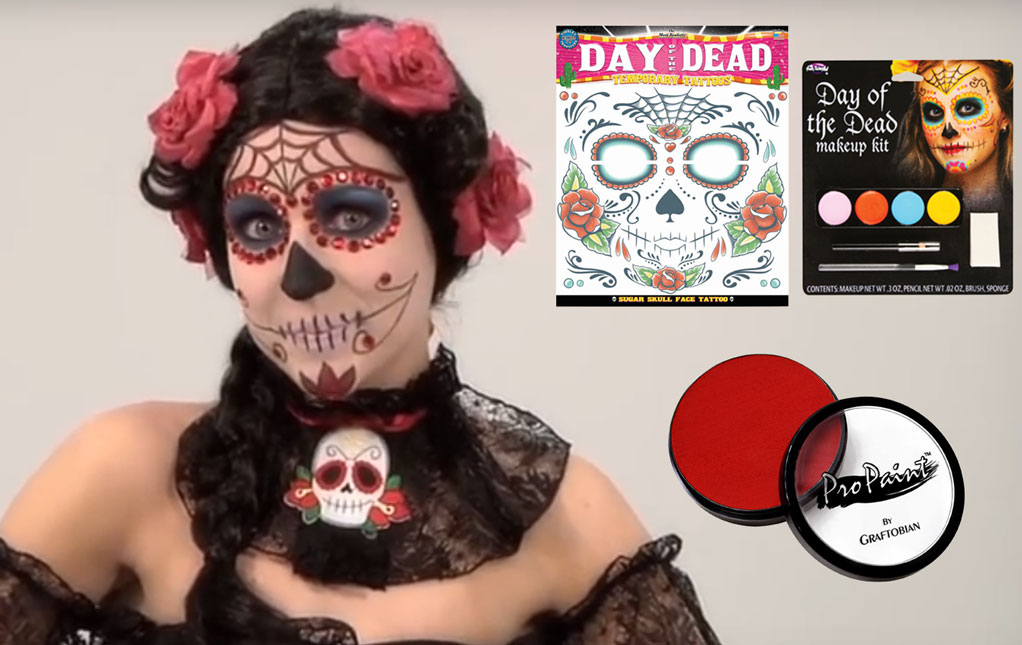 Sugar skull makeup is so popular because it mixes creepy with beautiful. Recreate the Halloween eye makeup by layering the lid in blue makeup. We have a Halloween makeup kit that comes with everything needed; pink, red, blue, and yellow face paint is all included, as well as eyeliner, a paintbrush, and a sponge. If you're feeling reluctant to draw intricate markings on the face, like a spider web and flower, then there's a simple solution to create the desired look. Our easy-to-use sugar skull temporary tattoo creates an exquisite makeup application that's transfers to the face with water and can be easily removed with rubbing alcohol. Top the look off with a floral headpiece and you're set to celebrate the Day of the Dead!
Halloween Skeleton Makeup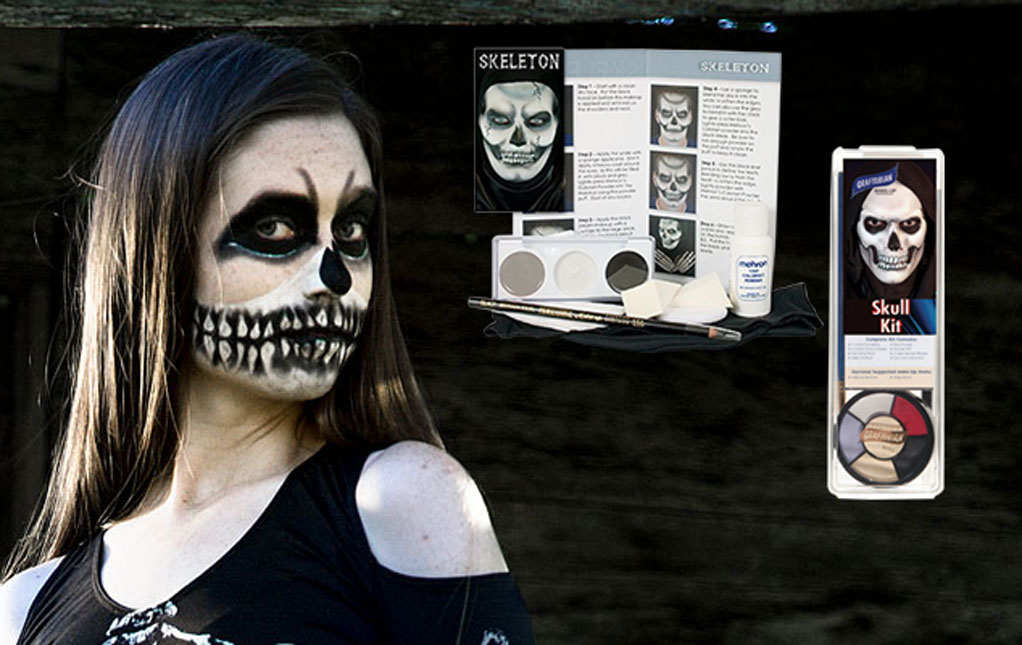 Committing to skull makeup may seem challenging because of all the small details and intricate lines but our skeleton makeup kit comes with step-by-step instructions to make it all very simple. You'll learn how to perfect the shadows and where to contour. In the deluxe scary Halloween makeup kit, a small paintbrush is included to help plot out the rows of teeth. Browse our skeleton costumes and accessories to complete the spooktacular look!