Gangster Costumes
The gangsters of the 1920s have a way of capturing our sense of rebellion and danger, despite their desire to undercut the long arm of the law. Much like the sailing pirates of the 1700s and even historical thieves such as Robin Hood, we still romanticize the scrappy outlaw.
It's why the idea of dressing up like Bonnie and Clyde, or like Al Capone, is still to appealing today. This guide is here to help you choose gangster costumes for you and your friends, so you can bring a bit of the 1920s outlaw attitude to Halloween or your next costume party.
Gangster Halloween Costumes
Well, it all comes down to this! Selecting your gangster Halloween costume isn't always easy, since you really have to decide what kind of "criminal" you'd like to portray yourself as. Just look at all the real-life criminals of the 1920s.
Each of them had a specialization! Machine Gun Kelly made a name for himself as a bank robber, who received his first Tommy Gun from his wife Kathryn Thorpe (aww, true love). John Dillinger went so far as to rob police stations, redefining what it truly means to "fight the law". Of course, Al Capone thought much bigger. The term Mob Boss is practically synonymous with Al Capone, since he used his wits to gain control of the criminal underworld.
So, part of choosing your look means figuring out which mobster style is right for you! These gangster costumes for men cover everything from the tough guy thug to a thrill-seeking bank robber, or to the brilliant mob boss who runs the city. We've laid our a few of our top gangster costumes that will truly show your 1920's mens fashion style.
Mobster Costume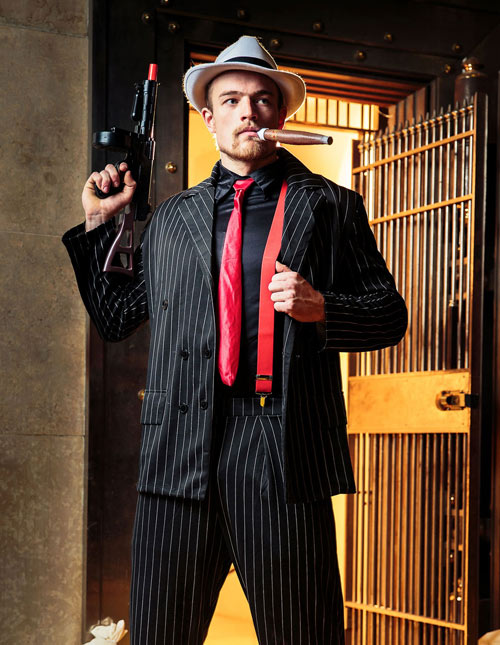 Al Capone grabbed hold of Chicago's underground scene and started running it all like his own personal business. He also wasn't afraid of getting his own hands a little dirty in the process. If you've got some big ideas and you want to be the one calling the shots, then you might want to consider this mobster costume as you take on the role of an outlaw with a vision. It's a classic look that's great for any kind of 20s gangster you might want to dress up as, from Capone to crony!
20s Gangster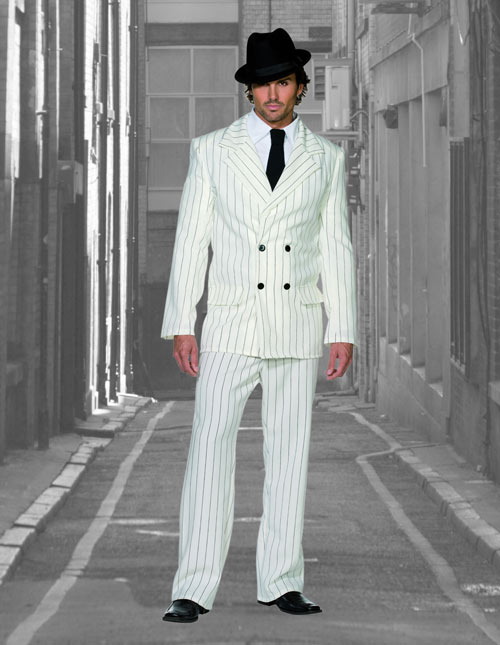 You have to give it to those mobsters of the 1920s, because they had some serious class. Part of being a member of the gangs back then was about flaunting their wealth, even if it wasn't legally obtained. If you were headed out to rob a bank, you wanted make sure you looked like a dashing rogue when you got there, which is why something like this 20s gangster costume wasn't out of the question when popping into the local bank vault to secure your fortunes.
Gangster Costume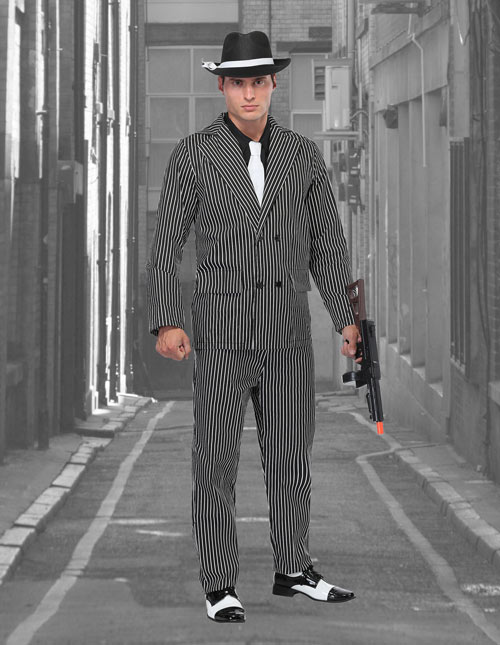 Sometimes, being the boss is tough. Sure, it looks snazzy giving out orders to all your goons, but all the cops are gunning for you and your every move is under complete scrutiny. Maybe it's just better to be a hired thug for the boss. After all, if you serve the big boss well, he's sure to reward you quite well and you can slip under the radar with ease.
This pin stripe gangster costume is a classic look that won't draw too much attention from the coppers and they'll never suspect you of being the boss of the criminal underground!
Mafia Costume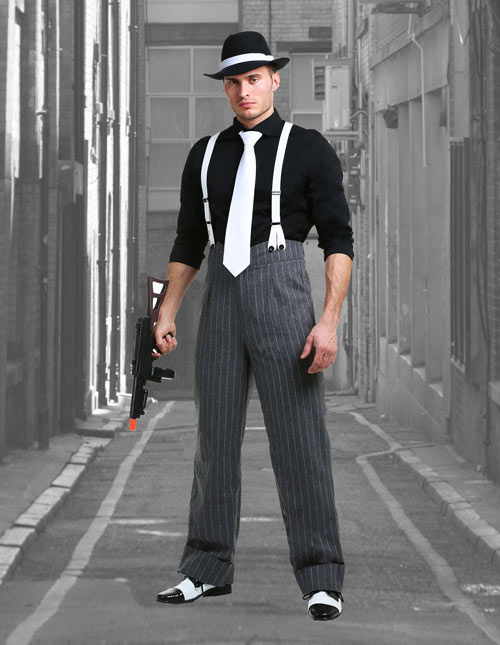 If you are bold enough to take on the role of mafia boss, then you need a look that's as stylish as it is tough. You need to show those scruffy thugs that you run the show and you're not afraid to roll up your sleeves when they get out of line. You need this Mafia costume. It comes with all the equipment needed to become a bare bones kind of underboss who's not going to take any guff from anyone.
Women's Gangster Costumes
Don't think for a minute that only men were playing the role of outlaw in the 1920s. Plenty of women laughed in the face of the police with their wild crime streaks.
Perhaps you can model your own look after one of the deadly women gangsters! Bonnie Parker robbed banks with her guy, Clyde. Helen Gillis got on the list of Public Enemies, along with her husband Baby Face Nelson. Ma Barker led her family on a crime spree which led J. Edgar Hoover to even describe her as "the most vicious, dangerous and resourceful criminal brain of the last decade". Those are some strong words coming from the then Director of the FBI!
Well, whether you're looking to lead or you just need a 20s look to feel a little more like an outlaw, these women's gangster costumes should have you feeling like a true renegade!
Sexy Gangster Costume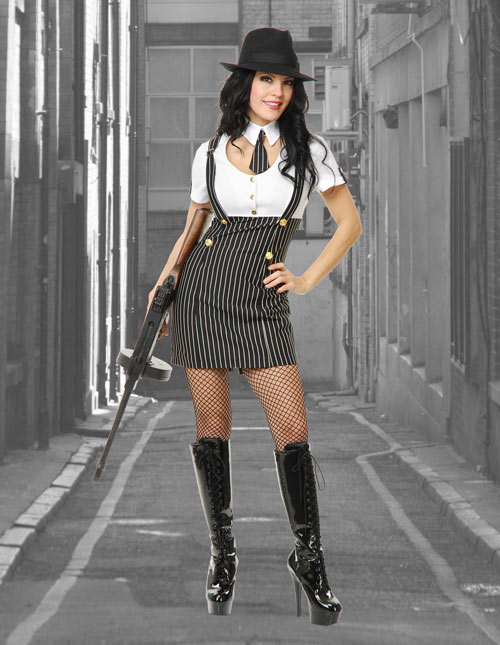 If you're not in the mood to get a historically accurate gangster costume, then you have a little more room to play with your look. This means you can wear something like this sexy gangster costume. This look puts a sultry spin on the iconic look from the 20s. You still get the pinstripes style with a fairly classic blouse-style top. It shows a little more skin than a mobster gal might have back in the 1920s, but it certainly turns you into the MVP of your gang.
Women's Gangster Costume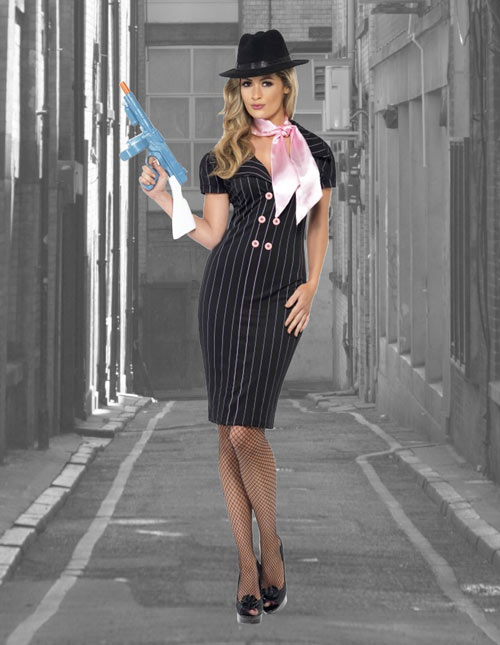 You have to pack a lot of attitude if you want to be a 1920s gangster girl. In the 1920s, guys were trying to monopolize the organized crime game. The good news is that this womens gangster costume is chock full of attitude. From its modern cut, to its pinstripe patterns, this is exactly the kind of wear you want to take with you to the next heist… or 1920s themed costume party.
Women's Gangster Suit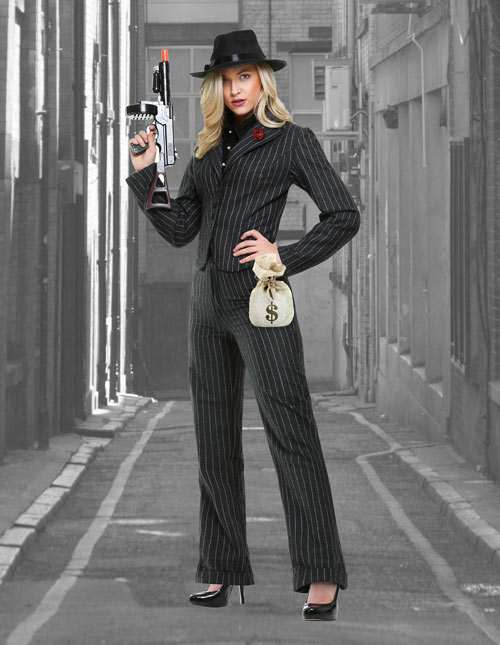 Perhaps you're looking for more of a "power suit". And we're not talking your run-of-the-mill business suit. We're talking the kind of suit that tells your underlings that you're the woman in charge here. Although it wasn't actually all that common for women to wear suits in the 1920s, we think it's probably okay to flub a little bit of the history up when you wear something as fierce as this womens gangster suit.
Women's Black Gangster Suit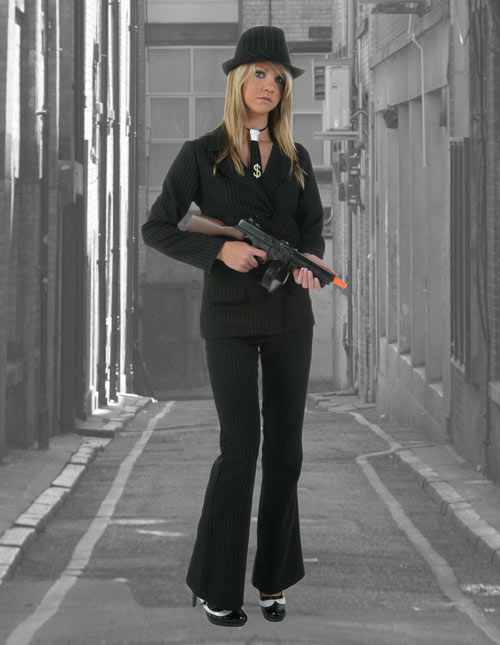 Walking the line between cute and intimidating isn't easy. Maybe you want your gang to know that you're the boss, but you also don't want to be stuck wearing a straight forward suit like some of the guys do. That's where something like this women's black gangster suit comes into play. It takes inspiration from the vintage suits from the 1920s, but it also adds a unique modern style that will help you assert your leadership.
Zoot Suits
The gangsters of the 1920s certainly weren't interested in being low key! After all, if you plan on working hard in a dangerous line of business, you might as well play hard too!
Of course, zoot suits were actually most prominent in the late 1930s and 1940s when heavy hitting jazz stars like Cab Calloway wore them. Today, the suit still gets tied to the outlaw lifestyle of 1920s gangsters, even if it's not entirely historically accurate. You can craft your own gangster style by donning one of these zoot suits.
Black Zoot Suit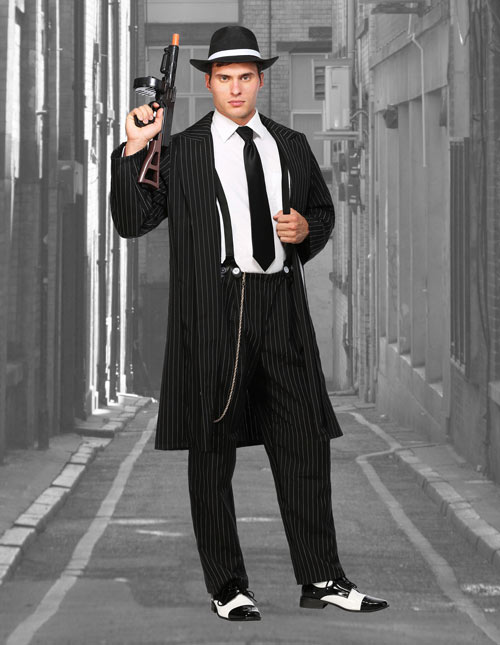 A classic black zoot suit is truly the start of any good gangster costume. Pinstripes and a loose fit make it a loud and daring look for any man trying to outrun the law. Of course, you need to pair it with a hat (usually a fedora-style one) and a pair of black saddle shoes if you want the true style of a mobster.
Red Zoot Suit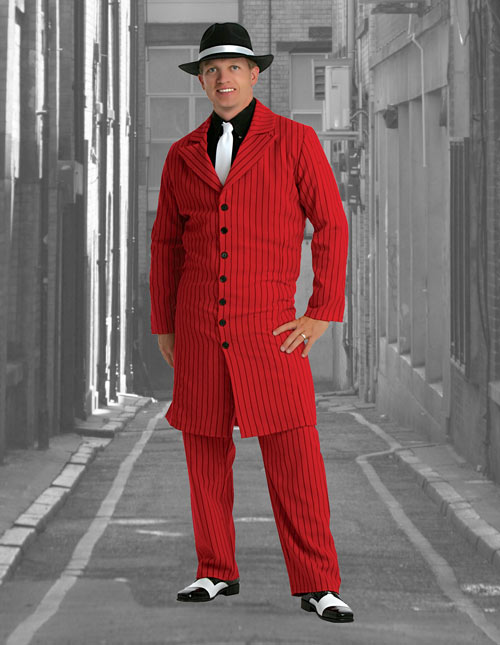 Black may be the classic look, but it's certainly not the only way to go when setting up your own zoot suit style. This red zoot suit has all of the pinstripe style of the black one with a bright color that's truly eye-catching. The costume not only works as a great mobster costume; it also works wonders if you plan on being a jazzy big bad wolf this year.
1920s Fashion
Maybe you have a vision in your head of what your ideal 1920s gangster outfit looks like, but none of the gangster costumes you've seen to this point really do the job. Well, you can always piece together your own costume using some knowledge of 1920s fashion to guide you. Here, we have several pieces that highlight specific looks that were popular in the 1920s.
Fedora Hat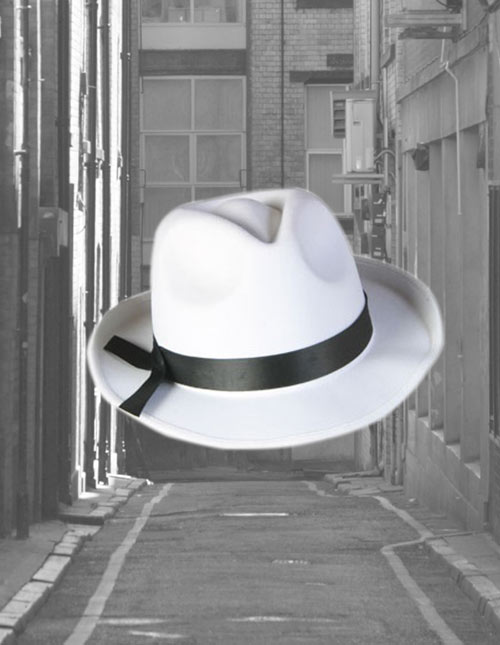 It seems like every new age brings with it a hat that rises to the top… literally! Just look at the extensive selection of hats and you can see a long history of different headpieces displayed before you. These days, the baseball cap is the standard piece of apparel to wear on your head, but back in the 20s, the fedora hat was where it's at.
If you plan on being a gangster that's in full fashion, then you're going to want a fancy hat to finish off the look and nothing fits that bill quite like this humble fedora hat. You definitely want one if you plan on playing the role of a mob boss.
Yellow Detective Jacket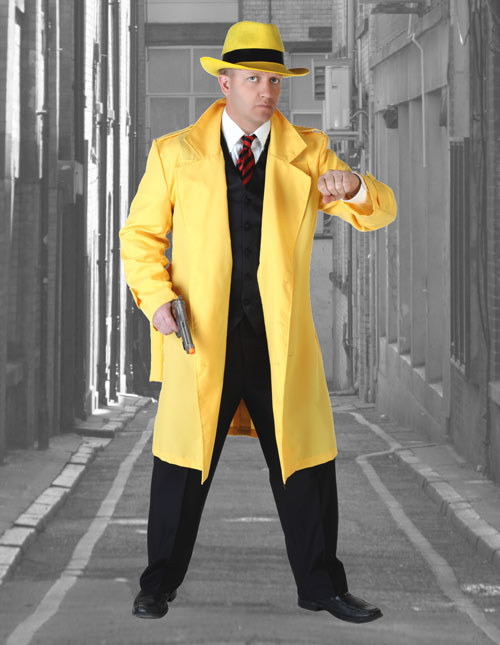 Comics raged in popularity between the 1920s and 1930s and Dick Tracy began its run in 1931. Before superheroes like Superman and Batman filled every comic book from here to Timbuktu, readers loved to take in the adventures of Dick Tracy, a hard edged detective whose job it was to hunt down all the dirty gangsters of the era.
He had some pretty advanced gadgets, making him more than just your run-of-the-mill kind of police officer. Although a yellow jacket wasn't the norm for 20s fashion, it did certainly make him stand out during his daring adventures.
Roaring 20s Deluxe Pants
20s style pants were known for a number of different features. First and most prominently, the usually had a high waist. They were also often held up by suspenders and usually featured a cuff at the bottom of each pant leg. Some gangsters may have even adopted this style during their days as dangerous criminals.
You might notice that men in shows like Peaky Blinders often wear this style of pants, which seems to be a precursor to some of the trouser styles in the 1920s. These roaring 20s deluxe pants help give you that style when designing your own classy gangster style.
Jay Gatsby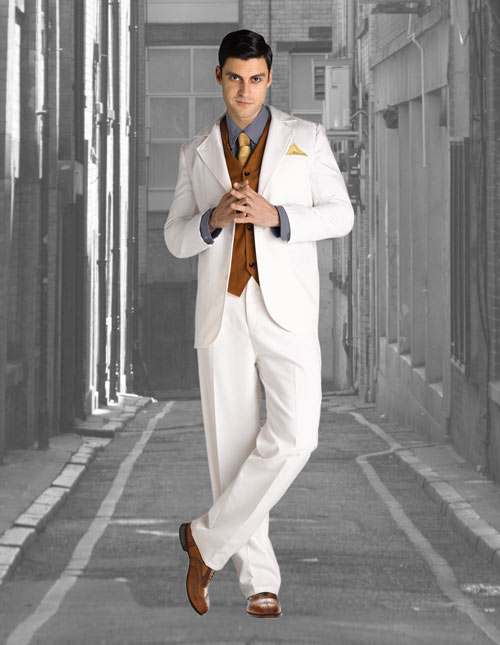 No modern work of fiction pays homage to 20s culture quite like The Great Gatsby. Perhaps that's because F. Scott Fitzgerald published it back in 1925. Jay Gatsby himself was a bootlegger—a guy just looking to carve out a place for himself in the high class society of the time. Unfortunately, finding fortune within the confines of the law was near impossible, so he turned to the life of being a gangster.
This Jay Gatsby costume is one of our many exclusive costumes and it's based on the 2013 film. This costume is the culmination of 20s style if you're searching for a look that's a bit more realistic.