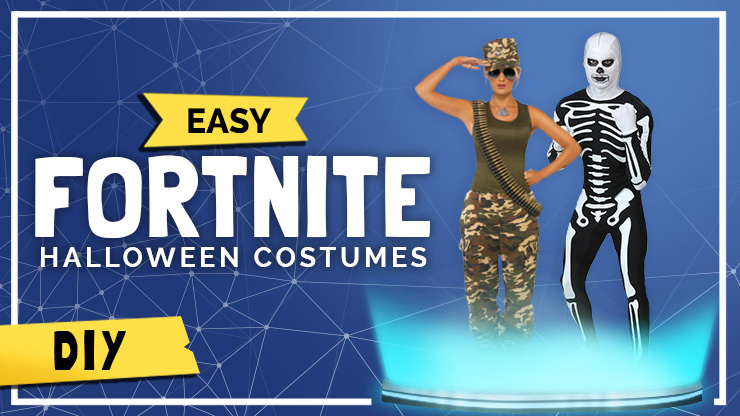 Fortnite fever is taking the world by storm, and fans of this viral video game are looking for ways to dress like their favorite Fortnite skins for Halloween and conventions. If you don't happen to know what a "skin" is, it is an item you can obtain via rewards or purchase to change your character's appearance. Most of the skins are pretty sweet, but some of them are fairly complicated such as Raven and the Leviathan skins. We do have several ready-made Fortnite costumes available. However, we can walk you through several Fortnite costumes that you can easily piece together and feel battle royale ready!
The Reaper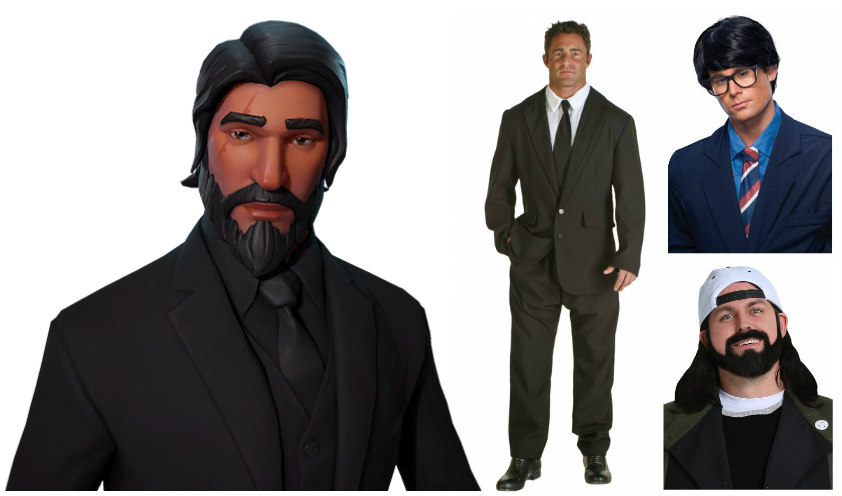 The Reaper Fortnite skin is otherwise known as the John Wick skin. It is a legendary Fortnite skin that gives a nod to the John Wick movie franchise. This look is fairly easy to duplicate by pairing a black suit with a black dress shirt. You might also want to procure a wig and some facial hair to complete the look. (We suggest using this black reporter wig and the Silent Bob wig and beard kit.) Everybody loves a sharp dressed man!
Scoundrel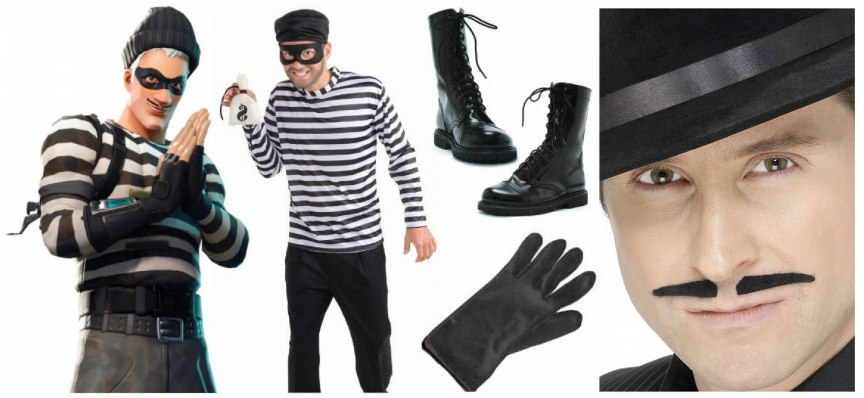 Fortnite's Scoundrel skin is an epic skin that can be purchased from the item shop. This item actually originated as a Reddit user submission along with the Rapscallion! In order to pull this look off, you can get a men's burglar costume kit, which includes the hat, mask and striped shirt. Wear this with your own black belt and pants (bonus points if you have black cargo pants) and pair it with a bandit mustache, black gloves and black lace-up combat boots. Cut the fingers off the gloves to achieve the fingerless look!
Rapscallion
Like the Scoundrel skin, the Rapscallion skin originated from a Reddit submission. You can use the men's burglar costume kit which comes with the mask, hat and shirt that you will need. If you want a more fitted striped shirt, you can try to alter the shirt from the costume kit or find one at a thrift shop. Wear this costume with black combat boots and fingerless motorcycle gloves. You will also want to wear your own black belt and pants or, if you can find them, dark gray and black camo pants.
Skull Trooper
The Skull Trooper skin is an epic holiday skin that can be obtained from the item shop in the months surrounding Halloween. If you think this skin looks a lot like the nameless thugs in the Karate Kid movie, you're not alone! (We think so, too.) To create the look of this Fortnite skeleton skin, pair a Karate Kid skeleton suit with some dog tags, black gloves, a pouched ninja belt, black boots and some skeleton face paint.
Rabbit Raider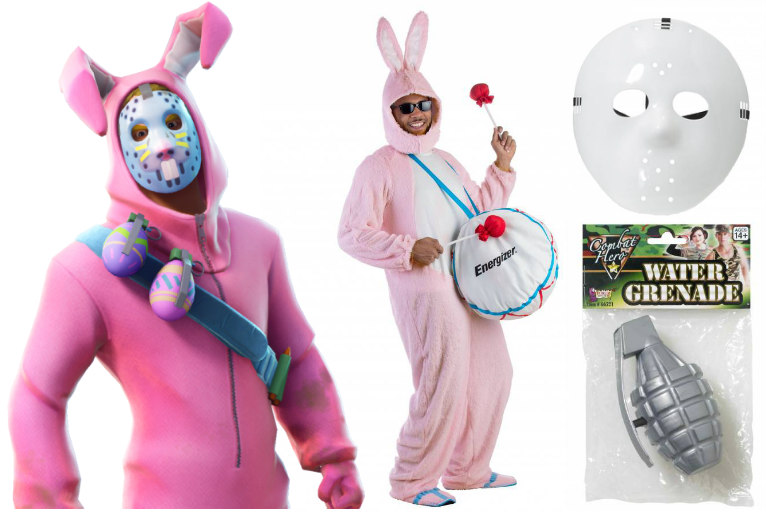 Here comes the Easter bunny! Okay, so it's not actually the Easter bunny, but the Rabbit Raider skin is a Fortnite Easter epic holiday skin. (If you're A Christmas Story junkie and you have a pair of pink bunny pajamas, you have a leg-up on this DIY costume already!) We suggest using the bunny suit from the Energizer bunny costume along with some grenades and a hockey mask. You will need to attach the grenades to a belt or luggage strap that can fit around your shoulders. The mask, grenades and belt should also be painted in pastel colors like the skin. If you can manage to find a pair, wear this costume with some pink bunny slippers!
Bunny Brawler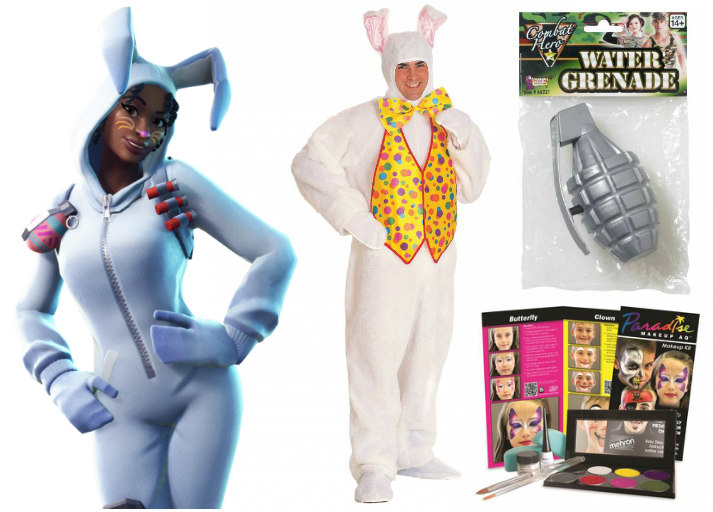 Just like the Rabbit Raider, the Bunny Brawler skin is an epic level Easter holiday skin that can be purchased from the item shop. In order to pull off this look, we suggest using an open-faced bunny suit like this Easter bunny costume. (The vest and bow tie are separate pieces so you don't have to worry about trying to take them off!) Wear a small backpack and paint some grenades to look like Easter eggs. If you can make the backpack look like an Easter egg, that's even better! Lastly, you will need to finish off your face with a painted bunny nose and some whiskers. This costume is best worn with white bunny slippers, but you can always alter some white tennis shoes with felt or craft foam bunny ears if you are having difficulties finding the appropriate slippers.
Bandolier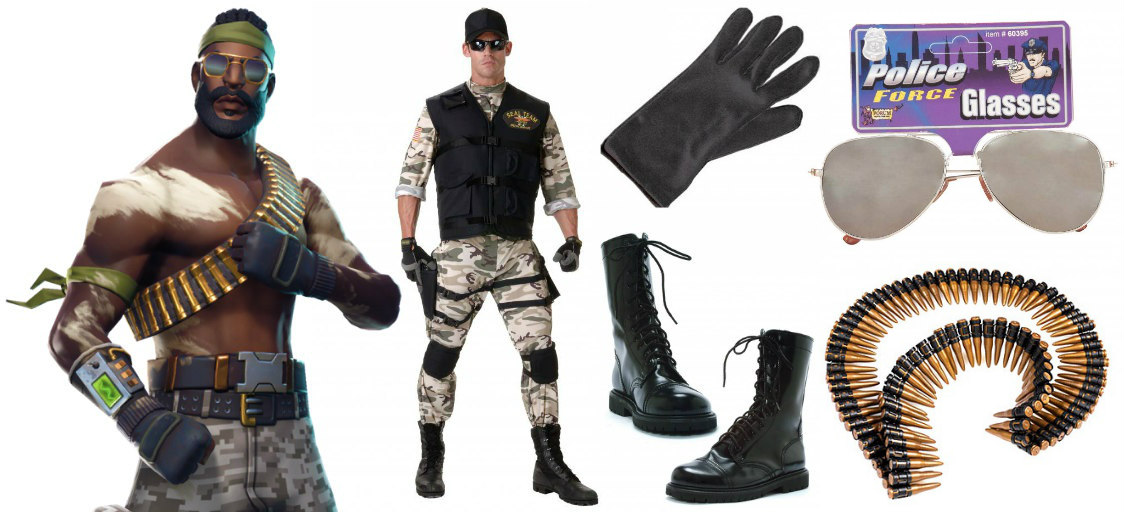 If you find yourself getting incredibly hot on Halloween or during summer conventions, perhaps you'd consider going shirtless as the Fortnite Bandolier skin. We selected this adult SEAL team costume as the base because it comes with digital camo pants. (Digital camo is the pixelated camo pattern on the Bandolier's pants. It's more geometrical than regular camo!) The rest of this costume is all about the accessories. Get some black gloves and cut the fingertips off and wear a bullet belt, aviator sunglasses and military-style black boots. Pair this outfit with an army green bandana and get a second one to tie around your arm. You'll feel cool in more ways than one!
Tower Recon Specialist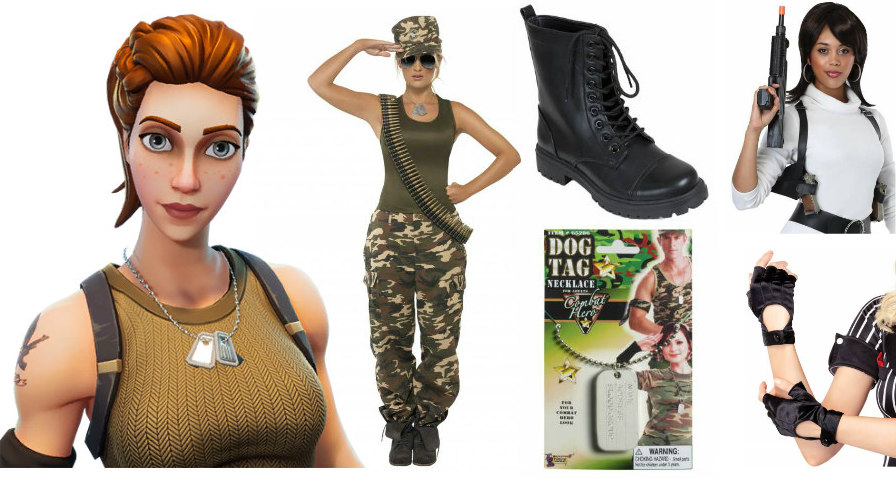 The Tower Recon Specialist skin is an uncommon Fortnite skin. There are quite a few military and ops-style skins, but we love the fact that you can wear both the tank top and pants from the female camo costume! Pair this with dog tags, fingerless motorcycle gloves and black combat boots. If you want to have a little bit of the back bling look, you can also get an Archer Lana Kane costume and wear the shoulder holsters. You'll feel like a master of the mean streets.
Mission Specialist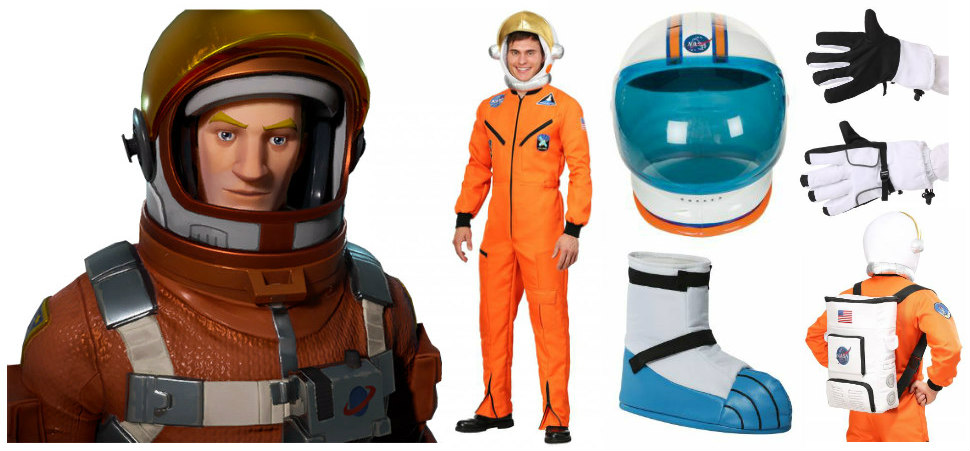 Astronaut costumes have always been a Halloween favorite, and the Fortnite Mission Specialist skin gives you the best of both worlds! This item was an epic level skin only obtainable through the season three battle pass so that makes it feel a little more special. Using an orange astronaut suit as the base, pair it with astronaut gloves, boot covers, a backpack and an astronaut helmet. Use some paint on the helmet and fabric paint on the accessories to achieve the color scheme you want. (Pro tip: use Tulip Soft paint on the fabrics because it is a fabric paint and you can use a paintbrush with it!)
Moonwalker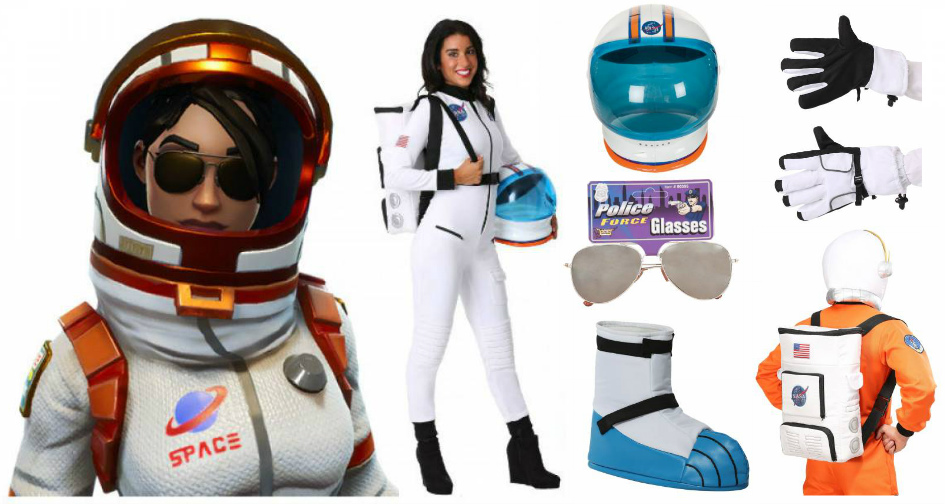 Like the Mission Specialist skin, Fortnite's Moonwalker skin is also an epic level skin obtainable through the battle pass. For this skin, you will need a white astronaut suit as the base. Pair this with gloves, astronaut boots, a backpack, aviator sunglasses and an astronaut helmet. You might also want to use a little fabric paint on the accessories to get them to match.
Codename E.L.F.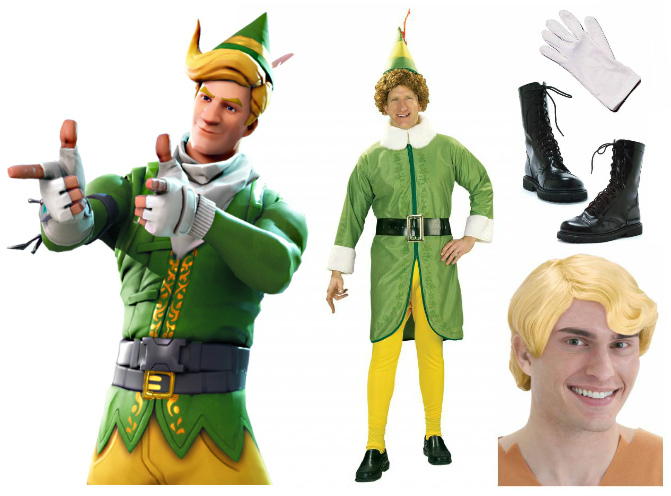 You'd be a cotton-headed ninny muggins if you didn't expect to see this outfit on a DIY list because the Codename E.L.F. skin is uncannily similar to Will Ferrel's Elf. This is a rare holiday skin that can be purchased from the item shop during the Christmas season. Obtain a Buddy the Elf costume and pair it with white gloves and black combat boots. (If you're feeling brave, you can cut the bottom of the jacket off in a triangular hem so it looks even more like the skin.) Cut the fingertips off the white gloves because Fortnite really likes fingerless gloves on their skins. If you're not a hair guru like Jake Daniels, you might want to invest in a wig too! Add a white scarf and you're ready to spread some holiday cheer!
Red-Nosed Raider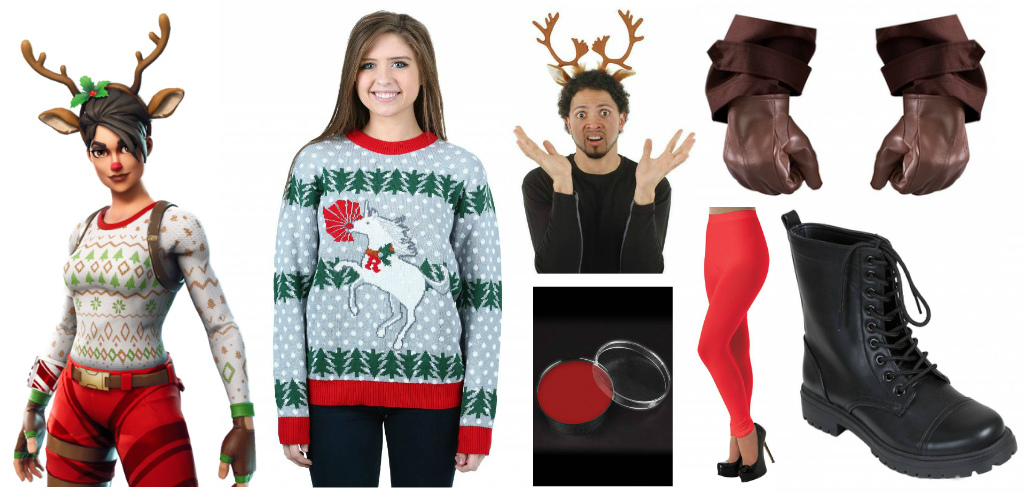 It's time for some reindeer games! The Red-Nosed Raider skin is another rare Holiday skin for Christmas, and it looks very comfy. (Who doesn't love a good ugly Christmas sweater?) Wear your ugly Christmas sweater with some reindeer horns, brown gloves with the fingertips cut off, combat boots and red leggings. (You may need to obtain a pair of red jeggings if you want belt loops.) Lastly, you will want to paint the tip of your nose red. After all, this is the Red-Nosed Raider skin! It's kind of a big deal.
We hope that you were able to get some good ideas for making your own Fortnite cosplay! If you're looking for that final touch, you may want to get a gun accessory. You can even watch some Nerf gun mod videos on YouTube if you're considering painting or altering your gun. (Leave the orange tip if you plan on carrying the gun in public. Safety first!) Are you looking forward to creating your own Fortnite costume? Or were you planning on going as a different video game character? Let us know in the comments below if you have some cool ideas of your own!