Fortnite fever has struck again, just in time for Halloween! The popular video game sensation recently released their season 6 skins, which are a lot of fun because they remind us of Halloween costumes. (Frankly, almost everything makes us think of costumes, but these are particularly costume-worthy.) If you have ever dreamed of cosplaying as one of your favorite legendary Fortnite skins, we have a great DIY Fortnite skin costume tutorial for you! Get ready to look like a legendary gunslinger with this Fortnite Calamity skin costume tutorial.
Tier 5 Fortnite Calamity Skin DIY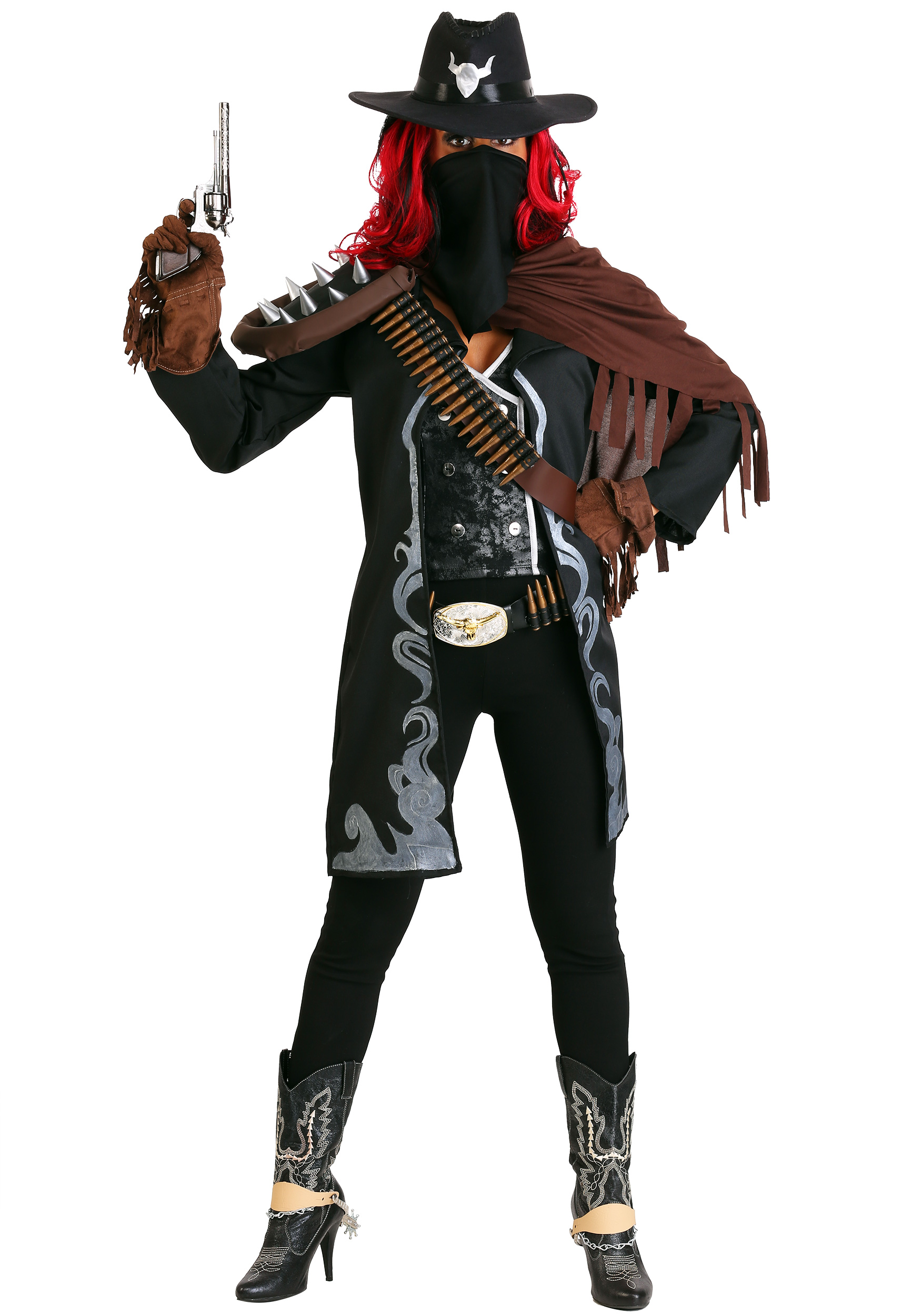 Fortnite's Calamity skin is a mixture of cowgirl and bandit but it's cool so we're not complaining!
The Inspiration That Started it All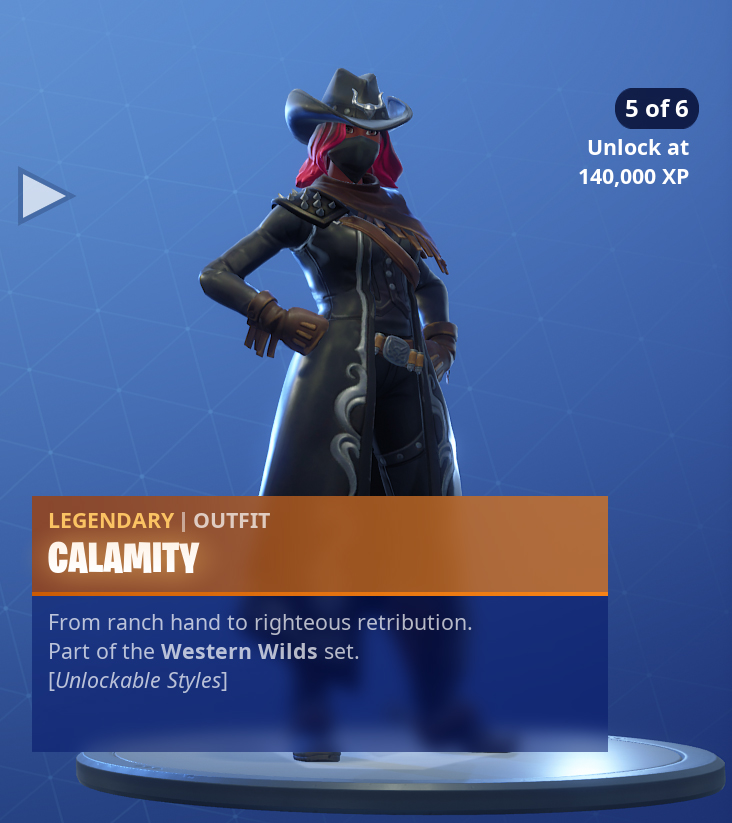 It's been quite a party ain't it? [Source]
The Calamity Fortnite skin is one of the legendary skins obtainable in the season 6 battle pass. The fun part about this particular character skin is the fact that it goes through six stages where it gets more and more detailed. We decided to show you how to make the fifth tier of the skin. (The last skin gets really complicated and would require LED lights, but if you're an avid cosplayer feel free to take a crack at it! Some of the base items from this tutorial will still be useful when making your Fortnite costume.)
Products Used in this Fortnite DIY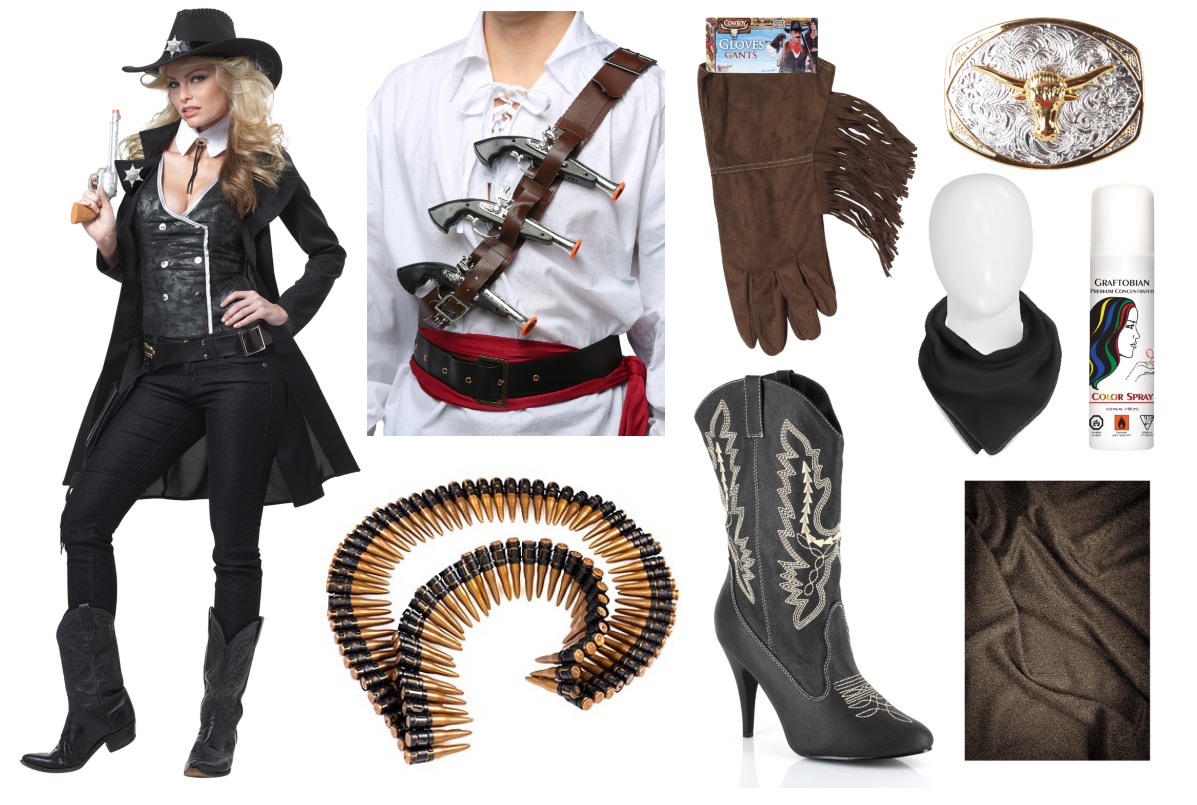 Left to Right, Top to Bottom: Round em Up Cowgirl Costume, Brown Shoulder Belt with Guns, Brown Fringe Cowboy Gloves, Western Belt Buckle, plain black bandanna, Pink Hair Color Spray, Molded Bullet Belt, Adult Cowgirl Boots, brown fabric
We used these products to recreate the look of Fortnite's Calamity skin. The costume already includes most of the components needed for our Fortnite cosplay costume, such as the hat, duster coat, belt and vest. With a paintbrush and some silver tulip fabric paint, we painted the designs onto the duster coat. (Use some white tailor's chalk or a fabric pencil so you can draw the design out before painting!) We included the Western belt buckle because it looks more like the one that the character is wearing, and the bullets on the bullet belt can be glued to the included belt as well. The legendary Calamity skin also includes a brown chest belt, which has a spiked pauldron attached to it. (A pauldron is armor for your shoulder, by the way!) You will also want brown gloves with fringe, black cowgirl boots, a black bandanna, spurs and black pants. To make the fringed shoulder cloth, you will also need a scrap of brown fabric to drape around one shoulder. Half a yard should be sufficient for the drape itself and the fringe. Lastly, you will either want a shoulder-length pink or red wig, or you could use some temporary color spray in your own hair. The best part about this Calamity outfit is that it works well as a Halloween costume because you still look like you're wearing a cowgirl costume! Get ready to spot all the Fortnite fans at the Halloween party!
The Completed Calamity Costume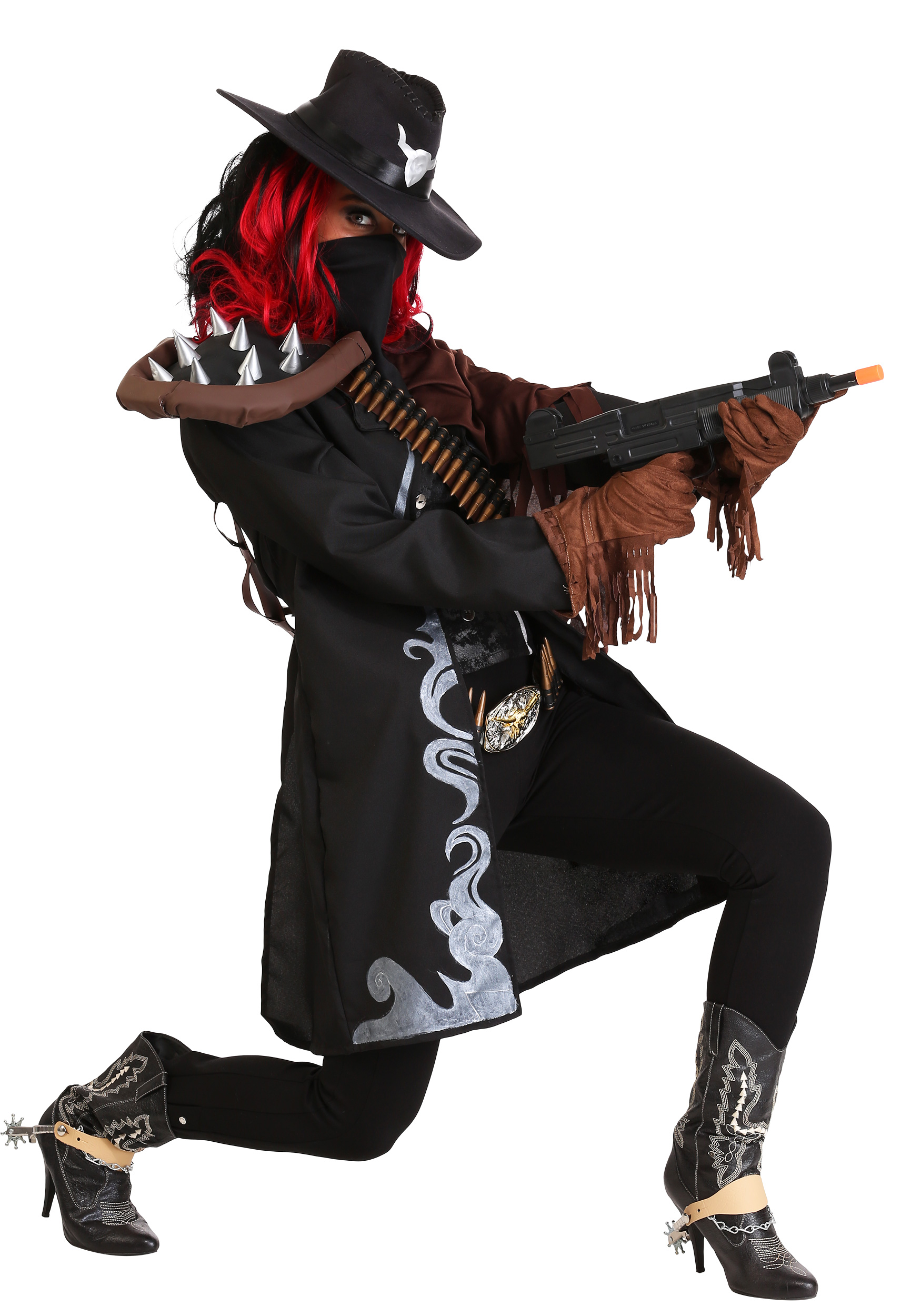 "A man deserves a second chance, but keep an eye on him." - John Wayne
Fortnite Dances and Poses to Do in Costume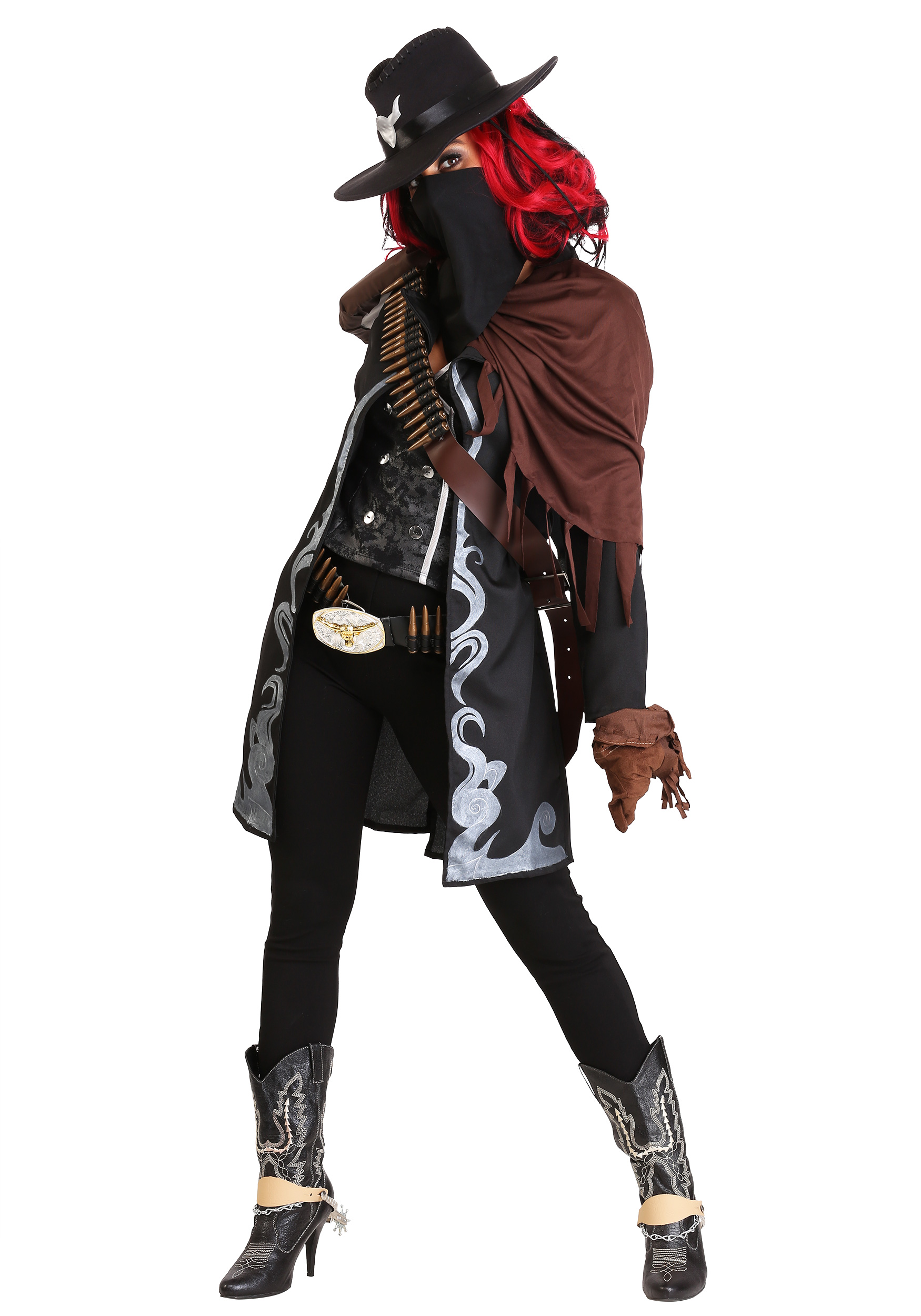 "The Floss" is an easy and popular dance that involves moving both of your arms back and forth around your body.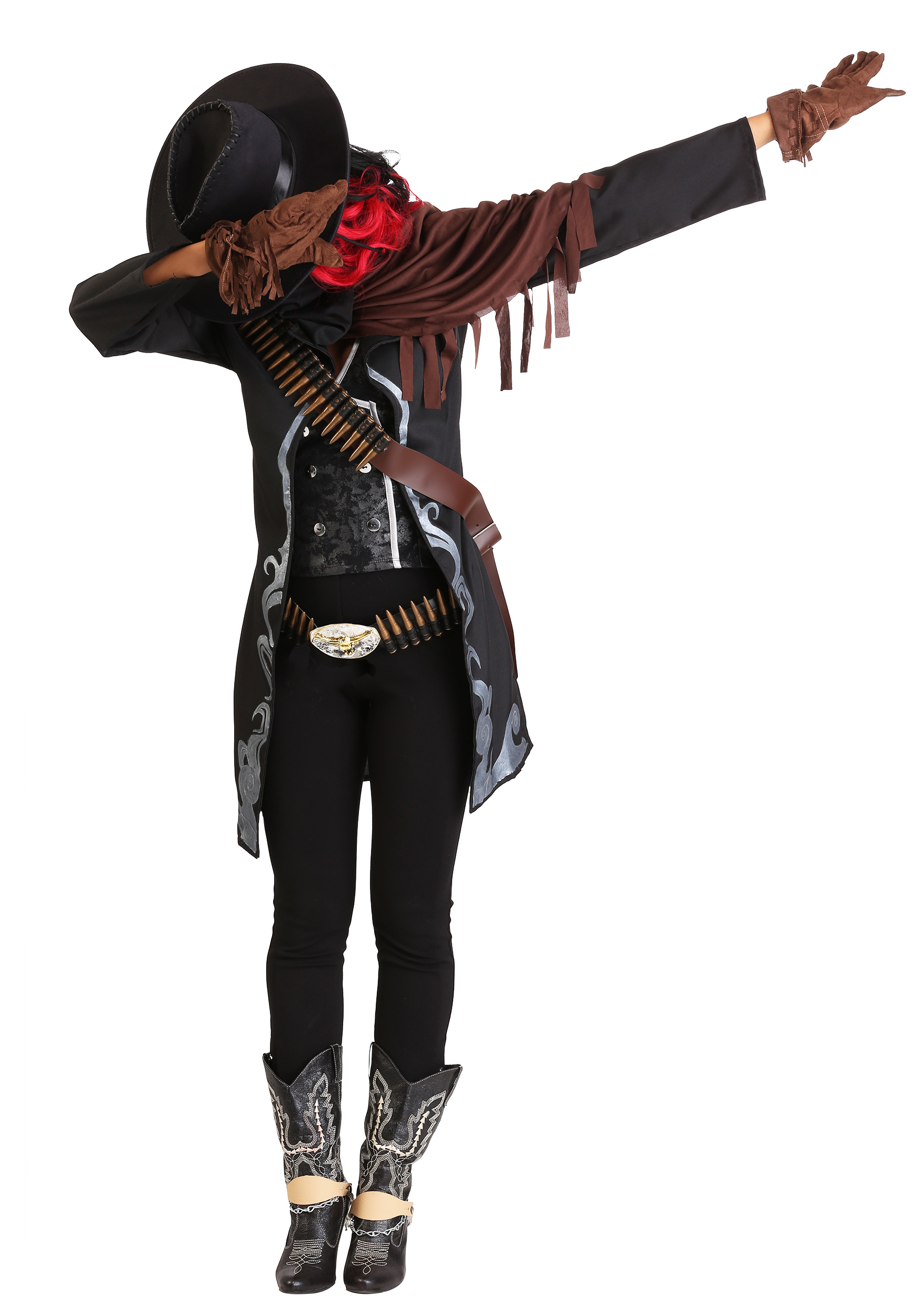 The dab pose is self-explanatory.
Once your Calamity Halloween costume has been completed, it's time to have some fun. Remember that you're a cowgirl that's not gonna take no lip off nobody, and strike some fierce poses worthy of Instagram notoriety! You can even take a page from Fortnite's book and pose like the Calamity skin, or do some of your favorite Fortnite emotes. If you're looking to earn some extra credit and you love dancing, hit the dance floor in costume and kick up your heels to some of your favorite Fortnite dances! Yeeee-ha!
We hope you enjoyed our Fortnite Calamity Skin DIY. There is no doubt that this is one of the coolest legendary skins to be released so far. What are some of your other favorite Fortnite skins? (Don't worry, we won't make you try to pick just one!) Have you done any Fortnite cosplay? Do you have a favorite costume DIY? We made a guide to easy Fortnite DIYs if you're itching to try something out. Feel free to share your thoughts and experiences with us in the comments!