Animal Costume Ideas
Do you feel like taking a walk on the wild side this Halloween? If so, you'll love suiting up in any of our animal costumes! Just think of your favorite animal and chances are that we have the perfect costume for you. We sell a wide variety of exotic animal outfits for the whole family.
Our lion costume for adults will have the alpha male in your house feeling as ferocious as possible, while women might be more attracted to fox costumes because of the fun faux fur tail. The little ones in your family will love making their favorite animal noises while they're suited up in their animal onesies for kids. It will be like you're bringing Old MacDonald's famous farm to life! Whether your little tyke wants to be outfitted in one of our cute chicken costumes for kids or an adorable puppy costume for toddlers, we have animal costumes that will transform your child into the creature of their dreams.
Farm Animal Costumes
Farm animals are not only adorable, but they also are very helpful to us. If your child loves making animal noises and they're a particular fan of the classic song, "Old MacDonald," then a barnyard animal costume is the perfect option. Outfit your little one in any of these cute and comfy farm animal costumes for toddlers and kids because they'll love looking like the barnyard critter they like best!
Cow Halloween Costume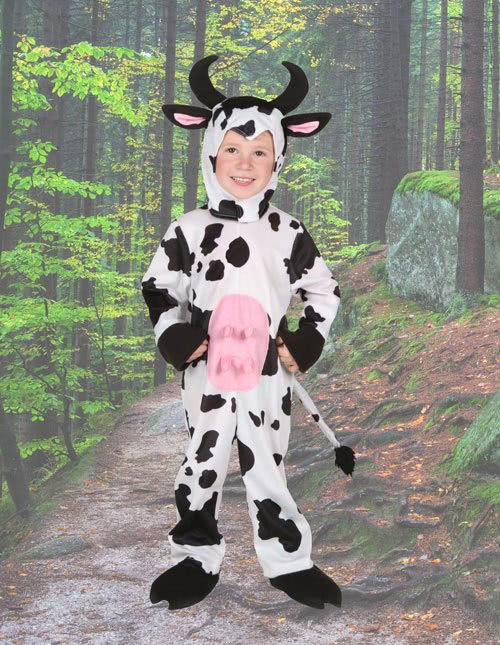 You better believe that your child is going to have an udder-ly great time in this cow costume! This comfortable and soft costume, designed especially to fit toddler boys and girls will look perfect on your little one. they'll love sporting the plush black and white costume that comes with a matching hood and pair of booties. We have a feeling they won't stop saying "moooo" while they're wearing it!
Pig Halloween Costume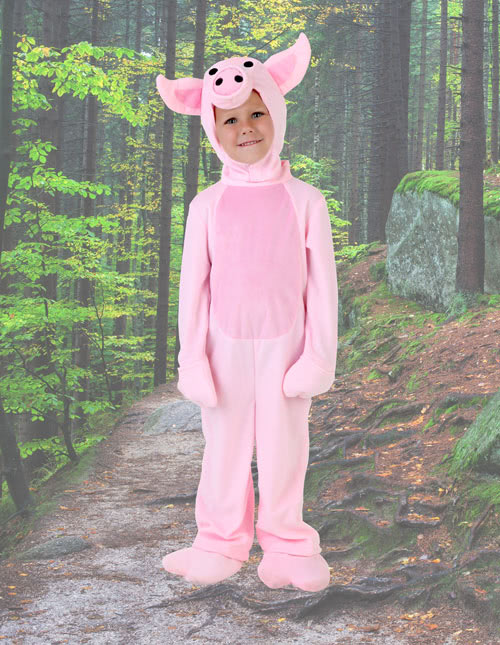 This little piggy will love collecting sweet treats while he's wearing our exclusive pig costume. He or she will become an oinking pink piglet who just may have the urge to splash in the mud once they are outfitted in the toddler pig costume. It comes with the pink pig jumpsuit with attached mitts, the headpiece, and the booties, too!
Horse Halloween Costume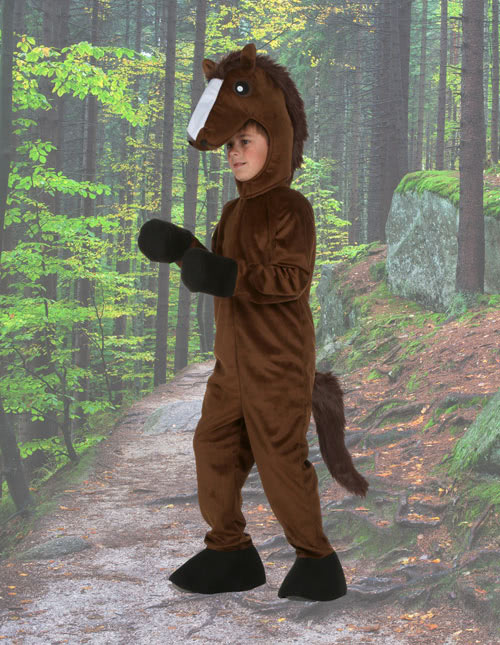 No kid will say "neigh" to this cool horse costume! It comes with a soft bodysuit and a character headpiece so it will completely transform your young horse fan into this majestic creature. Don't be surprised if your kiddo decides to gallop down the street to collect candy instead of just walking. It's just too hard not to "horse around" when you're dressed in this farm animal costume for kids!
Sheep Halloween Costume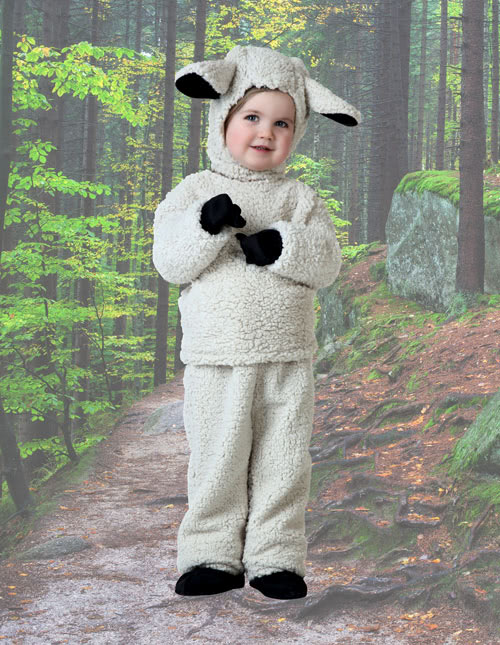 Uh oh, it looks like Little Bo Peep has lost one of her adorable sheep. Little fans of the popular nursery rhyme will have a blast wearing our cozy toddler sheep costume. It comes with everything you need: shirt, pants, hood, mitts, and even shoe covers!
Zoo Animal Costumes
Are you feeling a little… wild? If you would rather not be a domesticated animal, then you will love our collection of zoo animal costumes. Men, women, and little kids will love taking a walk on the wild side when they are dressed up in one of these furry and ferocious animal costumes. Browse our top choices and pick out the one that brings out your animal instincts!
Elephant Costume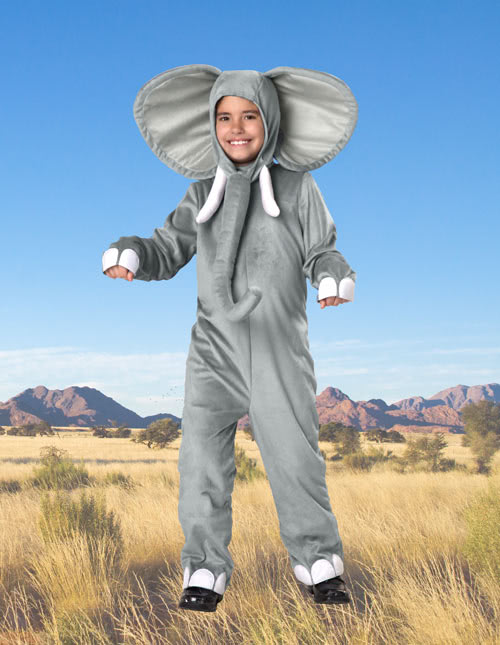 Is your child looking to have a TON of fun this Halloween? If so, they will love stomping around in our child elephant costume. They'll get to see what it's like to have jumbo ears and a cool trunk once they are wearing the character headpiece. Have them slip on the comfortable bodysuit and then they will be completely transformed into a precious pachyderm!
Giraffe Costume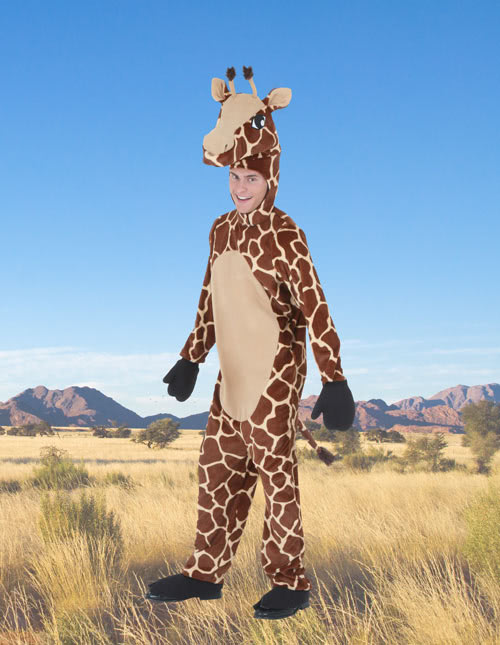 You'll definitely be the tallest animal in the zoo once you are wearing our exclusive adult giraffe costume. This cool costume will give you the height that you always dreamed of! Just slip on the headpiece and you should be able to see above the trees. (Well, not really but you can pretend.) The bodysuit with attached mitts and included shoe covers will complete your transformation into this plant-munching creature!
Gorilla Costume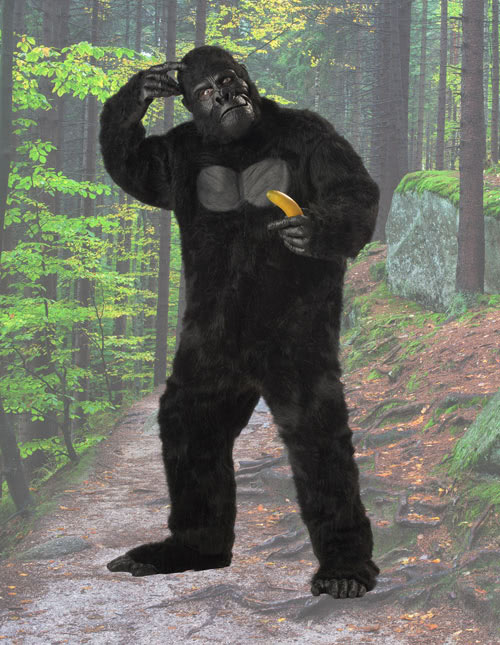 Are you having trouble getting your daily dose of potassium? If so, maybe wearing a gorilla costume will give you a hankering for bananas? Give it a shot and don this realistic gorilla costume for adults. It comes with everything you need in order to look and feel like the hairy jungle primate. You'll have a blast "monkeying around" in this exclusive plus size zoo animal costume…ooh-eeh-ah-ah!
Kangaroo Costume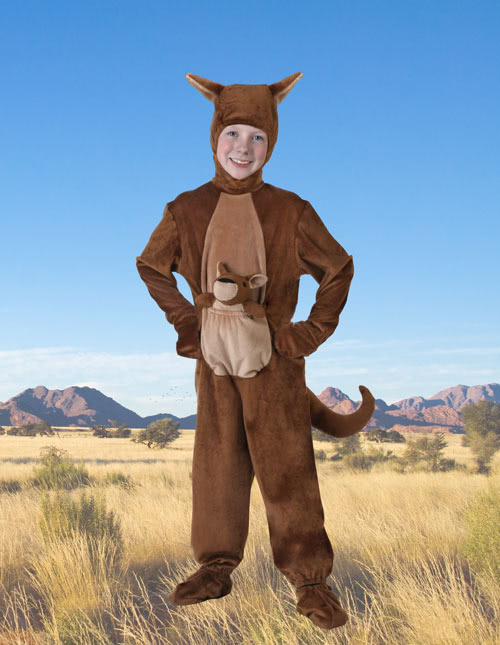 Are you in search of an animal costume that will add some spring to your child's step? We have a feeling he or she will be jumping for joy once they put on this children's kangaroo costume. You'll even receive an included stuffed Joey to keep in the costume's pouch. Your little animal lover will have a blast becoming the hopping marsupial from the Land Down Under!
Sea Creature Costumes
So you say you're a lover of all aquatic creatures? If so, then you are probably having a hard time picking out just one sea creature costume. We have compiled a list of some of our most popular aquatic animal costumes for men, women, and kids so look it over and pick out the one that works best for you. For example, if you're feeling fierce and maybe a little bit vicious, you'll love diving into a shark costume. On the other hand, if you are a fan of the movie Flipper, then you will love outfitting yourself in a dolphin costume. Keep in mind that all of these sea creature costumes are cozy, comfy, and most importantly, fun to wear!
Shark Costume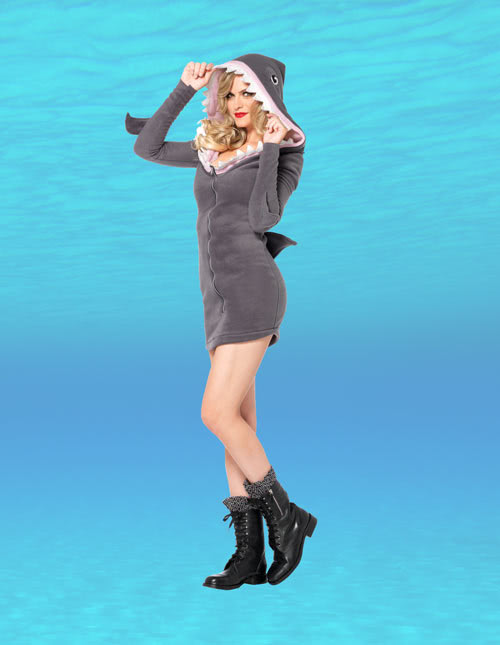 Are you in the market for an animal costume that will let you shake your tail fin? Well, you're in luck because our women's shark costume is the perfect predator costume for ladies who want to look fierce. This costume is cozy, casual, and cuddly so you'll look fashionable and feel comfortable when you're dressed in this furry shark outfit. Pair a men's sailor costume with this cuddly shark dress to create a unique couple's costume that will turn heads. Make sure to smile a lot while you're impersonating Jaws because your pearly whites are definitely your most important accessory!
Octopus Costume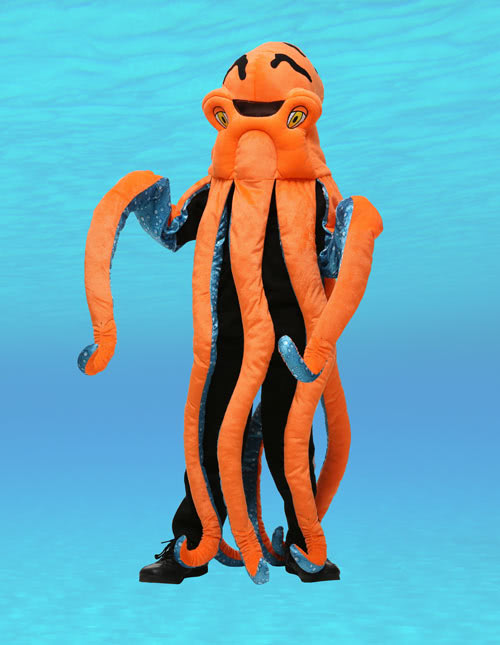 Is your child curious about what it's like to have tentacles? Now they can pretend that they're scaling the ocean floor once they are wearing this unique child octopus costume. This is actually a mask that is worn on the head while the attached tentacles dangle to the ground. Maybe he or she will be able to give extra powerful hugs while they're sporting eight arms!
Mermaid Costume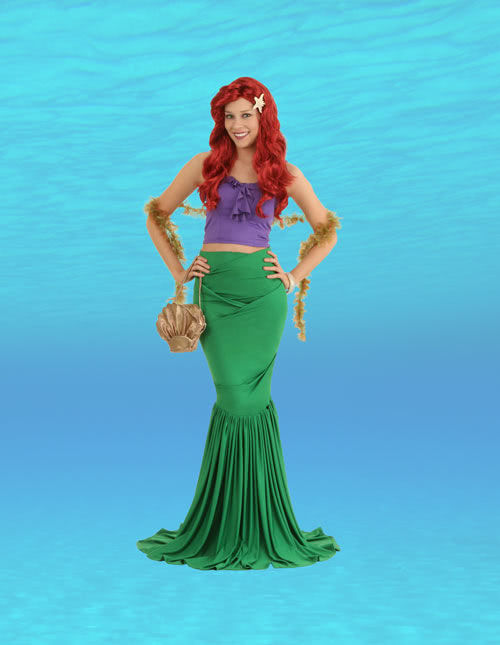 It's possible that mermaids do indeed exist since 95% of the ocean has yet to be explored! If you are a firm believer that mermaids are out there lurking in the murky waters, then you need to sport this women's mermaid costume. Fashionistas will love wearing the elegant green skirt paired with the flattering ruffle tank top. You'll definitely make waves wherever you go when you are wearing this realistic mermaid costume.
Dolphin Costume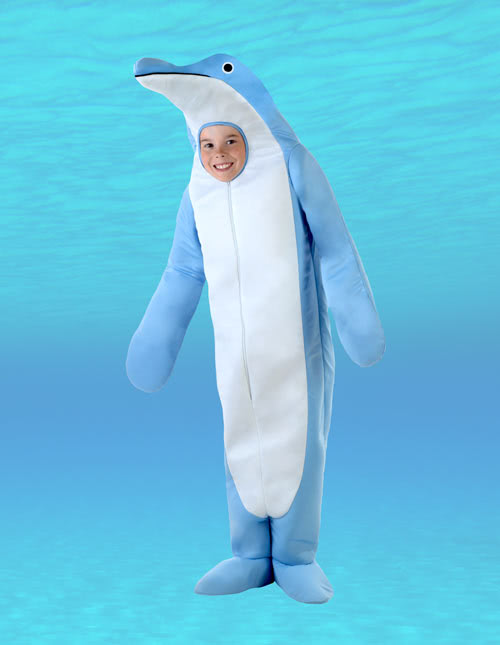 Your future marine biologist will love seeing what it's like to be one of the ocean's most captivating creatures! Our exclusive child dolphin costume comes with everything your kid will need in order to turn into this intelligent sea creature. The soft bodysuit with attached feet and fin will let your little boy or girl experience what it's like to have flippers!
Forest Animal Costumes
The forest is a beautiful place filled with lots of beautiful critters! We love how all of these fuzzy and cute mammals can live harmoniously out in the wild. If you love taking walks in the forest with hopes that you will see your favorite animal, then you will have a blast wearing one of these forest animal costumes. Pick out the one that makes you feel like a bright-eyed and bushy-tailed creature of the woodlands!
Fox Costume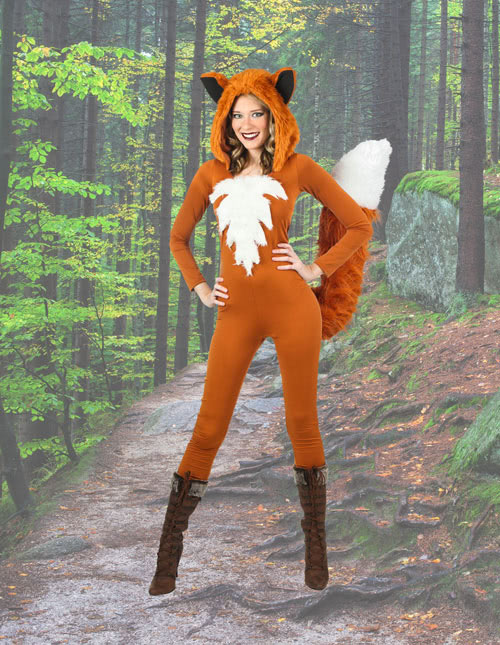 Don't curl up in your den this Halloween, get out there and show off your foxy side! Ladies who adore the orange forest critter will love this spandex bodysuit costume because it features a big bushy tail and a furry hood. Hit the dance floor in this sexy fox costume for women and let irony run its course as you jam out to the classic party tune, "What Does the Fox Say."
Bear Costume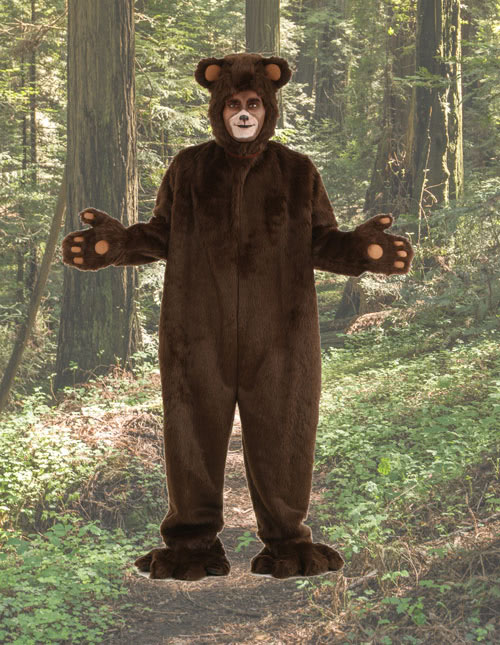 Are you known for giving out some pretty big bear hugs? Show off your endearing trait by wearing a costume that compliments it. Our exclusive men's bear costume is a faux fur jumpsuit that's so snuggly that it will make you want to curl up in a cave and hibernate for a day or two. You can also use this bear costume as part of your Goldie Locks and the Three Bears costume. Add a bear nose accessory to get the complete cuddly bear look.
Owl Costume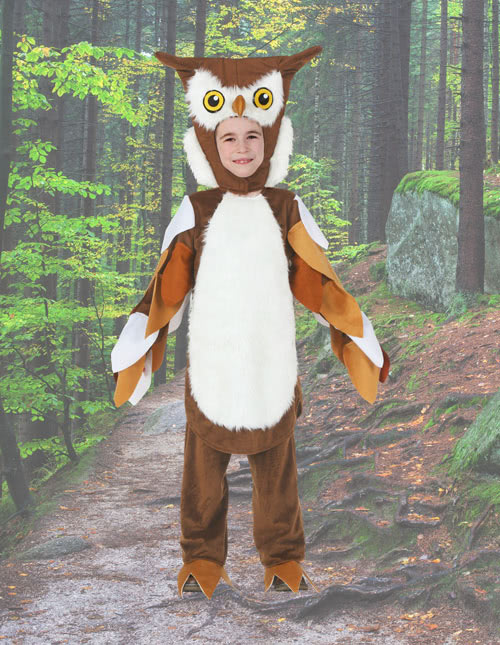 We have a feeling that your kid will be hooting and hollering over this adorable child owl costume! Getting a pair of cool wings and talons will be a dream come true for youngsters who are fascinated by these nocturnal animals. They'll love donning the furry and comfortable shirt, pants, hood, and shoe covers. Let us know if this bird costume for kids makes them feel any wiser!
Deer Costume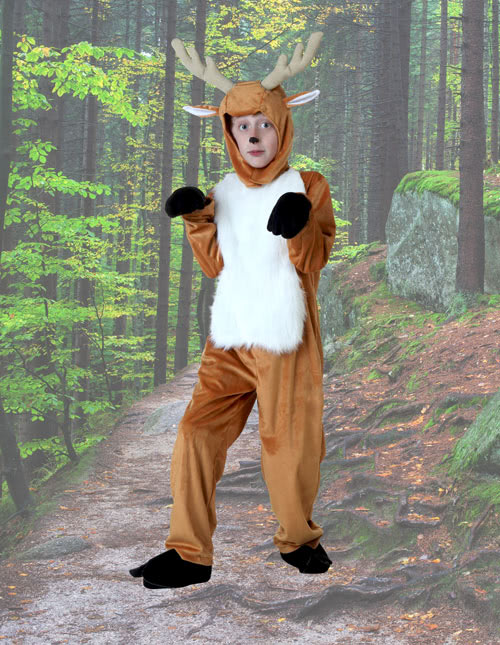 Whether your child wants to graze in the meadow or prance through the open fields, this child deer costume is the best option for them. The cozy and warm bodysuit features attached mitts and shoe covers. The character hood fastens under the chin and features cool plush horns. Add a red nose to instantly turn into Rudolph the Red-Nosed Reindeer!
Love Your Look in an Animal Costume
This Love Your Look section will give you some good ideas on how to capture your child's wild side. Snap the perfect picture of your child in their kids' animal costume so you can remember it forever. Take a look at the following shots to inspire some creative photos of your own!
Fox Costume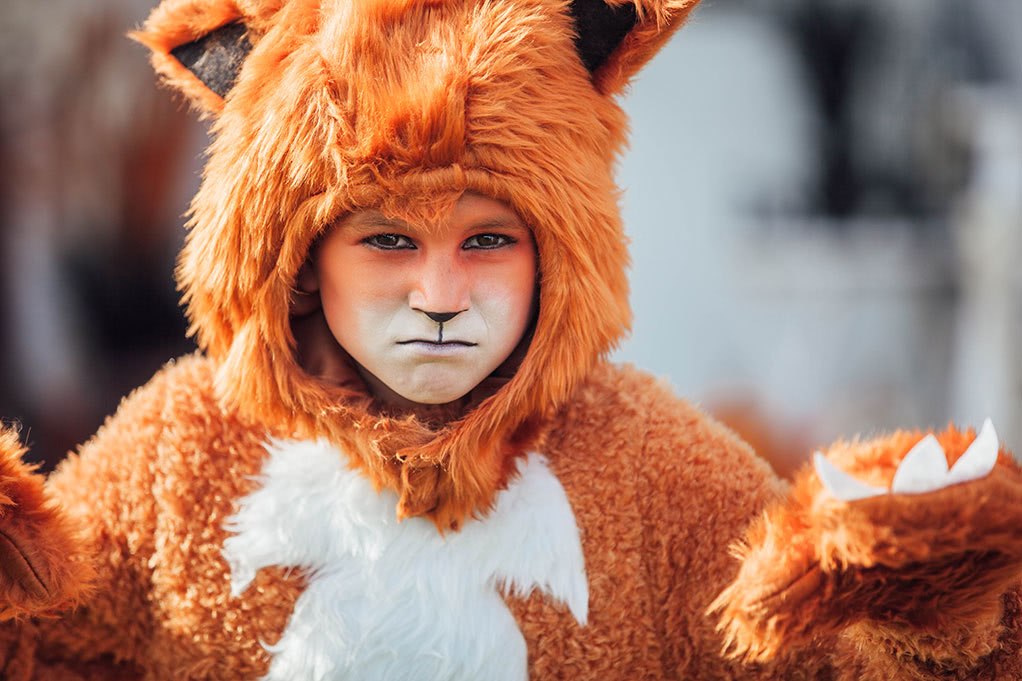 Dress your little one in a cozy toddler fox costume and watch them totally transform into the sly forest creature right before your very eyes. Ask them to scowl ferociously at the camera with their "paws" up and snap a photo!
Fox Costume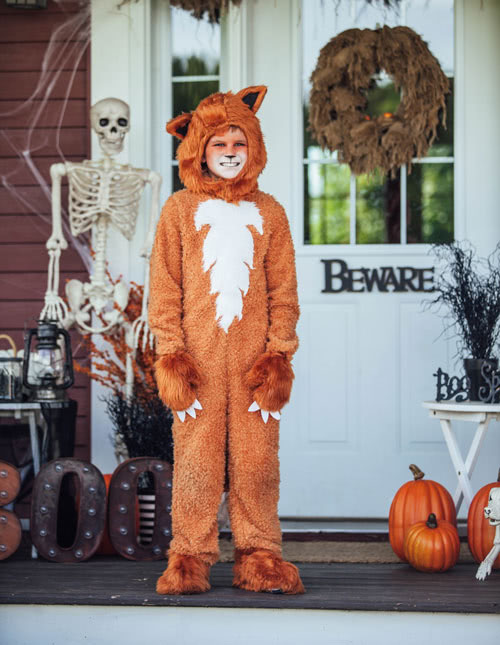 You can't go wrong taking a picture of your little one standing on the porch in his or her cozy fox costume! Have them stand next to some pumpkins to make the orange costume really pop. Create a spooky scene with some of our cool Halloween decorations!
Bear Costume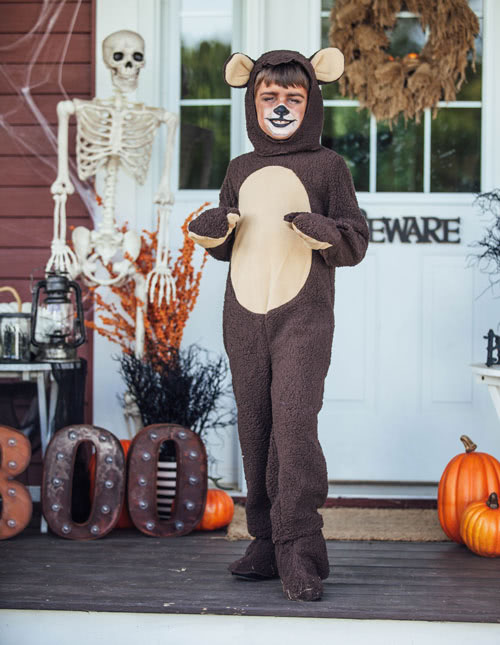 Your child will love pretending to be a big brown bear in our exclusive costume. Make sure that you capture a couple of pictures of him in his natural habitat. Go outdoors and tell your little bear cub to look as fierce as possible.
Dinosaur Costume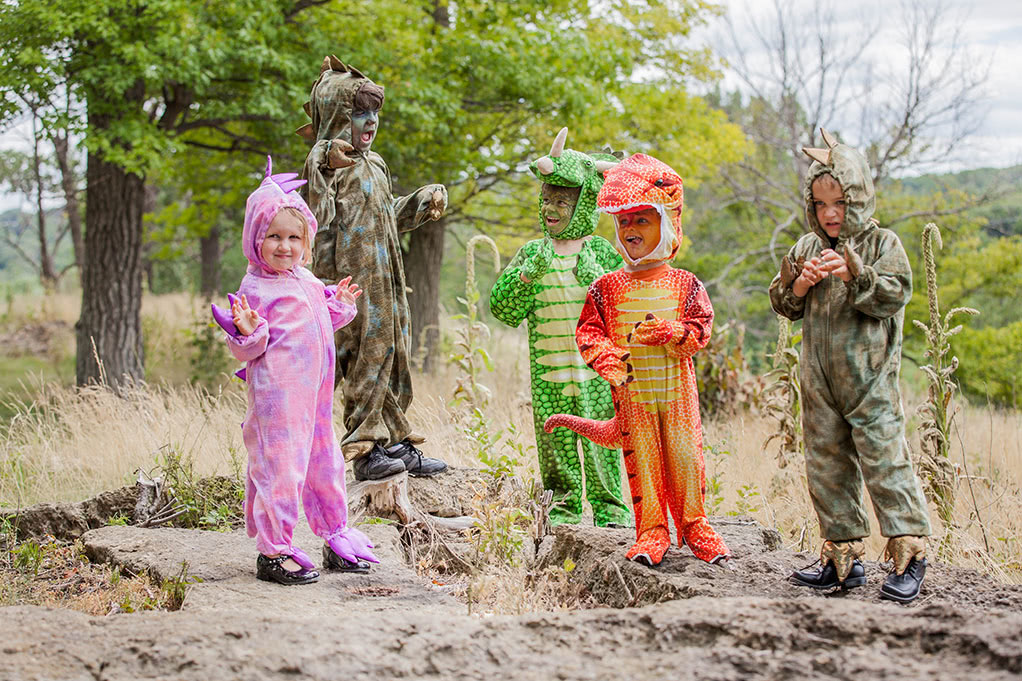 It's a prehistoric party! Have your child and his or her friends don some bright and colorful dinosaur costumes. Find a natural setting and take a picture of them looking ferocious while they're grazing in their natural habitat.
Dinosaur Costume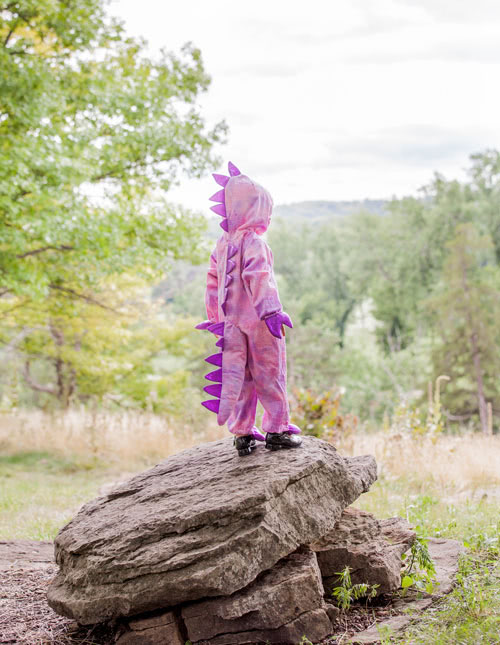 You're going to need to find a large rock in order to recreate this next picture! Take your tiny T-Rex to a park and find the perfect boulder for them to stand on. Next, tell them to look out in the distance so you can capture them gazing at the green pasture.
Dinosaur Costume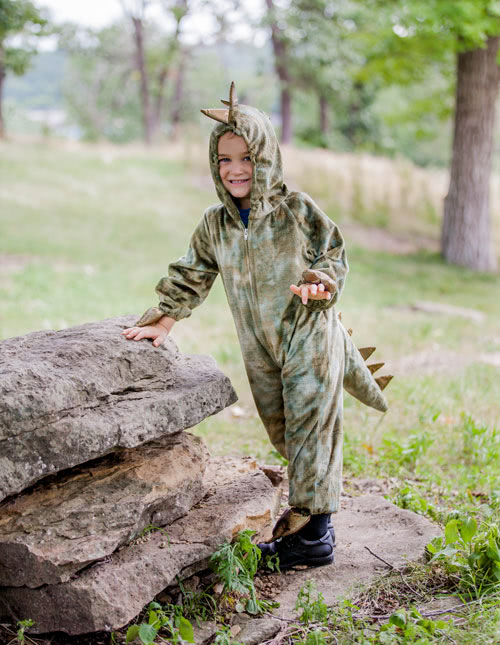 Give your guy this kid's dinosaur costume and watch him transform into an extinct roaring reptile. You can dress up in an adult dinosaur costume to match if you're feeling adventurous!
Zootopia Costumes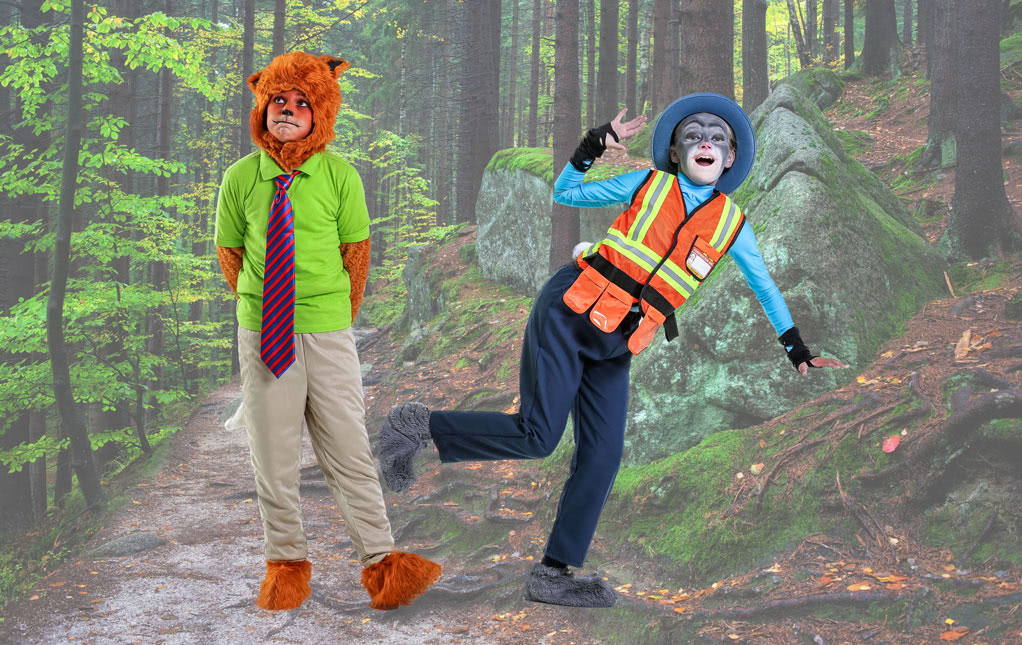 Do you know what kids love more than Zootopia costumes? They love creating their own one-of-a-kind Zootopia costumes! You can assemble these unique cartoon looks by using accessories and costumes that are sold right here or you can use clothing that you already have at home. To become the bubbly meter maid turned hero, Judy Hopps, you'll need the dark blue pants from a police officer costume, and accessories like wrist guards, bunny ears, a police badge, and a fluffy tail in order to pull the complete look together. When it comes to being the intelligent foxy scam artist, Nick Wilde, you'll definitely need our kid's fox costume. Finally, take some khaki pants, a striped tie, and a green collared shirt and have him wear it over the costume!
Nick Wilde Costume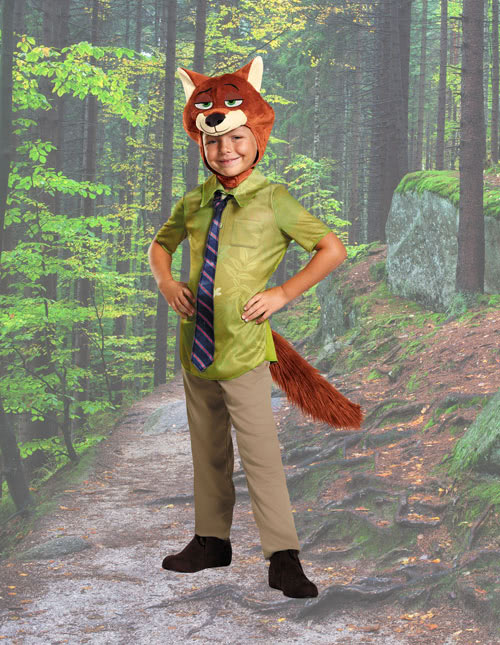 Becoming the wily fox that got entangled in a paw-psicle scam scandal will be a cinch as long as you're wearing this boy's Nick Wilde costume. Your youngster will love transforming into the newest member of Zootopia's police force by donning the officially licensed shirt, pants, headpiece, and tail. It may even inspire him to solve a mystery all on his own!
Judy Hopps Costume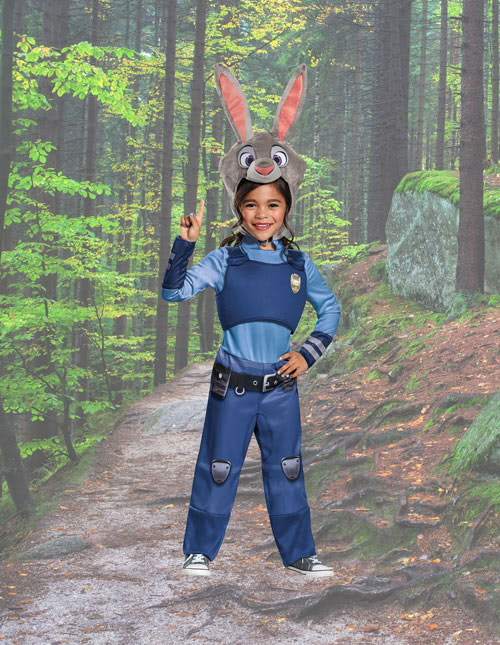 Look who hopped out of Bunnyburrow and right into Zootopia's police force in order to seek justice! It's none other than the determined and adorable Officer Judy Hopps. Little girls who love watching the eager little rabbit crack the city's biggest mystery will have a blast dressing in this officially licensed Judy Hopps costume. Once she's wearing the printed police jumpsuit and the character hood, she'll be ready to seek fairness for the mammals of Zootopia!
Judy Hopps Makeup Tutorial
First, you will need to go to your arts and crafts box and get your non-toxic glue stick, then glue down your eyebrows. (You can also use clear mascara for this, too.)
Next, take translucent powder and set all the glue and mascara in place. Grab your gray cream paint and layer it all over the face in order to get the right pigment. Shade the lighter gray areas and outline the face with your dark gray face paint to create some dimension.
Next, take white face paint and color large circles around the mouth and eyes to make those features appear bigger. Get the black cream makeup and outline each eye and shade the outer areas of the face.
Then, place pink eyeshadow on the tip of the nose and use it to create Judy Hopps' mouth. Use the dark gray face paint to create the furry eyebrows. Finally, set the entire face with translucent powder so that your makeup application lasts as long as possible!