1950s Poodle Skirt Outfits
There is more than one way rock a poodle skirt! If you are looking for the perfect 1950s poodle skirt outfit to wear to your next costume event, the first thing you need to do is figure out which look matches your own personal style. Are you a goody-goody who always follows the rules or a bad girl who likes to break them? Do you always find a way to add glamour to your look or are you more of a plain Jane book worm? These 50s costume ideas will help you figure out which poodle skirt look is right for you!
The 'Cheerleader' Poodle Skirt Costume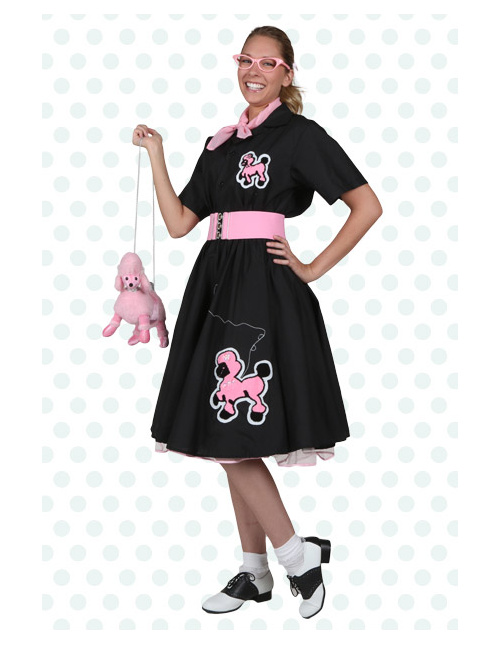 Her shirt matches her skirt. Her pink poodle purse is the perfect mix of practical and pretty. She's outgoing and follows the rules. If this describes you, the 'Cheerleader' look might be the one that you want! This 50s costume comes perfectly coordinated so that you'll have a poodle skirt outfit for your decade party.
The 'Bad Girl' Poodle Skirt Costume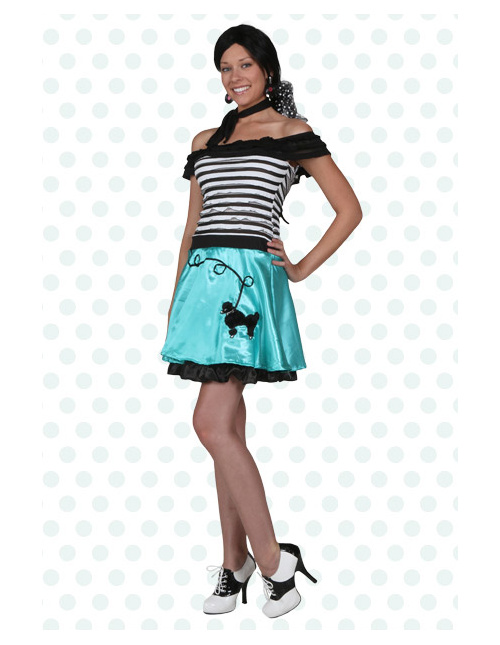 Do you treat most rules as 'suggestions' and shudder at the thought of someone calling you a square? This 'Bad Girl' look features a poodle skirt that's shorter than most and an off-the-shoulder top that would have created more than a little controversy back in the day.
The 'Prom Queen' Poodle Skirt Costume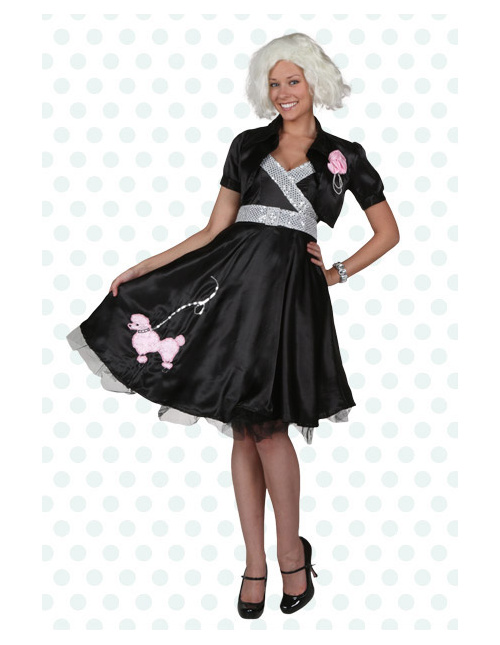 Do you need a poodle skirt that is dazzling? Get this 'Prom Queen' costume and go glam for your next 50s event. Add a platinum blonde wig and some costume jewelry and you'll look like a movie star from another era.
The 'Valedictorian' Poodle Skirt Costume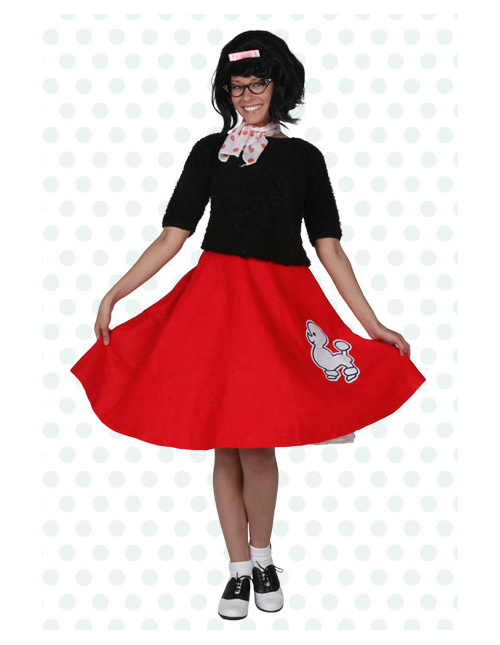 Is studying your favorite? Get the look that matches your bookish charms with this 'Valedictorian' poodle skirt costume. Add a pair of cay eye glasses and you're sure to make the grade.
Poodle Skirt Accessories
What cool costume accessories can you add to your 50s apparel for a complete look? How about a poodle purse or some 1950s saddle shoes? Getting an authentic look is all about paying attention to details. Accessories don't have to be flashy or expensive, they just need to coordinate with your costume and give your look the finishing touch it needs to set it apart from the rest.
Pink Poodle Purse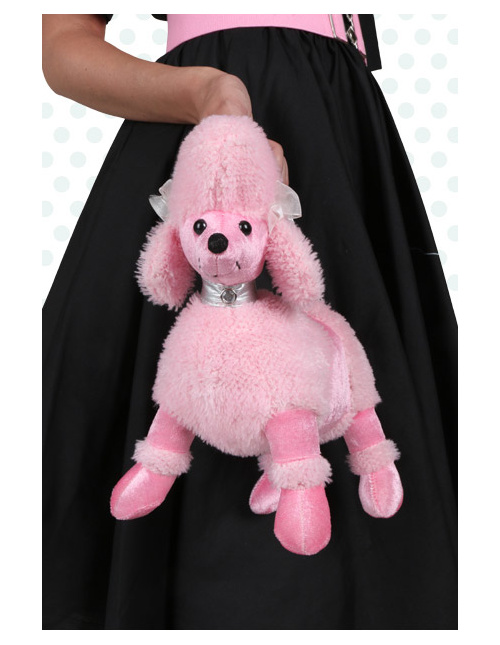 A soft, plush puppy that keeps all of your valuables tucked out of sight while looking adorable at the same time? It exists! This pink poodle purse has an attached shoulder strap or can be carried by the attached handle.
Polka Dot Scarf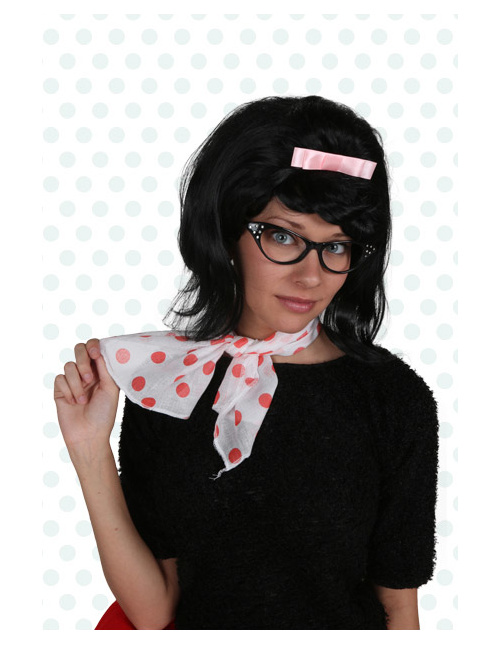 This polka dot scarf will jazz up your poodle skirt outfit and get you all of the compliments. You'll love it so much; you'll want to add it to your regular wardrobe!
Cat Eye Glasses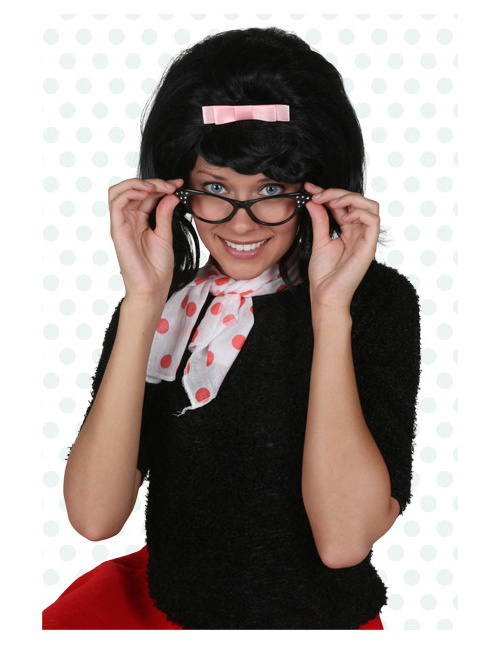 We can see that these glasses make a great accessory. If you look closely you'll see there are rhinestone accents on the edges. If you have an eye for fashion, don't pass these up!
Ladies' Saddle Shoes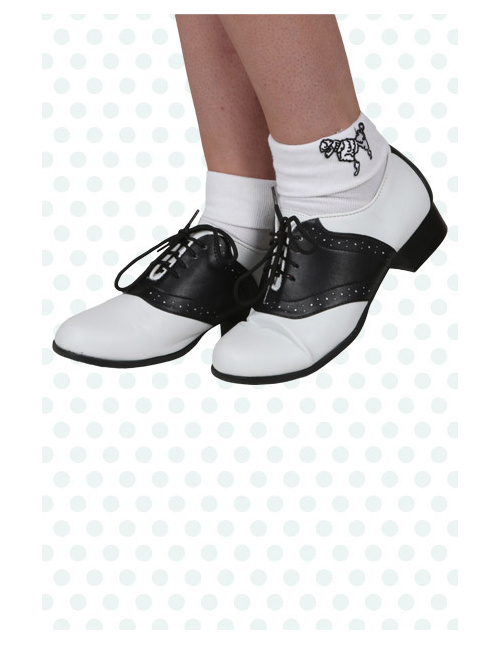 These black and white saddle shoes are a quintessential 1950s accessory that adds a genuine and wholesome look to any poodle skirt outfit. Today they are also available in cute high-heel versions to add a twist on the traditional look.
1950s Couples Costume Ideas
Now that you've picked the perfect poodle skirt costume, it's time to pick out your date's look. Check out these 50s costumes for the guys and plan your own retro date night. We've paired each personality with their ideal partner but that doesn't mean you have to do the same. After all, sometimes opposites attract.
Soda Shop Costumes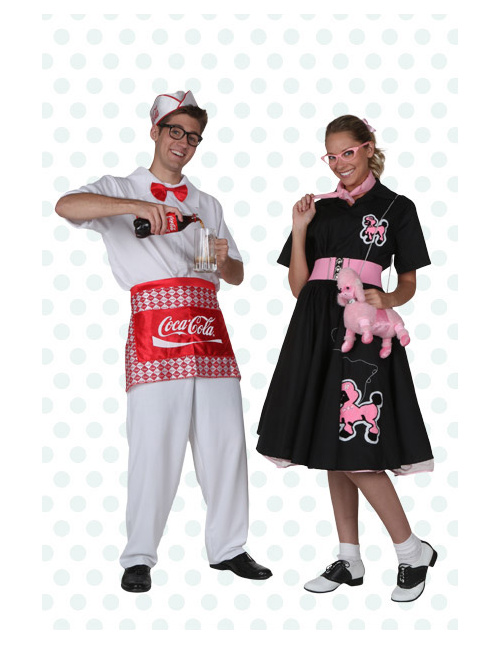 This soda jerk is the friendliest guy you'll ever meet. He'll pour you a Coca Cola, ask you what your favorite record is and wipe down the counter with a smile when you're done. He might even compliment the pink poodle patch on your skirt.
Greaser Couple Costumes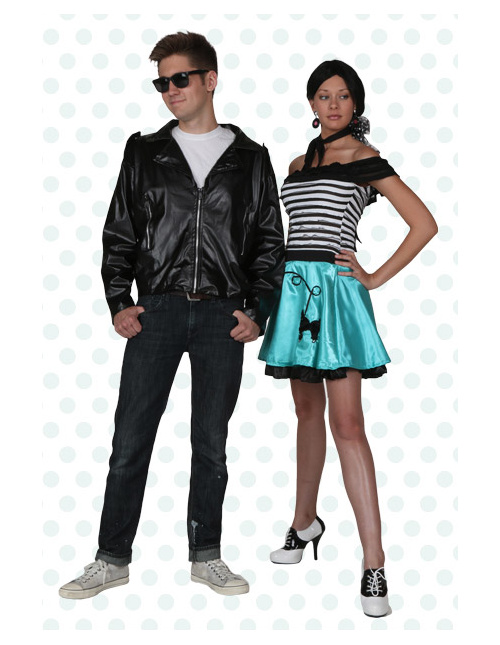 She knew he was trouble when he walked in. But she didn't make any attempts to stay away because she liked the look of his leather jacket and dark shades. What kind of mischief will these two cause?
50s Prom Costumes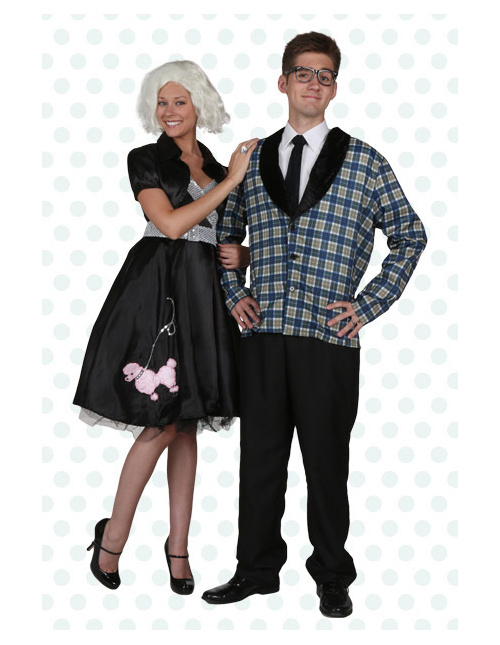 He worked up the nerve to ask her father if she could be his prom date, and put on a proper suit to pick her up. They have to be home before curfew but in the meantime they'll be the best looking couple out on the town.
Vintage Nerd Costumes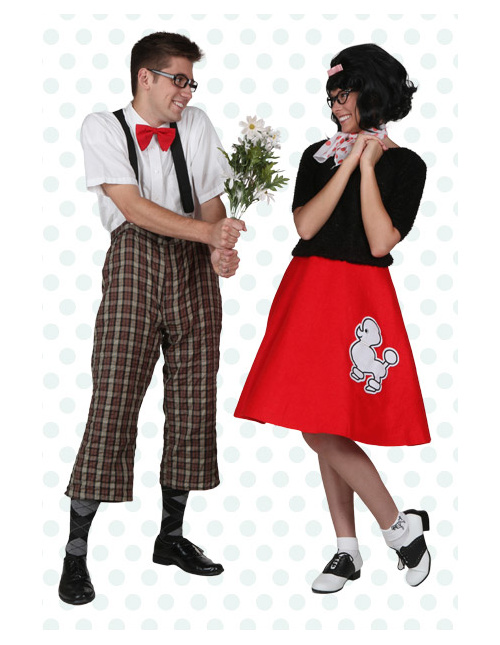 She loves books, he loves that she loves books and they both seem to like each other. He considers his outfit more practical than stylish: suspenders to keep his pants from sagging, glasses so he can see, and a bow tie to look respectable. She's smitten anyways!
1950s Dance Moves for Your Next Sock Hop
If it's not enough to simply dress like you're back in the 50s, then take a minute to learn how to dance like you're in the 50s too! You'll look extra sensational in your poodle skirt costume when you master these popular dance moves from back in the day!
The Twist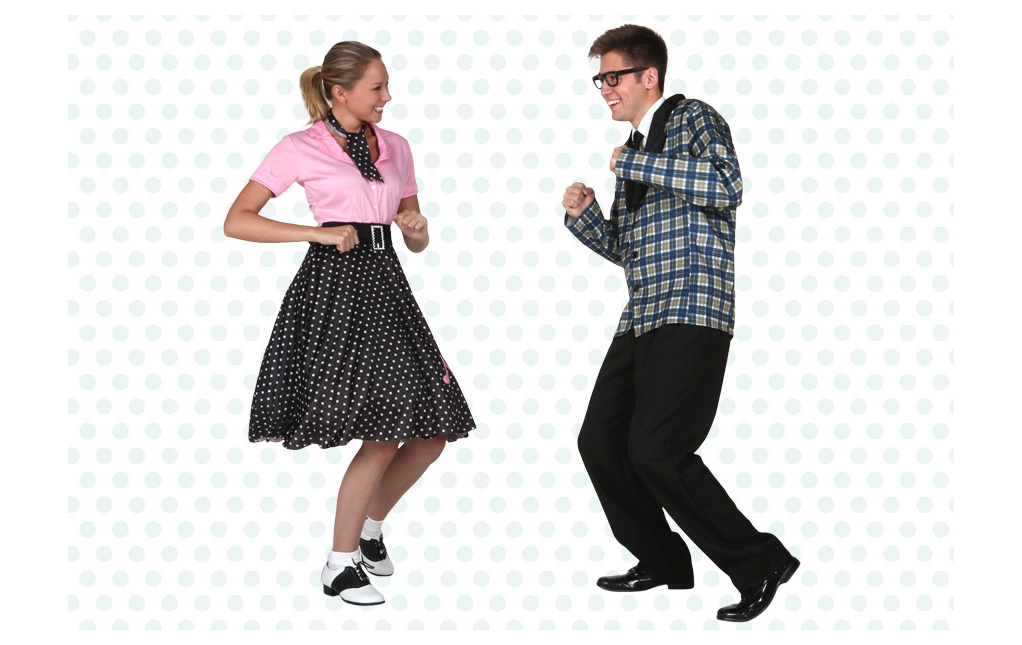 Anyone can do the twist! Inspired by Chubby Checker's cover of a Hank Ballard tune this was a cool dance that was born from rock and roll music. You stand with your feet shoulder width apart and your arms bent at the elbow. Rotate your hips, torso and legs on the balls of your feet as one unit. Then grind your feet back and forth on the floor as fast or slow as the music commands!
The Madison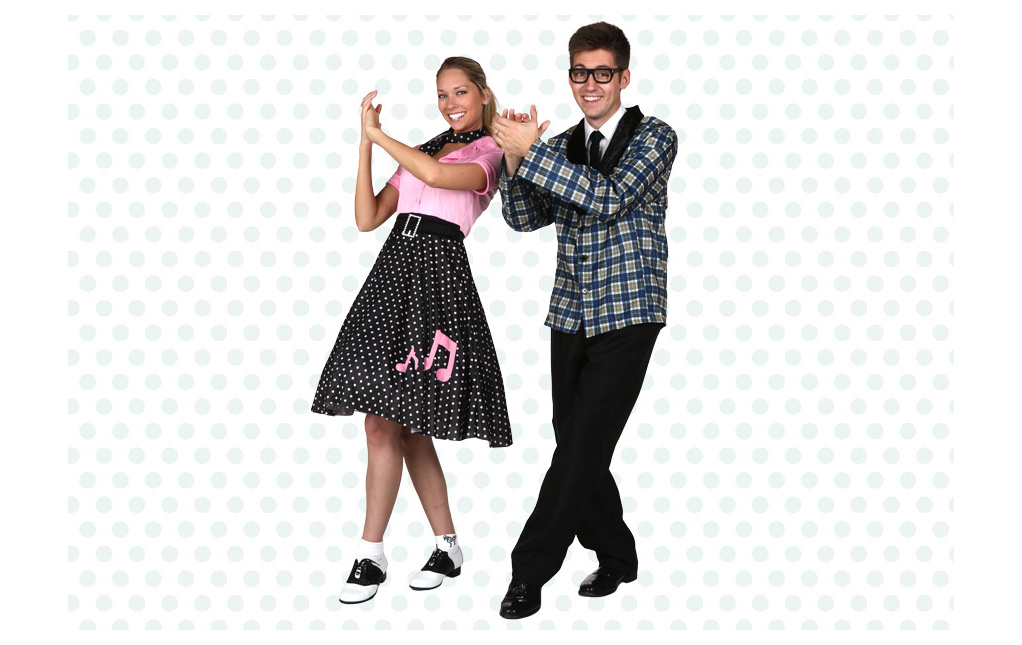 The Madison is a line dance that has a regular back and forth pattern and can have called steps. Here's how you do the Madison basic: Step the left foot forward and place the right foot beside it (no weight) and clap. Step back on the right and then move the left foot over the right. Move the left foot to the left and then back and across the right and you've got it!
The Jive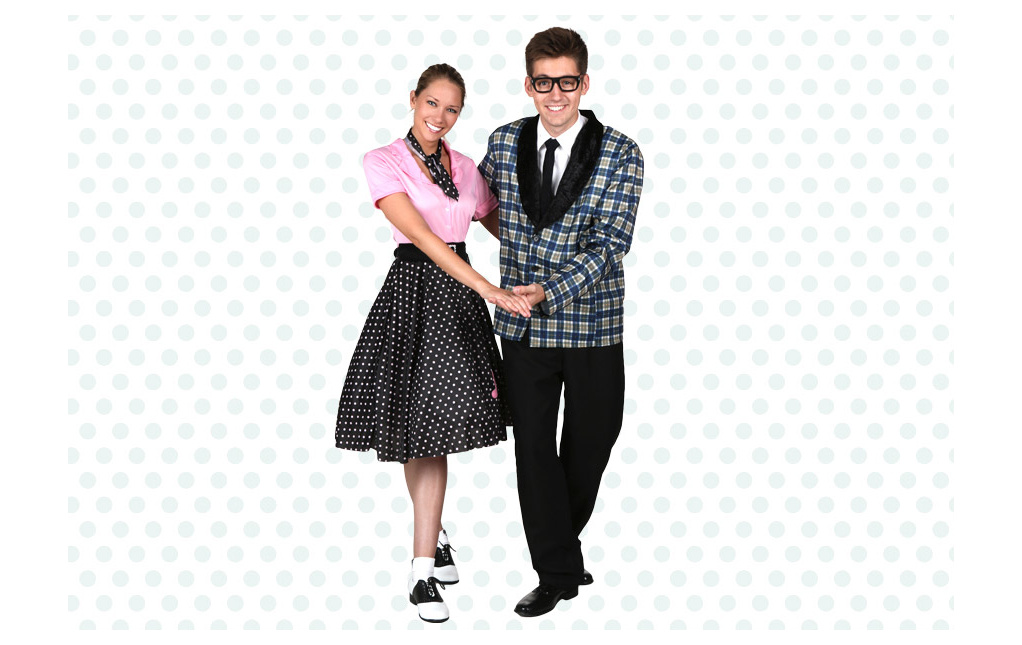 You might have seen some of your favorite Dancing With The Stars contestants do the Jive, and now you can too! This is a form of swing dancing that originated in the United States and is often featured in ballroom dancing. There are lots of video tutorials available to help you learn this dance, and they are going to be much more effective than any description we can fit here!
The Jitterbug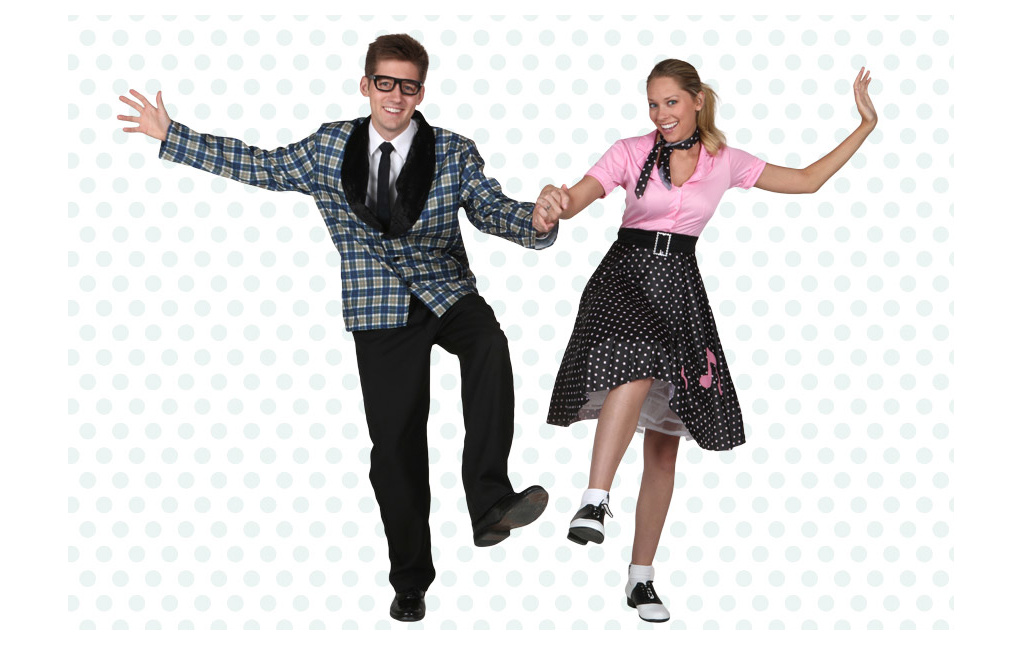 The Jitterbug is a high energy dance that will give you a challenge, but learn to do it and you'll win any dance competition you decide to enter! 'Jitterbug' was the slang word used to describe swing dancing. It will take some dedicated practice to learn these dance moves!
The Hand Jive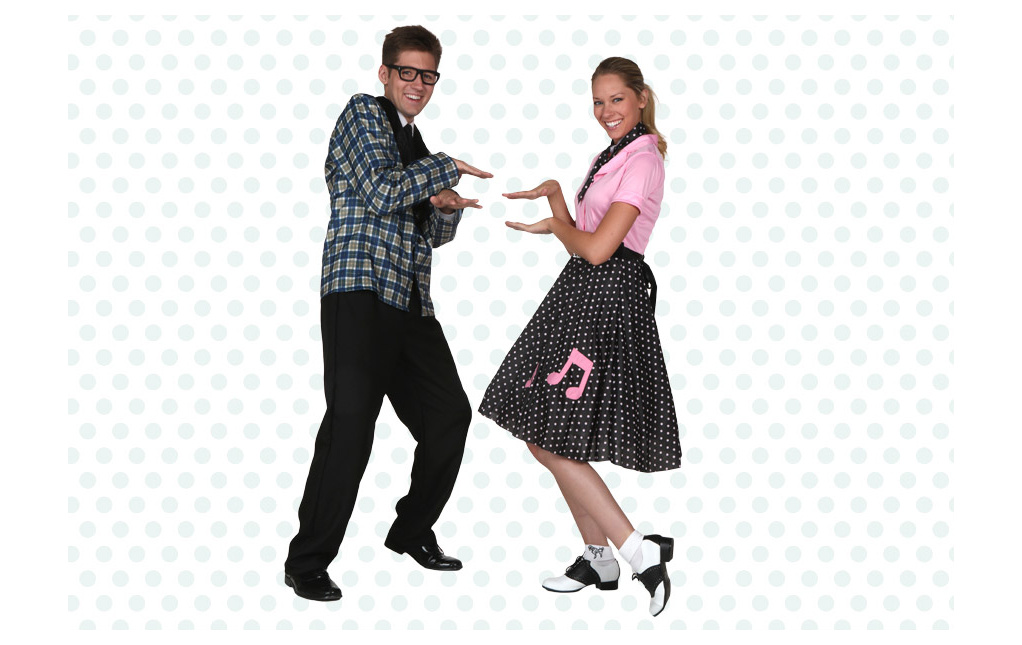 The Hand Jive is as easy as it is fun! It involves a series of hand moves that includes thigh-slapping, fist pounding, hand clapping and more. It is most often associated with 1950s rhythm and blues music. When you and your partner are rocking your best hand jive in vintage 50s attire you'll be unstoppable on the dance floor!