Cosplay Masks
Do you remember your favorite Halloween as a kid? We remember the feeling of trick-or-treat night perfectly. Standing on the porch for a photo with a group of spooky-cute kids. We were on the edge of an adventure. Who knows what we were going to see in our very own neighborhood? The neighbor's houses were transformed into graveyards and haunted mansions draped in spiderwebs and swaying ghosts.
The night echoed with the sounds of crunching leaves and shrieking kids. Sidewalks were peppered with ghosts, superheroes, and most frightening of all, teenagers wearing the scariest Halloween masks they could find. With danger and excitement lurking around every corner, it's no wonder why so many of us are Halloween fans for life!
Adult Halloween Masks
We covered the joys of dressing up for Halloween when we were kids but let's hear it for the grown-ups who can still enjoy Halloween as an adult! You know there's no reason to leave spooky, imaginative costumes behind just because you're eighteen years and up. In fact, now you can finally choose the Halloween costume of your dreams. Take advantage of your full-blown adult freedom this Halloween. These not-so-scary but super rad masks are sure to get you pumped for this year's festivities. If only your past child-self could see you know!
Grinch Mask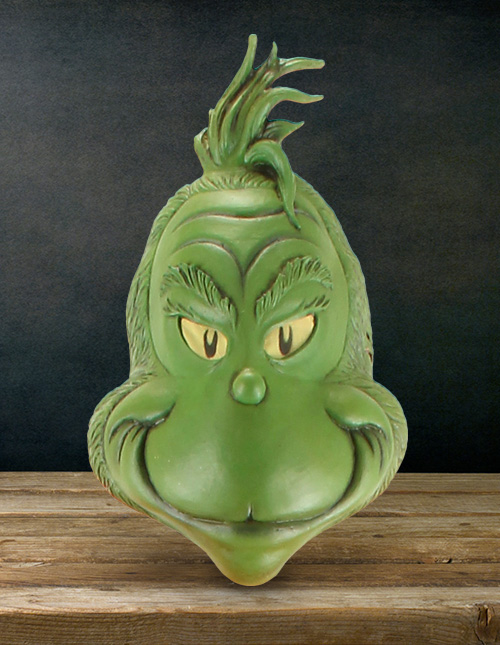 Want a mask that you can wear more than once a year? Dress up in this Grinch mask and you'll be able to cause mischief on Halloween as well as Christmas! Pair this with a Santa suit and people will know they ought to hide their presents.
Rocky Mask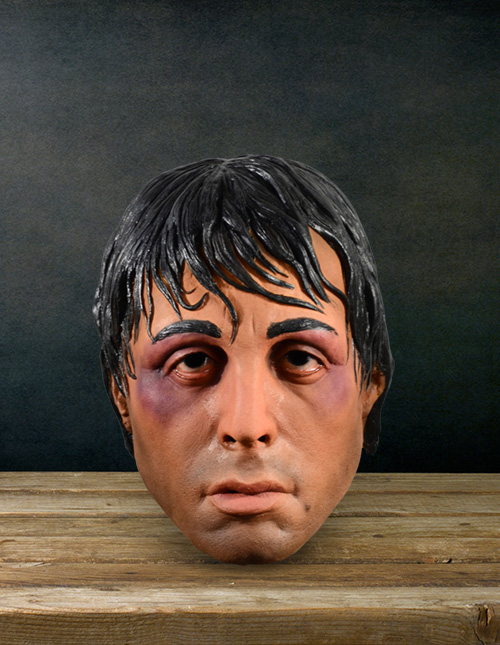 Okay, let's cue up the montage! Dressing up as Rocky Balboa will always be a hit. You'll have a blast quoting your favorite movie while you punch inanimate objects in a quest to get ready for your big comeback. This Rocky Balboa mask is a full head mask with the molded latex forming bruising, swelling, and a sweaty do. Pair this with a pair of Balboa boxing shorts and you'll have a great time this Halloween!
Frankenstein Mask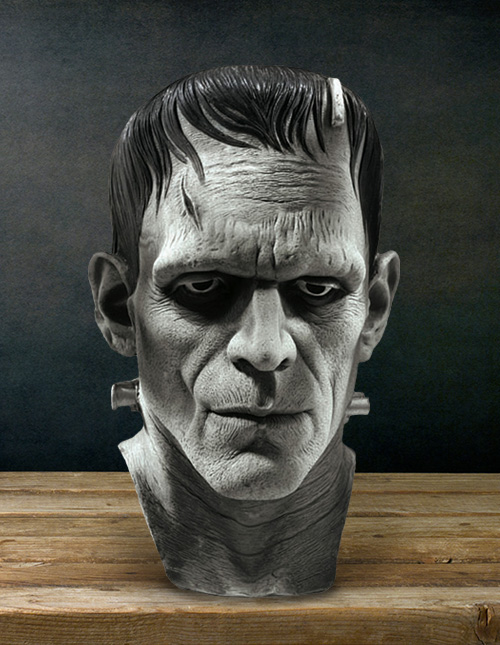 Want your costume to have a touch of silver screen glamour? Are you fond of old-school monsters? This Frankenstein's Monster Mask is perfect for fans of classic horror. This full-head mask is molded with a wrinkled frown and detailed facial features. The gentle green giant looks like he's straight out of the movies with bolts at the neck and an eerie monster face. This is a costume that'll make folks exclaim "He's alive"!
Randy Savage Mask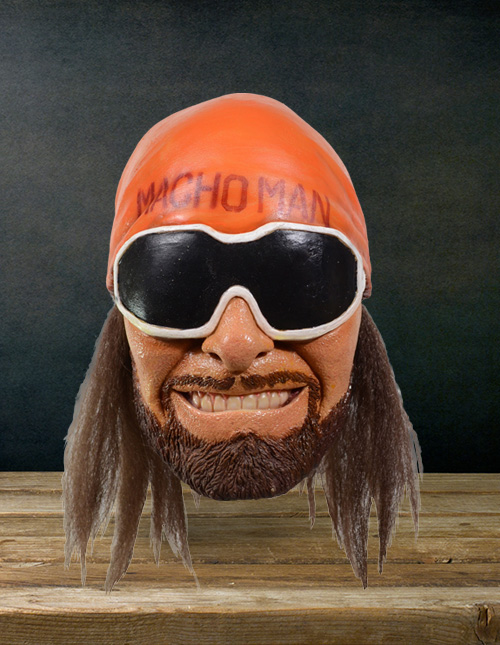 Oooh, Yeah! If you're looking at this, then you've got a great costume idea this October. This WWE Macho Man mask is molded from latex and has details that show this pro wrestler's personality down to a T! Pair this costume with our Made by Us Randy Savage costume and you'll be a legend in no time!
Animal Masks
If the masks in this section were on Old McDonald's farm, we'd oink-oink out of there as fast as we could! Does that make sense? No? Well, what we mean to say is that these animals are freaky as all get-up. Scroll on through and you'll see what we mean.
Bear Mask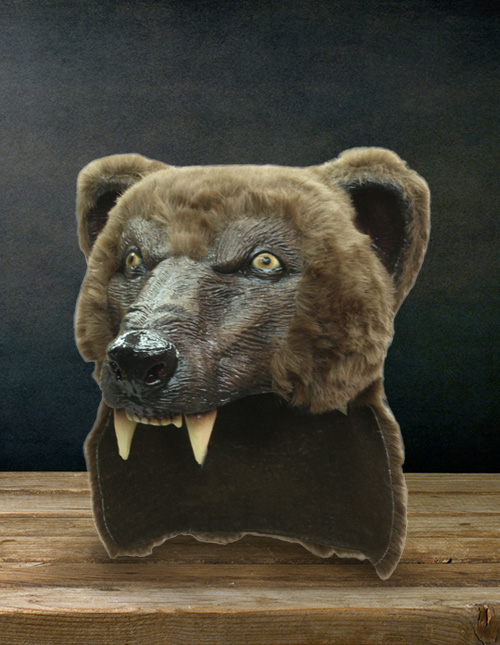 Want a scary mask that you won't have to sweat in? This bear mask covers your forehead for an awesome disguise while letting the rest of your face breath comfortably. You can choose to dress as a bear or as a frontier man that's been living alone in the woods for far too long. With a high-quality mask like this one, you don't have to choose. This latex and faux fur bear hood can be worn again and again!
Jaws Mask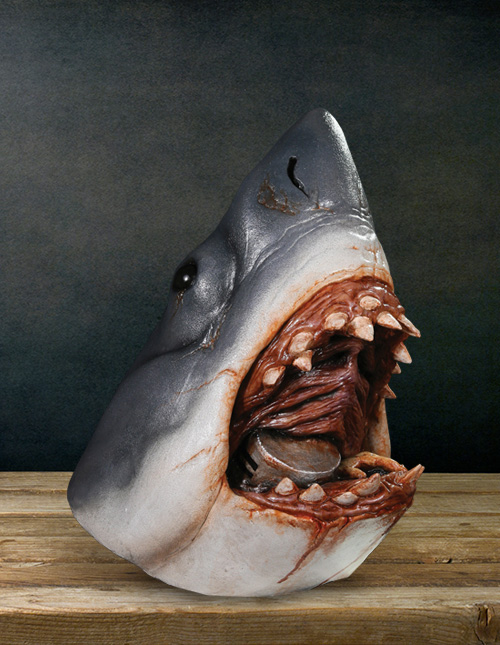 Want to dress as the infamous shark from the blockbuster horror movie Jaws? There's no better way to do this than slipping on this gory shark mask. It shows the man-eating shark at the moment of its demise, an explosive can of oxygen wedged into the beast's angry maw. Bruce is sure to be a hit at Halloween events and tropical-themed parties alike.
Sphynx Cat Mask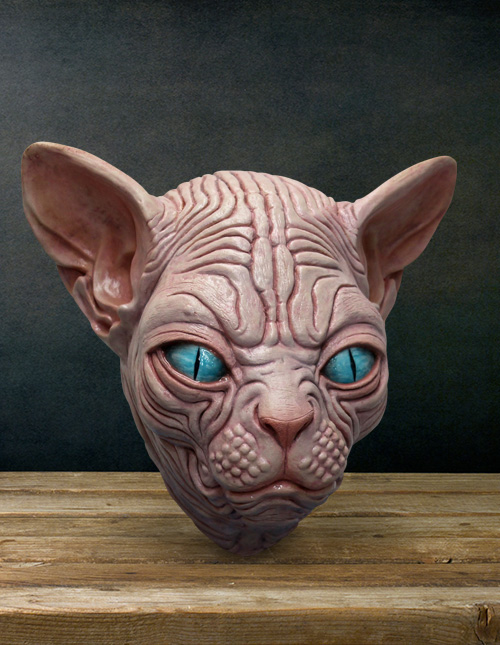 If this kitty was a family pet, we might struggle meeting the creature in the middle of the night. This cat mask is rich with layers of wrinkles and eerie over-sized ears. It has striking blue eyes that add to a mystical feline look. With a mask like this, you can let your imagination run wild. Pair it with an Egyptian costume for a look that will surely stand out this Halloween!
Godzilla Mask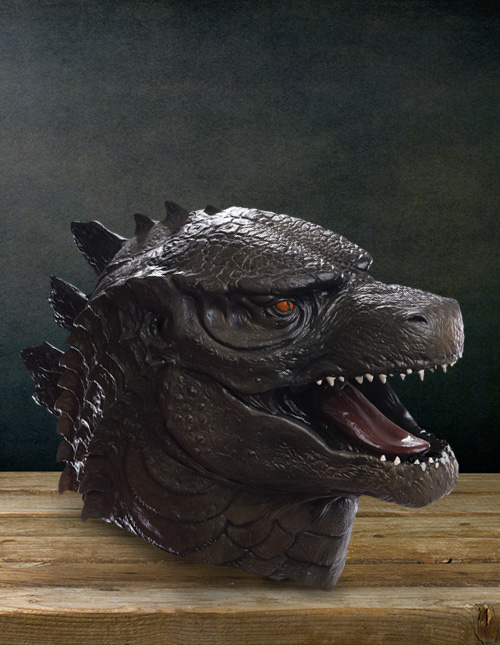 There are plenty of monsters out there, but very few of them are as iconic as this silver-screen over-sized lizard! The deluxe Godzilla mask has details like scales and spinal spikes. The facial detail is sculpted with an open mouth, sharp teeth, and glaring orange eyes. The classic beast is instantly recognizable and can be worn on Halloween as well as creature feature themed parties!
Funny Halloween Masks
While we love scary Halloween masks, there's so much potential for a hilarious impression when you pick out a funny mask this year. From outlandish and strange selections to characters from your favorite TV show, there are plenty of options! Keep them around the house and you'll have endless photo ops for years to come. A family photo with mom and dad wearing horse masks while the kids are dressed up as various animals is something we can get behind!
Horse Mask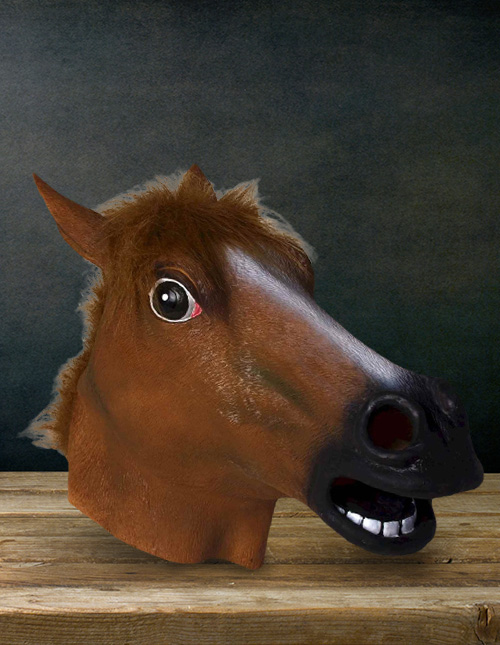 Here's something you might not know about a horse mask: they make great gifts! No one will see it coming but you can be sure it'll be used around the house for pranking pleasure for years to come. What's funnier than waking up to your husband reading the newspaper while wearing a horse mask on a Sunday morning. Well, maybe waking up to your wife reading the newspaper while wearing a horse mask. We can't decide who wore it better!
Hungry Wolf Mask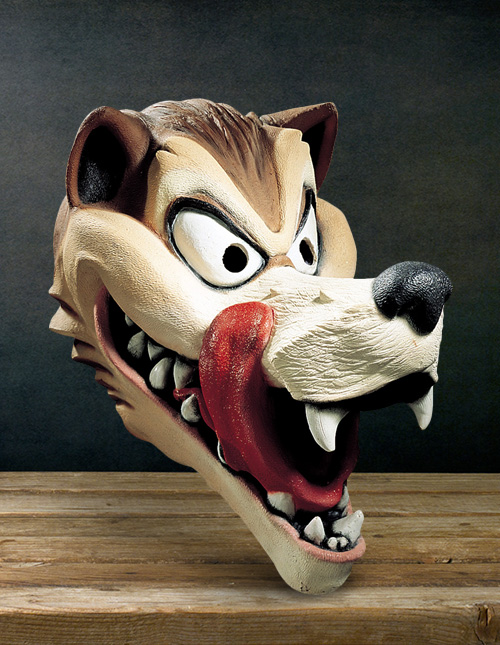 Who's afraid of the big bad wolf? Well, we know a few little pigs who might be shivering away in their brick house right now, but other than those fellas most people find this hungry wolf rather adorable! This wolf mask looks like it stepped straight out of an old school cartoon. Put together a group costume with three little pigs and your Halloween night is sure to be full of memorable mischief!
Rooster Mask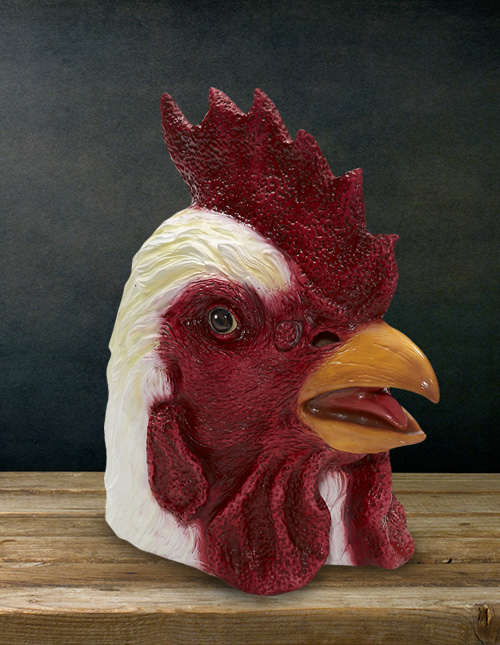 No, no. We'd never call you chicken. We know the difference. You're totally a rooster! We can see it in the way you strut your stuff. We can also tell cause you're always waking up your neighbors by yelling out at the crack of dawn for some reason. Not cool. From Halloween parties to chicken fries, this rooster mask will allow you to do your best "cock-a-doodle-doo" at any event!
Crying Baby Mask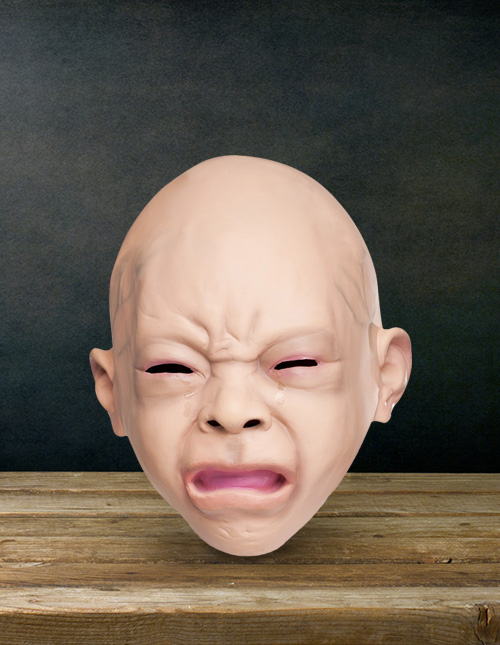 It's your party you can cry if you want to. Actually, even if it's not your party, you're gonna cry whenever and wherever you want when you're rocking this cry baby mask! Pair it with a baby costume or any outfit to point out any public character's inner cry baby.
Professional Halloween Masks
Collecting exclusive professional-grade masks from horror franchises is the ultimate way to show your fandom. Displaying these high-quality masks can be the centerpiece of your décor. These masks are typically made with movie-grade silicone. The masks are full of details such as wrinkles in the skin, monstrous scales, and facial expressions to make the character come to life. More than a costume, these masks are pieces of art!
Belial the Demon Mask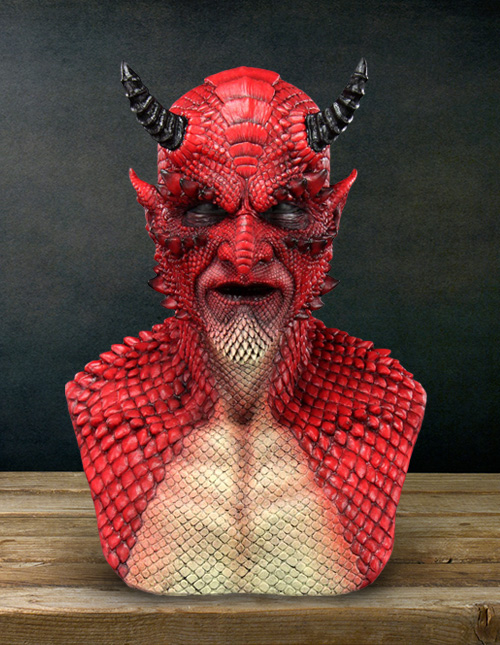 Devil, Beelzebub, Lucifer. Call him what you will, this Belial mask is the closest we want to get to meeting the ruler of hell. The highly-detailed mask is simply impressive! The silicone fits over the whole head and moves with your mouth as you speak, making it perfect for performers. The hand-painted scales and facial features make this mask interesting whether you're wearing it or making it a part of your décor.
Old Man Mask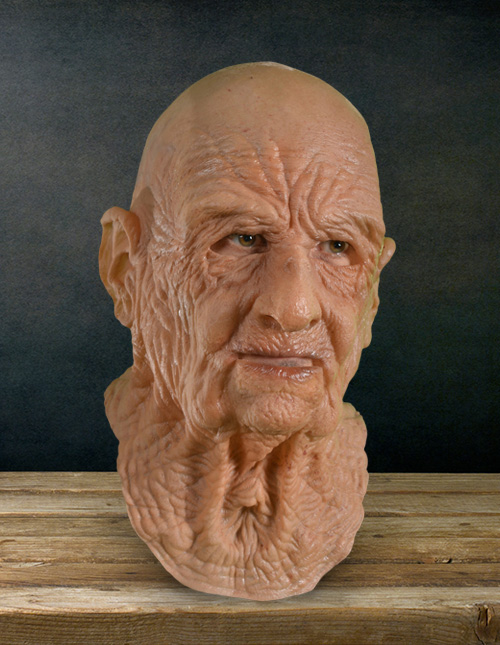 People love how realistic this old man mask is! The thin material has realistic wrinkles throughout and covers your neck to make sure your young skin doesn't give away your true identity. Surprise people by tossing your walker and springing into a cartwheel. People will never judge grandpa by his looks ever again!
Scary Scarecrow Masks
The cornstalks sway under the stormy summer sky. Something is in the field next door. Is it the reason why the farm cats have gone missing and why your hound dog has been howling at the same time every night for the last week? Did that silly incantation you and your friends read actually work? We don't really know when corn became so scary for us. Maybe it was when people started moving from the country to the city. Maybe the tall stalks have always been a source of mystery and chills. All we know is, all the stories of evil scarecrows don't help us feel at ease in a rural setting!
Scary Scarecrow Mask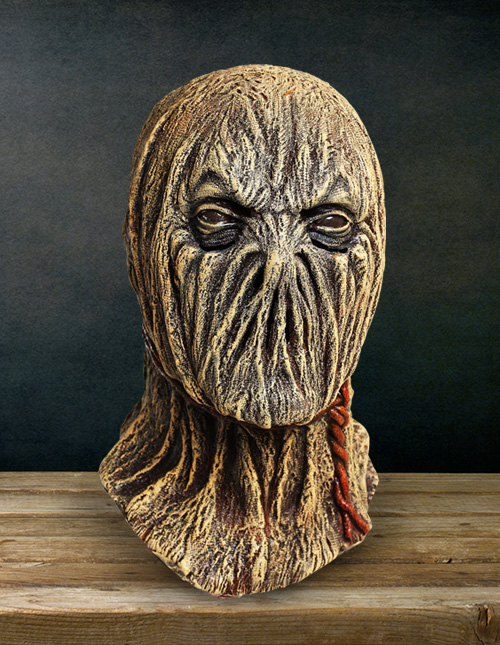 This eerie character looks like he's been baking in the summer heat, waiting for his opportunity to climb off that pole and spread some real scares where it counts. The Made by Us scarecrow mask will cover your whole head, adding authenticity to your look no matter which costume you pair it with.
Bubba Scarecrow Mask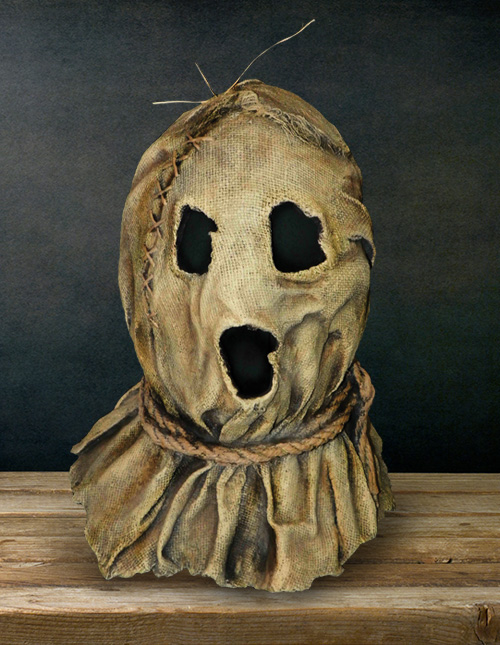 If you've learned anything from horror movies, then you know not to mess with anyone in the country. They're sure to come back as a vengeful scarecrow. That's just how that works! This Bubba scarecrow mask is straight out of the 1981 movie Dark Night of the Scarecrow. The mask has a full-head fit and is sure to be a hit with cult-classic horror movie fans!
Dark Knight Scarecrow Mask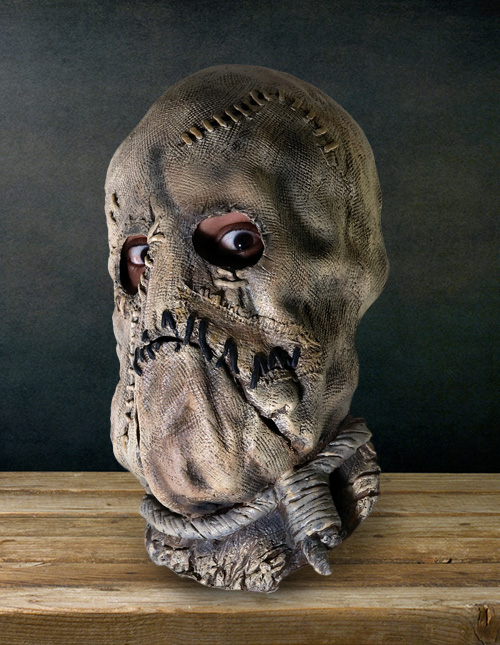 Eerie scarecrows aren't just for horror movies, they also make great characters for superhero epics. While this Dark Knight scarecrow mask doesn't come with a chemical spray that makes people hallucinate, it might still make friends and family freak!
Evil Scarecrow Mask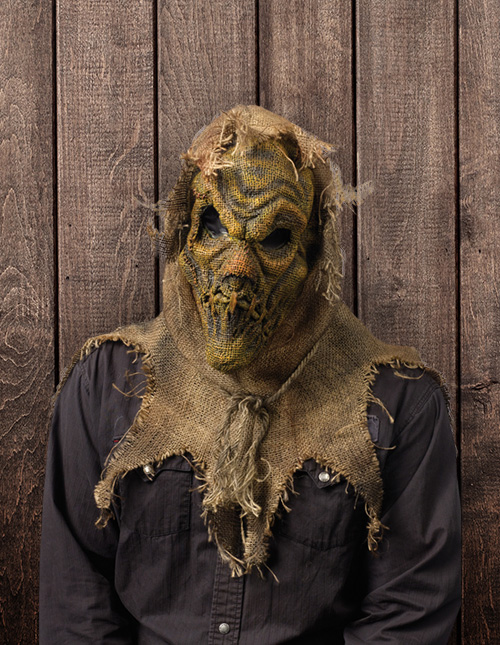 This scarecrow character has some serious issues. We don't think we'd want him lingering in our fields, no matter how many crows were flocking around. This Halloween, you'll look like you're a seriously weathered creature from the crops once you slip on this full-coverage scarecrow mask.
Scary Clown Masks for Halloween
We're still trying to understand how clowns are supposed to be funny. Is it the creepy red nose and lips? Is it the eerie cracked white greasepaint? The bushy hair that makes the "funny guys" look ancient and balding? We don't know how this comedic act got so popular. Then again, people like horror almost as much as they love comedy. Maybe that's why clowns are still around.
Chompo the Clown Mask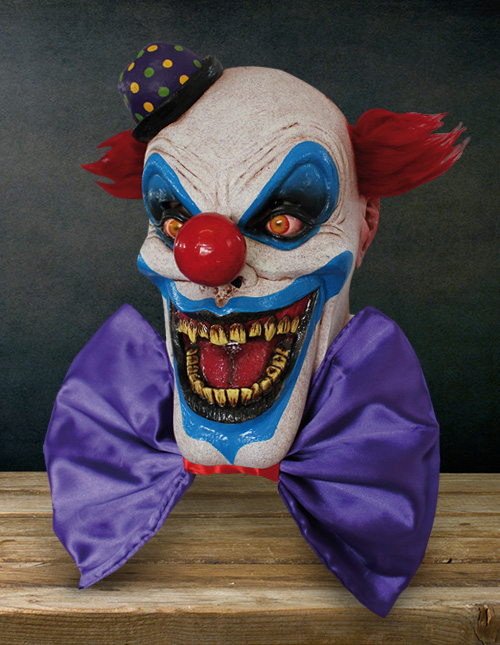 This horrific clown mask looks like he emerged straight out of a nightmare. The long face has arched eyebrows and an open maw with rotting yellow teeth. We hate to think about what this clown might be laughing at. All we know is we're not paying for tickets to this particular circus!
Scary Clown Mask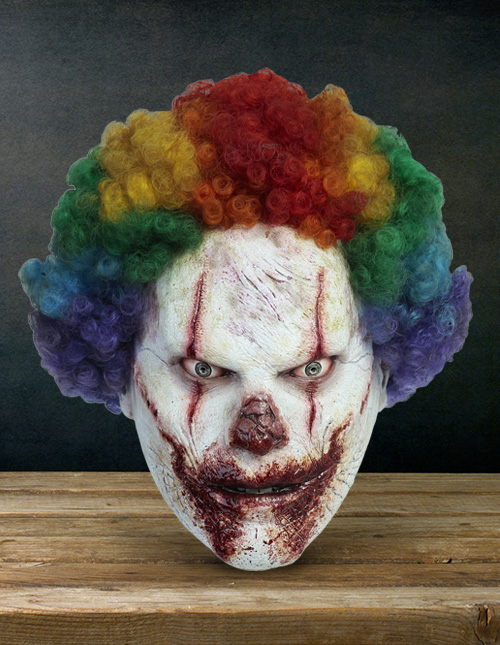 This clown has decided to go light on the greasepaint and heavy on the gore! The full head mask looks aged, cracked, and dangerous. The licensed clown mask is topped with an ancient curly rainbow wig so you'll wonder where it comes from. Pair this mask with one of the many clown costumes in our collection and your look is sure to entertain the masses!
Creepy Giggles the Clown Mask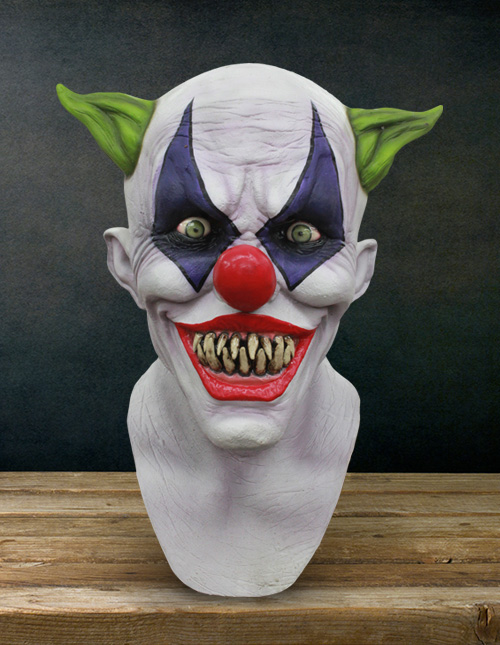 Giggles is a great name for a clown, but we're not sure that it fits this character very well. This creepy clown mask would be more honest if it was named Shrieks the Clown or Never Sleeping Again the Clown. But we can't imagine those names would get this clown many birthday party gigs. Well maybe you should decide for yourself. Does Giggles spread joy? You'll find out when you slip into this nightmare-inducing look!
Coulrophobia Evil Clown Mask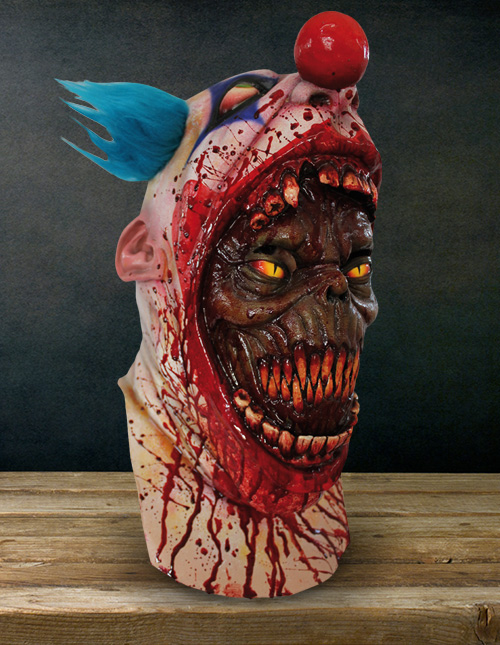 We all knew it! Nothing good could be lurking underneath that huge smile and red, bulbous nose. If you're ready to reveal what's lurking behind the act then this coulrophobia mask. is for you! With a look that covers your entire head, this mask is sure to make an impression as soon as you walk into a room. Just be aware that you're stealing about a month's worth of pleasant dreams from anyone you meet!