Ghostbusters Halloween Costumes
It starts with a ghastly wailing noise coming from the basement. You tell yourself it's just the cat or maybe the furnace on the fritz. So you work up the courage to check it out. You catch sight of slimy green ooze trickling down the walls. Don't worry, it's probably just a leaking pipe—better call a plumber—but maybe you should grab that phone to call someone else just in case! After all, when there's something strange in the neighborhood, you know who to call: the Ghostbusters! Yes, the Ghostbusters have been the number one name in paranormal investigation since 1984. If you have a dose of a freaky ghost, then you better call the Ghostbusters! Then again, maybe you're the type that likes to take things into your own hands? Then how about becoming a member of the team! With one of our Ghostbusters costumes, it's easier than ever to hunt some spirits yourself!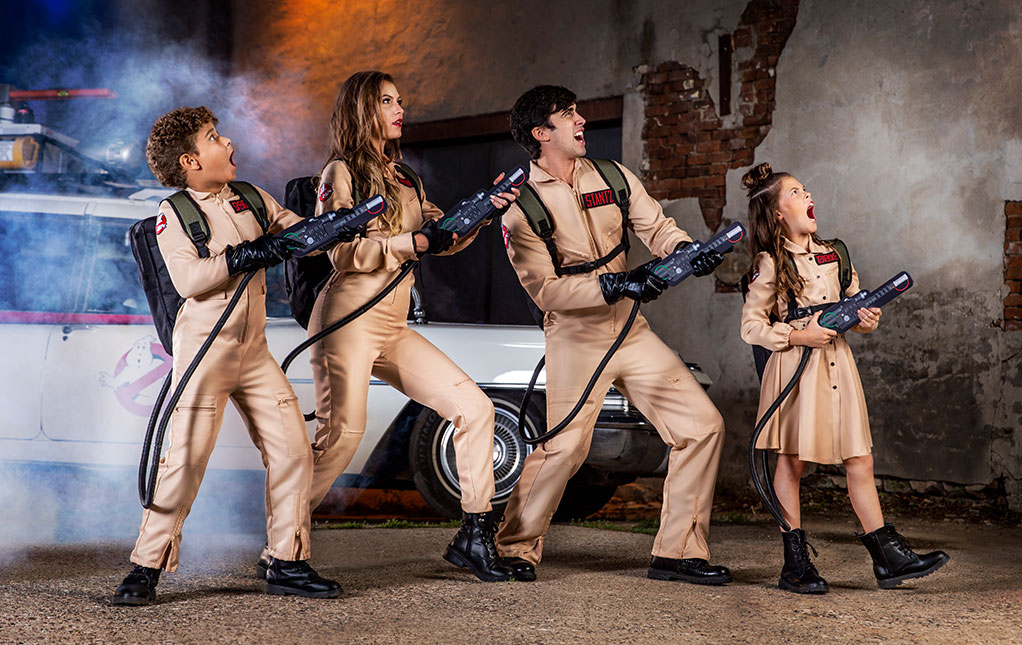 The real question is, what kind of Ghostbuster do you want to be? We have so many options based on the movies, you can go plenty of different ways when dressing up like a character from the Ghostbusters. This helpful guide will take a look at some of our favorite costumes, including plenty Made By Us, exclusive Ghostbusters jumpsuits and freaky ghost costumes. It's time to take a look at the best outfits around for busting ghosts!
Ghostbusters Family Costumes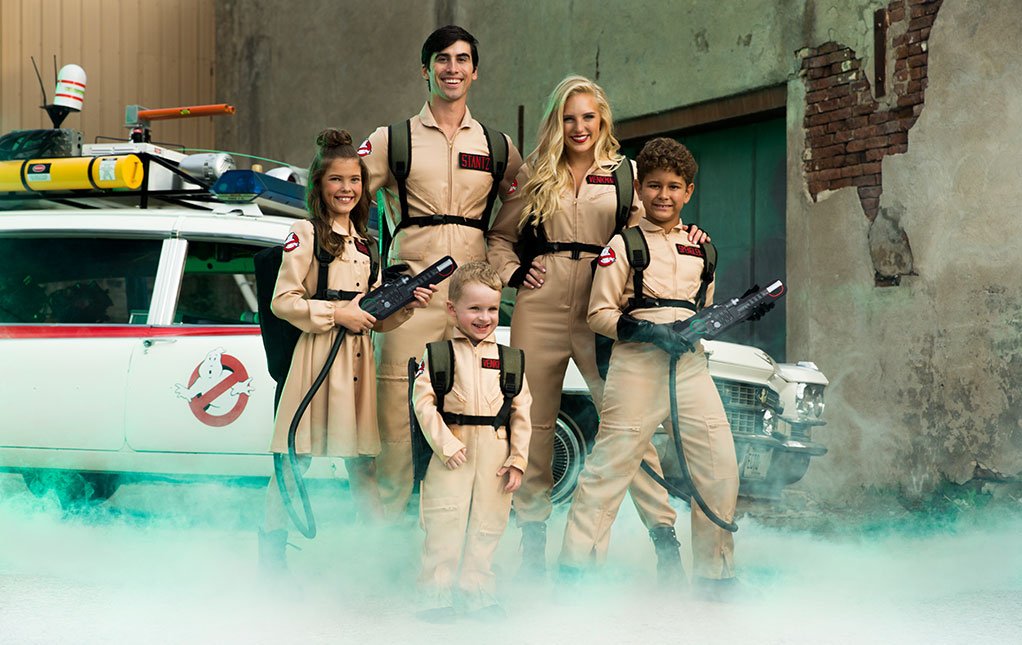 In Ghostbusters, the fellas are all about teamwork! After all, if you want to take on some of the most dangerous supernatural entities that the world has ever seen, you can't do it alone. Wrangling a family together for a group costume…well, that also requires a little teamwork. It's also one of the reasons why doing a Ghostbusters family costume is a great way for the whole family to get together for Halloween. The simple design of the classic Ghostbusters costume makes for an easy way to get a coordinated look that fits tons of different sizes and body types. That means mom, dad, the kids, and even babies can all get a look that will have them ready to join the team.
Women's Ghostbusters Costume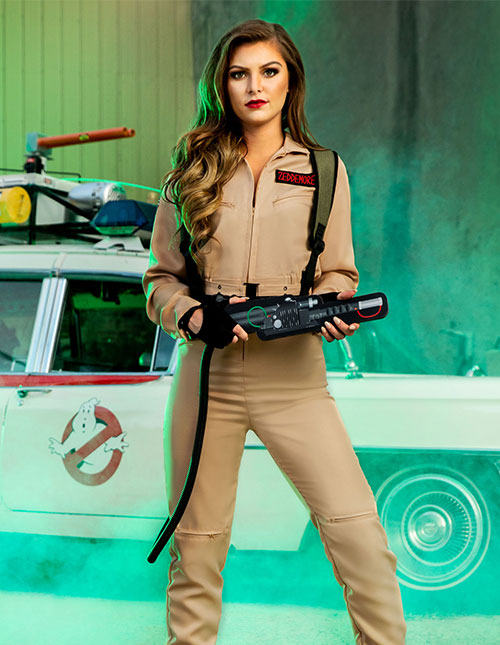 Let's face it. The classic coveralls suit was definitely designed for guys. They have sort of a boxy shape, which might be alright for most men trying to dress up like a Ghostbuster, it's not always exactly flattering on women. The good news is that we have a Made By Us Ghostbuster costume for women. It's designed in women's sizing, making it a much better option for a mom who just wants a better fit than the classic men's jumpsuit.
Plus Size Ghostbuster Costume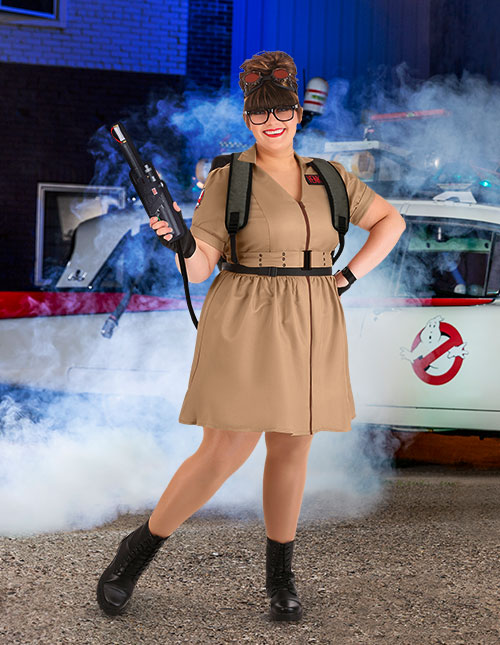 Here at HalloweenCostumes.com, we want to make sure that everyone can get the look they want. That's why we carry the largest selection of plus size costumes on the internet! So we made sure to create an excellent plus size Ghostbusters costume when crafting our range of Made By Us Ghostbusters costumes!
Ghostbusters Halloween Costume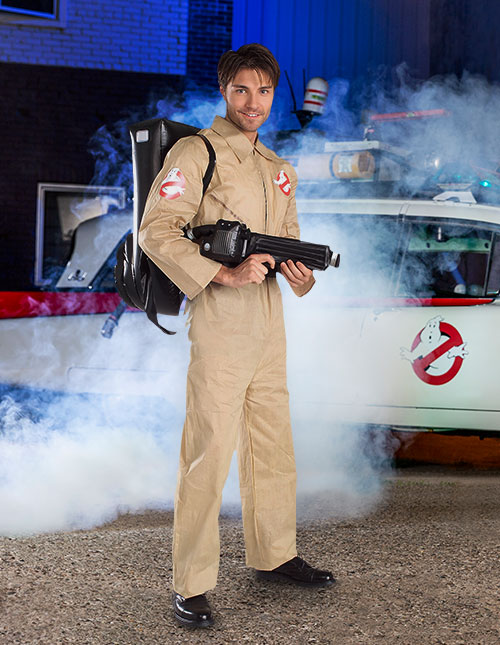 You've probably already noticed this…but having a family is expensive! It means you need to spend extra money when eating out and every single extra-curricular activity seems to add up in the ol' checkbook. That means having a budget option can be a real lifesaver, especially if you're trying to outfit the whole family like the Ghostbusters! This Ghostbusters Halloween costume is a great budget option for anyone who wants to shave a few extra bucks off the bill!
Ghostbuster Costumes for Kids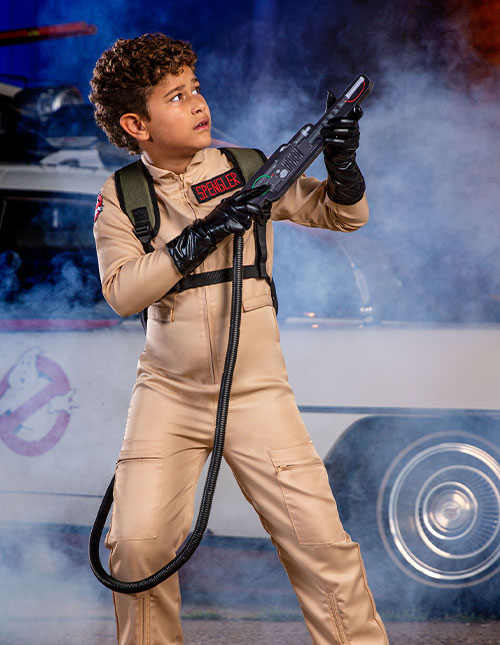 Got a fearless child on your hands? Some kids are already raring to go in a round of ghost hunting, you know? And they act as the best backup when you're trying to investigate a little paranormal activity in the neighborhood! That means they'll need a kid's Ghostbusters costume to join the crew. Our Made By Us outfit comes in styles for both boys and girls, so it's a great choice for any child.
Toddler Ghostbusters Costume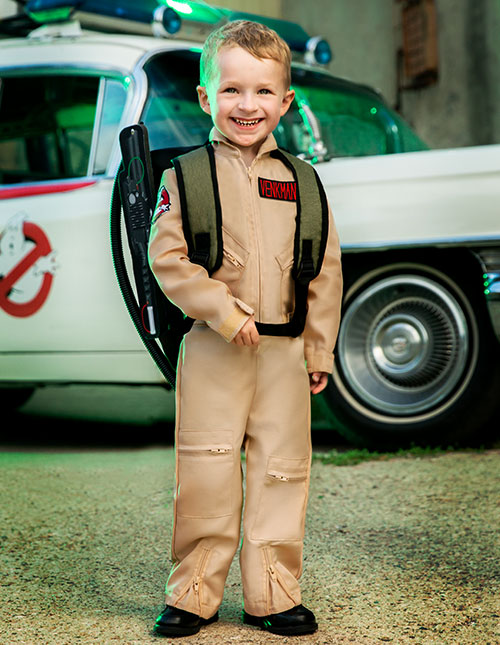 So, your child has taken their first steps…literally! Now it's time for them to take their first steps into the world of ghostbusting! Just think about it…parent and child capturing those dastardly ghoulies side by side. It'll be a thing of beauty! Well, our toddler Ghostbusters costume is a great option for any little one who wants to become a rookie member of the crew!
Baby Ghostbusters Costume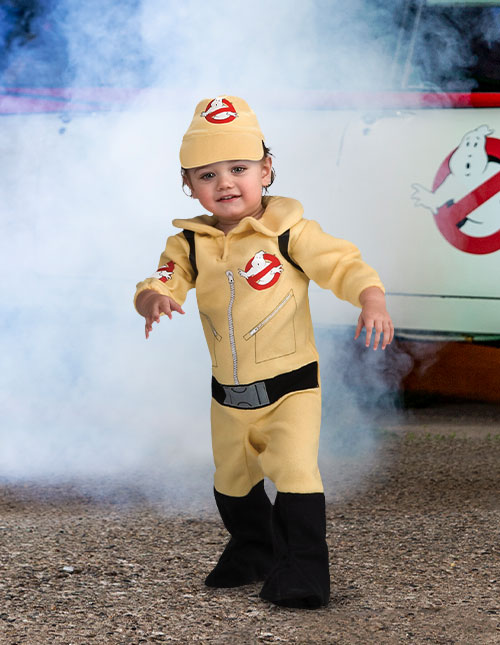 Can't wait to show your little one the ropes, even though they're still in diapers? Well, no worries! You can start your child on the path to becoming a ghostbuster, even if they're still just a baby! Our baby Ghostbusters costume helps even the youngest of prospective paranormal investigators join the team. You can teach your baby how to use the PKE Meter, but we recommend waiting a few years before letting them drive Ecto-1!
Slimer Costumes
Of course, no guide to Ghostbusters costumes could be complete without mentioning Slimer. The oozing green blob is a staple in the Ghostbusters franchise, showing up as comic relief and sometimes as an ally to the crew! The character was famously inspired by John Belushi, who was a close friend of Dan Aykroyd and Bill Murray. Belushi was initially slated to play Peter Venkman, but he died before he could play the role. As an homage, they modeled Slimer after John's character from the 1980 classic Animal House. Well, now you can step into the role of Slimer by getting a costume for you or your child! Let's take a peek at some of the great costume options below.
Kids' Slimer Costume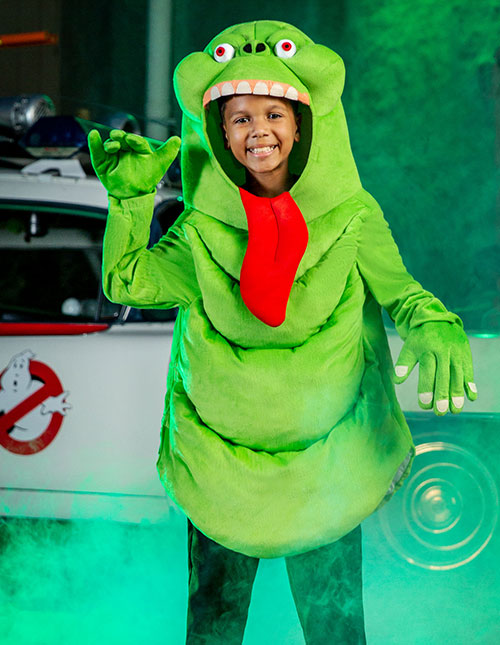 Not every kid wants to fight the good fight of busting ghosts! Some children would rather spend their time wreaking havoc AS a ghost. Well, Slimer really is the perfect role for any child, and this kids' Slimer costume will help any kid embrace their inner ghoul! It's one of our many Made By Us, exclusive costumes. If your child is looking to join the Ghostbusters group, then this is the outfit to choose!
Toddler Slimer Costume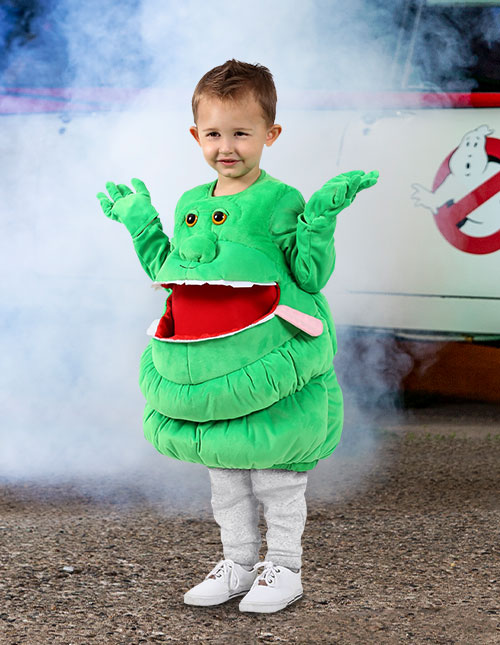 Slimer is one hungry critter! In the first film, they first encounter him in the Sedgewick Hotel, feasting on everything edible in sight. Well, if you have one hungry little ghost, then this toddler Slimer costume will be a dream come true for your little one. Perfect for trick-or-treating, your child will be able to bring in the big haul this year when they head out in a Slimer outfit like this one.
Baby Slimer Costume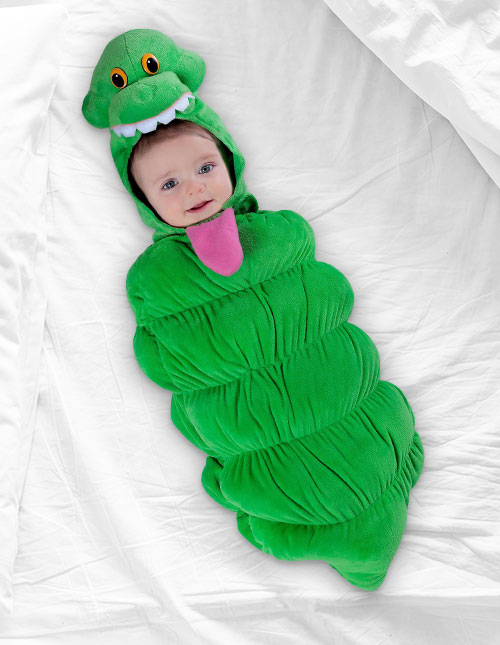 In some ways, you could argue that no one embodies the spirit of Slimer quite like a baby! After all, Slimer's all about eating and making weird smells, which is most of what a baby does. (Okay, you can add making cute noises and sleeping to that list.) If you think that your baby would make the perfect Slimer, then you can dress them up in this adorable baby Slimer costume! Nothing looks quite as cute as a parent-child duo costume with your little one as Slimer.
Ghostbusters Slimer Costume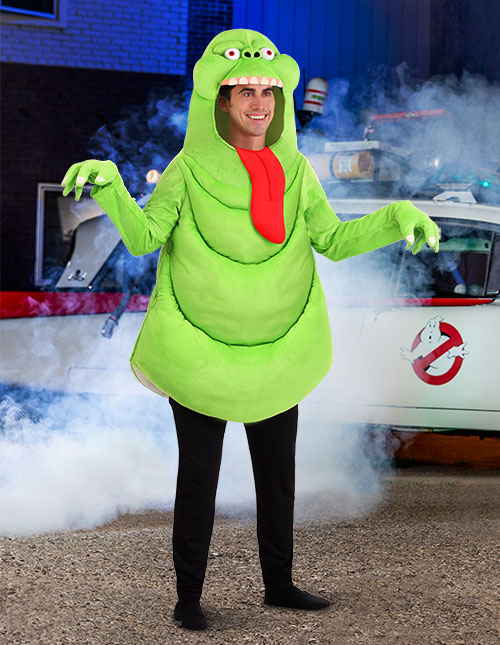 A lot of adults who grew up with the Ghostbusters dreamed of being Peter Venkman or Egon Spengler. But some…well, they just wanted to be a slimy green ghost causing a ruckus! If you were one of those kids when you were young, then maybe some of that attitude has followed you into adulthood! You might just be perfect for this adult Slimer costume, which faithfully recreates the character in a neon green outfit!
Stay Puft Marshmallow Man Costume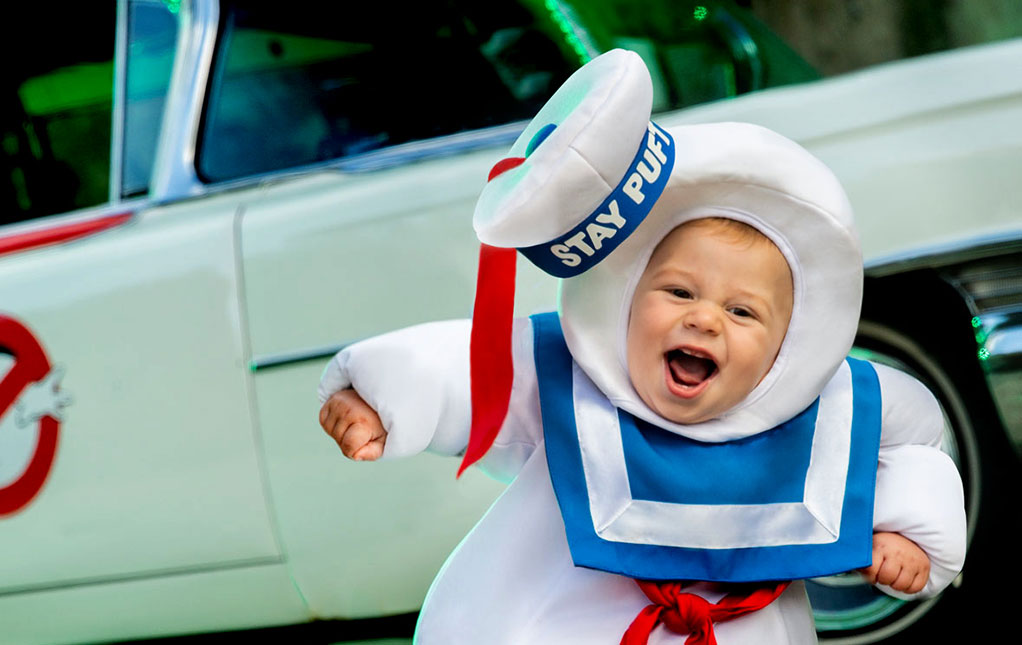 Oh, Ray. You couldn't turn off that brain of yours for just a few seconds, could you? When an ancient demi-god lets you choose the method of your destruction, you blank your mind like some kind of Zen master…you know, like a ninja or something! Ray probably didn't get that memo. Well, thanks to Dr. Stantz, we did get to see one of the greatest movie finales of all time. We can't get too mad at the guy! If you want to be Gozer's ultimate form, then we recommend one of our Stay Puft Marshmallow Man Costumes. We have quite a few options, so how about we take a look at some of our favorite choices.
Stay Puft Costume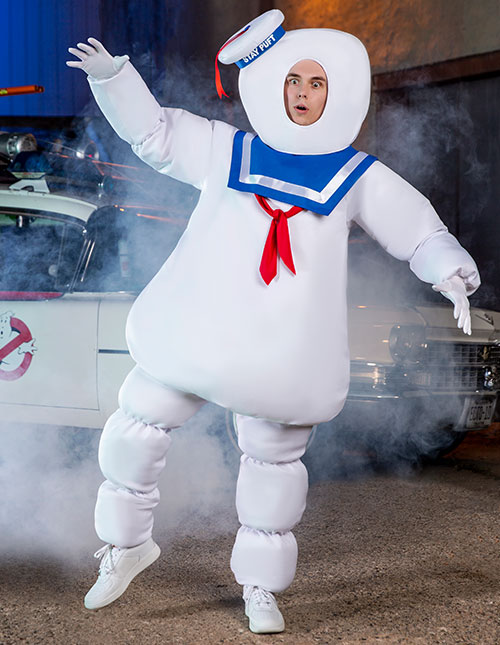 Stay Puft is the classic movie villain of the 1980s. Of course, it makes perfect sense that he'd get a classic costume to go along with it. This Made By Us Stay Puft costume is a great choice for anyone who wants to wreak a little havoc in their neighborhood. We must warn you, though: a classic outfit like this won't actually turn you into the physical embodiment of Gozer's power…so you might want to make friends with the Ghostbusters instead of antagonizing them.
Ghostbusters Inflatable Stay Puft Costume
Inflatable costumes have become all the rage lately. Of course, we can thank the iconic Jurassic Park T-Rex outfit for that! Videos of people doing wacky things while wearing the inflatable costume have popped up all over the internet. If you want to bring that same wackiness to your Ghostbusters themed costume, then this inflatable Stay Puft costume will help you add some goofy fun to your next costume party. This particular one is one of our exclusive outfits, so you'll only find it here!
Ghostbusters Dog Costumes
We love doggos, puppers, woofers, smol bois, and boop snooters. For those not initiated in doggo lingo, we're talking about dogs. Man's best friend is always on board for the party and you can bet that your pup doesn't want to be left behind at the next big costume party! Luckily, you can get a matching look for any doggo with some of our Ghostbusters costumes for dogs. Whether your furry bud wants to join in the next task of Ghostbusting, or if your pup acts a little like a ghoulish critter himself, we have the costume for your pooch!
Ghostbusters Dog Costume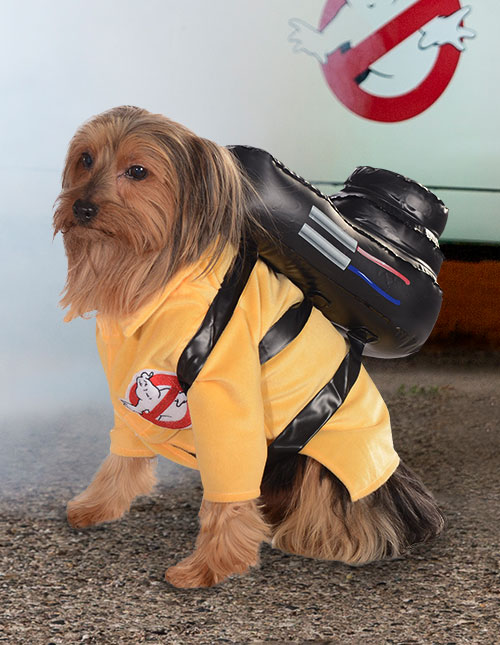 Think your pooch has what it takes to join the crew? Well, outfit him with this dog Ghostbusters costume and find out! Your brave doggo can chase after ghosts, help you carry your crazy equipment, or he can even ride in the passenger seat of the Ecto-1! Make sure to roll the window down for him so he can catch the scent of the next job!
Slimer Dog Costume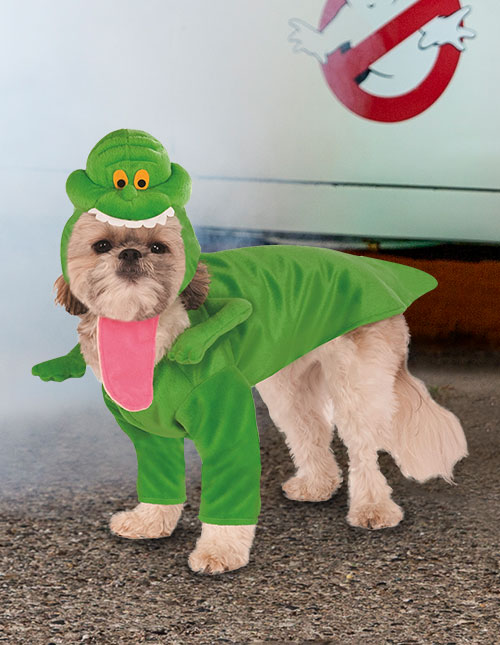 Then again, some doggos are complete maniacs! They make a mess, create strange smells, scurry through the house, and eat up all of your food. If they weren't so darn cute and lovable, they'd be the worst roommate in the world! Well, if your dog is one of those wild dogs, then maybe this Slimer dog costume is a better fit for your pooch.
The Evolution of Ghostbusters Costumes
Of course, the inspiration for our Ghostbusters costumes comes from their outfits in the movies and the cartoon show! Over the years, they've gone through plenty of different wardrobe changes and we've chronicled their different costumes in this neat graphic. Check out all of the Ghostbusters of the past below.
Ghostbusters (1984)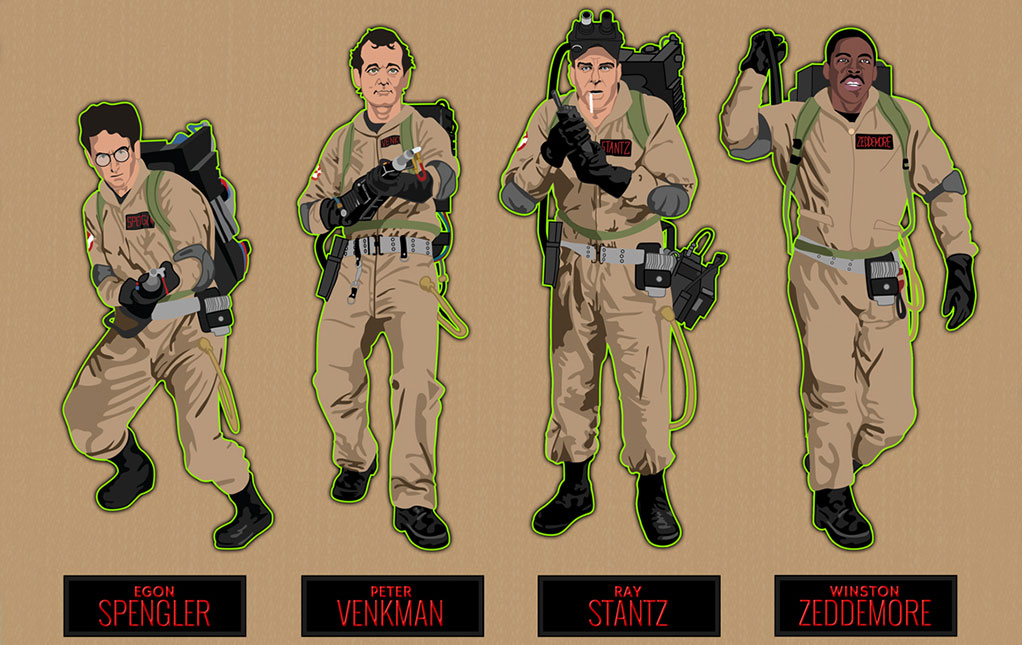 We have to start with the classic! Ghostbusters started it all in 1984. Written by Dan Aykroyd and Harold Ramis, the now-classic movie brought together a crew of strange professors—or mad scientists, depending on who you ask—trying to deal with all of the paranormal activity in New York City. They ended up crafting simple, tan jumpsuits with sewn-in name patches. The suits were basic jumpsuits, which are a staple in any career where you have a high chance of getting slimed!
The Real Ghostbusters (1986 – 1991)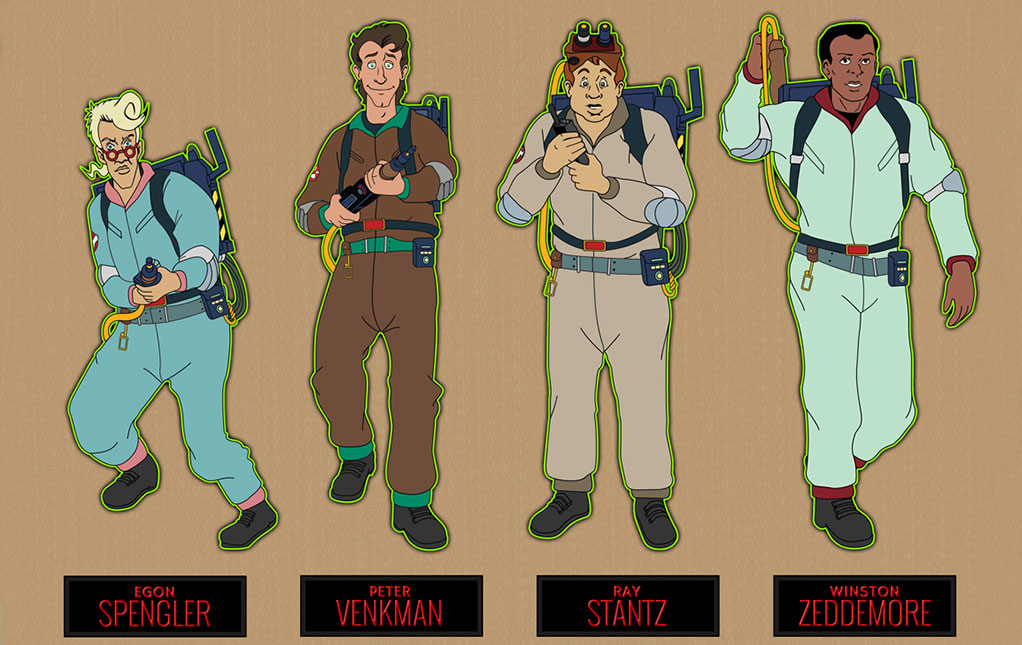 After the smash success of the movie, an animated series seemed like the natural next step! The cartoon brought us a re-imagination of the crew, except with slightly retuned costumes. This time around, each character got a unique, colored jumpsuit. Egon got sky blue. Peter Venkman wore dark brown. Ray kept the original tan color, and Winston switched to a jumpsuit with a light, greenish-blue color.
Ghostbusters II (1989)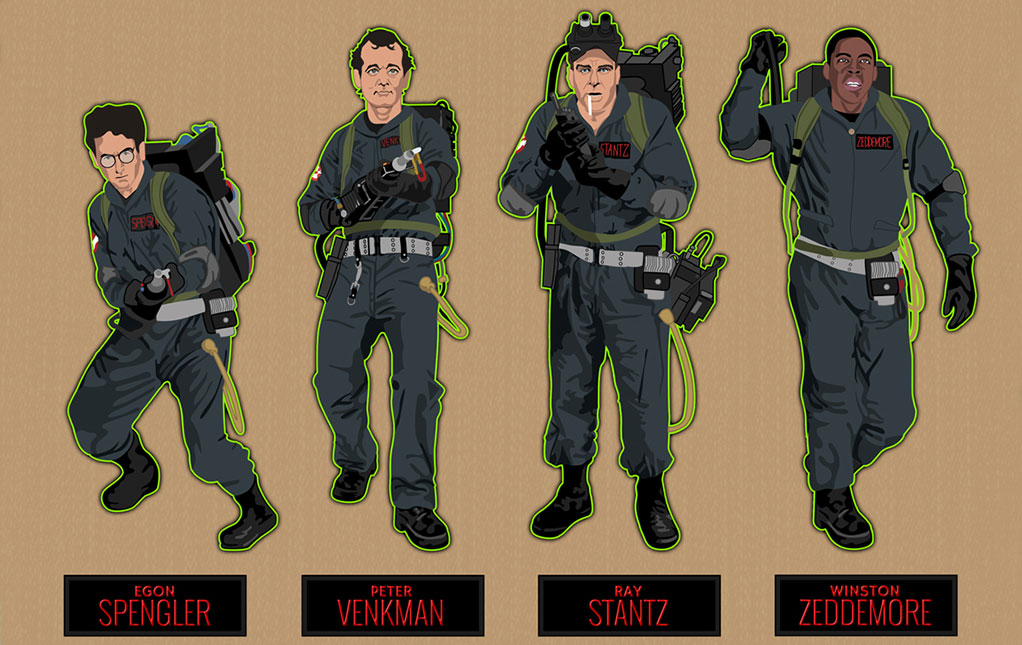 Ghostbusters II came out in 1989. The team still wore classic jumpsuits, but they chose a brand new color to fight ghosts in. The new ones came in a snazzy dark grey color. These outfits might be a little less iconic, but we happen to think it brings a brand new attitude to the whole Ghostbusting gig. We even carry adult versions of the dark outfit for any fan of the second movie.
Ghostbusters (2016)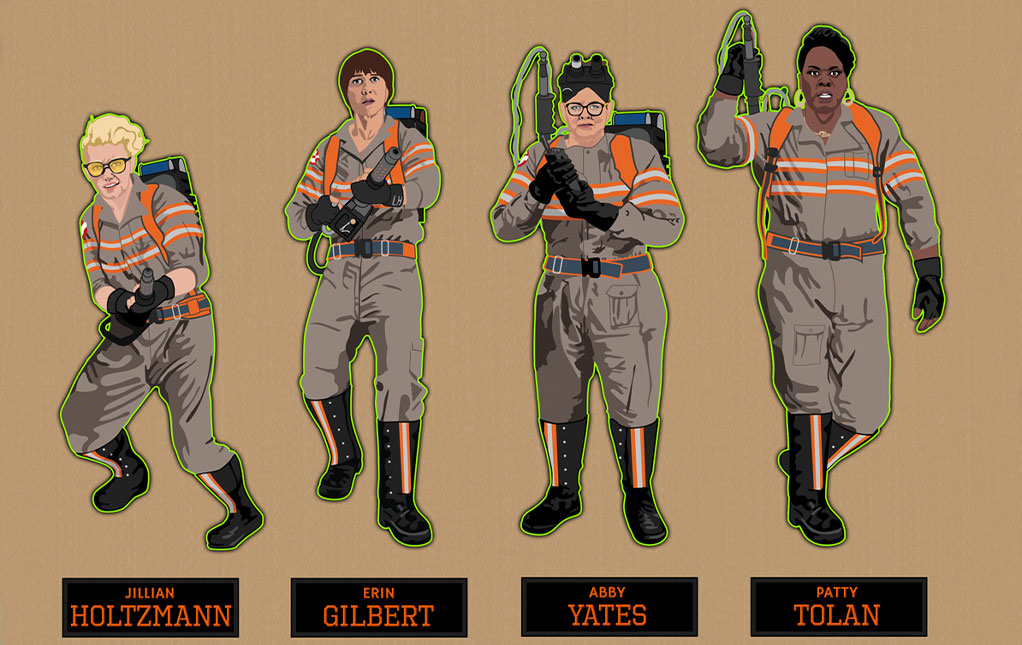 A brand new crew of Ghostbusters broke onto the scene in 2016. In this quirky comedy, Kristen Wiig and Melissa McCarthy brought their unique sense of humor to the roles, but they also brought some brand new outfits! They successfully paid homage to the classic look while adding their own spin to the costume! Their jumpsuits look a bit more like a firefighter suit, complete with orange striping around the front.