Flamingo Halloween Costumes
When we walk into a Halloween party or stroll through the neighborhood trick-or-treating with our kids, we see a lot of the same costumes. Spider-Man runs around with a Paw Patrol pup in tow. Witches assemble with cats, skeletons, and little devils. And we love it! The popular and classic costumes bring us together to geek out with a friend or stranger about whichever character we've chosen.
But if you want to stand out in the costume crowd and start a new conversation, it's time to spread your wings and discover everything a flamingo costume provides! Hop into the following guide to learn a few of our flamingo costume ideas and how you can bring them to life. Adapt classic Halloween group costumes, dream up surprising animal costume combos, or show the world how intriguing the bubblegum-pink bird can be with exclusives that capture their whimsical allure!
Inflatable Flamingo Costume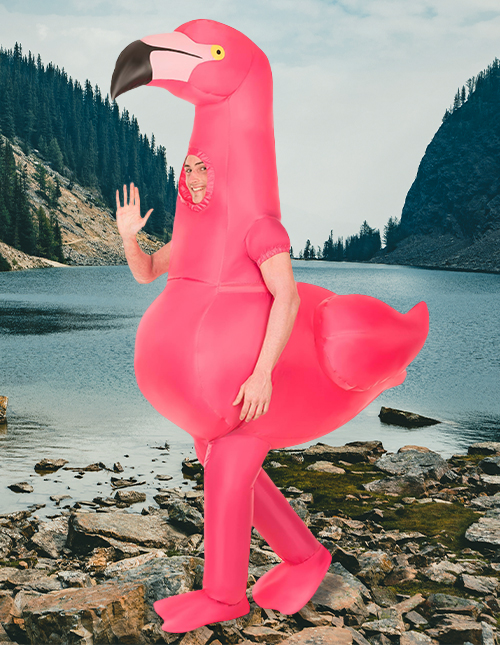 Inflatable costumes stand steady on two legs. Even the flamingo variety! And that has everything to do with their unquestionable silliness! And whether you're looking for a funny costume this Halloween or hoping to stir up a few reactions at your neighborhood summer block party, this inflatable flamingo costume for adults is sure to charm as it bobs around! Kid wants in too? Check out easy-to-wear ride-on costumes including bridled flamingos and so much more!
Toddler Flamingo Costume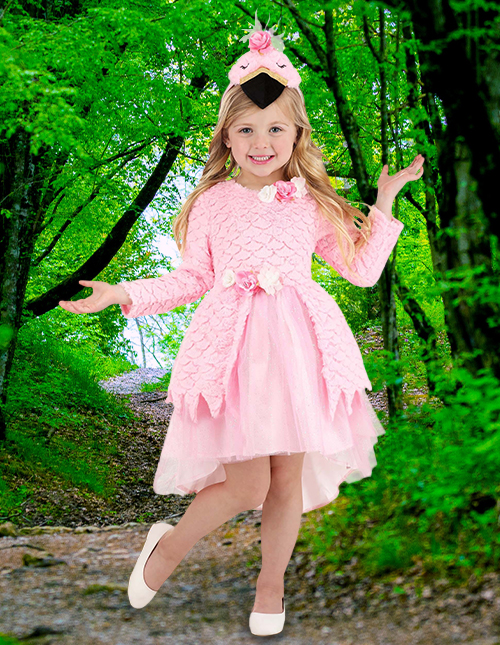 Typically, kids want a popular costume for trick-or-treating. Luckily, our kid's selection has them all! But if your little one isn't giving costume demands yet, you get to pick! And flamingo costumes offer as much play as versatility! Stun in a mommy-and-me Alice in Wonderland costume with our toddler tutu flamingo and a Queen of Hearts costume. Or let the exclusive inspire a trip to our Posh Peanut baby and toddler costumes for more picture-perfect ideas!
Flamingo Men's Suit
Halloween isn't the event you're prepping but flamingos are still the theme? We've got you! After all, costumes aren't for only Halloween and we've curated a collection of costume apparel to cover everything from spooky season to summer. Show a sharp sense of style and humor at prom, destination weddings, or any event when you choose OppoSuits' flamingo suit. Shop Suitmeister and Christmas sets for even more mix-and-match formal attire and neckties to suit your need!
Flamingo Costume Accessories
It's well-known. Accessories can make or break any outfit, but especially costumes. So, you'll find we have a comprehensive range of accessories from costume jewelry to press-on nails and costume boots to toy swords. That includes flamingo accessories! But the best part? Even the vibrant pink options we offer for your flamingo costume are ready to work with other costumes!
Perfect your flamingo costume with the accessories detailed below then turn around and put the versatile pieces to work with your 1980's costume, Barbie doll outfit, fairytale mermaid, or anime cosplay! After reading the ideas we've listed below, you'll be ready to make every costume you dream up unforgettable for all the right reasons!
Flamingo Purse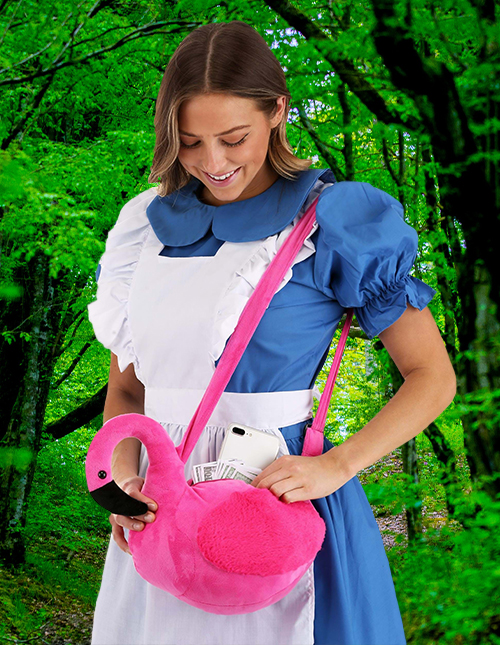 A flamingo purse may seem niche. But the list of uses for our exclusive Alice in Wonderland flamingo costume companion is extensive! The playful purse pairs perfectly with Wonderland ensembles, ensuring readiness to join croquet games. However, it also shines as the bag of choice to carry the essentials into tropical-themed parties. And though its carrying space is limited, it makes a wacky and whimsical trick-or-treat pail or everyday accessory for all!
Flamingo Headband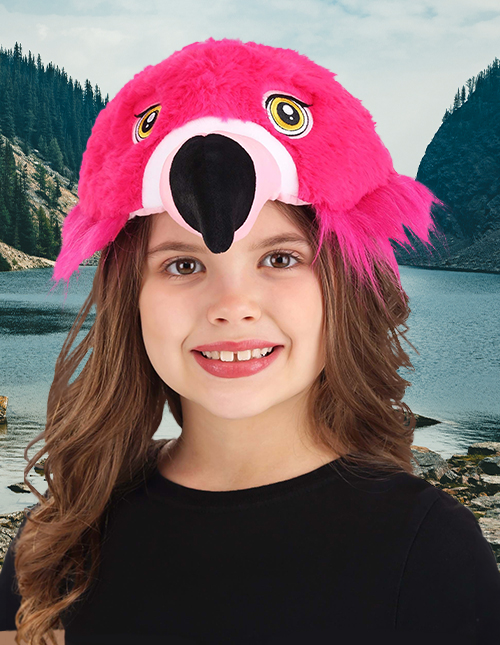 Every dress-up box thrives with a selection of animal accessories. They bring playtime adventures to life for kids and kids-at-heart while making last-minute costume plans easy to complete. And our plush flamingo headband is no exception! Answer your kiddo's flights of fancy when you become birds of a feather in the headband, primping and playing around imagined oases. Or perfect dance team outfits and Halloween dreams with the Made By Us exclusive!
Flamingo Croquet Mallet
In Disney's Alice in Wonderland, the Queen of Hearts' flamingos act a bit more like doddering dodos than graceful gents. But that silliness is part of the charm and our flamingo mallet is ready to provide a healthy dose of goofy goodness to your formidable queen or Alice costume! Adding a twist to the beloved tail? Swap the cute croquet mallet for a spooky skeleton flamingo (or any prop animal skeleton) that's sure to amplify the Halloween spirit of your unique costume idea!