Cleopatra Costumes
Cleopatra, Queen of the Nile, female pharaoh, goddess incarnate...and one heck of a costume! Whether you're planning the best Halloween ever, or are just looking to rule over your next costume party, a Cleopatra costume is a historical but never dated choice. For women, this one is a tough look to beat. But of course, if you're looking to take the top prize, you'll want to make sure your Nile game is on point. Lucky for you, we've got your back! The Cleopatra costumes featured in this section range from kids costumes that are great for school projects to Cleopatra dresses that'll have you ready for a fancy themed gala. Go ahead and scroll through to rediscover these ancient Egyptian fashions for yourself!
Girls' Cleopatra Costumes
Does the title of princess seem to ring a little false with your child? Puffed sleeves and waiting daintily in a tower for a prince to come and save her just doesn't have appeal? We get that. And just because princess doesn't seem to fit doesn't mean your kiddo can't have that royal touch. How does empress sound? Better? That's why Cleopatra has been a favorite for girls for generation after generation. Cleopatra costumes empower kids to believe that they have what it takes to shape their own world. While some people might think she's famous for her beauty, it's her wit and smarts that are written about again and again. And that famous beauty we talk about? Well, that has a lot to do with Cleo's amazing touch for fashion. Cleopatra was a woman who really knew how to make an entrance.
Cleopatra Costume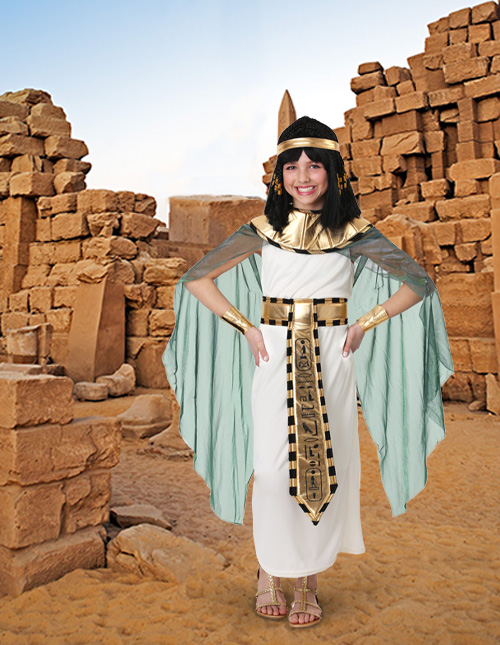 Girls' Cleopatra costumes are always a lot of fun but when they're Made By Us, that powerful fun can be worn outside of Halloween. With this high-quality Egyptian dress, your child can wear her costume for school projects, playtime skits, and even themed birthday parties. Go ahead and give her the power and watch how this quality costume adds a royal touch to your child's demeanor!
Girls' Cleopatra Costume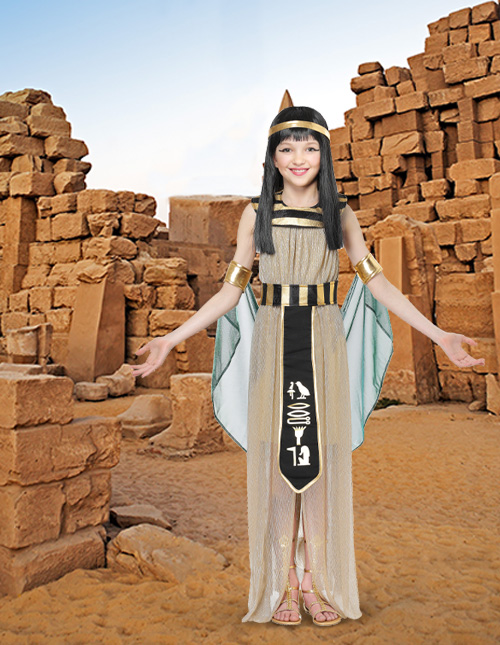 Egyptian style dress is all about keeping the clothing lightweight for the hot climate while maintaining royal elegance. We don't want to brag but we think this Made By Us girls' Cleopatra costume has captured this perfectly. The dress is made of a golden crepe and accented with the striped gold and black collar that we all know and love from Egyptian art, making for a timeless costume that will be a favorite for years to come!
Cleopatra Costume for Kids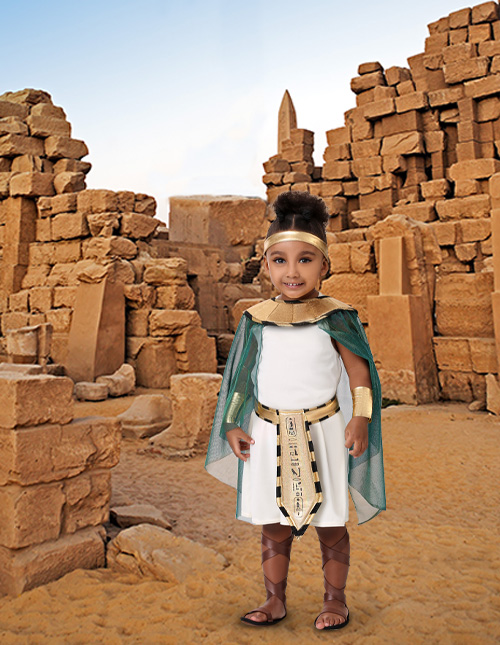 Is there anything cuter than a little empress? You know she's the boss of your household. No one else can direct playtime quite like she can. This toddler Cleopatra dress has a simple white sheath as a base. It's belted with a soft foam band and it has a long panel down the front with hieroglyphics printed on the gold fabric. The gold collar has a turquoise blue sheer cape flowing down from the shoulders, giving your kid an extra air of power because you know she'll always be in charge anyway, right?
Cleopatra Child Costume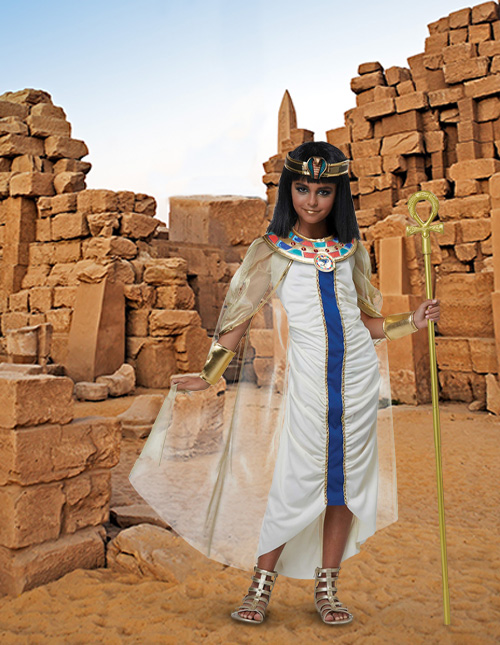 Want a costume that's both historical and fashionable? This child's Cleopatra costume will have your child channeling a fashionista that ruled over two thousand years ago. How's that for fashionable? With cinching down the front and a colorful collar with a golden cape hanging down the back, she'll look like she's ready to have her portrait etched in stone to be admired through the ages. Pair it with Egyptian accessories and your child will want to play empress for months to come!
Sexy Cleopatra Costumes
Earlier we were talking about how leaders of the ancient world were swayed by Cleopatra's witty mind. Which is totally true. But it's undeniable that the lady also had sex appeal! She knew how to grab people's attention and keep it. For instance, she once rolled up to meet Mark Antony while reclining in a golden boat while servants wafted perfume onto the shore. She was dressed as Aphrodite, the goddess of love, of course. So yeah, we'd say that sexy Cleopatra costumes might just be historically accurate. Sure, she wouldn't have worn the wet-look jumpsuits or a golden bodysuit because they didn't exist. But we're pretty darn sure she would have approved of the showstopping looks that are featured in this section!
Sexy Egyptian Dress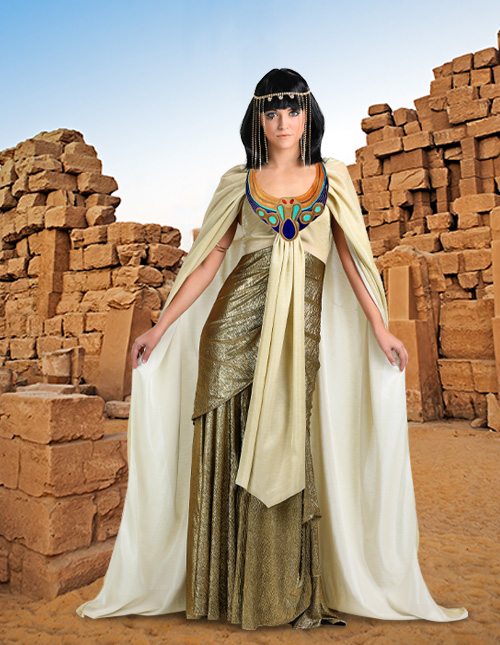 Do you want to make an entrance at your next costumed event? This look is sure to send a message of elegance and power as soon as you enter the room. The Made By Us Cleopatra dress features a gown with gold fabric that drapes in pleats from the waist and around the hips for a distinctly historical silhouette. You'll feel extra stunning with the long linen-colored panel that drapes from the colorful bodice and matches the dramatic floor-length cape. Cleopatra costume accessories make sure that this costume will rule over any event from the moment you walk through the door. And really, that's the only way to do this iconic queen justice!
Ancient Egyptian Dress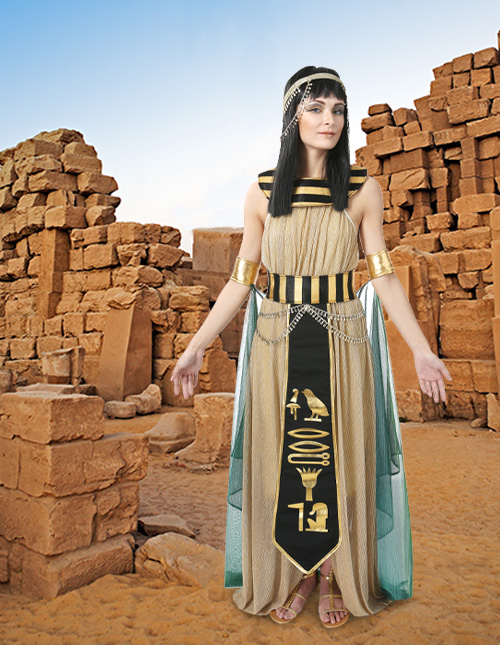 Want designs that would look right at home in the palaces that once lined the green banks of the Nile? Egyptian style dress was all about staying cool while looking glamorous at the same time. That might be what you're looking for as well! This dress is perfect for a variety of events from crowded Halloween parties to themed get-togethers that take place in Summertime. Embrace your inner Cleopatra with this halter dress that'll keep you searching for excuses to throw on this costume for years to come.
Sexy Cleopatra Costume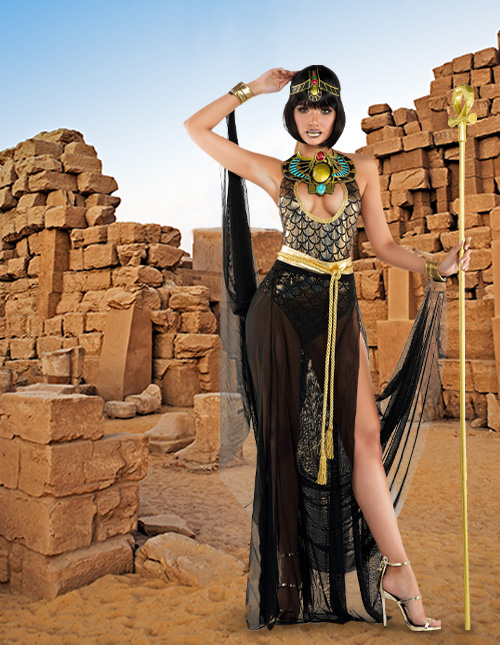 Want to break the mold? You can represent the last Egyptian Empress in stunning style when you rock this golden Cleopatra ensemble! With a golden bodysuit and sheer drapery, you'll give Elizabeth Taylor a run for her money when it comes to the best dressed Cleopatra. Just remember to have mercy on those poor Romans if you're rocking this look at a toga party. They'll need your wise ruling skills during the Flippy Cup tournament!
Sexy Cleopatra Outfit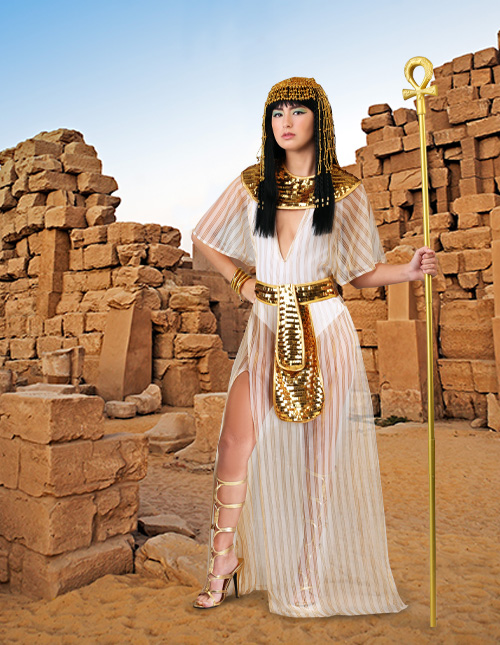 We know from ancient Egyptian art that Egyptians were rocking the sheer look before anyone else. They knew that lightweight was the way to go in their climate, unlike the Romans who were all about layers of heavy wool. If you want your Cleo style to lean toward traditional Egyptian dress than this sexy Cleopatra costume is a great way to go!
Cleopatra Couple Costumes
Cleopatra was romantically linked to Julius Caesar, both of her brothers, and most famously Mark Antony. But hey, it's Halloween, so we're going to keep this one simple! Any Egyptian costume will pair perfectly with a Cleo costume. Meet up with Mark Antony as Isis incarnate, Elizabeth Turner style or don the white robe pictured in our photo shoot. And for a truly undefeatable throne worthy duo, a Pharaoh costume would be the perfect match. She actually co-ruled her kingdom with a couple different Pharaohs, well, until they stopped cooperating and she had to take over the throne! But with this style, you'll be able to rule Egypt all over again as this historic power couple.
Cleopatra and Mark Antony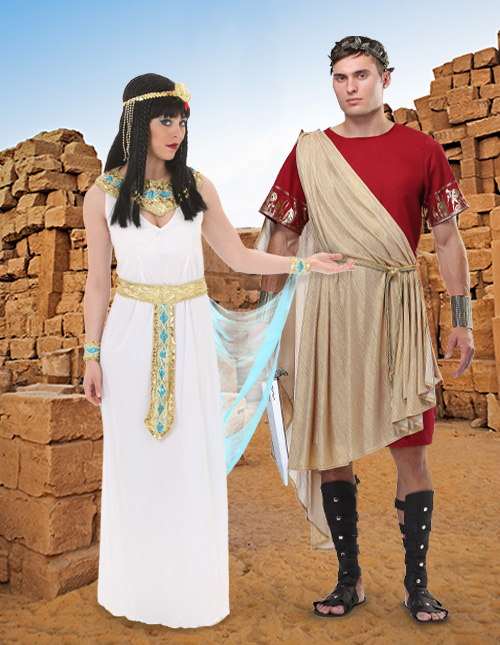 What happens when one of the most iconic leaders the world has ever seen pairs with one of the most powerful empires in history? Well, an epic tale that will be retold again and again, of course! Did Mark Antony and Cleopatra come together to bring peace and understanding between an economic powerhouse and an unstoppable military? Well, maybe but we don't think that's a lot of fun. The romance between Mark Antony and Cleopatra was so public and full of drama and intrigue that we have to believe there's some ever-lasting love thrown in there as well. Which is why pairing a Queen Cleopatra costume with the classic toga of a Mark Antony costume will make you and your partner an unforgettable item at your next costumed event. Just be sure to stay away from any poisonous asps while you're wearing Cleo's iconic ensemble!
Cleopatra Couple Costume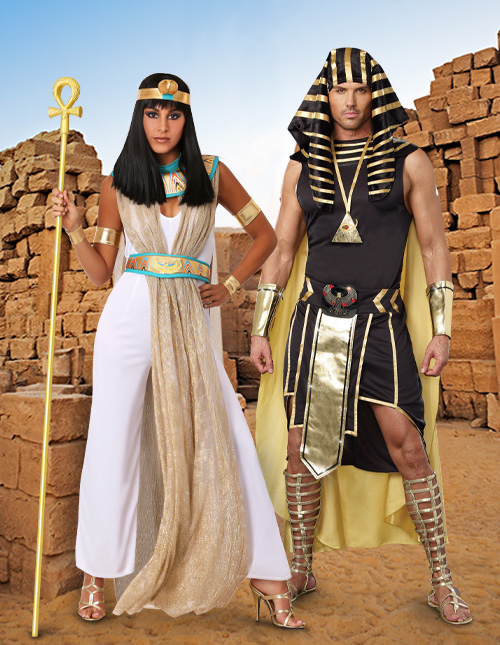 Cleopatra was always coming up against the Egyptian powers that be. Want a Halloween costume that screams political sabotage and family drama? Your Cleopatra costume can be paired with a Pharoah costume to give your entrance to a party an extra memorable twist.
Classic Cleopatra Poses
Cleopatra was undoubtedly the queen of posing before cameras had even been invented. Of course, striking a pose for a statue is a lot more work than taking a pic with your iPhone! We're sure she had some go-to moves and you can replicate them all when you employ these stoic stances. The best thing about your Cleopatra costume is the ability to add gorgeous wrist jewelry and veils to accent every arm movement. So make them count! Whether worshiping the gods or just your standing your ground against your enemies, your subjects will be in awe of your royal posture.
Queen Cleopatra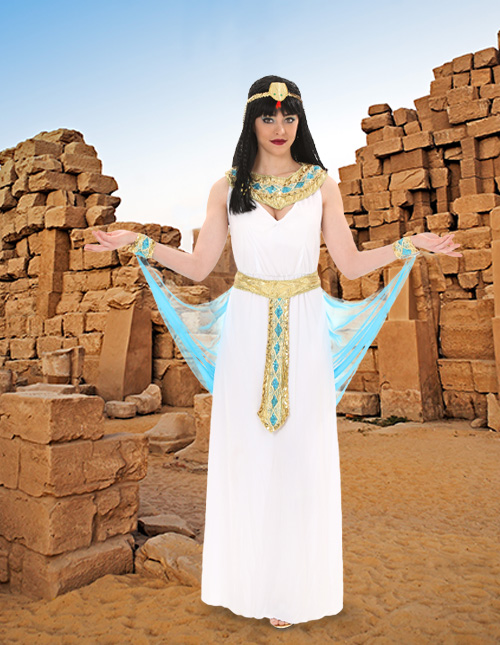 We like to think that Cleopatra knew how to command an audience. This pose shows the queen as she's letting her subjects rise from their deep bows so they can listen to what she has to say. Keep your head high and your eyes on the camera lens as you work this look. After all, you're the one in charge here.
Walk Like an Egyptian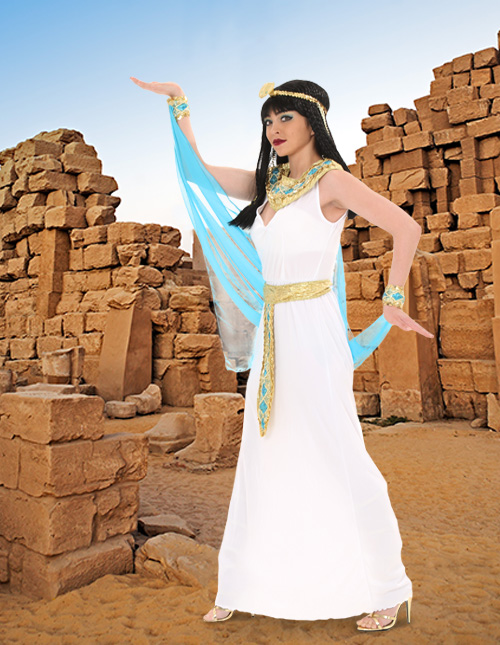 Egyptians had rules when it came to their artwork. For thousands of years, they preferred a certain style of art. And if Cleopatra wanted a classic portrait done in the way of her predecessors, she was going to get it, by golly! A classic Egyptian pose is sure to look just right when you're rocking this costume.
Ancient Ruler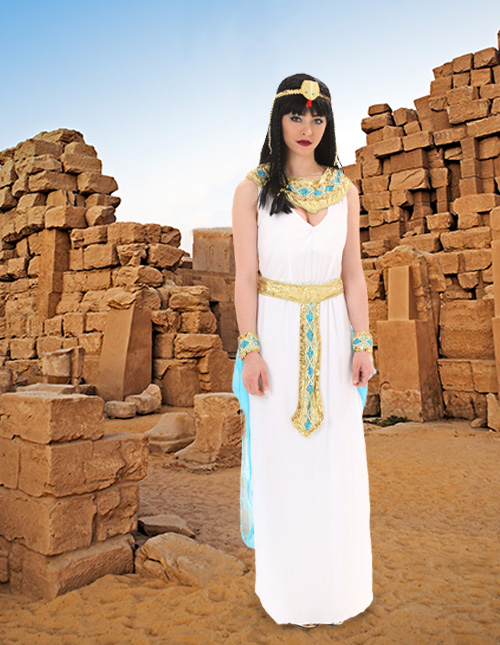 You'll look like you're ready to receive your Roman dignitary with this pose. Arms relaxed at your side and your head held high, everyone will know that you're the ruler of the Nile. Add a staff to this look to achieve even more dignity in your pose.
Watch the Wrist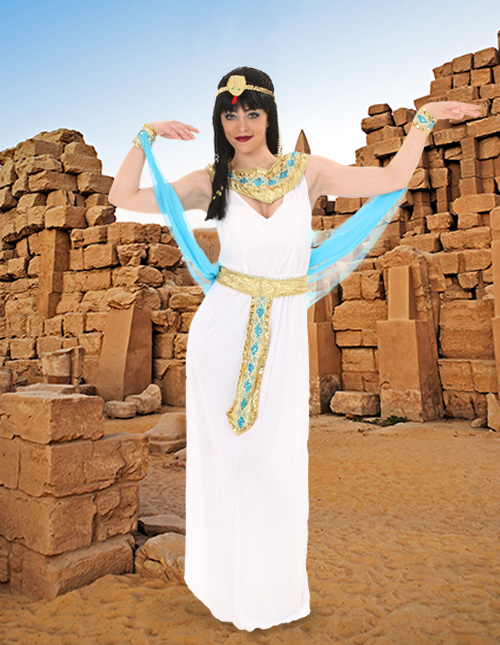 Egyptian dances were painted on the walls of tombs and temples for thousands of years before Cleopatra was in the throne room. That being said, it would make sense that the queen would know what she's doing when the beat drops. Channel your inner belly dancer and move your hands in a snake-like motion for a picture that's Instagram gold.
Cleopatra Makeup Tutorial
Cleopatra's signature eye makeup will always be iconic but it's hard to pull off if you don't know how to do it. It's not a simple cat-eye. You'll need a strong, statuesque brow, turquoise eye shadow, as well as a little bit of shimmer. Your pencil should be sharp to make sure your detailing is nice and clean. While Cleopatra probably had servants to create this look for her, we're sure you can give yourself a queenly façade after watching this makeup tutorial!
Cleopatra FAQs
Cleopatra is a real mystery, even though she's one of the most popular queens in history. People talk about the way she dressed, her over-the-top pageantry, and of course, her royal romances. But you might still have questions. And you know what? We're here for your Cleopatra journey. You've got questions, we've got answers that are highly influenced by our opinions on this ancient world powerhouse.
Do you have exclusive Cleopatra costumes?
Yes, we have exclusive Cleopatra costumes! If you want Cleopatra costumes that stand out in quality and design, our Made By Us Cleopatra costumes are the way to go! From itty bitty toddler sizes to stunning adult styles, you're sure to be impressed with any of our looks. Want something that'll work for school events as well as an adult fancy-dress party? Our Cleopatra dress will have you feeling like you rule the night. Want an outfit that's club-ready? We can make that happen too! Our sexy Cleopatra is always a party favorite! From trick-or-treaters to late-night showstoppers, our exclusive Cleo costumes will always stand out from the masses!
Who was Cleopatra?
Cleopatra was the last ruler of the Kingdom of Egypt. Ruling from 51 BC to 30 BC, she worked to keep her kingdom independent from Roman rule. She's famous for her diplomatic talent, wit, and beauty, as well as her over the top stunts which include having herself smuggled into the Roman general, Caesar's, chambers in a rug so that she could make a play for the Egyptian throne face-to-face. While her reign was and still is controversial and her downfall was dramatic, she's ruled over the public's imagination for thousands of years. If you want a legendary costume, Queen Cleopatra makes for a great choice!
Who played the best Cleopatra?
Cleopatra has been portrayed on stage for hundreds of years, ever since Shakespeare wrote Antony and Cleopatra. It's no wonder that when the age of film rolled around, playing the enchanting emperor would be an honor that many actors would fight for. While "the best" Cleopatra is a matter of opinion, there's no doubt that Elizabeth Taylor's portrayal of the empress in the 1963 epic film Cleopatra is the most famous. With 64 costume changes and $194,800 allotted for her wardrobe, her role solidified the ancient monarch as a style icon in the modern era. Now, did Taylor play the best Cleopatra? You'll have to watch the four-hour long epic as well as the many other film versions of Cleo's story and let us know what you think!
How long did Cleopatra rule?
Cleopatra's reign was shaky from the start, so the length of her rule is debatable by a few years. We do know that she first shared the throne with her brothers. After being exiled from Alexandria, she built up an army and returned. She took over after allying herself with the Roman government both romantically and diplomatically. Altogether, she reigned for about twenty years from 51 BC to 30 BC.
What did ancient Egyptians wear?
The garb of ancient Egyptians has been extensively documented through all sorts of artwork on temple walls, tombs, and endless statues. You can probably picture an Egyptian outfit if you close your eyes. Rich Egyptians wore simple sheaths made of sheer linen. The outfits were trimmed in gold and topped off with plenty of gold jewelry, as they thought that the gods would favor them if they were dressed to the nines. Do you know what that means? Go ahead and have fun with your Cleopatra Halloween accessories, when it came to royal Egyptian wardrobes, they really didn't hold back!